News articles on plantations

---
Mongabay.com news articles on plantations in blog format. Updated regularly.










East Kalimantan reaffirms moratorium on new mining, logging concessions

(03/06/2015) The governor of East Kalimantan, Indonesia, has reaffirmed his commitment to a 2013 moratorium on mining, logging, and plantation permits. The policy, which was originally outlined in a letter to the province's regents and mayors will be elevated to a higher status, he said.
Palm oil certification body purges membership
(03/05/2015) The Roundtable on Sustainable Palm Oil (RSPO) has purged membership of a number of companies and organizations that have failed to comply with reporting requirements. The move could be a sign that the certification body is getting more serious about enforcing its standards, says WWF, one of the founders of the initiative.
Police investigate villager's murder in pulp and paper concession
(03/02/2015) Indonesian police are investigating the brutal killing of a villager in Jambi at the hands of security guards contracted by Wira Karya Sakti (WKS), a plantation company owned by forestry giant Asia Pulp & Paper (APP). APP quickly condemned the murder and said it is cooperating with the investigation.
New Guinea rainforest being leveled for palm oil, revealing gaps in zero deforestation pacts
(02/23/2015) An Indonesian palm oil firm is destroying rainforests in New Guinea despite high profile zero deforestation pledges from its customers, finds research by Greenomics-Indonesia. Landsat imagery acquired and analyzed by Greenomics shows that Austindo Nusantara Jaya Agri (ANJ) is clearing high carbon stock forests in the southern part of West Papua's Bird's Head Peninsula in Indonesian New Guinea.
Ranking the best and worst companies in terms of deforestation
(02/11/2015) While a number of high profile companies have adopted policies designed to exclude deforestation from their commodity supply chains, such commitments remain outside the norm, indicating that most companies still lack forest-friendly safeguards, finds a comprehensive survey conducted by the Global Canopy Programme. The assessment ranks 250 companies, 50 jurisdictions, 150 banks and investors, and 50 'powerbrokers' by the extent and scope of their souring policies for six 'forest risk commodities': soy palm oil, beef, leather, timber, pulp and paper.
Forestry giant's zero deforestation commitment put to test
(02/05/2015) An independent audit of the world's largest pulp and paper producer found that the company had achieved a wide range of results in meeting promises to end deforestation and resolve conflicts with forest communities. In 2013 Asia Pulp and Paper (APP) announced its Forest Conservation Policy (FCP), which included a pledge to end deforestation among its suppliers, improve communication and conflict resolution with forest communities, protecting peatlands, and sourcing fiber only from responsible suppliers.
Pulpwood company may be denying Sumatran community rights to their land
(02/05/2015) For over a decade, a conflict has been brewing between the local community of Senyerang in Sumatra, Indonesia, and a major pulpwood plantation company, Asia Pulp & Paper (APP), according to NGOs operating in the area. In 2004, Indonesia's Ministry of Forestry awarded a license to APP's subsidiary, PT Wira Karya Sakti (WKS), to clear the village forests for acacia plantations to generate paper pulp.
Palm oil major makes deforestation-free commitment

(02/03/2015) IOI Corporation officially committed to what its subsidiary, palm oil trader IOI Loders Croklaan, pledged last November: it will no longer source palm oil linked to deforestation and human rights abuses.
When is a forest a forest? How definitions affect monitoring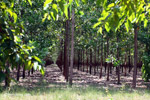 (01/29/2015) What exactly is a forest? With forest definitions differing from country to country, and primary forests, secondary forests, and even tree plantations all perceived collectively as "tree cover" by satellite data, how does one accurately keep tabs on land changes?
Radical transparency: tracking deforestation through satellite imagery
(01/28/2015) Floating softly through the vacuum of space, the Landsat 7 satellite has faithfully provided imaging of the entirety of earth's surface, every 16 days, since 1999. Now a series of technological developments has made this silent spectator a dominant force in tracking forests worldwide.
Company chops down rainforest to produce 'sustainable' chocolate
(01/20/2015) A cacao grower with roots in Southeast Asia's palm oil industry has set up shop in the Peruvian Amazon. The CEO of United Cacao has told the international press that he wants to change the industry for the better, but a cadre of scientists and conservation groups charge that United Cacao has quietly cut down more than 2,000 hectares of rainforest.
Indonesia's moratorium not enough to achieve emissions reduction target
(01/20/2015) When Indonesia's former president Susilo Bambang Yudhoyono declared a moratorium in May 2012 on the issuance of new permits for logging in primary forests and on peat lands, it was widely hailed as an important, albeit far too limited, step in clamping down on the country's levels of deforestation.
High deforestation rates in Malaysian states hit by flooding
(01/19/2015) Five states hard hit by flooding last month in Malaysia had high rates of forest loss in recent years, bolstering assertions that environmental degradation may have worsened the disaster. According to satellite data from researchers led by the University of Maryland's Matt Hansen and displayed on Global Forest Watch, the states of Johor, Kelantan, Pahang, Perak, and Terengganu each lost more than 10 percent of their forest cover between 2001 and 2012. Loss was greatest in areas with dense tree cover.
Half of Indonesia's deforestation occurs outside concession areas
(01/06/2015) Roughly half of Indonesia's natural forest loss occurs outside officially designated concession areas, concludes a new assessment that also finds higher deforestation rates in places with worse forest governance scores. The report, released last month by Forest Watch Indonesia, is based on analysis of satellite data spanning the archipelago. Unlike assessments by the Ministry of Forestry, the data includes areas outside the 'forest estate'.
2014: the year in rainforests
(12/30/2014) 2014 could be classified as 'The Year of the Zero Deforestation Commitment'. During 2014, nearly two dozen major companies, ranging from palm oil producers to fast food chains to toothpaste makers, established policies to exclude palm oil sourced at the expense of rainforests and peatlands.
Child labor and palm oil in Indonesia
(12/23/2014) Meet Bimo Kencana Arief. At 13 years old, this Indonesian middle school student is not spending his afternoons doing homework, helping around the house, or getting into trouble with the neighborhood children. Instead, Bimo is working up a sweat, hauling heavy oil palm fruits from the trees to a waiting truck. If he moves quickly, he can help his father earn up to $2 between 3:00 pm and dark.
Greenpeace: zero deforestation pioneer makes progress, but still has work to do
(12/22/2014) Half a decade ago, Golden-Agri Resources (GAR) was losing customers right and left in the midst of a Greenpeace campaign that blamed the Singapore-based palm oil giant for destroying forests in Indonesia. Then in February 2011, GAR surprised the world when it announced it would no longer clear rainforests or peatlands for new plantations. The company also committed to resolving social conflicts and respecting the right of local communities to reject plantation development on their traditional lands. Observers thought it could be mark the beginning a transformation in how palm oil was produced.
Palm oil facilitates large-scale illegal logging in Indonesia
(12/16/2014) Development of oil palm plantations is providing cover for large-scale illegal logging in Indonesian Borneo, driving destruction of some of the island's most biodiverse forests and undermining efforts to reform the country's forestry sector, alleges a new report published by the Environmental Investigation Agency (EIA).
A landmark year for forests (commentary)
(12/05/2014) About one year ago today, I was pretty down. It was Thanksgiving night, and the Forest Heroes campaign, which I chair, had been running a big global campaign to persuade Wilmar International, Asia's largest agribusiness company, to eliminate deforestation and human rights abuse throughout its enormous supply chain.
Tradeoff: Sabah banks on palm oil to boost forest protection
(12/05/2014) Last month Sabah set aside an additional 203,000 hectares of protected forest reserves, boosting the Malaysian state's extent of protected areas to 21 percent of its land mass. But instead of accolades, Sabah forestry leaders were criticized for how they went about securing those reserves: allowing thousands of hectares of deforested land within an officially designated forestry area to be converted for oil palm plantations
Musim Mas says its palm oil will be deforestation-free
(12/04/2014) Singapore-based Musim Mas has established a new sustainability policy that it says will eliminate deforestation, peatlands conversion, and social conflict from its palm oil supply chain. The company, which operates plantations in Sumatra and Indonesian Borneo, has been under pressure from environmentalists to join a growing number of palm oil producers and traders that have made zero deforestation pledges.
Indonesia to audit licenses of palm oil companies that clear peatlands
(11/30/2014) New Indonesian president Joko Widodo has ordered the Ministry of Environment and Forestry to review licenses for companies that have converted peatlands for oil palm plantations, reports Antara. Jokowi, as the president is popularly known, announced the move after a visit last week to Sungai Tohor, a community in Riau that has been particularly affected by peatlands degradation and haze caused by fires set for land clearing.
APP boosting timber productivity to support zero deforestation policy
(11/26/2014) Asia Pulp & Paper (APP) appears to have enough plantation fiber to operate existing mills as well as supply a new mill under construction in South Sumatra without having to pulp natural forests, argues a new report that also finds the forestry giant is successfully improving yields to support its zero deforestation commitment.
Indonesia's anti-corruption agency questions former Minster of Forestry

(11/21/2014) Indonesia's Corruption Eradication Commission (KPK) questioned the former Minister of Forestry about his role in altering zoning to facilitate oil palm expansion into public lands. The case centers around Riau Governor Annas Maamun, who allegedly accepted bribes to convert an area's status from 'production forest' into 'non-forested land'.
Cargill to use drones to monitor zero deforestation commitment
(11/17/2014) Cargill will use Unmanned Aerial vehicles (UAVs) and 'solar-powered, satellite-connected remote sensor networks' to monitor compliance with its new zero deforestation policy for palm oil, reports the agribusiness giant in its first progress report on its recent forest commitments.
Over 60% of world's traded palm oil now bound by zero deforestation commitments
(11/13/2014) Over sixty percent of palm oil traded internationally is now bound by zero deforestation policies after IOI Loders Croklaan committed to excluding forest destruction from its supply chain, says Forest Heroes, a campaign that aims to reduce the environmental impact of palm oil production. IOI Loders Croklaan's parent corporation IOI Group has been aggressively targeted by environmentalists for its links to deforestation and controversies over conflicts with local communities.
Only place where rhinos, tigers, elephants, and orangutans coexist is under threat
(11/12/2014) A forest that is the only place where rhinos, tigers, elephants, and orangutans coexist is under threat from planned infrastructure, mining, logging, and plantation projects, warns a new report from the Rainforest Action Network. The report looks at one of the last vestiges of wilderness on the island of Sumatra, which for the past three decades has been heavily ravaged by logging, fires, and conversion to industrial timber and oil palm plantations. This area, known as the Leuser Ecosystem, is today a battleground between business-as-usual interests seeking to mine its forests and a collection of conservationists, local communities, and a collection of companies seeking to steward its resources.
'Militarized occupation': local communities pay the price for palm oil
(11/11/2014) There's little doubt that the use of palm oil is expanding rapidly throughout the world, and with it the need for millions of hectares of land to grow oil palm trees. The results can be devastating for local communities who depend on the agriculture and forests that these lands support. A recent report catalogs the issues that arise with oil palm expansion.
Will merging competing ministries help save Indonesia's forests?
(11/10/2014) Newly elected Indonesian president Joko 'Jokowi' Widodo announced on October 26th that the Ministry of Forests and the Ministry of Environment would be combined and that Siti Nurbaya would become Forests and Environment Minister. The move was part of Jokowi's appointment of 34 cabinet level positions, ranging from Foreign Minister to Religious Affairs Minister.












Page 1 | Page 2 | Page 3 | Page 4 | Page 5 | Page 6 | Page 7 | Page 8 | Page 9 | Page 10 | Page 11 | Page 12 | Page 13 | Page 14 | Page 15 | Page 16