News articles on plantations

---
Mongabay.com news articles on plantations in blog format. Updated regularly.








A landmark year for forests (commentary)
(12/05/2014) About one year ago today, I was pretty down. It was Thanksgiving night, and the Forest Heroes campaign, which I chair, had been running a big global campaign to persuade Wilmar International, Asia's largest agribusiness company, to eliminate deforestation and human rights abuse throughout its enormous supply chain.
Tradeoff: Sabah banks on palm oil to boost forest protection
(12/05/2014) Last month Sabah set aside an additional 203,000 hectares of protected forest reserves, boosting the Malaysian state's extent of protected areas to 21 percent of its land mass. But instead of accolades, Sabah forestry leaders were criticized for how they went about securing those reserves: allowing thousands of hectares of deforested land within an officially designated forestry area to be converted for oil palm plantations
Musim Mas says its palm oil will be deforestation-free
(12/04/2014) Singapore-based Musim Mas has established a new sustainability policy that it says will eliminate deforestation, peatlands conversion, and social conflict from its palm oil supply chain. The company, which operates plantations in Sumatra and Indonesian Borneo, has been under pressure from environmentalists to join a growing number of palm oil producers and traders that have made zero deforestation pledges.
Indonesia to audit licenses of palm oil companies that clear peatlands
(11/30/2014) New Indonesian president Joko Widodo has ordered the Ministry of Environment and Forestry to review licenses for companies that have converted peatlands for oil palm plantations, reports Antara. Jokowi, as the president is popularly known, announced the move after a visit last week to Sungai Tohor, a community in Riau that has been particularly affected by peatlands degradation and haze caused by fires set for land clearing.
APP boosting timber productivity to support zero deforestation policy
(11/26/2014) Asia Pulp & Paper (APP) appears to have enough plantation fiber to operate existing mills as well as supply a new mill under construction in South Sumatra without having to pulp natural forests, argues a new report that also finds the forestry giant is successfully improving yields to support its zero deforestation commitment.
Indonesia's anti-corruption agency questions former Minster of Forestry

(11/21/2014) Indonesia's Corruption Eradication Commission (KPK) questioned the former Minister of Forestry about his role in altering zoning to facilitate oil palm expansion into public lands. The case centers around Riau Governor Annas Maamun, who allegedly accepted bribes to convert an area's status from 'production forest' into 'non-forested land'.
Cargill to use drones to monitor zero deforestation commitment
(11/17/2014) Cargill will use Unmanned Aerial vehicles (UAVs) and 'solar-powered, satellite-connected remote sensor networks' to monitor compliance with its new zero deforestation policy for palm oil, reports the agribusiness giant in its first progress report on its recent forest commitments.
Over 60% of world's traded palm oil now bound by zero deforestation commitments
(11/13/2014) Over sixty percent of palm oil traded internationally is now bound by zero deforestation policies after IOI Loders Croklaan committed to excluding forest destruction from its supply chain, says Forest Heroes, a campaign that aims to reduce the environmental impact of palm oil production. IOI Loders Croklaan's parent corporation IOI Group has been aggressively targeted by environmentalists for its links to deforestation and controversies over conflicts with local communities.
Only place where rhinos, tigers, elephants, and orangutans coexist is under threat
(11/12/2014) A forest that is the only place where rhinos, tigers, elephants, and orangutans coexist is under threat from planned infrastructure, mining, logging, and plantation projects, warns a new report from the Rainforest Action Network. The report looks at one of the last vestiges of wilderness on the island of Sumatra, which for the past three decades has been heavily ravaged by logging, fires, and conversion to industrial timber and oil palm plantations. This area, known as the Leuser Ecosystem, is today a battleground between business-as-usual interests seeking to mine its forests and a collection of conservationists, local communities, and a collection of companies seeking to steward its resources.
'Militarized occupation': local communities pay the price for palm oil
(11/11/2014) There's little doubt that the use of palm oil is expanding rapidly throughout the world, and with it the need for millions of hectares of land to grow oil palm trees. The results can be devastating for local communities who depend on the agriculture and forests that these lands support. A recent report catalogs the issues that arise with oil palm expansion.
Will merging competing ministries help save Indonesia's forests?
(11/10/2014) Newly elected Indonesian president Joko 'Jokowi' Widodo announced on October 26th that the Ministry of Forests and the Ministry of Environment would be combined and that Siti Nurbaya would become Forests and Environment Minister. The move was part of Jokowi's appointment of 34 cabinet level positions, ranging from Foreign Minister to Religious Affairs Minister.
APP acknowledges historic land-grabbing in China, pledges reform
(10/30/2014) While Asia Pulp and Paper (APP) has made considerable progress on addressing social and environmental problems associated with its operations in Indonesia, the forestry giant still has much to do to rectify historic social grievances in China, says a report published by Landesa and Rights and Resources Initiative (RRI).
Beef, palm oil, soy, and wood products from 8 countries responsible for 1/3 of forest destruction

(10/23/2014) Four commodities produced in just eight countries are responsible for a third of the world's forest loss, according to a new report. Those familiar with the long-standing effort to stop deforestation won't be surprised by the commodities named: beef, palm oil, soy, and wood products (including timber and paper). Nor will they be very surprised by most of the countries: Brazil, Indonesia, and Malaysia.
Saving Asia's other endangered cats (photos)
(10/21/2014) It's no secret that when it comes to the wild cats of Asia—and, really, cats in general—tigers get all the press. In fact, tigers—down to an estimated 3,200 individuals—arguably dominate conservation across Asia. But as magnificent, grand, and endangered as the tigers are, there are a number of other felines in the region that are much less studied—and may be just as imperiled.
Indonesian law bars palm oil companies from protecting forests
(10/21/2014) A law passed by the Indonesian government last month makes it even more difficult for palm oil companies to conserve tracts of wildlife-rich and carbon-dense forests within their concessions, potentially undermining these producers' commitments to phase deforestation out of their supply chains, warns a new report published by Greenomics, an Indonesian environmental group.
Indonesia developing mega coal mine five times larger than Singapore
(10/20/2014) Global miner BHP Billiton and Indonesian partner PT Adaro are developing what could become the single largest mine in Indonesia in terms of land area, with BHP owning 75 percent. The IndoMet mine complex in Central and East Kalimantan provinces on Borneo comprises seven coal concessions, which cover 350,000 hectares, or about five times the size of Singapore.
Indonesia's tough choice: capping coal as Asian demand grows
(10/17/2014) Indonesia cannot build power stations fast enough. And neither can most of its Asian neighbors. Rapid economic and population growth are driving equally rapid demands for electricity as the region builds out power grids to connect up millions of people to fuel prosperity.
To become less damaging, target non-forest lands for palm oil, says book
(10/16/2014) Palm oil production has been spectacularly profitable but ecologically disastrous across Southeast Asia, consuming millions of hectares of indigenous lands, rainforests, and peatlands in recent decades. That paradox has made the crop highly controversial despite its importance in providing a high-yielding source of vegetable oil. A new book, published freely online by the Center for International Forestry Research (CIFOR), weighs in on the debate and concludes — like many before it — that the problem is not the crop itself, but how it is produced.
Indonesia tries to clamp down on coal sector's worst excesses
(10/16/2014) Out of the jungles of East Borneo in Indonesia comes the fire that fuels Asia's burgeoning economies: coal. Miners dig deep open pits, clearing forests and farmlands to extract coal from thick black seams, which is then crushed and loaded onto trucks and barges for shipment to China, India, Japan and other destinations in Asia.
Plantation companies in Sumatra failing to meet fire prevention standards

(10/14/2014) An inter-agency audit of 17 plantation and timber concessions in Riau Province, Indonesia, found that every company is failing to meet fire prevention and control standards. In addition, several companies are working in prohibited areas, including peatlands with depths over 3 meters.
Rogue palm oil company appeals deforestation case to Indonesia's supreme court

(10/14/2014) Oil palm company PT. Kallista Alam has filed an appeal with the Supreme Court continuing the closely-watched legal battle set to redefine Indonesia's commitment to environmental justice. Lawyers for the company filed the new appeal on October 6, claiming the initial case is invalid because it failed to include all relevant parties as defendants—including the governor of Aceh, who issued the concession permit in 2011.
Report rates palm oil companies on sustainability commitments
(10/05/2014) A new report published Forest Heroes, an advocacy campaign pushing for an end to deforestation, ranks global palm oil companies on their sustainability commitments. The Green Tigers, authored by Glen Hurowitz, reviews the recent history of environmental policies in the palm oil sector, beginning with the formation of the Roundtable on Sustainable Palm Oil (RSPO) in 2004 through the wave of comprehensive zero deforestation commitments in 2013-2014.
Central Kalimantan to set up palm oil monitoring system to in bid cut deforestation 80%
(10/05/2014) The Indonesian province of Central Kalimantan is moving forward on an oil palm plantation monitoring system it hopes will help meet a commitment to reduce deforestation 80 percent by 2020. The online monitoring system will include "information on the performance of plantation concessions such as productivity, the number of smallholder farmers, deforestation and other land cover change, and fire occurrence," according to Earth Innovation Institute which designed and is helping the provincial government implement the system.
Companies hire local communities to evade palm oil restrictions in Indonesia
(10/04/2014) As more palm oil companies are held accountable for deforestation in Indonesia, a growing number are hiring local communities to do their dirty work. According to the Oil Palm Farmers Union (SPKS), companies promise to buy mature fruits at attractive rates from smallholders and local villages who agree to clear and plant in protected forest areas. Through these agreements, companies distance themselves from the process, leaving the locals to bear responsibility for the destruction.
High Court denies appeal by palm oil company that cleared protected peat forest
(09/30/2014) Furthering Indonesia's renewed commitment to environmental justice, the High Court of Banda Aceh denied an appeal by PT. Kallista Alam, the oil palm company found guilty of destroying over 1,000 hectares of protected peat forest in Gunung Leuser ecosystem. The Court upheld the previous ruling, which fined the company 366 billion rupiah ($30 million) in penalties and restoration fees.
Leaders pledge to end deforestation by 2030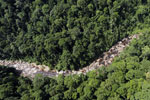 (09/24/2014) Dozens of companies, non-profit organizations, and governments pledged to work together to halve forest loss by 2020 and end it altogether by 2030. If implemented, the commitment could reduce annual carbon dioxide emissions by 4.5-8.8 billion tons annually, equivalent to removing a billion cars from the world's roads.
Cargill commits to zero deforestation across entire global supply chain: all commodities
(09/24/2014) Cargill, one of the world's largest agricultural companies, has extended its zero deforestation commitment for palm oil to all commodities it produces. The commitment, announced Tuesday at the United Nations Climate Summit in New York, is the most far-reaching zero deforestation policy ever established, covering Cargill's sprawling global empire of businesses, including palm oil, sugar, soy, cattle, and cocoa.
Norway to pay Liberia to stop deforestation
(09/23/2014) In one of the many major announcements that have come out of the UN Climate Summit in New York this week, Norway says it will pay Liberia to stop cutting down its forests. Norway's payment will come on the form of development aid for the war-torn, impoverished, and now Ebola-ridden West African nation.
Palm oil giants announce deforestation moratorium -- effective immediately
(09/20/2014) Five of the world's largest palm oil producers have announced an immediate moratorium on palm oil sourced via clearance of potential high carbon stock forests. On Friday, Asian Agri, IOI Corporation Berhad, Kuala Lumpur Kepong (KLK) Berhad, Musim Mas Group and Sime Darby Plantation said they will suspend forest clearing until they have completed a year-along study that aims to establish a threshold for defining what constitutes high carbon stock (HCS) forest.
Palm oil company continues to operate illegal plantation despite court ruling

(09/12/2014) A palm oil company in Central Kalimantan continues to operate business as usual, despite a Supreme Court ruling confirming it has no legal permit to do so. Since 2009, PT Hati Prima Agro (HPA), a subsidiary of palm oil giant Bumitama Gunajaya Agro Group (BGA), has cleared over 7,000 ha of land in Central Kalimantan, even though their permits were revoked by the Ministry of Forestry in 2008.
FSC meeting weighs old-growth forest protection, smallholder participation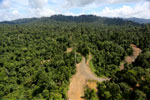 (09/11/2014) The Forest Stewardship Council (FSC), a body that sets social and environmental certification criteria for forestry products, is weighing measures that could step up protection for old-growth forests and make it easier for indigenous people and traditional forest communities to qualify for certification. The measures are set for a vote this week at the body's General Assembly, which is held every three years to establish and revise criteria that underpin the standard.
Elephants pay the price for palm oil in Malaysian Borneo, impact may reach far beyond reported kills
(09/10/2014) More than a dozen elephant kills were reported in Sabah in 2013 alone, but it is unknown exactly how many have lost their lives in recent years as palm plantations encroach further and further into the rainforest. What is clear is that if the loss of their forest habitat continues to drive conflicts with humans at the rate it is now, Borneo elephants' long-term survival may be in jeopardy.








Page 1 | Page 2 | Page 3 | Page 4 | Page 5 | Page 6 | Page 7 | Page 8 | Page 9 | Page 10 | Page 11 | Page 12 | Page 13 | Page 14 | Page 15 | Page 16