News articles on picture of the day

---
Mongabay.com news articles on picture of the day in blog format. Updated regularly.






Animal picture of the day: the boat-billed heron

(05/16/2012) Boat-billed herons (Cochlearius cochlearius) are found in Central and South America, as far north as Mexico and as far south as Argentina. A notably bizarre heron, the species is the only member of the genus Cochlearius. Like many heron species it feeds on a wide variety of freshwater and terrestrial animals.
Pictures: Jaguar bonanza caught on camera

(05/13/2012) Images of several jaguars, including cubs, have been captured by camera traps on a Colombian ranch that is well known among cat researchers for its diversity of felines.
Pictures of the day: activists highlight personal impacts of climate change worldwide

(05/07/2012) On Saturday, people around the world gathered to highlight the varied impacts of climate change on their lives. Organized by 350.org, the global day of action was a call to "connect the dots" between a warming Earth and extreme weather events, such as droughts, floods, and fires among other impacts. Nearly 1,000 events were held worldwide.
Animal picture of the day: the prehistoric peccary

(05/02/2012) The Chacoan peccary (Catagonus wagneri) was only known from fossils and thought extinct, perhaps a victim of the megafaunal extinction that ended the Pleistocene, until researchers in the 1970s stumbled on a living population in Argentina. While peccaries look like and are distantly related to the pig species that originated in the Old World, they belong to their own family, the Tayassuidae.
Animal picture of the day: Cicada emerging

(04/30/2012) Cicada's are generally large insects with broad heads and transparent wings. The group is known for some species' habitats of staying under ground for up to 17 years before emerging en masse, though many cicada species emerge annually in small groups. Once it emerges, it sheds its exoskeleten and begins to seek out mates. Males produce a loud, distinct sound.
Frog photos for Save the Frogs Day

(04/28/2012) Today is Save the Frogs Day, a global event that aims to raise awareness on the plight of amphibians, which are increasingly endangered by climate change, habitat loss and degradation, pollution, invasive species, overexploitation, and the outbreak of a deadly fungal disease. In recognition of Save the Frogs Day, there are dozens of activities occurring around the world.
Rare leopard photographed in China

(04/25/2012) Camera traps in China's Hunchun Amur Tiger National Nature Reserve have captured an image of the critically endangered Amur leopard, reports the Wildlife Conservation Society. The photograph, coupled with a recent study that suggests the presence of 8-11 leopard in Jilin Province, suggests that Amur leopards may be rebounding in China.
Animal picture of the day: the gray zorro

(04/18/2012) This canine has many names: the gray zorro, the chilla, and the South American gray fox. Despite its moniker as a fox, however, the species is more closely related to wolves and coyotes than actual foxes.
Photo: a wild Easter Bunny

(04/08/2012) In the United States, the Easter Bunny and Easter eggs have been associated with the religious holiday of Easter since the 18th century.
Baby animal picture of the day: world's weirdest mammal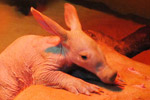 (04/04/2012) A female aardvark (Orycteropus afer) named Oq gave birth last month to her seventh baby, making the breeding program at Colchester Zoo one of the most successful in Europe. The aardvark is the only surviving species of the mammalian order, Tubulidentata. According to the conservation program, EDGE, this make the aardvark the world's most evolutionary unique mammal.
Animal picture of the day: Indian flying foxes soar

(04/02/2012) Indian flying foxes (Pteropus giganteus) are now soaring a the Wildlife Conservation Society's (WCS) Bronx Zoo. With wingspans that reach 4 to 5 feet (1.2-1.5 meters), they are one of the world's largest bats.
Cute animal picture of the day: endangered baby giraffe

(03/29/2012) A baby Rothschild's giraffe (Giraffa camelopardalis rothschildi) was recently born at the Wildlife Conservation Society's (WCS) Bronx Zoo. The subspecies was classified as Endangered in 2010 with a wild population of less than 700 individuals in Kenya and Uganda.
Animal picture of the day: a sun-colored weedy scorpion fish

(03/26/2012) This bright yellow weedy scorpion fish (Rhinopias frondosa) is the newest member of the Wildlife Conservation Society's (WCS) New York Aquarium. Weedy scorpion fish are found in the Indo-Pacific Ocean and in a wide variety of colors.
Animal picture of the day: a baby bongo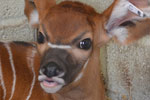 (03/22/2012) A female bongo (Tragelaphus eurycerus) was born at the Zoological Society of London's Whipsnade Zoo last month. "The calf and her mum are happy to sit with other members of the group and the calf is not always found with mum—babysitting is common with the bongo," Mark Holden, Africa section leader at ZSL Whipsnade Zoo, said in a press release.
Picture of the day: tarsier rescued from palm oil plantation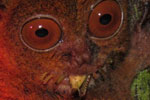 (03/20/2012) Earlier this month, biologists with Danau Girang Field Centre (DGFC) in the Malaysian state of Sabah in Borneo, found and rescued a tarsier from a locally owned palm oil plantation. "For a day, we kept the animal in a cage at the field centre and fed him with insects", explained Alice Miles, a Cardiff University student leading a project on tarsier and slow loris ecology at DGFC.
Animal photos of the day: elephants in the English countryside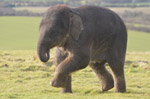 (03/14/2012) Elephants have been spotted roaming the pastoral fields of eastern England. Released for a jaunt from the Zoological Society of London's Whipsnade Zoo, a herd of Asian elephants (Elephas maximus), including a four-month-old calf named Scott, took in the scenic views of Aylesbury Vale from the Chiltern Hills. "Scott usually crashes out as soon as he's back from the walk. We put piles of hay down in the barn and he's out for the count."
Animal photos of the day: the most elusive bird in the world?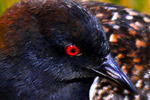 (03/12/2012) Few people have ever laid eyes on the Junin rail (Laterallus tuerosi). Located in a single lake in Peru, the well-camouflaged bird hides spends its time deep in marshes to avoid predators. This behavior has also allowed to largely avoid human onlookers, making it one of the world's most difficult birds to observe.
Animal photos of the day: green sea turtle saved in China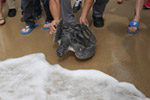 (03/06/2012) Last month, an organization devoted to marine turtles in the China, Sea Turtle 911, released a green sea turtle (Chelonia mydas) back into the wild in an event that included adoring crowds and a lecture on sea turtle conservation. The sea turtle, dubbed "Crush," had been rescued from a local fishing village. Green sea turtles are listed as Endangered by the IUCN Red List. "Despite the endangered status of sea turtles, there remains a thriving illegal market for sea turtle meat and products in China," a press release from Sea Turtle 911 notes.
Cute baby animal photos of the day: baby pot-bellied seahorses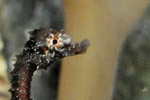 (03/05/2012) The Wildlife Conservation Society's (WCS) New York Aquarium has recently celebrated the arrival of "fry" (baby) pot-bellied seahorses (Hippocampus abdominalis). Found in the seas surrounding Australia, the pot-bellied seahorse is protected under CITES (Convention on International Trade in Endangered Species of Wild Fauna and Flora), since they are stolen from the wild for traditional medicine, decorations, and pets.
Cute baby animal photos of the day: twin Malagasy giant jumping rats born at London Zoo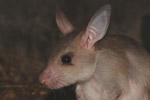 (02/28/2012) Twin Malagasy giant jumping rats (Hypogeomys antimena) were born in the Zoological Society of London's (ZSL) zoo in London this month. Found only on the island of Madagascar, also home to the world's lemurs, these rodents are the biggest on the island. These large rodents take the ecological place of rabbits in Madagascar, but unlike other rodents they form lifelong monogamous pairs and reproduce very slowly.
Cute baby animal photos of the day: twin slender lorises born at London Zoo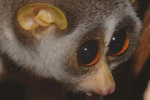 (02/27/2012) Twin grey slender lorises (Loris lydekkerianus) were born in the Zoological Society of London's (ZSL) zoo in London this month, a notable event since lorises rarely give birth to twins. Found in India and Sri Lanka, these nocturnal, big-eyed primates scour trees for insects. Although listed as Least Concern, the species is imperiled by deforestation, impacts from cats, electrocution on power lines, use in traditional medicine, and the pet trade.
Cute animal photo of the day: twin cottontop tamarins born in London Zoo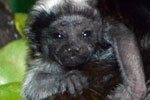 (02/23/2012) Twin cottontop tamarins (Saguinus oedipus) were born in the Zoological Society of London's (ZSL) zoo in London this month. Mother Sabi gave birth to the pair after five months. Currently the twins are only five centimeters tall (two inches) tall. Found only in Colombia, cottontop tamarins are listed as Critically Endangered by the IUCN Red List. Currently it's estimated around 6,000 individuals survive in the wild.
Photos of the day: Sumatran tigers celebrate Valentine's Day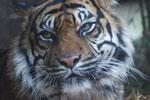 (02/14/2012) The Sumatran tigers at the London Zoo received an early Valentine treat of pillows scented with Calvin Klein's Obsession. "Tigers are territorial creatures and these strong smells encourage their natural scent-marking behaviors by making them rub themselves against the perfumed hearts," Zookeeper Teague Stubbington said in a press release. "We've tried lots of different scents and spices, and CK Obsession has proved by far to be their favorite—and as we saw today it certainly helps encourage some romance between them!"
Photos of the day: satellite tagging a 12-foot saltwater crocodile

(02/06/2012) Researchers in the Malaysian state of Sabah on Borneo have successfully satellite-tagged a 3.6 meter (11.8 feet) saltwater crocodile (Crocodylus porosus) in an effort to study human-wildlife conflict with the world's largest reptile. As massive, powerful reptiles they are quite capable of injuring and killing adult humans.
Photo of the day: super-abundance of life found in Amazon park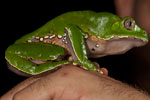 (02/02/2012) Surveying a little-explored park in the Peruvian Amazon has paid off in dividends: researchers with the Wildlife Conservation Society (WCS) have cataloged 365 species that had not yet been recorded in Bahuaja Sonene National Park. The never-before recorded species included two bats, thirty birds, and over two hundred butterflies and moths.
Photo of the Day: Critically Endangered brown spider monkey discovered in park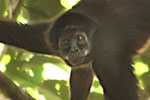 (01/26/2012) Researchers with The Wildlife Conservation Society (WCS) and Colombia's National Parks Unit have located at least two individuals of brown-spider monkey (Ateles hybridus) in Colombia's Selva de Florencia National Park. The discovery is important because its the only known population of this particular subspecies (Ateles hybridus brunneus) in a protected area.
Cute animal picture of the day: pygmy killer whale saved after stranding

(01/12/2012) On Tuesday a female pygmy killer whale (Feresa attenuata) was found stranded on Tanjung Aru beach, in the Malaysian state of Sabah on the island of Borneo. After being moved to a swimming enclosure at a local resort for recuperation, the whale was released back into the wild with aid from the Sabah Wildlife Department, marine biologist Lindsay Porter, the local NGO LEAP, and WWF Malaysia.
Animal picture of the day: the pitch-black robin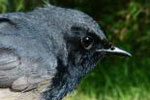 (01/09/2012) A species of robin with a black head, aptly named the blackthroat (Luscinia obscura), had rarely been seen since its first description in 1891 until last year when researchers located some of the species' breeding grounds. They documented fourteen singing males in the Quingling mountains of its native China.
Animal picture of the day: rare photo of mother jaguar and cubs
(12/21/2011) A mother jaguar, named Kaaiyana by scientists, and cubs were recently photographed in Kaa Iya National Park in Bolivia. "Kaaiyana's tolerance of observers is a testimony to the absence of hunters in this area, and her success as a mother means there is plenty of food for her and her cubs to eat," said John Polisar, coordinator of Wildlife Conservation Society's (WCS) Jaguar Conservation Program. WCS released the photos.





Picture of penguins is a prize-winner

(12/10/2011) Carl Safina's picture of King Penguins coming ashore at Salisbury Plain on South Georgia Island was the first winner of mongabay.com's series of photo contests hosted on Facebook.





Picture of the day: emerald-eyed tree frog

(12/09/2011) The emerald eyed tree frog (Hypsiboas crepitans) is found widely across tropical Latin America, ranging from Panama to Peru to Brazil. It is found both in pristine habitats and areas heavily impacted by humans.





Picture of the day: Blue-and-yellow poison frog

(12/08/2011) The blue-and-yellow poison dart frog (Dendrobates tinctorius) — often called the dyeing dart frog — is found in the rainforests and savannas of Suriname, Guyana, French Guiana, and northern Brazil. Across its range there are several color forms.













Cute animal picture of the day: the little-known cuscus

(11/29/2011) Cuscus are marsupials found in Indonesia, Australia, and Papua New Guinea. Dwelling in tropical rainforests, they inhabit a niche similar to monkey, foraging throughout the canopy for leaves and fruit. In some cases cuscus will eat birds and lizards.






Page 1 | Page 2 | Page 3 | Page 4