News articles on peru

---
Mongabay.com news articles on peru in blog format. Updated regularly.








Geology has split the Amazon into two distinct forests
(01/19/2012) The common view of the Amazon is that it is one massive, unbroken forest. This impression is given by maps which tend to mark the Amazon by a large glob of green or even by its single name which doesn't account for regional changes. Of course, scientists have long recognized different ecosystems in the Amazon, most especially related to climate. But a new study in the Journal of Biogeography has uncovered two distinct forest ecosystems, sharply divided, caused by million of years of geologic forces.
Prehistoric Peruvians enjoyed popcorn

(01/18/2012) Researchers have uncovered corncobs dating back at least 3,000 years ago in two ancient mound sites in Peru according to a paper published in Proceedings of the National Academy of Sciences (PNAS). The ancient corn remnants, which proved residents were eating both popped corn and corn flour, are the earliest ever discovered in South America and may go back as far as 4,700 BCE (6,700 years ago), over fifteen hundred years before the early Egyptians developed hieroglyphics and while woolly mammoths still roamed parts of the Earth.
Industrial palm oil production expands at expense of rainforests in Peru

(01/10/2012) Intensive palm oil production is expanding at the expense of biolologically-rich lowland rainforests in the Peruvian Amazon, reports a study published in Environmental Research Letters. The research indicates that enthusiasm for oil palm — one of the world's most lucrative crops — is taking a toll on forests outside of Southeast Asia, where the vast majority of palm oil is produced.
The year in review for rainforests
(12/28/2011) 2011 was designated as "Year of the Forests" by the United Nations. While there was relatively little progress on intergovernmental forest protection programs during the year, a lot happened elsewhere. Below is a look at some of the biggest tropical forest-related news stories for 2011. We at mongabay readily acknowledge there were a number of important temperate and boreal forest developments, including Britain's decision not to privatize its forests and the severe drought in Texas, but this article will cover only tropical forest news.
Peru's Cocha Cashu biological station changes management

(12/08/2011) The San Diego Zoo Global Wildlife Conservancy is taking over management of the productive Cocha Cashu field station in Manu National Park, Peru. To date, nearly 600 scientific papers have come out of research conducted at the station, making it among the five most productive research stations in the Amazon and Andes. Located in a part of the Amazon rainforest that has seen little human impact, the station was founded in 1969, four years before Manu National Park was gazetted.
Thousands protest giant gold mine in Peru's mountains

(11/29/2011) Fearing water contamination and pollution, over ten thousand people in Cajamarca, Peru are taking part in protests against mining plans by US-company Newmont Mining Corporation. In its sixth day, the growing protests have caused flights in and out of Cajamarca to be cancelled. According to Reuters, police also clashed with protestors today, injuring two dozen.
Ecotourism isn't bad for wildlife in the Amazon

(11/23/2011) Ecotourism doesn't hurt biodiversity, and in some cases may even safeguard vulnerable areas, concludes a new study from the Amazon in Mammalian Biology. Surveying large mammals in an ecotourism area in Manu National Biosphere, the researchers found that ecotourists had no effect on the animals. However, the researchers warn that not all ecotourism is the same, and some types may, in fact, hurt the very animals tourists come to see.
Peru's real test is a 200km pipeline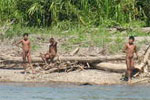 (10/27/2011) One of Ollanta Humala's most striking achievements since becoming Peru's president three months ago is new legislation guaranteeing indigenous people the right to be consulted about and in agreement with any project that affects them. Leading indigenous organization AIDESEP, usually so critical of the government, cautiously welcomed the move, while Survival International called it 'a significant step away from the policies of former Peruvian president Alan Garcia, who vetoed a similar bill.'
Breakthrough technology enables 3D mapping of rainforests, tree by tree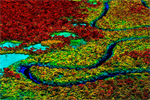 (10/24/2011) High above the Amazon rainforest in Peru, a team of scientists and technicians is conducting an ambitious experiment: a biological survey of a never-before-explored tract of remote and inaccessible cloud forest. They are doing so using an advanced system that enables them to map the three-dimensional physical structure of the forest as well as its chemical and optical properties. The scientists hope to determine not only what species may lie below but also how the ecosystem is responding to last year's drought—the worst ever recorded in the Amazon—as well as help Peru develop a better mechanism for monitoring deforestation and degradation.
Isolated indigenous people and tourists collide in Peru park

(10/19/2011) New video released by the Peruvian government shows a potentially disastrous encounter between tourists and indigenous people long isolated from the outside world. In a motor boat tourists follow a group of Mashco-Piro people walking along the shores of the Manu River in Manu National Park. At one point one of the tribal members prepares to fire at the boat with an arrow. But danger doesn't only come from the possibility of a violent clash: uncontacted indigenous people, those who have chosen isolation from the world, are incredibly susceptible to disease.
High gold price triggers rainforest devastation in Peru
(10/11/2011) As the price of gold inches upward on international markets, a dead zone is spreading across the southern Peruvian rain forest. Tourists flying to Manu or Tambopata, the crown jewels of the country's Amazonian parks, get a jarring view of a muddy, cratered moonscape ... and then another ... and another in what the country boasts is its capital of biodiversity. While alluvial gold mining in the Amazon is probably older than the Incas, miners using motorized suction equipment, huge floating dredges and backhoes are plowing through the landscape on an unprecedented scale, leaving treeless scars visible from outer space. Sources close to the Peruvian Environment Ministry say the government is considering declaring an environmental emergency in the region, but emergency measures passed two years ago were not enough to contain the destruction, and some observers doubt that a new decree would have any more impact.
Forest carbon projects rake in $178 million in 2010
(09/29/2011) Investors funneled $178 million into forest carbon projects intended to mitigate global climate change last year, according to a new report by Forest Trends' Ecosystem Marketplace. By trading a record 30.1 million tons of carbon dioxide equivalent (MtC02e), the market saw a 48 percent rise over 2009—including a rise in private investors over non-profits as well as greater support for the global program Reduced Emissions from Deforestation and forest Degradation (REDD)—shows that the burgeoning market may be beginning to make good on its promise to provide funds to save forests for their ecosystem services with an initial focus on carbon.
Indigenous people blockade river against 'murderous' oil company

(09/21/2011) Over the weekend more than 100 Shuar indigenous people, also known as Wampis, blockaded the Morona River in Peru in an effort to stop exploratory oil drilling by Canadian-owned Talisman Energy. The blockade in meant to prevent oil drilling in an area of the Peruvian Amazon known as Block 64, home to four indigenous tribes in total and the Pastaza River Wetland Complex, a Ramsar wetland site.
Peru president signs indigenous rights act into law

(09/07/2011) Peru's new president, Ollanta Humala, has signed into law a measure requiring that indigenous groups are consulted prior to any mining, logging, or oil and gas projects on their land. If properly enforced, the new legislation will give indigenous people free, prior and informed consent (FPIC) over such industrial projects, though the new law does not go so far as to allow local communities a veto over projects. Still, the law puts Peru in line with the Indigenous and Tribal Peoples Convention of 1989, which the South American nation ratified nearly two decades ago.
Picture of the day: where the Andes meets the Amazon rainforest

(09/04/2011) The zone where the Amazon rainforest meets the Andes mountains is the most biodiverse place on Earth. Large amounts of rainfall and altitudinal gradients create a variety of microclimates and niches that are exploited by a wide range of species. The Western Amazon—especially its submontane and montane forests—are also poorly known due to their inaccessibility. Only a few research sites have been studied extensively.
Peru passes landmark indigenous rights legislation

(08/24/2011) A new administration in Peru is moving toward granting indigenous people long-sought legal rights, reports Survival International. Yesterday, the Peruvian congress approved new legislation that gives indigenous people free, prior and informed consent (FPIC) for any project on their land. If signed into law and enforced, the legislation would provide indigenous groups considerable clout in keeping industry off their lands if they choose.
Climate change may fuel increase in warfare, finds study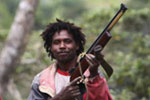 (08/24/2011) Civil war is twice as likely in tropical countries during particularly hot and dry years, according to a new study in Nature. The researchers found that El Niño conditions, which generally cuts rainfall and raises temperatures in the tropics, may have played a factor in one-fifth of the world's total conflicts during the past 50 years. El Niño conditions occur every 3-7 years. While the study did not examine global climate change in conjunction with conflict, the study links a warmer world to a more conflict-prone one, as least in the tropics.
Animal picture of the day: the brilliant cock-of-the-rock

(08/16/2011) The Andean cock-of-the-rock (Rupicola peruvianus) is an unmistakable bird, whose males support such brilliant and bushy head plumage that their beaks are often hidden entirely, giving them a look wholly unique in the animal kingdom.
Uncontacted tribe missing after armed drug dealers storm their forest

(08/09/2011) Concern is rising for the welfare of uncontacted natives in the Brazilian Amazon after armed marauders stormed the area where they were last documented. Last week men with rifles and machine guns, believed to be drug traffickers from Peru, overran a remote government guard post run by FUNAI (Brazil's Indigenous Affairs Department) on the Envira River, near the uncontacted indigenous people's location on the border of Brazil and Peru. The uncontacted indigenous people in question made headlines worldwide earlier this year after photos and film of them were released from flyovers.
NASA image shows it snowing in driest place on earth

(07/20/2011) A snowstorm engulfed parts of the driest place on earth this month: the Atacama desert in South America. Images captured by NASA's Moderate Resolution Imaging Spectroradiometer (MODIS) on Terra Satellite show parts of the landscape covered in white.
Oil company hires indigenous people to clean up its Amazon spill with rags and buckets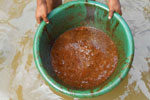 (07/13/2011) On Sunday morning children swimming in the Mashiria River in the Peruvian Amazon noticed oil floating on the water. A pipeline owned by Maple Energy had ruptured in Block 31-E, polluting the Mashiria River which is used by the Shipibo indigenous community in Nuevo Sucre for fishing and drinking water. In response to the spill, Maple Energy's local operator—Dublin incorporate transnational—hired 32 Shipibo community members to clean up the spills using only rags and buckets.
Peru cancels massive dam project after years of protests

(06/16/2011) Three years of sustained community opposition have brought down plans for a massive dam on the Madre de Dios River in Peru. Yesterday the Peruvian government announced it was terminating the contract with Empresa de Generación Eléctrica Amazonas Sur (Egasur) to build a 1.5 gigawatt dam, known as the Inambari Dam. The dam was one of six that were agreed upon between Peru and Brazil to supply the latter with energy.
New technology enables scientists to map rainforest biodiversity by airplane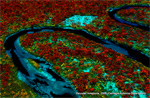 (06/02/2011) A new airplane-based remote-sensing and analysis system will enable scientists to catalog tree species as they create three-dimensional maps of tropical forests. Unveiled today at the Hiller Aviation Museum in San Carlos, California by Greg Asner of the Carnegie Institution's Department of Global Ecology, the newest version of the Carnegie Airborne Observatory (CAO) will offer powerful insights into the composition and biology of tropical forests.
New global carbon map for 2.5 billion ha of forests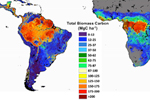 (05/31/2011) Tropical forests across Latin America, Africa, and Southeast Asia stored 247 gigatons of carbon — more than 30 years' worth of current emissions from fossil fuels use — in the early 2000s, according to a comprehensive assessment of the world's carbon stocks. The research, published in the journal Proceedings of the National Academy of Sciences by an international team of scientists, used data from 4,079 plot sites around the world and satellite-based measurements to estimate that forests store 193 billion tons of carbon in their vegetation and 54 billion tons in their roots structure. The study has produced a carbon map for 2.5 billion ha (6.2 billion acres) of forests.
Photos: the top ten new species discovered in 2010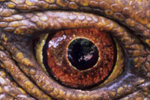 (05/23/2011) If we had to characterize our understanding of life on Earth as either ignorant or knowledgeable, the former would be most correct. In 250 years of rigorous taxonomic work researchers have cataloged nearly two million species, however scientists estimate the total number of species on Earth is at least five million and perhaps up to a hundred million. This means every year thousands of new species are discovered by researchers, and from these thousands, the International Institute for Species Exploration at Arizona State University selects ten especially notable new species.
ConocoPhillips withdraws from oil exploitation in uncontacted indigenous territory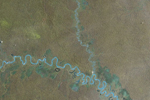 (05/11/2011) ConocoPhillips has announced it is withdrawing from its 45% share of oil drilling in Block 39 of Peru's Amazon rainforest. The withdrawal comes after pressure from indigenous-rights and environmental groups to leave two Peruvian oil blocks—39 and 67—alone, due to the presence of indigenous people who have chosen to remain uncontacted. ConocoPhillips and other companies have been warned they will 'decimate' tribes if they remain. However, Spanish oil company Repsol-YPF still operates in block 39 and is currently doing seismic testing for oil reserves in the untouched region. ConocoPhillips has not divulged what company is taking their place.
Demand for gold pushing deforestation in Peruvian Amazon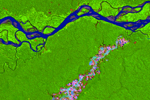 (04/19/2011) Deforestation is on the rise in Peru's Madre de Dios region from illegal, small-scale, and dangerous gold mining. In some areas forest loss has increased up to six times. But the loss of forest is only the beginning; the unregulated mining is likely leaching mercury into the air, soil, and water, contaminating the region and imperiling its people. Using satellite imagery from NASA, researchers were able to follow rising deforestation due to artisanal gold mining in Peru. According the study, published in PLoS ONE, Two large mining sites saw the loss of 7,000 hectares of forest (15,200 acres)—an area larger than Bermuda—between 2003 and 2009.
'Luck and perseverance': new plant genus discovered in Amazon

(03/31/2011) The discovery of a new plant species is not uncommon, especially in places of remarkable biodiversity such as the Amazon rainforest. However, discovering a new plant genus, a taxonomic rank above species, is, according to Henk van der Werff fromt the Missouri Botanical Garden (MBG), "a matter of luck and perseverance". Researchers with the Missouri Botanical Garden have been blessed with both as they have announced two new species of Amazonian plants, one from Ecuador and one from Peru, that comprise a completely new genus: named, Yasunia, since the plant was originally discovered in Ecuador's vast Yasuni National Park.
Amazon still neglected by researchers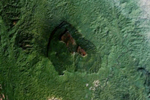 (03/28/2011) Although the Amazon is the world's largest tropical forest, it is not the most well known. Given the difficulty of access along with the fear of disease, dangerous species, indigenous groups, among other perceived perils, this great treasure chest of biology and ecology was practically ignored by scientists for centuries. Over the past few decades that trend has changed, however even today the Amazon remains lesser known than the much smaller, and more secure, tropical forests of Central America. A new study in mongabay.com's open access journal Tropical Conservation Science, which surveyed two prominent international tropical ecology journals (Biotropica and Journal of Tropical Ecology) between 1995 and 2008, finds that Central America was the subject of twice as many studies as the Amazon. In fact, according to the authors, much of the Amazon remains terra incognito to researchers, even as every year more of the rainforest is lost to human impacts.
Bill Clinton takes on Brazil's megadams, James Cameron backs tribal groups

(03/28/2011) Former US President, Bill Clinton, spoke out against Brazil's megadams at the 2nd World Sustainability Forum, which was also attended by former California governor, Arnold Schwarzenegger, and film director, James Cameron, who has been an outspoken critic of the most famous of the controversial dams, the Belo Monte on the Xingu River.
Climate change caused by deforestation triggers species migration

(03/23/2011) Local climate shifts caused by deforestation and land cover change are causing insects to migrate to higher — and cooler — habitats, reports a new study published in the journal Biotropica. The research has implications for predicting how species will respond to climate change.
Photos: two new freshwater stingrays discovered in the Amazon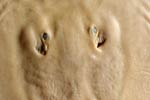 (03/09/2011) Few people probably realize that in the rivers and lakes of the Amazon rainforest large stingrays glide, searching for crustaceans and small fish. Equipped with a powerful barbed tail they are often feared by locals. However, even as big as these fish are, new species continue to be described. Recently, scientists have identified two new species of Amazonian freshwater stingray near Iquitos, Peru. The new stingrays are unique enough to be placed in a new genus (the taxonomic level above species) called Heliotrygon, the first new Amazonian stingray genus to be described in nearly 25 years.
Report: 90 oil spills in Peruvian Amazon over 3 years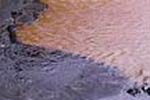 (03/03/2011) A new report has uncovered 90 oil spills by Pluspetrol in northern Peru's Amazon rainforest over the past 3 years. Covering two oil blocs—1-AB and 8—the report, complied by the Federation of Indigenous Communities of the Corrientes River (FECONACO), recorded 18 major oil spills in just the last year. "A week after the landmark ruling against Chevron in Ecuador for $9 billion of damage from operations in the 1970's and 80's, this new report highlights the ongoing devastation caused by the oil industry on the fragile Amazon ecosystem and the people that live there," said Atossa Soltani, Executive Director at Amazon Watch, in a press release.
Indigenous leaders take fight over Amazon dams to Europe

(03/02/2011) Three indigenous Amazonian leaders spent this week touring Europe to raise awareness about the threat that a number of proposed monster dams pose to their people and the Amazon forest. Culminating in a press conference and protests in London, the international trip hopes to build pressure to stop three current hydroelectric projects, one in Peru, including six dams, and two in Brazil, the Madeira basin industrial complex and the massive Belo Monte dam. The indigenous leaders made the trip with the NGO Rainforest Foundation UK, including support from Amazon Watch, International Rivers, and Rainforest Concern.
First strike against illegal gold mining in Peru: military destroys miners' boats

(02/21/2011) Around a thousand Peruvian soldiers and police officers destroyed seven and seized thirteen boats used by illegal gold miners in the Peruvian Amazon, reports the AFP. The move is seen as a first strike against the environmentally destructive mining. Used to pump silt up from the river-bed, the boats are essential tools of the illegal gold mining trade which is booming in parts of the Amazon.
Incredible new photos of uncontacted tribe in the Amazon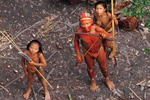 (01/31/2011) Taken by Brazil's Indian Affairs Department and released by indigenous-rights group, Survival International, new aerial photos show an uncontacted tribe on the border of Brazil and Peru in detail. According to a press release by Survival International, the photos "reveal a thriving, healthy community with baskets full of manioc and papaya fresh from their gardens", but a community that is also threatened by illegal loggers from Peru.
Marathon swimmer: an interview with the first man to swim the length of the Amazon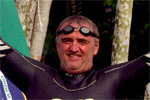 (01/23/2011) Explorers have been making their way down the world's mightiest river for hundreds of years. Untold numbers of people have not completed the journey, drowning in its murky waters, being eaten by animals, losing their way, succumbing to tropical disease, being killed by pirates or hostile local populations. But today a trip down the Amazon is less special—it has even been rafted and kayaked by a few intrepid souls. Traversing the majority of the Amazon can be done easily by commercial boat, provided you have the time and a lot of patience. But then in 2007 a Slovenian did something amazing: he swam the entire length of the river. The adventure took 66 days and exacted a heavy physical and mental toll, but Martin Strel survived and in so doing conveyed a simple, but powerful message to the world: we are part of the our environment.




Page 1 | Page 2 | Page 3 | Page 4 | Page 5 | Page 6 | Page 7