News articles on peatlands

---
Mongabay.com news articles on peatlands in blog format. Updated regularly.





Aceh's 'green' governor breaks Indonesia's moratorium by granting oil palm plantation, alleges group

(11/23/2011) Aceh governor Irwandi Yusuf may have broken Indonesia's moratorium on new concessions in peatlands when he approved an oil palm plantation in the Tripa peat swamp in August this year, alleges WAHLI, an Indonesian environmental group.


Report questions legitimacy of Asia Pulp & Paper's conservation initiatives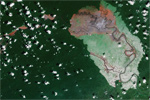 (11/22/2011) A new report by an Indonesian environmental group casts doubt on Asia Pulp & Paper's commitment to sustainability. In its corporate social responsibility reports and advertisements, Asia Pulp & Paper (APP), one of Indonesia's largest pulp and paper suppliers, has touted several forest reserves as indicators of its commitment to environmental stewardship. APP has portrayed these as voluntary, goodwill efforts to conserve Sumatra's endangered wildlife. But in a new report, Greenomics-Indonesia, a Jakarta-based NGO, says that at best these projects represent compliance with existing Indonesian laws or are in areas where commercial exploitation isn't viable.


Palm oil biofuel from peatlands has big climate impact, finds study

(11/08/2011) Biofuels produced from oil palm plantations established on tropical peatlands are a substantial source of greenhouse gas emissions, reports a comprehensive new assessment conducted for the International Council on Clean Transportation (ICCT).


Paper suppliers risk damaging Indonesia's reputation, argues report

(10/07/2011) Indonesia needs to re-evaluate forest areas and peatlands granted for pulp and paper plantations to reduce the risk of damaging the international reputation of its forest products and undermining its commitment to greenhouse gas emissions reductions, argues a new report published by an Indonesian activist group.


Toy giant Mattel drops paper from APP and other 'controversial sources'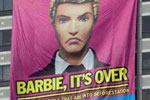 (10/05/2011) The world's biggest toy-maker Mattel has pledged to overhaul its paper sourcing policies after a hard-hitting campaign from Greenpeace linked the toy giant to rainforest destruction in Indonesia by Asia Pulp and Paper (APP). Today, Mattel pledged to increase the use of recycled paper and sustainably-certified fiber to 70 percent by the year's end, and 85 percent by 2015. In addition, the company has said any 'controversial' company engaged in natural forest destruction will be kept out of its supply line, referring to, but not naming directly, APP. Surprisingly, APP told mongabay.com that it 'applauds' Mattel's new commitments.


Palm oil, paper drive large-scale destruction of Indonesia's forests, but account for diminishing role in economy, says report


(07/27/2011) Indonesia's forests were cleared at a rate of 1.5 million hectares per year between 2000 and 2009, reports a new satellite-based assessment by Forest Watch Indonesia (FWI), an NGO. Expansion of oil palm and wood-pulp plantations were the biggest drivers of deforestation, yet account for a declining share of the national economy. The study, which compared year 2000 data with 2009 Landsat images from NASA, found that Indonesia's forest cover declined from 103.32 million hectares to 88.17 million hectares in ten years. Since 1950 Indonesia lost more than 46 percent of its forests.


U.S. park to reopen after massive peat forest fires

(07/24/2011) Authorities are reopening Okefenokee National Wildlife Refuge in Georgia five weeks after the 402,000-acre swamp was closed due to a massive forest fire sparked by a lightning strike during the state's severe drought.


REDD calculator and mapping tool for Indonesia launched

(07/13/2011) Researchers have launched a new tool to help policy-makers, NGOs, and landowners evaluate the potential benefits and costs of Indonesia's reducing emissions from deforestation and degradation (REDD+) program at provincial and district levels.


Fire detected in plantation that allegedly breached Indonesia's moratorium

(06/28/2011) A fire is burning within a concession controlled by PT Menteng Jaya Sawit Perdana in Indonesian Borneo turning up the heat on its parent company, the Malaysia-based conglomerate Kuala Lumpur Kepong Berhad (KLK), which supplies "sustainably-produced" palm oil to companies like Cargill and is already under investigation for breaching Indonesia's new moratorium on forest conversion, according to the Environmental Investigation Agency (EIA).


Alleged moratorium breach becomes test for RSPO

(06/24/2011) An alleged breach of Indonesia's new moratorium on primary forest and peatlands conversion may prove a test for the Roundtable on Sustainable Palm Oil (RSPO), an eco-certification initiative.


Indonesia to investigate palm oil company that allegedly breached moratorium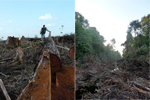 (06/21/2011) Indonesia's REDD+ Task Force will investigate charges that PT Menteng Jaya Sawit Perdana (PT Menteng), a palm oil company owned by Malaysia-based Kuala Lumpur Kepong Berhad (KLK), has cleared peat forest in breach of the country's newly-signed moratorium on the granting of new forestry licenses on peatlands and in primary forest areas. The allegation was levied by the Environmental Investigation Agency, an international NGO, and Telapak, an Indonesian group, after an on-the-ground undercover investigation. EIA and Telapak found that PT Menteng had cleared peat forest near Sampit in Indonesia's Central Kalimantan province without securing proper licenses.


Malaysian palm oil company violates Indonesia's logging moratorium

(06/16/2011) An undercover investigation has found evidence that a subsidiary of Malaysian palm oil company has illegally cleared forest in breach of the Indonesia's moratorium on new permits in primary forest areas and peatlands.


Barbie, Legos, other toys linked to destruction of Indonesia's rainforests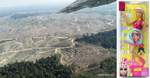 (06/07/2011) Some of the world's largest and most prominent toy-makers are sourcing their packaging materials from companies linked to large-scale destruction of Indonesia's rainforests, alleges a new report from Greenpeace. The report, How APP is Toying with Extinction, is based on forensic analysis of toy packaging from Mattel, which manufacturers Barbie and Hot Wheels toys; Disney, which makes a variety of toys linked to its movies; Hasbro, which produces GI Joe, Star Wars, and Sesame Street toys and various games like Monopoly and Scrabble; and Lego, which makes the iconic plastic building blocks. The analysis found traces of mixed-tropical hardwood (MTH) and acacia fiber which are principally sourced from Asia Pulp & Paper (APP), an umbrella paper products brand that sources from several companies that have been linked to rainforest destruction in Sumatra.


Interview with Indonesian climate official on rainforest logging moratorium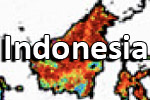 (06/03/2011) In May, Indonesia President Susilo Bambang Yudhoyono issued a presidential instruction laying out the specifications for a two-year moratorium on new concessions in primary forests and peatlands. The moratorium aims to create a window for Indonesia to enact reforms needed to slow deforestation and forest degradation under its Letter of Intent with Norway, which would pay the Southeast Asian nation up to a billion dollars for protecting forests.


Lack of clarity complicates Indonesia's logging moratorium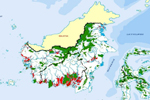 (05/27/2011) Lack of clarity makes it difficult to assess whether Indonesia's moratorium on new logging concessions in primary forest areas and peatlands will actually reduce greenhouse gas emissions from deforestation, according to a new comprehensive assessment of the instruction issued last week by Indonesian President Susilo Bambang Yudhoyono. The analysis, conducted by Philip Wells and Gary Paoli of Indonesia-based Daemeter Consulting, concludes that while the moratorium is "potentially a powerful instrument" for achieving the Indonesian president's goals of 7 percent annual growth and a 26 percent reduction in greenhouse gas emissions from a projected 2020 baseline, the language of the moratorium leaves significant areas open for interpretation, potentially offering loopholes for developers.


Indonesia's moratorium disappoints environmentalists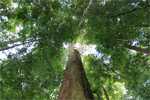 (05/20/2011) The moratorium on permits for new concessions in primary rainforests and peatlands will have a limited impact in reducing deforestation in Indonesia, say environmentalists who have reviewed the instruction released today by Indonesian President Susilo Bambang Yudhoyono. The moratorium, which took effect January 1, 2011, but had yet to be defined until today's presidential decree, aims to slow Indonesia's deforestation rate, which is among the highest in the world. Indonesia agreed to establish the moratorium as part of its reducing emissions from deforestation and degradation (REDD) agreement with Norway. Under the pact, Norway will provide up to a billion dollars in funds contingent on Indonesia's success in curtailing destruction of carbon-dense forests and peatlands.


Is Indonesia losing its most valuable assets?


(05/16/2011) Deep in the rainforests of Malaysian Borneo in the late 1980s, researchers made an incredible discovery: the bark of a species of peat swamp tree yielded an extract with potent anti-HIV activity. An anti-HIV drug made from the compound is now nearing clinical trials. It could be worth hundreds of millions of dollars a year and help improve the lives of millions of people. This story is significant for Indonesia because its forests house a similar species. In fact, Indonesia's forests probably contain many other potentially valuable species, although our understanding of these is poor. Given Indonesia's biological richness — Indonesia has the highest number of plant and animal species of any country on the planet — shouldn't policymakers and businesses be giving priority to protecting and understanding rainforests, peatlands, mountains, coral reefs, and mangrove ecosystems, rather than destroying them for commodities?


Valuing Ecosystem Services: The Case of Multi-functional Wetlands

(05/16/2011) Valuing Ecosystem Services: The Case of Multi-functional Wetlands provides the clearest guide yet to describing and implementing in a systematic fashion payments for ecosystems services (PES) strategies for wetland protection mechanisms. By focusing initially on frameworks and obstacles to implementation of wetland protection strategies such as property rights, measuring and monitoring, behavior and compensation, cultural barriers and external factors, the authors posit that is possible to effectively value multi-functional wetlands.


Fires burn in Sumatra, drive air pollution in Malaysia

(05/13/2011) More than 100 Indonesian firefighters are battling peatland fires set by oil palm plantation developers in Riau province on the island of Sumatra, reports the AFP.


Greenpeace says McKinsey's REDD+ work could encourage deforestation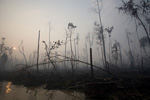 (04/07/2011) One of the world's top consultancies, McKinsey & Co., is providing advice to governments developing 'Reducing Emissions from Deforestation and Degradation' (REDD+) programs that could increase risks to tropical forests, claims a new report published by Greenpeace. The report, Bad Influence – how McKinsey-inspired plans lead to rainforest destruction, says that McKinsey's REDD+ cost curve and baseline scenarios are being used to justify expansion of industrial capacity in Indonesia, Papua New Guinea, Democratic Republic of Congo, and Guyana.


Photos: Visiting Gunung Palung in Indonesian Borneo


(03/30/2011) A description of mongabay.com's Rhett Butler's recent visit to Gunung Palung National Park in West Kalimantan, Indonesian Borneo. In my travels in Kalimantan, the forest of Gunung Palung around Cabang Panti ranks among the best. Within 24 hours of arriving I had already seen wild orangutans, red leaf monkeys, gibbons, bearded pigs, a variety of lizards and frogs, a cobra (a little too close for comfort), and an innumerable diversity of insects.


Pro-deforestation group criticizes palm oil giant for sustainability pact

(03/24/2011) World Growth International, a group that advocates on behalf of industrial forestry interests, has criticized Golden Agri Resources (GAR), Indonesia's largest palm oil producer, for signing a forest policy that aims to protect high conservation value and high carbon stock forest and requires free, prior informed consent (FPIC) in working with communities potentially affected by oil palm development. In a newsletter published March 10, World Growth International claimed that GAR's agreement "could severely hamper the company's growth" by limiting where it can establish new plantations and says that negotiating with multiple stakeholders "will delay and complicate any investment by the company." World Growth International concludes by implying that GAR may renege on its commitment. But Peter Heng, Managing Director, Communications and Sustainability at GAR, disagreed with World Growth International's assessment.


Palm oil company gives up land contested by local communities as part of sustainability pledge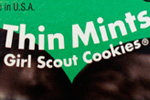 (03/21/2011) An Indonesia palm oil company has relinquished part of its plantation concession to communities that traditionally use the land as part of its commitment to sustainability principles under the Roundtable on Sustainable Palm Oil (RSPO), reports the Forest Peoples Programme. The move is a response to a new procedure that could reduce conflict between palm oil developers and forest-dependent communities.


Pulp and paper firms urged to save 1.2M ha of forest slated for clearing in Indonesia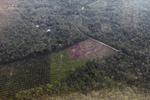 (03/17/2011) Indonesian environmental groups launched a urgent plea urging the country's two largest pulp and paper companies not to clear 800,000 hectares of forest and peatland in their concessions in Sumatra. Eyes on the Forest, a coalition of Indonesian NGOs, released maps showing that Asia Pulp and Paper (APP) and Asia Pacific Resources International Limited (APRIL) control blocks of land representing 31 percent of the remaining forest in the province of Riau, one of Sumatra's most forested provinces. Much of the forest lies on deep peat, which releases large of amount of carbon when drained and cleared for timber plantations.


First large-scale map of oil palm plantations reveals big environmental toll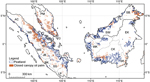 (03/07/2011) Expansion of industrial oil palm plantations across Malaysia and Indonesia have laid waste to vast areas of forest and peatlands, exacerbating greenhouse gas emissions and putting biodiversity at risk, reports a new satellite-based analysis that maps mature oil palm estates across Peninsular Malaysia, Borneo, and Sumatra.


7.5 million ha of Indonesian forest slated for clearing

(02/09/2011) 7.5 million hectares of natural forest will escape Indonesia's planned moratorium on new forestry concessions, according to a new report from Greenomics Indonesia, an activist group.


From Cambodia to California: the world's top 10 most threatened forests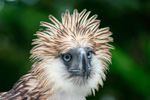 (02/02/2011) Growing populations, expanding agriculture, commodities such as palm oil and paper, logging, urban sprawl, mining, and other human impacts have pushed many of the world's great forests to the brink. Yet scientists, environmentalists, and even some policymakers increasingly warn that forests are worth more standing than felled. They argue that by safeguarding vulnerable biodiversity, sequestering carbon, controlling erosion, and providing fresh water, forests provide services to humanity, not to mention the unquantifiable importance of having wild places in an increasingly human-modified world. Still, the decline of the world's forests continues: the FAO estimating that around 10 million hectares of tropical forest are lost every year. Of course, some of these forests are more imperiled than others, and a new analysis by Conservation International (CI) has catalogued the world's 10 most threatened forests.


Illegal mining, plantation development rampant in Indonesian Borneo; state losses top $17B

(02/01/2011) Hundreds of mining and oil palm plantation companies are operating illegally in Indonesian Borneo, according to a investigation by an task force set up by President Susilo Bambang Yudhoyono.


Malaysian palm oil producers destroying Borneo peat forests faster than ever before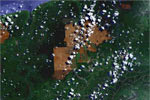 (02/01/2011) Peatlands and rainforests in Malaysia's Sarawak state on the island of Borneo are being rapidly destroyed for oil palm plantations, according to new studies by environmental group Wetlands International and remote sensing institute Sarvision. The analysis shows that more than one third (353,000 hectares or 872,000 acres) of Sarawak's peatswamp forests and ten percent of the state's rainforests were cleared between 2005 and 2010. About 65 percent of the area was converted for oil palm, which is replacing logging as timber stocks have been exhausted by unsustainable harvesting practices.


Does chopping down rainforests for pulp and paper help alleviate poverty in Indonesia?


(01/13/2011) Over the past several years, Asia Pulp & Paper has engaged in a marketing campaign to represent its operations in Sumatra as socially and environmentally sustainable. APP and its agents maintain that industrial pulp and paper production — as practiced in Sumatra — does not result in deforestation, is carbon neutral, helps protect wildlife, and alleviates poverty. While a series of analyses and reports have shown most of these assertions to be false, the final claim has largely not been contested. But is conversion of lowland rainforests for pulp and paper really in Indonesia's best economic interest?


Al Gore thanks Indonesian president for forest, climate commitment

(01/10/2011) Opening a climate summit in Jakarta, former U.S. Vice President Al Gore thanked Indonesian President Susilo Bambang Yudhoyono for his commitment to reduce projected greenhouse gas emissions, reports the Jakarta Globe.


Indonesia delays logging moratorium

(01/05/2011) Bureaucratic confusion has led Indonesia to delay implementation of its two-year moratorium on new logging and plantation concessions in forest areas and peatlands, reports the Jakarta Globe.


Borneo province selected for Indonesia's first pilot under REDD program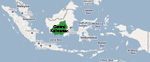 (12/30/2010) Indonesian President Susilo Bambang Yudhoyono has selected Central Kalimantan as the pilot province for the country's Reducing Emissions from Deforestation and Forest Degradation (REDD+) program, according to the President's office on climate change. Central Kalimantan was selected over eight other forested provinces, including Aceh, Jambi, Riau, and South Sumatra on the island of Sumatra; West Kalimantan and East Kalimantan on the island of Borneo; and Papua and West Papua in Indonesian New Guinea. Central Kalimantan was chosen due to its high rate of forest conversion, large expanses of peatlands and rainforests, the advanced state of carbon conservation test projects, and political interest in reducing deforestation and degradation.


Will Indonesia's big REDD rainforest deal work?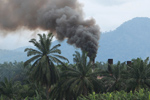 (12/28/2010) Flying in a plane over the Indonesian half of the island of New Guinea, rainforest stretches like a sea of green, broken only by rugged mountain ranges and winding rivers. The broccoli-like canopy shows little sign of human influence. But as you near Jayapura, the provincial capital of Papua, the tree cover becomes patchier—a sign of logging—and red scars from mining appear before giving way to the monotonous dark green of oil palm plantations and finally grasslands and urban areas. The scene is not unique to Indonesian New Guinea; it has been repeated across the world's largest archipelago for decades, partly a consequence of agricultural expansion by small farmers, but increasingly a product of extractive industries, especially the logging, plantation, and mining sectors. Papua, in fact, is Indonesia's last frontier and therefore represents two diverging options for the country's development path: continued deforestation and degradation of forests under a business-as-usual approach or a shift toward a fundamentally different and unproven model based on greater transparency and careful stewardship of its forest resources.


George Soros: save Indonesia's peatlands, rainforests

(12/09/2010) Speaking at a high-level event on the sidelines of climate talks in Cancun, Mexico, financier and philanthropist George Soros made an impassioned call to protect Indonesia's peatlands, the destruction and degradation of which are the largest source of carbon dioxide emissions across the Southeast Asian nation.


Will dumping mining waste in peatlands help mitigate climate change?

(12/02/2010) Indonesia's national climate change strategy document includes text suggesting that dumping mining waste in peatlands could be used as an approach to reducing greenhouse gas emissions.


Pulp plantations destroying Sumatra's rainforests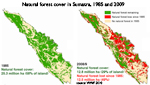 (11/30/2010) Indonesia's push to become the world's largest supplier of palm oil and a major pulp and paper exporter has taken a heavy toll on the rainforests and peatlands of Sumatra, reveals a new assessment of the island's forest cover by WWF. The assessment, based on analysis of satellite imagery, shows Sumatra has lost nearly half of its natural forest cover since 1985. The island's forests were cleared and converted at a rate of 542,000 hectares, or 2.1 percent, per year. More than 80 percent of forest loss occurred in lowland areas, where the most biodiverse and carbon-dense ecosystems are found.


Don't ignore biodiversity when conserving carbon stocks

(11/29/2010) A focus on conservation of high carbon landscapes via the proposed REDD mechanism could come at a detriment to biodiversity, argues a new paper published in Carbon Balance and Management.


Plantations on peatlands are huge source of carbon emissions

(11/29/2010) Converting peatlands for wood-pulp and oil palm plantations generates nearly 1,500 tons of carbon dioxide per hectare, making these ostensibly "green" sources of paper, vegetable oil and biofuels important drivers of climate change, reports new research published by scientists at the Center for International Forestry Research (CIFOR).


Scientists call upon Indonesia to recognize value of secondary forests

(11/18/2010) A group of scientists have called upon the governments of Indonesia and Norway to recognize the conservation value of logged-over and "degraded" forests under their partnership on reducing emissions from deforestation and degradation. The letter urges the Indonesian government to extend protection to forest areas that may not be pristine but still serve as important carbon sinks, house endangered wildlife, and provide livelihoods for communities.


Asia Pulp & Paper's emissions from paper production 500 times higher than claimed

(11/04/2010) Asia Pulp & Paper is misrepresenting the greenhouse gas emissions generated through its paper production by several orders of magnitude claims a new analysis of its carbon footprint by the Rainforest Action Network (RAN) and the Japan Tropical Forest Action Network (JATAN).


Embattled palm oil company seeks redemption from certification body

(10/30/2010) Golden Agri-Resources (GAR) and its subsidiaries, Indonesia-based PT Sinar Mas Agro Resources & Technology (SMART) and PT Ivo Mas Tunggal, had submitted plans for coming into compliance with the Roundtable on Sustainable Palm Oil, a certification body for "greener" palm oil, reports Dow Jones.


Pulp and paper firm signs carbon deal in Sumatra

(10/05/2010) Indonesian pulp and paper firm Asia Pulp and Paper (APP) has signed a deal to protect 15,640 hectares of peat forest in Sumatra in exchange for carbon payments, reports Reuters.


Asia Pulp & Paper fumbles response to deforestation allegations by Greenpeace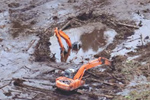 (09/28/2010) A new audit that seems to exonerate Asia Pulp & Paper from damaging logging practices in Indonesia was in fact conducted by the same people that are running its PR efforts, raising questions about the much maligned company's commitment to cleaning up its operations. The audit slams Greenpeace, the activist group that accused Asia Pulp & Paper (APP) of illegal and destructive logging in Sumatra in its July 2010 report, How Sinar Mas is Pulping the Planet. It runs through each of the claims laid out in the Greenpeace report, arguing some are speculative or improperly cited. But the audit doesn't actually deny that APP is clearing forests and peatlands for pulp plantations. In fact, the audit effectively confirms that the company is indeed engaged in conversion of 'deep' peat areas, but argues that this activity isn't illegal under Indonesian law.


Indonesia is the 3rd largest GHG emitter but reducing deforestation offers big opportunity, says government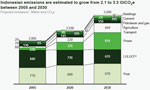 (09/28/2010) Indonesia's greenhouse gas emissions reached 2.1 billion tons of carbon dioxide in 2005, making it the world's third largest emitter of greenhouse gases, but offering opportunities to substantially reduce emissions through forest conservation, reduced use of fire, protection of peatlands, and better forest management, reports a series of studies released earlier this month by the country's National Climate Change Council (DNPI).


Oil palm plantations on peatlands won't get carbon credits under CDM

(09/19/2010) Plantations on peatlands will no longer be supported by the Clean Development Mechanism (CDM), a framework for industrialized countries to reduce their emissions via projects in developing countries, reports Wetlands International.


Cargill to engage Indonesian supplier after audit confirms forest destruction

(08/27/2010) Cargill will engage one of its major palm oil suppliers after an independent audit confirmed that the Indonesian company has been destroying rainforests and peatlands in Borneo to establish oil palm plantations.


Cargill backtracks on sustainability push for palm oil, says activist group

(08/26/2010) Cargill has not suspended its relationship with a palm oil company recently exposed for misleading investors and buyers on its environmental transgressions, reports the Rainforest Action Network (RAN), an activist group campaigning against environmentally-damaging forms of palm oil production.


Gazprom, Shell and Clinton Foundation back rainforest carbon deal in Borneo

(08/24/2010) A forest conservation project backed by Shell, Gazprom Market and Trading and the Clinton Foundation on the island of Borneo has won approval under a carbon accounting standard, reports Reuters.


Fraud allegations against Indonesian palm oil giant widen, tarnishing auditors and sustainable palm oil initiative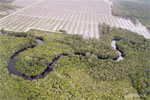 (08/19/2010) Sinar Mas, an Indonesian conglomerate whose holdings include Asia Pulp and Paper, a paper products brand, and PT Smart, a palm oil producer, was sharply rebuked Wednesday over a recent report where it claimed not to have engaged in destruction of forests and peatlands. At least one of its companies, Golden Agri Resources, may now face an investigation for deliberately misleading shareholders in its corporate filings.



Page 1 | Page 2 | Page 3 | Page 4 | Page 5 | Page 6