News articles on peatlands

---
Mongabay.com news articles on peatlands in blog format. Updated regularly.






Indonesian logger: cleared peat forest doesn't have high conservation value

(06/17/2014) An Indonesian logging company says that clearing of peat forest on an island off Sumatra is 'in line with its Sustainable Forest Management Policy' because the area wasn't found to be of high conservation value. In a letter responding to concerns raised by environmental groups, Asia Pacific Resources International Holdings Limited (APRIL) said its forest policy applies to all its concessions, including the Pulau Padang concession where Greenpeace documented deep peat clearance last month.
'Borne by the rest of the world': deforestation has global impact, reduces food security
(06/13/2014) Research indicates that areas with more forest cover tend to have superior food resilience compared to areas with less. In addition, the loss of forest cover to deforestation has long-term impacts not only locally, but also globally. These topics were discussed by international experts during the 2020 Conference on Building Resilience for Food and Nutrition Security, held last month in Addis Ababa, Ethiopia.
Another year of fires, another year of inaction

(06/06/2014) With a 70% chance of an El Niño this year, Indonesia could soon be facing the ire of its nearest neighbors yet again as the dry season approaches with the ever present threat of vegetation fires.
Indonesia's haze from forest fires kills 110,000 people per year
(05/28/2014) Haze caused by burning peat forests in Indonesia kills an average of 110,000 people per year and up to 300,000 during el Niño events, while releasing hundreds of millions of tons of greenhouse gases into the atmosphere, warns a new report from Greenpeace. Sumatra: Going up in smoke argues that peatland and forest protection are the best way to protect the region from the effects of haze.
Deutsche Bank dumps controversial palm oil company

(05/27/2014) Deutsche Bank has sold its stake in Bumitama, an Indonesian palm company that has been embroiled in controversy over alleged destruction of rainforests and peatlands in Borneo, reports Friends of the Earth Europe.
NASA data: 1997 all over again for Indonesia?
(05/14/2014) The latest data from NASA shows that conditions developing in the tropical Pacific are eerily similar to those in 1997, when El Niño wreaked havoc across Indonesia, spurring a severe drought that exacerbated massive peatland and forest fires which spread choking haze across much of South and Southeast Asia.
APP commits to conserve, restore 1M ha of Indonesian forest; WWF pledges support
(04/28/2014) Asia Pulp & Paper (APP), Indonesia's largest pulp and paper company and a long-time target of environmental campaigners, has committed to protect and restore a million hectares of forest across Indonesia. The pledge, which represents an area equivalent to the total plantation area from which it sourced pulp in 2013, was immediately welcomed by WWF, which until today has remained one of APP's staunchest critics.
Community's push to clear forest for plantation challenges efforts to conserve in Indonesia
(03/20/2014) In the swampy peatlands of Basilam Baru in Sumatra's Riau Province a conflict between a community and a woodpulp company is illustrating some of the intractable challenges of conserving forests and addressing deforestation in Indonesia. On first glance the story seems depressingly familiar. One actor wants to preserve the forest, which serves as critical habitat for endangered Sumatran tigers and clouded leopards. The other wants to clear it for a plantation.
Will zero deforestation commitments save Indonesia's forests?
(03/17/2014) Skirting the Malacca Strait near the Indonesian city of Dumai the air is thick with haze from peat fires burning below. As the sky clears, a landscape of sharply-cut geometric shapes becomes apparent. What was once carbon-dense peat forests and rainforests are today massive oil palm and wood pulp plantations.
Logging giant suspends operations to fend off plantations from fires
(03/15/2014) Indonesian Pulp & paper giant Asia Pacific Resources International Limited (APRIL) says it has suspended operations at a concession in Riau Province in order to shift staff toward fighting back fires that threaten its plantations. In a statement issued Friday, APRIL said its plantations on Pulau Padang, a peat island off the coast of Sumatra, are at risk due to fires illegally set outside its concessions.
Sumatra on fire: burning spikes in Indonesia

(03/13/2014) Fires in Sumatra's Riau province have spiked to levels unseen since last June, finds new analysis from the World Resources Institute (WRI) that reveals widespread burning within concessions managed by pulpwood, palm oil, and logging companies.
Can palm oil move past its bad reputation?
(03/02/2014) Indonesia's palm oil industry has gained a notorious reputation in recent years. Palm oil companies are routinely accused of clearing primary forests, destroying the habitats of endangered species, releasing massive amounts of carbon by draining peat swamps and fueling land conflicts with local communities. In the face of this widespread criticism, some palm oil companies are exploring ways to clean up their operations by implementing innovative programs to minimize harm to the environment and ensure local communities benefit from palm oil investments, according to a new study.
Palm oil's climate impact worse than thought due to methane emissions

(02/27/2014) Methane leaks from palm oil wastewater significantly increases the climate impact of palm oil production beyond emissions from land clearance, fire, and peatlands drainage, reports a new study published in Nature Climate Change. The research, led by Philip. G. Taylor of the University of Colorado, finds that annual methane emissions from palm oil wastewater effluent amount to the equivalent of 115 million tons carbon dioxide in Malaysia and Indonesia alone, or roughly 15 percent of total emissions from peat oxidation and land use change in the two countries.
Peatland plantations drive steep GHG emissions in Indonesia's Riau Province
(02/05/2014) Versatile is the best way to describe the reddish brown fruit born from oil palm trees. Both the flesh and seed of the fruit is used in many applications including cooking, cosmetics, and biofuel. In addition, the fruit is composed of 50 percent oil, making it a highly efficient product that requires less land than other oil producing crops.
Land conflicts complicate effort to spare forests from palm oil in Borneo
(01/17/2014) A widely-heralded effort to spare carbon-dense rainforests and peatlands from palm oil development in Indonesian Borneo is facing new criticism after an investigation by rights groups found evidence of unresolved conflicts over community land. The report, published Friday by the Forest Peoples Program and TUK-Indonesia, looked at a carbon conservation pilot project run by Golden Agri Resources (GAR), a Singapore-based agribusiness giant that is one of Indonesia's largest palm oil producers.
In precedent-setting case, palm oil company fined $30M for destroying orangutan forest
(01/09/2014) In a precedent-setting case, an Indonesian court has found a palm oil company guilty of violating environmental laws and ordered it to pay $30 million in fines and reparations for clearing an area of protected peat forest that is a stronghold for endangered orangutans in Indonesia's Aceh Province. In a ruling handed down Wednesday, the Meulaboh district court concluded that PT Kallista Alam illegally cleared and burned forest within the the protected Tripa peat swamp in northwestern Sumatra.
Rainforest news review for 2013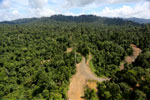 (12/26/2013) 2013 was full of major developments in efforts to understand and protect the world's tropical rainforests. The following is a review of some of the major tropical forest-related news stories for the year. As a review, this post will not cover everything that transpired during 2013 in the world of tropical forests. Please feel free to highlight anything this post missed via the comments section at the bottom. Also please note that this review focuses only on tropical forests.
Unraveling the secrets of one of the world's most mysterious big cats
(12/22/2013) The Sunda clouded leopard has always been shrouded in mystery. Only declared a separate species from its mainland cousin, the Borneo clouded leopard, in 2006, the IUCN lists the cat as Endangered. The distinction between the Borneo clouded leopard (Neofelis nebulas) and the Sunda clouded leopard (Neofelis diardi) was made by ground-breaking molecular coding technologies and anatomy studies of the two species. Although it is Borneo's largest predator, very little is known about the Sunda leopard. As a medium-sized, well-camouflaged and mostly nocturnal animal, the leopard has evaded researchers since its discovery eight years ago.
Indonesia appoints head of REDD+ agency to implement forest conservation plan
(12/20/2013) Indonesia has selected the first chief of its new REDD+ agency: Heru Prasetyo, an administrator and former private sector management consultant, reports Indonesian President Susilo Bambang Yudhoyono's office. Prasetyo will take up the challenging task of implementing Indonesia's REDD+ program, which aims to steer the Southeast Asian nation away from business-as-usual management of its fast dwindling forests. The REDD+ program is part of the broader government plan to cut Indonesia's greenhouse has emissions by at least 26 percent from a projected 2020 baseline.
Ongoing deforestation reported in Borneo concession held by APP supplier
(12/18/2013) Up to 1,400 hectares of forest have been cleared in a concession belonging to an Asia Pulp & Paper (APP) supplier in Borneo, potentially putting the company in breach of the forestry giant's zero deforestation commitment, reports a coalition of local NGO's. In a report released Tuesday, Relawan Pemantau Hutan Kalimantan (RPHK), a coalition of NGO's in part supported by WWF-Indonesia, said that blocks of natural forest have been cleared in a concession belonging to PT Daya Tani Kalbar (DTK), an APP supplier. The clearing has taken place since APP's moratorium went into effect February 1, 2013.
Palm oil company Bumitama under fire for clearing rainforest, endangering orangutans
(12/02/2013) Bumitama Agri, an Indonesian palm oil producer, is breaking the law by clearing forests and developing plantations without the proper licenses, a coalition of NGOs said in a report released on Nov. 21. The groups have called on financiers to either force Bumitama to shape up or cut ties with the company and with global palm oil traders such as Wilmar and IOI that do business with Bumitama.
Greenpeace photos expose palm oil giant's deforestation in Indonesia
(11/22/2013) A series of photos released this week by Greenpeace shows that an Indonesian palm oil company is continuing to clear orangutan habitat in Borneo despite a pledge to stop destroying the forest. Flyovers of a concession owned by PT Andalan Sukses Makmur, a subsidiary of Bumitama Agri Ltd, show excavators clearing peat forests and digging drainage canals just outside Tanjung Puting National Park in Central Kalimantan. Tanjung Puting is famous for its population of orangutans that have been intensely studied by Birute Galdikas, a noted researcher and conservationist.
Rent-a-mob disrupts court proceedings against Indonesian palm oil company
(11/14/2013) A mob of 150 palm oil workers has disrupted court proceedings against Kalista Alam, an Indonesian palm oil company accused of illegally converting blocks of protected peat forests for an oil palm plantation in Aceh, Sumatra. The Kalista Alam case is widely seen as a test of Indonesia's commitment to forestry sector reform.
3.5 million ha of Indonesian and Malaysian forest converted for palm oil in 20 years
(11/12/2013) Some 3.5 million hectares (8.7 million acres) of forest in Indonesia, Malaysia, and Papua New Guinea was converted for oil palm plantations between 1990 and 2010, finds a comprehensive set of assessments released by the Roundtable on Sustainable Palm Oil (RSPO). The research, conducted by an international team of scientists from a range of institutions, is presented in a series of seven academic papers that estimate change in land use and greenhouse gas emissions from oil palm expansion in the three countries, review the social and environmental impacts of palm oil production, forecast potential growth in the sector across the region, and detail methods for measuring emissions and carbon stocks of plantations establishing on peatlands.
Greenpeace: APP making 'encouraging' progress on zero deforestation commitment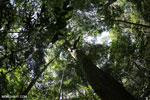 (10/29/2013) Asia Pulp & Paper (APP), an Indonesian forestry giant once notorious for destroying rainforests and peatlands, is making 'encouraging' progress in phasing forest destruction out of its supply chain, reports a new assessment from Greenpeace, which until recently was one of APP's fiercest critics. The review, released today, evaluates APP's progress on its Forest Conservation Policy, which commits the company to exclude fiber sourced from logging of natural forests and conversion of peatlands, and requires it to obtain Free, Prior Informed Consent from local communities in developing new plantations.
In transparency push, APP self-reports breach of its deforestation moratorium

(09/11/2013) In what may be an unprecedented move in the Indonesian forestry sector, Asia Pulp & Paper (APP) has announced two breaches of its moratorium on natural forest clearance. In a report published Wednesday, APP said an audit of its operations by The Forest Trust, the NGO charged with implementing the forestry giant's forest conservation policy, turned up two incidents of forest clearance that has taken place since the logging ban took effect in February 2013.
Palm oil now biggest cause of deforestation in Indonesia
(09/03/2013) Conversion of forests for palm oil production now appears to be the single largest driver of deforestation in Indonesia, accounting for roughly a quarter of forest loss between 2009 and 2011, asserts a new Greenpeace report that accuses the sector's main certification standard of failing to stop forest destruction. The report, titled Certifying Destruction, uses satellite imagery, government concession data, field investigations, and third party analysis to conclude that several recent and current members of the Roundtable on Sustainable Palm Oil (RSPO) — the industry's chief eco-certification body — are continuing to buy or trade palm oil produced via the conversion of rainforests and carbon-dense peatlands in the Southeast Asian nation.
Palm oil body, Greenpeace spar over Indonesia fire blame

(07/16/2013) Greenpeace and the Roundtable on Sustainable Palm Oil (RSPO), a body that sets criteria for greener palm oil production, are caught up in a row over the origin of fires that cast a pall over Sumatra, Singapore, and Malaysia last month. The dispute started when media outlets, based on independent analysis of satellite data, identified several members of the RSPO as possible culprits in the fires in Riau Province. Greenpeace said the findings indicated that the RSPO is failing to hold its members accountable for burning. The activist group also criticized the RSPO for not expressly prohibiting deforestation and conversion of peatlands.
Cause of haze? Up to 87% of recent deforestation in fire zone due to palm oil, timber
(06/26/2013) New analysis of land cover in Riau Province reveals the outsized role industrial plantations play in driving deforestation and associated haze. The analysis, conducted by Eyes on the Forest, finds that up to 56% of deforestation in Riau between 2007 and 2012 can be linked to timber plantations for pulp and paper production. The figure for oil palm plantations may be as high as 31%.
Greenpeace releases dramatic pictures of haze and fires in Indonesia (photos)
(06/24/2013) Greenpeace has released a series of photos from the front lines of the peat fires that are casting a pall of haze and triggering health warnings across Singapore and Malaysia. The images were taken by Getty photographer Ulet Infansasti in Sumatra, where the fires are burning. Analysis of NASA hotspot data has revealed that the majority of fires are occurring within plantation concessions operated by palm oil and timber companies.
5 RSPO companies linked to haze
(06/24/2013) Five members of the Roundtable and Sustainable Palm Oil (RSPO) will be asked to submit digital maps of their plantations after media reports linked them to fires in Sumatra that are driving the haze across Singapore and Malaysia. The RSPO has given the companies — PT Jatim Jaya Perkasa, Tabung Haji Plantations, Sinar Mas, Kuala Lumpur Kepong, and Sime Darby — 48 hours to submit maps of their plantations in Sumatra and Kalimantan so the eco-certification body can compare them to fire hotspot data from NASA and NOAA.




Page 1 | Page 2 | Page 3 | Page 4 | Page 5 | Page 6 | Page 7