News articles on parks

---
Mongabay.com news articles on parks in blog format. Updated regularly.






Scientists capture one of the world's rarest big cats on film (photos)
(05/21/2013) Less than a hundred kilometers from the bustling metropolis of Jakarta, scientists have captured incredible photos of one of the world's most endangered big cats: the Javan leopard (Panthera pardus melas). Taken by a research project in Gunung Halimun-Salak National Park, the photos show the magnificent animal relaxing in dense primary rainforest. Scientists believe that fewer than 250 mature Javan leopard survive, and the population may be down to 100.
Crazy cat numbers: unusually high jaguar densities discovered in the Amazon rainforest
(05/16/2013) Jaguars (Panthera onca) are the biggest cat in the Americas and the only member of the Panthera genus in the New World; an animal most people recognize, the jaguar is also the third largest cat in the world with an intoxicatingly dangerous beauty. The feline ranges from the harsh deserts of southern Arizona to the lush rainforests of Central America, and from the Pantanal wetlands all the way down to northern Argentina. These mega-predators stalk prey quietly through the grasses of Venezuelan savannas, prowl the Atlantic forests of eastern Brazil, hunt along the river of the Amazon, and even venture into lower parts of the Andes.
NGO: conflict of interests behind Peruvian highway proposal in the Amazon
(05/16/2013) As Peru's legislature debates the merits of building the Purús highway through the Amazon rainforest, a new report by Global Witness alleges that the project has been aggressively pushed by those with a financial stake in opening up the remote area to logging and mining. Roads built in the Amazon lead to spikes in deforestation, mining, poaching and other extractive activities as remote areas become suddenly accessible. The road in question would cut through parts of the Peruvian Amazon rich in biodiversity and home to indigenous tribes who have chosen to live in "voluntary isolation."
Uranium mine at edge of Grand Canyon National Park approved
(05/08/2013) Uranium mining on the doorstep of the Grand Canyon national park is set to go ahead in 2015 despite a ban imposed last year by Barack Obama. Energy Fuels Resources has been given federal approval to reopen its old Canyon Mine, located six miles south of the canyon's popular South Rim entrance, that attracts nearly 5 million visitors a year.
Featured video: camera trapping in Bwindi Impenetrable National Park

(05/07/2013) A new video highlights the work of Badru Mugerwa as he sets and monitors 60 remote camera traps in one of the most rugged tropical forests on Earth: Bwindi Impenetrable National Park in Uganda. Mugerwa is working with the TEAM Network, run by Conservation International, which monitors mammal and bird populations in 16 protected tropical forests around the world. Every researcher uses the same methodology allowing findings to be compared not just from year-to-year but across oceans.
Central America's largest forest under siege by colonists

(05/06/2013) In the last four years, invading land speculators and peasants have destroyed 150,000 hectares (370,000 acres) of rainforest in Nicaragua's Bosawás Biosphere Reserve, according to the Mayangna and Miskito indigenous peoples who call this forest home. Although Nicaragua recognized the land rights of the indigenous people in 2007, the tribes say the government has not done near-enough to keep illegal settlers out despite recent eviction efforts.
Endangered primates and cats may be hiding out in swamps and mangrove forests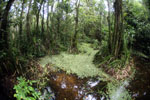 (05/02/2013) What happens to animals when their forest is cut down? If they can, they migrate to different forests. But in an age when forests are falling far and fast, many species may have to shift to entirely different environments. A new paper in Folia Primatologica theorizes that some 60 primate species and 20 wild cat species in Asia and Africa may be relying more on less-impacted environments such as swamp forests, mangroves, and peat forests.
Illegal logging threatens lowland forests in Indonesian national park
(04/16/2013) Illegal logging in the heart of Indonesia's Gunung Palung National Park may be putting one of the country's last remaining lowland forests at risk. The park, located in Indonesia's West Kalimantan province on the island of Borneo, is home to a number of endangered species including hornbills and gibbons, as well as around 2,500 orangutans, and is the site of a research station that has been collecting data on the forest for more than 20 years.
An insidious threat to tropical forests: over-hunting endangers tree species in Asia and Africa
(04/04/2013) A fruit falls to the floor in a rainforest. It waits. And waits. Inside the fruit is a seed, and like most seeds in tropical forests, this one needs an animal—a good-sized animal—to move it to a new place where it can germinate and grow. But it may be waiting in vain. Hunting and poaching has decimated many mammal and bird populations across the tropics, and according to two new studies the loss of these important seed-disperser are imperiling the very nature of rainforests.
Featured video: in-depth look at Madagascar's Ranomafauna National Park

(04/03/2013) A new film Nosy Maitso takes a look at the people, researchers, and wildlife connected to Madagascar's Ranomafauna National Park. Apart of a World Heritage Site, the park was established in 1991 after a new species of lemur, the golden bamboo lemur (Hapalemur aureus), was discovered in its forests in the 1980s. The golden bamboo lemur is currently listed as Endangered by the IUCN Red List.
Infamous elephant poacher turns cannibal in the Congo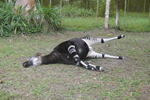 (04/03/2013) Early on a Sunday morning last summer, the villagers of Epulu awoke to the sounds of shots and screaming. In the eastern reaches of the Democratic Republic of the Congo, that can often mean another round of violence and ethnic murder is under way. In this case, however, something even more horrific was afoot.
Proposed coal plant threatens Critically Endangered Philippine cockatoo
(04/02/2013) One kilometer off the Philippine island of Palawan lies the Rasa Island Wildlife Sanctuary; here forest grows unimpeded from a coral island surrounded by mangroves and coral reefs. Although tiny, over a hundred bird species have been recorded on the island along with a major population of large flying foxes, while in the waters below swim at least 130 species of coral fish, three types of marine turtles, and that curious-looking marine mammal, dugongs. Most importantly, perhaps, the island is home to the world's largest population of Philippine cockatoos (Cacatua haematuropygia), currently listed as Critically Endangered. But, although uninhabited by people, Rasa Island may soon be altered irrevocably by human impacts.
Poachers enlisting impoverished wildlife rangers as accomplices in elephant, rhino killing

(04/01/2013) Corruption among wildlife rangers is becoming a serious impediment in the fight against poaching, fuelled by soaring levels of cash offered by criminal poacher syndicates, senior conservation chiefs have admitted. Rangers in countries as diverse as Tanzania and Cambodia are being bribed by increasingly organised poaching gangs keen to supply ivory, rhino horn and tiger parts to meet huge consumer demand in Asia.
Scientists discover 8 new frogs in one sanctuary, nearly all Critically Endangered (photos)
(03/21/2013) Two surveys in the mountainous forests of Sri Lanka's Peak Wilderness Sanctuary have uncovered eight new species of frogs, according to a massive new paper in the Journal of Threatened Taxa. While every year over a hundred new amphibians are discovered, eight new discoveries in a single park is especially notable. Sri Lanka is an amphibian-lovers paradise with well over 100 described species, most of which are endemic, i.e. found only on the small island country. Unfortunately the country has also seen more frog extinctions than anywhere else, and seven of the eight new species are already thought to be Critically Endangered.
Deer populations hurt by poaching in Mexican dry forest

(03/18/2013) White-tailed deer are usually thought of as inhabiting temperate forests in the U.S. and Canada, but this widespread species can also be found across tropical forests, from Mexico to Peru. A new study in mongabay.com's open access journal Tropical Conservation Science investigates the population of white-tailed deer (Odocoileus virginianus) in Mexico's Tehuacan-Cuicatlan Biosphere Reserve (TCBR), and finds that poaching may be having a large impact.
Scientists successfully reintroduce gaur in Indian park

(03/18/2013) Gaur (Bos gaurus gaurus) is one of the large wild ungulates of Asian jungles. It is the tallest living ox, and one of the four heaviest land mammals (elephant, rhino and wild buffalo are the other three), weighing up to 940 kilograms (2,070 pounds) and standing between 1.6 and 1.9 meters (5.2 to 6.2 feet) at the shoulder. Gaur were once distributed throughout the forested tracts of India and South Nepal, east to Vietnam and south to Malaya. Today, however, they are confined to just over a hundred existing, and 27 proposed, Protected Areas in India.
Innovative idea: wildlife income may help people withstand drought in Africa

(03/18/2013) Getting local people to become invested in wildlife conservation is not always easy, especially in parts of the world where protected areas are seen as taking away natural resources from local communities. This tension lies around Gonarezhou National Park in Zimbabwe, where a growing population of livestock herders competes with wildlife.
The end of wild Africa?: lions may need fences to survive
(03/06/2013) In order for dwindling lion populations to survive in Africa, large-scale fencing projects may be required according to new research in Ecology Letters. Recent estimates have put lion populations down to 15,000-35,000, a massive drop from a population that was thought to be around 100,000 in 1960. The worsening plight of lions have pushed the researchers to suggest what is likely to be a controversial proposal: fence the top predators in.
Bolivia leads the way in wetland protection
(03/04/2013) Bolivia continues to be a champion for Amazonian conservation. On February 2, 2013, Bolivia celebrated World Wetlands Day with the designation of more than 6.9 million hectares of the Llanos de Moxos to the Ramsar Convention's Wetlands of International Importance. In addition to being the largest Ramsar designation to date, Bolivia now claims 14.8 million hectares of protected wetland, making it the leading Contracting Party out of 164 participating countries in terms of Ramsar site surface area.
Selective logging changes character of tropical forest

(02/28/2013) Selective logging is usually considered less harmful than other forestry practices, such as clear cutting, but a new study in mongabay.com's open access journal Tropical Conservation Science has found that even selective logging has a major impact on tropical forests lasting decades. Comparing trees in two previously logged sites and two unlogged sites in northeast India, researchers found less tree diversity in selectively logged forests with trees dispersed by birds proved especially hard-hit.
Does the presence of scientists help deter poaching and deforestation in protected areas?
(02/27/2013) While vast areas of wildlife habitat have been set aside in protected areas in recent decades, many reserves continue to suffer from illegal encroachment, logging, mining, and poaching. The recent spasm in elephant and rhino poaching within African parks merely underlines the problem. Intuitively, it would seem that scientists' presence in a protected area would help safeguard it from illegal activities. But according to a new paper published in Trends in Ecology & Evolution, no one has definitively shown that to be the case.
Asiatic cheetahs: on the road to extinction?
(02/26/2013) Cheetahs (Acinonyx jubatus) are unique among large cats. They have a highly specialized body, a mild temperament, and are the fastest living animals on land. Acinonyx jubatus venaticus, the Asiatic subspecies, is unique among cheetahs and the only member of five currently living subspecies to occur outside of Africa. Listed as Critically Endangered on the IUCN Red List—with a population of between 70 and 100 individuals—the Asiatic cheetah is one of the rarest felines on the planet. But new proposed road through one of its last habitat strongholds may threaten the cat even further.
Warlords, sorcery, and wildlife: an environmental artist ventures into the Congo
(02/25/2013) Last year, Roger Peet, an American artist, traveled to the Democratic Republic of Congo (DRC) to visit one of the world's most remote and wild forests. Peet spent three months in a region that is largely unknown to the outside world, but where a group of conservationists, headed by Terese and John Hart, are working diligently to create a new national park, known as Lomami. Here, the printmaker met a local warlord, discovered a downed plane, and designed a tomb for a wildlife ranger killed by disease, in addition to seeing some of the region's astounding wildlife. Notably, the burgeoning Lomami National Park is home to the world's newest monkey species, only announced by scientists last September.
Jaguars, tapirs, oh my!: Amazon explorer films shocking wildlife bonanza in threatened forest
(02/19/2013) Watching a new video by Amazon explorer, Paul Rosolie, one feels transported into a hidden world of stalking jaguars, heavyweight tapirs, and daylight-wandering giant armadillos. This is the Amazon as one imagines it as a child: still full of wild things. In just four weeks at a single colpa (or clay lick where mammals and birds gather) on the lower Las Piedras River, Rosolie and his team captured 30 Amazonian species on video, including seven imperiled species. However, the very spot Rosolie and his team filmed is under threat: the lower Las Piedras River is being infiltrated by loggers, miners, and farmers following the construction of the Trans-Amazon highway.
Fossil fuel company looking to exploit deposits in Manu National Park

(02/11/2013) Pluspetrol, an Argentine oil and gas company, is eyeing a UNESCO World Heritage site in the Amazon rainforest for gas production, according to documents seen by the Guardian. Manu National Park in eastern Peru is considered one of the most biodiverse places on Earth and is home to indigenous tribes living in voluntary isolation.
Gorilla paradise: new park safeguards 15,000 western lowland gorillas

(01/31/2013) In 2008 the Wildlife Conservation Society (WCS) announced a jaw-dropping discovery: remote swamp forests in northern Republic of Congo contained a stunning population of 125,000 western lowland gorillas that had somehow gone unnoticed by scientists. At the time the President of WCS, Steven E. Sanderson, called the area the "mother lode of gorillas," and expressed hope that the discovery would lead to a new park. Well, late last year, a park was finalized.
14 Bornean elephants found dead, likely poisoned
(01/31/2013) Wildlife officials in the Malaysian state of Sabah have found the bodies of 14 Bornean elephants in Gunung Rara Forest Reserve, and suspect that more may be found dead. While tests are pending, they believe the elephants were likely poisoned due to damage in the animals' digestive tracts. Only around 2,000 Bornean elephants (Elephas maximus borneensis) are left on the island of Borneo with the vast bulk found in Sabah.
Claim of human and tiger 'coexistence' lacks perspective
(01/29/2013) Nepal's Chitwan National Park was the site of a study, published in September 2012 by Carter and others, which concluded that, tigers coexist with humans at fine spatial scales. This paper has ignited a scientific debate regarding its implications for large carnivore conservation worldwide, with scientists at institutions worldwide questioning the validity of claims of coexistence. At the foundation of this debate, perhaps, is the unresolved question, "what is coexistence?"
Photos: Population of critically-endangered black macaque on rebound

(01/26/2013) An important population of critically endangered Sulawesi black macaques (Macaca nigra) is showing signs of recovery after years of decline in an Indonesian forest reserve, reports a study published in the January issue of the American Journal of Primatology.
Photos: Scientists discover tapir bonanza in the Amazon
(01/22/2013) Over 14,000 lowland tapirs (Tapirus terrestris), also known as Brazilian tapirs, roam an Amazonian landscape across Bolivia and Peru, according to new research by scientists with the Wildlife Conservation Society (WCS). Using remote camera trapping, thousands of distribution records, and interviews, the researchers estimated the abundance of lowland tapirs in the Greater Madidi-Tambopata Landscape Conservation Program made up of three national parks in Bolivia (Madidi, Pilón Lajas and Apolobamba) and two in Peru (Tambopata and Bahuaja Sonene).
Living beside a tiger reserve: scientists study compensation for human-wildlife conflict in India
(01/21/2013) During an average year, 87% of households surrounding Kanha Tiger Reserve in Central India report experiencing some kind of conflict with wild animals, according to a new paper in the open-access journal PLOS One. Co-existence with protected, free-roaming wildlife can be a challenge when living at the edge of a tiger reserve. "Local residents most often directly bear the costs of living alongside wildlife and may have limited ability to cope with losses" wrote the authors of the new paper.
New website tracks protected areas under attack
(01/16/2013) The struggle to safeguard wild lands and species doesn't end when a park or protected area is created. In fact, social scientists and conservationists are increasingly uncovering a global trend whereby even long-established protected areas come under pressure by industrial, governmental, or community interests. This phenomenon, recently dubbed PADDD (which stands for Protected Area Downgrading, Downsizing, and Degazettement), includes protected areas that see their legal status lowered (downgraded), lose a section of their land (downsized), or are abolished entirely (degazetted). Now, a new website from WWF seeks to track PADDD events worldwide.
Gold mine approved in French Guiana's only national park
(01/15/2013) Tensions have risen in the small Amazonian community of Saül in French Guiana after locals discovered that the French government approved a large-scale gold mining operation near their town—and inside French Guiana's only national park—against their wishes. Run by mining company, Rexma, locals and scientists both fear that the mine would lead to deforestation, water pollution, and a loss in biodiversity for a community dependent on the forest and ecotourism.
Colombia to double the size of massive Amazon reserve to include uncontacted tribes' land
(01/10/2013) Colombia may more than double the size of the remote and poorly-known Chiribiquete National Park to make it the biggest protected area in the Colombian Amazon, reports El Espectador. Chiribiquete best known for its unusual rock formations, including mesa-like tepuis and dramatic waterfalls, but also features at least 32 cave painting sites with some 250,000 drawings, making it a key center for indigenous culture.
Environment ministry drops copper mine in Zambezi park

(01/07/2013) A proposed copper mine set to be built in Lower Zambezi National Park has been rejected by Zambia's environmental management agency. Australian company Zambezi Resources Ltd, a subsidiary of Proactive Investors, had scheduled the $494 million Kangaluwi Copper Project to begin production in 2015. But their proposal sparked an outcry from environmentalists and government lobbyists concerned about the effects of the open pit mine in the park. Though mining is not generally permitted in the park, Zambezi Resources obtained a Large-Scale Mining License from the government which would have allowed them to mine for 25 years right in the middle of Lower Zambezi National Park.
Poaching in Serengeti seems worth the risk

(12/10/2012) Illegal hunting in Tanzania's Greater Serengeti Ecosystem (GSE) remains a prevalent activity for local people, despite government regulation and grassroots movements to prevent it. A new paper from mongabay.com's open-access Tropical Conversation Science examines the factors that drive poachers to continue their activities, despite the high costs involved. By interviewing citizens involved with illegal hunting in the Western part of the Serengeti, they were able to identify key risks that are faced by the hunters as well as the perceived gains of a successful hunt.
New inroads made into bushmeat consumption in Tanzania

(12/10/2012) Bushmeat consumption, or "wildlife hunted for human consumption," poses a significant threat to wildlife conservation all across the globe. But in Eastern Africa—where savannah grasslands flourish and big game roam free within 'protected' reserves—one may be forgiven to think that poaching does not occur here: but it does.
Vanishing corridors: trying to keep big animals on the move across Tanzania
(12/10/2012) One of the biggest challenges for big African wildlife like lions, elephants, and buffalo is movement across native habitat that is increasingly being encroached on by humans. Animals find their movement restricted by roads, fences, and property boundaries which fragment the landscape. Without safe, smart, and well-maintained corridors between designated wildlife areas, animals can get cut off from resources needed for survival and from potential mates (putting genetic health at risk), even while conflicts with humans become more frequent.
Legislation leaves future of world's largest temperate rainforest up in the air
(11/27/2012) Although unlikely to pass anytime in the near term, recurring legislation that would hand over 80,000 acres of the Tongass Rainforest to a Native-owned logging corporation has put local communities on guard in Southeast Alaska. "The legislation privatizes a public resource. It takes land that belongs to all of us, and that all of us have a say in the use and management of, and it gives that land to a private for-profit corporation," Andrew Thoms, Executive Director of the Sitka Conservation Society, told mongabay.com in a recent interview.
Photos reveal destruction of Cameroon rainforest for palm oil
(11/26/2012) Newly released photos by Greenpeace show the dramatic destruction of tropical forest in Cameroon for an oil palm plantation operated by SG Sustainable Oils Cameroon (SGSOC), a subsidiary of the U.S. company Herakles Farm. The agriculture company is planning to convert 73,000 hectares to palm oil plantations on the edge of several protected areas, but has faced considerable opposition from environmentalists and some local communities. In addition to the aerial photos, Greenpeace alleges that ongoing forest clearing by Herakles is illegal since the companies 99-year lease has yet to be fully approved by the Cameroonian government.
Unique program to leave oil beneath Amazonian paradise raises $300 million
(11/26/2012) The Yasuni-ITT Initiative has been called many things: controversial, ecological blackmail, revolutionary, pioneering, and the best chance to keep oil companies out of Ecuador's Yasuni National Park. But now, after a number of ups and downs, the program is beginning to make good: the Yasuni-ITT Initiative has raised $300 million, according to the Guardian, or 8 percent of the total amount needed to fully fund the idea.
Wolves, mole rats, and nyala: the struggle to conserve Ethiopia's highlands
(11/20/2012) There is a place in the world where wolves live almost entirely off mountain rodents, lions dwell in forests, and freshwater rolls downstream to 12 million people, but the place—Ethiopia's Bale Mountains National Park—remains imperiled by a lack of legal boundaries and encroachment by a growing human population. "Much of the land in Africa above 3,000 meters has been altered or degraded to the point where it isn't able to perform most of the ecosystem functions that it is designed to do. Bale, although under threat and already impacted to a degree by anthropogenic activities, is still able to perform its most important ecosystem functions, and as such ranks among only a handful of representative alpine ecosystems in Africa."
Oil drilling approved for national park in Belize
(11/20/2012) The Belizean government has approved an application by US Capital Energy to drill exploratory wells for oil in the Sarstoon Temash National Park in southern Belize. The decision is believed to have been taken on November 1st by the National Environmental Assessment Committee (NEAC) of the Department of Environment, but the exact terms of the settlement have not yet been made public. The oil company, backed by US energy investment group Aspect Holdings, has applied to drill at five points in the Sarstoon Temash National Park and adjacent areas.
Mountain gorilla population up by over 20 percent in five years

(11/13/2012) A mountain gorilla census in Uganda's Bwindi Impenetrable National Park has a population that continues to rise, hitting 400 animals. The new census in Bwindi means the total population of mountain gorillas (Gorilla beringei beringei) has reached 880—up from 720 in 2007—and marking a growth of about 4 percent per year.
Photos: Mozambique creates Africa's biggest marine protected area
(11/13/2012) Last week, the East African nation of Mozambique announced it was protecting 10,411 square kilometers (4,020 square miles) of coastal marine waters, making the new Marine Protected Area (MPA) the biggest on the continent. The protected area, dubbed the Primeiras and Segundas Archipelago ("First" and "Second" islands), includes ten islands as well as mangrove forests, rich coral reefs, and seagrass ecosystems.
Conservationists turn camera traps on tiger poachers
(11/12/2012) Remote camera traps, which take photos or video when a sensor is triggered, have been increasingly used to document rare and shy wildlife, but now conservationists are taking the technology one step further: detecting poachers. Already, camera traps set up for wildlife have captured images of park trespassers and poachers worldwide, but for the first time conservationists are setting camera traps with the specific goal of tracking illegal activity.
Development halted in crucial wildlife corridor in Malaysia
(11/07/2012) Kenyir Wildlife Corridor in northeast Malaysia is teeming with wildlife: elephants, gibbons, tigers, tapirs, and even black panthers (melanistic leopards) have been recorded in the 60 kilometer (37 mile) stretch of forest. In fact, researchers have recorded over 40 mammal species (see species list below), including 15 threatened with extinction according to the IUCN Red List. When these findings were presented by scientists to the Terengganu state government action followed quickly: all development projects have been halted pending a government study.
Over 100,000 farmers squatting in Sumatran park to grow coffee
(11/06/2012) Sumatra's Bukit Barisan Selatan National Park—home to the Critically Endangered Sumatran rhinos, tigers, and elephants—has become overrun with coffee farmers, loggers, and opportunists according to a new paper in Conservation and Society. An issue facing the park for decades, the study attempted for the first time to determine the number of squatters either living in or farming off Bukit Barisan Selatan National Park, a UNESCO World Heritage Site; the rough census—over 100,000 people—shocked scientists.
Illegal hunting threatens iconic animals across Africa's great savannas, especially predators
(10/25/2012) Bushmeat hunting has become a grave concern for species in West and Central Africa, but a new report notes that lesser-known illegal hunting in Africa's iconic savannas is also decimating some animals. Surprisingly, illegal hunting across eastern and southern Africa is hitting big predators particularly hard, such as cheetah, lion, leopard, and wild dog. Although rarely targets of hunters, these predators are running out of food due to overhunting and, in addition, often becoming victims of snares set out for other species.





After seven year search, scientists film cryptic predator in Minas Gerais

(10/25/2012) South America's rare and little-known bush dog (Speothos venaticus) looks like a miniature dachshund who went bad: leaner, meaner, and not one to cuddle on your lap, the bush dog is found in 11 South American countries, but scientists believe it's rare in all of its habitats, which include the Amazon, the Pantanal wetlands, and the cerrado savannah. Given its scarcity, little is known about its wanderings.




Page 1 | Page 2 | Page 3 | Page 4 | Page 5 | Page 6 | Page 7 | Page 8 | Page 9 | Page 10 | Page 11