News articles on Pantanal

---
Mongabay.com news articles on Pantanal in blog format. Updated regularly.





Unconventional swine: how invasive pigs are helping preserve biodiversity in the Pantanal


(05/06/2013) Ordinarily, invasive and exotic species are a grave threat to native wildlife: outcompeting local species, introducing parasites and disease, and disturbing local ecological regimes. A unique case in the Brazilian Pantanal, however, has turned the tables; here, an introduced mammal has actually aided the conservation of native wildlife.


Scientists document baby giant armadillo for first time (photos)


(02/19/2013) Despite weighing as much as full-grown human, almost nothing is known about the giant armadillo (Priodontes maximus) including its breeding and reproductive behaviors. How does mating occur? How long does pregnancy last? How many babes are typically born? Scientists are simply in the dark, but a ground-breaking study employing camera traps is beginning to change this. For the first time, scientists in the Brazilian Pantanal have documented giant armadillo breeding and the happy outcome: a baby giant armadillo.


Can ranchers co-exist with jaguars?


(01/17/2013) Jaguar once roamed from the United States to Argentina, but today they've been eliminated from several range countries, including the United States. The chief reasons are habitat loss and direct killing by humans, putting ranchers and farmers at the heart of the issue. Both ranchers and farmers convert key jaguar habitat and kill the big cats as a threat to their livestock. However in parts of Brazil's Pantanal, some ranchers are going about their business without killing jaguars. My Pantanal, a film by Andrea Heydlauff, Vice President of the wild cat conservation group Panthera, takes a look at one particular ranch that is helping prove that jaguars and ranchers can co-exist.


Cute picture of the day: armadillo carrying baby

(09/19/2012) A rare image of a female six-banded armadillo (Euphractus sexcinctus) moving her image was captured by the Embiara Lodge in Brazil's Pantanal.


Flooded savannas in Latin America shrinking 3 times faster than rainforests

(08/22/2012) Flooded grasslands and savannas in Latin America are disappearing nearly three times faster than tropical rainforests in the region, finds a new study published in the journal Biotropica.


Chart: Forest loss in Latin America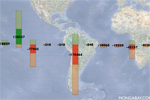 (08/20/2012) Latin America lost nearly 260,000 square kilometers (100,000 square miles) of forest — an area larger than the state of Oregon — between 2001 and 2010, finds a new study that is the first to assess both net forest loss and regrowth across the Caribbean, Central and South America. The study, published in the journal Biotropica by researchers from the University of Puerto Rico and other institutions, analyzes change in vegetation cover across several biomes, including forests, grasslands, and wetlands. It finds that the bulk of vegetation change occurred in forest areas, mostly tropical rainforests and lesser-known dry forests. The largest gains in biome area occurred in desert vegetation and shrublands.


Brazil's environmental leadership at risk, warn scientists

(06/26/2012) The Brazilian government is putting its global environmental leadership at risk by ignoring scientific concern on large infrastructure projects and changes in the country's forest laws, warned an association of more than 1,200 tropical scientists gathering last week in Bonito, Brazil on the heels of the disappointing Rio+20 Earth Summit.


Protecting jaguars a good business decision for ranchers

(06/20/2012) Live jaguars are worth considerably more for ecotourism than they livestock they kill, according to a study presented at the annual meeting of the Association for Tropical Biology and Conservation in Bonito, Brazil.


Loving the tapir: pioneering conservation for South America's biggest animal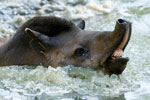 (09/11/2011) Compared to some of South America's megafauna stand-out species—the jaguar, the anaconda, and the harpy eagle come to mind—the tapir doesn't get a lot of love. This is a shame. For one thing, they're the largest terrestrial animal on the South American continent: pound-for-pound they beat both the jaguar and the llama. For another they play a very significant role in their ecosystem: they disperse seeds, modify habitats, and are periodic prey to big predators. For another, modern tapirs are some of the last survivors of a megafauna family that roamed much of the northern hemisphere, including North America, and only declined during the Pleistocene extinction. Finally, for anyone fortunate enough to have witnessed the often-shy tapir in the wild, one knows there is something mystical and ancient about these admittedly strange-looking beasts.


How to save the Pantanal and increase profits for the cattle industry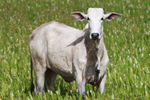 (03/28/2011) The Pantanal spanning Brazil, Bolivia, and Paraguay is the world's largest wetland—the size of Florida—and home to a wide-variety of charismatic species, such as jaguars, capybaras, and giant anteaters. However, the great wetland is threatened by expansion in big agriculture and an increasingly intensive cattle industry. Yet there is hope: a new study by Wildlife Conservation Society of Brazil (WCS-Brazil) researchers has found that cattle and the ecosystem can exist harmoniously. By replacing current practices with rotational grazing, cattle ranchers gain a healthier herd and more profits while safeguarding the ecological integrity and wildlife of the world's largest wetland system. The study published in mongabay.com's open access journal Tropical Conservation Science is a rare instance of a win-win situation.


Brazil's Operation Jaguar: Busting a Poaching Ring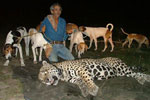 (10/03/2010) Twenty years ago Brazil's most notorious jaguar hunter, Teodoro Antonio Melo Neto, also known as 'Tonho da onça' or 'Jaguar Tony,' swore off poaching after logging 600 kills. The foe turned ally of the jaguar then convinced environmental and research institutes, such as the non-governmental organization Instituto Pró-Carnívoros, of his about face and to employ his tracking skills for conservation. Thus began years of assisting these agencies find the animals so that they could monitor their movements and research their habits. His dramatic change of heart even became the subject of a children's book titled Tonho da onça, which related a conservation message. But on July 20, 2010, 'Jaguar Tony,' now 71 years old, revealed his true spots when federal agents arrested him along with seven others preparing for another in a long series of illegal hunts.


Perfect shot of the rare Iberian wolf wins nature photo contest

(10/22/2009) It's hard to believe the shot is real: it's that good. But a photo of a rare Iberian wolf—a subspecies of the gray wolf—jumping a fence has won the 45th Veolia Environment Wildlife Photo of the Year award. The photographer, Jose Luis Rodriguez, has said that he hopes the haunting image will inspire the people of Spain to be proud to have this endangered animal still roaming their countryside.


Brazil may ban sugarcane plantations from the Amazon, Pantanal

(09/18/2009) Brazil will restrict sugarcane plantations for ethanol production from the Amazon, the Pantanal, and other ecologically-sensitive areas under a plan announced Thursday by President Luiz Inacio Lula da Silva's administration, reports the Associated Press.


Political infighting in Brazil threatens the Amazon rainforest


(06/01/2009) Brazil's Environment Minister Carlos Minc accused other government agencies of working to undermine environmental laws in favor of Amazon development projects, report Reuters and the Associated Press. His charge comes a year after his predecessor, Senator Marina Silva, resigned due to the same opposition from development interests. Minc has taken an active role in battling Amazon deforestation, reducing credit access to illegal loggers and ranchers, seizing agricultural products and cattle produced on illegally deforested lands, and pushing for new protected areas. His efforts have angered powerful development interests and at times have put his at odds with President Lula, who is promoting new road and hydroelectric projects.


Brazil may ban new sugar cane cultivation in the Pantanal

(08/06/2008) Brazil would restrict sugar cane cultivation in the world's largest tropical wetland under a proposed plan to protect the Pantanal, reports Reuters.


Destruction of wetlands worsens global warming

(07/20/2008) Destruction of wetland ecosystems will generate massive greenhouse gas emissions in coming years, warn experts convening at an international wetlands conference in Brazil.


Predator of the world's largest macaw key to its survival

(03/13/2008) In a bizarre biological twist, a new study shows that the Hyacinth Macaw depends on its greatest predator, the Toco Toucan, for continued survival.


Steel production drives deforestation in Brazil's Pantanal

(02/11/2008) A steel mill in Corumbá, in the heart of Brazil's Pantanal wetland, is fueling destruction of forests for charcoal and undermining the rights of Amazonian forest dwellers, reports the Inter Press Service.


Overfishing may hurt Amazon forest trees

(02/05/2008) Overfishing is reducing the effectiveness of seed dispersal by fish in the Brazilian Pantanal, reports Nature. The research suggests that fishing practices can affect forest health.


Pantanal, the world's largest wetland, disappearing finds new report

(01/10/2006) Deforestation has destroyed 17 percent of the Pantanal, the world's largest wetland, according to a new report from conservation International. The Pantanal, an area of flooded grassland and savanna covering 200,000 square kilometers during the rainy season, includes parts of Brazil, Paraguay, and Bolivia and is fed by the Rio Paraguay. The wetland is home to some 3500 species of plant and 650 species of birds. About 125 types of mammals, 180 kinds of reptiles, 41 types of amphibians, and 325 species of fish have been found in the region. The Pantanal in an important source of freshwater to neighboring farming areas and downstream urban areas.


Pantanal wetland in Bolivia threatened by port project says WWF

(11/20/2005) Plans for the construction of a commercial port and railway access line crossing Bolivia's Otuquis National Park -- a protected area and Ramsar site located in the heart of the world's largest wetland area, the Pantanal -- must be radically restructured so that it doesn't cause irreparable environmental damage and economic losses, warns WWF.


Brazliian environmentalist dies after self-immolation protest

(11/14/2005) A Brazilian environmentalist has died after self-immolation in a protest against the construction of alcohol factories in the Pantanal marsh region. The 65-year-old Francisco Anselmo de Barros wrapped himself in an alcohol-soaked blanket and set it on fire during a protest Saturday in Campo Grande, 1,200 kilometers (750 miles) northwest of Rio de Janeiro.