News articles on palm oil

---
Mongabay.com news articles on palm oil in blog format. Updated regularly.





Auckland Zoo bans Cadbury chocolate due to palm oil content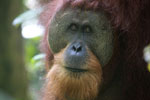 (07/12/2009) Auckland Zoo has pulled Cadbury chocolates from its shops and restaurants following the candy maker's decision to start adding palm oil to its chocolates, reports the Sunday Star Times. The zoo is also removing other products that contain palm oil, due to concerns that its production is driving rainforest destruction across Southeast Asia, putting orangutans and other species at risk. Cadbury said it made the change to palm oil for economic reasons. Palm oil, described as "vegetable fat" on its packaging, is cheaper than cocoa butter.


China to establish giant oil palm plantation in DR Congo

(07/10/2009) ZTE Agribusiness Company Ltd, a Chinese firm, plans to establish a one million hectare oil palm plantation in the Democratic Republic of Congo (DR Congo) for biofuel production, reports China state media.


Credit Suisse, UBS, BNP Paribas to help finance cutting of rainforests for palm oil, say NGOs

(07/09/2009) Swiss banks, Credit Suisse and UBS, together with the French BNP Paribas, are helping Singapore-listed Golden Agri-Resources raise up to 280 million Swiss francs ($258 million) to finance conversion of large areas of rainforest in New Guinea and Borneo for oil palm plantations, reports the Bruno Manser Fund (BMF), a group that campaigns on behalf of forest people in Southeast Asia.


Multinational corporation continues destruction of orangutan habitat in Indonesia

(07/09/2009) A coalition of environmental groups stepped up efforts to stop Astra Agro Lestari (AAL), an Indonesian palm oil company, from continuing to clear orangutan habitat in Aceh province, Indonesia.


Failure to support greener palm oil may lead industry to abandon environmental measures

(07/08/2009) Consumer apathy towards eco-certified palm oil have undermined efforts to improve the environmental performance of the industry, a top industry official told Reuters.


Brazilian miner Vale signs $500M palm oil deal in the Amazon


(06/25/2009) Vale, the world's largest miner of iron ore, has signed a $500 million joint venture with Biopalma da Amazonia to produce 160,000 metric tons of palm oil-based biodiesel per year, reports Reuters. Vale says the deal will save $150 million in fuel costs starting in 2014, with palm oil biodiesel replacing up to 20 percent of diesel consumption in the company's northern operations. The biodiesel will be produced from oil palm plantations in the Amazon state of Pará. The move is likely to stir up criticism from environmentalists that fear palm oil production could soon become a major driver of deforestation in the region.


UK firm plans to log habitat of critically endangered orangutan for palm oil production

(06/23/2009) A Scottish firm has been implicated in funding a plan that would destroy the rainforest habitat of critically endangered orangutans in Sumatra.


Malaysian palm oil chief claims oil palm plantations help orangutans


(06/18/2009) Dr. Yusof Basiron, CEO of the Malaysian Palm Oil Council, the government-backed marketing arm of the Malaysian palm oil industry, claims on his blog that endangered orangutans benefit from living in proximity to oil palm plantations. Environmentalists scoff at the notion, maintaining that oil palm expansion is one of the greatest threats to orangutans.


Forest fires burn in Sumatra

(06/15/2009) Fires set by developers in Sumatra are causing a choking haze to spread across the island and over to Malaysia, reducing visibility and raising health concerns, reports Reuters.


Malaysian palm oil firms seek 100,000 ha in the Philippines

(06/08/2009) Malaysian oil palm developers are looking to establish a a 100,000-hectare palm oil plantation and extraction facility on the island of Mindanao in the Philippines, reports Business Mirror, a Philippine business publication.


REDD can compete financially with palm oil in Indonesia peatlands while protecting endangered species


(06/04/2009) A new paper by Oscar Venter, a PhD student at the University of Queensland, and colleagues finds that forest conservation via REDD — a proposed mechanism for compensating developing countries for Reducing Emissions from Deforestation and Degradation — could be economically competitive with oil palm production, a dominant driver of deforestation in Indonesia. The study, based on overlaying maps of proposed oil palm development with maps showing carbon-density and wildlife distribution in Kalimantan (Indonesian Borneo), estimates that REDD is financially competitive, and potentially able to fund forest conservation, with oil palm at carbon prices of $10-$33 per ton of carbon dioxide equivalent (tCO2e). In areas with low agricultural suitability and high forest carbon, notably peatlands, Venter and colleagues find that a carbon price of $2 per tCO2e would be sufficient to beat out returns from oil palm.


Peatlands conversion for oil palm a 'monumental mistake' for Indonesia's long-term prosperity, sustainability

(06/04/2009) Indonesia's decision earlier this year to allow conversion of up to 2 million hectares of peatlands for oil palm plantations is "a monumental mistake" for the country's long-term economic prosperity and sustainability, argues an editorial published in the June issue of Frontiers in Ecology and the Environment.


Orangutan guerrillas fight palm oil in Borneo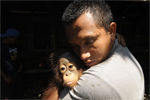 (06/01/2009) Despite worldwide attention and concern, prime orangutan habitat across Sumatra and Borneo continues to be destroyed by loggers and palm oil developers, resulting in the death of up to 3,000 orangutans per year (of a population less than 50,000). Conservation groups like Borneo Orangutan Survival report rescuing record numbers of infant orangutans from oil palm plantations, which are now a far bigger source of orphaned orangutans than the illicit pet trade. The volume of orangutans entering care centers is such that these facilities are running out of room for rescued apes, with translocated individuals sometimes waiting several months until suitable forest is found for reintroduction. Even then they aren't safe; in recent months loggers have started clearing two important reintroduction sites (forests near Bukit Tigapuluh National Park in Sumatra and Mawas in Central Kalimantan). Meanwhile across half a dozen rehabilitation centers in Malaysia and Indonesia, more than 1,000 baby orangutans—their mothers killed by oil palm plantation workers or in the process of forest clearing—are being trained by humans for hopeful reintroduction into the wild, assuming secure habitat can be found. Dismayed by the rising orangutan toll, a grassroots organization in Central Kalimantan is fighting back. Led by Hardi Baktiantoro, the Center for Orangutan Protection (COP) has mounted a guerrilla-style campaign against companies that are destroying orangutan habitat in Kalimantan, the Indonesian part of Borneo.


Did Malaysia cancel plans for palm oil development in the Amazon?

(05/21/2009) The Malaysian government's federal land agency (FELDA) is now denying its well-documented plan to develop oil palm plantations in the Amazon rainforest, reports Ecological Internet, a forest advocacy group that carried out a campaign against the project.


APP, Sinar Mas plan to log habitat of critically endangered orangutans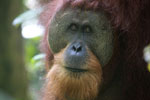 (05/20/2009) Asia Pulp & Paper and Sinar Mas Group have acquired a license to clear hundreds of hectares of unprotected rainforest near Bukit Tigapuluh National Park on the Indonesian island of Sumatra, report environmental groups who say the activity threatens a population of critically endangered orangutans that have been re-introduced into the wild. The companies intend to log the concession for timber and plant it for industrial timber and oil palm plantations.


Orangutan population in Borneo park plunges 90% in 5 years

(05/16/2009) The population of orangutans in Indonesia's Kutai National Park has plunged by 90 percent in the past five years due to large-scale deforestation promoted by local authorities, reports The Centre for Orangutan Protection (COP), an Indonesian environmental group.


Consumers show no interest in eco-certified palm oil; WWF threatens naming and shaming campaign

(05/13/2009) Lack of interest in eco-certified palm oil among buyers threatens to undermine efforts to improve the environmental performance of the industry, reports the World Wildlife Fund (WWF).


Sime Darby signs palm oil deal in Liberia

(05/04/2009) Sime Darby, a Malaysian palm oil producer, will invest $800 million in palm oil and rubber plantations in Liberia, reports Reuters.


Global warming to cripple Southeast Asia economically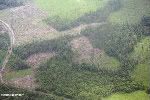 (04/28/2009) By the end of the century nations in Southeast Asia will face debilitating economic loss due to global warming, according to a new study from the Asian Development Bank. Analyzing Indonesia, Philippines, Thailand, and Vietnam the study found that they could suffer an annual loss of 6.7 percent ($230 billion dollars) in combined gross domestic product by 2100, more than double the global average which is estimated at a loss of 2.6 percent.


Environmental campaign blocks palm oil project in Cote d' Ivoire wetland

(04/25/2009) Environmentalists have thwarted plans to establish an oil palm plantation in the Tanoe forest wetlands of southern Cote d' Ivoire (Ivory Coast), reports AFP.


Can carbon credits from REDD compete with palm oil?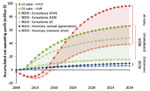 (03/30/2009) Reducing emissions from deforestation and degradation (REDD) is increasingly seen as a compelling way to conserve tropical forests while simultaneously helping mitigate climate change, preserving biodiversity, and providing sustainable livelihoods for rural people. But to become a reality REDD still faces a number of challenges, not least of which is economic competition from other forms of land use. In Indonesia and Malaysia, the biggest competitor is likely oil palm, which is presently one of the most profitable forms of land use. Oil palm is also spreading to other tropical forest areas including the Brazilian Amazon.


Greenpeace accuses Sinar Mas corporation of violence toward its protestors

(03/26/2009) In a press release issued by Greenpeace the organization states that Sinar Mas corporation security guards "brutally kicked and punched" peaceful protestors in Jakarta, Indonesia on March 19th. Greenpeace activists had chained themselves to the entrance of Sinar Mas headquarters and hung a banner labeling the corporation a 'Forest and Climate Criminal'.


Malaysian palm oil targets the Amazon

(03/25/2009) Malaysia's Land Development Authority FELDA will soon break ground on a joint venture with a Brazilian firm to establish 30,000-100,000 hectares (75,000 - 250,000 acres) of oil palm plantations in the heart of the Amazon rainforest, reports the Malaysian Star.


REDD in Indonesia could evict forest people from their lands, warns U.N. committee

(03/23/2009) In a letter released today, the United Nations Committee on the Elimination of Racial Discrimination expressed concern that a scheme to promote forest conservation in Indonesia via the Reduced Emissions from Deforestation and Forest Degradation (REDD) mechanism could increase conflict over land if the government doles out forest-carbon concessions in the same manner that it has with logging concessions. In the worst cases, forest people could be denied access rights to their traditional territories say indigenous rights' groups.


Will palm oil drive deforestation in the Amazon?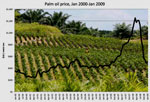 (03/23/2009) Already a significant driver of tropical forest conversion across southeast Asia, oil palm expansion could emerge as threat to the Amazon rainforest due to a proposed change in Brazil's forest law, new infrastructure, and the influence of foreign companies in the region, according to researchers writing in the open-access journal Tropical Conservation Science. William F. Laurance, a senior scientist at the Smithsonian Tropical Research Institute (STRI) in Panama City, Panama, and Rhett A. Butler, founder of environmental science web site Mongabay.com, warn that oil palm expansion in the Brazilian Amazon is likely to occur at the expense of natural forest as a result of a proposed revision to the forest code which requires land owners to retain 80 percent forest on lands in the Amazon. The new law would allow up to 30 percent of this reserve to consist of oil palm.


Deforestation blamed for tiger maulings in Sumatra

(02/27/2009) WWF has attributed six recent killings of villagers by tigers to deforestation in Sumatra. Habitat loss — together with prey depletion by hunting — is believed to be driving tiger-human conflict on the Indonesia island.


Whole Foods bans unsustainable palm oil from its products


(02/24/2009) America's largest organic grocer has announced its products will no longer use palm oil sourced from unsustainable producers, reports the Rainforest Action Network (RAN), an activist group that has led a campaign against destructive palm oil production. The move adds pressure on the palm oil industry to develop an effective and credible certification system for palm oil.


24% of Papua New Guinea's rainforest destroyed or degraded by logging in 30 years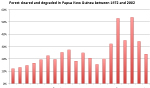 (02/23/2009) Nearly one quarter of Papua New Guinea's rainforests were damaged or destroyed between 1972 and 2002, report researchers writing in the journal Biotopica. The results, which were published in a report last June, show that Papua New Guinea is losing forests at a much faster rate than previously believed. Over the 30-year study period 15 percent of Papua New Guinea's tropical forests were cleared and 8.8 percent were degraded through logging.


New fire record for Borneo, Sumatra shows dramatic increase in rainforest destruction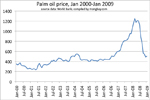 (02/22/2009) Destruction of rainforests and peatlands is making Indonesia more susceptible to devastating forest fires, especially in dry el Niño years, report researchers writing in the journal Nature Geoscience. Constructing a record of fires dating back to 1960 for Sumatra and Kalimantan (on the island of Borneo) using airport visibility records to measure aerosols or "haze" prior to the availability of satellite data, Robert Field of the University of Toronto and colleagues found that the intensity and scale of fires has increased substantially in Indonesia since the early 1990s, coinciding with rapid expansion of oil palm plantations and industrial logging.


Clinton, Obama botch opportunity on climate, forest conservation


(02/20/2009) The Obama administration squandered a chance this week to show U.S. leadership on climate and forest conservation issues, when Secretary of State Hillary Clinton, during a visit to Jakarta, failed to bring up a new Indonesian government decree allowing conversion of carbon-rich peat forests to oil-palm plantations.


Indonesia confirms that peatlands will be converted for plantations

(02/19/2009) Indonesia's Minister for the Environment has approved a decree that will allow the conversion of carbon-rich peatlands for oil palm plantations, reports The Jakarta Post.


80% of agricultural expansion since 1980 came at expense of forests


(02/15/2009) More than half of cropland expansion between 1980 and 2000 occurred at the expense of natural forests, while another 30 percent of occurred in disturbed forests, reported a Stanford University researcher presenting Saturday at the annual meeting of the American Association for the Advancement of Science (AAAS) in Chicago.


Indonesia may allow conversion of peatlands for palm oil

(02/15/2009) The Indonesian government will allow developers to convert millions of hectares of land for oil palm plantations, reports The Jakarta Post. The decision threatens to undermine Indonesia's efforts to reduce greenhouse gas emissions from land use and fashion itself as a leader on the environment among tropical countries.


Political violence in Madagascar may lead Daewoo to abandon controversial farm project

(02/10/2009) Political instability and low commodity prices may lead South Korea's Daewoo Logistics to delay or pull out of a controversial agricultural project in Madagascar, reports Reuters.


New model uses carbon credits, sustainable palm oil to save Indonesia's rainforests


(02/05/2009) The World Resources Institute (WRI) has launched an innovative avoided deforestation model that aims to deter conversion of Indonesian rainforest for oil palm plantations. The project, dubbed "POTICO" (Palm Oil, TImber, Carbon Offsets), integrates sustainable palm oil, FSC-certified timber, and carbon offsets in order to "divert new oil palm plantations onto degraded lands and bring the forests that were slated for conversion into certified sustainable forestry".


Heart of Borneo conservation initiative at risk from Indonesian development plan



(02/04/2009) Indonesia's Defense Minister Juwono Sudarsono is pushing a proposal to develop economic zones along the border between Malaysia and Kalimantan "as soon as possible" for national security reasons, reports the Jakarta Globe. The plan — which Juwono claims is to protect Indonesia's sovereignty — would undermine the historic Heart of Borneo conservation initiative signed in 2007 by spurring massive expansion of logging, plantation development, and road construction in the biologically-rich region.


Malaysian government says forest reserve 'plundered' for oil palm development

(02/03/2009) Responding to allegations by the Human Rights Commission of Malaysia (Suhakam) that indigenous people have been forced from their lands (a charge it denied), the Sabah Forestry Department said that more than 30 percent of Mt. Pock And Tanjong Nagos Forest Reserves were "plundered" by "people with means to plant illegal oil palm including companies" up until 2001. The statement is noteworthy in that leaders of the Malaysian Palm Oil Council, the marketing and lobbying arm of the Malaysian palm oil industry, have maintained that oil expansion has not taken place at the expense of natural forest in Malaysia.


What does slowing economy mean for rainforest conservation?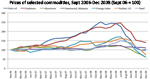 (01/26/2009) Plunging commodity prices may offer a reprieve for the world's beleaguered tropical forests. The global economic downturn has caused demand for many commodities to plummet. The resulting decline in the prices of timber, energy, minerals and agricultural products may do what conservationists have largely failed to achieve in recent years: slow deforestation. Fueled by surging demand from China and other emerging economies, and boosted by the convergence of food and energy markets in response to American and European incentives for biofuels, the worldwide commodity boom over the past few years helped trigger a land rush that precipitated the conversion of natural forests for farms, plantations, and ranches. At the same time, high prices for metals, fossil fuels, and other industrial resources drove a global search for exploitable reserves, many of which lie in tropical forest countries. Now that the bonanza is unwinding, with prices for everything from palm oil to bauxite to crude oil cratering, the incentives to clear forests are retreating. Developers large and small are abandoning projects and forgoing planned expansion around the world.


Palm oil may be single most immediate threat to the greatest number of species

(01/26/2009) Efforts to slow the rapid expansion of oil palm plantations at the expense of natural forests across Southeast Asia are being hindered by industry-sponsored disinformation campaigns, argue scientists writing in the journal Trends in Ecology and Evolution. The authors, Lian Pin Koh and David S. Wilcove, say that palm oil may constitute the "single most immediate threat to the greatest number of species" by driving the conversion of biologically rich ecosystems — including lowland rainforests and peatlands.


Symposium tackles big question: how many species will survive our generation

(01/16/2009) Nine scientists dusted off their crystal balls Monday at the National Museum of Natural History in Washington DC, weighing in on the future of the world's tropical forest. Despite the most up-to-date statistics, prognosis for the future of tropical forests varied widely. In the last few years a schism has occurred among biologists regarding the future of the tropics. No tropical scientist denies that rainforests and the species which inhabit them face unprecedented threats; neither do they argue that some of these forested regions and species will likely not survive the next fifty years. What has sparked debate, sometimes heated, is how bad will is it really? When the dust settles, what percentage of species will survive and how much forest will remain?


Finland, Sweden push for loophole that would drive destruction of peatlands around the world

(12/09/2008) Finland and Sweden are pushing for a loophole in the E.U.'s Renewable Energy Directive that would open up vast tracts of peatlands around the world to development for biofuels production. The move could have drastic consequences for climate and biodiversity, warns Wetlands International, an environmental group.


Drought and deforestation in southeast Asia linked to climate change

(12/09/2008) Researchers have linked drought and deforestation in southeast Asia to climate change. Analyzing six years of climate and fire data from satellites, Guido van der Werf and colleagues report that burning of rainforests and peatlands in Indonesia, Malaysia, and Papua New Guinea released an average of 128 million tons of carbon (470 million tons of carbon dioxide - CO2) per year between 2000 and 2006. Fire emissions showed highly variability during the period, but were greatest in dry years, such as those that occur during El Niño events. Borneo was the largest source of fire emissions during the period, averaging 74 million tons per year, followed by Sumatra, which showed a doubling in emissions between 2000 and 2006.


Degraded grasslands better option for palm oil production relative to rainforests, finds study

(12/03/2008) Producing biofuels from oil palm plantations established on degraded grasslands rather than tropical rainforests and peat lands would result in a net removal of carbon from the atmosphere rather than greenhouse gas emissions, report researchers writing in Conservation Biology. The results confirm that benefits to climate from biofuel production depend greatly on the type of land used for feedstocks.


Fall in palm oil price may lead to industry consolidation

(12/02/2008) A dramatic fall in palm oil prices may provide an opportunity for plantation giants to add to their holdings, reports Reuters.


HSBC to cut lending to questionable oil palm and logging companies

(12/02/2008) HSBC will cut lending to oil palm developers and logging companies in Malaysia and Indonesia due to environmental concerns, reports Reuters.


Madagascar denies 'land grab' by South Korean conglomerate

(11/22/2008) Officials from Madagascar are denying they have reached an agreement to turn over half the island nation's arable land to a South Korean corporation for food production, reports Reuters. The controversial deal — which would have paid Madagascar nothing and turned over 1.3 million hectares to produce corn and palm oil for export at a time when one-third of country's children are malnourished — was reported last week by the Financial Times.


Malaysia's indigenous people to get land rights for first time

(11/19/2008) Malaysia's government will for the first time grant ownership rights of land farmed by indigenous people, reports the Associated Press, but some may see the legal change as a scheme to promote oil palm expansion.


Greenpeace activists block palm oil shipment from departing Indonesia for Europe

(11/11/2008) Greenpeace activists blocked a palm oil shipment from departing Dumai, Indonesia's main palm oil export port, for Europe to protest against the ongoing destruction of Indonesia's forests.


Biodiversity of rainforests should not be compared with oil palm plantations says palm oil council chief

(11/11/2008) Scientists should compare the biodiversity oil palm plantations to other industrial monocultures, not the rainforests they replace, said Dr. Yusof Basiron, CEO of the Malaysian Palm Oil Council (MPOC), in a post on his blog. Basiron's comments are noteworthy because until now he has maintained that oil palm plantations are "planted forests" rather than an industrial crop.


First RSPO-certified ("eco-friendly") palm oil shipment to arrive in Europe

(11/10/2008) The first shipment of palm oil certified under the Roundtable on Sustainable Palm Oil (RSPO) is expected to arrive in Europe Tuesday, but an environmental group is already criticizing the initiative's credentials.



Page 1 | Page 2 | Page 3 | Page 4 | Page 5 | Page 6 | Page 7 | Page 8 | Page 9 | Page 10 | Page 11 | Page 12