News articles on palau

---
Mongabay.com news articles on palau in blog format. Updated regularly.






Trawling: destructive fishing method is turning seafloors to 'deserts'
(05/28/2014) Previous research has linked trawling to significant environmental impacts, such as the harvest of large numbers of non-target species, collectively termed "bycatch," as well as destruction of shallow seabeds. Now, a new study finds this method is also resulting in long-term, far-reaching consequences in the deeper ocean and beyond.
Corals thriving despite acidified conditions in remote Pacific bay
(02/25/2014) Scientists have discovered a small island bay in the Pacific which could serve as a peephole into the future of the ocean. Palau's Rock Island Bay harbors a naturally occurring anomaly – its water is acidified as much as scientists expect the entire ocean to be by 2100 as a result of rising carbon dioxide emissions.
New species is eel-equivalent of the coelacanth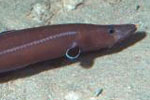 (08/18/2011) The ocean holds endless surprises still. In an underwater cave off the Pacific island nation of Palau, reachers have made an astounding discovery: an eel species unknown to science that harkens back 200 million years. The species, described in the Proceedings of the Royal Society B as an 'enigmatic, small eel-like fish', sports anatomical features that differentiate it from the over 800 known species of eel surviving today.
Left alive and wild, a single shark worth $1.9 million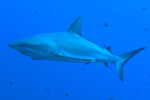 (05/02/2011) For the Pacific island nation of Palau, sharks are worth much more alive than dead. A new study by the Australian Institute of Marine Science (AIMS) has found that one reef shark during its full life is worth $1.9 million to Palau in tourism revenue. Sold for consumption the shark is worth around $108. In this case a shark is worth a stunning 17,000 times more alive than dead.