News articles on overfishing

---
Mongabay.com news articles on overfishing in blog format. Updated regularly.








The Yangtze River may have lost another inhabitant: the Chinese paddlefish

(10/22/2009) In December of 2006 it was announced that the Yangtze River dolphin, commonly known as the baiji, had succumbed to extinction. The dolphin had survived on earth for 20 million years, but the species couldn't survive the combined onslaught of pollution, habitat loss, boat traffic, entanglement in fishing hooks, death from illegal electric fishing, and the construction of several massive dams. Now, another flagship species of the Yangtze River appears to have vanished.
Protests over tuna industry development plans in Papua New Guinea

(10/21/2009) People from the area of Madang in Papua New Guinea are protesting government plans, supported by the World Bank's International Finance Cooperation (IFC), to build large-scale industrial tuna canneries and docks, labeled the Pacific Marine Industrial Zone (PMIZ). Over 700 people showed up and marched at the Madang Provincial Governmental Headquarters on October 15th, despite the protest being banned by local police.
Global fisheries begin to show signs of recovery where management is strong

(07/30/2009) New research reveals hopeful signs that overfished marine ecosystems can recover provided adequate protections. The two-year study, publish in the journal Science, found that efforts to reduce overfishing are beginning to succeed in five of the ten large marine ecosystems examined, suggesting that "sound management can contribute to the rebuilding of fisheries."
Over 30 percent of open ocean sharks and rays face extinction
(06/25/2009) The first global study of open ocean (pelagic) sharks and rays found that 32 percent of the species are threatened with extinction largely due to overfishing and bycatch, making pelagic sharks and rays more threatened than birds (12 percent), mammals (20 percent), and even amphibians (31 percent), which are considered to be undergoing an extinction crisis. The situation worsens when only sharks taken in high-seas fisheries are considered: 52 percent of these species are threatened.
Will jellyfish take over the world?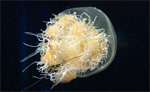 (06/16/2009) It could be a plot of a (bad) science-fiction film: a man-made disaster creates spawns of millions upon millions of jellyfish which rapidly take over the ocean. Humans, starving for mahi-mahi and Chilean seabass, turn to jellyfish, which becomes the new tuna (after the tuna fishery has collapsed, of course). Fish sticks become jelly-sticks, and fish-and-chips becomes jelly-and-chips. The sci-fi film could end with the ominous image of a jellyfish evolving terrestrial limbs and pulling itself onto land—readying itself for a new conquest.
Marine scientist calls for abstaining from seafood to save oceans
(06/08/2009) In April marine scientist Jennifer Jacquet made the case on her blog Guilty Planet that people should abstain from eating seafood to help save life in the ocean. With fish populations collapsing worldwide and scientists sounding warnings that ocean ecosystems—as edible resources—have only decades left, it is perhaps surprising that Jacquet's call to abstain from consuming seafood is a lone voice in the wilderness, but thus far few have called for seafood lovers to abstain.
Turkey ignores bluefin tuna quotas, further imperiling critically-endangered species

(05/12/2009) A few weeks into the bluefin tuna fishing season and Turkey has decided to go it alone. Breaking international agreements, the Turkish government has announced that it will ignore agreed-upon bluefin tuna quotas. The news is not good for the survival of the critically-endangered fish species, since Turkey operates the largest Mediterranean fleet for bluefin tuna.
New protections for coral reefs and dwindling fish species in Belize

(04/27/2009) Coral reefs in Belize, considered to be some of the most pristine in the west, have secured additional protections. Rene Montero, the Minister of Agriculture and Fisheries, signed a set of new laws this month to protect Belize's coral reefs and the fish that inhabit them. The additional laws protect increasingly overfished species, ban spearfishing in marine reserves, and create no-take zones, according to a press release from the Wildlife Conservation Society (WCS).
Mediterranean bluefin tuna has only three years left unless fishery closes

(04/14/2009) If the Mediterranean bluefin tuna fishery is not closed, the bluefin will be functionally extinct by 2012 according to a new analysis from World Wildlife Fund (WWF). While the population has undergone steep declines for over a decade, fishery managers and policy-makers have continually ignored calls from scientists that fishing must stop if the Mediterranean bluefin tuna is to survive.
Whale sharks threatened by interbreeding
(04/08/2009) The world's largest living fish, the whale shark, is threatened by interbreeding, according to a new study in PLoS ONE. Comparing the DNA of 68 individual whale sharks from eleven locations across the globe, geneticists found that the whale sharks had little genetic variation between the populations.
Tuna industry launches new organization to save tuna from itself

(03/16/2009) Yesterday saw the launch of the International Seafood Sustainability Foundation (ISSF). Composed of scientists, environmental organizations, and the tuna industry, ISSF will focus on ensuring that tuna populations are preserved from overfishing.
Illegal fishing estimated at $10-24B per year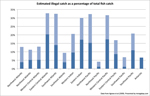 (02/26/2009) Global losses from illegal and unreported fishing are estimated at $10-23.5 billion per year, according to a new study published in PLoS One. Analyzing fishing data from 54 countries, David J. Agnew of Imperial College London and colleagues estimate the "Illegal, Unreported and Unregulated" (IUU) fish catch at 11 to 26 million tons per each year. The authors found a strong link between governance and illegal fishing — illicit practices were most widespread in developing countries with poor monitoring and law enforcement. Estimated catches in West Africa were 40 percent higher than reported catches.
Saving leatherback turtles in South America's smallest country, Suriname: An interview with Liz McHuron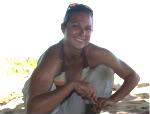 (01/27/2009) After a year studying marine biology at Moss Landing Marine Labs, Liz McHuron headed off to the little-known nation of Suriname to monitor leatherback sea turtles. Her responsibilities included implementing a conservation strategy for a particular beach, moving leatherback nests in danger of flooding, and educating volunteer workers on the biology, behavior, and conservation efforts of the world's largest, and most unique, marine turtle. I visited McHuron during her time at the beach of Galibi in Suriname; she proved to be the sort of scientist who refused to be deterred: breathtaking humidity or downpours, fer-de-lances on the beach or jaguars, Liz was always on the move, always working to aid the critically-endangered leatherbacks while studying them with the thoroughness inherit in a born scientist.
Indonesian coral reef recovering after devastating tsunami and years of destructive fishing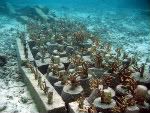 (01/05/2009) On December 26th, 2004 an earthquake recorded at a magnitude of 9.3 in the Indian Ocean created a massive tsunami that struck nations across the region. Enormous waves took the lives of nearly 250,000 people while destroying cities and towns in minutes. The tsunami also caused extensive environmental damage, including reef systems along many coastal areas. Four years after the tsunami researchers from the Wildlife Conservation Society (WCS) have returned to site of the disaster to survey the damaged reefs and work with local communities on preserving this important resource. After exploring sixty sites of coral reef off the coasts of Aceh, Indonesia, the scientists report that reefs damaged by the 2004 tsunami are on the path to recovery.
Sharks in trouble after nations fail to create sustainable management programs

(11/06/2008) Sharks are disappearing from the ocean at startling rates: currently one-in-five of these famous marine predators are threatened with extinction. According to a report from the Australian Government and TRAFFIC—an organization that monitors wildlife trade both legal and illegal—the collapse of shark populations is being caused largely by rising demand for shark fin in Asia. The report shows that legal fishing for sharks has become nearly as detrimental as illegal, since few fisheries have management strategies concerned with sustainability.
One-third of global marine catch used as livestock feed

(10/30/2008) Despite continuous warnings of emptying oceans due to overfishing, a new report finds that one-third of the world's total marine catch is not feeding humans, but livestock. The fish are ground-up into meal and fed to pigs, poultry, and even farm-raised fish.
Mediterranean bluefin tuna originate in the Gulf of Mexico

(10/02/2008) Researchers have discovered a previously unknown migratory route for the northern bluefin tuna, proving for the first time that the species' Mediterranean and North American subpopulations interact. According to the paper published in Science the two groups meet as juveniles then return to their birthplace to spawn. For a critically-endangered species that is still heavily fished, the new finding has large conservation and management implications.
A solution to worldwide fishery collapse?

(09/18/2008) In November 2006 a study on global fisheries received a lot of attention: employing 53 years worth of fishery data, Boris Worm predicted that by 2048 the ocean would be empty of fish. Essentially there would be nothing left to catch. Already, Worm reported, fishing stocks had collapsed in 29 percent of the world's fisheries. Although scientists called for rapid and overhauling changes to fisheries, the fishing industry carried on business-as-usual. Now, two years later, a study in Science proposes to have found the solution to the global fishery-collapse.
The long-ignored ocean emergency and what can be done to address it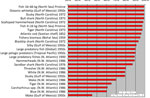 (08/18/2008) This year has been full of bad news regarding marine ecosystems: one-third of coral species threatened with extinction, dead-zones spread to 415 sites, half of U.S. reefs in fair or bad condition, increase in ocean acidification, tuna and shark populations collapsing, and only four percent of ocean considered pristine. Jeremy Jackson, director of the Scripps Center for Marine Biodiversity and Conservation at the University of California, San Diego, synthesizes such reports and others into a new paper, published in the journal Proceedings of the National Academy of Sciences, that boldly lays out the scope of the oceanic emergency and what urgently needs to be done.
How sustainable is your canned tuna? It depends on the retailer

(08/13/2008) To aid concerned tuna-lovers, Greenpeace has ranked eight of the top canned tuna retailers in order from most sustainable to least. Canned tuna from John West, the biggest retailer of tuna in the UK, proves to be the worst of the lot, whereas Sainsbury's is the most environmentally-friendly. In a press release Greenpeace said that Sainsbury's is "the only tinned tuna brand that is fished using sustainable methods".
The global rich are eating the poor's fish: new report shows tropical fish catch gravely under-estimated

(07/10/2008) After a week of bad news regarding marine life — it was reported that half of U.S. coral reefs are in fair to poor condition and one-third of all coral species are threatened globally — there is still more: a study of twenty tropical islands showed that recreational and subsistence fishing has gone almost completely unreported from 1950 to 2004. In fifteen of twenty cases the fish take was at least doubled when local fish catches were added, and in the most extreme case, American Samoa, the amount of fish collected was 17 times what was previously recorded.
1/3 of corals face extinction

(07/10/2008) Nearly one-third of reef-building corals are vulnerable to extinction, according to an assessment of 845 species of coral. Rising temperatures, increased incidence of disease, and human disturbance are driving the trend.
Large shark populations fall 97% in the Mediterranean

(06/12/2008) Populations of some shark species in the Mediterranean have plunged by more than 97 percent over the past 200 years, report researchers writing in the journal conservation Biology. Several species are at risk of extinction.
Greenpeace ship attacked by Turkish tuna fishermen during protest

(05/30/2008) Members of a Turkish tuna fishing boat attacked the Greenpeace ship Arctic Sunrise while the ship was engaged in a protest against overfishing. The incident occurred Friday in the Cypriot Channel and was reported to the Turkish Iskenderun Gulf Port Authorities.
New 'red list' seeks to stave off global seafood collapse

(03/03/2008) Over-fishing and destructive fishing practices have had a considerable effect on oceanic ecosystems. In 2006 a highly-reported study found that without drastic measures all wild seafood will disappear from the oceans in 50 years. Greenpeace, working against such a crash, has started a campaign that highlights 'red fish'. The twenty-two 'red' species are seafood that consumers and suppliers (including supermarkets) should avoid due to their plummeting populations and/or the damage caused by harvesting them.
Tuna may go the way of cod: a collapsed fishery

(02/18/2008) The collapse of the cod fishery could provide important lessons to prevent a similar fate for some tuna populations, say researchers presenting at the American Association for the Advancement of Science (AAAS) Annual Meeting in Boston on February 18.
Ocean trawling impacts can be seen from space

(02/16/2008) Bottom trawling, an industrial fishing method that drags large, heavy nets across the seafloor stirs up huge, billowing plumes of sediment on shallow seafloors that can be seen from space.
Digital maps and mathematical analysis could reduce fishing bycatch

(02/16/2008) Images of dolphins and turtles ensnared in tuna nets are a heart-wrenching reminder of the impact of fisheries on ocean bio-diversity. Known in fisheries science as 'by-catch,' this killing of non-target species is a complex problem that has resisted easy answers.
Only 4% of the ocean is pristine according to first oceanic map of human-impact

(02/14/2008) There is a much used adage regarding the ocean that goes something like this: we know more about our solar system than our ocean. Whether or not one believes this to be true (less than 5% of the ocean has been explored), a group of over twenty researchers, by agglomerating the available information on the oceans, have created a large-scale image of the ocean's health.
Overfishing may hurt Amazon forest trees

(02/05/2008) Overfishing is reducing the effectiveness of seed dispersal by fish in the Brazilian Pantanal, reports Nature. The research suggests that fishing practices can affect forest health.
Rich countries grow at ecological expense of poor countries

(01/21/2008) The costs of environmental degradation caused by rich countries are disproportionately falling on the world's poorest countries, reports an analysis published in the journal Proceedings of the National Academy of Sciences.
Stanford University, Monterey Bay Aquarium launch center to save oceans

(01/09/2008) Stanford University, the Monterey Bay Aquarium and the Monterey Bay Aquarium Research Institute (MBARI) have teamed up to establish the Center for Ocean Solutions, a new collaboration that will bring together international experts in marine science and policy to find innovative ways to protect and restore the world's oceans.
Overfishing takes toll on Bluefin tuna

(08/06/2007) Overfishing has caused dramatic shifts in bluefin tuna populations that have pushed the species closer towards extinction in some areas, reports a series of studies by the Census of Marine Life (CoML) and other researchers.
In Alaska, fishing industry drives marine conservation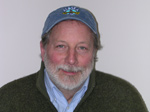 (07/24/2007) Alaska's fisheries are some of the richest in the world, with fishermen harvesting hundreds of millions of dollars' worth of salmon, crab, herring, halibut, pollock, and groundfish every year. However, such bounty has not always been the case. Over-exploitation and poor fisheries management in the 1940s and 1950s took a heavy toll on the industry. Born of this difficult origin, today Alaska sets the bar in fisheries management. Unusually for natural resource management, industry is leading the way, relying on dialog with scientists to determine catch levels and where to designate "no-fishing zones", while pushing for certification standards for sustainable seafood products. These efforts are coordinated by the Marine conservation Alliance (MCA), an industry-backed nonprofit based in Juneau, Alaska. In July 2007, David Benton, executive director of the Marine conservation Alliance, spoke with mongabay.com about MCA's work in Alaska.
How to save the world's oceans from overfishing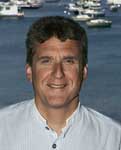 (07/08/2007) Global fishing stocks are in trouble. After expanding from 18 millions tons in 1950 to around 94 million tons in 2000, annual world fish catch has leveled off and may even be declining. Scientists estimate that the number of large predatory fish in the oceans has fallen by 90 percent since the 1950s, while about one-quarter of the world's fisheries are overexploited, depleted, or recovering from depletion. Despite these dire trends, the situation is changing. Today some of the world's largest environmental groups are focused on addressing the health of marine life and oceans, while sustainable fisheries management is at the top of the agenda for intergovenmental bodies. At the forefront of these efforts is Mike Sutton, director of the Monterey Bay Aquarium's conservation program: the Center for the Future of the Oceans. The aquarium, which has long been recognized as one of the world's most important marine research facilities, is pioneering new strategies for protecting the planet's oceans. Sutton says the approach has four parts: establishing new marine protected areas, pushing for ocean policy reform, promoting sustainable seafood, and protecting wildlife and marine ecosystems.
Sharks do not win CITES protection

(06/08/2007) Two endangered species of sharks failed to win protection at the Convention on International Trade in Endangered Species (CITES) meeting in The Hague.
Shark fin does not cure cancer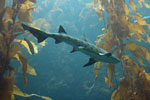 (06/03/2007) Shark cartilage, long believed in traditional medicine to be an anti-cancer agent, confers no health benefits in lung cancer survival reports an extensive study presented at the 43rd annual meeting of the American Society of Clinical Oncology. The lead author said the findings cast major skepticism on shark cartilage products that are being sold for profit and have no data to support their efficacy as cancer-fighting agent.







Top ten threatened species named by WWF

(05/16/2007) The World Wildlife Fund (WWF) announced its top ten list for species in need of trade protection ahead of the upcoming Conference of the Convention on International Trade in Endangered Species (CITES) in The Hague, The Netherlands.




Page 1 | Page 2 | Page 3 | Page 4 | Page 5