News articles on overfishing

---
Mongabay.com news articles on overfishing in blog format. Updated regularly.






B95, the great survivor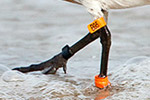 (06/11/2012) He is so long-lived that he has surpassed all expectations, touching hearts throughout the American continent, bringing together scientists and schools, inspiring a play and now even his own biography. B95 is the name of a rufus red knot (Calidris canutus rufus), a migratory bird that in his annual journeys of 16,000 kilometers (9,940 miles) each way from the Canadian Arctic to Tierra del Fuego, in Argentina, has flown a distance bigger than the one between the Earth and Moon.
Regulations help fish, and fishermen, recover in the U.S.

(05/30/2012) Marine fish populations in the U.S. are generally recovering, according to a new report by the National Oceanic and Atmospheric Administration (NOAA). Last year six fish populations reached healthy levels in the U.S., boosting the total number of fish populations that have recovered to 27 since 2000. The success is due to the implementation of science-based annual catch limits which regulate how many fish are caught every year.
Educating the next generation of conservation leaders in Colombia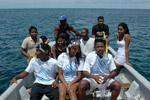 (05/14/2012) Colombia's northern departments of Cordoba and Bolivar are home to an abundance of coral reefs, estuaries, mangroves forests, and forests. Rich in both marine and terrestrial wildlife, local communities depend on the sea and land for survival, yet these ecosystems are imperiled by booming populations, overexploitation, and unsustainable management. Since 2007, an innovative education program in the region, the Guardians of Nature, has worked to teach local children about the ecology of the region, hoping to instill a conservation ethic that will aid both the present and the future.
Featured video: the oceans and Rio+20

(05/10/2012) A new video by Pew Environment Group and the Zoological Society of London (ZSL) hopes to convince policy-makers attending the Rio+20 Summit on Sustainable Development this summer that urgent action is needed to save the ocean's from an environmental crisis.
Featured video: Google Earth highlights imperiled coral reefs around the world

(04/18/2012) A new video by Google Earth and the World Resources Institute (WRI) highlights the world's many endangered coral reefs. A part of the WRI's Reefs at Risk program, the video highlights regional and global threats to the oceans' most biodiverse ecosystem. According to the WRI, a stunning 75 percent of the world's reefs are currently threatened.
Whole Foods bans 'red' fish from its stores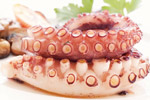 (04/10/2012) Whole Foods has announced it will be the first grocery chain in the U.S. to no longer sell any seafood in the "red." Based on sustainability ratings by the Monterey Bay Aquarium and Blue Ocean Institute, fish labeled red are those that are considered either overfished or fished in a manner that impacts other species or damages marine ecosystems. Beginning Earth Day, April 22nd, Whole Foods will no longer be selling Atlantic halibut, grey sole, skate, octopus, tautog, sturgeon, among others. Already, the store doesn't sell some unsustainable catches such as bluefin tuna and orange roughy.
Three U.S. retailers pledge to avoid fish from embattled Ross Sea

(03/14/2012) The Ross Sea, a massive bay off Antarctica, has been dubbed the world's last ocean due to its pristine state, long-untouched by industry and fisheries. However, over the last 15 years New Zealand commercial fisheries have entered the sea, seeking the slow-growing Antarctic toothfish which is usually sold as the high-end Chilean sea bass. Now as conservation groups plead for nations to grant the Ross Sea protected status, Greenpeace has begun a campaign to get good retailers to steer clear of stocking Antarctic toothfish. To date, Safeway, Wegmans, and Harris Teeter has all pledged not to source from the Ross Sea.
Camera traps go under the ocean, seeking sharks

(03/12/2012) Remote camera traps, which have become a hugely important conservation tool on land during the past decade, have now gone underwater. Marine biologists have used underwater video camera traps to compare the population of Caribbean reef sharks (Carcharhinus perezii) in Belize's protected areas versus fishing areas in a new study in the open-access journal PLoS ONE. Conducted from 2005-2010, the study found that reef sharks benefited significantly from conservation areas.
Sawfish impale, cleave prey with snout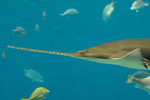 (03/05/2012) Although all seven species of sawfish are nearly extinct, scientists have spent little time studying these vanishing species. However that is changing as a new study in Current Biology sheds light on the sawfishes' most distinguishing feature: its long toothed snout, which gives the fish its name. "I was surprised to see how skilled sawfish are with their saw," said co-author Barbara Wueringer of the University of Queensland in a press release. "They use their saw to impale prey on the rostral teeth by producing several lateral swipes per second."
Paleontologists reconstruct extinct, "elegant" penguin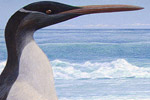 (02/27/2012) Around 25 million years ago a penguin with a long, sharp beak and massive flippers lived in a New Zealand that was almost entirely underwater. The bird, named Kairuku after a Maori word that means "diver who returns with food," was first discovered in 1977, but has only recently been reconstructed by scientists in a study in the Journal of Vertebrate Paleontology.
Scientists recommend marine protected areas for Madagascar

(02/27/2012) With the government of Madagascar planning to increase marine protected areas by one million hectares, a group of researchers have laid out flexible recommendations in a new study in the open access journal PLoS ONE. The researchers employed four different analyses in order to highlight a number of different conservation options, however the different analyses pointed to the need to protect certain areas with high biodiversity, including the Barren Islands' reefs, the reefs of Juan de Nova, the Banc de Leven, and the shallow banks of the Cap Sainte Marie.
New sanctuaries declared for Asia's freshwater dolphins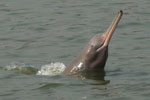 (02/15/2012) Bangladesh has declared three new sanctuaries to help protect the south Asian river dolphin (Platanista gangetica) in the Sundarbans, the world's largest mangrove forest. Split into two subspecies, the Ganges River dolphin (Platanista gangetica gangetica) and the Irrawaddy River dolphin (Platanista gangetica minor), the new sanctuaries will benefit both. Listed as Endangered by the IUCN Red List, the south Asian freshwater dolphin has disappeared from much of its habitat. Already Asia has its other freshwater dolphin species: the baiji (Lipotes vexillifer) was declared functionally extinct into 2006 after a survey of the Yangtze River failed to find a single individual.
Jellyfish explosion may be natural cycle

(02/06/2012) Evidence that jellyfish are taking over the oceans is currently lacking, according to a new study published in Bioscience. Complied by a number of marine experts, the study found that while jellyfish have been on the rise in some regions it is likely due to a natural cycle of jellyfish populations and not a global boom. Researchers, including a number of marine biologists, have warned for years that jellyfish numbers may be exploding due to human activities, such as overfishing, warmer oceans due to global climate change, and the rise of oxygen-depleted, so-called "dead zones."
Atlantic sturgeon gains protection under the Endangered Species Act

(02/01/2012) The U.S. federal government has listed the massive and bizarre Atlantic sturgeon (Acipenser oxyrinchus) under the protection of the Endangered Species Act (ESA). Historically overfishing decimated the Atlantic sturgeon, while on-going threats include pollution and infrastructure, like dams and bridges that destroy habitat. Fishing for the Atlantic sturgeon has been banned since 1998, they are still caught as bycatch.
Cute animal picture of the day: pygmy killer whale saved after stranding

(01/12/2012) On Tuesday a female pygmy killer whale (Feresa attenuata) was found stranded on Tanjung Aru beach, in the Malaysian state of Sabah on the island of Borneo. After being moved to a swimming enclosure at a local resort for recuperation, the whale was released back into the wild with aid from the Sabah Wildlife Department, marine biologist Lindsay Porter, the local NGO LEAP, and WWF Malaysia.
Bycatch-reducing fish trap wins $20,000

(01/11/2012) An innovative fish trap that allows small non-target fish to escape won a new content by RARE Conservation and National Geographic to fund solutions to overfishing. Developed through studies in Curaçao and Kenya with the Wildlife Conservation Society, the trap has gaps for juvenile fish to swim out of reportedly reducing bycatch by 80 percent. The entry won a $20,000 grant.
World's most expensive tuna

(01/05/2012) A 593 pound Pacific bluefin tuna sold for $735,000 (56.49 million yen) in Tokyo's Tsukiji market today. This beats the previous record price hit last year by over $260,000. Why so expensive? Bluefin tuna, considered the best sashimi and sushi in the world, have been fished to near extinction with the population of the Pacific bluefin the most stable to date.
Seahorses under stress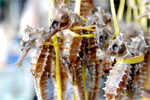 (11/21/2011) With about 25 million seahorses sold each year, global consumption of seahorses is massive. They're used in traditional Asian medicine and also sold as curios and aquarium pets. Over the last decade, overexploitation and habitat degradation have prompted declines of between 15 to 70 percent in many seahorse populations. Marine biologist and author Helen Scales notes there is much still unknown about seahorses.
PHOTO: Adorable penguin chicks score their own blog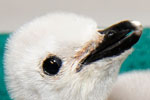 (11/15/2011) A new blog, dubbed the Real Chicks of Central Park, is allowing visitors an intimate look at eight impossibly-cute penguin chicks. Including video, photos, and interviews the blog is an attempt to raise awareness about penguins. The highlighted chicks include four gentoo penguins (Pygoscelis papua) and four chinstrap penguins (Pygoscelis antarcticus).
US reduces catch limit of 'most important fish in the sea'

(11/15/2011) The Atlantic State Marine Fisheries Commission (ASMFC) has slashed the allowable catch of a tiny fish named menhaden by 37 percent by 2013. Dubbed the 'most important fish in the sea' by author H. Bruce Franklin, the menhaden plays a critical role in marine ecosystems as a food source for larger fish, seabirds, and marine mammals, as well as helping to regulate the marine environment. However, due to overfishing the menhaden fish has dropped 92 percent from its historical population.
Covert Creatures: The Clandestine Lives of Seahorses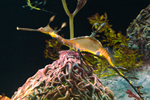 (11/15/2011) Seahorses are strange looking creatures, with a horse's head on top of a kangaroo's pouched belly, bulging, swiveling chameleon eyes, a prehensile monkey tail, color-changing armor and a royal crown, all shrunk down to the size of a chess piece. To marine biologist Helen Scales, these elusive creatures are a perfect symbol of the ocean's biodiversity.
First global assessment finds highest-grossing tunas and billfishes most vulnerable to extinction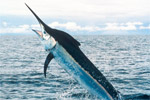 (11/09/2011) Sleek, powerful tunas and billfishes that ply the open ocean garner some of the highest prices of any fish. In January, a single bluefin tuna fetched a record $396,000 at a Tokyo auction. Yet wild fish populations pay a still higher price for such exorbitant demand: the threat of extinction. The first assessment of an entire group of commercially valuable marine species found that the most threatened fish are generally the ones reeling in the most money, including bluefin tuna and bigeye tuna.
11 challenges facing 7 billion super-consumers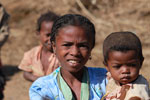 (10/31/2011) Perhaps the most disconcerting thing about Halloween this year is not the ghouls and goblins taking to the streets, but a baby born somewhere in the world. It's not the baby's or the parent's fault, of course, but this child will become a part of an artificial, but still important, milestone: according to the UN, the Earth's seventh billionth person will be born today. That's seven billion people who require, in the very least, freshwater, food, shelter, medicine, and education. In some parts of the world, they will also have a car, an iPod, a suburban house and yard, pets, computers, a lawn-mower, a microwave, and perhaps a swimming pool. Though rarely addressed directly in policy (and more often than not avoided in polite conversations), the issue of overpopulation is central to environmentally sustainability and human welfare.
Small marine fish need protection too

(10/25/2011) It has long been known that overfishing has decimated some populations of tuna, shark, cod, as well as other big predatory fish; however two recent studies have pointed out that overfishing is also threatening small fish such as anchovies, sardines, mackerel, herring, menhaden, and krill. Although tiny, these species are vital to marine ecosystems since many species higher up on the food chain—from seabirds to marine mammals to big fish—wholly depend on them for survival.
Fishing industry exceeds Atlantic bluefin quota by 141 percent

(10/18/2011) In 2010 the fishing industry exceeded its quota of eastern Atlantic bluefin tuna (Thunnus thynnus) by 141 percent, according to a new analysis by Pew Environment Group. The analysis depends on official data, thereby leaving out the massive black market on Atlantic bluefin tuna.
Poor in Madagascar see fish plundered for foreign consumption

(10/11/2011) A new study warns that overfishing could exacerbate poverty and political stability in one of the world's poorest nations: Madagascar. According to the recent study by the University of British Columbia's Sea Around Us Project and Malagasy NGO Blue Ventures, fish catches in the African island-nation from 1950 to 2008 are actually double the official numbers, with foreign wealthy nations currently taking half the haul.
Marshall Islands creates world's biggest shark park

(10/03/2011) The Republic of the Marshall Islands has created the world's biggest shark reserve: so large that all of Mexico could fit comfortably inside. With new legislation, commercial shark fishing is now completely banned in Marshall Islands' 768,547 square miles (1,990,530 square kilometers) of ocean.
Sowing the seeds to save the Patagonian Sea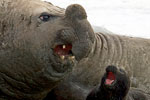 (09/07/2011) With wild waters and shores, the Patagonia Sea is home to a great menagerie of marine animals: from penguins to elephants seals, albatrosses to squid, and sea lions to southern right whales. The sea lies at crossroads between more northern latitudes and the cold bitter water of the Southern Ocean, which surround Antarctica. However the region is also a heavy fishing ground, putting pressure on a number of species and imperiling the very ecosystem that supplies the industry. Conservation efforts, spearheaded by marine conservationist Claudio Campagna and colleagues with the Wildlife Conservation Society (WCS), are in the early stages. Campagna, who often writes about the importance of language in the fight for preservation, has pushed to rename the area to focus on its stunning wildlife.
California moves closer to banning shark fin trade

(09/07/2011) California moved a step closer to banning the sale and trade of shark fin with the passage Tuesday of Senate Bill 376. The bill, which passed 25-9, now goes the governor, whose approval would make the ban law. The bill was introduced to the California State Assembly February this year by Paul Fong (D-Cupertino) and Jared Huffman (D-San Rafael).
Honduras protects sharks in all its waters

(06/26/2011) Endangered sharks are finding more sanctuaries. Honduras has announced that commercial shark fishing will be banned from its 92,665 square miles (240,000 square kilometers) of national waters. Honduras says the ban, which follows a moratorium on shark fishing, will bring in tourism revenue and preserve the marine environment.
Ocean prognosis: mass extinction
(06/20/2011) Multiple and converging human impacts on the world's oceans are putting marine species at risk of a mass extinction not seen for millions of years, according to a panel of oceanic experts. The bleak assessment finds that the world's oceans are in a significantly worse state than has been widely recognized, although past reports of this nature have hardly been uplifting. The panel, organized by the International Program on the State of the Ocean (IPSO), found that overfishing, pollution, and climate change are synergistically pummeling oceanic ecosystems in ways not seen during human history. Still, the scientists believe that there is time to turn things around if society recognizes the need to change.
What does Nature give us? A special Earth Day article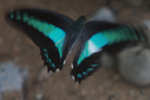 (04/22/2011) There is no question that Earth has been a giving planet. Everything humans have needed to survive, and thrive, was provided by the natural world around us: food, water, medicine, materials for shelter, and even natural cycles such as climate and nutrients. Scientists have come to term such gifts 'ecosystem services', however the recognition of such services goes back thousands of years, and perhaps even farther if one accepts the caves paintings at Lascaux as evidence. Yet we have so disconnected ourselves from the natural world that it is easy—and often convenient—to forget that nature remains as giving as ever, even as it vanishes bit-by-bit. The rise of technology and industry may have distanced us superficially from nature, but it has not changed our reliance on the natural world: most of what we use and consume on a daily basis remains the product of multitudes of interactions within nature, and many of those interactions are imperiled. Beyond such physical goods, the natural world provides less tangible, but just as important, gifts in terms of beauty, art, and spirituality.
Giant fish help grow the Amazon rainforest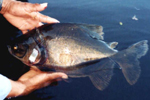 (04/12/2011) A fruit in the flooded Amazon falls from a tree and plops in the water. Before it can even sink to the floor, a 60-pound monster fish with a voracious appetite gobbles it. Nearly a week later—and miles away—the fish expels its waste, including seeds from the fruit eaten long ago and far away. One fortunate seed floats to a particularly suitable spot and germinates. Many years later the new fruit tree is thriving, while the same monster-fish returns from time-to-time, waiting for another meal to drop from the sky. This process is known as seed-dispersal, and while researchers have studied the seed-dispersal capacity of such species as birds, bats, monkeys, and rodents, one type of animal is often overlooked: fish.
15 conservation issues to watch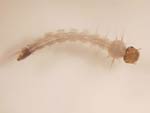 (03/14/2011) Deforestation, oil spills, coral acidification: these are just a few examples of ongoing, and well-researched, environmental changes that are imperiling the world's biodiversity. But what issues are on the horizon? At the end of 2010, experts outlined in Trends in Ecology & Evolution 15 issues that may impact conservation efforts this year and beyond, but are not yet widely known. These are issues you may never hear about it again or could dominate tomorrow's environmental headlines. "Our aim was to identify technological advances, environmental changes, novel ecological interactions and changes in society that could have substantial impacts on the conservation of biological diversity […] whether beneficial or detrimental," the authors write in the paper. Experts originally came up with 71 possible issues and then whittled it down to the 15 most important—and least known.
Mitsubishi and Walmart agree to clean up fish sourcing practices

(03/09/2011) Two big players in seafood today announced that they are changing the way their fish are caught. Mitsubishi, which owns the UK's most popular brand for tuna in a tin, Princes, and Walmart, which owns Asda, have agreed to stop buying from fishermen who use purse seines fishing in conjunction with fish aggregating devices (FADs) by 2014. These methods have been blamed in part for the vast overfishing of the world's tuna and helping to decimate other species, such as sharks and rays, as bycatch.
Coral crisis: 75% of the world's coral reefs in danger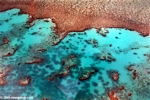 (02/23/2011) Marine scientists have been warning for years that coral reefs, the most biodiverse ecosystems in the ocean, are facing grave peril. But a new comprehensive analysis by the World Resources Institute (WRI) along with twenty-five partners ups the ante, finding that 75% of the world's coral reefs are threatened by local and global impacts, including climate change. An updating of a 1996 report, the new analysis found that threats had increased on 30% of the world's reefs. Clearly conservation efforts during the past decade have failed to save reefs on a large-scale.
Arctic fish catch vastly underreported (by hundreds of thousands of metric tons) for 5 decades

(02/07/2011) From 1950 to 2006 the United Nation Food and Agriculture Agency (FAO) estimated that 12,700 metric tons of fish were caught in the Arctic, giving the impression that the Arctic was a still-pristine ecosystem, remaining underexploited by the world's fisheries. However, a recent study by the University of British Colombia Fisheries Center and Department of Earth and Ocean Sciences throws cold water on this widespread belief. According to the study, published in Polar Biology, the total Arctic catch from 1950 to 2006 is likely to have been nearly a million metric tons, almost 75 times the FAO's official record.
The ocean crisis: hope in troubled waters, an interview with Carl Safina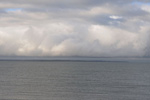 (02/07/2011) Being compared—by more than one reviewer—to Henry Thoreau and Rachel Carson would make any nature writer's day. But add in effusive reviews that compare one to a jazz musician, Ernest Hemingway, and Charles Darwin, and you have a sense of the praise heaped on Carl Safina for his newest work, The View from Lazy Point: A Natural Year in an Unnatural World. Like Safina's other books, The View from Lazy Point focuses on the beauty, poetry, and crisis of the world's oceans and its hundreds-of-thousands of unique inhabitants. Taking the reader on a journey around the world—the Arctic, Antarctic, and the tropics—Safina always returns home to take in the view, and write about the wildlife of his home, i.e. Lazy Point, on Long Island. While Safina's newest book addresses the many ways in which the ocean is being degraded, depleted, and ultimately imperiled as a living ecosystem (such as overfishing and climate change) it also tweezes out stories of hope by focusing on how single animals survive, and in turn how nature survives in an increasingly human world. However, what makes Safina's work different than most nature writing is his ability to move seamlessly from contemporary practical problems to the age-old philosophical underpinnings that got us here. By doing so, he points a way forward.
Record high fish consumption keeps populations imperiled

(02/01/2011) More people than ever are eating more fish than ever, according to a new report by the United Nations covering the year 2008. At the same time, fish populations in the world's oceans continue to decline threatening marine ecosystems, food security, and the fishing industry itself.
Italy and Panama continue illegal fishing, says new report

(01/15/2011) On Wednesday, the National Oceanic and Atmospheric Administration (NOAA) issued its biennial report identifying six countries whose fisheries have been engaged in illegal, unreported, or unregulated (IUU) fishing during the past two years. The report comes at a time when one-fifth of reported fish catches worldwide are caught illegally and commercial fishing has led to a global fish stock overexploitation of an estimated 80 percent.
Japanese firm is deadliest for marine life, says Greenpeace

(01/10/2011) Greenpeace has ranked the canned tuna corporation Princes as the most environmentally damaging tuna brand in the U.K., citing that the Japanese company uses destructive fishing methods and that its claims of sustainability are blatantly untrue.
Bluefin tuna gets record price ($396,000) at Japanese auction

(01/06/2011) On Tuesday, a 752-pound Pacific bluefin tuna was sold at Japanese auction for the highest price ever received for raw seafood - $396,000. The price tops the previous record by more than $100,000 and comes at a time when tuna populations around the world are experiencing precipitous declines.
Fisheries commissions' ability to manage diminishing tuna stocks called into question

(12/31/2010) During a meeting earlier this month, the Western and Central Pacific Fisheries Commission (WCPFC) disregarded appeals from the EU and Japan, as well as from Commission scientists, calling for a substantial and immediate reduction in catch rates of bigeye and yellowfin tuna in response to diminished stocks. An earlier meeting of the International Commission for the Conservation of Atlantic Tunas (ICCAT) resulted in only cosmetic cuts to Atlantic bluefin quotas, calling into question the ability of the global system of Regional Fisheries Management Organizations (RFMOs) to prevent overfishing.
Growing Atlantic dead zone shrinks habitat for billfish and tuna, may lead to over-harvest

(12/29/2010) A dead zone off the coast of West Africa is reducing the amount of available habitat for Atlantic tuna and billfish species, reports the National Oceanic and Atmospheric Administration in a study published in Fisheries Oceanography. The zone is growing due to global warming and is expected to cause over-harvest of tuna and billfish as the fish seek higher levels of oxygen in areas with greater fisheries activity.
UN report urges fishing subsidy reform

(12/28/2010) The continuation of government fishing subsidies is damaging to the world's oceans and should be halted, states the United Nations Environment Programme in a new publication that calls for subsidy reform. The report, Fisheries Subsidies, Sustainable Development and the WTO, finds that in many cases the subsidies encourage fishing in areas whose ecosystems are already overtaxed.
World has run out of fishing grounds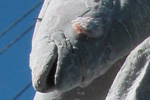 (12/06/2010) The world's oceans can no longer accommodate fisheries expansion, confirms a study conducted by joint effort between the University of British Columbia and the National Geographic Society. The study is the first of its kind to analyze the geographic expansion of global fisheries. Published in the journal PLoS ONE, the study lends additional credence to reports that current fishing practices are unsustainable. Researchers holistically determined the ecological footprint of commercial fisheries by looking at primary production—the tiny organisms that make up the bottom of the food chain—and calculating the amount necessary to support current fishing yields around the world from 1950 to 2005. The study finds that the amount of primary production required to maintain commercial fishing at current levels far exceeds that which exists.
Thousands pledge to boycott restaurants serving bluefin tuna

(12/01/2010) So far over 14,000 people have pledged to boycott eating bluefin tuna or visiting any restaurant that serves the imperiled species. The boycott, begun by US-conservation organization Center for Biological Diversity (CBD), is striving to raise awareness about a species that many scientists say is being fished to the brink of extinction.
'Environmental and social aggression': oil exploration threatens award-winning marine protected area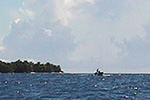 (12/01/2010) The Seaflower Marine Protected Area (MPA), which recently won top honors at the Convention on Biological Diversity (CBD) in Japan, is now under threat by planned oil exploration in the region, according to the Providence Foundation which is devoted to protecting the area. Proposed blocs for exploration by the Colombian government lie in the North Cays adjacent to the park, and perhaps even inside MPA boundaries. Spreading over 65,000 square kilometers (6.5 million hectares), Seaflower MPA lies within the Colombian Caribbean department known as the Archipelago of San Andres, Old Providence and Santa Catalina. This richly diverse Archipelago is home to a known 57 coral species, over 400 fish, and some 150 birds, as well as the ethnic and cultural minority: the Raizal people. The prospect of massive infrastructure or, even worse, oil spills in the area could devastate the park and locals' livelihoods.
Environmentalists: fishing quota could be death sentence for bluefin tuna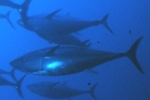 (11/28/2010) Once again, the International Commission for the Conservation of Atlantic Tuna (ICCAT) has flouted warnings from conservationists, evidence from scientists, and even recommendations from the European Commissioner Fisheries and Maritime Affairs in its most recent fishing quota for the Atlantic bluefin tuna. Meeting last week in Paris, ICCAT agreed to a 2011 fishing quota of 12,900 metric tons, 600 less than this year's quota. Yet, environmentalists from a wide-range of organizations have been warning for years that without a moratorium on bluefin fishing—or at least a drastic reduction in quotas—the species is at risk of extinction. ICCAT's own scientists say that the current quota gives the species a 70% chance of recovery.




Page 1 | Page 2 | Page 3 | Page 4 | Page 5