News articles on organic farming

---
Mongabay.com news articles on organic farming in blog format. Updated regularly.






Shifting the way the world shops (commentary)
(11/17/2014) If you are what you eat, then just as true, you are what you buy. From organic, fair-trade, responsible palm oil, Wildlife Friendly, and most recently deforestation-free, consumers can cast their lot with a variety of eco-friendly labels and define who they are by what they buy. It gives someone in New York City the chance to contribute to forest protection in Indonesia by using their wallets to influence the sustainability of the supply chain that serves them with goods.
Planet organic: achieving sustainable food security and environmental gains

(03/19/2013) The global farmland area certified organic has expanded more than threefold to 37 million hectares since 1999, according to new research conducted by the Worldwatch Institute. The Institute argues that organic farming has the potential to contribute to sustainable food security by improving nutrition intake and sustaining rural livelihoods, while reducing vulnerability to climate change and enhancing biodiversity.
Stress makes organic tomatoes more nutritious, sweeter
(02/20/2013) Organic tomatoes are sweeter (more sugar) and more nutritious (more vitamin C and anti-oxidants) than tomatoes grown with pesticides and chemical fertilizers, according to a new study published in the open-access journal PLOS ONE. The scientists theorize that stress may be why organic farming produces a more nutritious and tastier tomato.
Organic farming keeps carbon out of the atmosphere
(11/28/2012) With the worst effects of climate change, we are seeing how pollution hurts both human health and the environment but there is good news: a new study shows that organic farming stores more greenhouse gases in the soil than non-organic farming. By switching to organic methods, many farmers across the globe may be helping to solve the climate crisis at the same time as they improve soil quality and avoid the use of pesticides.
Livelihoods depend on the environment in the Western Ghats

(09/27/2012) In the Uttar Kannada district of the Western Ghats, the livelihood of the average individual depends largely on the well being of the environment. Six months ago, before large-scale mangrove planting of the area, if someone were to walk through the banks of the mangroves in the Western Ghats he would see many fishermen casting their long nets and wires, time and time again noticing pieces of trash such as plastic grocery bags tangled in the nets.
Recommendations to save India's Western Ghats creates political stir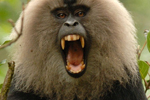 (08/20/2012) A massive expert panel report on the conservation of the Western Ghats has caused a political stir in India. The report, headed by noted ecologist Madhav Gadgil, recommends that the government phase out mining projects, cancel damaging hydroelectric projects, and move toward organic agriculture in ecologically-sensitive sections of the Ghats. The report, which was leaked after the government refused to release it, has yet to be implemented. Recently dubbed a UNESCO World Heritage Site, the Western Ghats is one of India's largest wildernesses and home to thousands of species, many found no-where else.
Organic yields lag behind industrial farming, but that's not the whole story
(04/26/2012) In general, industrial agriculture beats organic farming in yields, according to a comprehensive new study in Nature. The study adds new data to the sometimes heated debate of organic versus conventional farming. Proponents of organic farming argue that these practices are environmentally friendly, sustainable over the long-term, and provide a number of social goods. However, critics argue that organic farming requires more land, thereby increasing global deforestation, which offsets any other environmental benefits of organic food production. At stake is whether organic or conventional is capable of feeding the world's seven billion people (and rising), including increasing demand for energy-intensive foods like meat in the developing world.
Innovative program seeks to safeguard Peruvian Amazon from impacts of Inter-Oceanic Highway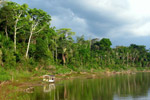 (03/06/2012) Arbio was begun by Michel Saini and Tatiana Espinosa Q. in the Peruvian Amazon region of Madre de Dios. The project focuses on a protective response to the increased encroachment and destructive land use driven by development. The recent construction of the Inter-Oceanic Highway in the Madre de Dios area presents an enormous threat to forest biodiversity. Arbio provides opportunities to help establish a buffer zone near the road to limit intrusive agricultural and deforestation activities.
Fertilizer trees boost yields in Africa

(10/16/2011) Fertilizer trees—which fix nitrogen in the soil—have improved crops yields in five African countries, according to a new study in the International Journal of Agricultural Sustainability. In some cases yields have doubled with the simple addition of nitrogen-soaking trees. The research found that fertilizer trees could play a role in alleviating hunger on the continent while improving environmental conditions.
Five ways to feed billions without trashing the planet
(10/13/2011) At the end of this month the UN predicts global population will hit 7 billion people, having doubled from 3.5 billion in less than 50 years. Yet even as the Earth hits this new milestone, one billion people do not have enough food; meanwhile the rapid expansion of agriculture is one of the leading causes of global environmental degradation, including greenhouse gas emissions, destruction of forests, marine pollution, mass extinction, water scarcity, and soil degradation. So, how do we feed the human population—which continues to rise and is expected to hit nine billion by 2050—while preserving the multitude of ecosystem services that support global food production? A new study in Nature proposes a five-point plan to this dilemma.
Organic farming can be more profitable in the long-term than conventional agriculture

(09/01/2011) Organic farming is more profitable and economically secure than conventional farming even over the long-term, according to a new study in Agronomy Journal. Using experimental farm plots, researchers with the University of Minnesota found that organic beat conventional even if organic price premiums (i.e. customers willing to pay more for organic) were to drop as much as 50 percent.
Controversial study finds intensive farming partnered with strict protected areas is best for biodiversity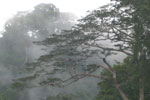 (09/01/2011) Given that we have very likely entered an age of mass extinction—and human population continues to rise (not unrelated)—researchers are scrambling to determine the best methods to save the world's suffering species. In the midst of this debate, a new study in Science, which is bound to have detractors, has found that setting aside land for strict protection coupled with intensive farming is the best way to both preserve species and feed a growing human world. However, other researchers say the study is missing the point, both on global hunger and biodiversity.
Growing strawberries organically yields more nutritious fruit and healthier soil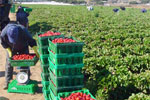 (11/08/2010) Strawberry plants grown on commercial organic farms yield higher-quality fruit and have healthier soil than those grown conventionally, according to a study published on 1 September in the journal PLoS One. The research suggests that sustainable farming practices can produce nutritious fruit, if farmers manage soil and its beneficial microbes properly. This is among the most comprehensive studies to investigate how conventional and organic farming methods affect both fruit and soil quality.
Farms in the sky, an interview with Dickson Despommier
(10/12/2010) To solve today's environmental crises—climate change, deforestation, mass extinction, and marine degradation—while feeding a growing population (on its way to 9 billion) will require not only thinking outside the box, but a "new box altogether" according to Dr. Dickson Despommier, author of the new book, The Vertical Farm. Exciting policy-makers and environmentalists, Despommier's bold idea for skyscrapers devoted to agriculture is certainly thinking outside the box.
Could forest conservation payments undermine organic agriculture?
(09/07/2010) Forest carbon payment programs like the proposed reducing emissions from deforestation and degradation (REDD) mechanism could put pressure on wildlife-friendly farming techniques by increasing the need to intensify agricultural production, warns a paper published this June in Conservation Biology. The paper, written by Jaboury Ghazoul and Lian Pin Koh of ETH Zurich and myself in September 2009, posits that by increasing the opportunity cost of conversion of forest land for agriculture, REDD will potentially constrain the amount of land available to meet growing demand for food. Because organic agriculture and other biodiversity-friendly farming practices generally have lower yields than industrial agriculture, REDD will therefore encourage a shift toward from more productive forms of food production.
Could agroforestry solve the biodiversity crisis and address poverty?, an interview with Shonil Bhagwat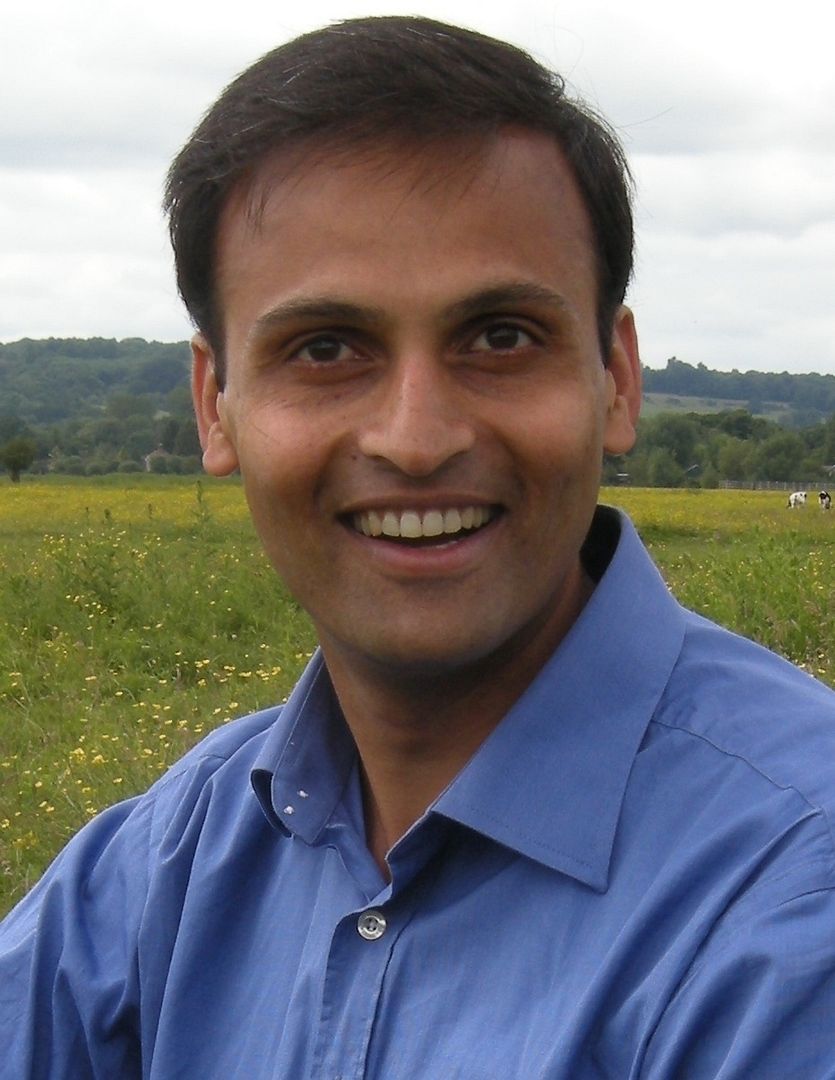 (09/24/2009) With the world facing a variety of crises: climate change, food shortages, extreme poverty, and biodiversity loss, researchers are looking at ways to address more than one issue at once by revolutionizing sectors of society. One of the ideas is a transformation of agricultural practices from intensive chemical-dependent crops to mixing agriculture and forest, while relying on organic methods. The latter is known as agroforestry or land sharing—balancing the crop yields with biodiversity. Shonil Bhagwat, Director of MSc in Biodiversity, Conservation and Management at the School of Geography and the Environment, Oxford, believes this philosophy could help the world tackle some of its biggest problems.
Sustainable farming is the only way to feed the planet going forward
(02/05/2009) Embracing more sustainable farming methods is the only way for the world's farmers to grow enough food to meet the demands of a growing population and respond to climate change, the top crop expert with the United Nations Food and Agriculture Organization (FAO) said today.
How youth in Kenya's largest slum created an organic farm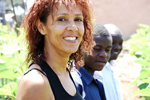 (12/09/2008) Kibera is one of the world's largest slums, containing over a million people and 60 percent of Nairobi's population. With extremely crowded conditions, little sanitation, and an unemployment rate at 50 percent, residents of Kibera face not only abject poverty but also a large number of social ills, including drugs, alcoholism, rape, AIDS, water-borne diseases, and tensions between various Kenyan tribes.
Big Farms Can Make the Leap to Organic Farming, Study Suggests

(06/04/2008) Large fruit and vegetable growers can adopt the methods of small-scale organic farms while maintaining crop yields, keeping pests in check, and improving the health of their soil, researchers report in the July 2008 issue of Agriculture, Ecosystems and Environment.
Food miles are less important to environment than food choices, study concludes

(06/02/2008) Shoppers concerned about the environment should not place "buying local" at the top of their list of priorities when purchasing food, according to a study published online on April 16 in the journal Environmental Science & Technology. The fuel burned in transporting food items from farm to marketplace creates just a small percentage of the total greenhouse gas emissions associated with the food. Instead, consumers should shift their diets to include more foods that require less energy to produce in the first place.
Bats protect crops from insects

(04/04/2008) Bats eat as many insects at night as birds do during the day, according to research published in the journal Science.
Organic fertilizers could fight global warming

(02/27/2008) Applying organic fertilizers, such as those resulting from composting, to agricultural land could increase the amount of carbon stored in these soils and contribute significantly to the reduction of greenhouse gas emissions, according to new research published in a special issue of Waste Management & Research (Special issue published today by SAGE).
Organic, shade grown cacao good for birds

(08/09/2007) Bird diversity in cacao farms in Panama is considerably higher when crops are grown in the shade of canopy trees, reports a study published earlier this year in Biodiversity conservation. The research has implications for biodiversity conservation and the sustainability of cacao plantations.
Can organic farming feed the world?

(07/12/2007) Contrary to popular belief, organic farming can produce enough to feed the world, reports a new study published in Renewable Agriculture and Food Systems.
Organic food may not be sustainable says UK-report

(02/20/2007) Organic farming is not necessarily sustainable reports Britain's environmental protection agency, DEFRA (the Department of Environment, Farming and Rural Affairs), in a new study conducted by the Manchester Business School.
Sustainable farm practices improve Third World food production

(01/23/2006) Crop yields on farms in developing countries that used sustainable agriculture rose nearly 80 percent in four years, according to a study scheduled for publication in the Feb. 15 issue of the American Chemical Society journal Environmental Science and Technology.
Organic farming benefits wildlife over conventional agriculture says study

(08/03/2005) In the largest and most comprehensive study of organic farming to date, published today in the Royal Society Journal, Biology Letters, scientists from leading UK institutions show conclusively that organic farms provide greater benefits for a range of wildlife including wild flowers, beetles, spiders, birds and bats than their conventional counterparts.