News articles on orangutans

---
Mongabay.com news articles on orangutans in blog format. Updated regularly.






KFC, Walmart contributing to destruction of Indonesia's rainforests, endangering orangutans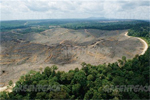 (07/05/2010) Major U.S. companies are contributing to the destruction of Indonesia's rainforests by sourcing paper from Asia Pulp and Paper (APP), a subsidiary of Indonesia-based conglomerate Sinar Mas, alleges a new report from Greenpeace. Investigating two sites on the Indonesian island of Sumatra, the activist group documented destruction of rainforests and carbon-dense peatlands by APP, a company that has lost several major contacts in recent years due to its poor environmental record. Greenpeace called out Walmart, Auchan, and Kentucky Fried Chicken (KFC) as companies that continue to buy from APP despite its role in deforestation and peatlands degradation.
Wildlife-rich river threatened by sand-dredging in Borneo

(06/15/2010) The Kinabatangan River in Malaysian Borneo is home to a fabulous wealth of species, including orangutans, proboscis monkeys, and a sizeable population of the world's smallest elephant, the Borneo pygmy elephant. While local politicians have stated numerous times that the ecology of the river will be protected, locals are reporting a number of legally sanctioned sang dredging operations on the river. Dredging can affect river flows, negatively impact wildlife, and release toxins from the sediments.
Nestle caves to activist pressure on palm oil

(05/17/2010) After a two month campaign against Nestle for its use of palm oil linked to rainforest destruction spearheaded by Greenpeace, the food giant has given in to activists' demands. The Swiss-based company announced today in Malaysia that it will partner with the Forest Trust, an international non-profit organization, to rid its supply chain of any sources involved in the destruction of rainforests. "Nestle's actions will focus on the systematic identification and exclusion of companies owning or managing high risk plantations or farms linked to deforestation," a press release from the company reads, adding that "Nestle wants to ensure that its products have no deforestation footprint."
Nestle shareholder meeting interrupted by Greenpeace orangutans
(04/15/2010) Nestle's shareholder meeting turned raucous today, as Greenpeace protesters were arrested in full-orangutan outfits outside the meeting and inside Greenpeace activists—in a scene out of a spy movie—propelled down from the ceiling and dropped a giant banner and a shower of leaflets above the shareholders' heads. "Nestlé's chair, Peter Brabeck-Letmathe, was explaining how well the company had performed over the last fiscal year when noises were heard up in the roof and leaflets began raining down, not at all unlike a shower of cash," describes a Greenpeace blog entry today.
Hope for survival as isolated orangutans joined by rope bridge
(04/11/2010) Researchers in the Malaysian state of Sabah in Borneo are joyful after receiving confirmation that a young male orangutan used a rope bridge to cross a river, which has separated one orangutan population from another. Due to logging and clearing forests for oil palm plantations, which cover 18 percent of land in Sabah, orangutans on the Kinabantangan River have been cut into fragmented populations.
Nestle fiasco continues: Indonesian oil palm planters threaten boycott too
(03/23/2010) Candy and food giant Nestle is finding itself between a rock and a hard place. The online campaign against Nestle continues: today protesters once again posted thousands of negative messages on the company's Facebook page, most demanding that Nestle cut out palm oil linked to deforestation from its products. At the same time, a new problem has cropped up for Nestle: Indonesian oil palm planters are threatening to boycott Nestle products. Proving that the issues surrounding oil palm and deforestation are nothing if not complex: Facebook protestors say they will boycott Nestle if it doesn't cut out all links to Sinar Mas, a company that Greenpeace has linked to deforestation, whereas the Indonesia Palm Oil Growers Association are preparing a boycott if Nestle stops buying from Sinar Mas, according to the Jakarta Post.
A new world?: Social media protest against Nestle may have longstanding ramifications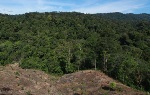 (03/20/2010) The online protest over Nestle's use of palm oil linked to deforestation in Indonesia continues unabated over the weekend. One only needed to check-in on the Nestle's Facebook fan page to see that anger and frustration over the company's palm oil sourcing policies, as well as its attempts to censor a Greenpeace video (and comments online), has sparked a social media protest that is noteworthy for its vehemence, its length, and its bringing to light the issue of palm oil and deforestation to a broader public.
Video: Nestle's attempt to censor Greenpeace palm oil ad backfires

(03/19/2010) In a bold online video, the environmental group Greenpeace cleverly links candy-giant Nestle to oil palm-related deforestation and the deaths of orangutans. Clearly angered over the video, Nestle struck back by having it banned from YouTube and replaced with this statement: "This video is no longer available due to a copyright claim by Société des Produits Nestlé S.A." However Nestle's reaction to the video only spread it far and wide (see the ad below): social network sites like Twitter, Facebook, and Reddit were all flooded with the ad as well as rising criticism against Nestle—one of the world's largest food producers—including calls for boycotts.
Orangutans use calls for a variety of reasons

(03/10/2010) Mature male orangutans produce what scientists call 'long calls', which can be heard for one kilometer in all directions even in dense forests. New research in Ethology has uncovered that these calls are employed for a number of reasons and provide information about who is calling and why.
Why we are failing orangutans

(03/01/2010) It is no secret that orangutans are threatened with extinction because their rain forests are being destroyed at an alarming rate. Ten years ago, Shawn Thompson, a writer, former journalist and university professor, set out to chronicle the threat to orangutans in a book released in March 2010. The book is called The Intimate Ape: Orangutans and the Secret Life of a Vanishing Species. The book spends most of the time talking about the nature of orangutans and the relationships between orangutans and people. But the ultimate underlying message is there about the source of the peril to orangutans and the solution. Thompson says that the problem of saving orangutans has to do with communications and human nature.
Where two worlds collide: visiting Tabin Wildlife Reserve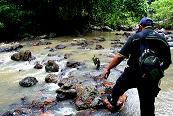 (02/21/2010) The vehicle stopped on the way into Tabin Wildlife Reserve as a troupe of pig-tailed macaques began making their way across the road. In a flash a domestic dog, which may or may not have been 'ownerless', ambushed the group. Chaos erupted as the big predator fell upon the community. As quickly as it began it was all over and the dog was rushing over with an infant monkey in its mouth, leaving the macaques' screeching out their helplessness. As my uncustomary welcome to Tabin Wildlife Reserve shows: the park is a meeting of two worlds. On the left side of the road leading into the reserve is a massive oil palm plantation, on the right is the rainforest and the many species the reserve protects. Tabin, therefore, gives the visitor a unique up-close view of the debate raging in Borneo and throughout much of Southeast Asia over conservation and environment versus oil palm plantations.
Humans push half of the world's primates toward extinction, lemurs in particular trouble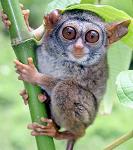 (02/18/2010) Of the known 634 primate species in the world 48 percent are currently threatened with extinction, making mankind's closes relatives one of the most endangered animal groups in the world. In order to bring awareness to the desperate state of primates, a new report by the International Union for the Conservation of Nature highlights twenty-five primates in the most need of rapid conservation action. Compiled by 85 experts the report, entitled Primates in Peril: The World's 25 Most Endangered Primates, 2008–2010, includes six primates from Africa, eleven from Asia, three from Central and South America, and five from the island of Madagascar.
Orangutans vs palm oil in Malaysia: setting the record straight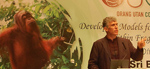 (01/16/2010) The Malaysian palm oil industry has been broadly accused of contributing to the dramatic decline in orangutan populations in Sabah, a state in northern Borneo, over the past 30 years. The industry has staunchly denied these charges and responded with marketing campaigns claiming the opposite: that oil palm plantations can support and nourish the great red apes. The issue came to a head last October at the Orangutan Colloquium held in Kota Kinabalu. There, confronted by orangutan biologists, the palm oil industry pledged to support restoring forest corridors along rivers in order to help facilitate movement of orangutans between remaining forest reserves across seas of oil palm plantations. Attending NGOs agreed that they would need to work with industry to find a balance that would allow the ongoing survival of orangutans in the wild. Nevertheless the conference was still marked by much of the same rhetoric that has characterized most of these meetings — chief palm oil industry officials again made dubious claims about the environmental stewardship of the industry. However this time there was at least acknowledgment that palm oil needs to play an active role in conservation.
Bridge development in Kalimantan threatens rainforest, mangroves, and coral reef

(01/03/2010) Balikpapan Bay in East Kalimantan is home to an incredible variety of ecosystems: in the shallow bay waters endangered dugong feed on sea grasses and salt water crocodiles sleep; along the bay proboscis monkeys leap among mangroves thirty meters tall and Irrawaddy dolphins roam; beyond the mangroves lies the Sungai Wain Protection forest; here, the Sunda clouded leopard hunts, sun bears climb into the canopy searching for fruits and nuts, and a reintroduced population of orangutans makes their nests; but this wilderness, along with all of its myriad inhabitants, is threatened by a plan to build a bridge and road connecting the towns of Penajam and Balikpapan.
Face-to-face with what may be the last of the world's smallest rhino, the Bornean rhinoceros

(12/01/2009) Nothing can really prepare a person for coming face-to-face with what may be the last of a species. I had known for a week that I would be fortunate enough to meet Tam. I'd heard stories of his gentle demeanor, discussed his current situation with experts, and read everything I could find about this surprising individual. But still, walking up to the pen where Tam stood contentedly pulling leaves from the hands of a local ranger, hearing him snort and whistle, watching as he rattled the bars with his blunted horn, I felt like I was walking into a place I wasn't meant to be. As though I was treading on his, Tam's space: entering into a cool deep forest where mud wallows and shadows still linger. This was Tam's world; or at least it should be.
REDD may not be enough to save Sumatra's endangered lowland rainforests

(11/24/2009) A prominent REDD project in Aceh Indonesia probably won't be enough to save Northern Sumatra's endangered lowland rainforests from logging and conversion to oil plantations and agriculture, report researchers writing in Environmental Research Letters. The study highlights the contradiction between the Ulu Masen conservation project; which involves Flora and Fauna International, Bank of America, and Australia-based Carbon Conservation, a carbon trading company and the continuing road expansion, and establishment of oil palm plantations in the region.
Transmitters implanted in orangutans for tracking after release into the wild

(11/23/2009) For the first time transmitters have been implanted in orangutans to track their daily movements. The Sabah Wildlife Department (SWD) has implanted transmitters into three orangutans that have been released back into the wild from Sepilok Orangutan Rehabilitation Center in the Malaysian state of Sabah on the island of Borneo.
"Responsible" palm oil producers pledge not to develop endangered Sumatra rainforest

(11/13/2009) Members of the Roundtable on Sustainable Palm Oil (RSPO), an initiative developing criteria to improve the environmental performance of palm oil, agreed to declare the Bukit Tigapuluh Ecosystem in Sumatra a 'high conservation value area'. The decision, voted on by RSPO General Assembly members at the group's annual meeting earlier this month in Kuala Lumpur, effectively bans oil palm development of the endangered forest ecosystem by RSPO members.
"Money is not a problem," palm oil CEO tells conservationists during speech defending the industry
(10/26/2009) Earlier this month at a colloquium to implement wildlife corridors for orangutans in the Malaysian state of Sabah, Dr. Yusof Basiron, the CEO of Malaysian Palm Oil Council (MPOC), told conservationists and primate experts that the palm oil industry was ready to fund reforestation efforts in the corridors. "We can raise the money to replant [the corridors] and keep contributing as a subsidy in the replanting process of this corridor for connecting forests," Basiron said in response to a question on how the palm oil industry will contribute. "Money is not a problem. The commitment is already there, the pressure is already very strong for this to be done, so it's just trying to get the thing into motion."
Emotional call for palm oil industry to address environmental problems
(10/21/2009) During what was at times an emotional speech, Sabah's Minister of Tourism, Culture, and Environment, Datuk Masidi Manjun, called on the palm oil industry to stop polluting rivers and work with NGOs to save orangutans and other wildlife. He delivered the speech on the first day of an Orangutan Conservation Colloquium held in early October in the Malaysian state of Sabah on the island of Borneo.
Palm oil industry pledges wildlife corridors to save orangutans

(10/03/2009) In an unlikely—and perhaps tenuous—alliance, conservationists and the palm oil industry met this week to draw up plans to save Asia's last great ape, the orangutan. As if to underscore the colloquium's importance, delegates on arriving in the Malaysian State of Sabah found the capital covered in a thick and strange fog caused by the burning of rainforests and peat lands in neighboring Kalimantan. After two days of intensive meetings the colloquium adopted a resolution which included the acquisition of land for creating wildlife buffer zones of at least 100 meters along all major rivers, in addition to corridors for connecting forests. Researchers said such corridors were essential if orangutans were to have a future in Sabah.
Palm oil both a leading threat to orangutans and a key source of jobs in Sumatra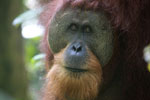 (09/24/2009) Of the world's two species of orangutan, a great ape that shares 96 percent of man's genetic makeup, the Sumatran orangutan is considerably more endangered than its cousin in Borneo. Today there are believed to be fewer than 7,000 Sumatran orangutans in the wild, a consequence of the wildlife trade, hunting, and accelerating destruction of their native forest habitat by loggers, small-scale farmers, and agribusiness. Gunung Leuser National Park in North Sumatra is one of the last strongholds for the species, serving as a refuge among paper pulp concessions and rubber and oil palm plantations. While orangutans are relatively well protected in areas around tourist centers, they are affected by poorly regulated interactions with tourists, which have increased the risk of disease and resulted in high mortality rates among infants near tourist centers like Bukit Lawang. Further, orangutans that range outside the park or live in remote areas or on its margins face conflicts with developers, including loggers, who may or may not know about the existence of the park, and plantation workers, who may kill any orangutans they encounter in the fields. Working to improve the fate of orangutans that find their way into plantations and unprotected community areas is the Orangutan Information Center (OIC), a local NGO that collaborates with the Sumatran Orangutan Society (SOS).
Fashion labels drop APP after party highlights the plight of Indonesian forests

(09/21/2009) The fashion world has been rocked: not by the newest designer or the most shocking outfit, but by the continuing destruction of forests in Indonesia. On September 15th, the Rainforest Action Network (RAN) helped open New York City's styling Fashion Week with a party to encourage fashion designers to take a closer look at the paper bags they give customers.
46 rescued orangutans returned to the wild by helicopter in Borneo

(09/05/2009) The Borneo Orangutan Survival Foundation (BOSF) has successfully released 46 orangutans back into the wild. The orangutans had been rescued from forest fragments and housed for months at the Nyaru Menteng Rescue and Reintroduction Project in Central Kalimantan until suitable — and secure — habitat was located. The release site is a section of rainforest in the upper Barito region of Central Kalimantan, within the Heart of Borneo.
Rehabilitation not enough to solve orangutan crisis in Indonesia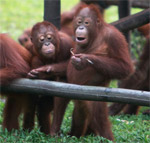 (08/20/2009) A baby orangutan ambles across the grass at the Borneo Orangutan Survival Foundation's Nyaru Menteng rehabilitation center in Central Kalimantan, in the heart of Indonesian Borneo. The ape pauses, picks up a stick and makes his way over to a plastic log, lined with small holes. Breaking the stick in two, he pokes one end into a hole in an effort to extract honey that has been deposited by a conservation worker. His expression shows the tool's use has been fruitful. But he is not alone. To his right another orangutan has turned half a coconut shell into a helmet, two others wrestle on the lawn, and another youngster scales a papaya tree. There are dozens of orangutans, all of which are about the same age. Just outside the compound, dozens of younger orangutans are getting climbing lessons from the Borneo Orangutan Survival Foundation (BOS) staff, while still younger orangutans are being fed milk from bottles in a nearby nursery. Still more orangutans—teenagers and adults—can be found on "Orangutan Island" beyond the center's main grounds. Meanwhile several recently wild orangutans sit in cages. This is a waiting game. BOS hopes to eventually release all of these orangutans back into their natural habitat—the majestic rainforests and swampy peatlands of Central Kalimantan, on the island of Borneo. But for many, this is a fate that may never be realized.
Cadbury dumps palm oil after consumer protests
(08/17/2009) Cadbury New Zealand, responding to widespread consumer protests, will stop adding palm oil to its milk chocolate products, reports the New Zealand Herald. The candy-maker substituted palm oil and other vegetable fat for cocoa butter earlier this year. The company cited cost savings for the decision, but the move triggered outcry from environmental groups who blame palm oil production for destruction of rainforests across Indonesia and Malaysia, key habitat for orangutans and other endangered species. Concerns that Cadbury chocolate could be imperiling orangutans led the Auckland Zoo and others to ban Cadbury products. Meanwhile consumers swamped the company with letters and petitions protesting its use of palm oil.
Examining monkey tools: archaeology expands to include non-human primates

(08/17/2009) Archaeology, the study of ancient cultures and their artifacts, has always been confined to the technology of humans and direct human ancestors. However, a new study recently published in the journal Nature examines the benefits of expanding the field of archaeology to include non-human primates.
Turning wasteland into rainforest

(07/31/2009) The highly touted reforestation project launched by orangutan conservationist Willie Smits in Indonesian Borneo is detailed in this week's issue of Science.
Borneo orangutan release in jeopardy over fate of coal mining concession
(07/29/2009) A plan to release orangutans in a 250,000-hectare (618,000-acre) tract of forest in the Heart of Borneo has been disrupted by uncertainty around BHP Billiton's decision to pull out of a coal mining project in Kalimantan, the Indonesian part of Borneo, reports the Independent and conservation groups familiar with the situation. BHP Billiton had provided funds to help establish the forest reserve in Central Kalimantan and offered conservationists mapping support and use of helicopters to deposit orangutans into otherwise inaccessible areas. The two-year program would have reintroduced scores of orangutans but the first scheduled airlift of 48 orangutans for July 20 was canceled after BHP warned it could no longer guarantee the safety of reintroduced orangutans.
Burning by Asia Pulp & Paper contributes to haze in Indonesia, Malaysia

(07/28/2009) One quarter of fire hotspots recorded in the Indonesia province of Riau on the island of Sumatra in 2009 have occurred in concessions affiliated with Sinar Mas Group's Asia Pulp & Paper (APP), according to new analysis by Eyes on the Forest, a coalition of environmental groups. The fires are contributing to the "haze" that is affecting air quality and causing health problems in Malaysia.
Auckland Zoo bans Cadbury chocolate due to palm oil content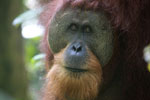 (07/12/2009) Auckland Zoo has pulled Cadbury chocolates from its shops and restaurants following the candy maker's decision to start adding palm oil to its chocolates, reports the Sunday Star Times. The zoo is also removing other products that contain palm oil, due to concerns that its production is driving rainforest destruction across Southeast Asia, putting orangutans and other species at risk. Cadbury said it made the change to palm oil for economic reasons. Palm oil, described as "vegetable fat" on its packaging, is cheaper than cocoa butter.
Malaysian palm oil chief claims oil palm plantations help orangutans
(06/18/2009) Dr. Yusof Basiron, CEO of the Malaysian Palm Oil Council, the government-backed marketing arm of the Malaysian palm oil industry, claims on his blog that endangered orangutans benefit from living in proximity to oil palm plantations. Environmentalists scoff at the notion, maintaining that oil palm expansion is one of the greatest threats to orangutans.
REDD can compete financially with palm oil in Indonesia peatlands while protecting endangered species
(06/04/2009) A new paper by Oscar Venter, a PhD student at the University of Queensland, and colleagues finds that forest conservation via REDD — a proposed mechanism for compensating developing countries for Reducing Emissions from Deforestation and Degradation — could be economically competitive with oil palm production, a dominant driver of deforestation in Indonesia. The study, based on overlaying maps of proposed oil palm development with maps showing carbon-density and wildlife distribution in Kalimantan (Indonesian Borneo), estimates that REDD is financially competitive, and potentially able to fund forest conservation, with oil palm at carbon prices of $10-$33 per ton of carbon dioxide equivalent (tCO2e). In areas with low agricultural suitability and high forest carbon, notably peatlands, Venter and colleagues find that a carbon price of $2 per tCO2e would be sufficient to beat out returns from oil palm.
Orangutan guerrillas fight palm oil in Borneo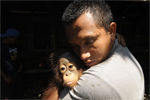 (06/01/2009) Despite worldwide attention and concern, prime orangutan habitat across Sumatra and Borneo continues to be destroyed by loggers and palm oil developers, resulting in the death of up to 3,000 orangutans per year (of a population less than 50,000). Conservation groups like Borneo Orangutan Survival report rescuing record numbers of infant orangutans from oil palm plantations, which are now a far bigger source of orphaned orangutans than the illicit pet trade. The volume of orangutans entering care centers is such that these facilities are running out of room for rescued apes, with translocated individuals sometimes waiting several months until suitable forest is found for reintroduction. Even then they aren't safe; in recent months loggers have started clearing two important reintroduction sites (forests near Bukit Tigapuluh National Park in Sumatra and Mawas in Central Kalimantan). Meanwhile across half a dozen rehabilitation centers in Malaysia and Indonesia, more than 1,000 baby orangutans—their mothers killed by oil palm plantation workers or in the process of forest clearing—are being trained by humans for hopeful reintroduction into the wild, assuming secure habitat can be found. Dismayed by the rising orangutan toll, a grassroots organization in Central Kalimantan is fighting back. Led by Hardi Baktiantoro, the Center for Orangutan Protection (COP) has mounted a guerrilla-style campaign against companies that are destroying orangutan habitat in Kalimantan, the Indonesian part of Borneo.
APP, Sinar Mas plan to log habitat of critically endangered orangutans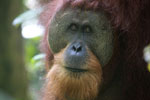 (05/20/2009) Asia Pulp & Paper and Sinar Mas Group have acquired a license to clear hundreds of hectares of unprotected rainforest near Bukit Tigapuluh National Park on the Indonesian island of Sumatra, report environmental groups who say the activity threatens a population of critically endangered orangutans that have been re-introduced into the wild. The companies intend to log the concession for timber and plant it for industrial timber and oil palm plantations.





Orangutan population in Borneo park plunges 90% in 5 years

(05/16/2009) The population of orangutans in Indonesia's Kutai National Park has plunged by 90 percent in the past five years due to large-scale deforestation promoted by local authorities, reports The Centre for Orangutan Protection (COP), an Indonesian environmental group.









Investors seek profit from conserving rainforest biodiversity

(08/13/2008) An investment firm has launched the first tropical biodiversity credits scheme. New Forests, a Sydney, Australia-based company, has established the Malua Wildlife Habitat Conservation Bank in Malaysia as an attempt to monetize rainforest conservation. The "Malua BioBank" will use an investment from a private equity fund to restore and protect 34,000 hectares (80,000 acres) of formerly logged forest that serves as a buffer between biologically-rich forest reserve and a sea of oil palm plantations. The conservation effort will generate "Biodiversity Conservation Certificates", the sales of which will endow a perpetual conservation trust and produce a return on investment for the Sabah Government and the private equity fund.





Private equity firm to sell biodiversity offsets from rainforest conservation

(08/06/2008) An investment firm has launched the first tropical biodiversity credits scheme. New Forests, an Australia-based company, has established the Malua Wildlife Habitat Conservation Bank in an attempt to monetize rainforest conservation. The "Malua BioBank" will use an investment from a private equity fund to restore and protect 34,000 hectares (80,000 acres) of formerly logged forest that serves as a buffer between biologically-rich forest reserve and a sea of oil palm plantations.





48% of primates threatened with extinction

(08/05/2008) 48 percent of the world's primate species are at risk of extinction, according to the first comprehensive review of the world's primates since 2003. The results were released as an update to the IUCN Red List at the 22nd International Primatological Society Congress in Edinburgh, Scotland.





Orangutans persist in islands amid a sea of oil palm plantations

(07/17/2008) Orangutan are surviving in forest islands in a sea of oil palm plantations in Malaysia, reports a new survey by a government-backed conservation initiative. The finding underscores the need to protect critical forest areas for the endangered primates as forest continues to fall in southeast Asia at a rate that is the highest of any of the world's tropical forest regions.







Orangutan should become symbol of palm-oil opposition

(01/02/2008) In a letter published today in Nature, Oscar Venter, Erik Meijaard and Kerrie Wilson argue that proposals for conservation groups to purchase and run oil palm plantations for the purpose of generating funds for forest protection are unlikely to be successful. The concept was originally put forth by Lian Pin Koh and David S. Wilcove in a 2007 Nature article.





Global warming puts primates at greater risk

(10/25/2007) 29 percent of the world's primate species are in danger of going extinct warns a new report from the Primate Specialist Group of IUCN's Species Survival Commission (SSC) and the International Primatological Society (IPS).




Page 1 | Page 2 | Page 3 | Page 4