News articles on obama

---
Mongabay.com news articles on obama in blog format. Updated regularly.





U.S should sanction Mozambique for its role in elephant, rhino poaching, urges NGOs

(07/03/2014) Two prominent NGOs U.S should sanction Mozambique for its role in elephant, rhino poaching, urges NGOsare petitioning the U.S government to slap Mozambique with trade sanctions due to the country's role in regional poaching. The groups contend that Mozambique has done little to combat both its own poaching epidemic or stop its nationals from spilling over the border to kill rhinos and elephants in South Africa and Tanzania.


Bigger than Mexico? Obama announces major expansion of Pacific protected area


(06/18/2014) President Obama announced yesterday he intends to drastically expand the Pacific Remote Islands Marine National Monument making what will likely be the largest marine protected area on the planet. While the full extent of the ocean park has yet to be determined, it could potentially protect over two million square kilometers, an area larger than Mexico.


Turning point? U.S. and China announce major actions on global warming

(06/03/2014) Could 2014 be a turning point for efforts to slash global greenhouse gas emissions? Maybe: in less than 24 hours the world's two largest emitters of carbon dioxide announced plans to finally rein-in the gas most responsible for global warming.


Obama announces new strategy to tackle wildlife trafficking, including toughening ivory ban

(02/12/2014) Yesterday, the Obama administration announced an ambitious new strategy to help tackle the global illegal wildlife trade, including a near-complete ban on commercial ivory. The new strategy will not only push over a dozen federal agencies to make fighting wildlife trafficking a new priority, but will also focus on reducing demand for wildlife parts and actively engaging the international community. The U.S. is the world's second largest destination for illegal wildlife trafficking after China.


Over 2,500 wolves killed in U.S.'s lower 48 since 2011

(01/28/2014) Hunters and trappers have killed 2,567 gray wolves in the U.S.'s lower 48 states since 2011, according to recent data. Gray wolves (Canis lupus) were protected by the Endangered Species Act (ESA) for nearly 40 years before being stripped of their protection status by a legislative rider in 2011. Last year total wolf populations were estimated at over 6,000 in the region.


Environmental groups: top secret Pacific trade agreement to sacrifice wildlife, environment

(01/16/2014) Environmental groups have blasted draft text of the Trans-Pacific Partnership (TPP) released yesterday by WikiLeaks as potentially devastating to the environment and wildlife. The massive 12-nation free trade agreement has been negotiated in secret now for almost four years, and the information release by WikiLeaks shows that key environmental safeguards in the agreement are being stripped away, including a ban on shark finning and illegal logging, as well as legally-enforced pollution regulations.


U.S. to crush its six ton ivory stockpile

(09/10/2013) On October 8th, the Obama administration will publicly destroy its ivory stockpile, totaling some six tons, according to a White House forum yesterday on the illegal wildlife trade. The destruction of the stockpile—via crushing—is meant to send a message that the U.S. is taking a tougher stand on illegal the wildlife trade, which is decimating elephants across Africa and imperiling other animals worldwide. The U.S. remains one of the biggest destinations for ivory and other illegal animal part aside from East Asia.


Obama to take on elephant and rhino poaching in Africa

(07/03/2013) Barack Obama launched a new initiative against wildlife trafficking on Monday, using his executive authority to take action against an illegal trade that is fueling rebel wars and now threatens the survival of elephants and rhinoceroses. The initiative, announced as the president visited Tanzania on the final stop of his African tour, was the second time in a week Obama has used an executive order to advance environmental policy, after announcing a sweeping new climate change plan.


After long wait, Obama lays out fight against climate change


(06/25/2013) Five years after being elected president and six months after winning a second term, President Obama today gave his first speech devoted solely to climate change and announced several executive actions to begin weaning the United States (historically the largest emitter of greenhouse gases) off fossil fuels. At Georgetown University today, Obama stated that his administration would expand renewable energy projects on federal lands, raise energy efficiency standards on appliances, and, most importantly, limit carbon pollution from both existing and new power plants, which represent about 40 percent of the U.S.'s emissions. Obama also noted that the U.S. would spearhead global efforts to combat climate change which is pushing sea levels higher, melting glaciers and sea ice, exacerbating fires, imperiling species, and worsening extreme weather worldwide.


Canadian government drops over $16 million on advertising its tar sands


(05/16/2013) The Canadian government has nearly doubled its advertising spending to promote the Alberta tar sands in an aggressive new lobbying push ahead of Thursday's visit to New York by the prime minister, Stephen Harper. The Harper government has increased its advertising spending on the Alberta tar sands to $16.5m from $9m a year ago.


Uranium mine at edge of Grand Canyon National Park approved


(05/08/2013) Uranium mining on the doorstep of the Grand Canyon national park is set to go ahead in 2015 despite a ban imposed last year by Barack Obama. Energy Fuels Resources has been given federal approval to reopen its old Canyon Mine, located six miles south of the canyon's popular South Rim entrance, that attracts nearly 5 million visitors a year.


Obama Administration to propose stripping protection from all gray wolves

(04/29/2013) The U.S. Fish and Wildlife Service (USFWS) is proposing to end protection for all gray wolves (Canis lupus) in the lower 48 states, save for a small population of Mexican wolves in New Mexico, reports the Los Angeles Times. The proposal comes two years after wolves were removed from the Endangered Species Act (ESA) in western states by a legislative rider on a budget bill, and soon after in the midwest. Since then hunting and trapping has killed over 1,500 wolves in these two regions.


Shell suspends Arctic oil drilling for the year

(02/27/2013) Royal Dutch Shell announced today that it was setting "pause" on its exploratory drilling activities in the Arctic for 2013. Shell's operations are currently under review by the federal government after the oil company suffered numerous setbacks during last year's opening attempt to drill exploratory wells in the Beaufort and Chukchi Seas, including running its drilling rig aground on Sitkalidak Island in southern Alaska in late December.


Over 35,000 march on Washington demanding climate action and rejection of Canada's 'carbon bomb'


(02/18/2013) Yesterday over 35,000 people rallied in Washington D.C. for urgent action on climate change, which, according to organizers, was the largest climate march in U.S. history. Activists called on the Obama Administration to do much more to tackle climate change, including rejecting the Keystone XL Pipeline, which would bring carbon-heavy tar sands oil from Canada through the U.S. to a world market.


Obama connects climate science and policy in State of the Union

(02/13/2013) After several years of silence on climate change, U.S. President Barack Obama has begun speaking out following his re-election last November. The President surprised many by giving climate change a central role in his inauguration speech last month, and he followed-up in his State of the Union speech last night when he called on congress to "pursue a bipartisan, market-based solution to climate change," but added that the administration would take action itself if congress failed.


U.S. proposes to list wolverine under Endangered Species Act

(02/05/2013) Arguably one of the toughest animals on Earth, the wolverine (Gulo gulo) may soon find itself protected under the U.S.'s Endangered Species Act (ESA) as climate change melts away its preferred habitat. Last week, the U.S. Fish and Wildlife Service (FWS) announced it was proposing to place the world's largest terrestrial mustelid on the list. Only 250-300 wolverines are believed to survive in the contiguous U.S.


Obama: 'We will respond to the threat of climate change'

(01/21/2013) In Obama's second inauguration speech today, the newly re-elected president of the U.S. reaffirmed his commitment to taking action on climate during his second term. Noting that ignoring climate change would "betray our children and future generations," Obama argued whole-heartedly for a transition to clean energy.


Climate change already pummeling U.S. according to government report

(01/14/2013) Climate change is on the march across the U.S. according to a new draft report written by U.S. government scientists with input from 240 experts. It documents increasing and worsening extreme weather, rising sea levels, and ocean acidification among other impacts. Released Friday for public review, the report will be officially launched later this year or early in 2014.


NGOs call on Obama Administration to suspend Arctic oil drilling after series of blunders

(01/10/2013) A coalition of 17 conservation groups are calling on the Obama Administration to suspend offshore oil and gas drilling in the Arctic after Shell's attempt to drill there has been undermined by a series of mishaps. Shell's long stream of problems was capped this month when the company lost control of its drilling rig which ran aground on Sitkalidak Island in southern Alaska. Officials have now warned that up to 272 gallons of diesel fuel may have spilled from the rig's lifeboats.


Arctic oil rig runs aground

(01/02/2013) On Monday night, an oil drilling rig owned by Dutch Royal Shell ran aground on Sitkalidak Island in southern Alaska, prompting fears of an oil spill. As of yesterday no oil was seen leaking from the rig according to the Coast Guard, but efforts to secure the rig have floundered due to extreme weather. The rig, dubbed Kulluk, contains over 140,000 gallons of diesel fuel.


Climate Summit in Doha characterized by lack of ambition


(12/09/2012) Ahead of the 18th United Nations Framework Convention on Climate Change (UNFCCC) in Doha, Qatar a variety of reports warned that the world was running out of time to avoid dangerous climate change, and that there was a widening gap between what nations have pledged to do and what the science demanded. A landmark report by the World Bank painted an almost apocalyptic picture of a world in which global temperatures have risen 4 degrees Celsius above pre-industrial levels, including unprecedented heatwaves and droughts, rising sea levels, global agriculture crises, and a stunning loss of species. In addition, scientific studies released near the two week conference found that sea levels were rising 60 percent faster than predicted, forests around the world were imperiled by increasing drought, marine snails were dissolving in the Southern Ocean due to ocean acidification, and ice melt in Greenland and Antarctica was on the rise.


Hopes pinned on Obama again as Doha Climate Summit opens


(11/26/2012) A number of observers have expressed hope that the Obama Administration, fresh from a re-election victory in the U.S., will take a more active and ambitious role at this year's UN Climate Summit, held in Doha, Qatar. The summit opens amid fresh—and increasingly dire—warnings over climate change from the World Bank, the International Energy Agency, and the UN itself.


BP fined $4.5 billion for Gulf of Mexico oil spill, but company may spend more buying its own stocks

(11/19/2012) Last week the U.S. federal government fined BP $4.5 billion for the Deepwater Horizon disaster in 2010, which killed 11 workers and leaked nearly 5 million barrels of oil into the Gulf of Mexico. The oil giant also plead guilt to 12 felonies and two misdemeanors. However, even this fine—the largest in U.S. history—failed to dampen shareholder support of BP: stocks actually rose one percent following the announcement. Meanwhile, according to the Sunday Times, BP plans to spend $5.9 billion (over a billion more than the fine) buying back its own shares in order to boost stock prices.


Obama criticized for lack of urgency on climate change

(11/15/2012) Following the devastation wrought by Hurricane Sandy—which many scientists say was likely worsened by climate change—and a long silence on the issue of global warming during the Presidential campaign, environmentalists yesterday were disappointed when re-elected President Barack Obama seemingly put action on climate change on the back burner.


Obama breaks climate silence at press conference

(11/14/2012) At a news conference today, a question by New York Times reporter Mark Landler pushed President Obama to speak at some length about climate change. In his answer, Obama re-iterated his acceptance of climate science and discussed how progress on tackling climate change might proceed in his second term, though he also noted that he wouldn't put action on the climate ahead of the economy. President Obama made a small reference to climate change in his victory speech following his historic re-election last Tuesday, but his answer today was the most the president has talked about the issue at any length since at least Hurricane Sandy.


Day after Obama re-elected, group plans massive march over Keystone Pipeline and climate change

(11/07/2012) Hours after President Obama's historic re-election, climate group 350.org announced a massive rally to apply pressure on the administration to reject the Keystone Pipeline, which would bring tar sands from Alberta to an international market. In 2011 the group and its partners carried out massive civil disobedience action, resulting in over 1,000 arrests, and a rally 12,000-strong that literally encircled the White House. The pressure, which was also brought to Obama campaign offices around the country, helped spur the Obama Administration to suspend the pipeline.


It's not just Sandy: U.S. hit by record droughts, fires, and heatwaves in 2012


(11/05/2012) As the devastation wrought by Hurricane Sandy—killing over 100 people and producing upwards of $50 billion in damage along the U.S. East Coast—has reignited a long-dormant conversation on climate change in the media, it's important to note that this is not the only weird and wild weather the U.S. has seen this year. In fact, 2012 has been a year of record-breaking weather across the U.S.: the worst drought in decades, unprecedented heatwaves, and monster forest fires. While climatologists have long stated that it is not yet possible to blame a single extreme weather event on climate change, research is showing that rising temperatures are very likely increasing the chances of extreme weather events and worsening them when they occur.


Lack of climate change in presidential debates part of larger trend

(10/23/2012) The final presidential debate between President Barack Obama and Governor Mitt Romney, focusing on foreign policy, ended like all the others: without a mention of climate change or its likely impacts on Americans, from rising sea levels to worsening extreme weather to the threat of instability abroad. While environmental groups have kicked-off a campaign to target this "climate silence," the lack of discussion on climate change is a part of a larger trend in the U.S. where media coverage of the issue has declined even as scientists argue that impacts are increasing.


Over 70 percent of Americans: climate change worsening extreme weather

(10/10/2012) According to a new poll, 74 percent of Americans agree that climate change is impacting weather in the U.S., including 73 percent who agreed, strongly or somewhat, that climate change had exacerbated record high temperatures over the summer. The findings mean that a large majority of Americans agree with climatologists who in recent years have found increasingly strong evidence that climate change has both increased and worsened extreme weather events.


Nary a mention of climate change during U.S. presidential debate

(10/04/2012) The hour-and-a-half long debate between President Barack Obama and ex-governor Mitt Romney last night ended without a single reference to climate change. Frustrated with the lack of discussion on the issue from both candidates, environmental activists sent a petition with over 160,000 signatures to debate moderator, Jim Lehr, urging him to ask a question about climate change. The petition fell on deaf ears.


Another mishap kills Shell's Arctic oil drilling for the year

(09/18/2012) Following global protests, a series of embarrassing mishaps, and a lengthy regulatory process, Dutch Royal Shell has announced it is abandoning its hugely controversial off-shore oil drilling in the Arctic—this year. The announcement came after the company damaged a containment dome meant to cap an oil spill. The incident was the latest in a series of delays and problems that oil the giant faced in its $4 billion plan to drill in the Chukchi and Beaufort Seas.


Shell begins offshore drilling in the Alaskan Arctic

(09/10/2012) With the approval of the Obama Administration, Royal Dutch Shell began drilling into the ocean floor of the Chukchi Sea off the coast of Alaska yesterday morning. The controversial operation, which has been vehemently opposed by environmental and Native groups, will likely only last a few weeks this year until the Arctic winter sets in. The U.S. government has said that Shell must complete operations by September 24th, however the oil giant has asked for an extension.


Obama approves preparation for oil drilling in Arctic, Shell en route

(08/30/2012) In the same week that sea ice in the Arctic Ocean hit another record low due to climate change, the Obama Administration has given final approval to Royal Dutch Shell to prepare for exploratory drilling in the region. Vehemently opposed by environmentalists and indigenous groups, the drilling plans are a part of the Obama Administrations 'all of the above' energy policy. Whether or not Shell will actually drill a well this season, however, is still up in the air as its oil spill containment barge remains docked in Washington state for an upgrade that could last several days.


Shell running out of time to drill in U.S. Arctic - this year

(08/20/2012) The clock is running out for oil giant, Royal Dutch Shell, to drill controversial oil wells in the U.S. Arctic before the harsh winter sets in, reports the Wall Street Journal and Bloomberg. While the company is still optimistic it can reach the Arctic by summer's end, it awaits a number of final permits after suffering numerous setbacks, including one of its drilling ships going adrift and nearly running aground in Alaska.


2,600 scientists: climate change killing the world's coral reefs


(07/10/2012) In an unprecedented show of concern, 2,600 (and rising) of the world's top marine scientists have released a Consensus Statement on Climate Change and Coral Reefs that raises alarm bells about the state of the world's reefs as they are pummeled by rising temperatures and ocean acidification, both caused by greenhouse gas emissions. The statement was released at the 12th International Coral Reef Symposium.


Groups urge President Obama to attend Rio+20 Sustainability Summit

(05/22/2012) Twenty-two conservation, indigenous, health and science groups have called on U.S. President Barack Obama to attend the up-coming Rio+20 Summit on Sustainable Development.


U.S. media favored Keystone pipeline in coverage

(01/26/2012) A new report by Media Matters finds that U.S. TV and print media were largely biased toward the construction of TransCanada's Keystone XL Pipeline, which the Obama administration recently turned down. The report finds that guests and quotes were largely in favor of the pipeline in addition to news outlets consistently repeating job figures for the pipeline that have been discredited.


12,000 surround White House to protest tar sands pipeline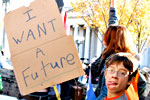 (11/07/2011) One year to the day before the 2012 US election, up to 12,000 activists encircled the White House to protest the Keystone XL pipeline, a proposed 1,700 mile pipeline that would carry oil from Canada's infamous tar sands to the US and other foreign markets. Critics of the TransCanada pipeline have warned of potential spills in America's heartland as well as the climate impacts of allowing more tar sands oil, which has a higher carbon footprint than conventional sources, into the US and other markets. The issue has galvanized climate and environmental activists in the US with the massive rally on Sunday preceded by civil disobedience actions in late summer that lead to the arrests of 1,253 people.


Tar sands pipeline 'another dirty needle feeding America's fossil fuel addiction'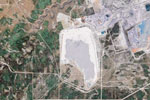 (10/11/2011) Climate and environmental activism in the US received a shot of enthusiasm this summer when it focused unwaveringly on the Keystone XL Pipeline. During a two week protest in front of the White House, 1,253 activists—from young students to elder scientists, from religious leaders to indigenous people—embraced civil disobedience for their cause and got themselves arrested. Jamie Henn, spokesperson with Tar Sands Action, which organized the protests, and co-founder of climate organization 350.org, told mongabay.com that,"the reason the Keystone XL pipeline has emerged as such a key fight is because it is on a specific time horizon, the Administration says it will issue a decision by the end of this year, and the decision whether or not to grant the permit rests solely on President Obama's desk. This is a clear test for the President."


Obama administration opens more of the Arctic to drilling

(10/05/2011) Nearly 500 Arctic oil and gas leases from the Bush administration have been restarted this week by the Obama administration. Known as Chukchi Lease 193, the various leases had been held up in court after environmental groups and indigenous groups challenged them, citing a significant lack of baseline information about the Chukchi Sea ecosystem. The Obama administration now says that many of the ecosystem gaps need not be filled, but Arctic indigenous and environmental groups disagree.


Deepwater spill 'meets the Titanic': groups sue to stop Arctic drilling

(09/29/2011) Following the Obama administration's approval of Royal Dutch Shell to drill in the Arctic's Beaufort Sea, a wide-swathe of environmental have filed a lawsuit to stop the drilling, which could begin as early as next summer. Those filing the lawsuit today blasted Shell for what they perceived as a pathetic oil spill response plan, and the Obama administration for acquiescing to the big oil company.


Climate test for Obama: 1,252 people arrested over notorious oil pipeline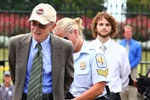 (09/06/2011) Two weeks of climate disobedience at the White House ended over the weekend with 1,252 people arrested in total. Activists were protesting the controversial Keystone XL pipeline in an effort to pressure US President Barack Obama to turn down the project. If built the pipeline would bring oil from Alberta's tar sands through six US states down to Texas refineries. While protestors fear pollution from potential spills, especially in the Ogallala Aquifer which supplies water to millions, the major fight behind the pipeline is climate change: Canada's tar sands emit significantly more carbon than conventional sources of oil.


Mass walrus haul-outs, polar bear cub mortality linked to climate change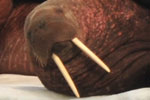 (09/01/2011) Recent, unprecedented walrus haul-outs and increased instances of long-distance swims by polar bears show the direct impacts on wildlife of dwindling Arctic sea ice from climate change. These threatened species also face the prospect of offshore drilling in the Arctic after the Obama Administration recently approved a number of plans to move forward on oil exploration. At least 8,000 walruses hauled out on an Alaskan beach along the Chukchi Sea on August 17. Only a day before, the U.S. Geological Survey announced it would begin tagging walruses near Point Lay, Alaska to study how a lack of sea ice is affecting the species.


Over 100 protestors arrested as civil action begins against tar sands pipeline to US

(08/22/2011) In the first two days of a planned two week sit-in at the White House in Washington DC, over 100 activists against the Keystone XL pipeline have been arrested, reports Reuters. If approved by the Obama Administration, the 1,700 mile pipeline would bring around 700,000 barrels of oil daily from Canada's notorious tar sands to oil refineries in Texas.


Arctic open for exploitation: Obama administration grants Shell approval to drill

(08/08/2011) Less than a year and a half after the oil spill in the Gulf of Mexico, the Obama administration has bucked warnings from environmentalists to grant preliminary approval to oil giant, Royal Dutch Shell, to drill off the Arctic coast. Exploratory drilling will occur just north of the western edge of the Arctic National Wildlife Refuge (ANWR) in the Beaufort Sea, home to bowhead and beluga whales, seals, walruses, polar bears, and a wide variety of migrating birds.


Obama focuses on climate change in Earth Day proclamation

(04/22/2011) After a long absence of speaking directly to the issue of climate change—he did not mention it once in his State of the Union speech in January—US President Barack Obama used his Earth Day proclamation to focus on it.