News articles on nuclear power

---
Mongabay.com news articles on nuclear power in blog format. Updated regularly.





Top 10 Environmental Stories of 2013


(12/10/2013) 1. Carbon concentrations hit 400ppm while the IPCC sets global carbon budget: For the first time since our appearance on Earth, carbon concentrations in the atmosphere hit 400 parts per million. The last time concentrations were this high for a sustained period was 4-5 million years ago when temperatures were 10 degrees Celsius higher. Meanwhile, in the slow-moving effort to curb carbon emissions, the Intergovernmental Panel on Climate Change (IPCC) crafted a global carbon budget showing that most of the world's fossil fuel reserves must be left untouched if we are to avoid catastrophic climate change.


Top scientists propose ambitious plans to safeguard world from devastating climate change


(12/05/2013) Two degrees is too much: that's the conclusion of a landmark new paper by top economists and climatologists, including James Hansen formerly of NASA. The paper, appearing in the open-access journal PLoS ONE, argues that global society must aim for only one degree Celsius of warming above pre-industrial levels to avoid the worst impact of climate change, and not the two degrees Celsius agreed on by the world's governments. But given that the world's governments are not yet on track to even achieve the two degree target, how could we lock in just one? A combination of renewable energy, nuclear power, and, most importantly, a rising price on carbon emissions, according to the eighteen scientists.


Japan pledges to raise carbon emissions, instead of cutting them

(11/18/2013) In 2009, Japan pledged to cut its carbon emissions by 25 percent based on 1990 levels within 11 years. Four years later—including a nuclear meltdown at Fukushima—and Japan has reset its goal with a new target to cut emissions by 3.8 percent based on 2005 levels at the UN Climate Summit in Warsaw, Poland. But, the new target, which received widespread condemnation when announced on Friday, actually results in a 3.1 percent rise in emissions when viewed from the widely-accepted 1990 baseline.


Another record in global carbon emissions puts globe on track for 'devastating consequences'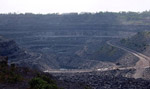 (05/29/2012) Last year global carbon dioxide emissions rose 3.2 percent to a new record of 31.6 gigatons, keeping the planet on track to suffer dangerous climate change, which could propel global crop failures, sea level rise, worsening extreme weather, and mass extinction. According to data from the International Energy Agency (IEA), China's carbon emissions rose the most last year (9.3 percent) while emissions in Europe and the U.S. dipped slightly. China is the currently the world's largest emitter of greenhouse gases, while the U.S. has emitted the most historically.


Black Swans and bottom-up environmental action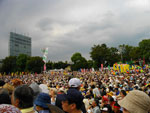 (02/08/2012) The defining events shaping the modern world - economic, social, environmental, progressive and disruptive - are frequently characterized as "Black Swans."The Black Swan term and theory were characterized by author and analyst Nassim Nicholas Taleb who explains, "What we call here a Black Swan (and capitalize it) is an event with the following three attributes. First, it is an outlier, as it lies outside the realm of regular expectations, because nothing in the past can convincingly point to its possibility. Second, it carries an extreme impact. Third, in spite of its outlier status, human nature makes us concoct explanations for its occurrence after the fact, making it explainable and predictable." Taleb identifies the emergence of the internet, the attacks of September 11, 2001, the popularity of Facebook, stock market crashes, the success of Harry Potter, and World War I as among Black Swan events.


Top 10 Environmental Stories of 2011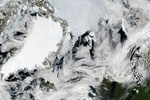 (12/22/2011) Many of 2011's most dramatic stories on environmental issues came from people taking to the streets. With governments and corporations slow to tackle massive environmental problems, people have begun to assert themselves. Victories were seen on four continents: in Bolivia a draconian response to protestors embarrassed the government, causing them to drop plans to build a road through Tipnis, an indigenous Amazonian reserve; in Myanmar, a nation not known for bowing to public demands, large protests pushed the government to cancel a massive Chinese hydroelectric project; in Borneo a three-year struggle to stop the construction of a coal plant on the coast of the Coral Triangle ended in victory for activists; in Britain plans to privatize forests created such a public outcry that the government not only pulled back but also apologized; and in the U.S. civil disobedience and massive marches pressured the Obama Administration to delay a decision on the controversial Keystone XL pipeline, which would bring tar sands from Canada to a global market.


IEA warns: five years to slash emissions or face dangerous climate change

(11/13/2011) Not known for alarmism and sometimes criticized for being too optimistic, the International Energy Agency (IEA) has warned that without bold action in the next five years the world will lock itself into high-emissions energy sources that will push climate change beyond the 2 degrees Celsius considered relatively 'safe' by many scientists and officials.


Germany proves the promise of renewable energy: hits 20 percent renewables

(09/06/2011) As many people in the United States question whether renewable energy is a viable alternative to fossil fuels, Germany now derives 20.8 percent of its electricity from renewable sources—a 15 percent increase since 2000, reports Der Spiegel. In contrast, the United States generates only 10 percent of its electricity from renewable sources, 6 percent of which comes from hydroelectric power, which some environmentalists see as unacceptably damaging.


Nuclear power plant in a national park? Japanese NGOs seek international help

(11/14/2010) Despite pledging broad support for conservation in developing countries at the recent COP10 biodiversity summit, this year's host Japan may be neglecting conservation issues closer to home.


Bill Gates: ban coal and invest in clean energy technology

(02/12/2010) The planet needs "energy miracles" to overcome the dual challenges of meeting energy demand and addressing climate change, said Microsoft founder Bill Gates during a speech Friday at the TED Conference in Long Beach, California.


Will 'peak oil' spur expanded coal use? And what does it mean for climate?

(12/19/2008) The world must phase out emissions from coal by 2030 to avert dangerous climate change, said scientists speaking at the annual meeting of the American Geophysical Union in San Francisco.


Gore launches second campaign... for Earth

(07/17/2008) In a speech Thursday, Al Gore challenged the U.S. to generate 100 percent of its electricity from zero carbon emission sources within 10 years. Speaking at Washington's Constitution Hall, Gore said America's security, environmental and economic crises are all related, and that measures to rein in greenhouse gas emissions will make the U.S. stronger, safer, and cleaner. "The survival of the United States of America as we know it is at risk," Gore said. "I don't remember a time in our country when so many things seemed to be going so wrong simultaneously."


Clean energy gold rush in 2007

(07/01/2008) New investment in renewables and energy efficiency surpassed $148 billion in 2007, rising 60 percent rise from 2006, according to an analysis issued Tuesday July 1 by the UN Environment Programme (UNEP). High oil prices drove the trend.


$45 trillion needed to meet energy demand, fight global warming by 2050

(06/08/2008) Investors will need to spend $45 trillion by 2050 to keep pace with growing energy demand while addressing concerns over global warming, warned the International Energy Agency in a report issued Friday.


Carbon tax, not subsidies, will spur nuclear power

(09/09/2007) A U.S. carbon tax, not government subsidies, should be used to spur investment in nuclear power, says The Economist.


Nobel prize winner debates future of nuclear power

(06/07/2007) Two renowned energy experts sparred in a debate over nuclear energy Wednesday afternoon at Stanford University. Amory Lovins, Chairman and Chief Scientist of the Rocky Mountain Institute, an energy think tank, argued that energy efficiency and alternative energy sources will send nuclear power the way of the dinosaurs in the near future. Dr. Burton Richter, winner of the 1976 Nobel Prize in physics, said that nuclear would play an important part of the future energy portfolio needed to cut carbon emissions to fight global warming.


Cost of stabilizing climate 0.1% per year


(05/04/2007) The Intergovernmental Panel on Climate Change (IPCC) released its long awaiting installment on climate change mitigation, arguing that the costs of offsetting global warming will be much lower than some claim. The IPCC estimates that emissions can be reduced rapidly using existing technology at a cost of 3 percent of GDP, or 0.12 percent per year over the next 25 years, though new technologies could further reduce this cost. While the projections are encouraging, they may be conservative. Some analysts, including the well-respected Amory Lovins of the Rocky Mountain Institute, have calculated that emissions targets that would stabilize the climate could be achieved at no net cost and possibly even a profit. Even McKinsey & Company, a leading management consulting firm, agrees, putting the net cost of reducing emissions by 46 percent at zero.


Concentrating solar power better option than nuclear

(04/10/2007) Regarding Nuclear power plants are financially risky given high costs, there is absolutely no need for nuclear power in the US because there is a simple mature technology that can deliver huge amounts of clean energy without any of the headaches of nuclear power.


TXU hopes to build nuclear reactors instead of coal-fired power plants

(04/10/2007) Texas energy company TXU will abandon plans to build coal-fired power planets and will instead focus on building the largest nuclear power plants in the United States according to an article from The Wall Street Journal. Despite reduced emissions of greenhouse gases, the decision will likely prove controversial due to the high cost of nuclear energy. Without substantial subsidies nuclear energy is rarely cost-competitive with coal or renewable power sources.


Nuclear power plants are financially risky given high costs

(04/04/2007) Nuclear power plants are risky investments given rapidly rising costs of construction of nuclear fuel, reports a new study by researchers from Georgetown University, Stanford University and UC Berkeley.


Chernobyl environment and people recovering

(09/06/2005) Chernobyl's ecosystems seem to be recovering just 19 years after the region was badly contaminated with radiation from a nuclear meltdown according to a report backed by the United Nations.