News articles on north america

---
Mongabay.com news articles on north america in blog format. Updated regularly.






U.S. to remove extinct cougar from Endangered Species Act

(06/30/2015) The U.S. government has declared the Eastern cougar extinct more than 80 years after its a believed a hunter in Maine wiped out the last individual. Scientists still dispute whether the Eastern cougar was a distinct subspecies, but either way officials believe the original population that roamed much of the Eastern U.S. and Canada is gone—and has been for decades.
High pressure: is U.S. policy deterring illegal wood imports?
(05/19/2015) Some countries, such as the U.S., have imposed legislation at the consumer level, banning the import of illegally sourced wood through their borders. A new study finds that such legislation can be effective, with a 2008 amendment to the Lacey Act significantly reducing the influx of illegal wood into the U.S.
Woman defeats mine, saves wilderness, wins $175,000
(04/20/2015) When a huge open-pit mine threatened a pristine lake and surrounding forest in British Columbia, Canada, Marilyn Baptiste jumped into action, spearheading efforts to collect environmental impact data and even physically turning away construction crews. Today, Baptiste was honored for her work when she was presented the 2015 Goldman Environmental Prize at a ceremony in San Francisco.
Mexico's club mosses at risk of extinction
(03/26/2015) All nine species of the club moss genus Phlegmariurus found in the state of Veracruz in eastern Mexico are at risk of extinction, according to a new study published in the journal Tropical Conservation Science. One of these species, P. orizabae, has not been recorded in the wild since 1854.
Last ditch: Mexico finally gets serious about saving the vaquita
(03/04/2015) There are likely less than 100 vaquita on the planet. Found only in the northern pocket of the Sea of Cortez in Mexico, the vaquita is a tiny, shy porpoise that has been brought to the very edge of extinction due to drowning in gillnets used for shrimping. But after years of stalling, Mexico now appears to be making a final effort to save the world's most endangered cetacean.
U.S. Central Plains and Southwest will likely face apocalyptic drought
(02/12/2015) In the recent film Interstellar, a mysterious phenomenon known as "the blight" is wiping out agriculture around the world until only corn—for some reason—survives. Humanity is on the brink of starvation. While the blight may be science fiction, global warming is not, and a new study finds that future warming could decimate the western U.S. over the next century.
Feds confirm first wolf in the Grand Canyon area shot dead

(02/12/2015) Last fall, tourists to the north rim of the Grand Canyon reported seeing a gray wolf. The only problem was there had been no wolves in the area for over 70 years. Still, it turned out the animal in question was not a coyote or stray dog, but, indeed a female gray wolf known as "914F". She had migrated hundreds of miles from the northern Rockies. Unfortunately, this was near the end of her story.
Super-rare carnivore photographed in Yosemite after missing for nearly a century
(02/03/2015) For years, biologists believed the Sierra Nevada fox was down to a single population of around 20 animals in California's Lassen Volcanic National Park. But then in 2010, biologists found a small population near Sonora Pass. Now, more good news: last week, scientists documented the first Sierra Nevada fox in Yosemite National Park in nearly 100 years.
Monarch butterfly population rises a little, but still perilously low
(01/28/2015) The world's migrating monarch butterfly population has bounced back slightly from its record low last year, but the new numbers are still the second smallest on record. According to WWF-Mexico and the Mexican government, butterflies covered 2.79 acres (1.13 hectares) in nine colonies this year in the Mexican forests where the insects overwinter.
Judge protects Midwest wolves after 1,599 killed in three years

(01/06/2015) Future wolf hunting and trapping seasons in the Upper Midwest are on hold after a judge ruled the Obama Administration erred in removing the top predator from the Endangered Species Act. The ruling came nearly three years after the U.S. Fish and Wildlife Service dropped federal protections for the Great Lakes' wolf population. Since then hunters and trappers have killed 1,599 wolves.
Feds: gray wolf may have returned to the Grand Canyon after 70 years

(11/04/2014) Over 70 years since the last gray wolf was killed in Grand Canyon National Park, the top predator may be back. Tourists have reported numerous sightings—and taken photos—of a wolf-like animal roaming federal forest land just north of the park. Agents with the U.S. Fish and Wildlife Service now intend to capture the animal to determine if it is indeed a wolf or perhaps a wolf-dog hybrid.
Pet trade likely responsible for killer salamander fungus
(10/30/2014) As if amphibians weren't facing enough—a killer fungal disease, habitat destruction, pollution, and global warming—now scientists say that a second fungal disease could spell disaster for dozens, perhaps hundreds, of species. A new paper finds that this disease has the potential to wipe out salamanders and newts across Europe, the Middle East, North Africa, and the Americas.
Reintroduction program ups Mexico's scarlet macaw population by 34 percent in one year
(09/25/2014) While listed as Least Concern by the IUCN, the scarlet macaw has disappeared from almost all of its native range in Mexico, is very rare in most Central America countries, and is locally extinct in El Salvador. A new paper published this week finds a reintroduction program was hugely successful in its first year of operation, with a 92 percent survival rate for released birds.
Changing climate, changing conservation paradigms in Canada's boreal forests
(09/19/2014) Crackling heat and thick billowing smoke raced across the landscape. After weeks of scorching dry summer weather, the wildfire seemed to hungrily consume the earth. In northern Alberta, Canada, the Richardson fire of 2011 gained particular notoriety for ravaging nearly 700,000 hectares – and threatening the Athabasca oil sand development. Yet it is these very wildfires that are so crucial in shaping our boreal forests – which make up nearly one third of the world's forests.
Is there hope for the vaquita? IUCN calls for action to save world's smallest, rarest porpoise
(09/19/2014) Since the baiji was declared extinct in the early aughts, the vaquita has taken its unenviable position as the world's most threatened cetacean. The tiny porpoise currently numbers around 100, with accidental entanglement in gillnets primarily responsible for its decline. In response, the IUCN recently issued a statement calling for immediate action to curb vaquita bycatch and head off its extinction – which otherwise may lie just around the corner.
'Canary in the cornfield': monarch butterfly may get threatened species status
(09/08/2014) Monarch butterflies were once a common sight throughout the North American heartland. But declines in milkweed – their caterpillars' only source of food – have led to a 90 percent decline in monarch numbers. Now, the U.S. Fish and Wildlife Service is reviewing a petition that would grant the iconic species protection through the Endangered Species Act.
More trouble with tar sands: oil extraction leading to big forest loss in Alberta
(08/29/2014) Tar sands operations have been the subject of much controversy over the past few years as expected economic gains for Canada the may come at the cost of environmental damage from the proposed Keystone XL pipeline and increased greenhouse gas emissions. Now another negative impact has come to light - deforestation of the boreal forest overlying the oil deposits.
Invasion of the lionfish: new research finds the situation may be worse than we thought
(08/27/2014) You may have recently read the controversial story on invasive lionfish research involving Dr. Zack Jud of Florida International University and a young girl named Lauren Arrington. While the issue of attribution in scientific research is crucial to the discipline, much of the media focus so far has sidestepped the real issue: what lionfish tolerance for brackish water really means for the environment.
Seeking justice for Corazón: jaguar killings test the conservation movement in Mexico
(07/31/2014) Eight years ago, a female jaguar cub was caught on film by a motion-triggered camera trap set in the foothills of canyons, oak forest, and scrubland that make-up the Northern Jaguar Reserve, just 125 miles south of the U.S.-Mexico border. Three years later, in 2009, the jaguar reappeared on film as an adult. They called her 'Corazón' for the distinctive heart-shaped spot on her left shoulder.
Desperate measures: researchers say radical approaches needed to beat extinctions
(07/24/2014) Today, in the midst of what has been termed the "Sixth Great Extinction" by many in the scientific community, humans are contributing to dizzying rates of species loss and ecosystem changes. A new analysis suggests the time may have come to start widely applying intensive, controversial methods currently used only as "last resort" strategies to save the word's most imperiled species.
Scientists can now accurately count polar bears...from space

(07/17/2014) Polar bears are big animals. As the world's largest land predators, a single male can weigh over a staggering 700 kilograms (about 1,500 pounds). But as impressive as they are, it's difficult to imagine counting polar bears from space. Still, this is exactly what scientists have done according to a new paper in the open-access journal PLOS ONE.
Attack of the killer vines: lianas taking over forests in Panama
(07/14/2014) A worrying trend has emerged in tropical forests: lianas, woody long-stemmed vines, are increasingly displacing trees, thereby reducing forests' overall ability to store carbon. The study, recently published in Ecology, found several detrimental effects of increased liana presence.
Bigfoot found? Nope, 'sasquatch hairs' come from cows, raccoons, and humans
(07/01/2014) Subjecting 30 hairs purportedly from bigfoot, the yeti, and other mystery apes has revealed a menagerie of sources, but none of them giant primates (unless you count humans). Using DNA testing, the scientists undertook the most rigorous and wide-ranging examination yet of evidence of these cryptic—perhaps mythical—apes, according to a new study in the Proceedings of Royal Society B.
Study finds tiny cloud forests have big biodiversity
(06/24/2014) Tropical cloud forests are situated in mountains and are characterized by the frequent presence of low-level clouds. Scientists have always regarded them as having high biodiversity, but a recent study adds a new dimension: it found cloud forests contain a significant and surprising array of tree and bromeliad species, even when they are relatively small.
More is better: high bee biodiversity boosts crop yields
(06/12/2014) Scientists have discovered that blueberry plants visited by more diverse bee species increased their seed number, berry size and fruit set, and quickened their ripening time. They hope their findings encourage farmers to help support local wild bee communities.
By the bones: herring populations were superabundant before commercial fisheries
(06/09/2014) Scientists analyzed almost half a million fish bones to shed light on the population history of Pacific herring (Clupea pallasii) in the North Pacific Ocean. Their paper reveals a decline of unprecedented scale, and suggests that while the abundance of Pacific herring does fluctuate naturally, their numbers have fallen precipitously since commercial fishing started targeting the species in the 19th century.
Ignoring boreal forests could speed up global warming
(06/04/2014) Greenhouse gas emissions from human activity have caused global air and sea surface temperatures to rise approximately 0.8 Celsius (1.4 degrees Fahrenheit) since the beginning of the 20th century, contributing to a plethora of problems worldwide from rising sea levels to desertification. A new study finds that global temperatures may start to increase even faster if more is not done to protect Earth's boreal forests.
Fish-terrorizing, prehistoric-looking turtle actually three species
(04/30/2014) So, you're a fish swimming in a river in Louisiana. Hungry, you see a little worm wiggling out from the river bed. You swoop in for the ambush only to have that little worm turn into the gaping maw of some prehistoric-looking monster out of fishy nightmares. You've been duped: it's too late to escape as the beast's jagged jaws close over you. Meet the alligator snapping turtle...or one of several species.
3M linked to deforestation in Brazil, Canada, Europe, and U.S., says NGO
(04/29/2014) A new report from activist group, ForestEthics, alleges that U.S. company, 3M, supplies many of its products from endangered forests around the world. The NGO links 3M's masking tape and sandpaper to caribou habitat in the boreal forests of Canada, Scotch-Brite sponges to a controversial paper mill in Brazil, and those ubiquitous Post-it Notes to allegedly poor logging practices in the U.S.
The incredible shrinking salamander: researchers find another casualty of climate change
(04/04/2014) Climate change is contributing to a slew of global problems, from rising seas to desertification. Now, researchers have added another repercussion: shrinking salamanders. Many amphibian populations around the world are currently experiencing precipitous declines, estimated to be at least 211 times normal extinction rates. Scientists believe these declines are due to a multitude of factors such as habitat loss, agricultural contamination, and the accidental introduction of a killer fungus, among others.
U.S. citizens willing to spend billions to protect monarch butterflies
(04/03/2014) New research shows Americans are willing to pay for the protection of the ailing monarch butterfly, which is experiencing a steep decline in numbers. The study, published in Conservation Letters, found nearly three-quarters of those surveyed placed importance on conservation efforts for the iconic species.
Cocaine: the new face of deforestation in Central America
(03/11/2014) In 2006, Mexico intensified its security strategy, forming an inhospitable environment for drug trafficking organizations (also known as DTOs) within the nation. The drug cartels responded by creating new trade routes along the border of Guatemala and Honduras. Soon shipments of cocaine from South America began to flow through the Mesoamerican Biological Corridor (MBC). This multi-national swathe of forest, encompassing several national parks and protected areas, was originally created to protect endangered species, such as Baird's Tapir (Tapirus bairdii) and jaguar (Panthera onca), as well as the world's second largest coral reef. Today, its future hinges on the world's drug producers and consumers.
Migrating monarch butterflies hit shockingly low numbers
(01/31/2014) The monarch butterfly population overwintering in Mexico this year has hit its lowest numbers ever, according to WWF-Mexico. Monarch butterflies covered just 0.67 hectares in Mexico's forest, a drop of 44 percent from 2012 already perilously low population. To put this in perspective the average monarch coverage from 1994-2014 was 6.39 or nearly ten times this year's. For years conservationists feared that deforestation in Mexico would spell the end of the monarch migration, but now scientists say that agricultural and policy changes in the U.S. and Canada—including GMO crops and habitat loss—is strangling off one of the world's great migrations.
Over 2,500 wolves killed in U.S.'s lower 48 since 2011

(01/28/2014) Hunters and trappers have killed 2,567 gray wolves in the U.S.'s lower 48 states since 2011, according to recent data. Gray wolves (Canis lupus) were protected by the Endangered Species Act (ESA) for nearly 40 years before being stripped of their protection status by a legislative rider in 2011. Last year total wolf populations were estimated at over 6,000 in the region.
Environmental groups: top secret Pacific trade agreement to sacrifice wildlife, environment

(01/16/2014) Environmental groups have blasted draft text of the Trans-Pacific Partnership (TPP) released yesterday by WikiLeaks as potentially devastating to the environment and wildlife. The massive 12-nation free trade agreement has been negotiated in secret now for almost four years, and the information release by WikiLeaks shows that key environmental safeguards in the agreement are being stripped away, including a ban on shark finning and illegal logging, as well as legally-enforced pollution regulations.
Rewilding Chile's savanna with guanacos could increase biodiversity and livestock
(01/06/2014) Local extinctions have occurred across a variety of habitats on every continent, affecting a gamut of species from large predators such as the wolves of North America, to tiny amphibians like the Kihansi spray toad of Tanzania. The long trek toward reversing such extinctions has begun, but it is not without its challenges, both ethical and logistical.
Canada's biggest logger loses eco-certification
(12/17/2013) Resolute Forest Products, the largest industrial logging company in Canada, suffered a major setback this week when the Forest Stewardship Council (FSC) revoked three certifications for the forestry giant. According to Greenpeace, the company lost its certification in Quebec and Ontario due to several problems, including a lack of consent from the Crees nations and failure to safeguard high priority conservation areas.
Featured video: U.S. forests decimated for 'green' bio-energy in Europe

(12/12/2013) Wetland forests in the southern U.S. are becoming the victims of a drive for so-called green energy in Europe, according to activist group Dogwood Alliance, which has produced a new video highlighting the issue. The activists contend that bio-energy that depends on chopping down forests not only devastates vital ecosystems, but actually emits more greenhouse gases than traditional fossil fuels.
Is Australia becoming the new Canada in terms of climate inaction?

(11/14/2013) For many concerned about climate change, Australia has suddenly become the new Canada. With the election of Tony Abbott as Prime Minister in September, the land down under has taken a sudden U-turn on climate policy, including pushing to end its fledgling carbon emissions program which was only implemented in 2012 and cutting funding for renewable energy. These move come at a time when Australia has just undergone its warmest 12 months on record and suffered from record bushfires.
'Remarkable year': could 2012 mark the beginning of a carbon emissions slowdown?

(10/31/2013) Global carbon dioxide emissions hit another new record of 34.5 billion tons last year, according to a new report by the Netherlands Environment Assessment Agency and the European Commission's Joint Research Centre, but there may be a silver lining. Dubbing 2012 a "remarkable year," the report found that the rate of carbon emission's rise slowed considerably even as economic growth continued upward.
Organization proposes climate change warning labels at the gas pump
(09/05/2013) Rob Shirkey is the founder of the Toronto-based, not-for-profit organization Our Horizon. Inspired by his grandfather's last words to him, "Do what you love," Shirkey quit his job and founded the organization. Our Horizon is founded on the basis that we are all responsible for global climate change through our daily collective choices. It endeavors to influence those choices, specifically with the goal of convincing municipalities to require climate change warning labels on gasoline pumps.
Eighty sea turtles wash up dead on the coast of Guatemala
(08/27/2013) An assortment of marine animals and birds reside along the black volcanic sand beaches of Guatemala's Pacific coast, but lately both residents and visitors on the southeast beaches of the country have observed a tragic event – the stranding of dead sea turtles. Eighty dead sea turtles have been recorded since the first week of July.
In defense of the financial industry: stocking up to end climate change

(08/20/2013) On a cross-country bus trip through the American Midwest, I watch cool morning mist rise from patchwork fields. Between the fields stand groves of dark green mid-summer trees, I am reminded that this scene is in jeopardy. The region is cited for its vulnerability to desertification associated with climate change.
Featured video: temperature rises across North America by 2100

(08/19/2013) A new short video predicts temperature changes across North America depending on the future of greenhouse gas emissions. Produced by NASA, the first series shows average temperatures changes (relative to 1970-1999) based on carbon dioxide levels hitting 550 parts per million (ppm) in the atmosphere by 2100. The second, even more dramatic series, shows changes if levels hit 800 ppm by the end of the century. Earlier this year, carbon dioxide levels hit 400 ppm for the first time in around 5 million years, which is longer than humans have been around.
Zoo races to save extreme butterfly from extinction
(08/15/2013) In a large room that used to house aquatic mammals at the Minnesota Zoo, Erik Runquist holds up a vial and says, 'Here are its eggs.' I peer inside and see small specks, pale with a dot of brown at the top; they look like a single grain of cous cous or quinoa. Runquist explains that the brown on the top is the head cap of the larva, a fact that becomes more clear under a microscope when you can see the encased larva squirm. I'm looking at the eggs of a Poweshiek skipperling, a species that is more imperiled than pandas, tigers, or bluewhales. Once superabundant, only several hundred Poweshiek skipperlings may survive on Earth today and the eggs I'm looking at are the only ones in captivity.
Fracking sucks up all the water from Texas town

(08/15/2013) Beverly McGuire saw the warning signs before the town well went dry: sand in the toilet bowl, the sputter of air in the tap, a pump working overtime to no effect. But it still did not prepare her for the night last month when she turned on the tap and discovered the tiny town where she had made her home for 35 years was out of water.
Journey to the Edge of Eden: the struggle to preserve Southwest Florida
(08/05/2013) Gary Schmelz, in a Journey to the Edge of Eden, takes us through a wonderful personal account of the conservation history of Southwest Florida. Journey to the Edge of Eden is one part personal memoir similar to the English naturalist Gerald Durrell and one part Florida conservation history. With hilarious stories of unintended naturalist misadventures and recounting conservation "as it happened," a Journey to the Edge of Eden is one of those rare books you read in a coffee shop and with gusto and pride while laughing along out loud at Gary Schmelz stories.
Drastic cuts to greenhouse gases could save hundreds of U.S. cities from watery grave
(08/01/2013) More than 1,700 American cities and towns – including Boston, New York, and Miami – are at greater risk from rising sea levels than previously feared, a new study has found. By 2100, the future of at least part of these 1,700 locations will be "locked in" by greenhouse gas emissions built up in the atmosphere, the analysis published in the Proceedings of the National Academy of Sciences on Monday found.
Losing just one pollinator species leads to big plant declines
(07/22/2013) A shocking new study finds that losing just one pollinator species could lead to major declines in plant productivity, a finding that has broad implications for biodiversity conservation. Looking at ten bumblebee species in Colorado alpine meadows, two scientists found that removing a single bee species cut flower seed production by one-third. Pollinators worldwide are in major trouble as they are hit by habitat loss, pesticides, disease and other impacts. In fact, the EU has recently banned several pesticides that have been linked to the global bee decline.
Yukon Flats experiencing more wildfires now than in the last 10,000 years

(07/22/2013) The Yukon Flats area of Alaska is today burning more frequently and severely than it has in the last 10,000 years, according to new research published in the Proceedings of the National Academy of Sciences (PNAS). Looking at charcoal fragments from 14 deep lakes in the region, scientists were able to reconstruct the fire history of this particular forest, which covers around 2,000 square kilometers. Scientists have long warned that as the temperature worldwide continue to rise from climate change, wildfires are likely to become more common.
Featured video: saving animals from the illegal pet trade in Guatemala

(07/22/2013) Found in Central America's largest forest, the Maya Biosphere Reserve, the Guatemalan organization Arcas has rescued and rehabilitated thousands of animals since its inception in 1989. Unlike many wildlife rescue centers worldwide, Arcas focuses on rehabilitating every animal for eventually release back into the wild. This means intensive training for each species, including food gathering and predator avoidance. A new short video by Arcas highlights the group's decades-long work.
The Warbler Guide - book review
(07/15/2013) Written by Tom Stephenson and Scott Whittle, with illustrations by Catherine Hamilton, The Warbler Guide by Princeton University Press is the "go-to" guide for identifying the 56 species of warblers in the United States and Canada. Warblers are notoriously difficult to identify. These champion singers are small, hidden amongst the tree top canopy, flighty and dancing from branch to branch, with variegated coloring blending greens, yellows, reds, browns, and grays.
Obama to take on elephant and rhino poaching in Africa

(07/03/2013) Barack Obama launched a new initiative against wildlife trafficking on Monday, using his executive authority to take action against an illegal trade that is fueling rebel wars and now threatens the survival of elephants and rhinoceroses. The initiative, announced as the president visited Tanzania on the final stop of his African tour, was the second time in a week Obama has used an executive order to advance environmental policy, after announcing a sweeping new climate change plan.
San Francisco seafood restaurants go sustainable
(07/02/2013) The Seafood Watch Program, first created by Monterey Bay Aquarium in the late 1990s, is arguably the best-known guide to sustainably-caught seafood in the U.S. Listing seafood choices in three categories—green (best choices), yellow (good alternatives), and red (avoid)—the guide informs consumers of the best options. However, it's one thing to create a well-respected guide, and another issues altogether to get producers and consumers to use it. But a newer partnership, the San Francisco Seafood Watch Alliance, is working to bridge this gap. Maggie Ostdahl of Aquarium of the Bay works with the Seafood Watch Restaurant program and restaurants across San Francisco—one of the best places in the country for seafood—to source sustainable seafood. Restaurant partners avoid seafood on the guide's red list.
Activists, indigenous people plan healing walk in 'sick' tar sands landscape

(07/01/2013) Hundreds of activists including Bill McKibben and Naomi Klein are going into the heart of Canada's tar sands this week – not to protest the destruction of the local environment, but to pray for the 'healing' of land and the people. Native elders from all over North America will lead people past lakes of tailings wastewater and massive infrastructure of the tar sands industry along the Athabasca River in Fort McMurray, Alberta.
After long wait, Obama lays out fight against climate change
(06/25/2013) Five years after being elected president and six months after winning a second term, President Obama today gave his first speech devoted solely to climate change and announced several executive actions to begin weaning the United States (historically the largest emitter of greenhouse gases) off fossil fuels. At Georgetown University today, Obama stated that his administration would expand renewable energy projects on federal lands, raise energy efficiency standards on appliances, and, most importantly, limit carbon pollution from both existing and new power plants, which represent about 40 percent of the U.S.'s emissions. Obama also noted that the U.S. would spearhead global efforts to combat climate change which is pushing sea levels higher, melting glaciers and sea ice, exacerbating fires, imperiling species, and worsening extreme weather worldwide.
NASA image shows nearly ice-free Alaska as temps top 96 degrees

(06/24/2013) After a colder-than-average spring, Alaska is suffering a sudden and record-breaking heatwave. Temperatures on Monday, June 17th hit a stunning 96 degrees Fahrenheit (35 degrees Celsius) in Talkeetna, Alaska, just below the state's highest temperature ever record of 98 degrees Fahrenheit in 1969. On the same day, NASA's Terra Satellite's Moderate Resolution Imaging Spectroradiometer (MODIS) took a rare image of a cloud-free Alaska.
Flying rainbows: the scarlet macaw returns to Mexico
(06/11/2013) On April 21, 2013, the first flock of scarlet macaws (of many more to come) was released into the jungles of Aluxes Ecopark, nearby classified World Heritage Site Palenque National Park, as a part of a massive reintroduction project to restore the popular and culturally-significant bird to the well preserved rainforests of Palenque and the rest of its southern Mexico homeland—where the species has been extinct for close to 70 years.
Southern U.S. logging soars to meet foreign biofuel demand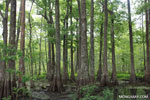 (06/06/2013) In order to meet the European Union's goal of 20% renewables by 2020, some European utility companies are moving away from coal and replacing it with wood pellet fuel. The idea is simple: trees will regrow and recapture the carbon released in the burning of wood pellets, making the process supposedly carbon-neutral. But just like other simple ideas, it misses out important details that can turn it on its head.
Canadian province cancels tar sands pipeline due to environmental impact

(06/04/2013) Efforts to expand production from the Alberta tar sands suffered a significant setback on Friday when the provincial government of British Columbia rejected a pipeline project because of environmental shortcomings. In a strongly worded statement, the government of the province said it was not satisfied with the pipeline company's oil spill response plans.
Plants re-grow after five centuries under the ice

(05/27/2013) While monitoring the retreat of the Teardrop Glacier in the Canadian Arctic, scientists have found that recently unfrozen plants, some of which had been under ice since the reign of Henry VIII, were capable of new growth.
New prehistoric animal named after Johnny Depp due to its 'scissorhands'
(05/19/2013) Half a billion years after an arthropod with long triple claws roamed the shallow Cambrian seas, scientists have named it after Hollywood movie actor, Johnny Depp: Kooteninchela deppi. Depp, known for his versatility as an actor, played Edward Scissorhands—an artificial man with long scissors for hands—in a popular 1990 film.
Canadian government drops over $16 million on advertising its tar sands
(05/16/2013) The Canadian government has nearly doubled its advertising spending to promote the Alberta tar sands in an aggressive new lobbying push ahead of Thursday's visit to New York by the prime minister, Stephen Harper. The Harper government has increased its advertising spending on the Alberta tar sands to $16.5m from $9m a year ago.
Common moth can hear higher frequencies than any other animal on Earth

(05/09/2013) A common little moth turns out to have the best ears in the animal kingdom. According to a new study in Biology Letters, the greater wax moth (Galleria mellonella) is capable of hearing frequencies up to 300,000 hertz (300kHz), which is 15 times the frequency humans can hear at their prime, around 20 kHz.
Featured video: saving sea turtles in Mexico's Magdalena Bay

(05/09/2013) A new short film, Viva la tortuga documents the struggle to save loggerhead and green sea turtles in Magdalena Bay, Mexico. Once a region for a massive sea turtle meat market, the turtles now face a new threat: bycatch. Loggerhead sea turtles are drowning in bottom-set gillnets, unable to escape from the nets once entangled. The issue has even raises threats of trade embargoes from the U.S.
U.S. loses nearly a third of its honey bees this season
(05/09/2013) Nearly a third of managed honeybee colonies in America died out or disappeared over the winter, an annual survey found on Wednesday. The decline—which was far worse than the winter before—threatens the survival of some bee colonies. The heavy losses of pollinators also threatens the country's food supply, researchers said. The US Department of Agriculture has estimated that honeybees contribute some $20bn to the economy every year.
Uranium mine at edge of Grand Canyon National Park approved
(05/08/2013) Uranium mining on the doorstep of the Grand Canyon national park is set to go ahead in 2015 despite a ban imposed last year by Barack Obama. Energy Fuels Resources has been given federal approval to reopen its old Canyon Mine, located six miles south of the canyon's popular South Rim entrance, that attracts nearly 5 million visitors a year.
Ten U.S. cities pledge to kick fossil fuel investments to the curb

(05/01/2013) The cities of San Francisco and Seattle have pulled their money out of fossil fuel companies, taking a climate divestment campaign from college campuses to local government. The campaign group 350.org said on Thursday it had won commitments from a total of 10 cities and towns to divest from 200 of leading fossil fuel companies.
Citizen group finds 30 toxic chemicals in air following tar sands oil spill in Arkansas
(04/30/2013) Independent air samples by locals have yielded "a soup of toxic chemicals" in Mayflower, Arkansas where an Exxon Mobil pipeline burst on March 29th spilling some 5,000 barrels of tar sands oil, known as bitumen. Chemicals detected included several linked to cancer, reproductive problems, and neurological impacts such as benzene and ethylbenzene. Air samples were taken by community leader and University of Central Arkansas student April Lane a day after the spill. However, the Environment Protection Agency (EPA)'s and Exxon Mobil's air samples have yielded chemical levels below harm except in the direct clean-up area, according to the Arkansas Department of Health (ADH).
Obama Administration to propose stripping protection from all gray wolves

(04/29/2013) The U.S. Fish and Wildlife Service (USFWS) is proposing to end protection for all gray wolves (Canis lupus) in the lower 48 states, save for a small population of Mexican wolves in New Mexico, reports the Los Angeles Times. The proposal comes two years after wolves were removed from the Endangered Species Act (ESA) in western states by a legislative rider on a budget bill, and soon after in the midwest. Since then hunting and trapping has killed over 1,500 wolves in these two regions.
The Crossley ID Guide: Raptors - book review

(04/22/2013) Richard Crossley, Jerry Liguori, and Brian Sullivan have produced a unique and much needed bird book in The Crossley ID Guide: Raptors. The Crossley ID Guide: Raptors is a book you study at home so you can easily recognize North American raptors.
Last 30 years were the warmest in the last 1,400 years

(04/21/2013) From 1971 to 2000, the world's land areas were the warmest they have been in at least 1,400 years, according to a new study in Nature Geoscience. The massive new study, involving 80 researchers from around the world with the Past Global Changes (PAGES) group, is the first to look at continental temperature changes over two thousand years, providing insights into regional climatic changes from the Roman Empire to the modern day. According to the data, Earth's land masses were generally cooling until anthropogenic climate change reversed the long-term pattern in the late-19th Century.
How many animals do we need to keep extinction at bay?

(04/15/2013) How many animal individuals are needed to ensure a species isn't doomed to extinction even with our best conservation efforts? While no one knows exactly, scientists have created complex models to attempt an answer. They call this important threshold the "minimum viable population" and have spilled plenty of ink trying to decipher estimates, many of which fall in the thousands. However, a new study in Conservation Biology shows that some long-lived animals may not need so many individuals to retain a stable population.
International Paper commits to working with longtime foe to protect endangered forests

(04/10/2013) In another sign that the global paper industry may be steering toward more sustainable practices following years of bruising activist campaigns and pressure from buyers, International Paper (IP) has committed to identifying and protecting endangered forests and high conservation value areas in the southern U.S. The company, which is the world's largest paper maker, will be partnering with its tenacious NGO critic, the Dogwood Alliance, in order to map out forests in the region and, furthermore, move away from converting natural forests into pine plantations.
Greener neighborhoods have less violent crime

(04/04/2013) Turn your neighborhood green and it may prevent violent crime in the long run, according to a new study in Landscape and Urban Planning, which found that violent crimes (assaults, robberies, and burglaries) occurred less often in greener areas of Philadelphia. The connection between greener neighborhoods and less violent crime even stood up after researchers accounted for education, poverty, and population levels.
Tar sands oil spill: ruptured pipe pours 200,000 gallons of oil into suburban neighborhood (photos)
(04/04/2013) Last Saturday, an oil pipeline carrying tar sands oil from Canada ruptured in Mayflower, Arkansas spilling between 3,500-5,000 barrels of crude (at most 210,000 gallons) into neighborhood streets and lawns. Families from 22 homes have been evacuated while clean-up crews have scrambled to contain the spill. ExxonMobil, which runs the 65-year-old Pegasus pipeline, has stated it will pay for any damage, however critics say the oil spill is more evidence that the Obama Administration should turn down the Keystone XL tar sands pipeline.
U.S. Republican voters want action on climate change

(04/03/2013) A new poll by the Center for Climate Change Communication (4C) at George Mason University finds that a majority of U.S. citizens who identify as Republicans or Republican-leaning independents want the government to do more to tackles climate change. Sixty-two percent of those polled said that the U.S. government "absolutely should" or "probably should" takes steps to address climate change. This goes against the views of many Republican congressmen—as well as the party platform—who largely oppose action on climate change.
Common pesticides disrupt brain functioning in bees

(03/27/2013) Exposure to commonly used pesticides directly disrupts brain functioning in bees, according to new research in Nature. While the study is the first to record that popular pesticides directly injure bee brain physiology, it adds to a slew of recent studies showing that pesticides, especially neonicotinoids, are capable of devastating bee hives and may be, at least, partly responsible for on-going Colony Collapse Disorder (CCD).
New York Times slashes environmental coverage

(03/05/2013) On Friday at 5 PM the New York Times announced it was shutting down it Green blog, which highlighted diverse stories online, from energy to endangered species to climate change. The loss of the New York Times environment blog follows shortly after the paper announced it was dismantling its environment desk and moving all of the reporters to other beats.
Over 35,000 march on Washington demanding climate action and rejection of Canada's 'carbon bomb'
(02/18/2013) Yesterday over 35,000 people rallied in Washington D.C. for urgent action on climate change, which, according to organizers, was the largest climate march in U.S. history. Activists called on the Obama Administration to do much more to tackle climate change, including rejecting the Keystone XL Pipeline, which would bring carbon-heavy tar sands oil from Canada through the U.S. to a world market.
Genetics study claims to prove existence of Bigfoot
(02/13/2013) A new study purporting to uncover DNA evidence for Bigfoot has been published today in DeNovo Scientific Journal. While Bigfoot-enthusiasts have long argued that the cryptic monster is an unidentified ape species, the new study says their genetic evidence shows the Sasquatch is in fact a hybrid of modern human females mating with an unidentified primate species 13,000 years ago. The only problem: the journal in which the study is published—DeNovo Scientific Journal—appears to have been created recently with the sole purpose to publish this study.
Obama connects climate science and policy in State of the Union

(02/13/2013) After several years of silence on climate change, U.S. President Barack Obama has begun speaking out following his re-election last November. The President surprised many by giving climate change a central role in his inauguration speech last month, and he followed-up in his State of the Union speech last night when he called on congress to "pursue a bipartisan, market-based solution to climate change," but added that the administration would take action itself if congress failed.
Over 1,500 wolves killed in the contiguous U.S. since hunting legalized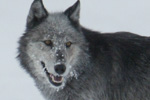 (02/06/2013) Hunters and trappers have killed approximately 1,530 wolves over the last 18 months in the contiguous U.S., which excludes Alaska. After being protected under the Endangered Species Act (ESA) for 38 years, gray wolves (Canis lupus) were stripped of their protected states in 2011 by a legislative rider (the only animal to ever be removed in this way). Hunting and trapping first began in Montana and Idaho and has since opened in Wyoming, Minnesota, and Wisconsin.
U.S. proposes to list wolverine under Endangered Species Act

(02/05/2013) Arguably one of the toughest animals on Earth, the wolverine (Gulo gulo) may soon find itself protected under the U.S.'s Endangered Species Act (ESA) as climate change melts away its preferred habitat. Last week, the U.S. Fish and Wildlife Service (FWS) announced it was proposing to place the world's largest terrestrial mustelid on the list. Only 250-300 wolverines are believed to survive in the contiguous U.S.
Global warming - 56 million years ago
(01/23/2013) Sandy, Irene, Katrina... Hurricanes are fast becoming household names and have many people worried over the connection between extreme weather and the amount of greenhouse gases people are pumping into the atmosphere. No one can predict for sure what will happen decades or centuries from now as such gas concentrations increase. But scientists have a pretty good picture of what did happen in the past; greenhouses gases were released into the atmosphere in massive amounts at least once before—around 56 million years ago.





Obama: 'We will respond to the threat of climate change'

(01/21/2013) In Obama's second inauguration speech today, the newly re-elected president of the U.S. reaffirmed his commitment to taking action on climate during his second term. Noting that ignoring climate change would "betray our children and future generations," Obama argued whole-heartedly for a transition to clean energy.




Page 1 | Page 2 | Page 3