News articles on new species

---
Mongabay.com news articles on new species in blog format. Updated regularly.






Stunning monkey discovered in the Colombian Amazon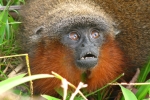 (08/11/2010) While the Amazon is being whittled away on all sides by logging, agriculture, roads, cattle ranching, mining, oil and gas exploration, today's announcement of a new monkey species proves that the world's greatest tropical rainforest still has many surprises to reveal. Scientists with the National University of Colombia and support from Conservation International (CI) have announced the discovery of a new monkey in the journal Primate Conservation on the Colombian border with Peru and Ecuador. The new species is a titi monkey, dubbed the Caquetá titi ( Callicebus caquetensis). However, the announcement comes with deep concern as researchers say it is likely the new species is already Critically Endangered due to a small population living in an area undergoing rapid deforestation for agriculture.
What is the most unexplored ecosystem on Earth?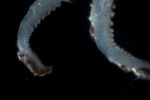 (08/02/2010) One should be forgiven for thinking that the most under-explored ecosystem in the world is tropical rainforests or cave systems since new species are frequently uncovered in such places. But new research in the open-access journal PLoS ONE finds that the least explored part of the world is the deep sea, especially what lies beneath the open ocean. Ironically, not only does this ecosystem remain the least explored, it is also the world's largest habitat.
Eleven new species discovered in France

(07/29/2010) Usually announcements of new species come from biodiverse rainforests or unexplored marine depths, but researchers have announced the discovery of nearly a dozen new species in one of Earth's most well-trodden place: France. Eleven new species have been discovered in Mercantour National Park in southern France. All the new species are insects, including one beetle, seven new aquatic invertebrate living under creek beds, and three springtails, which are soil-dwelling arthropods.
Two new frogs discovered in Panama amidst amphibian plague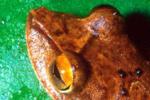 (06/06/2010) Researchers working to save Panama's frogs from a fatal disease have stumbled on two species unknown to science. In Omar Torrijos National Park they found a bigger version of a common species, which is now known to be a unique species, and near the Colombian border they discovered a new frog that has been named after Spanish for DNA. Both frogs were discovered while researchers searched for frog populations in chytridiomycosis-infected areas. The highly contagious disease chytridiomycosis has devastated frog species worldwide and is believe to be at least in part responsible for some 100 extinctions of amphibians.
18,225 new species discovered in 2008

(05/27/2010) In the 2010 State of Observed Species researchers have announced that 18,225 living species were discovered in 2008. In addition, 2,140 new extinct species were discovered byway of fossils.
New bird discovered in Colombia—and released alive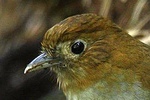 (05/26/2010) Researchers have discovered a new species of antpitta in the montane cloud forests of the Colibri del Sol Bird Reserve in western Colombia. A thrush-like bird, the new cinnamon and gray species was, according to a press release by the American Bird Conservancy (ABC), "captured, banded, measured, photographed, sampled for DNA, and then released alive back into the wild". This is one of only a few incidences in which a new species has been described without 'collecting' an individual (i.e. killing) to provide a model of the species in a museum. The new bird has been named Fenwick's antpitta (Grallaria fenwickorum) after the President of ABC, George Fenwick, and his family.
Photos: the penis-like mushroom and other top 10 new species of 2009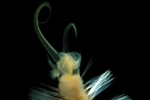 (05/23/2010) The International Institute for Species Exploration at Arizona State University has released its annual top 10 list of new species discovered last year. This time the list includes a two inch penis-like mushroom, a minnow named after Bram Stoker's world-famous horror-character, a bomb-throwing deep sea worm, a giant carnivorous plant named after TV personality and conservationist David Attenborough, and a beautifully patterned frogfish.
Photos: more new species found in Indonesia's 'lost world'

(05/17/2010) The Foja Mountains on the Indonesian side of New Guinea have proven a biological treasure trove that just keeps spilling riches. Two-and-a-half years ago the region—dubbed Indonesia's 'lost world'—made news globally when researchers announced the discovery of a giant rat: five times the size of the familiar brown rat. New amphibians, birds, and insects have also been found during past expeditions in 2005 and 2007. A collaborative team of Indonesia and international researchers have since returned to the Foja Mountains and found more spectacular species.
Photo: Fire-headed dragon discovered in Southeast Asia

(04/27/2010) Just weeks after scientists announced the discovery of a new monitor lizard in the Philippines, researchers have uncovered another unknown monitor inhabiting Southeast Asia. Described in Zootaxa, the new torch monitor (Varanus obor) is found only on the tiny island of Sanana, in the western Moluccan islands of Indonesia.
Close to a billion species: ocean exploration reveals shocking diversity of tiny marine life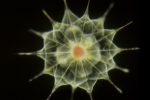 (04/19/2010) Biologists worldwide may have to start re-evaluating their estimates of the number of species on Earth, since expeditions documenting the oceans' tiniest species have revealed shocking diversity: in the tens of millions of species, at least, and according to one researcher "closer to a billion". Fourteen field projects sent out by the Census of Marine Life focused on the oceans' smallest inhabitants: microbes, zooplankton, and tiny burrowing species inhabiting the deep sea bed. What they found was astounding.
Photo: Lemur species rediscovered after 100 years

(04/09/2010) A species of lemur has been rediscovered more than a century after it was last spotted, report researchers from McGill University, the German Primate Centre in Göttingen Germany, the University of Antananarivo in Madagascar, and the University of Massachusetts.
Photo: Camouflage expert discovered in Cambodia

(03/25/2010) Researchers have discovered a cryptic species of gecko in the Cardamom Mountains of Cambodia, reports Fauna & Flora International (FFI), a conservation group that operates in the region.
Scientists discover world's first amphibious insects: Hawaiian caterpillars

(03/22/2010) Scientists have never before discovered a truly amphibious insect until now: writing in the Proceedings of the National Academy of Sciences researchers have announced the discovery of 12 species of Hyposmocoma moths in the Hawaiian islands which they consider truly amphibious—that is a species able to survive both on land and underwater indefinitely.
New cuttlefish discovered in India

(03/08/2010) A new species of cuttlefish has been discovered on the Southern tip of India, according to The Hindu. Discovered in Tamil Nadu, along the coast of the town of Colachel, the species has been named sepia vecchioni.
Australia starts 10 million dollar initiative to find new species

(02/15/2010) Known as the 'Bush Blitz', Australia will spend 10 million Australian dollars (8.88 million US dollars) over the next three years to conduct biodiversity surveys in far-flung places, reports Sydney Morning Herald. The program hopes to both uncover new species and gather more data about innumerable little-known plants and animals on the continent.
Photos: expedition in Ecuador reveals numerous new species in threatened cloud forest

(01/14/2010) An expedition into rainforests on Ecuador's coast by Reptile & Amphibian Ecology International (RAEI) have revealed a number of possible new species including a blunt-snouted, slug-eating snake; four stick insects; and up to 30 new 'rain' frogs. The blunt-snouted snake, which feeds on gastropods like slugs, is especially interesting, as its closest relative is in Peru, 350 miles away. In addition, a fifteen-year-old volunteer with the organization found a snake that specializes on snails. The researchers are unsure of this is a new species: the closest similar snake is 600 miles away in Panama.
Photos: new bird discovered in well-known rainforest in Borneo

(01/14/2010) The Danum Valley Conservation Area in Sabah, Malaysia is a huge draw for tourists and scientists; a research station has been operating in Danum Valley since 1986. But the rainforest still has surprises left: in June two employees with a tour company named Field Guide came upon every ornithologist's dream, a bird species entirely unknown to science.
Forgotten species: discovering the shimmer of Maathai's Longleg

(01/13/2010) Few species receive less respect and less conservation attention than insects. This despite the fact that they are some of the most diverse species on the planet andthey provide a number of essential services to humankind, including pollination, pest control, production (for example honey and silk), waster recycling, and indications of habitat health. Scientists are not only unsure just how many species of insects are threatened in world; they are equally uncertain how many insects exist. Currently there are nearly a million insect species described by science, but millions more likely exist. It's probable that innumerable insect species have vanished before even being catalogued by entomologists.
Researchers catch new cricket species going where no cricket has gone before

(01/13/2010) East of Madagascar, on the small island of Reunion, researchers have made a remarkable discovery: a cricket that pollinates an orchid. The cricket, which is also a species new to science, was caught by a motion sensitive camera pollinating the orchid, Angraecum cadetii. The genus Angraecum orchid is usually pollinated by moths, but cadetti's nectar-spur opening is just the right shape for the cricket, known as the 'raspy cricket'.
Photos: massive spider discovered in Middle East is greatly endangered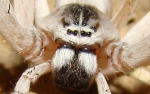 (01/12/2010) Measuring at 14 centimeters (5.5 inches), a new spider discovered in the sand dunes of Israel is the largest of its kind in all of the Middle East. How it avoided detection until now in one of the world' longest inhabited—and explored—regions is likely due, at least in part, to the species' entire habitat consisting of only three square kilometers.
New fox subspecies uncovered in California

(01/03/2010) Heavily-populated California may be one of the last places one would expect to find a new mammal, but the Sacramento Bee reports that genetic evidence has revealed a new subspecies of red fox.
Unique call gives away new bird species in Laos and Vietnam

(12/21/2009) A beautiful little warbler inhabiting limestone karsts in Vietnam and Laos has been named a new species. When the limestone leaf warbler ( Phylloscopus calciatilis) was first sighted in 1994 it was thought to be a member of the similar-looking species, the sulphur-breasted warbler, but ornithologists began to question that assumption when the bird produced a call significantly different from the sulphur-breasted's.
EBay bid to name new shrimp species raises $2,900 for conservation from NBA star

(12/07/2009) Former NBA basketball player for the Chicago Bulls, Luc Longley, has won the EBay auction to name a wild looking red-polka dotted shrimp species. Longley won with a bid of 3,600 Australian dollars (2,900 US dollars): all of the funds go to the Australian Marine Conservation Society (AMCS). He named the shrimp Lebbeus clarehanna as a gift for his daughter, Clare Hanna Longley's fifteenth birthday.
Videos and Photos: over 17,000 species discovered in waters beyond the sun's reach
(11/23/2009) Deep, deep below the ocean's surface, in a world of ever-present darkness, one would expect few, if any, species would thrive. However, recent expeditions by the Census of Marine Life (CoML) have found an incredible array of strange, diverse, and amazing creatures. To date a total of 17,650 species are now known to live in frigid, nearly lightless waters beyond the photic zone—where enough light occurs for photosynthesis—approximately 200 meters deep. Nearly 6,000 of these occur in even harsher ecosystems, below depths of 1,000 meters or 0.62 miles down.
New reserve created in Cambodia with REDD in mind

(10/26/2009) Cambodia's Royal Government's Council of Ministers has declared the creation of the Seima Protection Forest, a 1,100 square miles (2,849 square kilometers) park home to tigers, elephants, and endangered primates. The park's creation was developed in part by the Wildlife Conservation Society's (WCS) "Carbon for Conservation" program, which intends to protect high-biodiversity ecosystems while raising funds through carbon sequestration schemes such as Reducing Emission from Deforestation and Degradation (REDD).
World's largest golden orb weaving spider discovered in South Africa and Madagascar
(10/21/2009) Golden orb weaving spiders have been garnering media attention recently. Last year stunning photographs of a golden orb weaver eating a bird in Australia made world coverage. Now, over a century after the last legitimate species of golden orb weaver was discovered, researchers have announced the discovery of a new and rare species of golden orb weaving spider in Africa and on the island of Madagascar. On average the new species is the largest of all golden orb weavers known.
New species of glowing mushrooms named after Mozart's Requiem

(10/14/2009) Classical musical genius, Wolfgang Amadeus Mozart, probably never expected his music to inspire mycologists, but fungi researchers have announced in the journal Mycologia that two new species of glowing mushroom are named after movements in the composer's Requiem: Mycena luxaeterna (eternal light) and Mycena luxperpetua (perpetual light).
Working to save the 'living dead' in the Atlantic Forest, an interview with Antonio Rossano Mendes Pontes
(09/23/2009) The Atlantic Forest may very well be the most imperiled tropical ecosystem in the world: it is estimated that seven percent (or less) of the original forest remains. Lining the coast of Brazil, what is left of the forest is largely patches and fragments that are hemmed in by metropolises and monocultures. Yet, some areas are worse than others, such as the Pernambuco Endemism Centre, a region in the northeast that has largely been ignored by scientists and conservation efforts. Here, 98 percent of the forest is gone, and 70 percent of what remains are patches measuring less than 10 hectares. Due to this fragmentation all large mammals have gone regionally extinct and the small mammals are described by Antonio Rossano Mendes Pontes, a professor and researcher at the Federal University of Pernambuco, as the 'living dead'.
New species of ghostshark discovered off California's coast

(09/22/2009) The discovery of Eastern Pacific black ghostshark Hydrolagus melanophasma is notable for a number of reasons. It is the first new species of cartilaginous fish—i.e fish whose skeletons are made entirely of cartilage, such as sharks, rays, and skate—to be described in California water since 1947. It is also a representative of an ancient and little-known group of fish.
Whale skeleton reveals species unknown to science

(09/22/2009) The importance of a whale to the oceanic ecosystem does not end with its life. After dying, a whale's body sinks to the bottom of the ocean and becomes food for many species, some of whom specialize on feeding on these corpses.
Photos: new deep sea species discovered off the Canary Islands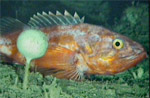 (09/21/2009) Owned by Spain, but located just off the northwest coast of Africa, the Canary Islands sport a wide variety of marine life, including five species of marine turtles, ten species of sharks and rays, and innumerable fish and invertebrates. However, a new expedition has gone beyond the known, sending a robot to depths of 500 meters to discover the secrets of the Canary Island's deep sea.
Saving the last megafauna of Malaysia, an interview with Reuben Clements
(09/15/2009) Reuben Clements has achieved one success after another since graduating from the National University of Singapore. Currently working in peninsular Malaysia, he manages conservation programs for the Endangered Malayan tiger and the Critically Endangered Sumatran Rhino with World Wildlife Fund. At the same time he has discovered three new species of microsnails, one of which was named in the top ten new species of 2008 (a BIG achievement for a snail) due to its peculiar shell which has four different coiling axes. ie7uhig
Photos: new gecko discovered on bizarre and beautiful Socotra island

(09/10/2009) Lying in the Indian Ocean half way between Somalia and Yemen, the strange island archipelagos of Socotra offer a bewildering array of life found no where else on Earth. Thirty seven percent of its plant species, ninety percent of its reptiles, and ninety-five percent of its snail species are endemic. Now biologists can add a new species to this list. Italian researchers unraveled the mystery of a gecko named Hemidactylus inintellectus. Inintellectus translates to 'misunderstood', since the gecko, which is common on the island, was consistently confused with other species.
New species everywhere in Papua New Guinea's 'lost' volcano
(09/07/2009) A five week expedition into a remote extinct volcano has uncovered a treasure trove of new species in Papua New Guinea, including what may be the world's largest rat, a fanged frog, and a grunting fish. In all the expedition estimates it may have found around forty species unknown to science. The expedition was undertaken by a BBC film crew and scientists in January. Local trackers led them into the unexplored jungle, hidden beneath the Bosavi volcano's 2,800 meter summit. Six months prior to arrival, fields of spinach and sweet potato were planted to feed the expedition in such a remote area.
Last chance to save a 'singular beauty' of Asia: the shy soala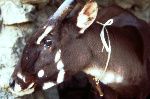 (09/03/2009) Only discovered in 1992, the reclusive and beautiful saola Pseudoryx nghetinhensis may soon vanish from the Earth, if rapid action isn't taken to save one of Asia's most enigmatic and rare mammals. Listed as Critically Endangered, the species has experienced a sharp decline since its discovery due largely to poaching. "The animal's prominent white facial markings and long tapering horns lend it a singular beauty, and its reclusive habits in the wet forests of the Annamites an air of mystery," says Barney Long, of the IUCN Asian Wild Cattle Specialist Group.
Three new species discovered in mile-long underwater cave

(09/01/2009) There are few places in the world more remote, more dangerous, and more unexplored than underwater caves. Cave diving—exploring these unknown abysses—has yielded many strange species unknown to science. A recent expedition to an underwater cave on Lanzarote, one of the Canary Islands, was no exception. Researchers discovered two species of worm smaller than a grain of rice and a primitive poisonous crustacean.
Newly discovered deep sea worms throw bioluminescent 'bombs'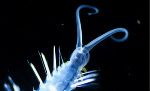 (08/20/2009) Researchers from Scripps Institution of Oceanography at UC San Diego have announced in Science the discovery of seven new species of deep sea worms, five of which drop orb-like parts of their body which cause a brilliant green display of bioluminescence. For this reason researchers have nicknamed them the 'green bombers'. The worms are not just new species, but a clade of animals entirely unknown to science until now.
Largely unexplored rainforest slated to be leveled for gold mining in Colombia
(08/13/2009) Serrania de San Luca is a rainforest-covered massif rising to 2,300 meters (7,500 feet) in northern Colombia. Despite being little-explored and containing several endangered species, the forest is threatened by industrial gold mining operations, according to the local conservation group ProAves. Already the forest has been reduced to 10 percent of its original 2.5 million acres due to agriculture, small-scale mining, and other human impacts. Now, the Colombian government has granted large concessions to AngloGold Ashanti, a gold mining company out of South Africa which has been criticized by the Human Rights Watch for allegedly aligning itself with locally armed gangs in the Democratic Republic of Congo.
New carnivorous plant big enough to swallow a rat

(08/11/2009) A newly discovered carnivorous plant in the central Philippines is large enough to catch a rat, according to a story by the BBC. Nepenthes attenboroughii, named after naturalist and broadcast David Attenborough, is a member of the pitcher plant family, so-called because it is shaped like a large pitcher. The plant preys on insects and animals that fall into its gaping maw.
Photos: hundreds of new species discovered in Himalayan region, threatened by climate change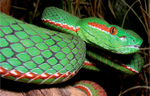 (08/10/2009) Scientists from a variety of organizations have found over 350 new species in the Eastern Himalayas, including a flying frog, the world's smallest deer, and a gecko which has walked the earth for 100-million-years, according to a new report by the World Wildlife Fund (WWF). The report, entitled Where World's Collide, warns that these rare biological treasures, as well as numerous other species, are threatened in the Eastern Himalayas by climate change.





Photo: First bald Asian songbird discovered

(07/30/2009) Researchers have discovered a bald species of songbird in a remote part of Laos, reports the Wildlife Conservation Society. The "Bare-faced Bulbul" is the first new species of bulbul – a family of about 130 species – described in Asia in over 100 years.






Page 1 | Page 2 | Page 3 | Page 4 | Page 5 | Page 6 | Page 7 | Page 8 | Page 9 | Page 10 | Page 11