News articles on new species

---
Mongabay.com news articles on new species in blog format. Updated regularly.






Photos: new mammal menagerie uncovered in remote Peruvian cloud forest
(10/03/2012) Every year scientists describe around 18,000 new species, but mammals make up less than half a percent of those. Yet mammal surprises remain: deep in the remote Peruvian Andes, scientists have made an incredible discovery: a rich cloud forest and alpine grassland ecosystem that may be home to no less than eight new mammal species. Although most of these new mammals are currently under study—and have not been officially described yet (a process which can take several years)—lead scientists, Horacio Zeballos of Peru and Gerardo Ceballos of Mexico are certain they have uncovered a small forest, surrounded by deforestation and farmland, that shelters a remarkable menagerie of mammals unknown to scientists until now.
Conflict and perseverance: rehabilitating a forgotten park in the Congo
(09/19/2012) Zebra racing across the yellow-green savannah is an iconic image for Africa, but imagine you're seeing this not in Kenya or South Africa, but in the Democratic Republic of Congo (DRC). Welcome to Upemba National Park: once a jewel in the African wildlife crown, this protected area has been decimated by civil war. Now, a new bold initiative by the Frankfurt Zoological Society (FZS), dubbed Forgotten Parks, is working to rehabilitate Upemba after not only decades of conflict but also poaching, neglect, and severe poverty.
Scientists name new snake species to criticize mine plans in Panama (photos)
(09/18/2012) While scientists increasingly name new species after celebrities in order to gain much-needed attention for the world's vanishing biodiversity, researchers describing a new snake species from Panama have taken a different route. Dubbing the new serpent, Sibon noalamina ('no to the mine!' in Spanish), the scientists are hoping the multicolored snake's unusual name will draw attention to mining and deforestation issues in Panama's remote Tabasará mountains.
Remarkable new monkey discovered in remote Congo rainforest
(09/12/2012) In a massive, wildlife-rich, and largely unexplored rainforest of the Democratic Republic of the Congo (DRC), researchers have made an astounding discovery: a new monkey species, known to locals as the 'lesula'. The new primate, which is described in a paper in the open access PLoS ONE journal, was first noticed by scientist and explorer, John Hart, in 2007. John, along with his wife Terese, run the TL2 project, so named for its aim to create a park within three river systems: the Tshuapa, Lomami and the Lualaba (i.e. TL2), a region home to bonobos, okapi, forest elephants, Congo peacock, as well as the newly-described lesula.
Unidentified poodle moth takes Internet by storm
(08/29/2012) A white moth from Venezuela that bears a striking resemblance to a poodle has become an Internet sensation, after cryptozoologist Karl Shuker posted about the bizarre-looking species on his blog. Photographed in 2009 in Venezulea's Canaima National Park in the Gran Sabana region by zoologist Arthur Anker from Kyrgyzstan, the white, cuddly-looking moth with massive black eyes has yet to be identified and could be a species still unknown to science.
Private reserve safeguards newly discovered frogs in Ecuadorian cloud forest
(08/28/2012) Although it covers only 430 hectares (1,063 acres) of the little-known Chocó forest in Ecuador, the private reserve las Gralarias in Ecuador is home to an incredible explosion of life. Long known as a birder's paradise, the Reserva las Gralarias is now making a name for itself as a hotspot for new and endangered amphibians, as well as hundreds of stunning species of butterfly and moth. This is because the reserve is set in the perfect place for evolution to run wild: cloud forest spanning vast elevational shifts. "The pacific slope cloud forests [...] are among the most endangered habitats in the world," explains Reserva las Gralarias' founder, Jane Lyons, in a recent interview with mongabay.com.
Bizarre new rodent discovered in Indonesia has only 2 teeth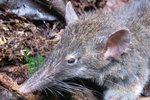 (08/22/2012) The Indonesian island of Sulawesi is a workshop of bizarre evolutionary experiments. Think of the babirusa, pig-like species with tusks that puncture their snouts; or the maleo, a ground-bird that lays its eggs in geothermal heated sand; or the anoa, the world's smallest wild cattle. Now the island, made up of four intersecting peninsulas, can add another bizarre creature to its menagerie of marvels: the Paucidentomys vermidax, a new species of rodent that is different from all others.
New bird discovered in Colombia imperiled by hydroelectric project

(08/19/2012) In a little-known dry forest in Colombia, scientists have discovered a new species of bird: the Antioquia wren (Thryophilus sernai). First seen in 2010, scientists photographed the new wren and recorded its vocalizations, from which they determined that the wren was brand new to science, according to a new paper in Auk.
Velociraptor spider discovered in Oregon cave (pictures)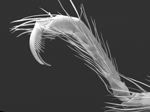 (08/17/2012) Scouring the caves of Southwest Oregon, scientists have made the incredible discovery of a fearsome apex predator with massive, sickle claws. No, it's not the Velociraptor from Jurassic Park: it's a large spider that is so unique scientists were forced to create a new taxonomic family for it. This is the first new spider family to be discovered in North America in over 130 years. 'This is something completely new,' lead author of a paper on the species, Charles Griswold with the California Academy of Sciences, told SFGate. 'It's a historic event.'
Beautiful new bird discovered in Peruvian cloud forest

(08/07/2012) Four years ago in a remote cloud forest in Peru's Cerros del Sira mountain range, three recently graduated students from Cornell University discovered a never-before-recorded species of black, white, and scarlet bird. Now described in the scientific journal, The Auk, the bird has been dubbed the Sira barbet (Capito fitzpatricki).
New Malaysian snail named after late conservation mentor

(07/30/2012) Researchers have discovered a new snail, which is so unusual that it has been granted its own genus: Kenyirus. To date, the mysterious forest snail, found in Malaysia's Kenyir Forest, is only known from its unique shell.
First pictures of newly discovered monkey in China published

(07/27/2012) Researchers have published the first evidence that a recently discovered monkey ranges into China, releasing pictures of the Rhinopithecus strykeri snub-nosed monkey in its natural habitat in Yunnan province. The photos are published in the current issue of the American Journal of Primatology.
New mammal discovered in Indonesia

(07/24/2012) Researchers have discovered a new species of rodent in Indonesia's Mekongga Mountains, reports the Jakarta Post. The new rodent, Christine's Margareta rat (Margaretamys christinae), is only the fourth in the genus Margaretamy, all of which are found on the island of Sulawesi.
'Beautiful' new snake discovered in Cambodia (photo)

(07/16/2012) Scientists have discovered a new snake species in the biodiverse rainforests of the Cardamom Mountains, reports Fauna & Flora International (FFI). The new reddish-hued serpent has been named after its country of origin by native herpetologist Neang Thy: the Cambodian kukri (Oligodon kampucheaensis).
Genetic analysis reveals 79 new species of sharks and rays, many likely endangered

(06/27/2012) Analyzing the DNA sequences of 4,383 specimens of sharks and rays, researchers have discovered 79 potentially new species, raising both the known diversity of this predacious family and concerns that many species are likely more imperiled than thought. Already 32 percent of open ocean sharks and rays are considered threatened with extinction by the IUCN Red List, due largely to overfishing, finning, bycatch, and prey depletion.
New tiny crustacean discovered in deep sea off Europe (photo)

(06/20/2012) Scientists have pulled up a tiny new species of 'squat lobster' from a deep sea mountain at 1,410 meters below sea level off the coast of Spain. Dubbed Uroptychus cartesi, this is only the fourth species in this genus from the eastern Atlantic Ocean, although there are over hundred unique species in the Pacific and Indian ocean. The new species measures just 5-7 centimeters.
New species threatened by mining dubbed the 'Avatar moth'

(06/19/2012) A new species of moth has been named after one of the world's most popular movie blockbusters: Avatar. Discovered on New Zealand's Denniston Plateau during a biodiversity survey by local NGO Forest & Bird this March, the new moth species is imperiled by plans for a coal mine on the plateau. The name—Avatar moth (Arctesthes avatar)—was chosen by its discoverers from a list of almost 100 entries by the public.
Herp paradise preserved in Guatemala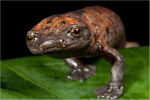 (05/29/2012) Fifteen conservation groups have banded together to save around 2,400 hectares (6,000 acres) of primary rainforest in Guatemala, home to a dozen imperiled amphibians as well as the recently discovered Merendon palm pit viper (Bothriechis thalassinus). The new park, dubbed the Sierra Caral Amphibian Reserve, lies in the Guatemalan mountains on the border with Honduras in a region that has been called the most important conservation area in Guatemala.
Blue tarantula, walking cactus, and a worm from Hell: the top 10 new species of 2011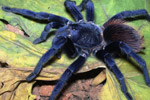 (05/23/2012) A sneezing monkey, a blue tarantula, and an extinct walking cactus are just three of the remarkable new species listed in the annual Top Ten New Species put together by the International Institute for Species Exploration at Arizona State University. This year's list includes a wide-variety of life forms from fungi to flower and invertebrate to primate.
New frog species leaves scientists' fingers yellow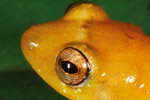 (05/22/2012) A beautiful, yellow frog species has been discovered in western Panama, according to a new paper in ZooKeys. Scientists were surprised when handling the new species to find their fingers stained bright yellow by its skin, but even after laboratory research the purpose of this dye remains a mystery. The new species, named Diasporus citrinobapheus, is a member of the large rain frog family, whose members skip the tadpole stage and instead are born directly from eggs as tiny froglets.
New armored lizard discovered in landmine-riddled region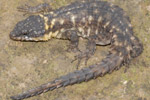 (05/21/2012) A new lizard has been discovered in a war-torn area of the Democratic Republic of the Congo (DRC). According to a paper in the African Journal of Herpetology<, the new species was found hiding under a rock in the high grasslands of the Marungu Plateau, an area known for landmines.
New 'bony-tongue' fish discovered in Myanmar

(05/18/2012) A new species of arowana, a highly valued aquarium fish, has been described from southern Myanmar (Burma). The description is published in last month's issue of the journal Aqua.
New population of Myanmar snub-nosed monkey discovered in China

(05/16/2012) Scientists in China have located a second population of the Myanmar snub-nosed monkey (Rhinopithecus strykeri), a primate that was only first discovered two years ago in Myanmar, also known as Burma. Long Yongcheng, scientist with the Nature Conservancy in China, told the China Daily that his team have discovered 50-100 Myanmar snub-nosed monkeys in the Gaoligong Mountain Natural Reserve near the border with Myanmar in Yunnan Province.
Noel Rowe: all the world's primates "in one place"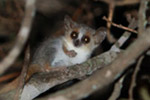 (05/14/2012) Spanning the gamut from mouse lemurs to mountain gorillas, All The World's Primates is a comprehensive database of primate species. Founded in 2004 by Noel Rowe and Marc Myers and designed primarily to aid scientists and college students in primatology research, ATWP is also readily accessible to anyone who would like to know a little more about primates. The database is continually updated when new species are discovered; from its inception in 2004 until 2010, 58 new species had been added to the site. In addition to discoveries made by primatologists in the field, All The World's Primates compiles information from the latest genetic studies. The site also includes photos and videos of many species, and was recently expanded to include a visual key for identification.
Skink biodiversity jumps 650 percent in the Caribbean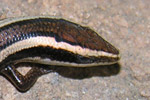 (04/30/2012) In a single paper in Zootaxa scientists have rewritten the current understanding of lizard biodiversity in the Caribbean. By going over museum specimens of skinks, scientists have discovered 24 new species and re-established nine species previously described species, long-thought invalid. The single paper has increased the number of skinks in the Caribbean by 650 percent, from six recognized species to 39. Unfortunately, half of these new species may already be extinct and all of them are likely imperiled.
New reptile discovered in world's strangest archipelago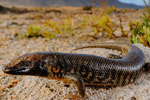 (04/25/2012) Few people have ever heard of the Socotra Archipelago even though, biologically-speaking, it is among the world's most wondrous set of islands. Over one third of Socotra's plants are found no-where else on Earth, i.e. endemic, while 90 percent of its reptiles are also endemic. Adding to its list of unique life-forms, researchers have recently uncovered a new skink species that is found only on the island of Abd al Kuri, which is slightly smaller than New York City's Staten Island. Dubbed the "the other Galapagos," the four Socotra islands are under the jurisdiction of Yemen, although geographically speaking the islands are actually closer to Somalia.
Eye-popping purple crabs discovered in the Philippines

(04/23/2012) Scientists have discovered four new species of brilliantly-colored freshwater crabs on the Philippine island of Palawan. Described in the Raffles Bulletin of Zoology, the new species expands the genus, Insulamon, from one known crab species to five. Although its ecosystems are threatened by widespread mining and deforestation, the Philippines is a mega-diverse country, meaning that it belongs to a select group of 17 countries that contain the bulk of the world's species.
Mad frog bonanza: up to 36 new frogs discovered in tiny Madagascar forest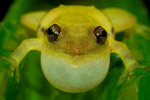 (04/19/2012) A forest less than half the size of Manhattan sports an astounding number of frogs, according to a new paper in Biodiversity Conservation. Two surveys of Madagascar's Betampona Nature Reserve, which covers 2,228 hectares, has uncovered 76 unique frogs, 36 of which may be new to science. To put this in perspective: the U.S. and Canada combined contain just 88 frog species, but cover an area nearly a million times larger than Betampona.
Two new frogs discovered in Philippines spur calls for more conservation efforts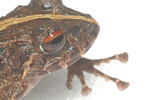 (04/19/2012) Two new frogs have been discovered on the Philippine island of Leyte during a biological survey last year by Fauna and Flora International, which also recorded a wealth of other species. Discovered in November on the island's Nacolod mountain range, the frogs have yet to be named. The Philippines is one of the world's global biodiversity hotspots, yet suffers from widespread deforestation and degradation.
Photos: the aye-aye of frogs rediscovered after 62 years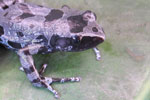 (03/27/2012) A pair of researchers have rediscovered a long-lost frog in the tiny African country of Burundi. Known as the Bururi long-fingered frog (Cardioglossa cyaneospila), the species hadn't been seen for over 60 years—since the Soviet Union tested its first nuclear weapon in 1949—but was rediscovered in Bururi Forest Reserve.
Beyond Bigfoot: the science of cryptozoology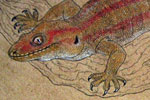 (03/26/2012) Anyone who doubts cryptozoology, which in Greek means the "study of hidden animals," should remember the many lessons of the past 110 years: the mountain gorilla (discovered in 1902), the colossal squid (discovered in 1925, but a full specimen not caught until 1981), and the saola (discovered in 1992) to name a few. Every year, almost 20,000 new species are described by the world's scientists, and a new book by Dr. Karl Shuker, The Encycloapedia of New and Rediscovered Animals, highlights some of the most incredible and notable new animals uncovered during the past century.
Featured Video: new family of legless amphibians discovered

(03/07/2012) Researchers exploring northeast India have discovered a new family of legless amphibians, known as caecilians. Although caecilians superficially resemble giant earthworms, they are in fact vertebrates and are most closely related to their amphibian kin, frogs and salamanders.
Scientists discover deadly new sea snake

(02/24/2012) Scientists in Australia have discovered a species of sea snake in estuaries of the Gulf of Carpenteria in northern Australia. The snake is described in the current issue of Zootaxa.
Scientists discover world's deepest terrestrial animal

(02/22/2012) It's not the prehistoric monsters from the Jules Verne's Journey to the Center of the Earth or the human-bat hybrids of The Decsent, but it's an astonishing discovery nonetheless: intrepid scientists have discovered the world's deepest surviving terrestrial animal to date, a small wingless insect known as a springtail. Explorers discovered the new species, Plutomurus ortobalaganensis at a shocking 1.23 miles (1.98 kilometers) below the surface. The species was discovered by the Ibero-Russian CaveX Team Expedition in Krubera-Voronja Cave, the world's only known cave to go deeper than 2 kilometers.
Photo: World's smallest chameleon discovered in Madagascar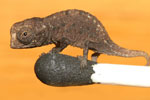 (02/15/2012) Scientists have discovered four new species of super-tiny chameleons in Madagascar, according to a new paper in PLoS ONE. The smallest of the new species, Brookesia micra, is found only on the small island of Nosy Hara and has been dubbed the smallest chameleon in the world, measuring from nose to tail 29 millimeters (1.14 inches) at its largest. Scientists believe it represents a notable example of island dwarfism.
The camera trap revolution: how a simple device is shaping research and conservation worldwide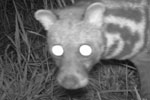 (02/14/2012) I must confess to a recent addiction: camera trap photos. When the Smithsonian released 202,000 camera trap photos to the public online, I couldn't help but spend hours transfixed by the private world of animals. There was the golden snub-monkey (Rhinopithecus roxellana), with its unmistakably blue face staring straight at you, captured on a trail in the mountains of China. Or a southern tamandua (Tamandua tetradactyla), a tree anteater that resembles a living Muppet, poking its nose in the leaf litter as sunlight plays on its head in the Peruvian Amazon. Or the dim body of a spotted hyena (Crocuta crocuta) led by jewel-like eyes in the Tanzanian night. Or the less exotic red fox (Vulpes vulpes) which admittedly appears much more exotic when shot in China in the midst of a snowstorm. Even the giant panda (Ailuropoda melanoleuca), an animal I too often connect with cartoons and stuffed animals, looks wholly real and wild when captured by camera trap: no longer a symbol or even a pudgy bear at the zoo, but a true animal with its own inner, mysterious life.
Photo: new blue, red, yellow lizard discovered in the Andes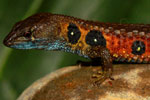 (02/13/2012) Researchers have discovered a new species of lizard in the Peruvian Andes, whose males sport beautiful colors, according to a paper in ZooKeys. The highest-dwelling known species of the genus Potamites, the new lizard, dubbed Potamites montanicola, was found in forest streams at 1,500 to 2,000 meters (4,900 to 6,500 feet). The species was discovered as a part of a biodiversity monitoring program by COGA, a Peruvian fossil fuel company.
Vampire and bird frogs: discovering new amphibians in Southeast Asia's threatened forests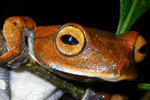 (02/06/2012) In 2009 researchers discovered 19,232 species new to science, most of these were plants and insects, but 148 were amphibians. Even as amphibians face unprecedented challenges—habitat loss, pollution, overharvesting, climate change, and a lethal disease called chytridiomycosis that has pushed a number of species to extinction—new amphibians are still being uncovered at surprising rates. One of the major hotspots for finding new amphibians is the dwindling tropical forests of Southeast Asia.
Photos: 46 new species found in little-explored Amazonian nation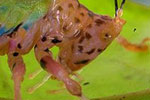 (01/25/2012) South America's tiniest independent nation still hides a number of big surprises: a three week survey to the sourthern rainforests of Suriname found 46 potentially new species and recorded nearly 1,300 species in all. Undertaken by Conservation International's (CI) Rapid Assessment Program (RAP) the survey found new species of freshwater fish, insects, and a new frog dubbed the "cowboy frog" for the spur on its heel. While Suriname may be small, much of its forest, in the Guyana Shield region of the Amazon, remains intact and pristine. The Food and Agriculture Organization (FAO) estimates that 91 percent of Suriname is covered in primary forests, however this data has not been updated in over two decades.
Scientists discover over 19,000 new species in 2009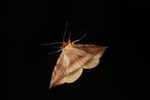 (01/19/2012) In 2009 researchers described and named 19,232 species new to science, pushing the number of known species on Earth to just under two million (1,941,939 species), according to the State of Observed Species (SOS). Discoveries included seven new birds, 41 mammals, 120 reptiles, 148 amphibians, 314 fish, 626 crustaceans, and 9,738 insects.




Page 1 | Page 2 | Page 3 | Page 4 | Page 5 | Page 6 | Page 7 | Page 8 | Page 9 | Page 10