News articles on new species

---
Mongabay.com news articles on new species in blog format. Updated regularly.






New species has its anus behind its head
(06/09/2014) In the dark caves of southern Indiana in the United States, scientists have discovered a new species of cavefish that are blind, pinkish, and have their anus behind their heads. This peculiar new cavefish is the first to be described in North America in 40 years, and researchers have named it Amblyopsis hoosieri or Hoosier cavefish.
Newly discovered snails at risk of extinction
(06/03/2014) A team of Dutch and Malaysian scientists has recently completed one part of a taxonomic revision of Plectostoma, a genus of tiny land snails in Southeast Asia. Unfortunately, according to their article published recently in ZooKeys, it seems that these animals may be going extinct as fast as they are being discovered.
Olinguito, tinkerbell, and a dragon: meet the top 10 new species of 2013
(05/22/2014) Out of around 18,000 new species described and named last year, scientists have highlighted ten in an effort to raise awareness about the imperiled biodiversity around us. Each species—from a teddy-bear-like carnivore in the Andes to a microbe that survives clean rooms where spaceships are built—stands out from the crowd for one reason or another.
Dancing frogs: scientists discover 14 new species in India (PHOTOS, VIDEO)
(05/16/2014) Scientists have discovered 14 new species of frogs in the mountainous tropical forests of India's Western Ghats, all of which are described in a recent study published in the Ceylon Journal of Science. The new species are all from a single genus, and are collectively referred to as "dancing frogs" due to the unusual courtship behavior of the males.
Scientists uncover new marine mammal genus, represented by single endangered species
(05/14/2014) This is the story of three seals: the Caribbean, the Hawaiian, and the Mediterranean monk seals. Once numbering in the hundreds of thousands, the Caribbean monk seal was a hugely abundant marine mammal found across the Caribbean, and even recorded by Christopher Columbus during his second voyage, whose men killed several for food.
The Harry Potter wasp: public votes to name new species after soul-sucking ghouls
(05/05/2014) Whether a die-hard Harry Potter fan or not, you probably know what dementors are. They were the guards of Azkaban —dark hooded evil beings that sucked the soul out of their victims, leaving them alive but 'empty-shelled.' These fictional creatures now share their name with a new species of cockroach wasp, insects that turn cockroaches into zombies.
Will they hold on? Three new gecko species found in threatened habitat
(05/02/2014) Malaysia is set to lose ancient limestone formations to quarrying despite the discovery of new species of geckos in the area. The species are described in three studies recently published in the journal Zootaxa. One of the discoveries, Cyrtodactylus metropolis, is the first endemic vertebrate species discovered in the Batu Caves area.
Fish-terrorizing, prehistoric-looking turtle actually three species
(04/30/2014) So, you're a fish swimming in a river in Louisiana. Hungry, you see a little worm wiggling out from the river bed. You swoop in for the ambush only to have that little worm turn into the gaping maw of some prehistoric-looking monster out of fishy nightmares. You've been duped: it's too late to escape as the beast's jagged jaws close over you. Meet the alligator snapping turtle...or one of several species.
Loggers plan to clear 20 percent of tropical island paradise
(04/28/2014) Seven years ago, a palm oil company set its eyes on Woodlark Island—a small rainforest island nearly 200 miles off the coast of Papua New Guinea—but was rebuked by the local populace. But locals and conservationists who spoke to mongabay.com at the time felt that wouldn't be the end of it: they were right. Recently, a company, Karridale Limited, has landed machinery on the island.
Game of thorns: colorful, spiky tree frog discovered in Vietnam
(04/25/2014) Evening fog settled quickly on Mount Ngoc Linh, as the steady drone of cicadas and crickets took up their usual nighttime chorus. The night calm was broken by sudden crashing through the thick bamboo stands and excited voices. High in this isolated cloud forest in central Vietnam, researchers had come upon the first thorny tree frog known to science.
New relative of the 'penis snake' discovered in Myanmar
(04/17/2014) Scientists have discovered a new species of limbless amphibians, known as caecilians, in Myanmar. Dubbing the species, the colorful ichthyophis (Ichthyophis multicolor), the researchers describe the new amphibian in a recent paper published in Zootaxa. The world's most famous caecilian is the so-called penis snake (Atretochoana eiselti) which was rediscovered in Brazil in 2011.
Weird and mysterious: scientists find new shark species
(04/16/2014) A long snout with teeth jutting from the sides? Check. Catfish-like barbels dangling from its chin? Got them. Gills on the side of its body? It has those, too. These are characteristics of a bizarre group of sharks known as sawsharks. And until recently, only seven species were recognized. However, a new discovery raises that number by one more.
Scientist discovers a plethora of new praying mantises (pictures)
(03/19/2014) Despite their pacific name, praying mantises are ferocious top predators with powerful, grasping forelimbs; spiked legs; and mechanistic jaws. In fact, imagine a tiger that can rotate its head 180 degrees or a great white that blends into the waves and you'll have a sense of why praying mantises have developed a reputation. Yet, many praying mantis species remain little known to scientists, according to a new paper in ZooKeys that identifies an astounding 19 new species from the tropical forests of Central and South America.
Several Amazonian tree frog species discovered, where only two existed before
(03/18/2014) We have always been intrigued by the Amazon rainforest with its abundant species richness and untraversed expanses. Despite our extended study of its wildlife, new species such as the olinguito (Bassaricyon neblina), a bear-like carnivore hiding out in the Ecuadorian rainforest, are being identified as recently as last year. In fact, the advent of efficient DNA sequencing and genomic analysis has revolutionized how we think about species diversity. Today, scientists can examine known diversity in a different way, revealing multiple 'cryptic' species that have evaded discovery by being mistakenly classified as a single species based on external appearance alone.
Scientists uncover new species of Andean marsupial frog
(03/05/2014) The term marsupial frog sound like a hoax, but, believe it or not, it's real. Recently, herpetologists welcomed a new species, known as Gastrotheca dysprosita and described in the journal Phyllomedusa. Unlike mammal marsupials, which typically carry their young in pouches on their torsos and are found primarily in Australia, the Gastrotheca genus of frogs, which contains 62 species, is found in the Andes region on South America and sport their pouches on their backs (also called a "dorsal brood pouch").
Two new wasp species found hidden in museum collections
(02/24/2014) Scientists have identified two new wasp species, years after the specimens were first collected from the wild. The two new species, Abernessia prima and Abernessia capixaba, belong to the rare pompilid genus Abernessia, and are believed to be endemic to Brazil. They made the discovery while examining spider wasp collections from museums in Brazil and Denmark, and published their findings in the journal ZooKeys.
Scientists discover new gecko hanging-on in single forest fragment
(02/17/2014) Scientists have identified a new species of day gecko that is the largest in its genus (Cnemaspis) to be found in Sri Lanka. To date, it has been observed only within the Rammalakanda Reserve in southern Sri Lanka, an area spanning just 1,700 hectares, raising questions about the viability of this population and hence the species' long-term prospects.
Scientists discover new whale species
(02/14/2014) Beaked whales are incredibly elusive and rare, little-known to scientists and the public alike—although some species are three times the size of an elephant. Extreme divers, beaked whales have been recorded plunging as deep as 1,800 meters (5,900 feet) for over an hour. Few of the over 20 species are well-known by researchers, but now scientists have discovered a new beaked whale to add to the already large, and cryptic, group: the pointed beaked whale (Mesoplodon hotaula).
Scientists discover new eagle ray imperiled by Japanese pest program (photos)
(01/30/2014) Scientists have described a new species of eagle ray in the northwest Pacific Ocean, which they have named "narutobiei" (Aetobatus narutobiei) after its local name in Japan. While the new species has long been known by scientists, it was clumped together with the longheaded eagle ray (Aetobatus flagellum) for over two hundred years. Splitting the two species has large-scale conservation impacts, according to the paper describing the new species in PLOS ONE.
Amazing discovery in Antarctica: sea anemones found living upside down under ice (photos)
(01/27/2014) Sea anemones are supposed to sit on the bottom of the ocean, using their basal disc (or adhesive foot) to rest on a coral reef orsand. So, imagine the surprise of geologists in Antarctica when they discovered a mass of sea anemones hanging upside from the underside of the Ross Ice Shelf like a village of wispy ghosts. The researchers weren't even there to discover new life, but to learn about south pole currents through the Antarctic Geological Drilling (ANDRILL) Program via a remotely-operated undersea robot.
New dolphin discovered in the Amazon surprises scientists
(01/23/2014) Researchers have discovered a new species of river dolphin from the Amazon. Writing in the journal Plos One, scientists led by Tomas Hrbek of Brazil's Federal University of Amazonas formally describe Inia araguaiaensis, a freshwater dolphin that inhabits the Araguaia River Basin. It is the first true river dolphin discovered since 1918.
New frog species discovered on tallest mountain in Indochina
(01/22/2014) A team of Australian and Vietnamese researchers recently discovered a new species of frog in the high elevations of Vietnam's Mount Fansipan, according to a new paper in Zootaxa. The amphibian was named Botsford's leaf-litter frog (Leptolalax botsfordi) as a tribute to Christopher Botsford for his role in amphibian biodiversity research in Asia.
One lizard, four species: the collared treerunner
(01/21/2014) Now, that's a horse of a different color. Or, in this case, a lizard of another species--four species. Recent research suggests that the collared treerunner (Plica plica), previously thought of as one widespread species, is actually four distinct species inhabiting diverse geographical areas east of the Andes in northern South America.
Spectacular new beetle discovered in French Guiana
(01/21/2014) The discovery of a new, bi-colored beetle species in the lowland rainforest of French Guiana just added a little pizzazz to the ranks of the Pseudomorphini tribe of beetles. With wing cases (elytra) that sport black spots against a rusty red background, the newcomer was dubbed Guyanemorpha spectabilis, or the spectacular Guyane false-form beetle, by entomologist Terry Erwin in the journal ZooKeys.
Scientists uncover new crocodile in Africa
(01/07/2014) Scientists working in Africa have uncovered a new crocodile species hiding in plain site, according to a paper published in the Proceedings of the Royal Society B. Looking at the molecular data of the slender-snouted crocodile, the researchers discovered two distinct species: one in West Africa and another in Central Africa. Although mostly lumped together as one species (Mecistops cataphractus) for over a hundred and fifty years, the scientists found that the two species have actually been split for at least seven million years, well before the evolution of hominins.
Rainforest news review for 2013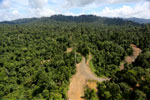 (12/26/2013) 2013 was full of major developments in efforts to understand and protect the world's tropical rainforests. The following is a review of some of the major tropical forest-related news stories for the year. As a review, this post will not cover everything that transpired during 2013 in the world of tropical forests. Please feel free to highlight anything this post missed via the comments section at the bottom. Also please note that this review focuses only on tropical forests.
Biggest new animal discoveries of 2013 (photos)
(12/23/2013) Thousands of species were scientifically described for the first time in 2013. Many of these were 'cryptic species' that were identified after genetic analysis distinguished them from closely-related species, while others were totally novel. Below are some of the most interesting "new species" discoveries that took place or were formally announced in 2013.
Scientists discover a new coral in the French Polynesia
(12/20/2013) With humans scattered throughout the globe, it is hard to imagine lands still unexplored or species undocumented. Yet, on the remote French Polynesian Gambier Islands a new coral reef species has been found thriving in underwater lagoons. Echinophyllia tarae was discovered by marine biologist Francesca Benzoni and the research crew members of the Tara Oceans International Research Expedition.
New marsupial discovered in Ecuador
(12/20/2013) Researchers working in Ecuador have identified a previously unknown species of shrew-opossum, according to a study recently published in the Journal of Mammalogy. Contrary to its mousey appearance, Caenolestes sangay, named after the national park where it was discovered, is actually a marsupial. The team from Pacific Lutheran University set up more than 100 live traps over 15 nights on the eastern slopes of Andes. In the course of their research they recovered five specimens of the new species, each measuring approximately 10 centimeters (3.9 inches) long.
Top 10 HAPPY environmental stories of 2013
(12/19/2013) China begins to tackle pollution, carbon emissions: As China's environmental crisis worsens, the government has begun to unveil a series of new initiatives to curb record pollution and cut greenhouse emissions. The world's largest consumer of coal, China's growth in emissions is finally slowing and some experts believe the nation's emissions could peak within the decade. If China's emissions begin to fall, so too could the world's.
Scientists make one of the biggest animal discoveries of the century: a new tapir
(12/16/2013) In what will likely be considered one of the biggest (literally) zoological discoveries of the Twenty-First Century, scientists today announced they have discovered a new species of tapir in Brazil and Colombia. The new mammal, hidden from science but known to local indigenous tribes, is actually one of the biggest animals on the continent, although it's still the smallest living tapir. Described in the Journal of Mammology, the scientists have named the new tapir Tapirus kabomani after the name for 'tapir' in the local Paumari language: Arabo kabomani.
New mountain porcupine discovered in Brazil (photos)
(12/09/2013) In Brazil's Baturite Mountains, scientists have uncovered a new species of prehensile-tailed porcupine, according to a new paper in Revista Nordestina de Biologia. Dubbed, the Baturite porcupine (Coendou baturitensis), the new species was discovered when scientists noticed significant differences between it and its closest relative, the Brazilian porcupine (Coendou prehensilis). The name prehensile-tailed refers to these porcupines long, mobile tail which they use as a fifth limb to adroitly climb trees.
Sky islands: exploring East Africa's last frontier
(12/04/2013) The montane rainforests of East Africa are little-known to the global public. The Amazon and Congo loom much larger in our minds, while the savannas of East Africa remain the iconic ecosystems for the region. However these ancient, biodiverse forests—sitting on the tops of mountains rising from the African savanna—are home to some remarkable species, many found only in a single forest. A team of international scientists—Michele Menegon, Fabio Pupin, and Simon Loader—have made it their mission to document the little-known reptiles and amphibians in these so-called sky islands, many of which are highly imperiled.
Scientists discover new cat species roaming Brazil
(11/27/2013) As a family, cats are some of the most well-studied animals on Earth, but that doesn't mean these adept carnivores don't continue to surprise us. Scientists have announced today the stunning discovery of a new species of cat, long-confused with another. Looking at the molecular data of small cats in Brazil, researchers found that the tigrina—also known as the oncilla in Central America—is actually two separate species. The new species has been dubbed Leopardus guttulus and is found in the Atlantic Forest of southern Brazil, while the other Leopardus tigrinus is found in the cerrado and Caatinga ecosystems in northeastern Brazil.
Canopy crusade: world's highest network of camera traps keeps an eye on animals impacted by gas project
(11/21/2013) Oil, gas, timber, gold: the Amazon rainforest is rich in resources, and their exploitation is booming. As resource extraction increases, so does the development of access roads and pipelines. These carve their way through previously intact forest, thereby interrupting the myriad pathways of the species that live there. For species that depend on the rainforest canopy, this can be particularly problematic.
New bat species discovered in Brazil leaves another at risk
(11/15/2013) A team of researchers has discovered a new species of bat in Brazil, which has put a previously known species, Bokermann's nectar bat (Lonchophylla bokermanni), at risk of extinction. Long thought to comprise one species, the bat populations of the Atlantic Forest and the Cerrado – the tropical savannah of Brazil's interior - are in fact distinct from one another, according to a new study in Zootaxa. Scientists now say the Atlantic Forest's population represents a newly described species, which they have dubbed Peracchi's nectar bat (Lonchophylla peracchii).
Newly discovered beetles construct private homes out of leaf holes and feces
(11/12/2013) Scientists have discovered two new species of leaf beetles in southern India that display a novel way of using leaf holes and their fecal pellets to build shelters – a nesting behavior previously not known among leaf beetles. Discovered in the forests of the Western Ghats in the states of Karnataka and Kerala, the scientists have named these pin-head sized leaf beetles Orthaltica syzygium and Orthaltica terminalia, after the plants they feed on: Syzygium species (e.g., the Java plum) and Terminalia species (e.g., the flowering murdah).
Five new, cryptic bats discovered in Senegal
(11/11/2013) An international research team led by Daurina Koubinova has discovered five new species of vesper bats during a series of expeditions to Senegal's Niokolo-Koba National Park. The new species are considered cryptic, because their genetic makeup is different despite physical similarities. The new bats have yet to be named.
DNA tests reveal new dolphin species (photos)
(10/30/2013) With the help of DNA tests, scientists have declared a new dolphin species that dwells off the coast of northern Australia. The discovery was made after a team of researchers looked at the world's humpback dolphins (in the genus Sousa), which sport telltale humps just behind their dorsal fins. While long-known to science, the new, as-yet-unnamed species was previously lumped with other humpback dolphins in the Indo-Pacific region.
New species of beetle discovered in megacity
(10/30/2013) When imagining the discovery of a new species, most people conjure thoughts of intrepid explorers, battling the odds in remote rainforests. But this needn't be the case, at least according to a new study published in Zookeys. The study reports the discovery of a new species of water beetle in the heart of the 10th largest megacity in the world: Manila, Philippines.
'Lost' bird rediscovered in New Caledonia along with 16 potentially new species (photos)
(10/29/2013) In early 2011, Conservation International (CI) dubbed the forests of New Caledonia the second-most imperiled in the world after those on mainland Southeast Asia. Today, CI has released the results of a biodiversity survey under the group's Rapid Assessment Program (RAP) to New Caledonia's tallest mountain, Mount Panié. During the survey researchers rediscovered the 'lost' crow honeyeater and possibly sixteen new or recently-described species. Over 20 percent larger than Connecticut, New Caledonia is a French island east of Australia in the Pacific Ocean.
Scientist splits Amazonian giants into separate species

(10/23/2013) It's hard to mistake an arapaima for anything else: these massive, heavily-armored, air-breathing fish (they have to surface every few minutes) are the megafauna of the Amazon's rivers. But despite their unmistakability, and the fact that they have been hunted by indigenous people for millennia, scientists still know relatively little about arapaima, including just how many species there are. Since the mid-Nineteenth Century, scientists have lumped all arapaima into one species: Arapaima gigas. However, two recent studies in Copeia split the arapaimas into at least five total species—and more may be coming.
Yeti may be undescribed bear species
(10/20/2013) The purported Yeti, an ape-like creature that walks upright and roams the remote Himalayas, may in fact be an ancient polar bear species, according to new DNA research by Bryan Sykes with Oxford University. Sykes subjected two hairs from what locals say belonged to the elusive Yeti only to discover that the genetics matched a polar bear jawbone found in Svalbard, Norway dating from around 120,000 (though as recent as 40,000 years ago).




Page 1 | Page 2 | Page 3 | Page 4 | Page 5 | Page 6 | Page 7 | Page 8 | Page 9 | Page 10 | Page 11