News articles on new guinea

---
Mongabay.com news articles on new guinea in blog format. Updated regularly.





World's rarest tree kangaroo gets help from those who once hunted it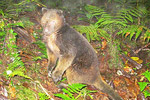 (08/17/2009) The world's rarest tree kangaroo is in the midst of a comeback in a remote part of Papua New Guinea. On the brink of extinction in 2001 with a population estimated at fewer than 100 individuals, Scott's Tree Kangaroo (Dendrolagus scottae), or the tenkile, is recovering, thanks to the efforts of the Tenkile Conservation Alliance to motivate local communities to reduce hunting and respect critical forest habitat. The tenkile Conservation Alliance, led by Australians Jim and Jean Thomas, works to provide alternative sources of protein and raise environmental awareness among local communities.


Palm oil companies trade plantation concessions for carbon credits from forest conservation

(07/22/2009) Indonesian palm oil producers are eying forest conservation projects as a way to supplement earnings via the nascent carbon market, reports Reuters.


Credit Suisse, UBS, BNP Paribas to help finance cutting of rainforests for palm oil, say NGOs

(07/09/2009) Swiss banks, Credit Suisse and UBS, together with the French BNP Paribas, are helping Singapore-listed Golden Agri-Resources raise up to 280 million Swiss francs ($258 million) to finance conversion of large areas of rainforest in New Guinea and Borneo for oil palm plantations, reports the Bruno Manser Fund (BMF), a group that campaigns on behalf of forest people in Southeast Asia.


Photos: Undocumented species discovered in Papua New Guinea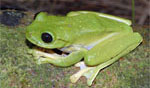 (03/25/2009) Colorful jumping spiders, a tiny frog with a "ringing song" and a striped gecko are among more than 50 previously unknown species discovered during a recent survey in the remote highlands of Papua New Guinea. More than 600 species were documented during the 2008 expedition, which was led by Conservation International (CI) under its Rapid Assessment Program (RAP).


DR Congo, Indonesia, PNG, Tanzania, Vietnam win REDD funding for forest conservation

(03/20/2009) The United Nation's REDD Program has approved $18 million in support of forest conservation projects in five pilot countries: Democratic Republic of Congo, Indonesia, Papua New Guinea, Tanzania, and Viet Nam.


Papua New Guinea creates first nature reserve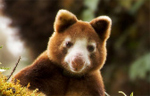 (03/03/2009) Home to numerous endemic species and some of the Asia's last intact tropical forests, Papua New Guinea has created its first national conservation area. Unique in structure, the park is owned by 35 surrounding indigenous villages which have agreed unanimously to prohibit hunting, logging, mining, and other development within the park. The villages have also created a community organization that will oversee management of the park. The 10,000 villagers found partners in Wooland Park Zoo in Seattle, Conservation International, and National Geographic. The conservation organizations spent twelve years working with locals and the Papua New Guinea government to establish the YUS Conservation Area.


24% of Papua New Guinea's rainforest destroyed or degraded by logging in 30 years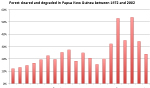 (02/23/2009) Nearly one quarter of Papua New Guinea's rainforests were damaged or destroyed between 1972 and 2002, report researchers writing in the journal Biotopica. The results, which were published in a report last June, show that Papua New Guinea is losing forests at a much faster rate than previously believed. Over the 30-year study period 15 percent of Papua New Guinea's tropical forests were cleared and 8.8 percent were degraded through logging.


New fire record for Borneo, Sumatra shows dramatic increase in rainforest destruction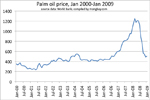 (02/22/2009) Destruction of rainforests and peatlands is making Indonesia more susceptible to devastating forest fires, especially in dry el Niño years, report researchers writing in the journal Nature Geoscience. Constructing a record of fires dating back to 1960 for Sumatra and Kalimantan (on the island of Borneo) using airport visibility records to measure aerosols or "haze" prior to the availability of satellite data, Robert Field of the University of Toronto and colleagues found that the intensity and scale of fires has increased substantially in Indonesia since the early 1990s, coinciding with rapid expansion of oil palm plantations and industrial logging.


Indonesian ecolabeling initiative providing cover for rainforest destruction

(02/10/2009) The Indonesian Ecolabel Institute is facilitating rainforest destruction by issuing "sustainable forest management certificates" to companies that convert natural and peatlands into industrial timber estates, allege national environmental groups.


Drought and deforestation in southeast Asia linked to climate change

(12/09/2008) Researchers have linked drought and deforestation in southeast Asia to climate change. Analyzing six years of climate and fire data from satellites, Guido van der Werf and colleagues report that burning of rainforests and peatlands in Indonesia, Malaysia, and Papua New Guinea released an average of 128 million tons of carbon (470 million tons of carbon dioxide - CO2) per year between 2000 and 2006. Fire emissions showed highly variability during the period, but were greatest in dry years, such as those that occur during El Niño events. Borneo was the largest source of fire emissions during the period, averaging 74 million tons per year, followed by Sumatra, which showed a doubling in emissions between 2000 and 2006.


California joins effort to fight global warming by saving rainforests

(11/19/2008) California has joined the battle to fight global warming through rainforest conservation. In an agreement signed yesterday at a climate change conference in Beverly Hills, California, Governor Arnold Schwarzenegger pledged financial assistance and technical support to help reduce deforestation in Brazil and Indonesia. The Memorandum of Understanding commits the California, Illinois and Wisconsin to work with the governors of six states and provinces within Indonesia and Brazil to help slow and stop tropical deforestation, a source of roughly 20 percent of global greenhouse gas emissions.


Oil palm expansion in Indonesian Borneo increased 400-fold from 1991-2007

(10/30/2008) Annual forest conversion to palm oil plantations increased 400-fold from 1,163 hectares in 1991 to 461,992 hectares in 2007 in Central Kalimantan, on the island of Borneo, reports a new report published by Forest Watch Indonesia, a local NGO.


Malaysian oil palm firms eye Papua for expansion

(09/26/2008) Malaysian palm oil firms are looking to aggressively expand operations in Papua, the Indonesian part of New Guinea, reports Bernama.


Markets could save rainforests: an interview with Andrew Mitchell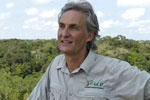 (08/17/2008) Markets may soon value rainforests as living entities rather than for just the commodities produced when they are cut down, said a tropical forest researcher speaking in June at a conservation biology conference in the South American country of Suriname. Andrew Mitchell, founder and director of the London-based Global Canopy Program (GCP), said he is encouraged by signs that investors are beginning to look at the value of services afforded by healthy forests.


"Turtle carbon" could help protect rainforests and save endangered sea turtles

(08/12/2008) Using carbon credits to promote rainforest conservation could help protect endangered sea turtles in some parts of the world, argues a carbon finance expert.


Loggers, palm oil firms eye remote rainforests of Papua for development

(07/25/2008) Commodity producers are eyeing one of the world's last relatively untouched tracts of rainforest for development, reports the Wall Street Journal.


Papua New Guinea's rainforests disappearing faster than thought

(06/02/2008) Logging is taking a heavy toll on the forests of Papua New Guinea, suggests a new study. Using satellite images to reveal changes in forest cover between 1972 and 2002, researchers from the University of Papua New Guinea and the Australian National University found that Papua New Guinea (PNG) lost more than 5 million hectares of forest over the past three decades — total forest cover declined from 38 million hectares in 1972 to 33 million hectares in 2002. Worse, deforestation rates may be accelerating, with the pace of forest clearing reaching 362,000 hectares (895,000 acres) per year in 2001. The study warns that at current rates 53 percent of the country's forests could be lost or seriously degraded by 2021.


Al Gore's investment firm bets that rainforest conservation will be profitable

(05/14/2008) Al Gore's investment firm has signaled an interest in the emerging market for ecosystem services by taking an equity position in an innovative Australian financial company.


Papua signs REDD carbon deal to generate income from rainforest protection

(05/14/2008) The government of the Indonesian province of Papua has entered into an agreement with an Australian financial firm to establish a forestry-based carbon finance project on the island of New Guinea.


Papua New Guinea to ban log exports by 2010

(03/17/2008) Papua New Guinea (PNG) will phase out log exports by 2010 said Forest Minister Belden Namah last month. The move comes as the country seeks to gain greater control over illegal logging and promote expansion of oil palm cultivation.


New rule grants rainforest to mining firms in Indonesia for $80/acre

(03/10/2008) A new Indonesian rule will grant concessions to mining companies operating in rainforests for as little as $200 per hectare ($80/acre) according to Mining Advocacy Network, a conservation group.


How activists and scientists saved a rainforest island from destruction for palm oil

(02/12/2008) In mid-January, Mongabay learned that the government of Papua New Guinea had changed its mind: it would no longer allow Vitroplant Ltd. to deforest 70% of Woodlark Island for palm oil plantations. This change came about after one hundred Woodlark Islanders (out of a population of 6,000) traveled to Alotau, the capital of Milne Bay Province, to deliver a protest letter to the local government; after several articles in Mongabay and Pacific Magazine highlighted the plight of the island; after Eco-Internet held a campaign in which approximately three thousand individuals worldwide sent nearly 50,000 letters to local officials; and after an article appeared in the London Telegraph stating that due to deforestation on New Britain Island and planned deforestation on Woodlark Island, Papua New Guinea had gone from being an eco-hero to an 'eco-zero'.


Papua New Guinea's Environment Minister says foreign firms attempted to bribe him

(02/04/2008) The Environment and conservation minister of Papua New Guinea, Benny Allen, has stated that three different foreign firms attempted to bribe him.


Photos: Two unknown mammal species discovered in "lost world"

(12/16/2007) Two mammal species -- a tiny possum and a giant rat — discovered on a recent expedition to Indonesia's remote Foja Mountains in New Guinea are likely new to science, report researchers from conservation International (CI) and Indonesia Institute of Science (LIPI). The area won international fame after a December 2005 survey turned up dozens of new species and gave urgency to conservation efforts in a region where logging and forest clearing for agriculture are a serious concern.


70% of rainforest island to be cleared for palm oil

(12/13/2007) Mongabay.com received information this week that the Malaysian company Vitroplant has been granted the permit it needs to begin developing 70% of Woodlark Island into palm oil plantations. In an e-mail received by one of the opposition leaders to Vitroplant, Dr. Simon Piyuwes said that "the government granted the permit to the oil palm company despite a widespread campaign and pressure from NGOs". In an earlier article Dr. Piyuwes stated that "we [the islanders] do not have money to fight the giant. We only hope for the support from the NGOs, and the mercy of the government to withdraw the project." It seems the government has refused Dr. Piyuwes what he hoped for.


Carbon credits for forest conservation concept faces challenges

(11/27/2007) While environmentalists, scientists, development exports, and policymakers across the political spectrum are ethusiastic about the idea of offsetting carbon emissions by preventing deforestation (a concept known as "avoided deforestation" or Reduced Emissions from Deforestation and Degradation (REDD)), the concept still faces many challenges, especially in implementation.


Planned logging of Woodlark Island for biofuels opposed by islanders and scientists

(11/12/2007) On Woodlark Island, one-hundred and seventy miles from Papua New Guinea, a struggle is occurring between islanders and biofuel company Vitroplant Ltd. The company is planning to clear much of the island's forest for oil palm plantations to produce biofuels. Vitorplant Ltd.'s contract specifies that they would deforest 60,000 hectares of land for plantations; Woodlark Island is 85,000 hectares in total, meaning over 70% of the island would be converted. Last week, one hundred islanders (out of a total population of 6,000) traveled to the capital of Milne Bay Province, Alotau, to voice their concern over the plans to turn their forested island into plantations.


Papua seeks funds for fighting global warming through forest conservation

(08/10/2007) In an article published today in The Wall Street Journal, Tom Wright profiles the nascent "avoided deforestation" carbon offset market in Indonesia's Papua province. Barnabas Suebu, governor of the province which makes up nearly half the island of New Guinea, has teamed with an Australian millionaire, Dorjee Sun, to develop a carbon offset plan that would see companies in developing countries pay for forest preservation in order to earn carbon credits. Compliance would be monitored via satellite.


Lowland rainforest less diverse than previously thought

(08/09/2007) While rainforests are the world's libraries of biodiversity, species richness may be more evenly distributed in some forests than in others, reports an extensive new study by an international team of entomologists and botanists. The work, published in the current issue of the journal Nature, has important implications for forest management and conservation strategies.


'Extinct' egg-laying mammal rediscovered in jungles of New Guinea

(07/15/2007) An egg-laying mammal thought extinct for nearly 50 years has been rediscovered in the Indonesian province of Papua on the island of New Guinea, reports BBC News.


Photos of baby Matschie's tree kangaroo

(06/14/2007) An endangered baby Matschie's tree kangaroo has emerged from its mother's pouch for the first time at the Bronx Zoo's JungleWorld exhibit in New York. The baby, called a joey, was born on October 25, 2006, but only recently left her puch for the outside world.


Rare kangaroos released into New Guinea rainforest

(06/05/2007) China, soon to be the world's largest emitter of greenhouse gases, unveiled its first climate change initiative Tuesday. According to state media, the National Climate Change Program plan calls for China to reduce energy use 20 percent by 2010, promote carbon sink technologies and other adaptive technologies, raise the efficiency of coal-fired power plants, and increase the amount of renewable energy it produces.


Indonesia's Aceh, Papua pledge to protect forests

(04/26/2007) Governors from three Indonesian provinces which are home to most of the country's rainforests pledged on Thursday to conserve them as part of efforts to mitigate the impact of climate change.


China's demand for hardwood drives illegal logging says Greenpeace

(04/17/2007) Environmental group Greenpeace said on Tuesday China should take responsibility for illegal hardwood logging in Southeast Asia which supplied the raw materials for Chinese exports to the West.


Indonesia seeks to increase deforestation rate, already world's highest


(04/09/2007) Already having the highest deforestation rate in the world, Indonesia's Minister of Forestry announced the country would increase its harvest quota for natural timber for 2007 by 12 percent to 9.1 million cubic meters according to the International Tropical Timber Organization (ITTO). ITTO said the target quota may actually be 12.4 million cubic meters (53 percent higher than 2006) for the year.


Amazon, Madagascar, Borneo are top plant biodiversity hotspots

(03/20/2007) A new map devised by biologists at the University of California, San Diego (UCSD) and the University of Bonn in Germany, shows that the Andes-Amazon region of South America, Madagascar, Borneo, and New Guinea reign as the world's hotspots for plant diversity. The researchers say the map will help both prioritize areas for biodiversity conservation and forecast the impact of climate change on plant communities and the ecological services they provide.


Just how bad is the biodiversity extinction crisis?



(02/06/2007) In recent years, scientists have warned of a looming biodiversity extinction crisis, one that will rival or exceed the five historic mass extinctions that occurred millions of years ago. Unlike these past extinctions, which were variously the result of catastrophic climate change, extraterrestrial collisions, atmospheric poisoning, and hyperactive volcanism, the current extinction event is one of our own making, fueled mainly by habitat destruction and, to a lesser extent, over-exploitation of certain species. While few scientists doubt species extinction is occurring, the degree to which it will occur in the future has long been subject of debate in conservation literature. Looking solely at species loss resulting from tropical deforestation, some researchers have forecast extinction rates as high as 75 percent. Now a new paper, published in Biotropica, argues that the most dire of these projections may be overstated. Using models that show lower rates of forest loss based on slowing population growth and other factors, Joseph Wright from the Smithsonian Tropical Research Institute in Panama and Helene Muller-Landau from the University of Minnesota say that species loss may be more moderate than the commonly cited figures. While some scientists have criticized their work as "overly optimistic," prominent biologists say that their research has ignited an important discussion and raises fundamental questions about future conservation priorities and research efforts. This could ultimately result in more effective strategies for conserving biological diversity, they say.


China invests in $5.5B biofuels project in Borneo, New Guinea


(01/18/2007) China has agreed to invest in a $5.5 billion biofuels project on the islands of New Guinea and Borneo. The plan promises to be controversial among environmentalists who say that it will destroy some of the world's most biodiverse -- and threatened -- ecosystems on the planet.


Papua New Guinea log exports to China surge

(12/19/2006) Papua New Guinea (PNG) log exports surged in October according to the International Tropical Timber Organization's (ITTO) Tropical Timber Market Report.


New species of orchids discovered in Papua New Guinea

(11/17/2006) Last month, environmental group WWF announced the discovery of eight orchid species previously unknown to science in the tropical forests of Papua New Guinea (PNG). PNG, which covers roughly half the island of New Guinea, has the more species of orchid than any country in the world.


Rainforest conservation could yield more cash than logging in PNG

(11/06/2006) Papua New Guinea (PNG) could earn hundreds of millions of dollars for cutting its rainforest destruction if a carbon carbon-trading initiative it proposed last year makes headway this week at U.N. climate talks in Nairobi, Kenya.


Japan depletes Borneo's rainforests; China remains largest log importer

(07/10/2006) Almost three quarters of Japan's tropical timber imports come from the endangered rainforests of Borneo according to figures from the International Tropical Timber Organization (ITTO), an industry group. Meanwhile, ITTO says that China remains, by a large margin, the largest consumer of tropical logs. Japan is the third largest importer of tropical logs after China and India. 74 percent of tropical logs brought into Japan come from Sarawak, a Malaysian state on the island of Borneo. Sawarak has seen a rapid decline in its forest cover since the 1980s, raising the ire of environmental groups and causing the Malaysian government to recently announce it would phase out logging in some areas. About 20 percent of Japan's tropical logs originate in Papua New Guinea.


Scientists endorse plan to save rainforests through emissions trading

(05/19/2006) The Association for Tropical Biology and conservation (ATBC), the world's largest scientific organization devoted to the study and wise use of tropical ecosystems, has formally endorsed a radical proposal to help save tropical forests through carbon trading. Under the initiative proposed by an alliance of fifteen developing countries led by Papua New Guinea and Costa Rica, tropical nations that show permanent reductions in deforestation would be eligible to receive international carbon funds from industrial nations who could purchase carbon credits to help them meet their emissions targets international climate agreements like the Kyoto Protocol.


China's Olmypics may destroy New Guinea's rainforests

(05/01/2006) Construction for the 2008 Olympics in China may fuel deforestation in New Guinea according to an article published last week in the Jakarta Post. The article reports that a Chinese company has asked the Indonesian government for permission to establish a timber processing factory in Indonesia's Papua province to produce 800,000 cubic meters of merbau timber in time for the Olympic games to be held in Bejing. Merbau -- a dark hardwood found in the rainforests of New Guinea -- is used for hardwood floors and currently commands prices of up to US$138 per square meter, making the proposal potentially worth more than a billion dollars.


Evolution is twice as fast in the tropics

(05/01/2006) Tropical species evolve twice as fast as temperate species according to research published in Tuesday's Proceedings of the National Academy of Sciences (PNAS). The study. which compared the genetics of 45 common tropical plants with similar species from cooler geographical areas, suggests that evolution takes place at a faster rate in warmer climates due to higher rates of metabolism, which leads to more genetic mutation, and shorter generations, so genetic changes are rapidly passed on to offspring. The researchers found that tropical plant species -- including species from Borneo, New Guinea, northeast Australia and South America -- had more than twice the rate of molecular evolution as closely related species in temperate parts of North America, southern Australia, Eurasia and New Zealand.


Environmentalists awarded prestigious prize for grassroots work

(04/24/2006) Tonight six grassroots environmentalists will be awarded the prestigious Goldman Environmental Prize. This year's winners include a Vietnam veteran fighting Pentagon plans to incinerate chemical weapons stockpiles, a man who tipped the United Nations to illegal logging in war-torn Liberia, the person behind the creation of the world's largest area of protected tropical rainforest, a lawyer in Ukraine who helped block the construction of canal that would have cut through the heart of the Danube Delta, a woman who won resitution for indigenous land owners from logging interests in Papua New Guinea, and a researcher who pushed social impact assessments for major dam developments in China.


Home Depot, Lowe's selling illegal wood from Papua New Guinea-Report

(03/23/2006) Consumers in the United States are being mislead as to the origin of merbau hardwood flooring being sold by Home Depot and Lowe's. According to a new report published by the Environmental Investigation Agency and their Indonesian NGO partner Telepak, such timber is coming from the forests of Indonesia's remote Papua Province, where 80 percent of logging is estimated to be illegal.


Papua New Guinea's forests under threat from corruption, illegal logging

(03/08/2006) Illegal logging is destroying large areas of rainforest in Papua New Guinea according to a report released last week by Forest Trends, a leading international forestry organization.


Pictures of new species discovered in New Guinea

(02/07/2006) A team of scientists led by conservation International (CI) found dozens of new species in a survey of New Guinea's Foja Mountains. The December 2005 trip by a team of U.S., Indonesian, and Australian scientists discovered new species of frogs, butterflies, plants, and an orange-faced honeyeater, the first new bird from the island of New Guinea in more than 60 years.


Scientists discover dozens of new species in New Guinea

(02/06/2006) A team of scientists led by conservation International (CI) found dozens of new species in a survey of New Guinea's Foja Mountains. The discoveries were made under CI's Rapid Assessment Program (RAP) which deploys expert scientists to poorly understood regions in order to quickly assess the biological diversity of an area. The conservation organization makes RAP results immediately available to local and international decision makers to help support conservation action and biodiversity protection.



Page 1 | Page 2 | Page 3