News articles on new caledonia

---
Mongabay.com news articles on new caledonia in blog format. Updated regularly.






Scientists, NGOs race to save 'Millennium Trees'
(02/12/2015) In a tiny area of an isolated archipelago in the southwest Pacific lives a unique tree species on the precipice of extinction. Recent research has shown it is declining dramatically, and mature individuals may be completely gone in 100 years. In response, environmental organizations and scientists are coming together to try and save New Caledonia's Millennium Trees.
Top 10 HAPPY environmental stories of 2014
(12/29/2014) In what was widely seen as a possible breakthrough in the battle to coordinate some kind of response to global warming, China and the U.S. announced joint actions this year. On November 12th, the world's two most powerful countries surprised pretty much everyone by announcing that they would work together to tackle the crisis.
Extinction crisis: rising sea levels will submerge thousands of islands
(04/08/2014) Sea levels are rising at the highest rate in thousands of years, putting at risk low-lying islands around the world. In a new study published in Nature Conservation, researchers found that projected rises in sea level stand to swamp more than 10,000 islands, displacing human communities and wiping many unique species off the face of the earth.
'Lost' bird rediscovered in New Caledonia along with 16 potentially new species (photos)
(10/29/2013) In early 2011, Conservation International (CI) dubbed the forests of New Caledonia the second-most imperiled in the world after those on mainland Southeast Asia. Today, CI has released the results of a biodiversity survey under the group's Rapid Assessment Program (RAP) to New Caledonia's tallest mountain, Mount Panié. During the survey researchers rediscovered the 'lost' crow honeyeater and possibly sixteen new or recently-described species. Over 20 percent larger than Connecticut, New Caledonia is a French island east of Australia in the Pacific Ocean.
Photo: commonly-kept gecko was thought to be extinct in the wild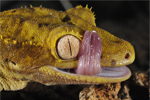 (09/04/2008) The Crested Gecko is endemic to South Province, New Caledonia in the South Pacific. While the species is widely kept in the pet trade, the species was long believed extinct in the wild until it was rediscovered in 1994. It is now known to have three distinct populations and its conservation status is currently being evaluated by the IUCN. Trade in wild-caught individuals is presently banned.