News articles on monocultures

---
Mongabay.com news articles on monocultures in blog format. Updated regularly.





Beef, palm oil, soy, and wood products from 8 countries responsible for 1/3 of forest destruction

(10/23/2014) Four commodities produced in just eight countries are responsible for a third of the world's forest loss, according to a new report. Those familiar with the long-standing effort to stop deforestation won't be surprised by the commodities named: beef, palm oil, soy, and wood products (including timber and paper). Nor will they be very surprised by most of the countries: Brazil, Indonesia, and Malaysia.


Saving Asia's other endangered cats (photos)


(10/21/2014) It's no secret that when it comes to the wild cats of Asia—and, really, cats in general—tigers get all the press. In fact, tigers—down to an estimated 3,200 individuals—arguably dominate conservation across Asia. But as magnificent, grand, and endangered as the tigers are, there are a number of other felines in the region that are much less studied—and may be just as imperiled.


Next big idea in forest conservation? Playing games to understand what drives deforestation


(06/26/2014) Dr. Claude Garcia plays games, but you won't find him betting his shirt at the casino. As leader of the Forest Management and Development Research Group at ETH Zürich, Garcia and his team use participatory modeling and role-playing games, merged with more traditional disciplinary sciences such as ecology, economics, and sociology to understand and manage complex landscape change in the tropics.


Is Cameroon becoming the new Indonesia? Palm oil plantations accelerating deforestation


(06/25/2014) The potential for new laws governing the use of forest resources this year in Cameroon promises an opportunity to stem the rapid loss of forest in the biologically diverse country. But the changes may ultimately not be what's needed to save Cameroon's forests.


Broken promises no more? Signs Sabah may finally uphold commitment on wildlife corridors


(06/23/2014) Five years ago an unlikely meeting was held in the Malaysian state of Sabah to discuss how to save wildlife amid worsening forest fragmentation. Although the meeting brought together longtime adversaries—conservationists and the palm oil industry—it appeared at the time to build new relationships and even point toward a way forward for Sabah's embattled forests.


Greenpeace accuses controversial palm oil company and Cameroon government of illegal logging


(05/28/2014) Greenpeace has just accused one of the world's most controversial oil palm companies, Herakles Farms, of colluding with top government officials to sell off illegally logged timber to China. According to a new report, an agreement between Cameroon's Minister of Forestry and Herkales Farms—through a shell company—could torpedo the country's agreement with the EU for better timber management.


Plantations used as cover for destruction of old-growth forests in Myanmar

(12/02/2013) As Wild Burma: Nature's Lost Kingdom airs on the BBC, the forests documented in the series are increasingly being cut down, according to a new report by U.S. NGO Forest Trends. The report alleges that wide swathes of forest are being cleared in ethnic minority areas of Myanmar (also known as Burma), ostensibly for palm oil and rubber plantations. However after the lucrative timber is extracted, the report finds little evidence that the companies involved are serious about establishing plantations.


Celebrities aim to raise $1.6 million to keep orangutan forests from the the chopping block in Borneo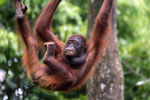 (10/02/2013) Sir David Attenborough, Bill Oddie and Chris Packham are supporting an effort to save the orangutan from extinction by raising £1m in just two weeks. Orangutans in their natural environment live in undisturbed ancient forests and for many years it was believed they shunned any other habitats. But researchers have discovered they can survive just as well and perhaps even better in forests that have been intensively thinned out by loggers, giving renewed hope for the species.


Bornean elephant meets palm oil: saving the world's smallest pachyderm in a fractured landscape


(10/01/2013) In the Malaysian state of Sabah, where most conservation students are still foreigners—either European or American—Nurzahafarina Othman stands out: not only is she Malaysian, a Muslim, and a mother of a young daughter, but she's rapidly becoming a top researcher and champion for the world's smallest elephant: the Bornean elephant (Elephas maximus borneensis). Although sometimes described as a pygmy elephant, they still weigh 2,000 kilograms (4,400 pounds). The origin of these 'tiny' elephants in Malaysian Borneo have baffled scientists for decades.


Malaysia clearcutting forest reserves for timber and palm oil


(09/26/2013) In July Bikam Permanent Forest Reserve in Malaysia's Perak state was degazetted, allowing the forest to be clearcut for an oil palm plantation. Only after the forest was lost, did the Forest Research Institute Malaysia (FRIM) announce that it had contained the last stands of keruing paya (Dipterocarpus coriaceus) on the Malay peninsula, a large hardwood tree that's classified as Critically Endangered on the IUCN Red List. The species is now reportedly extinct in Malaysia, although may still be found in Indonesia. However, the degazettement of the 400-hectare Bikam Forest Reserve wasn't an abnormality, according to activists. Since 2009, over 9,000 hectares of Permanent Forest Reserves have been degazetted in northwestern state, wiping out not just trees, but undercutting protected mammals and birds while threatening watersheds.


Controversial oil palm company now accused of illegal logging in Cameroon rainforest

(09/18/2013) Environmental group, Greenpeace, has accused Herakles Farms of illegal logging in Cameroon after the company has already been lambasted by scientists and conservationists for its plan to build a 70,000 hectare palm oil plantation in one of Africa's most biodiverse rainforests. Herakles Farms has been under fire from green groups—both in Cameroon and abroad—for years over its oil palm plantation plans, including facing protests from locals who live in the forest to be cleared.


Endangered chimps and forest elephants found in rainforest to be logged for palm oil


(08/08/2013) A biological survey of forests slated for destruction for a palm oil project in Cameroon has uncovered 23 species of large mammals, including the world's most endangered chimpanzee subspecies, the Nigeria-Cameroon chimpanzee (Pan troglodytes ellioti). The project in question, operated by U.S.-based company Herakles Farms, has come under stiff criticism both locally and abroad for threatening one of Africa's most biologically rich forest lands and arguably undercutting local peoples' access to traditional lands.


Featured video: Sumatra's last elephants versus palm oil

(08/05/2013) A new video by The Ecologist documents the illegal destruction of the Leuser protected area in Sumatra for palm oil production, a vegetable oil which has become ubiquitous in many mass-produced foods and cosmetics. The destruction of the forest has pushed elephants and people together, leading to inevitable conflict with casualties on both sides. Elephants are increasingly viewed as agricultural pests for crop-raiding while locals—some of them squatting in protected land—lack the means and resources to keep elephants at bay. Meanwhile, palm oil plantations often see elephants as a threat to the palms.


Featured video: Indonesian community uses mapping to fight palm oil takeover

(07/15/2013) Communities across Indonesia are facing the questions: palm oil or no? A new short documentary Mapping our Future explores the issue through one community's efforts in West Kalimantan to map our their ancestral lands as they attempt to take control of their future.


Vocal-sac breeding frog possibly extinct


(07/02/2013) Somewhere in the wet pine forests of Chile, a male frog is gulping-up a bunch of eggs. No he's not eating them, he's just being a good dad. Darwin's frogs are known for their unique parenting-style: tadpoles are incubated in the vocal sac of the father. First recorded by Charles Darwin during his world famous voyage aboard the Beagle, the amphibians were common in the native Chilean pine forests until the last few decades. Now, scientists believe that one of the two species, the northern Darwin's frog (Rhinoderma rufum), may have vanished for good. And the other is hanging on by a thread.


Southern U.S. logging soars to meet foreign biofuel demand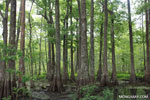 (06/06/2013) In order to meet the European Union's goal of 20% renewables by 2020, some European utility companies are moving away from coal and replacing it with wood pellet fuel. The idea is simple: trees will regrow and recapture the carbon released in the burning of wood pellets, making the process supposedly carbon-neutral. But just like other simple ideas, it misses out important details that can turn it on its head.


Ant communities more segregated in palm oil plantations than rainforest


(03/21/2013) Ants are an important ecological group in both degraded and natural habitats. They interact with many other species and mediate a range of ecological processes. These interactions are often interpreted in the context of ant mosaics, where dominant species form strict territories, keeping other ants out. This segregation between ant species is well-documented in monoculture plantations. Now new research published in Ecography has shown that these changes are driven by the replacement of rainforests with monocultures and not the arrival of non-native species.


Activists warn of industrial palm oil expansion in Congo rainforest


(02/21/2013) Industrial oil palm plantations are spreading from Malaysia and Indonesia to the Congo raising fears about deforestation and social conflict. A new report by The Rainforest Foundation UK (RFUK), dramatically entitled The Seeds of Destruction, announces that new palm oil plantations in the Congo rainforest will soon increase fivefold to half a million hectares, an area nearly the size of Delaware. But conservationists warn that by ignoring the lessons of palm oil in Southeast Asia, this trend could be disastrous for the region's forests, wildlife, and people.


Biofuel company caught clearing elephant habitat in Sri Lanka


(02/20/2013) A biofuel plantation near Yala National Park has landed Lanka Orex Leasing Company PLC (LOLC) in Sri Lanka's highest court. Environmentalists say the company is illegally bulldozing Asian elephant habitat, including scrubland and tree stands, near the buffer zone of Yala National Park for gliricidia (Gliricidia sepium) biofuel plantation.


90 percent of oil palm plantations came at expense of forest in Kalimantan


(10/08/2012) From 1990 to 2010 almost all palm oil expansion in Kalimantan came at the expense of forest cover, according to the most detailed look yet at the oil palm industry in the Indonesian state, published in Nature: Climate Change. Palm oil plantations now cover 31,640 square kilometers of the state, having expanded nearly 300 percent since 2000. The forest loss led to the emission of 0.41 gigatons of carbon, more than Indonesia's total industrial emissions produced in a year. Furthermore the scientists warn that if all current leases were converted by 2020, over a third of Kalimantan's lowland forests outside of protected areas would become plantations and nearly quadruple emissions.


Roundtable on Sustainable Palm Oil hits 10 year mark


(10/04/2012) The Roundtable on Sustainable Palm Oil (RSPO) is holding its tenth annual meeting later this month. The initiative, which aims to improve the social and environmental performance of palm oil production through a certification standard, has advanced considerably during that time, moving from an idea to a reality: RSPO-certified palm oil now accounts for 12 percent of global palm oil production. Yet the RSPO is not without controversy. Some palm oil companies say its criteria are too costly to adopt and are therefore discriminatory, while environmental critics argue its bar for "sustainable" palm oil is too low and the loopholes allow producers to claim membership even if they aren't actually producing certified palm oil across all their holdings. Nonetheless the RSPO has support from many of the world's largest palm oil producers, traders, and consumers as well as the biggest NGOs.


NGO: Malaysian leader worth $15 billion despite civil-servant salary; timber corruption suspected

(09/19/2012) Abdul Taib Mahmud, who has headed the Malaysian state of Sarawak for over 30 years, is worth $15 billion according to a new report by the Bruno Manser Fund. The report, The Taib Timber Mafia, alleges that Taib has used his position as head-of-state to build up incredible amounts of wealth by employing his family or political nominees to run the state's logging, agriculture, and construction businesses. Some environmental groups claim that Sarawak has lost 90 percent of its primary forests to logging, while indigenous tribes in the state have faced the destruction of their forests, harassment, and eviction.


Bird diversity at risk if 'agroforests' replaced with farmland


(09/13/2012) Agroforests contain much higher levels of bird diversity than their open agricultural counterparts, according to new research from the University of Utah. If large forests and agroforests continue to be replaced by simple open farms, bird communities will become much less specialized and entire groups may become extinct. Important roles for birds, such as pollination, pest control or seed dispersal, may remain unfilled if ongoing trends toward open agriculture continues and biodiversity decreases.


Hundreds of hotspots burn Tesso Nilo National Park, threatening elephants


(08/08/2012) From June to July, hundreds of fires spread in Tesso Nilo National Park in Indonesia. Based on the data from World Wide Fund for Wildlife (WWF) Program-Riau, fire hotspots reached their peak in the third week of June. As of early July, fires, which were triggered a month earlier, could not be totally extinguished.


Cambodia's largest lowland rainforest spared from new land concessions

(08/06/2012) Four economic land concessions have been cancelled in Cambodia's Prey Lang forest, known as the largest intact lowland forest in Southeast Asia, reports the Phnom Penh Post. The economic land concessions, totaling over 40,000 hectares, would have been used for rubber plantations.


Tigers vs. coal in India: when big energy meets vanishing cats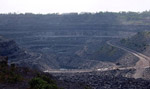 (08/01/2012) Burning coal fuels climate change, causes acid rain, and spreads toxic pollutants into the environment, but now a new Greenpeace report warns that coal may also imperil the world's biggest feline: the tiger. Home to world's largest population of tigers—in this case the Bengal subspecies (Panthera tigris tigris)—India is also the world's third largest coal producer. The country's rapacious pursuit of coal—it has nearly doubled production since 2007—has pushed the industry into tiger territory, threatening to destroy forests and fragment the tiger's already threatened population.


Scientists propose a new way forward on orangutan conservation


(07/16/2012) Orangutans are in dire need of a revised conservation approach, according to a new study in the Annals of the New York Academy of Sciences. While the plight of the species is widely recognized within the conservation community—receiving international attention in the form of scientific research, funding, and NGO efforts—the authors argue that "there has been frustratingly little progress."


Jaguars photographed in palm oil plantation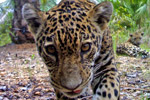 (06/06/2012) As the highly-lucrative palm oil plantation moves from Southeast Asia to Africa and Latin America, it brings with it concerns of deforestation and wildlife loss. But an ongoing study in Colombia is finding that small palm oil plantations may not significantly hurt at least one species: the jaguar. Researchers in Magdalena River Valley have taken the first ever photos of jaguars in a palm plantation, including a mother with two cubs, showing that the America's biggest cat may not avoid palm oil plantations like its Asian relative, the tiger.


Indigenous group paid $0.65/ha for forest worth $5,000/ha in Indonesia


(05/23/2012) A palm oil company has paid indigenous Moi landowners in Indonesian Papua a paltry $0.65 per hectare for land that will be worth $5,000 a hectare once cultivated, according to a new report by the Environmental Investigation Agency (EIA) and Indonesian NGO, Telepak. The report outlines similar disadvantageous deals in timber with the same companies breaking their promises of bringing education and infrastructure.


U.S. car manufacturers linked to Amazon destruction, slave labor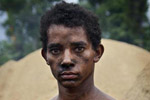 (05/14/2012) According to a new report by Greenpeace, top U.S. car companies such as Ford, General Motors, and Nissan are sourcing pig iron that has resulted in the destruction of Amazon rainforests, slave labor, and land conflict with indigenous tribes. Spending two years documenting the pig iron trade between northeastern Brazil and the U.S., Greenpeace has discovered that rainforests are cut and burned to power blast furnaces that produce pig iron, which is then shipped to the U.S. for steel production.


Exploring Asia's lost world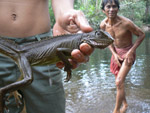 (05/03/2012) Abandoned by NGOs and the World Bank, carved out for rubber plantations and mining by the Cambodian government, spiraling into a chaos of poaching and illegal logging, and full of endangered species and never-explored places, Virachey National Park may be the world's greatest park that has been written off by the international community. But a new book by explorer and PhD student, Greg McCann, hopes to change that. Entitled Called Away by a Mountain Spirit: Journey to the Green Corridor, the book highlights expeditions by McCann into parts of Virachey that have rarely been seen by outsiders and have never been explored scientifically, including rare grasslands that once housed herds of Asian elephants, guar, and Sambar deer, before poachers drove them into hiding, and faraway mountains with rumors of tigers and mainland Javan rhinos.


Police hired by loggers in Papua New Guinea lock locals in shipping containers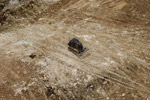 (04/16/2012) Locals protesting the destruction of their forest in Papua New Guinea for two palm oil plantations say police have been sent in for a second time to crack-down on their activities, even as a Commission of Inquiry (COI) investigates the legality of the concession. Traditional landowners in Pomio District on the island East New Britain say police bankrolled by Malaysian logging giant Rimbunan Hijau (RH) have terrorized the population, including locking people in shipping containers for three consecutive nights. The palm oil concessions belongs to a company known as Gilford Limited, which locals say is a front group for RH.


How a crippled rhino may save a species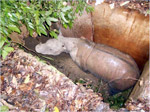 (04/09/2012) On December 18th, 2011, a female Sumatran rhino took a sudden plunge. Falling into a manmade pit trap, the rhino may have feared momentarily that her end had come, but vegetation cushioned her fall and the men that found her were keen on saving her, not killing her. Little did she know that conservationists had monitored her since 2006, and for her trappers this moment had been the culmination of years of planning and hope. A few days later she was being airlifted by helicopter to a new home. Puntung, as she has become called, was about to enter a new chapter in her life, one that hopefully will bring about a happy ending for her species.


Governor of Aceh who signed palm oil permit: plantation in Tripa "morally wrong"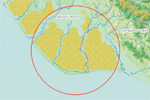 (04/05/2012) The former governor of Aceh, Irwandi Yusuf, told The Sydney Morning Herald today that an oil palm plantation he approved was "not wrong legally, but wrong morally." Irwandi, who is currently seeking re-election, signed off on the hugely controversial plantation in deep peat forest last August, but the issue came to a head this week as satellite images showed a dozen fires burning in the concession area known as Tripa. Environmental groups, which are running an online campaign, warn that the burning is imperiling an important population of Critically Endangered Sumatran orangutans (Pongo abelii).


UN: wild teak forests declining

(03/28/2012) Wild teak forests continue to decline, threatening genetic diversity, while commercial planted teak forests are on the rise, according to a new assessment by the Food and Agriculture Organization (FAO). Overall, teak forests have declined by 1.3 percent, or 385,000 hectares, worldwide from 1992 to 2010. Teak (Tectona grandis) is used for a variety of commercial purposes, including outdoor furniture and flooring.


Solitary male monkeys cause crop damage in Uganda

(03/19/2012) Solitary male red-tailed monkeys (Cercopithecus ascanius) cause significant damage to cocoa crops in Uganda, according to a new study in mongabay.com's open access journal Tropical Conservation Society (TCS). Researchers examined crop raiding by social groups of red-tailed monkeys and lone males, only to discover that solitary males caused significantly more damage to cocoa crops than the average group member. The research may have implications for how to mitigate human-wildlife conflict in the area.


Scientists say massive palm oil plantation will "cut the heart out" of Cameroon's rainforest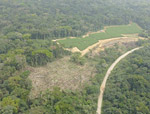 (03/15/2012) Eleven top scientists have slammed a proposed palm oil plantation in a Cameroonian rainforest surrounded by five protected areas. In an open letter, the researchers allege that Herakles Farm, which proposes the 70,000 hectare plantation in southwest Cameroon, has misled the government about the state of the forest to be cleared and has violated rules set by the Roundtable on Sustainable Palm Oil (RSPO), of which it's a member. The scientists, many of whom are considered leaders in their field, argue that the plantation will destroy rich forests, imperil endangered species, and sow conflict with local people.


Forgotten species: the wild jungle cattle called banteng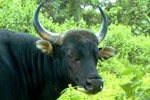 (01/31/2012) The word "cattle," for most of us, is the antithesis of exotic; it's familiar like a family member one's happy enough to ignore, but doesn't really mind having around. Think for a moment of the names: cattle, cow, bovine...likely they make many of us think more of the animals' byproducts than the creatures themselves—i.e. milk, butter, ice cream or steak—as if they were an automated food factory and not living beings. But if we expand our minds a bit further, "cattle" may bring up thoughts of cowboys, Texas, herds pounding the dust, or merely grazing dully in the pasture. But none of these titles, no matter how far we pursue them, conjure up images of steamy tropical rainforest or gravely imperiled species. A cow may be beautiful in its own domesticated sort-of-way, but there is nothing wild in it, nothing enchanting. However like most generalizations, this idea of cattle falls to pieces when one encounters, whether in literature or life, the banteng.


Featured video: plight of orangutans highlighted with new rock song

(01/17/2012) An Indonesian rock band, Navicula, is highlighting the plight of orangutans in their native country through a new song entitled, aptly, "Orangutan." The band has created a music video for the song, including footage of a documentary, Green: The Film that follows a starving female orangutan named Green. The band "dedicated the song to encourage people to do more in orangutan conservation, to protect this endangered species."


Borneo's most elusive feline photographed at unexpected elevation



(01/11/2012) Although known to science for 138 years, almost nothing is actually known about the bay cat (Pardofelis badia). This reddish-brown wild feline, endemic to the island of Borneo, has entirely eluded researchers and conservationists. The first photo of the cat wasn't taken until 1998 and the first video was shot just two years ago, but basic information remains lacking. A new camera trap study, however, in the Kelabit Highlands of the Malaysian state of Sarawak has added to the little knowledge we have by photographing a bay cat at never before seen altitudes.


Wildlife official: palm oil plantations behind decline in proboscis monkeys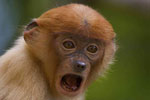 (12/05/2011) The practice of palm oil plantations planting along rivers is leading to a decline in proboscis monkeys (Nasalis larvatus) in the Malaysian state of Sabah on Borneo, says the director of the Sabah Wildlife Department, Laurentius Ambu. Proboscis monkeys, known for their bulbous noses and remarkable agility, depend on riverine forests and mangroves for survival, but habitat destruction has pushed the species to be classified as Endangered by the IUCN Red List.


One night only: new orchid species surprises scientists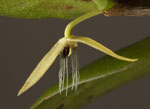 (11/22/2011) A mysterious new orchid blooms for one night only, opening around 10 PM and closing at 10 AM. Discovered on the island of New Britain near Papua New Guinea, the new species is the world's first orchid that flowers only at night. Scientists found the new flower, named Bulbophyllum nocturnum, in a logging concession on the tropical island.


Dole abandons banana plantation in National Park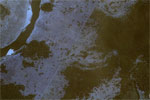 (11/21/2011) After a threat of lawsuit, Dole Inc. has abandoned a banana plantation in Somawathiya National Park in Sri Lanka. The US-based food giant had partnered with a local company, Letsgrow Ltd, to grow bananas for export markets at the bank of the Mahaweli River, but Dole ran into trouble when local conservation organizations pointed out they were illegally destroying forest and planting crops in Somawathiya National Park, home to elephants and many other imperiled species. Local group, Environmental Foundation Limited (EFL), obtained past and current satellite images to prove that the company was operation within the park.


Photos: five wild cat species documented in Sumatran forest imperiled by logging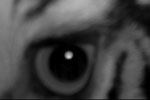 (11/16/2011) A single forest corridor in Sumatra has yielded camera trap photos of five wild cats species, including the Critically Endangered Sumatran tiger (Panthera tigris sumatrae). Photos were also taken of the Sunda clouded leopard (Neofelis diardi), the marbled cat (Pardofelis marmorata), the Asian golden cat (Pardofelis temminckii), and the leopard cat (Prionailurus bengalensis). The five species were all filmed by a WWF camera trap survey in a single forest corridor linking the forest of Bukit Tigapuluh and the Rimbang Baling Wildlife Sanctuary in Riau Province. Unfortunately this forest remains unprotected.


First ever survey shows Sumatran tiger hanging on as forests continue to vanish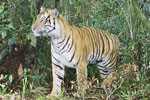 (11/10/2011) The first-ever Sumatran-wide survey of the island's top predator, the Sumatran tiger (Panthera tigris sumatrae), proves that the great cat is holding on even as forests continue to vanish. The study, carried out by eight NGOs and the Indonesian government, shows that the tiger is still present in 70 percent of the forests surveyed, providing hope for the long-term survival of the subspecies if remaining forests are protected.


China's new forests aren't necessarily green

(09/21/2011) When most of Asia is cutting down its forests, China stands apart. In the last two decade the massive country has gained over 30 percent forest cover. However, a new opinion piece by Jianchu Xu, with the World Agroforestry Centre and the Kunming Institute of Botany, argues that China's growing forest is not what it appears to be. The problem, according to Xu, is that the statistics of forest cover include monoculture plantations.


Rainforest tribe forcibly removed from dam area to palm oil plantation

(06/23/2011) A thousand Penan indigenous people have been forcibly moved from their rainforest home to monoculture plantations, reports Survival International. To make way for the Murum dam, the Malaysian state government of Sarawak is moving a thousand Penan from their traditional homes, but as apart of the deal the government promised to move the Penan to another part of their ancestral land. The government has since sold that land to a palm oil company, which is currently clearcutting the forests for plantations.


FSC to continue allowing baboon killing on sustainably-certified plantations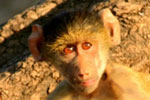 (06/23/2011) Shooting baboons will continue in Forest Stewardship Council (FSC)-certified plantations. After examining a complaint by the NGO GeaSphere against South African plantations for trapping and shooting hundreds of baboons, the FSC has announced it will not place a moratorium on baboon-killing in its sustainably-certified plantations.


Coalition calls on Europe to label palm oil on food products

(03/15/2011) Do you have the right to know whether the chocolate bar you're munching on includes palm oil, which is blamed for vast deforestation in Malaysia and Indonesia? How about that frozen pizza? According to a coalition of environmental and conservation groups it's time for food manufacturers to add palm oil to the label in Europe, instead of currently being listed as simply, and erroneously (palm kernels are fruits), 'vegetable oil'.


Cambodia approves rubber plantation—in national park

(03/13/2011) The Cambodian Prime Minister, Hun Sen, has approved a 9,000 hectare (22,200 acre) rubber plantation in Virachey National Park despite its status as a protected area, reports the Phnom Penh Post. The park is also listed as an ASEAN Heritage Park.


Cambodians prevented from protesting destruction of their forest

(03/10/2011) Cambodian villagers fighting to save their forest from rubber companies have been rebuked by the local government. Two days in a row local authorities prevented some 400 Cambodian villagers from protesting at the offices of the Vietnam-based CRCK Company, which the villagers contend are destroying their livelihoods by bulldozing large swaths of primary forests. Authorities said they feared the villagers would have grown violent while protesting.


Rich plant diversity leads to increased productivity, ecosystem services

(03/08/2011) A new study finds that diversity of plant species matters—big time. Analyzing nearly 600 research studies, the meta-study in the American Journal of Botany found that productivity in biodiverse plant ecosystems was 1.5 times higher than in monocultures. In other words, a prairie is more productive than a cornfield and forest more productive than a rubber plantation. The researchers warn that eroding plant diversity threatens essential ecosystems services such as food, water purification, oxygen production, carbon sequestration, and the availability of raw materials.