News articles on mongabay

---
Mongabay.com news articles on mongabay in blog format. Updated regularly.






Orangutan rescued amid sea of palm oil
(05/04/2015) The rescue, which took place in early April, was conducted by the Orangutan Information Centre (OIC) in response to a report of an adult male orangutan isolated in an fragment forest surrounded by oil palm plantations. The orangutan was found to be in poor health, according to Krisna, OIC's Human Orangutan Conflict Response Unit field coordinator.
Things you want to know about Mongabay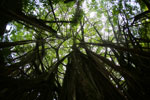 (01/01/2015) This is a compilation of responses to some of the most frequently asked questions for Mongabay. If you have additional questions you'd like me to answer, you can ask them using this form.
Most popular environmental news stories in 2014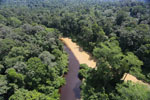 (12/31/2014) In 2014 Mongabay published more than 1,100 stories in English and over 450 posts in Spanish, French, Italian, Portuguese, German, Japanese, and Chinese. Mongabay-Indonesia published nearly 1,400 posts in Indonesian. Stories ran the gamut from light-hearted feel-good pieces to hard-hitting investigative content to thought-provoking interviews.
Most popular eco news articles of 2013

(01/01/2014) The most popular environmental news article on mongabay.com during 2013 was a story about the recovery of the endangered Huemul deer (Hippocamelus bisulcus) in Chile. The story, written by Alexander Holmgren, was visited 308,000 times, due largely to Reddit.
Journalism prizes explore community forestry, commodity supply chains, China's seafood consumption
(12/01/2013) Mongabay.org announces three new $20,000 environmental reporting prizes under its Special Reporting Initiatives program. Three new environmental journalism prizes will enable journalists to do in-depth reporting on three important environmental topics: the role of community forest management in addressing climate change, cleaning up commodity supply chains, and the market for more sustainable seafood in China. The prizes come under Mongabay.org's Special Reporting Initiatives(SRI), a program that provides funding for environmental reporting. Mongabay.org will commit up to $20,000 to fund the top proposal.
New $20,000 reporting grant: The state of marine fisheries in Indonesia
(09/17/2013) Mongabay.org announces its new $20,000 environmental reporting grant: the state of marine fisheries in Indonesia. After kicking off the Special Reporting Initiatives program last month, Mongabay.org is calling for applications for its newest topic on policy changes in marine fishery management in the region.
$20,000 grant for reporting on the next big idea for forest conservation
(08/05/2013) Today Mongabay's non-profit arm launched a new journalism program that funds in-depth or investigative reporting on key environmental topics. The first reporting opportunity under the Special Reporting Initiatives program asks: what is the next big idea in tropical biodiversity conservation? The application window closes Sept. 30, 2013.
Most popular environmental news articles of 2012

(01/01/2013) The most popular environmental news article on mongabay.com during 2012 was a post about the so-called "penis snake" discovered in a Brazilian river. The article, which explained that the creature was actually an amphibian and that its habitat was being destroyed by a hydroelectric dam, was viewed 238,000 times.
Our favorite nature photos of 2012
(12/24/2012) In the course of reporting for Mongabay.com, I spent time in several countries in 2012, including Indonesia, Brazil, Madagascar, and Malaysia, among others. The following are some of my favorite nature pictures I took in the field. Overall I added more than 20,000 images to the site in 2012. For more, check out travel.mongabay.com, which now has nearly 100,000 captioned photos.
Forest and environmental news in Indonesian

(05/23/2012) Mongabay.com is pleased to announce the launch of Mongabay-Indonesia (mongabay.co.id), an environmental news web site published in Indonesian. The site was officially unveiled Saturday, May 19 at an event in Jakarta.
The year in review for rainforests
(12/28/2011) 2011 was designated as "Year of the Forests" by the United Nations. While there was relatively little progress on intergovernmental forest protection programs during the year, a lot happened elsewhere. Below is a look at some of the biggest tropical forest-related news stories for 2011. We at mongabay readily acknowledge there were a number of important temperate and boreal forest developments, including Britain's decision not to privatize its forests and the severe drought in Texas, but this article will cover only tropical forest news.
Picture of penguins is a prize-winner

(12/10/2011) Carl Safina's picture of King Penguins coming ashore at Salisbury Plain on South Georgia Island was the first winner of mongabay.com's series of photo contests hosted on Facebook.
Rainforest information in Thai

(03/26/2011) Mongabay.com, a leading forest conservation and environmental science news web site, today announced the availability of its rainforest site for children in Thai. The site is available at world.mongabay.com/thai.
Rainforest information in Romanian

(01/26/2011) Mongabay.com, a leading forest conservation and environmental science news web site, today announced the availability of its rainforest site for children in Romanian. The site is available at world.mongabay.com/romanian.
Most popular environmental news articles for 2010

(12/28/2010) The most popular environmental news article on mongabay.com during 2010 was the discovery of Durrell's vontsira, a carnivorous small mammal that lives in the marshes of Lake Alaotra in Madagascar. The article drew nearly 80,000 page views.
Sulawesi groups recognized for efforts to save endangered wildlife, forests

(12/08/2010) Two groups working with local communities to conserve forests in Sulawesi have won mongabay.com's 2010 Conservation Award. The Alliance for Tompotika Conservation (AlTo), which works in Central Sulawesi, and the Nantu Forest Conservation Program, which operates in North Sulawesi, were recognized for their efforts to protect endangered forests on the Indonesian island, which is known for its high levels of endemic species.
Rainforest information in Vietnamese

(10/11/2010) Mongabay.com, a leading forest conservation and environmental science news web site, today announced the availability of its rainforest site for children in Vietnamese.
Most popular environmental news stories from mongabay for September

(10/01/2010) Rhett Butler's interview with Kiribati President Anote Tong about the fate of his country was overwhelmingly the most popular news article on mongabay.com during the month of September, drawing nearly 35,000 page views. Tong's interview was followed by a story on the Department of Agriculture's plan to air-drop tylenol-containing rat carcasses on the island of Guam in an effort to kill an invasive snake; a piece about traditional enemies — indigenous tribes and ranchers — teaming together to fight fires in the Brazilian Amazon; and a report on the arrest of a photojournalist documenting the illegal rosewood trade in Madagascar.
Indonesian government report recommends moratorium on peatlands conversion
(01/19/2010) A study issued by Indonesian government recommends a moratorium on peatlands conversion in order to meet its greenhouse gas emissions target pledged for 2020, reports the Jakarta Post. The report, commissioned by the National Development Planning Agency (Bappenas), says that conversion of peatlands accounts for 50 percent of Indonesia's greenhouse gas emissions but only one percent of GDP. A ban on conversion would therefore be a cost-effective way for the country to achieve its goal of reducing carbon emissions 26 percent from a projected baseline by 2020. But the recommendation is likely to face strong resistance from plantation developers eager to expand operations in peatland areas. Last year the Agricultural Ministry lifted a moratorium on the conversion of peatlands of less than 3 meters in depth for oil palm plantations. Environmentalists said the move would release billions of tons of carbon dioxide.
Orangutans vs palm oil in Malaysia: setting the record straight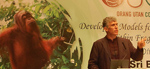 (01/16/2010) The Malaysian palm oil industry has been broadly accused of contributing to the dramatic decline in orangutan populations in Sabah, a state in northern Borneo, over the past 30 years. The industry has staunchly denied these charges and responded with marketing campaigns claiming the opposite: that oil palm plantations can support and nourish the great red apes. The issue came to a head last October at the Orangutan Colloquium held in Kota Kinabalu. There, confronted by orangutan biologists, the palm oil industry pledged to support restoring forest corridors along rivers in order to help facilitate movement of orangutans between remaining forest reserves across seas of oil palm plantations. Attending NGOs agreed that they would need to work with industry to find a balance that would allow the ongoing survival of orangutans in the wild. Nevertheless the conference was still marked by much of the same rhetoric that has characterized most of these meetings — chief palm oil industry officials again made dubious claims about the environmental stewardship of the industry. However this time there was at least acknowledgment that palm oil needs to play an active role in conservation.
Congo basin rainforest countries

(01/15/2010) Payments for ecosystem services may be a key component in maintaining Central Africa's rainforests as healthy and productive ecosystems, finds a comprehensive assessment of the region's forests.
Seeing the forest for the test-tube trees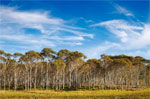 (01/15/2010) Paper manufacturers and environmentalists seem to be reliving Robert Frost's age-old dilemma caused by two roads diverging in the woods. Proponents of genetically engineered trees say the road they've chosen will lead to trees capable of weathering freezing temperatures and disease -- trees that can grow more efficiently on less land and possibly serve as a cheap source of biofuel. In addition, supporters say, genetic engineering holds the possibility of bringing some trees back from the brink of extinction. But critics in the environmental community say the path chosen by the paper industry won't save a single forest from the chainsaw. They fear that test-tube trees may become invasive, destroying the forests they're meant to protect.
Photos: expedition in Ecuador reveals numerous new species in threatened cloud forest

(01/14/2010) An expedition into rainforests on Ecuador's coast by Reptile & Amphibian Ecology International (RAEI) have revealed a number of possible new species including a blunt-snouted, slug-eating snake; four stick insects; and up to 30 new 'rain' frogs. The blunt-snouted snake, which feeds on gastropods like slugs, is especially interesting, as its closest relative is in Peru, 350 miles away. In addition, a fifteen-year-old volunteer with the organization found a snake that specializes on snails. The researchers are unsure of this is a new species: the closest similar snake is 600 miles away in Panama.
Climate change pushes massive Antarctic glacier past tipping point

(01/14/2010) A new study shows that a major Antarctic glacier has likely passed its tipping point, putting it on track to lose 50 percent of its ice in 100 years. Such a loss is estimated to raise global sea levels by 24 centimeters (9.4 inches), according to the study published in the Proceedings of Royal Society A.
Photos: new bird discovered in well-known rainforest in Borneo

(01/14/2010) The Danum Valley Conservation Area in Sabah, Malaysia is a huge draw for tourists and scientists; a research station has been operating in Danum Valley since 1986. But the rainforest still has surprises left: in June two employees with a tour company named Field Guide came upon every ornithologist's dream, a bird species entirely unknown to science.