News articles on mining

---
Mongabay.com news articles on mining in blog format. Updated regularly.





Coal railway could cause 'ecological disaster' in Indonesian Borneo, warn environmentalists

(09/30/2013) Activists have urged the Indonesian government to cancel or reassess plans to build a 148-kilometer coal railway in Indonesian Borneo, claiming the project will be an 'ecological disaster' that will destroy watersheds and lead to increased coal exploitation in the region, threatening ecosystems and undermining local government commitments to reduce greenhouse gas emissions.


Has Brazil turned against its progressive environmental policies?


(09/30/2013) Last year, Brazil rolled back crucial parts of its landmark Forestry Code, potentially opening vast tracts of forest for destruction; it is also moving ahead on a number of Amazon dams, including the infamous Belo Monte, despite international condemnation and conflict with indigenous people. Meanwhile, a new law under consideration proposes allowing large-scale mining in protected areas. Given this a new paper in mongabay.com's open access journal Tropical Conservation Science argues that Brazil has thrown off its once admired mantle of environmental legislation, imperiling hundreds of thousands of species in the most biodiverse country on Earth.


Video of Amazon gold mining devastation goes viral in Peru


(09/26/2013) Video of illegal gold mining operations that have turned a portion of the Amazon rainforest into a moonscape went viral on Youtube after a popular radio and TV journalist in Peru highlighted the story. Last week Peruvian journalist and politician Guido Lombardi directed his followers to video shot from a wingcam aboard the Carnegie Airborne Observatory (CAO), an airplane used by researchers to conduct advanced monitoring and analysis of Peru's forests. The video quickly received more than 60,000 views on Youtube.


Last disease-free Tasmanian devils imperiled by mine


(08/07/2013) The federal environment minister, Mark Butler, has given the go-ahead to a controversial mine that the courts halted amid concerns it could drastically affect the last stronghold of the Tasmanian devil. Butler said he had granted approval to Shree Minerals to proceed with its iron ore mine at Nelson Bay River in the north-west of Tasmania, subject to 30 conditions.


Deforestation rate falls in Congo Basin countries


(07/22/2013) Deforestation has fallen in Congo Basin countries over the past decade despite a sharp increase in the rate of forest clearing in the Democratic Republic of the Congo, according to a new study published in the Philosophical Transactions of the Royal Society B as part of a set of 18 papers on the region's tropical forests. The special issue, which was put together by Oxford University's Yadvinder Malhi, covers a range of issues relating to the rainforests of the Congo Basin, including deforestation, the impacts of global change, the history and key characteristics of the region's forests, and resource extraction, among others.


Apple investigating if tin for smart phones involved child labor

(07/17/2013) Apple is investigating whether tin mined from Bangka Island in Indonesia, where child labor and environmental damage from the mining has been reported, is used in its iPhones and other products.


Colombian mining dispute highlights legislative disarray

(06/27/2013) Colombian authorities have ruled that local environmental officials acted correctly in ordering South African mining giant AngloGold Ashanti to halt their work, following demands from the multinational corporation for their disciplining. Cortolima, the environmental authority of the department of Tolima in central Colombia, stopped AngloGold from conducting unsanctioned exploration activities in the Tolima municipality of Piedras in March.


Indonesian NGOs demand inquiry into natural resource graft

(06/26/2013) A coalition of anti-corruption and environmental NGOs has urged Indonesia's anti-graft body to investigate cases of corruption in the natural resources sector. Corruption linked to the forestry, mining and plantation industries leads to billions of dollars in state losses each year, the coalition said, with the country's natural resources being used as a virtually bottomless piggy bank by corrupt officials.


Mining in Indonesia taking a heavy social, environmental toll


(06/03/2013) In a patch of rainforest in northern Sumatra, a 28-year-old in jeans and tall rubber boots snubs out his cigarette and pulls a headlamp over his short black hair. Standing under a tarp, he flicks the light on and leans over the entrance of a narrow shaft lined with wooden planks that he and other miners cut from trees that once stood here. He gives a sharp tug on a rope that dangles 100 meters, plateauing in sections, and slides down. For hours, the man, Sarial, will use a pick to scrape away and bag rocks that are hauled to the surface by another miner, using a wooden wheel.


Scientists discover high mercury levels in Amazon residents, gold-mining to blame


(05/28/2013) The Madre de Dios region in Peru is recognized for its lush Amazon rainforests, meandering rivers and rich wildlife. But the region is also known for its artisanal gold mining, which employs the use of a harmful neurotoxin. Mercury is burned to extract the pure gold from metal and ore producing dangerous air-borne vapors that ultimately settle in nearby rivers. 'Mercury in all forms is a potent neurotoxin affecting the brain, central nervous system and major organs,'Luis Fernandez, an ecologist and research associate at the Carnegie Institution's Department of Global Ecology, told mongabay.com. 'At extremely high exposure levels, mercury has been documented to cause paralysis, insanity, coma and death.'


U.S. company's open pit gold mine in UNESCO reserve in Mexico raises concerns


(05/28/2013) Sierra la Laguna is a unique ecosystem reserve spanning more than 100,000 hectares in the southern tip of the California peninsula. It is one of the best-preserved natural areas in Mexico and home to about 100 traditional farmer families as well as multiple endemic animal and plant species. But there is one more thing that makes the region unique: approximately 2 million ounces of gold reserves underground worth $2.8 billion at current gold prices.


Top Indonesian official calls out misinformation in environmental campaign

(05/20/2013) Indonesia's top REDD+ official confirmed there is no plan to open 1.2 million hectares of forest in Sumatra's Aceh Province, calling into question numbers used by environmentalists in their bid to stop reclassification of the province's forest land.


NGO: conflict of interests behind Peruvian highway proposal in the Amazon


(05/16/2013) As Peru's legislature debates the merits of building the Purús highway through the Amazon rainforest, a new report by Global Witness alleges that the project has been aggressively pushed by those with a financial stake in opening up the remote area to logging and mining. Roads built in the Amazon lead to spikes in deforestation, mining, poaching and other extractive activities as remote areas become suddenly accessible. The road in question would cut through parts of the Peruvian Amazon rich in biodiversity and home to indigenous tribes who have chosen to live in "voluntary isolation."


Petition targeting plan to open protected forests in Indonesia for mining, logging reaches 1M signatures

(05/15/2013) An AVAAZ petition calling upon Indonesian officials to put a stop to a proposal to open tens of thousands of hectares of protected rainforest to mining, logging, and oil palm plantations has surpassed one million signatures.


Uranium mine at edge of Grand Canyon National Park approved


(05/08/2013) Uranium mining on the doorstep of the Grand Canyon national park is set to go ahead in 2015 despite a ban imposed last year by Barack Obama. Energy Fuels Resources has been given federal approval to reopen its old Canyon Mine, located six miles south of the canyon's popular South Rim entrance, that attracts nearly 5 million visitors a year.


Health effects of toxic waste sites in developing countries could rival malaria, air pollution, new study shows


(05/07/2013) Exposure to dangerous chemicals from toxic waste sites may be creating a public health crisis in developing countries comparable to that caused by malaria or even air pollution, a new study suggests, highlighting the urgent need to clean up toxic waste. In a study published on Saturday in Environmental Health Perspectives, researchers calculated the number of 'healthy years of life lost' due to ill-health, disability or early death in individuals at risk of exposure to chemicals at 373 toxic waste sites in India, the Philippines and Indonesia.


Cement producers hunting for limestone could threaten Borneo caves

(04/30/2013) Steep towers and rock formations jut out of the Borneo rainforest, sitting atop a vast network of caves and underground waterways in Indonesia's Mangkalihat-Sangkulirang region. This dramatic karst landscape, created by the slow erosion of limestone mountains in Indonesia's East Kalimantan province, also contains prehistoric fossils and cave paintings created by some of Borneo's earliest inhabitants and serves as an important source of water for the surrounding area.


Mining companies must turn to recycling as demand for metals grows

(04/30/2013) Demand for metals is likely to increase tenfold as developing economies surge ahead, putting severe stress on the natural environment, a new report from the United Nations Environment Program (Unep) has warned. The organization has suggested a novel response: bring in the mining companies—often seen as the environmental villains—to sort out the recycling.


Samsung admits to using tin linked to child labor, deforestation; Apple mum on sourcing


(04/25/2013) Mobile device giant Samsung has admitted to using tin sourced from a controversial mining operation on the Indonesian island of Bangka, where unregulated mining kills 150 miners a year and causes substantial environmental damage, reports The Guardian and Mongabay-Indonesia.


To win concessions in Aceh, mining company hires official being investigated for graft


(04/18/2013) A Toronto Stock Exchange-listed mining company has hired an official being investigated for corruption under its effort to convince the Aceh provincial government to re-zone protected forest areas for a gold mine on Indonesia's Sumatra island, according to an alliance of Indonesian environmentalists. The official, former Golkar Deputy Chairman Fadel Muhammad, has been retained by East Asia Minerals to help it win a carve-out for its Miwah project, a 30,000-hectare concession atop a forested mountain in Aceh.


Mining company working with Indonesian govt to strip forest of protected status


(04/16/2013) A Toronto-listed mining company says it is working closely with the Indonesian government to strip the protected status of some 1.2 million hectares of forest on the island of Sumatra. In a statement issued Tuesday, East Asia Minerals Corporation (TSX:EAS) claimed it is actively involved in the process of devising a new spatial plan for Aceh province, Sumatra's western-most province. The proposed changes to the spatial plan, which governs land use in the province, would re-zone large areas of protected forest in Aceh for industrial activities.


Anti-mining activist from Indonesia wins top green honor


(04/15/2013) Aleta Baun, an activist who led a movement to block a destructive mine in a remote part of Indonesia, was today awarded the prestigious Goldman Prize, the top honor for green campaigners. Aleta is an indigenous Mollo from Timor, an island in Eastern Indonesia. Raised among small farmers, Aleta's activism emerged as a response to marble mining in the mountains above her community's fields. Deforestation and mining by the companies resulted in landslides, soil erosion, and water pollution.


Investigation clears APP of deforestation allegations in Borneo


(04/04/2013) Two logging companies that supply Asia Pulp & Paper (APP) with timber have not violated the Indonesian forestry giant's new zero deforestation commitment, according to a field investigation by The Forest Trust, a conservation group. The investigation was a direct response to allegations raised in a report published last week by Relawan Pemantau Hutan Kalimantan (RPHK), a consortium of local NGOs in West Kalimantan, the western-most province in Indonesian Borneo. The RPHK report found evidence of active clearing within two concession areas linked to Asia Tani Persada (ATP) and Daya Tani Kalbar (DTK), companies that supply APP with timber for its pulp mills.


China's hunger for resources has big environmental impact in Latin America

(03/29/2013) Amazonian forest cleared in Ecuador, a mountain leveled in Peru, the Cerrado savannah converted to soy fields in Brazil and oil fields under development in Venezuela's Orinoco belt.


APP suppliers allegedly slashing forests and peatlands in Indonesia, despite new 'no deforestation' policy


(03/27/2013) Less than two months after its implementation, two Asia Pulp & Paper (APP) suppliers in Indonesian Borneo have been accused of violating the company's new sustainability policy, which includes a zero deforestation commitment throughout its entire supply chain.


Conservation scientists: Aceh's spatial plan a risk to forests, wildlife, and people


(03/22/2013) A group of biologists and conservation scientists meeting in Sumatra warned that potential changes to Aceh's spatial plan could undermine some of the ecological services that underpin the Indonesian province's economy and well-being of its citizens. After its meeting from March 18-22 in Banda Aceh, the Asia chapter of the Association for Tropical Biology and Conservation (ATBC) issued a declaration [PDF] highlighting the importance of the region's tropical forest ecosystem, which is potentially at risk due to proposed changes to its spatial plan.


Roads could help protect the environment rather than destroy it, argues Nature paper


(03/22/2013) Rapidly expanding road networks are causing large-scale damage to forests but proper infrastructure planning and implementation could actually turn them into a net positive for the environment, argue researchers writing in the journal Nature. William Laurance and Andrew Balmford highlight the severe environmental impacts of roads in wilderness areas, including fostering illegal logging, poaching, colonization, and land speculation.


Into the unknown mountains of Cambodia: rare birds, rice wine, and talk of tigers


(03/14/2013) Ringed with forested mountains forming the borders with Laos and Vietnam, the northeast corner of Cambodia has been an intriguing blank spot among my extensive travels through the country. Nestled up against this frontier is Virachey National Park, created in 1993. I began searching for a way to explore this area a couple of years ago, hoping to connect with conservation NGOs to get me into the park; no one seemed to know much about it. I learned that the area had been written off by these groups due to massive land concessions given to logging and rubber concerns. The World Bank abandoned its 8-year effort to create a management scheme for Virachey after the concessions were granted in 2007. A moratorium on the concessions is temporarily in place, but illegal logging incursions into the park continue.


Aceh claims deal to open 1.2M ha of protected forest to logging, mining is near

(03/14/2013) Indonesia's Ministry of Forestry is close to accepting a proposal to open 1.2 million hectares of forest in Aceh for mining, logging, and palm oil production, reports the Aceh Post.


Burning coal may be killing over 100,000 people in India every year


(03/13/2013) India's dependence on coal-fired power plants for energy may be leading directly to the deaths of 80,000 to 115,000 of its citizens every year, according to the first ever report on the health impacts of coal in the country. The report, commissioned by the Conservation Action Trust and Greenpeace-India, deals only with the direct health impact of coal and not climate change. But even ignoring the rising pain of global warming, the bleak report outlines that coal consumption in India is causing over 20 million asthma attacks, nearly a million emergency room visits, and killing some 10,000 children under five annually.


Brazilian agency rejects Canadian company's bid to mine controversial Amazon dam site for gold

(02/13/2013) Brazil's Federal Public Ministry rejected a proposed gold mining project adjacent to a controversial dam site in the heart of the Amazon rainforest, reports Amazon Watch, an environmental activist group that is campaigning against both the mine and the dam.


In search of conflict-free tin from the Congo

(02/12/2013) I am excited to be returning to the Democratic Republic of Congo (DRC) this weekend. My previous visit in January and February of last year was with a delegation aiming to analyze and audit the first conflict-free supply of tantalum from the DRC via the Solutions for Hope 'closed pipe' project. The success of Solutions for Hope, which Motorola Solutions helped to found with AVX, proved that it is possible to source minerals from the DRC through a secure, traceable chain of custody from mine to smelter. This trip extends from that work with the Conflict-Free Tin Initiative (CFTI).


Amazon river ecosystems being rapidly degraded, but remain neglected by conservation efforts

(02/08/2013) The world's largest river system is being rapidly degraded and imperiled by dams, mining, overfishing, and deforestation, warns a study published last week by an international team of scientists.


Investors beware: global land grabbing ends in 'financial damage' and human rights violations


(02/07/2013) Investing in companies that flout local community rights in developing countries often leads to severe economic losses, according to a new report from the Rights and Resources Initiative (RRI). A rising trend in "land grabbing" from Africa to South America by corporations and even foreign governments results in social instability, which can lead to large-scale protests, violence, and even murder, delaying and sometimes derailing projects. Such instability poses massive risk to any investor, not to mention supporting corporate entities that are accused of ignoring human rights.


Indonesian province of East Kalimantan imposes moratorium on deforestation

(02/02/2013) The Indonesian province of East Kalimantan has imposed a one-year moratorium on new permits for logging, mining, and oil palm plantations, reports Reuters.


Miners win ruling over indigenous groups in Guyana

(01/29/2013) A judge in Guyana's high court has ruled that indigenous groups do not have the right to expel legal miners from their land. The judge, Diana Insanally, found that if the miners in question held a government-approved license than the local community had no right to dispute the mining. The ruling has sparked protests by indigenous groups and is expected to be appealed.


Large blocks of Sumatra's endangered rainforest may be put up for mining, logging


(01/28/2013) The Indonesian province of Aceh on the western tip of the island of Sumatra may be preparing to lift the protected status of key areas of lowland rainforest potentially ending its bid to earn carbon credits from forest conservation and putting several endangered species at increased risk, according to reports.


New website tracks protected areas under attack


(01/16/2013) The struggle to safeguard wild lands and species doesn't end when a park or protected area is created. In fact, social scientists and conservationists are increasingly uncovering a global trend whereby even long-established protected areas come under pressure by industrial, governmental, or community interests. This phenomenon, recently dubbed PADDD (which stands for Protected Area Downgrading, Downsizing, and Degazettement), includes protected areas that see their legal status lowered (downgraded), lose a section of their land (downsized), or are abolished entirely (degazetted). Now, a new website from WWF seeks to track PADDD events worldwide.


Troops in Madagascar free miners held hostage by local protesters

(01/16/2013) Troops in Madagascar last weekend freed nearly 200 employees of Rio Tinto who were trapped inside by a mine by local people protesting the project, reports AFP.


Gold mine approved in French Guiana's only national park


(01/15/2013) Tensions have risen in the small Amazonian community of Saül in French Guiana after locals discovered that the French government approved a large-scale gold mining operation near their town—and inside French Guiana's only national park—against their wishes. Run by mining company, Rexma, locals and scientists both fear that the mine would lead to deforestation, water pollution, and a loss in biodiversity for a community dependent on the forest and ecotourism.


Environment ministry drops copper mine in Zambezi park

(01/07/2013) A proposed copper mine set to be built in Lower Zambezi National Park has been rejected by Zambia's environmental management agency. Australian company Zambezi Resources Ltd, a subsidiary of Proactive Investors, had scheduled the $494 million Kangaluwi Copper Project to begin production in 2015. But their proposal sparked an outcry from environmentalists and government lobbyists concerned about the effects of the open pit mine in the park. Though mining is not generally permitted in the park, Zambezi Resources obtained a Large-Scale Mining License from the government which would have allowed them to mine for 25 years right in the middle of Lower Zambezi National Park.


The year in rainforests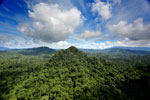 (12/31/2012) 2012 was another year of mixed news for the world's tropical forests. This is a look at some of the most significant tropical rainforest-related news stories for 2012. There were many other important stories in 2012 and some were undoubtedly overlooked in this review. If you feel there's something we missed, please feel free to highlight it in the comments section. Also please note that this post focuses only on tropical forests.


108 million ha of Amazon rainforest up for oil and gas exploration, development

(12/08/2012) Concessions for oil and gas exploration and extraction are proliferating across Amazon countries, reports a comprehensive new atlas of the region.


Mining boom in the Amazon

(12/08/2012) The world's largest rainforest is in the midst of a mining boom fueled by high mineral prices, reveals a new assessment of the Amazon's resources.


Illegal logging, mining worsened impact of Philippines' killer typhoon

(12/06/2012) According to Filipino officials, rampant illegal logging and mining were likely a part of the cause for the high casualty count from Category 5 Typhoon Bopha (Pablo), especially in the Compostela Valley where government officials had warned people to stop the illegal activities. So far, 370 people have been found dead on the island of Mindanao with another 400 missing. Waters rose so high even emergency shelters were inundated.


Deforestation rate falls across Amazon rainforest countries


(12/06/2012) The average annual rate of deforestation across Amazon rainforest countries dropped sharply in the second half of the 2000s, reports a comprehensive new assessment of the region's forest cover and drivers of deforestation. While the drop in deforestation in the Brazilian Amazon has been widely reported, several other Amazon countries saw their rates of forest loss drop as well, according to the report, which was published by a coalition of 11 Latin American civil society groups and research institutions that form the Amazonian Network of Georeferenced Socio-Environmental Information (RAISG).


Featured video: how locals depend on Kalimantan's vanishing forests

(11/27/2012) A new video explores local indigenous views of the forests of Kalimantan or Indonesian Borneo. Having depended on the rainforest ecosystems for centuries, indigenous groups now find themselves under pressure to exploit forest for logging, coal mining, or industrial plantations. While biodiversity, carbon sequestration, and other ecosystem services are at stake, the forests are also deeply intertwined with the culture and way-of-life for indigenous group.


Indian coal giant targets forests

(11/18/2012) The world's largest coal producer, the state-run Coal India Ltd., plans to massively expand mining in forest areas to help meeting surging demand for electricity, reports The Wall Street Journal.


Tanzania weighs new soda ash plant in prime flamingo territory


(11/08/2012) In a choice between flamingoes and a soda ash plant, a new report shows that local residents near Lake Natron, Tanzania prefer flamingoes. This is good news for conservationists as the area is the most important breeding site in the world for lesser flamingos (Phoenicopterus minor). While the report shows agreement between residents and conservation groups that the project isn't worth its cost or risk, the Tanzanian government is not giving up yet.


New rare frog discovered in Sri Lanka, but left wholly unprotected


(11/05/2012) Sri Lanka, an island country lying off the southeast coast of India, has long been noted for its vast array of biodiversity. Islands in general are renowned for their weird and wonderful creatures, including high percentages of endemic species—and Sri Lanka, where scientists recently discovered a new frog species, is no exception.



Page 1 | Page 2 | Page 3 | Page 4 | Page 5