News articles on migration

---
Mongabay.com news articles on migration in blog format. Updated regularly.






On the fence about wildlife fencing: new paper outlines research needed to resolve debate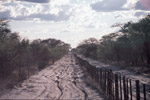 (06/23/2015) Fencing is used to protect wildlife against poaching and human encroachment, and also to protect people and livestock from wildlife. As a conservation strategy, it has proponents as well as detractors. A recent paper by a team of 45 international researchers in the Journal of Applied Ecology questions the wisdom of erecting wildlife fencing in dryland ecosystems. It also seeks to ease decision-making on fencing initiatives by setting a research agenda to answer open questions that will help resolve the debate.
Photo essay: the flying fox show
(04/22/2015) Rain or clear, wind or still, full moon or no. Every night thousands of flying foxes rise from a small mangrove island among the lesser Sunda islands of Indonesia. Around sunset the Sunda flying fox begin to stir in their roots—their stomachs waking them—until the boldest among them takes off into the sky.
Meet Biomuseo: the world's first biodiversity museum
(03/12/2015) Biomuseo, designed by internationally renowned architect, Frank Gehry, is the first museum in the world dedicated to biodiversity. Opened in October 2014, the museum is located at the end of the Amador Causeway in Panama City, facing the Pacific Ocean at the entrance of the Panama Canal.
Monarch butterfly population rises a little, but still perilously low
(01/28/2015) The world's migrating monarch butterfly population has bounced back slightly from its record low last year, but the new numbers are still the second smallest on record. According to WWF-Mexico and the Mexican government, butterflies covered 2.79 acres (1.13 hectares) in nine colonies this year in the Mexican forests where the insects overwinter.
Malta approves public referendum of bird hunt that kills over 15,000

(01/12/2015) Malta's Constitutional Court has upheld a public referendum to decide the fate of the country's controversial spring bird hunt, which kills over ten thousand migrating birds every year. The Constitutional Court threw out objections by Malta's powerful hunting lobby, and instead sided with the 11 conservation groups who organized the referendum, known as the Coalition for the Abolition of Spring Hunting—gathering 40,000 signatures from Maltese voters.
By killing off older fish, overfishing may lead to lost migratory patterns
(10/29/2014) Catching older fish may impact a school's ability to migrate from spawning grounds to feeding areas, according to a recent study published in the Journal of the Royal Society Interface. The study's scientists believe that fish schools may retain a collective memory, a communal mind map of sorts, which help these groups reach their destinations, some of which are thousands of miles away.
'Canary in the cornfield': monarch butterfly may get threatened species status
(09/08/2014) Monarch butterflies were once a common sight throughout the North American heartland. But declines in milkweed – their caterpillars' only source of food – have led to a 90 percent decline in monarch numbers. Now, the U.S. Fish and Wildlife Service is reviewing a petition that would grant the iconic species protection through the Endangered Species Act.
Shot Egyptian vulture leads conservationists to bizarre black-market for bird parts
(06/24/2014) Around 11 AM on Thursday, 27 February 2014, Angoulou Enika was lying hidden in the tall grass on the side of a large water hole in the Sahel region of Niger. He was staying as quiet as he could while aiming his custom-made rifle at an Egyptian vulture which had landed nearby to drink from the water. He took a breath, held it and fired. The large bird fell to its side.
Regional court kills controversial Serengeti Highway
(06/23/2014) The Serengeti ecosystem got a major reprieve last week when the East African Court of Justice (EACJ) ruled against a hugely-controversial plan to build a paved road through Tanzania's Serengeti National Park. The court dubbed the proposed road 'unlawful' due to expected environmental impacts.
Zebras for the win! Africa's longest land migration discovered
(05/29/2014) With food and water scarce in many parts of Africa, many species migrate long-distances in order to survive. A new study published in the journal, Oryx has found a new record-breaker for the continent's longest tracked terrestrial migration: a huge group of zebras that traveled a total distance of 500 kilometers (300 miles).
Elephants in the midst: warning system prevents human-elephant conflicts in India, saves lives
(05/08/2014) Indian elephants once freely roamed the rich mid-elevation evergreen forests of the Valparai plateau in the Western Ghats, one of the world's mega biodiversity regions, but they can't move the way they used to. Ever-increasing commercial plantations and settlements have become obstacles to the daily and seasonal movements of elephants, creating more chances for often-deadly encounters between humans and elephants.
Migrating monarch butterflies hit shockingly low numbers
(01/31/2014) The monarch butterfly population overwintering in Mexico this year has hit its lowest numbers ever, according to WWF-Mexico. Monarch butterflies covered just 0.67 hectares in Mexico's forest, a drop of 44 percent from 2012 already perilously low population. To put this in perspective the average monarch coverage from 1994-2014 was 6.39 or nearly ten times this year's. For years conservationists feared that deforestation in Mexico would spell the end of the monarch migration, but now scientists say that agricultural and policy changes in the U.S. and Canada—including GMO crops and habitat loss—is strangling off one of the world's great migrations.
Reversing local extinction: scientists bring the northern bald ibis back to Europe after 300 years
(12/02/2013) The northern bald ibis (Geronticus eremita), also called the hermit ibis or waldrapp, is a migratory bird. Once, the bald ibis lived in the Middle East, northern Africa and southern and central Europe, but due to hunting, loss of habitat and pesticide-use, the birds disappeared from most of these areas and is currently considered Critically Endangered. It became extinct in Europe 300 years ago; the bird is almost gone in Syria, with only a single individual recorded at the country's lone breeding site in 2013; and the only stronghold left is a small population of around 500 birds in Morocco. But now, a team of scientists from Austria is working to reestablish a self-sustaining, migratory population of bald ibis in Europe.
Madagascar occupied by humans 2,500 years earlier than previously thought
(07/22/2013) New research indicates that Madagascar was occupied some 2,500 years earlier than previously established. The findings, published in Proceedings of the National Academy of Sciences, suggests a more complex view of the human role in the extinction of the island's mega-fauna. A large body of research holds that village communities began to appear in Madagascar around 500 AD. These were established by people of Indonesian and East African heritage, according to past studies that found linguistic similarities between the Malagasy languages of southeastern Borneo as well as genetic markers tying modern-day Malagasy people to both Indonesia and East Africa. But there have been plenty of hints that people came to the world's third largest island well before 500 AD.
Seabirds face big problems as sea levels rise
(06/19/2013) Migratory shorebird populations are at great risk from rising sea levels due to global climate change, warns a recent paper in Proceedings of the Royal Society B. These birds play an important role in the distribution of nutrients within wetland and coastal ecosystems, and their loss could have unknown consequences for the rest of the world.
Syrian bald ibis may be down to a single bird

(06/11/2013) The eastern population of northern bald ibises (Geronticus eremita) has likely fallen to a single breeding bird, reports conservationists monitoring the dwindling flock. The population had believed to be obliterated starting from 1989 until a small group was discovered in 2002 in Syria. However, it now appears that this last group is vanishing one-by-one despite efforts by conservation groups to sustain the distinct population.
Compromise on Serengeti road?: build an elevated highway

(05/22/2013) Famed anthropologist and conservationist Richard Leakey has proposed a possible solution to the hugely controversial Serengeti road: build an elevated highway. Leakey made the remarks during a conference at Rutgers University on May 14th, as reported by Live Science. The Tanzanian government's plans to build a road through the remote, northern Serengeti has come under both environmental and international criticism, as scientific studies and leaked government reports have found the proposed road would hugely hamper the world famous migration across the plans.
Will Amazon species lose the climate change race?
(02/14/2013) Deforestation could increase the risk of biodiversity loss in the Amazon by forcing species to migrate further in order to remain at equilibrium with changing climates, says new research. "As migration models are made more realistic through the inclusion of multiple climatic, biotic, abiotic and human factors, the predicted distances between current and future climate analogues invariably increases," Kenneth Feeley, lead author of the paper published in Global Change Biology, told mongabay.com.
Bird uses hurricane winds to accelerate flight speed to 100 MPH

(08/24/2012) Migrating Whimbrels — a type of shorebird — may struggle for hours against winds when trying to cross the Caribbean during hurricane season but get a huge boost as they fly out of storms, report researchers from the Center for Conservation Biology in Williamsburg, Virginia.
B95, the great survivor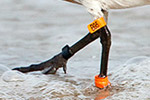 (06/11/2012) He is so long-lived that he has surpassed all expectations, touching hearts throughout the American continent, bringing together scientists and schools, inspiring a play and now even his own biography. B95 is the name of a rufus red knot (Calidris canutus rufus), a migratory bird that in his annual journeys of 16,000 kilometers (9,940 miles) each way from the Canadian Arctic to Tierra del Fuego, in Argentina, has flown a distance bigger than the one between the Earth and Moon.
Legal case against Serengeti road moves forward

(03/21/2012) A regional case against the construction of a proposed road through Serengeti National Park has moved to trial after a judge with the East African Court of Justice (EACJ) threw out concerns by Tanzania reports the Daily Nation. The government of Tanzania has proposed a controversial highway that would bifurcate the northern part of the Serengeti National, only to see their plans stalled by a lawsuit filed by the Kenyan-based NGO, Africa Network for Animal Welfare (ANAW), which argues that the road could have massive consequences for the entire Serengeti ecosystem, a view shared by many scientists.
Seals, birds, and alpine plants suffer under climate change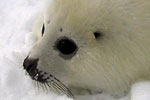 (01/11/2012) The number of species identified by scientists as vulnerable to climate change continues to rise along with the Earth's temperature. Recent studies have found that a warmer world is leading to premature deaths of harp seal pups (Pagophilus groenlandicus) in the Arctic, a decline of some duck species in Canada, shrinking alpine meadows in Europe, and indirect pressure on mountain songbirds and plants in the U.S. Scientists have long known that climate change will upend ecosystems worldwide, creating climate winners and losers, and likely leading to waves of extinction. While the impacts of climate change on polar bears and coral reefs have been well-documented, every year scientists add new species to the list of those already threatened by anthropogenic climate change.
Top 10 Environmental Stories of 2011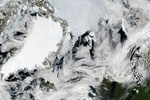 (12/22/2011) Many of 2011's most dramatic stories on environmental issues came from people taking to the streets. With governments and corporations slow to tackle massive environmental problems, people have begun to assert themselves. Victories were seen on four continents: in Bolivia a draconian response to protestors embarrassed the government, causing them to drop plans to build a road through Tipnis, an indigenous Amazonian reserve; in Myanmar, a nation not known for bowing to public demands, large protests pushed the government to cancel a massive Chinese hydroelectric project; in Borneo a three-year struggle to stop the construction of a coal plant on the coast of the Coral Triangle ended in victory for activists; in Britain plans to privatize forests created such a public outcry that the government not only pulled back but also apologized; and in the U.S. civil disobedience and massive marches pressured the Obama Administration to delay a decision on the controversial Keystone XL pipeline, which would bring tar sands from Canada to a global market.
Monarch butterflies decline at wintering grounds in Mexico, Texas drought adds to stress to migration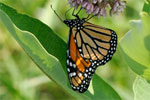 (11/10/2011) Every fall, millions of monarch butterflies travel south to Mexico and take refuge in twelve mountain sanctuaries of oyamel fir forests. Now, declining numbers of the overwintering butterflies expose the migration's vulnerability and raise questions about threats throughout the monarch's lifecycle. A study published online last spring in Insect Conservation and Diversity shows a decrease in Mexico's overwintering monarch butterflies between 1994 and 2011. The butterflies face loss of wintering habitat in Mexico and breeding habitat in the United States. Extreme weather, like winter storms in Mexico and the ongoing drought in Texas, adds yet another challenge.
South Sudan's choice: resource curse or wild wonder?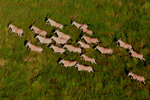 (07/11/2011) After the people of South Sudan have voted overwhelmingly for independence, the work of building a nation begins. Set to become the world's newest country on July 9th of this year, one of many tasks facing the nation's nascent leaders is the conservation of its stunning wildlife. In 2007, following two decades of brutal civil war, the Wildlife Conservation Society (WCS) surveyed South Sudan. What they found surprised everyone: 1.3 million white-eared kob, tiang (or topi) antelope and Mongalla gazelle still roamed the plains, making up the world's second largest migration after the Serengeti. The civil war had not, as expected, largely diminished the Sudan's great wildernesses, which are also inhabited by buffalo, giraffe, lion, bongo, chimpanzee, and some 8,000 elephants. However, with new nationhood comes tough decisions and new pressures. Multi-national companies seeking to exploit the nation's vast natural resources are expected to arrive in South Sudan, tempting them with promises of development and economic growth, promises that have proven uneven at best across Africa.
Newest country boasts one of the world's greatest wildlife spectacles, but protection needed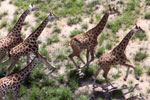 (07/10/2011) At midnight local time on Friday, South Sudan became the world's newest nation. As celebrations continue in the new capital of Juba and congratulations come from every corner of the globe, the Wildlife Conservation Society (WCS) is urging the newborn nation to protect its ecosystems and rich wildlife in order to build a sustainable and forward-looking economy. Home to the world's second largest land migration, South Sudan boasts an abundance of African megafauna that is becoming increasingly rare throughout much of the continent.
Richard Leakey: 'selfish' critics choose wrong fight in Serengeti road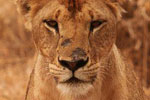 (07/02/2011) The controversial Serengeti road is going ahead, but with conditions. According to the Tanzanian Minister for Natural Resources and Tourism, Ezekiel Maige, the road will not be paved and it will be run by the Tanzanian park authority who will have the power to monitor traffic to 'ensure no harm comes to the wildlife population'. Critics argue that even an unpaved road would eventually cripple the largest land migration in the world. However, famed Kenyan conservationist, ex-politician, and anthropologist, Richard Leakey, told mongabay.com that critics of the road are focusing on the wrong fight while failing to respect Tanzania's right to develop. Leakey says that instead of attempting to stop the road from being built, which he believes is inevitable, critics should instead focus on funding a truly wildlife-friendly road.
Unpaved road through Serengeti to progress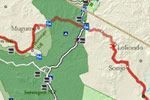 (07/02/2011) After a week of confusion, the Tanzanian government has finally clarified its position on the hugely-controversial Serengeti road. The Minister for Natural Resources and Tourism, Ezekiel Maige, confirmed that a paved highway will not be built through the northern Serengeti National Park, however the government is still planning to construct a gravel road through the park. Yet critics have long warned that even an unpaved road would open Pandora's box: eventually commercial and population pressure would push the road to be paved, widened, and fenced leading to a collapse of the world's largest remaining-and most famous-land migration. Two million wildebeest, zebra, and Thomson's gazelle pass along this route in annual migration from Tanzania to Kenya.
Last search for the Eskimo curlew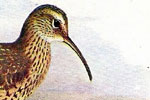 (06/29/2011) The Eskimo curlew is (or perhaps, 'was') a small migratory shorebird with a long curved beak, perfect for searching shorelines and prairie grass for worms, grasshoppers and other insects, as well as goodies including berries. Described as cinnamon-colored, the bird nested in the Arctic tundra of Alaska and Canada during the summer and in the winter migrated en masse as far south as the Argentine plains, known as the pampas. Despite once numbering in the hundreds of thousands (and perhaps even in the millions), the Eskimo curlew (Numenius borealis) today may well be extinct. The US Fish and Wildlife Service (USFWS) has decided to conduct a final evaluation of the species to determine whether its status should be moved from Critically Endangered to Extinct, reports Reuters.
Serengeti road cancelled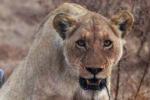 (06/23/2011) In what is a victory for environmentalists, scientists, tourism, and the largest land migration on Earth, the Tanzanian government has cancelled a commercial road that would have cut through the northern portion of the Serengeti National Park. According to scientists the road would have severed the migration route of 1.5 million wildebeest and a half million other antelope and zebra, in turn impacting the entire ecosystem of the Serengeti plains.
New eco-tour to help save bizarre antelope in 'forgotten' region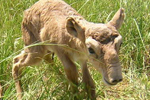 (05/01/2011) Imagine visiting a region that is largely void of tourists, yet has world-class bird watching, a unique Buddhist population, and one of the world's most bizarre-looking and imperilled mammals: the saiga. A new tour to Southern Russia hopes to aid a Critically Endangered species while giving tourists an inside look at a region "largely forgotten by the rest of the world," says Anthony Dancer. Few species have fallen so far and so fast in the past 15 years as Central Asia's antelope, the saiga. Its precipitous decline is reminiscent of the bison or the passenger pigeon in 19th Century America, but conservationists hopes it avoids the fate of the latter.
From the Serengeti to Lake Natron: is the Tanzanian government aiming to destroy its wildlife and lands?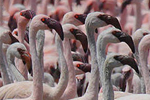 (04/14/2011) What's happening in Tanzania? This is a question making the rounds in conservation and environmental circles. Why is a nation that has so much invested in its wild lands and wild animals willing to pursue projects that appear destined not only to wreak havoc on the East African nation's world-famous wildlife and ecosystems, but to cripple its economically-important tourism industry? The most well known example is the proposed road bisecting Serengeti National Park, which scientists, conservationists, the UN, and foreign governments alike have condemned. But there are other concerns among conservationists, including the fast-tracking of soda ash mining in East Africa's most important breeding ground for millions of lesser flamingo, and the recent announcement to nullify an application for UNESCO Heritage Status for a portion of Tanzania's Eastern Arc Mountains, a threatened forest rich in species found no-where else. According to President Jakaya Kikwete, Tanzania is simply trying to provide for its poorest citizens (such as communities near the Serengeti and the Eastern Arc Mountains) while pursuing western-style industrial development.
Serengeti road project opposed by 'powerful' tour company lobby

(03/16/2011) Government plans to build a road through Serengeti National Park came up against more opposition this week as the Tanzanian Association of Tour Operators (Tato) came out against the project, reports The Citizen. Tato, described as powerful local lobby group by the Tanzanian media, stated that the road would hurt tourism and urged the government to select a proposed alternative route that would by-pass the park. Tato's opposition may signal a shift to more local criticism of the road as opposition against the project has come mostly from international environmentalists, scientists, and governments.
Foreign big agriculture threatens world's second largest wildlife migration

(03/07/2011) As the world's largest migration in the Serengeti plains—including two million wildebeest, zebra, and Thomson's gazelles—has come under unprecedented threat due to plans for a road that would sever the migration route, a far lesser famous, but nearly as large migration, is being silently eroded just 1,370 miles (2,200 kilometers) north in Ethiopia's Gambela National Park. The migration of over one million white-eared kob, tiang, and Mongalla gazelle starts in the southern Sudan but crosses the border into Ethiopia and Gambela where Fred Pearce at Yale360 reports it is running into the rapid expansion of big agribusiness. While providing habitat for the millions of migrants, Gambela National Park's land is also incredibly fertile enticing foreign investment.
First International Serengeti Day hopes to halt road project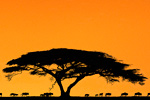 (02/23/2011) On March 19th the conservation organization, Serengeti Watch, is planning the world's first International Serengeti Day to celebrate one of the world's most treasured wildlife ecosystems. But the day also has another goal: bring attention to a Tanzanian government plan to build a road that would essentially cut the ecosystem, threatening the world's largest mammal migration. "The proposed road will be a major commercial route that cuts across a narrow stretch of the Park near the border with Kenya. It goes through a wilderness zone critical to the annual migration of 1.3 million wildebeest and 0.7 million zebras, antelope, and other wildlife. This will involve extracting a strip of land from the Park itself, resulting in both the fragmentation of the ecosystem and the removal of the Serengeti National Park from the list of UN World Heritage Sites," said David Blanton, co-founder of Serengeti Watch, in an interview with mongabay.com.
As South Sudan eyes independence, will it choose choose to protect its wildlife?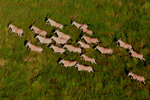 (02/11/2011) After the people of South Sudan have voted overwhelmingly for independence, the work of building a nation begins. Set to become the world's newest country on July 9th of this year, one of many tasks facing the nation's nascent leaders is the conservation of its stunning wildlife. In 2007, following two decades of brutal civil war, the Wildlife Conservation Society (WCS) surveyed South Sudan. What they found surprised everyone: 1.3 million white-eared kob, tiang (or topi) antelope and Mongalla gazelle still roamed the plains, making up the world's second largest migration after the Serengeti. The civil war had not, as expected, largely diminished the Sudan's great wildernesses, which are also inhabited by buffalo, giraffe, lion, bongo, chimpanzee, and some 8,000 elephants. However, with new nationhood comes tough decisions and new pressures. Multi-national companies seeking to exploit the nation's vast natural resources are expected to arrive in South Sudan, tempting them with promises of development and economic growth, promises that have proven uneven at best across Africa.
Scientists: road through Serengeti would likely end wildebeest migration

(02/02/2011) A new study finds that a proposed road cutting through Serengeti National Park would likely have devastating consequences for one of the world's last great migrations. According to the study the road itself could lead to a 35% loss in the famed park's migrating wildebeest herd, essentially cutting the herd down by over half a million animals. Despite such concerns, and the availability of an alternative route that would bypass the Serengeti plains altogether, the Tanzanian government has stated it is going ahead with the controversial road.
World Bank offers to save Serengeti from bisecting road

(01/31/2011) The World Bank has offered to help fund an alternative route for a planned road project that would otherwise cut through Tanzania's world famous Serengeti National Park, according to the German-based NGO Nature and Biodiversity Conservation Union (NABU). When announced last year, the road project raised protests from environmentalists, scientists, and Tanzanian tour companies, but the Tanzanian government refused to shift plans to an alternative southern route for the road, thereby bypassing the park.
Lack of schools, trade drive exodus from remote parts of the Amazon

(12/17/2010) Lack of school access and higher costs of trade are driving an exodus from remote areas in the Amazon, a new study published in Population & Environment reveals. The research sheds light on to why people are leaving remote forest areas. It follows an earlier publication indicating that migration away from remote rural areas may have repercussions on deforestation.
Earth could see 4 degrees Celsius warming in less than a lifetime

(11/29/2010) By the time children born this year reach 50 years old, the Earth could be 4 degrees Celsius warmer (7.2 degrees Fahrenheit) warns a new study as governments meet in Cancun for this year's UN climate summit, which is not expected to produce an agreement. Last year governments pledged in the non-binding Copenhagen Accord to keep temperatures below a 2 degree Celsius rise, but a new study in Philosophical Transactions of the Royal Society A argues that even with current promises to cut emissions this is unlikely and, in a worst-case scenario, a rise of 4 degrees Celsius is possible by 2060.
Flight of the Monarchs Reveals Environmental Connections across a Continent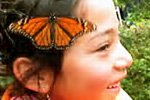 (11/08/2010) As autumn settles across North America, one hallmark of the season is the gentle southward flight of the Monarch Butterflies as they migrate towards the forests that shelter their species during the winter months. Unfortunately, as with other forests across the planet, the Monarch's "over- wintering grounds" in Mexico are suffering from increased human pressures. An innovative conservation group called the ECOLIFE Foundation has stepped up to help safeguard the Monarch's winter forests, and in the process discovered that addressing the Monarch's plight came only after uncovering connections that bind us all. The following article is an interview with Bill Toone, the Executive Director of ECOLIFE.
Flickr reveals longest whale migration

(10/14/2010) Communal photo sharing site, Flickr, has allowed researchers to discover the longest migration by a whale yet recorded. Ten years ago a female humpback whale swam from Brazil to Madagascar, covering around 6,090 miles (9,800 kilometers). The migration tops the previous record by 2,485 miles (4,000 kilometers). Not only is this a record for a whale, it's a record for non-human mammals.
The true cost of the Commonwealth Games

(09/30/2010) UK newspapers have been flooded this week and last by reports of the Commonwealth Games' venue literally caving in and collapsing, athletes have deemed their village accommodation "filthy" and terrorists have apparently threatened attacks. Thanks to the late monsoon this year, floods are now a fear, and the Games' venue has been choked by a cloud of toxic insect repellent due to further fears of an outbreak of the potentially fatal dengue fever because of mosquitoes being drawn to the floods' stagnant water.
Road through the Serengeti will eventually 'kill the migration'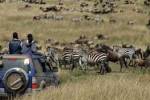 (07/08/2010) Tourists, conservationists, individuals, and tour companies have launched an international outcry against the Tanzanian authorities in response to the announcement of the planned construction of the trans-Serengeti Highway highway. There is even a Facebook group and an online petition with 5,038 signatures. But the government has responded by saying that the plans are still on course.
Gulf oil spill could impact non-coastal songbirds

(05/03/2010) Even though they don't stop over in the Gulf of Mexico, many migrating songbirds could be impacted by the catastrophic oil spill, warns the American Bird Conservancy (ABC). The threats to marine and coastal birds have been well-outlined during the past few days, however birds flying high above the spill could also be vulnerable.
Galapagos fur seals exploit warmer waters to establish colony off Peru

(02/25/2010) As suggested by their name, the Galapagos fur seals were once endemic to the Galapagos island chain off the coast of Ecuador. But in a warming world species are on the move, and the Galapagos fur seal is no exception. According to a recent story in Reuters the Galapagos fur seals have established what appears to be a permanent colony off the coast of Peru, 900 miles from their home.
Sophisticated flying methods allow insects to hitchhike on fast winds

(02/04/2010) Researchers have long been fascinated by how insects migrate thousands of kilometers, for example from Britain to the Mediterranean. A new study, published in Science shows that although tiny, insects are not at the mercy of winds as expected. Instead they employ sophisticated flight behaviors to use fast winds to their advantage.
Conservation organization purchases vital wildlife corridor for elephants in India

(01/11/2010) On Christmas Eve, the Wildlife Trust of India (WTI) and the International Fund for Animal Welfare (IFAW) completed a transaction to purchase an important wildlie corridor used by over a thousand Asian elephants (Elephas maximus). The 25.4 acre Kollegal Elephant Corridor was under private ownership, but may now be incorporated into adjacent Biligiri Ranganswamy Temple Wildlife Sanctuary (IFAW).
Housing developments choking wildlife around America's national parks

(01/05/2010) Housing developments within 50 kilometers (31 miles) of America's national parks have nearly quadrupled in sixty years, rising from 9.8 million housing units to 38 million from 1940 to 2000. The explosion of housing developments adjacent to national parks threatens wildlife in a variety of ways, according to a new study in the Proceeding of the National Academy of Sciences (PNAS). "We are in danger of loving these protected areas to death," says co-author Anna Pidgeon as assistant professor at the University of Wisconsin-Madison.
A 'dangerous world' for migratory birds, an interview with Sarah Lehnen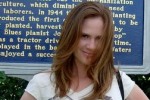 (01/04/2010) Sarah Lehnen has worked with America's rich birdlife for a decade: she has studied everything from songbirds inhabiting dwindling shrub land in Ohio to shorebirds stopping over in the Mississippi Rive alluvial valley, always with an eye towards conservation. Most recently she has been involved in testing migratory birds for avian flu. It may come as a surprise, but American birds are in serious decline. In March of last year, US Secretary of the Interior, Ken Salazar, announced that one-in-three American birds are endangered. Even once common birds are showing precipitous declines. Birds face a barrage of threats, which are only complicated—and heightened—for migratory birds.
Did fish poisoning drive Polynesian colonization of the Pacific?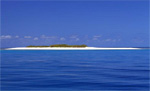 (07/07/2009) The reasons behind the colonization of the Pacific islands have long been sources of controversy and fascination. Now a new study looks into toxic fish poisoning as a possible migration catalyst. Between AD 1000 and 1450, Polynesian colonization of the South Pacific flourished. The voyages that were undertaken in the discovery of these new lands were very dangerous and the people who conducted them undoubtedly had good reasons to do so. Researchers from the Florida Institute of Technology have performed research which shows that toxic ciguatera fish poisoning would provide sufficient impetus for such risky voyages.
Migrations of large mammals in serious declines, six have vanished entirely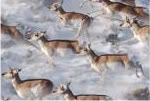 (06/03/2009) Watch any nature documentary and it's sure to include pulse-pounding footage of large herbivores migrating across African plains, Asian steppe, or the Arctic tundra. The images have become iconic: wildebeest forging a crocodile-inhabited river, caribou breaking through snow fields, Saiga running over tall grass. Despite such images of plenty, migrations are declining across the world, and in six cases have disappeared entirely.
Bird migrations lengthen due to global warming, threatening species
(04/15/2009) Global warming is likely to increase the length of bird migrations, some of which already extend thousands of miles. The increased distance could imperil certain species, as it would require more energy reserves than may be available. The new study, published in the Journal of Biogeography, studied the migration patterns of European Sylvia warblers from Africa to breeding grounds in Europe every spring. They discovered that climate change would likely push the breeding ranges of birds north, causing migrations to lengthen, in some cases by a total of 250 miles.
Marine Protected Areas too small for whales and dolphins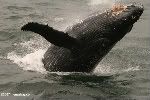 (04/07/2009) Current Marine Protected Areas (MPAs) are too small to adequately serve whales and dolphins according to the Whale and Dolphin Conservation Society (WDCS). The international organization is calling for a global network of MPAs to save the ocean's most beloved inhabitants. "A worldwide effort must be made urgently to identify and define whale and dolphin critical habitats and hot spots," said WDCS Research Fellow, Erich Hoyt.
New technology allows researchers to study mass migrations of fish

(03/26/2009) Employing a new technology, MIT engineers have studied the origins of a mass gathering of hundreds of millions of fish and their subsequent migration. This is the first time a mass migration of animals has been studied from beginning to end, according to their paper published in Science.Until now biologists have depended on theory rather than data from the field, employing computer simulations and experiments in the lab.
Can remittances and globalization help the environment?

(09/05/2007) Globalization and other economic trends appear to be helping the degraded forests of El Salvador recover, reports new research that evaluated the impact of global trade, land policy changes, and remittances on forest cover. The study, by Susanna B. Hecht of University of California at Los Angeles and Sassan S. Saatchi of the California Institute of Technology, used socioeconomic data, land-use surveys, and satellite imagery to document significant increases in the area of El Salvador covered by both light woodlands and forest since peace accords were signed in the warn-torn country in 1992.
Climate change drove human evolution

(09/03/2007) Climate change appears to have been a significant driver of human evolution, report researchers writing in this week's issue of the journal Proceedings of the National Academy of Science (PNAS).