News articles on middle east

---
Mongabay.com news articles on middle east in blog format. Updated regularly.






Earthworm farming in the West Bank (commentary)

(11/25/2014) From what I'm told, there can't be too many worm farms in the West Bank. Local agricultural experts say they've never heard of the practice. That doesn't mean that someone, somewhere isn't happily vermicomposting -- the technical name for worm farming -- but it's clearly not happening at any scale. After today though, there are at least two worm farms up and running here.
Saudi Prince kills two percent of global population of endangered bird
(05/01/2014) In a three week hunting safari between January 11th and 31st of this year, Saudi Arabian Prince Fahd bin Sultan bin Abdulaziz Al Saud and his party allegedly shot down 2,100 Asian Houbara bustards (Chlamydotis macqueenii) in Balochistan, Pakistan. Scientists aren't certain how many Houbara bustards survive today, but their best estimate is around 100,000 and declining.
The smoothtooth blacktip shark and four other species rediscovered in markets
(01/21/2014) Scientific American) magazine recently ran an article on the rediscovery of the smoothtooth blacktip shark (Carcharhinus leiodon) in a Kuwaiti fish market. Believed extinct for over 100 years, the smoothtooth had not been seen since the naturalist Wilhelm Hein returned from a trip to Yemen in 1902. With its reappearance, scientists scoured Kuwaiti markets and discovered an astounding 47 individual smoothtooth blacktips.
Iraq gets its first national park: just call it Eden

(08/19/2013) Late last month, the Iraqi Council of Ministers approved the nation's first national park: the Mesopotamian marshes, which some scholars believe were the site of the historical Garden of Eden. The establishment of the park is a major milestone for a nation still plagued by violence with the park itself linked to the ravages of the Saddam Hussein regime.
Syrian bald ibis may be down to a single bird

(06/11/2013) The eastern population of northern bald ibises (Geronticus eremita) has likely fallen to a single breeding bird, reports conservationists monitoring the dwindling flock. The population had believed to be obliterated starting from 1989 until a small group was discovered in 2002 in Syria. However, it now appears that this last group is vanishing one-by-one despite efforts by conservation groups to sustain the distinct population.
Poisonous jellyfish on the rise in the Mediterranean

(06/11/2013) Scientists across the Mediterranean say a surge in the number of jellyfish this year threatens not just the biodiversity of one of the world's most overfished seas but also the health of tens of thousands of summer tourists.
Iraqi who is bringing back the Garden of Eden wins top environment award
(04/16/2013) The vast Mesoptomian marshes in southern Iraq were said to be the site of the original Garden of Eden. On their fringes have risen and fallen 12,000 years of Sumerian, Assyrian, Chaldean, Persian and Arab civilizations. Organized farming is thought to have begun here, as did the first cities and writing. In legend, Gilgamesh fell asleep on the water side and let slip from his fingers the plant of eternal youth. Abraham was said to have been born here and explorers like Sir Wilfred Thesiger made their name here.
Asiatic cheetahs: on the road to extinction?
(02/26/2013) Cheetahs (Acinonyx jubatus) are unique among large cats. They have a highly specialized body, a mild temperament, and are the fastest living animals on land. Acinonyx jubatus venaticus, the Asiatic subspecies, is unique among cheetahs and the only member of five currently living subspecies to occur outside of Africa. Listed as Critically Endangered on the IUCN Red List—with a population of between 70 and 100 individuals—the Asiatic cheetah is one of the rarest felines on the planet. But new proposed road through one of its last habitat strongholds may threaten the cat even further.
Scientist: releasing invasive birds in Turkey to eat ticks will backfire
(02/04/2013) As Turkey raises and releases thousands of non-native helmeted guineafowl (Numida meleagris) to eat ticks that carry the deadly Crimean-Congo hemorrhagic fever virus, new research suggests guineafowl actually eat few ticks, carry the parasites on their feathers, and further spread the disease.
Saving the Arabian leopard, the world's smallest leopard
(01/14/2013) Today most people are more likely to associate Yemen with warfare and bizarre terrorism plots rather than wildlife. But Yemen is home to a surprising diversity of animals, including a population of the world's smallest leopard: The Arabian leopard (Panthera pardus nimr). Native to the Arabian Peninsula, the Arabian leopard is today extremely rare — less than 200 animals are thought to survive in the wild. Despite the cat's precarious position, there is relatively little local enthusiasm to protect a species that is widely seen as a threat to livestock. Nevertheless one man in Yemen is trying to boost the value of leopard in the eyes of local people. David Stanton, an American teacher living in Yemen, had devoted his life to saving the Arabian leopard.
Hopes pinned on Obama again as Doha Climate Summit opens
(11/26/2012) A number of observers have expressed hope that the Obama Administration, fresh from a re-election victory in the U.S., will take a more active and ambitious role at this year's UN Climate Summit, held in Doha, Qatar. The summit opens amid fresh—and increasingly dire—warnings over climate change from the World Bank, the International Energy Agency, and the UN itself.
As Doha Climate Summit kicks off, more ambitious cuts to greenhouse gas emissions needed

(11/26/2012) As the 18th meeting of the UN Framework Convention on Climate Change (UNFCCC) kicks off this morning in oil and gas rich Qatar, the world body warns that much more ambitious greenhouse gas cuts are needed to keep catastrophic climate change at bay. A new report by the UN Environment Program (UNEP) and the European Climate Foundation finds that even if all current emissions pledges are kept, the world will still spew 8 billion tonnes of CO2 equivalent above what is needed by 2020, putting the globe on a fast-track to dangerous climate change.
Mysteries surrounding the legendary and vanishing oriental bald ibis
(10/31/2012) In a remote corner of the Ethiopian highlands in January 2011, the bright tropical light combined with the fresh and thin air at 3,600 metres. The Ethiopian bird-watching guide and conservationist, Yilma Dellelegn, from the Ethiopian Wildlife Society, was startled when he spotted two un-ringed young bald ibises, together with two ringed and well known adult females (Zenobia and Salam) at their wintering site. Considering the dwindling numbers, two unaccounted for young birds, literally popping out of the blue, were a great surprise—and precious! The sighting had the potential to raise intriguing geographic and behavioral questions: in fact, the riddle of the migration and wintering strategy of the oriental northern bald ibis (Geronticus eremita) was still half way from being solved.
Food prices rise as food aid needed in Middle East and Africa

(10/04/2012) Food prices increased in September on the FAO Food Price Index after two months of stability, while food aid has been urgently called for in Yemen and Syria, and concerns lingered in parts of Africa. Food prices globally rose 3 points (or 1.4 percent) to 216 points.
Cute animal picture of the day: caracal kitten in Yemen

(10/01/2012) The first ever research project on the caracal (Caracal caracal) in Yemen has taken an astounding photo of a mother caracal and her kitten in the Hawf Protected Area. Conducted by largely local researchers, the study is aiming to estimate Yemen's caracal population and better understand the threats to the species.
Cute animal picture of the day: baby Yemen chameleons

(07/23/2012) Ten Yemen chameleons (Chamaeleo calyptratus) were recently born at the Zoological Society of London's (ZSL) Whipsnade Zoo. A popular pet species, the chameleons, also known as veiled chameleons, still thrive in the mountainous wilds of Yemen and Saudi Arabia. It is listed as Least Concern by the IUCN Red List.
Animal picture of the day: rare image of Asiatic cheetah and cubs

(07/03/2012) The Asiatic cheetah (Acinonyx jubatus venaticus), also known as the Iranian cheetah, is one the world's rarest cat subspecies with somewhere between 70-110 individuals left. No surprisingly it is considered Critically Endangered by the IUCN Red List.
New reptile discovered in world's strangest archipelago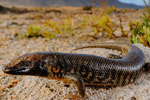 (04/25/2012) Few people have ever heard of the Socotra Archipelago even though, biologically-speaking, it is among the world's most wondrous set of islands. Over one third of Socotra's plants are found no-where else on Earth, i.e. endemic, while 90 percent of its reptiles are also endemic. Adding to its list of unique life-forms, researchers have recently uncovered a new skink species that is found only on the island of Abd al Kuri, which is slightly smaller than New York City's Staten Island. Dubbed the "the other Galapagos," the four Socotra islands are under the jurisdiction of Yemen, although geographically speaking the islands are actually closer to Somalia.
Extinct frog rediscovered in Israel

(11/21/2011) After its marshland was drained, researchers thought the Hula painted frog (Discoglossus nigriventer) had vanished for good. However a patrol at the Ha-Hula lake in Israel recently discovered a single female amphibian that turned out to be the long-lost, and long-sought, Hula painted frog.
Citizens of 188 countries challenge leaders on climate change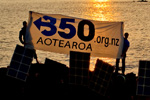 (10/11/2010) As world leaders continue to fumble a coherent, rapid, and comprehensive response to climate change, citizens from around the world yesterday sent a message to inert politicians by participating in over 7,300 events against climate change, according to 350.org, the head organizer of the day dubbed the 'Global Work Party'. "The fossil fuel industry may have thought that the collapse of the Copenhagen talks and its victory in the U.S. Congress were the final word—that people would give up in discouragement," said, Bill McKibben, founder of 350.org, so-called because 350 parts per millions (ppm) is the 'safe' amount of carbon in the atmosphere according to many scientists. Currently the concentration is around 390 ppm.
Summer from hell: seventeen nations hit all-time heat records

(08/09/2010) The summer isn't over yet, but already seventeen nations have matched or beaten their all-time heat records. According to Jeff Masters' WunderBlog, Belarus, the Ukraine, Cyprus, Russia, Finland, Qatar, the Sudan, Saudi Arabia, Niger, Chad, Kuwait, Iraq, Pakistan, Colombia, Myanmar, Ascension Island, and the Solomon Islands have all equaled or broken their top temperature records this year. In addition, the hottest temperature ever recorded in Asia was taken in Pakistan at 128 degrees Fahrenheit (53 degrees Celsius); this incredible temperature still has to be reviewed by the World Meteorological Organization (WMO).
Amazing reefs: how corals 'hear', an interview with Steve Simpson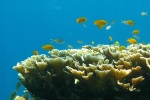 (07/21/2010) Corals aggregate to form vast reefs, which are home to numerous species and provide vital ecological services such as protecting shorelines. However, coral reefs are one of the most threatened ecosystems in the world due to many factors, such as global warming and ocean acidification. Recent research by Simpson and his team of scientists has shown that corals, rather than drifting aimlessly after being released by their parent colonies and by chance landing back on reefs, instead find their way purposefully to reefs by detecting the sound of snapping shrimps and grunting fish on the reef. However, that discovery also means that the larvae might struggle to find reefs when human noises, like drilling or boats, mask the natural ocean sounds.
Forgotten Species: the fiery Luristan Newt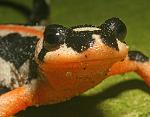 (02/08/2010) The salamander was a mythical creature before it was a real one: the word salamander means a legendary lizard that both survived-in and could extinguish fire. A creature that the Ancient Greeks, including Aristotle, appeared to readily believe in. No one knows how the term salamander transferred from a mythical fire-dwelling monster to the small amphibious animals it applies to today, but I have a theory. Perhaps the sight of salamanders like Luristan newt—charcoal-black and flame-orange—caused people in the seventeenth century to lend the name of myth to the taxa.
Photos: massive spider discovered in Middle East is greatly endangered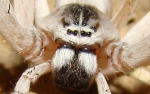 (01/12/2010) Measuring at 14 centimeters (5.5 inches), a new spider discovered in the sand dunes of Israel is the largest of its kind in all of the Middle East. How it avoided detection until now in one of the world' longest inhabited—and explored—regions is likely due, at least in part, to the species' entire habitat consisting of only three square kilometers.
Photos: four Critically Endangered Somali wild ass born at preserve in Qatar

(12/07/2009) Four Somalia wild ass were born at the Al Wabra Wildlife Preservation (AWWP) in Qatar. The Somali wild ass (Equus africanus somaliensis) is a subspecies of the African wild ass, both of which are classified by the IUCN Red List as Critically Endangered. The four foals all have the same father, a stallion named 'Hector' which came to AWWP in April 2008 from the Montpellier Zoo.
Rich countries buy up agricultural land in poor countries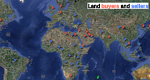 (05/26/2009) Over two-and-half million hectares in the Democratic Republic of the Congo; half a million hectares in Tanzania; and a quarter of a million hectares in Libya: these figures represent just some of the recent international land deals where wealthy countries buy up land in poorer nations for food, and sometimes biofuel, production. The controversial trend has sparked a recent report from the International Food Policy Research Institute (IFPRI) highlighting what nations have to gain—and lose—from participating in such deals.
New park in United Arab Emirates to protect rare mammals

(04/28/2009) With only 2,500 individuals in the wild, the Arabian tahr is certainly in need of the sanctuary just established by the United Arab Emirates. The country's first mountain reserve, Wadi Wurayah Fujairah covers 129 square kilometers (80 square miles).
Saline agriculture may be the future of farming

(12/04/2008) Accessible and unpolluted freshwater is a necessity for every nation's stability and well-being. Yet, while the demand for freshwater continues to rise, its sources face increasing threats from salinization, a process whereby the salt content of fresh water rises until the water becomes undrinkable and unusable in agriculture: the more salt in the soil, the lower the crop yield.
Mangrove species flourishes in the United Arab Emirates after a century of local extinction

(08/20/2008) A long-absent mangrove species is flowering again in the United Arab Emirates a hundred years since its disappearance. Seeds of the rhizophora mucronata were brought from Pakistan and planted along the coast. The project was a joint venture between the United Arab Emirate's (UAE) Department of President's Affairs and the Environment Agency-Abu Dhabi.