News articles on methane

---
Mongabay.com news articles on methane in blog format. Updated regularly.





Palm oil's climate impact worse than thought due to methane emissions

(02/27/2014) Methane leaks from palm oil wastewater significantly increases the climate impact of palm oil production beyond emissions from land clearance, fire, and peatlands drainage, reports a new study published in Nature Climate Change. The research, led by Philip. G. Taylor of the University of Colorado, finds that annual methane emissions from palm oil wastewater effluent amount to the equivalent of 115 million tons carbon dioxide in Malaysia and Indonesia alone, or roughly 15 percent of total emissions from peat oxidation and land use change in the two countries.


Fracking: the good, the bad and the ugly


(11/18/2013) The last few years have ushered in a new national and global awareness of fracking, the 150-year-old technology for extracting natural gas and oil from rock. Fracking, short for hydraulic fracturing, uses ultra-high-pressure slurries to create hairline fractures throughout solid rock. Oil, and more frequently gas, comes rushing out while sand from the mixture holds the fractures open in this nearly alchemical process. As many readers are aware, there are two very divisive schools of thought on fracking. One side touts it as the future of energy. The other derides fracking as inherently toxic and demands its immediate and permanent cessation. Like so many aspects of life, the truth lies somewhere in between.


CO2 concentrations hit new high last year

(11/06/2013) The concentrations of carbon dioxide in the atmosphere hit a record high last year, according to a new report by the World Meteorological Organization (WMO). While this was not a surprise given still-rising global emissions, the concentration rose significantly more than the average this decade. According to the WMO's annual greenhouse gas bulletin, CO2 concentrations hit 393.1 parts per million (ppm) in 2012.


France upholds nationwide ban on fracking

(10/14/2013) France's landmark ban on fracking has survived constitutional challenges lobbed by U.S.-company, Schuepbach Energy. On Friday, the nation's Constitutional Council decided that the ban did not violate France's constitution. Passed in 2011 under then President Nicolas Sarkozy, the ban has since been upheld by current President Francios Hollande.


Arctic melt to cost trillions

(07/30/2013) Rapid thawing of the Arctic could trigger a catastrophic "economic timebomb" which would cost trillions of dollars and undermine the global financial system, say a group of economists and polar scientists. Governments and industry have expected the widespread warming of the Arctic region in the past 20 years to be an economic boon, allowing the exploitation of new gas and oilfields and enabling shipping to travel faster between Europe and Asia.


Indigenous groups protest hydropower congress as controversy hits meeting in Malaysia


(05/22/2013) The opening of the International Hydropower Association (IHA) World Congress in the Malaysian state of Sarawak was marred today by indigenous protests and controversy after a local indigenous leader was barred from attending a pre-conference workshop. Over 300 people from local indigenous people protested the ongoing construction of around a dozen mega-dams in the state that threaten to flood traditional lands, force villages to move, and upend lives in the state. The Sarawak hydropower plans are some of the most controversial in the world—making the choice of Kuching, Sarawak for the IHA meeting an arguably ironic one—with critics contending that the dams are have been mired in political corruption, including kickbacks and bribes. IHA brings together dam builders, banks, and various related organizations worldwide every two years.


Rise in 1.5 degrees Celsius likely to spark massive greenhouse gas release from permafrost


(02/25/2013) While nations around the world have committed to keeping temperatures from rising 2 degrees Celsius (3.6 degrees Fahrenheit) above the pre-industrial era, new research published in Science suggests that the global climate could hit a tipping point at just 1.5 degrees Celsius (2.5 degrees Fahrenheit). Studying cave stalactites and stalagmites in Siberia, scientists found that at about 1.5 degrees Celsius the Siberian permafrost melts, potentially releasing a greenhouse gas bomb of 1,000 giga-tonnes, according to some experts.


Hotter and hotter: concentrations of greenhouse gases hit another new record

(11/20/2012) As expected, greenhouse gas concentrations in the Earth's atmosphere hit another record last year, according to a new UN World Meteorological Organization (WMO). The increasing concentrations of greenhouse gases means that radiative forcing—changes in the atmosphere's energy balance that leads to warming—has jumped 30 percent in the last twenty years.


Indigenous groups re-occupy Belo Monte dam in the Amazon

(10/09/2012) Construction on Brazil's megadam, Belo Monte, has been halted again as around 150 demonstrators, most of them from nearby indigenous tribes, have occupied the main construction site at Pimental. Over a hundred indigenous people joined local fishermen who had been protesting the dam for 24 days straight. Indigenous people and local fishermen say the dam will devastate the Xingu River, upending their way of life.


U.S. eyes massive frozen methane deposits as future energy source

(09/04/2012) The Department of Energy last week announced research grants for projects seeking to exploit methane hydrates as a new source of energy.


Pictures: Destruction of the Amazon's Xingu River begins for Belo Monte Dam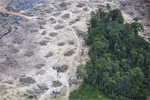 (04/18/2012) The Xingu River will never be the same. Construction of Belo Monte Dam has begun in the Brazilian Amazon, as shown by these photos taken by Greenpeace, some of the first images of the hugely controversial project. Indigenous groups have opposed the dam vigorously for decades, fearing that it will upend their way of life. Environmentalists warn that the impacts of the dam—deforestation, methane emissions, and an irreparable changes to the Xingu River's ecosystem—far outweigh any benefits. The dam, which would be the world's third largest, is expected to displace 16,000 people according to the government, though some NGOs put the number at 40,000. The dam will flood over 40,000 hectares of pristine rainforest, an area nearly seven times the size of Manhattan.


Six nations, including U.S., set up climate initiative to target short-term greenhouse gases

(02/20/2012) With global negotiations to tackle carbon emissions progressing interminably, nations are seeking roundabout ways to combat global climate change. U.S. Secretary of State, Hillary Clinton, announced in India last week a new six nation initiative to target non-carbon greenhouse gases, including soot (also known as "black carbon"), methane, and hydro-fluorocarbons (HFCs). Reductions of these emissions would not only impact short-term climate change, but also improve health and agriculture worldwide according to a recent study in Science.


Activists form network to fight Sarawak dam-building spree

(02/15/2012) Last October indigenous groups, local people, and domestic NGOs formed the Save Sarawak's Rivers Network to fight the planned construction of a dozen dams in the Malaysian state on the island of Borneo. The coalition opposes the dam-building plans, known as the Sarawak Corridor of Renewable Energy (SCORE) initiative, due to its impacts on indigenous and river communities, the destruction of pristine rainforest, and the degradation of the state's rivers.


Targeting methane, black carbon could buy world a little time on climate change


(01/12/2012) A new study in Science argues that reducing methane and black carbon emissions would bring global health, agriculture, and climate benefits. While such reductions would not replace the need to reduce CO2 emissions, they could have the result of lowering global temperature by 0.5 degrees Celsius (0.9 degree Fahrenheit) by mid-century, as well as having the added benefits of saving lives and boosting agricultural yields. In addition, the authors contend that dealing with black carbon and methane now would be inexpensive and politically feasible.


Featured video: are hydroelectric dams a solution to climate change?

(11/28/2011) A new video from NGOs International Rivers and Friends of the Earth International argues that a spree of dam building in the tropics is a false solution to the climate crisis. The video has been released to coincide with the UN's 17th Climate Summit now beginning in Durban, South Africa.


Opposition rises against Mekong dam as governments ponder decision


(04/13/2011) As the governments of Laos, Thailand, Cambodia, and Vietnam ready to meet on April 19th to decide whether or not to move forward on the Xayaburi Dam, critics of Mekong River hydroelectric project have warned that the dam will devastate freshwater biodiversity and impact the livelihoods of hundreds of thousands, if not more. Last month a coalition of 263 organizations from 51 countries released a letter in opposition of the dam's construction.


Gas from 'fracking' not climate friendly

(04/13/2011) It appears every time a fossil fuels industry claims its energy is 'green' or 'climate-friendly', scientists discover this just isn't so. The most recent culprit is natural gas produced by an already controversial method known as hydraulic fracturing, or fracing, which extracts the gas from shale basins. A new study in Climatic Change has found that the process of fracing is worse than coal over a 20-year period and about equal over 100-years. Coal had long been considered the worst climate offender of all energy options.


Indigenous leaders take fight over Amazon dams to Europe

(03/02/2011) Three indigenous Amazonian leaders spent this week touring Europe to raise awareness about the threat that a number of proposed monster dams pose to their people and the Amazon forest. Culminating in a press conference and protests in London, the international trip hopes to build pressure to stop three current hydroelectric projects, one in Peru, including six dams, and two in Brazil, the Madeira basin industrial complex and the massive Belo Monte dam. The indigenous leaders made the trip with the NGO Rainforest Foundation UK, including support from Amazon Watch, International Rivers, and Rainforest Concern.


Despite fierce opposition, work begins on Belo Monte dam

(01/27/2011) Arguably the most opposed dam project in the world received the go-ahead this week, reports the BBC. Brazil's environmental agency, IBAMA, has approved the first step of the massive hydroelectric project: clearing 588 acres of rainforest in the Amazon, although the dam would flood nearly 200 square miles (500 square kilometers) of forest.


Formal petition filed against Belo Monte dam

(11/11/2010) The struggle against Brazil's Belo Monte dam on the Xingu River continues as today indigenous groups sent a formal petition to the Inter-American Commission on Human Rights (IACHR) to suspend the dam's construction, stating the dam violates human rights. The dam, which has been contentious in Brazil for decades, would flood 500 square miles of rainforest, lead to the removal of at least 12,000 people in the region, and upturn the lives of 45,000 indigenous people who depend on the Xingu River for survival.


146 dams threaten Amazon basin

(08/19/2010) Although developers and government often tout dams as environmentally-friendly energy sources, this is not always the case. Dams impact river flows, changing ecosystems indefinitely; they may flood large areas forcing people and wildlife to move; and in the tropics they can also become massive source of greenhouse gases due to emissions of methane. Despite these concerns, the Amazon basin—the world's largest tropical rainforest—is being seen as prime development for hydropower projects. Currently five nations—Brazil, Bolivia, Colombia, Ecuador, and Peru—are planning over 146 big dams in the Amazon Basin. Some of these dams would flood pristine rainforests, others threaten indigenous people, and all would change the Amazonian ecosystem. Now a new website, Dams in Amazonia, outlines the sites and impacts of these dams with an interactive map.


Indigenous tribes occupy dam in Brazil, demand reparations

(07/27/2010) An indigenous group in Brazil has taken over a hydroelectric dam, which they state has polluted vital fishing grounds and destroyed sacred burial ground. They are demanding reparations for the damage done and that no more dams are built in the region without their prior consent.


Methane and Climate Change: From the Amazon to the Gulf of Mexico

(06/20/2010) In surveying the environmental damage unleashed from the BP oil spill, could we be missing the 800-pound gorilla in the closet? While oil poses undeniable ecological risks, methane (CH4) could prove daunting as well. As it turns out, crude which is destroying the Gulf of Mexico contains about 40 percent methane which may suffocate marine life and create vast "dead zones" where oxygen becomes so depleted that nothing is allowed to live.


Got milk: 3 percent of greenhouse gases from milk production

(04/21/2010) Just less than 3 percent of the world's greenhouse gas emissions come from the production of milk, according to a new study by the UN Food and Agricultural Organization (FAO). Covering dairy producing animals from small nomadic herds to massive industrialized dairy operations, the FAO study factors in the production, processing, and transportation of milk as well as the fertilizer, pesticides, and feed used in the dairy industry. The total rises 4 percent if using dairy animals for meat is included.


Massive methane leak in Arctic could trigger abrupt warming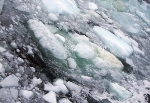 (03/04/2010) Methane, a greenhouse gas 30 times more potent than carbon, is spewing from what was believed to be an impermeable barrier in Siberia in amounts equal to methane releases from the world's oceans. The discovery has lead researchers to fear the possibility of abrupt climate warming. According to the study published in Science, subsea permafrost below the East Siberian Arctic Shelf has become compromised, leaking vast amounts of methane into the atmosphere.


Americans throw away enough food every year to feed 200 million adults

(11/30/2009) The amount of food Americans throw away has risen by approximately 50 percent since 1974 according to a new study in PLoS ONE. American now waste on average 1400 calories per person everyday, equaling 150 trillion calories a year nationwide. Considering that the average person requires approximately 2,000 calories a day, this means that the US could feed over 200 million adults every year with the food that ends up in the trash. Currently, the UN estimates that one billion people—an historical record—are going hungry worldwide.


Land of plenty: 50 percent rise in the amount of food wasted in America worsens global warming, consumes freshwater

(11/25/2009) Just before Thanksgiving a new study shows that Americans are throwing away more food than ever. Since 1974 the amount of food Americans water per capita has risen by approximately 50 percent, according to a new study in PLoS ONE. Researchers found that food waste is adding to America's greenhouse gas emissions and accounts for over one quarter of the nation's freshwater consumption every year.


Summer sea ice likely to disappear in the Arctic by 2015

(08/31/2009) If current melting trends continue, the Arctic Ocean is likely to be free of summer sea ice by 2015, according to research presented at a conference organized by the National Space Institute at Technical University of Denmark, the Danish Meteorological Institute and the Greenland Climate Center.


Burning rainforests, melting tundra could accelerate global warming well beyond current projections


(02/16/2009) Projections by the Intergovernmental Panel on Climate Change (IPCC) likely underestimate the scale and rapidity of climate change, warned a Stanford University scientist presenting Saturday at the annual meeting of the American Association for the Advancement of Science (AAAS) in Chicago.


Observed sea level rise, ice melt far outpaces projections


(12/17/2008) Sea levels will rise faster than previously estimated due to rapid melting of glaciers and ice sheets, according to a U.S government report released at the annual meeting of the American Geophysical Union in San Francisco. The report, titled Abrupt Climate Change, incorporates research published since last year's Intergovernmental Panel on Climate Change (IPCC) report, which drew largely from studies dating up to 2006. Most significantly, Abrupt Climate Change suggests that IPCC estimates for future sea level rise (18-58 cm) are conservative, noting that recent observations on sea level rise and loss of sea ice are far outpacing previous projections.


Did prehistoric farmers drive early global warming?

(09/03/2008) In 2003 William Ruddiman put forth a controversial theory: 7,000 years ago the rise of agriculture spawned large-scale climatic changes. According to Ruddiman, the felling of forests for fields throughout Europe and Asia caused a rise in carbon dioxide, while the flooded fields for rice released methane gas. This combination of large amounts of carbon dioxide and methane entering the atmosphere caused the globe to warm, preventing the planet from entering another ice age.


Melting permafrost will be major driver of global warming

(09/01/2008) The thawing of permafrost in northern latitudes will become a major source of greenhouse gas emissions, according to a new study that more than doubles previous estimates of the amount of carbon stored in the frozen soils of Alaska and Siberia.