News articles on medicine

---
Mongabay.com news articles on medicine in blog format. Updated regularly.






Coral could prevent HIV: newly discovered protein blocks infection
(05/09/2014) In the waters off the coast of northern Australia lives a species of feathery coral. Years ago, bits of it were collected by the Australian Institute of Marine Science and stored at the National Cancer Institute's extract repository, along with 200,000 other samples. Researchers retrieved and tested this coral sample, and recently reported that it was very effective at blocking HIV infection of host cells.
Hope rises as new malaria vaccine shows promise
(08/12/2013) Last week U.S. scientists with the biotech company, Sanaria, announced a possible breakthrough on an experimental malaria vaccine: an early trial led to a success rate of 80 percent for the two highest doses. Malaria remains one of the world's worst scourges. In 2010, the World Health Organization reported 219 million documented cases of malaria (millions more likely went undocumented) and estimated that between 660,000 and 1.2 million died of the disease, mostly children in Africa, that year alone. Mortality is not the only impact of the disease, however: experts have long noted circular links between malaria, poverty, and stalled development.
Loris champion: conserving the world's most surprising primate family
(06/04/2013) Before Anna Nekaris began championing the cause of the world's lorises, little was known about this cryptic family of large-eyed, nocturnal, insect-eating, venomous primates. Nekaris, with Oxford Brookes University and founder of the Little Fireface project, has been instrumental in documenting rarely-seen loris behavior, establishing conservation programs, and identifying new species of these hugely-imperiled Asian primates.
Scary caterpillar fungus could lead to new cancer drug
(01/14/2013) Cordyceps sinensis, commonly known as caterpillar fungus, may be a groundbreaking new treatment for a number of life-threatening conditions including asthma, kidney failure and cancer according to a paper recently published by The RNA Society. If you're a caterpillar of the Tibetan Plateau, the fungus Cordyceps is your worst nightmare. It hits you when you're most vulnerable, during hibernation. You can try to stay awake, but on the Tibetan plateau, which reaches −40 degrees Celsius during the winter, you'll have to hibernate sooner or later, and the fungus will be waiting for you.
Over 80 species targeted by hunters in Brazil's northeast

(09/17/2012) A new survey of hunting in Brazil's northeastern state of Paraíba, finds that hunters target, often illegally over 80 species for food, the pet trade, medicine, leather, fur, and ornaments. Over half of the species, mainly birds and mammals, are targeted for food, according to the research published in mongabay.com's open access journal Tropical Conservation Science.
Amazon plant yields miracle cure for dental pain

(03/14/2012) The world may soon benefit from a plant long-used by indigenous people in the Peruvian Amazon for toothaches, eliminating the need for local injections in some cases. Researchers have created a medicinal gel from a plant known commonly as spilanthes extract (Acmella Oleracea), which could become a fully natural alternative to current anesthetics and may even have a wide-range of applications beyond dental care.
Smelly frogs may be key to fighting antibiotic-resistant infections

(12/01/2011) Foul smelling frogs may save lives, according to new research in the Journal of Proteome Research. Examining nine species of Chinese frogs, known as "odorous" frogs for their off-putting smell, researchers have discovered an astounding variety of antimicrobial peptides, or put simply bacteria-killers.
Zoopharmacognosy: how self-healing animals could save humans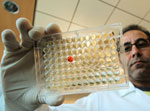 (11/27/2011) As humans we take many things for granted. When we come down with a sore throat, a fever, or the dreaded stomach flu, we drag our aching bodies into our cars and visit the doctor. Animals have no such luxury. Instead they have mastered evolution and have acquired an innate knowledge of the plants, soils, minerals, algae, and other remedies that nature offers to heal their aches and pains.
Chemotherapy tree facing extinction

(11/10/2011) A yew tree in the Himalayas that produces the chemotherapy drug, Taxol, is in danger of extinction. An update to the IUCN Red List, has moved the tree, named Taxus contorta, from Vulnerable to Endangered. Overharvesting for medicine and fuelwood have placed the species in serious danger.
Belief and butchery: how lies and organized crime are pushing rhinos to extinction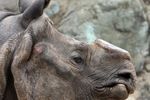 (05/11/2011) Few animals face as violent, as well organized, and as determined an enemy as the world's rhinos. Across the globe rhinos are being slaughtered in record numbers; on average more than one rhino is killed by poachers everyday. After being shot or drugged, criminals take what they came for: they saw off the animal's horn. Used in Traditional Chinese Medicine, which claims that it has curative properties, rhino horn is worth more than gold and cocaine on the black market. However, science proves all this cash and death is based on a lie. 'There is no medicinal benefit to consuming rhino horn. It has been extensively analyzed in separate studies, by different institutions, and rhino horn was found to contain no medical properties whatsoever,' says Rhishja Larson.
What does Nature give us? A special Earth Day article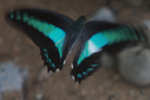 (04/22/2011) There is no question that Earth has been a giving planet. Everything humans have needed to survive, and thrive, was provided by the natural world around us: food, water, medicine, materials for shelter, and even natural cycles such as climate and nutrients. Scientists have come to term such gifts 'ecosystem services', however the recognition of such services goes back thousands of years, and perhaps even farther if one accepts the caves paintings at Lascaux as evidence. Yet we have so disconnected ourselves from the natural world that it is easy—and often convenient—to forget that nature remains as giving as ever, even as it vanishes bit-by-bit. The rise of technology and industry may have distanced us superficially from nature, but it has not changed our reliance on the natural world: most of what we use and consume on a daily basis remains the product of multitudes of interactions within nature, and many of those interactions are imperiled. Beyond such physical goods, the natural world provides less tangible, but just as important, gifts in terms of beauty, art, and spirituality.
Coral crisis: 75% of the world's coral reefs in danger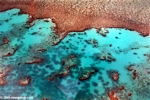 (02/23/2011) Marine scientists have been warning for years that coral reefs, the most biodiverse ecosystems in the ocean, are facing grave peril. But a new comprehensive analysis by the World Resources Institute (WRI) along with twenty-five partners ups the ante, finding that 75% of the world's coral reefs are threatened by local and global impacts, including climate change. An updating of a 1996 report, the new analysis found that threats had increased on 30% of the world's reefs. Clearly conservation efforts during the past decade have failed to save reefs on a large-scale.