News articles on media

---
Mongabay.com news articles on media in blog format. Updated regularly.






Kenya crackdown on terrorism threatens NGOs, wildlife, media
(04/03/2015) The terrorist attack that killed at least 147 people at Garissa University on April 2nd was another tragic milestone in Kenya's ongoing battle with the al-Shabab terrorist group based in Somalia. In response to several other brutal attacks on civilians, Kenya's government recently passed and proposed harsh new laws that are alarming environmental activists, non-governmental organizations (NGOs), the media, opposition politicians and the public.
Conservationists catch-and-release record-smashing freshwater fish
(03/17/2015) Conservationists and scientists have managed to catch-and-release what could be the world's biggest freshwater fish ever for an upcoming episode of Ocean Mysteries. Naturalist and host of the show, Jeff Corwin—along with wildlife veterinarian, Nantarika Chansue, and the tourist fishing group, fishsiam.com—managed to reel in a giant freshwater stingray.
Meet Biofaces: the Facebook for wildlife enthusiasts
(12/30/2014) Love wildlife? Wish you had a place online to share your photos, videos, and stories with other wild enthusiasts—kind of like a Facebook for wildlife lovers? Well, look no further than Biofaces, a new website meant to "make wildlife loving people happy," according to its creator, Leonardo Avelino Duarte.
Edited Reality: What I Learned from Filming Eaten Alive
(12/22/2014) On November 3, 2014, I woke up to check my flight status from Bangalore to New York. What I found when I opened my laptop was a mindboggling amount of emails, hate mail, death threats, and interview requests. The numbers were staggering. The night before, the Discovery Channel had aired the first trailers for the show they decided to call Eaten Alive.
Facebook, Twitter to carry 24 hours of live rainforest animal sightings on Monday
(05/29/2014) Next week, the rainforests of Southeast Asia are going live. On June 2nd, 11 organizations in the region will be posting lives video, photos, and wildlife sightings over 24 hours on Facebook and Twitter (see #rainforestlive). Dubbed Rainforest: Live, the initiative hopes to raise awareness of quickly vanishing ecosystems and species.
Cosmos's Neil deGrasse Tyson on climate change: 'What's our excuse?'
(05/06/2014) America's favorite astrophysicist, Neil deGrasse Tyson, tackled climate change on the most recent episode of the hit show, Cosmos: A Spacetime Odyssey. The episode, the ninth in the series, looked back on the climatic and physical upheavals undergone by Earth, before highlighting the mild interglacial climate that allowed the human species to kickstart the neolithic revolution and the first civilizations.
Mother of God: meet the 26 year old Indiana Jones of the Amazon, Paul Rosolie
(03/17/2014) Not yet 30, Paul Rosolie has already lived a life that most would only dare dream of—or have nightmares over, depending on one's constitution. With the Western Amazon as his panorama, Rosolie has faced off jaguars, wrestled anacondas, explored a floating forest, mentored with indigenous people, been stricken by tropical disease, traveled with poachers, and hand-reared a baby anteater. It's no wonder that at the ripe age of 26, Rosolie was already written a memoir: Mother of God.
Using stories to connect people to biodiversity: an interview with Tara Waters Lumpkin, PhD
(12/18/2013) In a world where extinctions are almost commonplace and global warming barely raises an eyebrow, very few of us can return to find the places we grew up in unsullied by development. Sometimes, all that is left of a favorite grove of trees or strip of forest are memories. Through Izilwane: Voices for Biodiversity Project, an online magazine for story-tellers, Tara Waters Lumpkin has succeeded in bringing together more than one hundred "eco-writers" who have shared their memories, highlighted environmental crises in their localities and raised their voices against habitat destruction.
Top 10 Environmental Stories of 2013
(12/10/2013) 1. Carbon concentrations hit 400ppm while the IPCC sets global carbon budget: For the first time since our appearance on Earth, carbon concentrations in the atmosphere hit 400 parts per million. The last time concentrations were this high for a sustained period was 4-5 million years ago when temperatures were 10 degrees Celsius higher. Meanwhile, in the slow-moving effort to curb carbon emissions, the Intergovernmental Panel on Climate Change (IPCC) crafted a global carbon budget showing that most of the world's fossil fuel reserves must be left untouched if we are to avoid catastrophic climate change.
Scientists have reached an overwhelming consensus on human-caused climate change
(05/16/2013) Despite outsized media and political attention to climate change deniers, climate scientists long ago reached a consensus that not only is climate change occurring, but it's largely due to human actions. A new study in Environmental Research Letters further strengthens this consensus: looking at 4,000 peer-reviewed papers researchers found that 97 percent of them supported anthropogenic (i.e. human caused) global warming. Climate change denialists, many of them linked to fossil fuel industries, have tried for years—and often successfully—to undercut action on mitigating climate change through carefully crafted misinformation campaigns.
Canadian government drops over $16 million on advertising its tar sands
(05/16/2013) The Canadian government has nearly doubled its advertising spending to promote the Alberta tar sands in an aggressive new lobbying push ahead of Thursday's visit to New York by the prime minister, Stephen Harper. The Harper government has increased its advertising spending on the Alberta tar sands to $16.5m from $9m a year ago.
New York Times slashes environmental coverage

(03/05/2013) On Friday at 5 PM the New York Times announced it was shutting down it Green blog, which highlighted diverse stories online, from energy to endangered species to climate change. The loss of the New York Times environment blog follows shortly after the paper announced it was dismantling its environment desk and moving all of the reporters to other beats.
Hopes pinned on Obama again as Doha Climate Summit opens
(11/26/2012) A number of observers have expressed hope that the Obama Administration, fresh from a re-election victory in the U.S., will take a more active and ambitious role at this year's UN Climate Summit, held in Doha, Qatar. The summit opens amid fresh—and increasingly dire—warnings over climate change from the World Bank, the International Energy Agency, and the UN itself.
Obama criticized for lack of urgency on climate change

(11/15/2012) Following the devastation wrought by Hurricane Sandy—which many scientists say was likely worsened by climate change—and a long silence on the issue of global warming during the Presidential campaign, environmentalists yesterday were disappointed when re-elected President Barack Obama seemingly put action on climate change on the back burner.
Obama breaks climate silence at press conference

(11/14/2012) At a news conference today, a question by New York Times reporter Mark Landler pushed President Obama to speak at some length about climate change. In his answer, Obama re-iterated his acceptance of climate science and discussed how progress on tackling climate change might proceed in his second term, though he also noted that he wouldn't put action on the climate ahead of the economy. President Obama made a small reference to climate change in his victory speech following his historic re-election last Tuesday, but his answer today was the most the president has talked about the issue at any length since at least Hurricane Sandy.
Mongabay book of nature essays earns top review

(10/24/2012) A new book of essays by mongabay.com reporter, Jeremy Hance, has earned a starred review from Publisher's Weekly, a top book reviewer for the publishing industry. Hance's book, Life is Good: Conservation in an Age of Mass Extinction, highlights the struggle of species to survive in a rapidly changing world through a series of essays that span the globe. Rarely bestowed, a starred review translates into "outstanding in its genre."
Gaming for rainforests
(10/03/2012) The average gamer will spend thousands of hours playing video games by the time they reach adulthood, but the most popular games among some demographics — shoot-em-up and sports games — don't seem to offer many dividends to society or the environment. However Jan Dwire doesn't believe that has to be the case. With a small team in Costa Rica, Dwire has developed "Rainforest Rangers", a multi-platform game that teaches kids about rainforests, including their importance and the threats they face.
Organizations target rhino horn consumption in China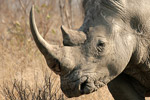 (05/07/2012) Last year nearly 450 rhinos were killed for their horns in South Africa, which has become the epicenter for the global rhino poaching epidemic. Rhinos are dying to feed rising demand for rhino horn in Asia, which is ground up and sold as traditional Chinese medicine, even though scientific studies have shown that rhino horn has no medicinal benefit. Now, two organizations, the African Wildlife Foundation (AWF) and Wildaid have announced a partnership to move beyond anti-poaching efforts and target rhino horn consumption in China.
"Don't be so silly" about climate change: Mohamed Nasheed on The Daily Show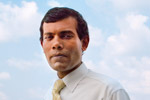 (04/04/2012) Mohamed Nasheed, former president of the Maldives, told the world on The Daily Show Monday night: "Just don't be so silly" about climate change. Nasheed, who in February was forced to resign his presidency, is visiting the U.S. to meet with government officials as well as to push for climate action during the release of a new documentary film about his presidency, entitled The Island President.
Climate journalism gone awry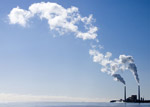 (03/12/2012) A leading journalist and editor at The Atlantic made a startling admission regarding how she writes about climate science last week. Megan McArdle, who not long ago wrote in-depth about documents leaked from Heartland Institute, has noted that as a journalist she depends on her comprehension of climate science on two non-experts and one climatologist who is widely viewed as an outlier for his view that climate change may actually be good for the world.
The camera trap revolution: how a simple device is shaping research and conservation worldwide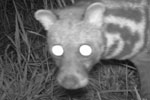 (02/14/2012) I must confess to a recent addiction: camera trap photos. When the Smithsonian released 202,000 camera trap photos to the public online, I couldn't help but spend hours transfixed by the private world of animals. There was the golden snub-monkey (Rhinopithecus roxellana), with its unmistakably blue face staring straight at you, captured on a trail in the mountains of China. Or a southern tamandua (Tamandua tetradactyla), a tree anteater that resembles a living Muppet, poking its nose in the leaf litter as sunlight plays on its head in the Peruvian Amazon. Or the dim body of a spotted hyena (Crocuta crocuta) led by jewel-like eyes in the Tanzanian night. Or the less exotic red fox (Vulpes vulpes) which admittedly appears much more exotic when shot in China in the midst of a snowstorm. Even the giant panda (Ailuropoda melanoleuca), an animal I too often connect with cartoons and stuffed animals, looks wholly real and wild when captured by camera trap: no longer a symbol or even a pudgy bear at the zoo, but a true animal with its own inner, mysterious life.
Wall Street Journal climate op-ed: the "equivalent of dentists practicing cardiology"

(02/06/2012) Climate scientists have struck back at the Wall Street Journal after it published an op-ed authored by 16 mostly non-climatologists arguing that global warming was not an urgent concern. The response letter, entitled Check With Climate Scientists for Views on Climate, responds that the Wall Street Journal should seek input on global warming from climate scientists. Six of the 16 authors who published the original article have ties to Exxon Mobil and their professions range from engineers to astronauts. In turn the letter to Wall Street Journal was signed by 38 well-noted climatologists.
Wall Street Journal under attack for climate op-ed

(01/31/2012) The Wall Street Journal is under attack for publishing an op-ed attacking climate science last Friday, while turning down another op-ed explaining climate change and signed by 255 researchers with the U.S. National Academy of Sciences, which was eventually published in the journal Science. The op-ed last Friday first garnered attention because it was signed by 16 scientists, however other journalists have shown that most of these signatories are not climatologists (the list includes an astronaut, a physician, and an airplane engineer), many are well-known deniers, and at least six have been tied to the fossil fuels industry.
U.S. media favored Keystone pipeline in coverage

(01/26/2012) A new report by Media Matters finds that U.S. TV and print media were largely biased toward the construction of TransCanada's Keystone XL Pipeline, which the Obama administration recently turned down. The report finds that guests and quotes were largely in favor of the pipeline in addition to news outlets consistently repeating job figures for the pipeline that have been discredited.
Climate change media coverage drops 20 percent in 2011

(01/05/2012) Global media reporting on climate change issues was down again last year, according to a new analysis from The Daily Climate. The news organization counted around 19,000 stories on climate issues during the year written by 7,140 journalists, falling 20 percent from 2010 levels.
Discovery Channel backtracks, promises to air climate change episode of new Frozen Planet series

(12/07/2011) Discovery Channel has announced that it will, in fact, air the last episode of the new series Frozen Planet, which focuses solely on the impact of climate change at the world's poles. By the creators of universally-acclaimed Planet Earth, the full series explores the wildlife and environs of the Arctic and Antarctic, but the Discovery Channel came under fire after it announced it would not air the last episode, called "On Thin Ice", which deals specifically with climate change. A petition on Change.org garnered 75,000 signatures calling on the Discovery Channel to air the full series, before the network caved and announced it would do so.
Discovery Channel cuts climate change episode from Planet Earth follow-up

(11/17/2011) The new series Frozen Planet, by the creators of the super-popular and universally-acclaimed Planet Earth, details the wildlife and changing nature of the world's poles: the Antarctic and the Arctic. But while the four-year production filmed seven episodes, American audiences will only be treated to six. Discovery Channel has dropped the last episode that deals specifically with climate change.
New app works to raise awareness of endangered species

(11/16/2011) Want to learn more about gorillas, whales, elephants, sharks, and penguins? A new mobile app hopes to raise awareness and conservation efforts for the world's endangered species. Dubbed 'Survival', the new app is a game that also raises knowledge about endangered species. Created by wildlife and media NGO, Wildscreen, the app is available free on the App store and Android Market.