News articles on mata atlantica

---
Mongabay.com news articles on mata atlantica in blog format. Updated regularly.





New insect discovered in Brazil, only third known in its bizarre family (photos)


(04/15/2013) A new species of forcepfly named Austromerope brasiliensis, was recently discovered in Brazil and described in the open access journal Zoo Keys. This is the first discovery of forcepfly in the Neotropics and only the third known worldwide. The forcepfly, often called the earwigfly because the male genital forceps closely resemble the cerci of the common earwig, remains a scientific enigma due to the lack of information on the family.


New species tree-dwelling porcupine discovered in critically threatened Brazilian habitat

(04/11/2013) Scientists in Brazil have described a new species of tree-dwelling porcupine in the country's most endangered ecosystems. The description is published in last week's issue of Zootaxa.


Nest of one of world's rarest birds discovered for the first time

(01/17/2013) A nest belonging to one of the world's rarest birds has been discovered by researchers for the first time in Brazil, reports the American Bird Conservancy.


Recovery of Atlantic Forest depends on land-use histories

(12/10/2012) The intensity of land-use influences the speed of regeneration in tropical rainforests, says new research. Tropical rainforests are a priority for biodiversity conservation; they are hotspots of endemism but also some of the most threatened global habitats. The Atlantic Forest stands out among tropical rainforests, hosting an estimated 8,000 species of endemic plants and more than 650 endemic vertebrates. However, only around 11 percent of these forests now remain.


Endangered muriqui monkeys in Brazil full of surprises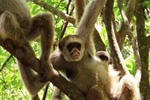 (11/26/2012) On paper, the northern muriquis (Brachyteles hypoxanthus) look like a conservation comeback story. Three decades ago, only 60 of the gentle, tree-dwelling primates lived in a fragment of the Atlantic Forest along the eastern coast of Brazil. Now there are more than 300. But numbers don't tell the whole story, according to anthropologist Karen Strier and theoretical ecologist Anthony Ives of the University of Wisconsin, Madison. The pair analyzed 28 years of data on the demographics of the muriquis, one of the longest studies of its kind. They found surprising patterns about birth and death rates, sex ratios, and even how often the monkeys venture out of their trees. These findings raise questions about the muriquis' long-term survival and how best to protect them, the scientists wrote in the Sept 17 issue of PLoS ONE.


Deforestation in Brazil's Mata Atlantica drops

(06/06/2012) Deforestation of Brazil's Mata Atlântica — a forest ecosystem more threatened than the Amazon rainforest — fell to 133 square kilometers between 2010 and 2011, down about 14.7 percent from the annual average between 2008 and 2010, reports Brazil's National Institute for Space Research (INPE) and Fundação SOS Mata Atlântica.


Tribe partners to protect Argentina's most endangered forest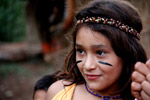 (05/17/2012) Last month, three Guarani communities, the local Argentine government of Misiones, and the UK-based NGO World Land Trust forged an agreement to create a nature reserve connecting three protected areas in the fractured, and almost extinct, Atlantic Forest. Dubbed the Emerald Green Corridor, the reserve protects 3,764 hectares (9,301 acres) in Argentina; although relatively small, the land connects three protected other protected areas creating a combined conservation area (41,000 hectares) around the size of Barbados in the greater Yaboti Biosphere Reserve. In Argentina only 1 percent of the historical Atlantic Forest survives.


Expanding ethanol threatens last remnants of Atlantic Forest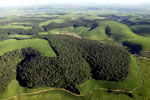 (09/26/2011) Aggressively expanding sugarcane ethanol is putting Brazil's nearly-vanished Atlantic Forest at risk, according to an opinion piece in mongabay.com's open-access journal Tropical Conservation Science. Already down to less than 12 percent of its original extent, the Atlantic Forest—home to over 7,000 species that survive no-where else—is facing a new peril from ethanol, used as an alternative to gasoline and often touted as 'green' or 'environmentally-sustainable'.


Destruction of Brazil's most endangered forest, the Mata Atlantica, slows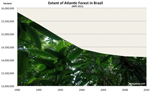 (05/27/2011) Deforestation of Brazil's most threatened forest ecosystem dropped substantially during the 2008-2010 period according to new data released by Brazil's National Institute for Space Research (INPE) and Fundação SOS Mata Atlântica. Analysis of satellite images across 16 of the 17 states the Atlantic Forest spans found that 312 square kilometers of forest was cleared between 2008 and 2010, down from 1,029 square kilometers between 2005 and 2008. Deforestation was concentrated in the states of Minas Gerais, Bahia, Santa Catarina and Parana.


Seven Brazilian bird species granted endangered status

(12/29/2010) The US Fish and Wildlife service voted recently to designate several rare bird species as endangered under the US Endangered Species Act. The designation becomes effective on January 27, 2011 and will protect against the trade of, increase conservation funding to, and promote habitat safeguards of seven of the most imperiled species in Brazil.


Forest fragment climate not driven by edge-effect

(12/19/2010) Examining ten forest fragments in Brazil's Atlantic Forest, researchers have undercut the theory that the climate of forest fragment' is driven by the edge-effect. Writing in mongabay.com's open source journal Tropical Conservation Science, researchers found that edge-effect was too simple to explain the microclimate of isolated forest fragments from 3 to 3,500 hectares large, each at least 80-years-old.


2,700 sq km of Brazil's most endangered rainforest destroyed in 8 years

(12/03/2010) 270,000 hectares of the Mata Atlântica, Brazil's most threatened ecosystem, was cleared between 2002 and 2008, reports a new assessment by the Brazilian Institute of Environment and Natural Resources (IBAMA). Less than 8 percent of the Atlantic forest—famed for its biodiversity—remains.