News articles on marine ecosystems

---
Mongabay.com news articles on marine ecosystems in blog format. Updated regularly.






UN resolves to negotiate treaty governing the high seas

(06/19/2015) The high seas are often called the Wild West of the ocean. These vast oceanic tracts begin 200 miles from shore and fall under no nation's jurisdiction. And while there are various agreements governing human activities there, there is no comprehensive management framework coordinating them all. That is now likely to change. The United Nations General Assembly today resolved to begin negotiating an international treaty specifically focused on the conservation and sustainable use of marine life on the high seas.
Scientists find surprising climate change refuge for reef-building corals: beneath mangroves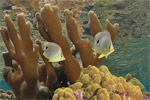 (06/16/2015) Coral reefs are the gardens of the ocean. Covering just a tiny fraction of the vast sea floor, they are among the most biodiverse ecosystems on the planet. However, global warming and ocean acidification increasingly threaten them. Now scientists have discovered that corals could potentially survive global warming by numbering among the Earth's first climate change refugees. They could flee warming oceans to find a new home in the shade beneath coastal mangroves, says a recent study published in the journal Biogeosciences.
Offshore drilling proposed in Belize's spectacular marine areas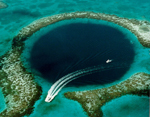 (05/26/2015) The government of Belize has proposed opening up most of the country's marine area, including seven UNESCO World Heritage Sites, to offshore drilling for oil and gas, according to the Associated Press. Belize currently has a voluntary moratorium on any such drilling.
Photos from the front: the California oil spill in pictures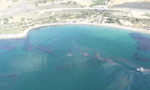 (05/21/2015) On Tuesday, an underground oil pipeline burst near Goleta, California, spilling crude oil into the Pacific, soiling beaches, killing marine animals, and coating birds in oil. Photographers captured scenes of the unfolding spill and clean-up response, even as the extent of the damage remains under investigation.
Photo Essay: Geopolitical pawns, the fishermen of Lý Sơn, Vietnam
(04/17/2015) 'When they came, what could we do?' 46-year-old fisherman Nguyên Phú asks, crouching down like a frog with his hands above his head. 'We just put our hands up like this, and said, 'Don't shoot! Don't shoot!'' Their caution is warranted. If they venture too deeply into Vietnam's claimed territorial waters, a Chinese patrol boat will swoop down on them.
Human impacts are 'decoupling' coral reef ecosystems
(03/09/2015) There is a growing consensus among scientists that we have entered the age of the Anthropocene, or the epoch of humans. In other words, at some point between the 12,000 years separating the beginning of agriculture and the Industrial Revolution, humans became the dominant source of change on the planet, shaping everything from the land to the atmosphere to even the geologic record where we etch our reign.
Could big data turn us into ocean protectors instead of abusers?
(02/24/2015) The devastating tsunami that hit Japan in 2011 washed away millions of tons of plastic debris into the Pacific Ocean. It even swept away a Harley Davidson motorcycle that subsequently ended up on Canada's coast. As production and consumption of plastic increases across the world, more of it gets discarded as waste.
Scientists uncover new seadragon
(02/18/2015) For 150 years, scientists have known of just two so-called seadragons: the leafy seadragon and the weedy seadragon. But a new paper in the Royal Society Open Science has announced the discovery of a third, dubbed the ruby seadragon for its incredible bright-red coloring. Found only off the southern Australian coastline, seadragons belong to the same family as the more familiar seahorses: the Syngnathidae.
Chemical clues in fossil shells may help us understand today's ocean acidification
(02/04/2015) As atmospheric CO2 levels rise, so too do those in the sea, leading to ocean acidification that outpaces that of any other time in tens of millions of years. Some effects of ocean acidification are imminent, like the fact that calcified organisms such as corals and shellfish will have access to less and less of the chemical components they need to build their shells and skeletons.
Ocean's 15: meet the species that have vanished forever from our seas
(01/15/2015) In the last 500 years, the oceans have suffered far fewer extinctions than on land—at least that we know of. According to a recent study in Science, 15 animals are known to have vanished forever from the oceans while terrestrial ecosystems have seen 514 extinctions. The researchers, however, warn that the number of marine extinctions could rise rapidly as the oceans are industrialized.
Empty seas? Scientists warn of an industrialized ocean
(01/15/2015) This is obvious, but still important: humans are not a marine species. Even as we have colonized most of our planet's terrestrial landscapes, we have not yet colonized the oceans. And for most of our history, we have impacted them only on the periphery. A new review in Science finds that this has saved marine species and ecosystems from large-scale damage—that is, until the last couple centuries.
Casting for another job: will fishers take up a new livelihood?
(01/12/2015) Can alternative income programs save Fiji's reef fish? Many implicate the failure of Fiji's government to prioritize sustainable management over fisheries development projects, or suggest that Fijians' mindsets must dramatically shift first.
For the first time, Sea Shepherd targets Antarctic toothfish poachers
(12/09/2014) For the first time, marine conservation group, Sea Shepherd, is employing their controversial methods to protect Antarctic and Patagonian toothfish. Dubbed 'Operation Icefish,' Sea Shepherd Australia is sending two ships into Antarctic waters to disrupt illegal vessels targeting the little-known species that are often sold in luxury markets as Chilean seabass.
Of bluefin and pufferfish: 310 species added to IUCN Red List
(11/17/2014) Today, 22,413 species are threatened with extinction, according to the most recent update of the IUCN Red List. This is a rise of 310 species from the last update in the summer. The update includes the Pacific bluefin tuna, the Chinese pufferfish, and Chapman's pygmy chameleon, among others.
Russia and China blamed for blocking Antarctic marine reserve
(11/03/2014) Another year, another failed attempt to protect a significant chunk of the Ross Sea, which sits off the coast of Antarctica. According to observers, efforts to create the world's biggest marine protected area to date were shot down by Russia and China during a meeting in Hobart, Tasmania of the Commission for the Conservation of Antarctic Marine Living Resources (CCAMLR).
By killing off older fish, overfishing may lead to lost migratory patterns
(10/29/2014) Catching older fish may impact a school's ability to migrate from spawning grounds to feeding areas, according to a recent study published in the Journal of the Royal Society Interface. The study's scientists believe that fish schools may retain a collective memory, a communal mind map of sorts, which help these groups reach their destinations, some of which are thousands of miles away.
Greenpeace sinks Lego's $116 million deal with Shell Oil over Arctic drilling
(10/09/2014) Lego has announced it will be severing its partnership with the oil giant, Shell, when the current contract expires after a clever campaign by environmental activist group, Greenpeace. Since 2011, Lego has been selling exclusive sets at Shell stations, but the companies' relationship actually goes back decades. In 1966, the Danish toy company first began selling Lego sets with Shell's brand stamped on them.
Saving Peru's sea turtles and marine birds: conservationists and fishermen partner to tackle bycatch
(10/07/2014) Marine conservationists often view fisheries as an enemy of sorts, vacuuming up fish with little thought to the long-term consequences and using equipment that also ends up killing other species, i.e. bycatch like sea turtles and marine birds. However, Joanna Alfaro Shigueto, the President of the Peruvian NGOProDelphinus and winner of a 2012 Whitley Award, has chosen a different tact.
Australia cancels plan to dump dredge in Great Barrier Reef

(09/02/2014) A consortium of companies—North Queensland Bulk Ports, GVK Hancock and Adani Group—have announced they are giving up on a hugely-controversial plan to dump five million tonnes of dredged sediment in the Great Barrier Reef. The plans ran into considerable opposition from environment, conservation, and tourism groups who feared harm to the world's largest coral reef system.
Elephants under the sea: awkward-looking fish modify the coral-reef ecosystem in mixed ways
(08/06/2014) Bumphead parrotfish are noisy feeders. They break off large branches of corals using their powerful beaks, grind them up in their bodies to extract nutrients, and expel the undigested material in large cloudy plumes of feces. Their voracious feeding is, however, not just a loud, messy affair. During the course of their feeding, they also change the coral reef ecosystem in numerous ways.
Seafood apartments and other experiments in fixing Indonesia's fisheries (Part IV)
(07/25/2014) Shrimp farms, industrial plants, and one of Indonesia's busiest thoroughfares make up Java's north coast today. It's a very different scene from the fishing villages with beachfront boat parking that stood here decades earlier. Which begs the question, where will fish live in this new 'coast without mangroves, without coral, without seagrass,' asks Alan Koropitan, a marine biologist based at Bogor Agricultural University.
Over-depleted and undermanaged: can Indonesia turn around its fisheries? (Part III)
(07/22/2014) Compared to maritime ministries worldwide, Indonesia's Ministry of Marine Affairs and Fisheries (MMAF) is a teenaged neophyte. The governing body was formed a mere 13 years ago;a staggering fact for a country made up of two-thirds water where many of the 250 million people depend on fish for both protein and income. Mongabay.org's SRI Fellow Melati Kaye reports on the state of Indonesian fisheries in the third installment of a four-part series.
Boom but mostly bust: fighting over sardines in Indonesia's Bali Strait (Part II)
(07/18/2014) Fifty-five crewmen, stripped to their briefs, sing Madurese sea shanties to synchronized gestures as they haul in giant seine nets, hand-over-hand, onto the swaying wooden deck of the M/V Sinar Indah out in the middle of the Bali Strait. This morning they had offloaded a bumper haul at their homeport of Muncar: seven tons of lemuru sardines Sardinella lemuru, the local specialty, for which dockside cannery agents offered $3,500.
Fishing for coherent regulations along Fiji's coral reefs
(07/16/2014) Will Fiji implement a much-needed update to its fisheries laws before the September election? If you want to quiet a room in Fiji or feel like a lobster in a boiling pot, bring up coastal fishing rights, and ask what's happening with the plan to update the country's fisheries laws.
A tale of two fish: cyanide fishing and foreign bosses off Sulawesi's coast (Part I)
(07/08/2014) In spring and summer, after the monsoon storms have passed, the fishing boats set out again from tiny Kodingareng Island in the Spermonde Archipelago off the coast of South Sulawesi. In the afternoon heat, Abdul Wahid joins his fellow fishermen in the narrow shade of the beachfront village houses to check out the daily fish prices.
Booming populations, rising economies, threatened biodiversity: the tropics will never be the same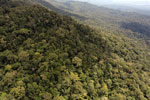 (07/07/2014) For those living either north or south of the tropics, images of this green ring around the Earth's equator often include verdant rainforests, exotic animals, and unchanging weather; but they may also be of entrenched poverty, unstable governments, and appalling environmental destruction. A massive new report, The State of the Tropics, however, finds that the truth is far more complicated.
Bigger than Mexico? Obama announces major expansion of Pacific protected area
(06/18/2014) President Obama announced yesterday he intends to drastically expand the Pacific Remote Islands Marine National Monument making what will likely be the largest marine protected area on the planet. While the full extent of the ocean park has yet to be determined, it could potentially protect over two million square kilometers, an area larger than Mexico.
Olinguito, tinkerbell, and a dragon: meet the top 10 new species of 2013
(05/22/2014) Out of around 18,000 new species described and named last year, scientists have highlighted ten in an effort to raise awareness about the imperiled biodiversity around us. Each species—from a teddy-bear-like carnivore in the Andes to a microbe that survives clean rooms where spaceships are built—stands out from the crowd for one reason or another.
Underwater horrors: shells of marine life melting off the coast of the U.S.
(05/08/2014) It could be the plot of a horror movie: humans wake up one day to discover that chemical changes in the atmosphere are dissolving away parts of their bodies. But for small marine life known as sea butterflies, or pteropods, this is what's happening off the West Cost of the U.S. Increased carbon in the ocean is melting away shells of sea butterflies.
Europe votes for an Arctic Sanctuary

(03/13/2014) Yesterday, the European Parliament passed a resolution supporting the creation of an Arctic Sanctuary covering the vast high Arctic around the North Pole, giving official status to an idea that has been pushed by activists for years. Still, the sanctuary has a long road to go before becoming a reality: as Arctic sea ice rapidly declines due to climate change, there has been rising interest from governments and industries to exploit the once inaccessible wilderness for fish and fossil fuels.
Does haze from burning forests affect marine life?
(03/10/2014) Two scientists are calling on researchers, NGOs, and governments to begin studying the impact of burning forests and peatlands in Indonesia on the already-threatened marine ecosystems of Southeast Asia. Every year, Indonesian farmers set forests, vegetation, and peatlands alight to clear them for agriculture, often palm oil, and pulp and paper plantations. Not only do these practices destroy hugely-diverse tropical forests, but the resulting haze spreads to many parts of Southeast Asia, threatening regional health and impacting economies. Now, a new paper argues that the sinister impacts of Indonesia's burning may extend as far as the oceans.
Wonderful Creatures: the tiny, predatory penis-worm that lies in wait in the sand
(02/28/2014) The seabed is really where it's at in terms of animal diversity. Of the 35 known animal lineages, representatives of all but two are found here. In contrast, the huge numbers of species that inhabit tropical rainforests represent a mere 12 lineages. One group of animals that illustrates the diversity of the seabed is the Priapulida, which also go by the unfortunate common name of "penis worms." Only 20 species of priapulid are known today, a shadow of their diverse past, which extends back for well over 500 million years. Not commonly seen, the priapulids have attracted little attention from the zoology community as a whole.
Saving sharks one sandwich at a time: conservationists target 'shark bake'
(02/28/2014) Thousands of Carnival revelers in Trinidad wouldn't think of missing the chance to go to Maracas Beach, the most famous strip of sand on the small Caribbean island off the northeast coast of Venezuela. Beachgoers might not think twice about eating a favorite food called "shark bake" either – at least, until now. But this week, conservationists launched a shark-saving campaign timed to get maximum exposure out of the celebration that will bring throngs of visitors to the island.
Plastic waste ingested by worms threatens marine food chains
(02/26/2014) Small fragments of plastic waste are damaging the health of lugworms, putting a key cog in marine ecosystems at risk. Published in Current Biology, a new study by scientists at the University of Exeter and the University of Plymouth shows the impact of microplastics on the marine worms' health and behavior.
Ocean acidifying 10 times faster than anytime in the last 55 million years, putting polar ecosystems at risk
(02/24/2014) An assessment of ocean acidification, presented at the UN Climate Change Conference in Warsaw in November 2013, starkly concluded that acidity is on track to rise 170 percent by the end of this century. As many key species are sensitive to changes in acidity, this would drastically impact ocean ecosystems, with effects especially pronounced in polar regions where the cold waters intensify acidification, and which are home to many organisms that are particularly vulnerable to acidification.
Scientists discover new eagle ray imperiled by Japanese pest program (photos)
(01/30/2014) Scientists have described a new species of eagle ray in the northwest Pacific Ocean, which they have named "narutobiei" (Aetobatus narutobiei) after its local name in Japan. While the new species has long been known by scientists, it was clumped together with the longheaded eagle ray (Aetobatus flagellum) for over two hundred years. Splitting the two species has large-scale conservation impacts, according to the paper describing the new species in PLOS ONE.
Shell drops plans to drill in the Arctic for now

(01/30/2014) Facing plunging profits, Royal Dutch Shell has announced it will cut exploration and development funding by nearly $10 billion this year, including halting their long-suffering plans to drill in the Arctic ocean. Shell's new CEO, Ben van Beurden, made the announcement yesterday that controversial plans to drill off the Alaskan coast will be put on hold for another year.
Scientists discover a new coral in the French Polynesia
(12/20/2013) With humans scattered throughout the globe, it is hard to imagine lands still unexplored or species undocumented. Yet, on the remote French Polynesian Gambier Islands a new coral reef species has been found thriving in underwater lagoons. Echinophyllia tarae was discovered by marine biologist Francesca Benzoni and the research crew members of the Tara Oceans International Research Expedition.
Ultraviolet nets significantly reduce sea turtle bycatch
(11/11/2013) Bycatch, a side-effect of commercial fishing in which non-target species are accidentally caught, is linked to severe population declines in several species. Sea turtles are particularly impacted by small-scale coastal gillnetting practices, in which large nets are deployed and indiscriminately snag anything of a certain size that attempts to swim through them. However, that may soon change.
Seahorses on your iPad: new app allows anyone to track and document seahorses
(11/08/2013) Annually, approximately 13 million seahorses—live and dead—are traded around the globe. At this scale, the seahorse trade is potentially very destructive to a group of animals comprised of 48 species, 11 of which are listed by the International Union for Conservation and Nature (IUCN) as threatened with extinction.
The 'dead' ocean: eyewitness says overfishing has emptied the Pacific
(10/22/2013) An Australian sailor has described parts of the Pacific Ocean as "dead" because of severe overfishing, with his vessel having to repeatedly swerve debris for thousands of kilometers on a journey from Australia to Japan. Ivan MacFadyen told of his horror at the severe lack of marine life and copious amounts of rubbish witnessed on a yacht race between Melbourne and Osaka. He recently returned from the trip, which he previously completed 10 years ago.
Governments should respond to ocean acidification 'as urgently as they do to national security threats'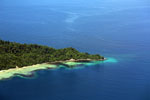 (10/03/2013) The oceans are more acidic now than they have been for at least 300m years, due to carbon dioxide emissions from burning fossil fuels, and a mass extinction of key species may already be almost inevitable as a result, leading marine scientists warned on Thursday. An international audit of the health of the oceans has found that overfishing and pollution are also contributing to the crisis, in a deadly combination of destructive forces that are imperiling marine life, on which billions of people depend for their nutrition and livelihood.
Finding a needle in a haystack: two new species of octocorals discovered in the Pacific Ocean
(09/04/2013) The vast expanse of the Earth's oceans makes finding a new species like finding a needle in a haystack. In fact, finding a needle in a haystack may be easier than finding a new species of octocoral in the Pacific Ocean. But Gary Williams with the California Academy of Sciences has recently found not only one but two new species, including a new genus of octocoral.
Bad feedback: ocean acidification to worsen global warming

(08/28/2013) As if ocean acidification and climate change weren't troubling enough (both of which are caused by still-rising carbon emissions), new research published in Nature finds that ocean acidification will eventually exacerbate global warming, further raising the Earth's temperature.
Google Earth presents fish-eye view of coral reefs

(08/20/2013) You can now visit up-close and personal some of the world's most imperiled ecosystems on Google Earth: coral reefs. The Google team is working with scientists to provide 360 degree panoramas, similar to Google street-view, to give armchair ecologists a chance to experience the most biodiverse ecosystems under the waves.
Climate change scattering marine species

(08/08/2013) Rising ocean temperatures are rearranging the biological make-up of our oceans, pushing species towards the poles by 7kms every year, as they chase the climates they can survive in, according to new research. The study, conducted by a working group of scientists from 17 different institutions, gathered data from seven different countries and found the warming oceans are causing marine species to alter their breeding, feeding and migration patterns.
Journey to the Edge of Eden: the struggle to preserve Southwest Florida
(08/05/2013) Gary Schmelz, in a Journey to the Edge of Eden, takes us through a wonderful personal account of the conservation history of Southwest Florida. Journey to the Edge of Eden is one part personal memoir similar to the English naturalist Gerald Durrell and one part Florida conservation history. With hilarious stories of unintended naturalist misadventures and recounting conservation "as it happened," a Journey to the Edge of Eden is one of those rare books you read in a coffee shop and with gusto and pride while laughing along out loud at Gary Schmelz stories.
Plan to preserve the world's 'last ocean' killed by Russia

(07/16/2013) As the most pristine marine ecosystem on the planet, Antarctica's Ross Sea has become dubbed the world's "last ocean." Home to an abundance of penguins, whales, orcas, seals, and massive fish, the Ross Sea has so far largely avoided the degradation that has impacted much of the world's other marine waters. However, a landmark proposal to protect the Ross Sea, as well as the coastline of East Antarctica, has failed today due to opposition by Russia.
Ocean acidification pushing young oysters into 'death race'

(06/11/2013) Scientists have long known that ocean acidification is leading to a decline in Pacific oyster (Crassostrea gigas) in the U.S.'s Pacific Northwest region, but a new study in the American Geophysical Union shows exactly how the change is undercutting populations of these economically-important molluscs. Caused by carbon dioxide emissions, ocean acidification changes the very chemistry of marine waters by lowering pH levels; this has a number consequences including decreasing the availability of calcium carbonate, which oysters and other molluscs use to build shells.
The world's largest 'waste dump' is found in the Pacific Ocean

(05/06/2013) If you were to travel from the United States of America to Japan, you would most likely encounter what could be described as the world's largest waste dump: a 100,000 tonne expanse of debris floating around a large region of the Pacific Ocean. The total area of this phenomenon has been said to equal the size of continental U.S., but the truth about its true size remains unknown.
Clownfish helps its anemone host to breathe
(04/24/2013) The sight of a clownfish wriggling through the stinging tentacles of its anemone is a familiar and seemingly well-understood one to most people—the stinging anemone provides a protective home for the clownfish who is immune to such stings, and in turn the clownfish chases away any polyp-eating sunfish eyeing the anemone's tentacles for a meal. But recent research has shown that all that clownfish wriggling significantly helps to oxygenate the anemone at night, when oxygen levels in the water are low.
Breaking the mold: Divya Karnad takes on fisheries and science journalism in India
(04/15/2013) Fishing is not a woman's domain in most countries across the globe. In parts of India there are fishing communities who believe that having a woman onboard a fishing boat brings bad luck. Despite this, Divya Karnad, a scientist who studies marine life in India, has spent several years studying fisheries and their impact on species like sharks and sea turtles. Her work forms a part of global efforts to track declining marine species and encourage more sustainable fishing.
Proposed coal plant threatens Critically Endangered Philippine cockatoo
(04/02/2013) One kilometer off the Philippine island of Palawan lies the Rasa Island Wildlife Sanctuary; here forest grows unimpeded from a coral island surrounded by mangroves and coral reefs. Although tiny, over a hundred bird species have been recorded on the island along with a major population of large flying foxes, while in the waters below swim at least 130 species of coral fish, three types of marine turtles, and that curious-looking marine mammal, dugongs. Most importantly, perhaps, the island is home to the world's largest population of Philippine cockatoos (Cacatua haematuropygia), currently listed as Critically Endangered. But, although uninhabited by people, Rasa Island may soon be altered irrevocably by human impacts.
Scientists find the 'missing heat' of global warming 700 meters below the sea
(03/28/2013) Critics of climate change often claim that warming has stopped since the late 1990s. While this is categorically false (the last decade was the warmest on record and 2005 and 2010 are generally considered tied for the warmest year), scientists do admit that warming hasn't occurred over land as rapidly as predicted in the last ten years, especially given continually rising greenhouse gas emissions. But a recent study in Geophysical Research Letters has found this so-called missing heat: 700 meters below the surface of the ocean.
Has shark fin consumption peaked at 100M dead sharks per year?
(03/05/2013) While a new study warns that up to 100M sharks are killed annually, there are signs out of China that demand for shark fin may be on the decline. A study published last week in the journal Marine Policy estimated shark deaths at 100 million in 2000 and 97 million in 2010, suggesting a slight drop in shark killing. Meanwhile reports out of China in recent months suggest an accelerating decline in shark fin consumption. China is the top market for shark fin, which is consumed as a status symbol, typically at wedding ceremonies and business dinners.
Featured video: the miracle of mangroves

(01/30/2013) Mangroves are among the most important ecosystems in the world: they provide nurseries for fish, protect coastlines against dangerous tropical storms, mitigate marine erosion, store massive amounts of carbon, and harbor species found no-where else. However, they are vanishing at astonishing rates: experts say around 35 percent of the world's mangroves were lost in just twenty years (1990 to 2010).
Typhoon Bopha decimated coral reefs
(01/24/2013) When Typhoon Bopha, also known as Pablo, ran ashore on Mindanao, it was the largest tropical storm it ever hit the Philippine island. In its wake the massive superstorm left over 1,000 people were dead and 6.2 million affected with officials saying illegal logging and mining worsened the scale of the disaster. However, the Category 5 typhoon also left a trail of destruction that has been less reported: coral reefs.
Measuring nutrient pollution in pristine waters: Puerto Rico's Vieques Island

(12/10/2012) Life in the ocean require nutrient, but too much of a good thing can be hugely detrimental. Nutrient pollution from agricultural and industrial runoff causes serious ecological harm in the world's marine waters, at times producing massive "dead zones" where much of the dissolved oxygen has been stripped making it difficult for most marine animals to live there. A new study by scientists with the U.S. National Oceanic and Atmospheric Administration (NOAA) attempts to establish a baseline of nutrient levels in the largely pristine waters around the island of Vieques off of Puerto Rico.
BP fined $4.5 billion for Gulf of Mexico oil spill, but company may spend more buying its own stocks

(11/19/2012) Last week the U.S. federal government fined BP $4.5 billion for the Deepwater Horizon disaster in 2010, which killed 11 workers and leaked nearly 5 million barrels of oil into the Gulf of Mexico. The oil giant also plead guilt to 12 felonies and two misdemeanors. However, even this fine—the largest in U.S. history—failed to dampen shareholder support of BP: stocks actually rose one percent following the announcement. Meanwhile, according to the Sunday Times, BP plans to spend $5.9 billion (over a billion more than the fine) buying back its own shares in order to boost stock prices.
Photos: Mozambique creates Africa's biggest marine protected area
(11/13/2012) Last week, the East African nation of Mozambique announced it was protecting 10,411 square kilometers (4,020 square miles) of coastal marine waters, making the new Marine Protected Area (MPA) the biggest on the continent. The protected area, dubbed the Primeiras and Segundas Archipelago ("First" and "Second" islands), includes ten islands as well as mangrove forests, rich coral reefs, and seagrass ecosystems.
Threatened Galapagos coral may predict the future of reefs worldwide
(11/07/2012) The Galapagos Islands have been famous for a century and a half, but even Charles Darwin thought the archipelago's list of living wonders didn't include coral reefs. It took until the 1970s before scientists realized the islands did in fact have coral, but in 1983, the year the first major report on Galapagos reef formation was published, they were almost obliterated by El Niño. This summer, a major coral survey found that some of the islands' coral communities are showing promising signs of recovery. Their struggle to survive may tell us what is in store for the rest of the world, where almost three-quarters of corals are predicted to suffer long-term damage by 2030.
Above the ocean: saving the world's most threatened birds
(11/01/2012) A life on the ocean is a perilous one for any bird. They must expend energy staying aloft for thousands of miles and learn to be marathon swimmers; they must seek food beneath treacherous waves and brave the world's most extreme climates; they must navigate the perils both of an unforgiving sea and far-flung islands. Yet seabirds, which includes 346 global species that depend on marine ecosystems, have evolved numerous strategies and complex life histories to deal with the challenges of the sea successfully, and they have been doing so since the dinosaur's last stand. Today, despite such a track record, no other bird family is more threatened; yet it's not the wild, unpredictable sea that endangers them, but pervasive human impacts.
A new way to measure the ocean's health
(10/23/2012) A diverse array of institutions have come together to release a new, revolutionary ocean health assessment called the "Ocean Health Index." Researchers formed the index in order to gauge the health of the world's oceans. The index is the result of a huge collaborative effort, including top researchers crossing a diverse range of disciplines such as the National Center for Ecological Analysis and Synthesis (NCEAS) and Conservation International.
Great Barrier Reef loses half its coral in less than 30 years
(10/01/2012) The Great Barrier Reef has lost half of its coral cover in the last 27 years, according to a new study released today in the Proceedings of the National Academy of Sciences (PNAS). Based on over 2,000 surveys from 1985 to this year the study links the alarming loss to three impacts: tropical cyclone damage, outbreaks crown-of-thorns starfish that devour corals, and coral bleaching.
Coral diversity off Madagascar among the world's highest
(09/24/2012) The western Indian Ocean, especially the waters between Madagascar and mainland Africa, may be among the world's most biodiverse for coral species, according to a new study in PLOS ONE. Conducting dive surveys in the region for nearly a decade, David Obura with the Coastal Oceans Research and Development in the Indian Ocean (CORDIO) identified 369 coral species in the western Indian Ocean and predicts there may be nearly another 100 unidentified. If so, this would make the region as biodiverse as the Great Barrier Reef, but still behind the Coral Triangle which has over 600 species.
Coral reefs in Caribbean on life support

(09/11/2012) Only 8 percent of the Caribbean's reefs today retain coral, according to a new report by the International Union for Conservation of Nature (IUCN). With input and data from 36 scientists, the report paints a bleak picture of coral decline across the region, threatening fisheries, tourism, and marine life in general.
Controversial deep sea mining project approved in Papua New Guinea, first of its kind

(08/09/2012) The Papua New Guinea government has granted a 20-year license for copper and gold mining around a mile (1.6 kilometers) below the ocean's surface, jump-starting the world's first commercial deep sea mining venture. Undertaken by Canadian company, Nautilus Minerals, the venture will mine deep sea hydrothermal vents off the coast of New Britain. However, the project faces stiff concern from local activists, fishermen, and environmentalists.
Earth's ecosystems still soaking up half of human carbon emissions
(08/06/2012) Even as humans emit ever more carbon dioxide into the atmosphere, Earth's ecosystems are still sequestering about half, according to new research in Nature. The study finds that the planet's oceans, forests, and other vegetation have stepped into overdrive to deal with the influx of carbon emitted from burning fossil fuels, but notes that this doesn't come without a price, including the acidification of the oceans.
Scientists: iron fertilization could be a big climate help

(07/18/2012) For a long time, oceanic iron fertilization was seen as a promising mechanism to combat global climate change. But then in 2009 a well-publicized study found that iron fertilization stored 80 times less carbon than expected, dampening enthusiasm and support around the geoengineering scheme. Now, however, the idea of fertilizing the ocean with iron may be back: a new study in Nature reports that iron fertilization, in the right conditions, could store carbon in the deep ocean for centuries.
Strangest island in the Caribbean may be a sanctuary for critically endangered coral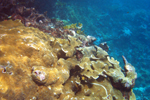 (07/16/2012) Don't feel bad if you've never heard of Navassa Island, even though it's actually part of the U.S. according to the Guano Islands Act of 1856. This uninhabited speck between Haiti and Jamaica, barely bigger than New York City's Central Park, has a bizarre and bloody history—and may be a crucial refuge for endangered coral in the Caribbean.
2,600 scientists: climate change killing the world's coral reefs
(07/10/2012) In an unprecedented show of concern, 2,600 (and rising) of the world's top marine scientists have released a Consensus Statement on Climate Change and Coral Reefs that raises alarm bells about the state of the world's reefs as they are pummeled by rising temperatures and ocean acidification, both caused by greenhouse gas emissions. The statement was released at the 12th International Coral Reef Symposium.
Indonesia eco-newswrap: farmers threaten to immolate themselves over plantation plan

(06/28/2012) Pulau Island farmers are threatening to immolate themselves after the Indonesian Ministry of Forestry has ignored their request to stop a part of their island from being converted into eucalyptus plantations by PT Riau Andalan Pulp and Paper. A letter from the farmers, who are members of the Riau Farmer Union, to Indonesian President Susilo Bambang Yudhoyono received no response, and the activists say 10 of them will travel to the presidential palace in Jakarta on June 25 and burn themselves alive in protest.
'Time pollution': loss of predators pushes nocturnal fish to take advantage of the day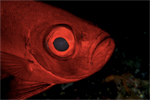 (06/25/2012) Nocturnal fish—which sport big eyes for improved night vision—are taking back the day in the coral reefs of the Tabuaeran Atoll, according to a new study in the open-access journal PLoS ONE. Overfishing has plundered the Pacific atoll of many of its notable predators, including sharks and barracudas, causing ripple effects through the ecosystem. One of these emerging changes appears to be that with less fear of being eaten, nocturnal fish are increasingly venturing out during the day.
World failing to meet promises on the oceans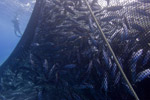 (06/14/2012) Despite a slew of past pledges and agreements, the world's governments have made little to no progress on improving management and conservation in the oceans, according to a new paper in Science. The paper is released just as the world leaders are descending on Rio de Janeiro for Rio+20, or the UN Summit on Sustainable Development, where one of the most watched issues is expected to be ocean policy, in part because the summit is expected to make little headway on other global environmental issues such as climate change and deforestation. But the new Science paper warns that past pledges on marine conservation have moved too slowly or stagnated entirely.
Massive algae bloom in Arctic like "finding the Amazon rainforest in the Mojave Desert"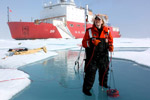 (06/11/2012) Given everything marine researchers know about phytoplankton, a type of algae, no one expected to find some of the world's largest blooms beneath Arctic sea ice. But this is exactly what scientists stumbled on during an ICESCAPE expedition in the Chukchi Sea, which is examining the massive impacts of climate change in the region. Researchers recorded a 100 kilometer (62 miles) long bloom underneath the Arctic ice pack that was four times richer than adjacent ice-free waters.
Forgotten Species: the wonder-inducing giant clam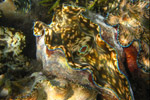 (06/11/2012) The first time I ever saw a giant clam was at a ride in Walt Disney World's Magic Kingdom. My family and I piled into the Nautilus submersible at the 20,000 Leagues Under the Sea: Submarine Voyage and descended into the playtime depths. While we saw sea turtles, sharks, lobsters, mermaids, and even a sea monster, the creature that lingered in my mind most was the giant clam, raising and closing its pearly shell in the weedy abyss. Of course, none of these aquatic wonders were real—they were animatronics—but to a child with a vivid imagination they stirred within me the deep mystery of the boundless ocean, and none more so than that monstrous clam with its gaping maw.
Scientists: if we don't act now we're screwed
(06/07/2012) Scientists warn that the Earth may be reaching a planetary tipping point due to a unsustainable human pressures, while the UN releases a new report that finds global society has made significant progress on only four environmental issues out of ninety in the last twenty years. Climate change, overpopulation, overconsumption, and ecosystem destruction could lead to a tipping point that causes planetary collapse, according to a new paper in Nature by 22 scientists. The collapse may lead to a new planetary state that scientists say will be far harsher for human well-being, let alone survival.
Nearly 2,000 fish species traded in U.S. tropical aquarium market

(05/24/2012) The U.S. tropical aquarium market poses problems and opportunities for conservation, according to a landmark study published in the open-access journal PLoS ONE. The study reviewed import records in the U.S. for one year (2004-2005) and found that over 11 million wild tropical fish from 1,802 species were imported from 40 different countries. While the number of fish species targeted surprised researchers, the total amount of fish imported was actually less than expected.
Blue tarantula, walking cactus, and a worm from Hell: the top 10 new species of 2011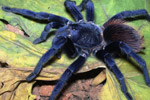 (05/23/2012) A sneezing monkey, a blue tarantula, and an extinct walking cactus are just three of the remarkable new species listed in the annual Top Ten New Species put together by the International Institute for Species Exploration at Arizona State University. This year's list includes a wide-variety of life forms from fungi to flower and invertebrate to primate.
Seagrass beds store 20 billion tons of carbon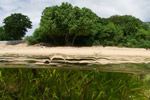 (05/22/2012) Just below the ocean's surface lies a carbon powerhouse: seagrass meadows. New research in Nature Geoscience estimates that the world's seagrass meadows conservatively store 19.9 billion metric tons of carbon, even though the threatened marine ecosystems make up only 0.2 percent of Earth's surface. The findings lend support to the idea that seagrass protection and restoration could play a major role in mitigating climate change.
Educating the next generation of conservation leaders in Colombia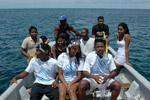 (05/14/2012) Colombia's northern departments of Cordoba and Bolivar are home to an abundance of coral reefs, estuaries, mangroves forests, and forests. Rich in both marine and terrestrial wildlife, local communities depend on the sea and land for survival, yet these ecosystems are imperiled by booming populations, overexploitation, and unsustainable management. Since 2007, an innovative education program in the region, the Guardians of Nature, has worked to teach local children about the ecology of the region, hoping to instill a conservation ethic that will aid both the present and the future.
Featured video: the oceans and Rio+20

(05/10/2012) A new video by Pew Environment Group and the Zoological Society of London (ZSL) hopes to convince policy-makers attending the Rio+20 Summit on Sustainable Development this summer that urgent action is needed to save the ocean's from an environmental crisis.
BP Deepwater Horizon deformities: eyeless shrimp, clawless crabs

(04/24/2012) Two years after the BP-leased Deepwater Horizon drilling rig exploded in the Gulf of Mexico, killing eleven and causing an oil spill that lasted three months, scientists say the impacts on the Gulf ecosystem are only beginning to come to light and the discoveries aren't pretty.
Featured video: Google Earth highlights imperiled coral reefs around the world

(04/18/2012) A new video by Google Earth and the World Resources Institute (WRI) highlights the world's many endangered coral reefs. A part of the WRI's Reefs at Risk program, the video highlights regional and global threats to the oceans' most biodiverse ecosystem. According to the WRI, a stunning 75 percent of the world's reefs are currently threatened.
Three U.S. retailers pledge to avoid fish from embattled Ross Sea

(03/14/2012) The Ross Sea, a massive bay off Antarctica, has been dubbed the world's last ocean due to its pristine state, long-untouched by industry and fisheries. However, over the last 15 years New Zealand commercial fisheries have entered the sea, seeking the slow-growing Antarctic toothfish which is usually sold as the high-end Chilean sea bass. Now as conservation groups plead for nations to grant the Ross Sea protected status, Greenpeace has begun a campaign to get good retailers to steer clear of stocking Antarctic toothfish. To date, Safeway, Wegmans, and Harris Teeter has all pledged not to source from the Ross Sea.
Carbon emissions paving way for mass extinction in oceans

(03/05/2012) Human emissions of carbon dioxide may be acidifying the oceans at a rate not seen in 300 million years, according to new research published in Science. The ground-breaking study, which measures for the first time the rate of current acidification compared with other occurrences going back 300 million years, warns that carbon emissions, unchecked, will likely lead to a mass extinction in the world's oceans. Acidification particularly threatens species dependent on calcium carbonate (a chemical compound that drops as the ocean acidifies) such as coral reefs, marine mollusks, and even some plankton. As these species vanish, thousands of others that depend on them are likely to follow.
Scientists recommend marine protected areas for Madagascar

(02/27/2012) With the government of Madagascar planning to increase marine protected areas by one million hectares, a group of researchers have laid out flexible recommendations in a new study in the open access journal PLoS ONE. The researchers employed four different analyses in order to highlight a number of different conservation options, however the different analyses pointed to the need to protect certain areas with high biodiversity, including the Barren Islands' reefs, the reefs of Juan de Nova, the Banc de Leven, and the shallow banks of the Cap Sainte Marie.
Washing clothing pollutes oceans with billions of microplastics

(02/14/2012) Washing synthetic clothes—such as nylon, polyester, and acrylic—is polluting the oceans with billions of microplastics: plastics that measure less than one millimeter. It may sound innocuous, but research has shown that these microplastics are accumulating in marine species with unknown health impacts, both on the pollution-eating species and the humans who consume them.
Hugh Powell: birds lend invaluable insight into ecosystems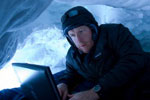 (01/23/2012) Hugh Powell is science editor at the Cornell Lab of Ornithology as well as a contributor to Woods Hole Oceanographic Institution's Oceanus and other publications. He's traveled extensively while writing, including stints in Antarctica for WHOI's Live from the Poles. Before finding his niche as a science writer, Hugh studied the interconnections between black-backed woodpeckers, insects, and forest fires in Montana. He currently resides in Ithaca, New York.
Photos: scientists find new species at world's deepest undersea vent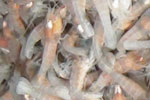 (01/10/2012) It sounds like a medieval vision of hell: in pitch darkness, amid blazing heat, rise spewing volcanic vents. But there are no demons and devils down here, instead the deep sea vent, located in the very non-hellish Caribbean sea, is home to a new species of pale shrimp. At 3.1 miles below (5 kilometers) the sea's surface, the Beebe Vent Field south of the Cayman islands, is the deepest yet discovered.
'Lost world' dominated by Yeti crabs discovered in the Antarctic deep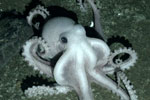 (01/03/2012) Scientists have discovered a deep sea ecosystem dominated by hairy pale crabs off of Antarctica. The new species of "Yeti crabs" survive alongside many other likely new species, including a seven-armed meat-eating starfish, off of hydrothermal vents, which spew heat and chemicals into the lightless, frigid waters. According to the paper published in PLoS ONE, this is the first discovery of a hydrothermal vent ecosystem in the Southern Ocean though many others have been recorded in warmer waters worldwide.
Unanimous agreement among scientists: Earth to suffer major loss in species
(11/09/2011) The thylacine, the dodo, the great auk, the passenger pigeon, the golden toad: these species have become symbols of extinction. But they are only the tip of the recent extinction crisis, and according to a survey of 583 conservation scientists, they are only the beginning. In a new survey in Conservation Biology, 99.5 percent of conservation scientists said a serious loss in biodiversity was either 'likely', 'very likely', or 'virtually certain'. The prediction of a significant loss of species is not surprising—scientists have been warning for decades that if global society continues with business as usual the world will suffer from mass extinction—what is perhaps surprising is the practically unanimous expectation that a global biodiversity decline will occur.
Coral reef biodiversity may be vastly underestimated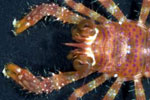 (11/03/2011) Researchers with the Smithsonian have catalogued almost as many crab species on tropical coral reef bits measuring just 20.6 square feet (6.3 square meters) as in all of Europe's seas, finds a new paper in PLoS ONE. The team used DNA barcoding to quickly identify a total of 525 crustaceans (including 168 crab species) from dead coral chunks taken from seven sites in the tropics, including the Indian, Pacific and Caribbean oceans.
11 challenges facing 7 billion super-consumers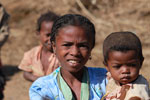 (10/31/2011) Perhaps the most disconcerting thing about Halloween this year is not the ghouls and goblins taking to the streets, but a baby born somewhere in the world. It's not the baby's or the parent's fault, of course, but this child will become a part of an artificial, but still important, milestone: according to the UN, the Earth's seventh billionth person will be born today. That's seven billion people who require, in the very least, freshwater, food, shelter, medicine, and education. In some parts of the world, they will also have a car, an iPod, a suburban house and yard, pets, computers, a lawn-mower, a microwave, and perhaps a swimming pool. Though rarely addressed directly in policy (and more often than not avoided in polite conversations), the issue of overpopulation is central to environmentally sustainability and human welfare.
Giant one-celled organisms discovered over six miles below the ocean's surface

(10/23/2011) Imagine a one-celled organism the size of a mango. It's not science fiction, but fact: scientists have cataloged dozens of giant one-celled creatures, around 4 inches (10 centimeters), in the deep abysses of the world's oceans. But recent exploration of the Mariana Trench has uncovered the deepest record yet of the one-celled behemoths, known as xenophyophores.
Sowing the seeds to save the Patagonian Sea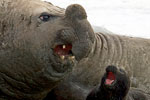 (09/07/2011) With wild waters and shores, the Patagonia Sea is home to a great menagerie of marine animals: from penguins to elephants seals, albatrosses to squid, and sea lions to southern right whales. The sea lies at crossroads between more northern latitudes and the cold bitter water of the Southern Ocean, which surround Antarctica. However the region is also a heavy fishing ground, putting pressure on a number of species and imperiling the very ecosystem that supplies the industry. Conservation efforts, spearheaded by marine conservationist Claudio Campagna and colleagues with the Wildlife Conservation Society (WCS), are in the early stages. Campagna, who often writes about the importance of language in the fight for preservation, has pushed to rename the area to focus on its stunning wildlife.




Page 1 | Page 2