News articles on marine birds

---
Mongabay.com news articles on marine birds in blog format. Updated regularly.





Industrialized fishing has forced seabirds to change what they eat


(05/14/2013) The bleached bones of seabirds are telling us a new story about the far-reaching impacts of industrial fisheries on today's oceans. Looking at the isotopes of 250 bones from Hawaiian petrels (Pterodroma sandwichensis), scientists have been able to reconstruct the birds' diets over the last 3,000 years. They found an unmistakable shift from big prey to small prey around 100 years ago, just when large, modern fisheries started scooping up fish at never before seen rates. The dietary shift shows that modern fisheries upended predator and prey relationships even in the ocean ocean and have possibly played a role in the decline of some seabirds.


Scientists discover that marine animals disperse seagrass

(05/09/2013) Lesser known than coral reefs, marine seagrass ecosystems are rich in biodiversity and are powerhouses when it comes to sequestering carbon dioxide. Yet, much remains unknown about the ecology of seagrass beds, including detailed information on how seagrass spread their seeds and colonize new area. Now a recent study in Marine Ecology Progress Series documents that several species of marine animal are key to dispersing seagrass, overturning the assumption that seagrass was largely dispersed by abiotic methods (such as wind and waves).


Are seagulls killing whales in Patagonia?


(05/08/2013) It sounds ludicrous, but it could just be true: scientists say seagulls may be responsible for hundreds of southern right whale moralities off the Argentine coastline. Since 2003, scientists have documented the deaths of 605 southern right whales (Eubalaena australis) near Península Valdés which the whales use as a nursery. Notably, 88 percent of these were newborn calves. The death rate is so high that researchers now fear for the whales' long-term survival.


Above the ocean: saving the world's most threatened birds


(11/01/2012) A life on the ocean is a perilous one for any bird. They must expend energy staying aloft for thousands of miles and learn to be marathon swimmers; they must seek food beneath treacherous waves and brave the world's most extreme climates; they must navigate the perils both of an unforgiving sea and far-flung islands. Yet seabirds, which includes 346 global species that depend on marine ecosystems, have evolved numerous strategies and complex life histories to deal with the challenges of the sea successfully, and they have been doing so since the dinosaur's last stand. Today, despite such a track record, no other bird family is more threatened; yet it's not the wild, unpredictable sea that endangers them, but pervasive human impacts.


Penguins face a slippery future


(09/26/2012) Penguins have spent years fooling us. With their image seemingly every where we turn—entertaining us in animated films, awing us in documentaries, and winking at us in commercials—they have made most of us believe they are doing just fine; the penguin's charming demeanor has lulled us into complacency about their fate. But penguin populations are facing historic declines even as their popularity in human society rises. Overfishing is decimating some of their prey species, climate change is shifting their resources and imperiling their habitat, meanwhile pollution, such as oil spills, are putting even healthy colonies at risk. Now, a young organization, the Global Penguin Society (GPS), is working to save all of the world's 18 penguin species by working with scientists, governments, and local communities.


Cute animal pictures of the day: Humboldt penguin chick meets water

(08/13/2012) Humboldt penguins was found along the western edge of South America in Chile and Argentina. They face a barrage of threats including overfishing, drowning as bycatch, El Nino conditions that affect food availability, and climate change. Significant population declines have led to the species being listed as Vulnerable on the IUCN Red List.


Over 500 dead penguins wash up in Brazil, cause under investigation

(07/17/2012) In recent weeks, 512 Magellanic penguins (Spheniscus magellanicus) have washed up dead in Brazilian state of Rio Grande do Sul. Although badly composed, researchers do not see any obvious signs why the penguins died, especially in such numbers. Marine biologists are currently performing autopsies on carcasses and hope to determine cause of death within a few weeks.


B95, the great survivor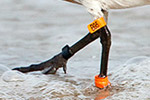 (06/11/2012) He is so long-lived that he has surpassed all expectations, touching hearts throughout the American continent, bringing together scientists and schools, inspiring a play and now even his own biography. B95 is the name of a rufus red knot (Calidris canutus rufus), a migratory bird that in his annual journeys of 16,000 kilometers (9,940 miles) each way from the Canadian Arctic to Tierra del Fuego, in Argentina, has flown a distance bigger than the one between the Earth and Moon.


Why bird droppings matter to manta rays: discovering unknown ecological connections

(06/04/2012) Ecologists have long argued that everything in the nature is connected, but teasing out these intricate connections is not so easy. In fact, it took research on a remote, unoccupied island for scientists to discover that manta ray abundance was linked to seabirds and thereby native trees.


Paleontologists reconstruct extinct, "elegant" penguin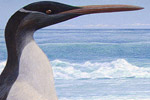 (02/27/2012) Around 25 million years ago a penguin with a long, sharp beak and massive flippers lived in a New Zealand that was almost entirely underwater. The bird, named Kairuku after a Maori word that means "diver who returns with food," was first discovered in 1977, but has only recently been reconstructed by scientists in a study in the Journal of Vertebrate Paleontology.


Small marine fish need protection too

(10/25/2011) It has long been known that overfishing has decimated some populations of tuna, shark, cod, as well as other big predatory fish; however two recent studies have pointed out that overfishing is also threatening small fish such as anchovies, sardines, mackerel, herring, menhaden, and krill. Although tiny, these species are vital to marine ecosystems since many species higher up on the food chain—from seabirds to marine mammals to big fish—wholly depend on them for survival.


Photos: New Zealand oil disaster kills over 1200 birds to date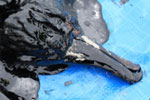 (10/16/2011) According to the New Zealand government an oil spill from a grounded container ship in the Bay of Plenty has killed 1,250 seabirds with hundreds of others in rescue centers. However, conservationists say the avian death-toll is far higher with most contaminated birds simply vanishing in the sea. "The number of birds being found washed up on the beaches will be a very small proportion of the birds being affected," explained Karen Baird, Seabird Conservation Advocate with NGO Forest & Bird.


Bird-killing oil spill New Zealand's 'worst environmental disaster'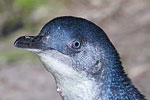 (10/12/2011) An oil spill from a grounded container ship in New Zealand's Bay of Plenty is threatening to worsen as authorities fear the ship is breaking up. Already, 350 tons of oil from the ship, the MV Rena, has leaked out with some reaching nearby beaches including a popular holiday spot, Papamoa Beach. To date the spill has killed over 200 birds, including little blue penguins, shags, petrels, albatrosses and plovers. If the ship breaks up and sinks, authorities fear it could release its remaining 1,400 tons into the marine ecosystem.


Sowing the seeds to save the Patagonian Sea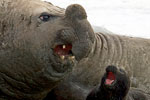 (09/07/2011) With wild waters and shores, the Patagonia Sea is home to a great menagerie of marine animals: from penguins to elephants seals, albatrosses to squid, and sea lions to southern right whales. The sea lies at crossroads between more northern latitudes and the cold bitter water of the Southern Ocean, which surround Antarctica. However the region is also a heavy fishing ground, putting pressure on a number of species and imperiling the very ecosystem that supplies the industry. Conservation efforts, spearheaded by marine conservationist Claudio Campagna and colleagues with the Wildlife Conservation Society (WCS), are in the early stages. Campagna, who often writes about the importance of language in the fight for preservation, has pushed to rename the area to focus on its stunning wildlife.


New seabird discovered from Hawaii, but no one knows where it lives

(08/30/2011) Researchers have uncovered a new seabird native to Hawaii stuffed in a museum. Originally identified as a smaller variation of a little shearwater (Puffinus assimilis), DNA tests showed that the bird, which was collected over four decades ago, was in fact a unique species. Named Bryan's shearwater (Puffinus bryani), the fate of this bird in the wild remains unknown.


Shell spills over 50,000 gallons of oil off Scotland

(08/16/2011) Yesterday, Royal Dutch Shell estimated that to date 54,600 gallons of oil had spilled into the North Sea off the east coast of Scotland, spreading some 19 miles wide (30 kilometers) at its maximum. While the company stopped the initial leak on Thursday, it has now announced that the oil has found a 'second pathway' and is still leaking into the sea around 84 gallons a day.