News articles on marine biodiversity

---
Mongabay.com news articles on marine biodiversity in blog format. Updated regularly.





Wonderful Creatures: the tiny, predatory penis-worm that lies in wait in the sand


(02/28/2014) The seabed is really where it's at in terms of animal diversity. Of the 35 known animal lineages, representatives of all but two are found here. In contrast, the huge numbers of species that inhabit tropical rainforests represent a mere 12 lineages. One group of animals that illustrates the diversity of the seabed is the Priapulida, which also go by the unfortunate common name of "penis worms." Only 20 species of priapulid are known today, a shadow of their diverse past, which extends back for well over 500 million years. Not commonly seen, the priapulids have attracted little attention from the zoology community as a whole.


Wonderful Creatures: meet the animal that has evolved a cushy, worry-free life inside an octopus


(01/30/2014) The range of habitats that animals have come to occupy is nothing short of staggering. Take the dicyemids for example. They are among the simplest animals on the planet, with a tiny, worm-like adult body that consists of between 10 and 40 cells. They have no organs, body cavities or even guts—a structural simplicity which is a consequence of where and how they live. The only place you will find adult dicyemids is inside the bodies of cephalopods, typically octopuses and cuttlefish where large numbers of them cling to the inner wall of the mollusc's kidney.


Giant clams are easy to recognize, but genetics proves there is more than meets the eye


(12/21/2013) Giant clams are among the more easily spotted invertebrates of the marine realm. However, some are actually quite cryptic and distinct species are often difficult to identify, claims a study recently published in PlosOne. Much attention has been focused on charismatic species in research, but the scientists who authored the study argue that giant clams also deserve the spotlight because of the potential threats and present misunderstandings regarding their taxonimical classifications.


Scientists discover a new coral in the French Polynesia


(12/20/2013) With humans scattered throughout the globe, it is hard to imagine lands still unexplored or species undocumented. Yet, on the remote French Polynesian Gambier Islands a new coral reef species has been found thriving in underwater lagoons. Echinophyllia tarae was discovered by marine biologist Francesca Benzoni and the research crew members of the Tara Oceans International Research Expedition.


Ultraviolet nets significantly reduce sea turtle bycatch


(11/11/2013) Bycatch, a side-effect of commercial fishing in which non-target species are accidentally caught, is linked to severe population declines in several species. Sea turtles are particularly impacted by small-scale coastal gillnetting practices, in which large nets are deployed and indiscriminately snag anything of a certain size that attempts to swim through them. However, that may soon change.


Seahorses on your iPad: new app allows anyone to track and document seahorses


(11/08/2013) Annually, approximately 13 million seahorses—live and dead—are traded around the globe. At this scale, the seahorse trade is potentially very destructive to a group of animals comprised of 48 species, 11 of which are listed by the International Union for Conservation and Nature (IUCN) as threatened with extinction.


98% of marine fish headed for the aquarium trade die within a year in the Philippines


(10/22/2013) Almost all wild caught marine fish for the aquarium trade will die within a year of capture, according to WWF. Following months of interviews with Filipino marine exporters and hobbyists, WWF-Philippines have found that roughly 80% of all marine fish die before they are sold, and those that survive long enough to be bought by hobbyists are extremely likely to be dead in under a year.


Finding a needle in a haystack: two new species of octocorals discovered in the Pacific Ocean


(09/04/2013) The vast expanse of the Earth's oceans makes finding a new species like finding a needle in a haystack. In fact, finding a needle in a haystack may be easier than finding a new species of octocoral in the Pacific Ocean. But Gary Williams with the California Academy of Sciences has recently found not only one but two new species, including a new genus of octocoral.


Eighty sea turtles wash up dead on the coast of Guatemala


(08/27/2013) An assortment of marine animals and birds reside along the black volcanic sand beaches of Guatemala's Pacific coast, but lately both residents and visitors on the southeast beaches of the country have observed a tragic event – the stranding of dead sea turtles. Eighty dead sea turtles have been recorded since the first week of July.


Climate change scattering marine species

(08/08/2013) Rising ocean temperatures are rearranging the biological make-up of our oceans, pushing species towards the poles by 7kms every year, as they chase the climates they can survive in, according to new research. The study, conducted by a working group of scientists from 17 different institutions, gathered data from seven different countries and found the warming oceans are causing marine species to alter their breeding, feeding and migration patterns.


Breaking the mold: Divya Karnad takes on fisheries and science journalism in India


(04/15/2013) Fishing is not a woman's domain in most countries across the globe. In parts of India there are fishing communities who believe that having a woman onboard a fishing boat brings bad luck. Despite this, Divya Karnad, a scientist who studies marine life in India, has spent several years studying fisheries and their impact on species like sharks and sea turtles. Her work forms a part of global efforts to track declining marine species and encourage more sustainable fishing.


Scientists discover new genus of crustacean

(03/27/2013) In recent journeys to Madagascar, New Caledonia, Vanuatu, the Philippines, and French Polynesia, scientists from the Centre for Advanced Studies of Blanes and the University of Barcelona have discovered not only five new crustaceous species, but also the existence of a new genus in the family.


Typhoon Bopha decimated coral reefs


(01/24/2013) When Typhoon Bopha, also known as Pablo, ran ashore on Mindanao, it was the largest tropical storm it ever hit the Philippine island. In its wake the massive superstorm left over 1,000 people were dead and 6.2 million affected with officials saying illegal logging and mining worsened the scale of the disaster. However, the Category 5 typhoon also left a trail of destruction that has been less reported: coral reefs.


Threatened Galapagos coral may predict the future of reefs worldwide


(11/07/2012) The Galapagos Islands have been famous for a century and a half, but even Charles Darwin thought the archipelago's list of living wonders didn't include coral reefs. It took until the 1970s before scientists realized the islands did in fact have coral, but in 1983, the year the first major report on Galapagos reef formation was published, they were almost obliterated by El Niño. This summer, a major coral survey found that some of the islands' coral communities are showing promising signs of recovery. Their struggle to survive may tell us what is in store for the rest of the world, where almost three-quarters of corals are predicted to suffer long-term damage by 2030.


Above the ocean: saving the world's most threatened birds


(11/01/2012) A life on the ocean is a perilous one for any bird. They must expend energy staying aloft for thousands of miles and learn to be marathon swimmers; they must seek food beneath treacherous waves and brave the world's most extreme climates; they must navigate the perils both of an unforgiving sea and far-flung islands. Yet seabirds, which includes 346 global species that depend on marine ecosystems, have evolved numerous strategies and complex life histories to deal with the challenges of the sea successfully, and they have been doing so since the dinosaur's last stand. Today, despite such a track record, no other bird family is more threatened; yet it's not the wild, unpredictable sea that endangers them, but pervasive human impacts.


Great Barrier Reef loses half its coral in less than 30 years


(10/01/2012) The Great Barrier Reef has lost half of its coral cover in the last 27 years, according to a new study released today in the Proceedings of the National Academy of Sciences (PNAS). Based on over 2,000 surveys from 1985 to this year the study links the alarming loss to three impacts: tropical cyclone damage, outbreaks crown-of-thorns starfish that devour corals, and coral bleaching.


Coral diversity off Madagascar among the world's highest


(09/24/2012) The western Indian Ocean, especially the waters between Madagascar and mainland Africa, may be among the world's most biodiverse for coral species, according to a new study in PLOS ONE. Conducting dive surveys in the region for nearly a decade, David Obura with the Coastal Oceans Research and Development in the Indian Ocean (CORDIO) identified 369 coral species in the western Indian Ocean and predicts there may be nearly another 100 unidentified. If so, this would make the region as biodiverse as the Great Barrier Reef, but still behind the Coral Triangle which has over 600 species.


'Monster larva' turns into a shrimp


(08/28/2012) With blue devil-shaped horns and red armor, the monster larva, or Cerataspis monstrosa, kept scientists guessing for nearly 200 years; infrequently found in the bellies of marine predators, researchers could not imagine what this larva became as an adult. Now they do: the monster larva becomes a deep sea shrimp, known as Plesiopenaeus armatus, which bares little monstrous resemblance to its larval stage, according to DNA studies published in Ecology and Evolution.


'Time pollution': loss of predators pushes nocturnal fish to take advantage of the day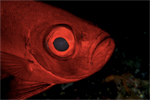 (06/25/2012) Nocturnal fish—which sport big eyes for improved night vision—are taking back the day in the coral reefs of the Tabuaeran Atoll, according to a new study in the open-access journal PLoS ONE. Overfishing has plundered the Pacific atoll of many of its notable predators, including sharks and barracudas, causing ripple effects through the ecosystem. One of these emerging changes appears to be that with less fear of being eaten, nocturnal fish are increasingly venturing out during the day.


World failing to meet promises on the oceans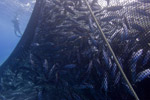 (06/14/2012) Despite a slew of past pledges and agreements, the world's governments have made little to no progress on improving management and conservation in the oceans, according to a new paper in Science. The paper is released just as the world leaders are descending on Rio de Janeiro for Rio+20, or the UN Summit on Sustainable Development, where one of the most watched issues is expected to be ocean policy, in part because the summit is expected to make little headway on other global environmental issues such as climate change and deforestation. But the new Science paper warns that past pledges on marine conservation have moved too slowly or stagnated entirely.


Scientists recommend marine protected areas for Madagascar

(02/27/2012) With the government of Madagascar planning to increase marine protected areas by one million hectares, a group of researchers have laid out flexible recommendations in a new study in the open access journal PLoS ONE. The researchers employed four different analyses in order to highlight a number of different conservation options, however the different analyses pointed to the need to protect certain areas with high biodiversity, including the Barren Islands' reefs, the reefs of Juan de Nova, the Banc de Leven, and the shallow banks of the Cap Sainte Marie.