News articles on marine animals

---
Mongabay.com news articles on marine animals in blog format. Updated regularly.






Scientists discover new genus of crustacean

(03/27/2013) In recent journeys to Madagascar, New Caledonia, Vanuatu, the Philippines, and French Polynesia, scientists from the Centre for Advanced Studies of Blanes and the University of Barcelona have discovered not only five new crustaceous species, but also the existence of a new genus in the family.
Heavy metal shark meat: dangerous lead levels found in sharks used as fish food
(03/18/2013) A recent study published in mongabay.com's open access journal Tropical Conservation Science raises concerns about levels of heavy metals, particularly lead (Pb), present in shark meat, as well as the decline of shark abundance due to global fishing pressures. Sharks are primarily caught as by-catch for other fishing industries. By one account, 70% of the total catch in swordfish long-line fisheries was sharks. Due to consumer demand, this by-catch is sold to Asian fish markets as fin and trunk meat. Much of the trunk and organ meat is used to make fish-meal, which is then fed to farmed fish.
Sharks and rays win protections at CITES
(03/11/2013) Today, for the first time, sharks and rays have won the vote for better protection under CITES (the Convention on International Trade in Endangered Species), the world's regulating body on trade in threatened species. Five shark species and manta rays, which includes two species, have received enough votes to be listed under Appendix II of CITES, which means tougher regulations, but not an outright ban. However, the votes could still be overturned before the end of the meeting.
Has shark fin consumption peaked at 100M dead sharks per year?
(03/05/2013) While a new study warns that up to 100M sharks are killed annually, there are signs out of China that demand for shark fin may be on the decline. A study published last week in the journal Marine Policy estimated shark deaths at 100 million in 2000 and 97 million in 2010, suggesting a slight drop in shark killing. Meanwhile reports out of China in recent months suggest an accelerating decline in shark fin consumption. China is the top market for shark fin, which is consumed as a status symbol, typically at wedding ceremonies and business dinners.
Leatherback sea turtles suffer 78 percent decline at critical nesting sites in Pacific
(02/27/2013) The world's largest sea turtle, the leatherback (Dermochelys coriacea), is vanishing from its most important nesting sites in the western Pacific, according to a new study in Ecosphere. Scientists found that leatherback turtle nests have dropped by 78 percent in less than 30 years in the Bird's Head Peninsula on the island of New Guinea. Worryingly, these beaches account for three-fourths of the western Pacific's distinct leatherback population; globally the leatherback is listed as Critically Endangered by the IUCN Red List, the highest rating before extinction.
Typhoon Bopha decimated coral reefs
(01/24/2013) When Typhoon Bopha, also known as Pablo, ran ashore on Mindanao, it was the largest tropical storm it ever hit the Philippine island. In its wake the massive superstorm left over 1,000 people were dead and 6.2 million affected with officials saying illegal logging and mining worsened the scale of the disaster. However, the Category 5 typhoon also left a trail of destruction that has been less reported: coral reefs.
Save Lolita: new film urges release of captive killer whale
(01/22/2013) Through his new 90-second PSA, Save Lolita, filmmaker Daniel Azarian wanted to connect people to the plight of Lolita on a deeply human level; the only problem: Lolita is an orca, also known as a killer whale. But the stark, moving PSA succeeds, given the sociability of an individual—human or orca—who was stolen from her family and held in captivity for the past 42 years at Miami's Seaquarium.
Telling the story of the father of sea turtle conservation
(01/21/2013) In 1959, visionary Archer Carr founded the world's first conservation group devoted solely to sea turtles. Working with these marine denizens in Costa Rica, Carr was not only instrumental in changing local views of the turtles—which at the time were being hunted and eaten at unsustainable rates—but also in establishing basic practices for sea turtle conservation today. Now a new film by Two-Head Video, Inc. tells the story of Carr's work and the perils still facing marine turtles today.
Giant squid caught on video
(01/08/2013) Last summer, after 55 dives, three scientists in a submarine off the coast of Japan encountered an animal people have mythologized and feared for thousands of years: the giant squid. According to the researchers with Japan's National Science Museum they managed to capture the first footage ever (see below) of a giant squid in its natural habitat, although photos were also released in 2005 of a giant squid feeding.
Pledge to end wildlife trafficking for Wildlife Conservation Day

(12/04/2012) Today has been dubbed the first ever global Wildlife Conservation Day. To honor it, a coalition of conservation groups—including WWF and Wildlife Conservation Society (WCS)—are working to raise awareness of illegal wildlife trafficking. Poaching for traditional medicine, bushmeat, and other products has put innumerable species at risk, including tigers, rhinos, sharks, and elephants.
Animals dissolving due to carbon emissions
(12/03/2012) Marine snails, also known as sea butterflies, are dissolving in the Southern Seas due to anthropogenic carbon emissions, according to a new study in Nature GeoScience. Scientists have discovered that the snail's shells are being corroded away as pH levels in the ocean drop due to carbon emissions, a phenomenon known as ocean acidification. The snails in question, Limacina helicina antarctica, play a vital role in the food chain, as prey for plankton, fish, birds, and even whales.
Reduction in snow threatens Arctic seals
(11/28/2012) Arctic snowfall accumulation plays a critical role in ringed seal breeding, but may be at risk due to climate change, according to a new study in Geophysical Research Letters. Sea ice, which is disappearing at an alarming rate, provides a crucial platform for the deep snow seals need to reproduce. Ringed seals (Phoca hispida) require snow depths of at least 20 centimeters (8 inches): deep enough to form drifts that seals use as birth chambers.
Climate change threatens population of Earth's largest sea turtle
(11/19/2012) A drier, hotter climate in Central America could wipe out the population of leatherback sea turtles from the eastern Pacific Ocean by the year 2100, according to a grim projection published on July 1 in Nature Climate Change. Already critically endangered from fisheries by-catch and historic egg poaching, leatherbacks can hardly accommodate another human-related threat. Yet scientists still hold out hope for interventions that could save the turtles.
Photos: Mozambique creates Africa's biggest marine protected area
(11/13/2012) Last week, the East African nation of Mozambique announced it was protecting 10,411 square kilometers (4,020 square miles) of coastal marine waters, making the new Marine Protected Area (MPA) the biggest on the continent. The protected area, dubbed the Primeiras and Segundas Archipelago ("First" and "Second" islands), includes ten islands as well as mangrove forests, rich coral reefs, and seagrass ecosystems.
Whale only known from bones washes up on beach in New Zealand
(11/05/2012) In 2010, a whale mother and male calf were found dead on Opape Beach in New Zealand. Although clearly in the beaked whale family—the most mysterious marine mammal family—scientists thought the pair were relatively well-known Gray's beaked whales (Mesoplodon grayi). That is until DNA findings told a shocking story: the mother and calf were actually spade-toothed beaked whales (Mesoplodon traversii), a species no one had ever seen before as anything more than a pile of bones.
Above the ocean: saving the world's most threatened birds
(11/01/2012) A life on the ocean is a perilous one for any bird. They must expend energy staying aloft for thousands of miles and learn to be marathon swimmers; they must seek food beneath treacherous waves and brave the world's most extreme climates; they must navigate the perils both of an unforgiving sea and far-flung islands. Yet seabirds, which includes 346 global species that depend on marine ecosystems, have evolved numerous strategies and complex life histories to deal with the challenges of the sea successfully, and they have been doing so since the dinosaur's last stand. Today, despite such a track record, no other bird family is more threatened; yet it's not the wild, unpredictable sea that endangers them, but pervasive human impacts.
By imitating human voices, beluga whale may have been attempting to communicate

(10/23/2012) Five years after the death of a captive beluga whale named NOC, researchers have discovered that the marine mammal may have been trying to communicate with people by mimicking humans voices at the National Marine Mammal Foundation in San Diego. Analyzing tapes of human-like speech from the young male beluga whale, scientists writing in Current Biology note that while there have been reports of beluga whales making human like sounds before, this is the first time evidence has been captured on tape and analyzed.
Photos: emperor penguins take first place in renowned wildlife photo contest
(10/18/2012) Photographer, Paul Nicklen, says he'll never forget the moment when a slew of emperor penguins burst by him in the frigid Ross Sea; he'd waited in the cold water, using a snorkel, to capture this image. Now, Nicklen has won the much-coveted Veolia Environnement Wildlife Photographer of the Year Competition for the antic, bubbling photograph. Owned by the Natural History Museum and BBC Worldwide, this is the 48th year of the Veolia Environnement Wildlife Photographer of the Year, which hands out awards to 100 notable wildlife and environment photos.
Cute animal picture of the day: baby walruses on the mend

(10/11/2012) Two walrus male calves were discovered over the summer near Barrow, Alaska, dehydrated and ill, after their separate mothers perished. The calves have been receiving care at the Alaska SeaLife Center, but one will soon be moved to the Wildlife Conservation Society's (WCS) New York Aquarium and the other to the Indianapolis Zoo.
Great Barrier Reef loses half its coral in less than 30 years
(10/01/2012) The Great Barrier Reef has lost half of its coral cover in the last 27 years, according to a new study released today in the Proceedings of the National Academy of Sciences (PNAS). Based on over 2,000 surveys from 1985 to this year the study links the alarming loss to three impacts: tropical cyclone damage, outbreaks crown-of-thorns starfish that devour corals, and coral bleaching.
Coral diversity off Madagascar among the world's highest
(09/24/2012) The western Indian Ocean, especially the waters between Madagascar and mainland Africa, may be among the world's most biodiverse for coral species, according to a new study in PLOS ONE. Conducting dive surveys in the region for nearly a decade, David Obura with the Coastal Oceans Research and Development in the Indian Ocean (CORDIO) identified 369 coral species in the western Indian Ocean and predicts there may be nearly another 100 unidentified. If so, this would make the region as biodiverse as the Great Barrier Reef, but still behind the Coral Triangle which has over 600 species.
Coral reefs in Caribbean on life support

(09/11/2012) Only 8 percent of the Caribbean's reefs today retain coral, according to a new report by the International Union for Conservation of Nature (IUCN). With input and data from 36 scientists, the report paints a bleak picture of coral decline across the region, threatening fisheries, tourism, and marine life in general.
Sacrificial squid has unique way of deterring predators

(09/04/2012) Octopoteuthis deletron—this deep-dwelling, unassuming little squid may appear plain and boring, but when threatened, it has a peculiar way of defending itself. This foot-long invertebrate behaves a bit differently than most of its close cousins: it drops its arms.
'Monster larva' turns into a shrimp
(08/28/2012) With blue devil-shaped horns and red armor, the monster larva, or Cerataspis monstrosa, kept scientists guessing for nearly 200 years; infrequently found in the bellies of marine predators, researchers could not imagine what this larva became as an adult. Now they do: the monster larva becomes a deep sea shrimp, known as Plesiopenaeus armatus, which bares little monstrous resemblance to its larval stage, according to DNA studies published in Ecology and Evolution.
Chinook salmon return to Olympic National Park after dam demolished

(08/21/2012) In March of this year the Elwha Dam, which had stood for 99 years, was demolished in the U.S. state of Washington. Five months later, Chinook salmon (Oncorhynchus tshawytscha) made their way down 70 miles of long-blocked off habitat and entered Olympic National Park.
Cute animal pictures of the day: Humboldt penguin chick meets water

(08/13/2012) Humboldt penguins was found along the western edge of South America in Chile and Argentina. They face a barrage of threats including overfishing, drowning as bycatch, El Nino conditions that affect food availability, and climate change. Significant population declines have led to the species being listed as Vulnerable on the IUCN Red List.
Maui's dolphins still in danger of extinction despite New Zealand's protective measures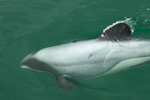 (08/07/2012) The New Zealand government's recent efforts to protect the world's smallest dolphin have come under scrutiny from various conservation organizations at the 64th meeting of the International Whaling Commission (IWC). There are only 55 Maui dolphins (Cephalorhynchus hectori maui) now found on the west coast of New Zealand's North Island, less than half the 2005 population with numbers continuing to decline. Less than 20 of the remaining Maui's are breeding females and their slow reproductive rates make it difficult to increase their numbers when faced with an even bigger danger: fishing nets.
Deepwater Horizon oil spill may have played role in dolphin deaths

(07/22/2012) In the first four months of 2011, 186 bottlenose dolphins (Tursiops truncatus) were found dead in the Gulf of Mexico, nearly half of them dolphin calves many of whom were perinatal, or near birth. Researchers now believe a number of factors may have killed the animals. Writing in the open-access journal PLoS ONE, scientists theorize that the dolphins died a sudden influx of freshwater from snowmelt after being stressed and weakened by an abnormally cold winter and the impacts of the BP oil spill.
Over 500 dead penguins wash up in Brazil, cause under investigation

(07/17/2012) In recent weeks, 512 Magellanic penguins (Spheniscus magellanicus) have washed up dead in Brazilian state of Rio Grande do Sul. Although badly composed, researchers do not see any obvious signs why the penguins died, especially in such numbers. Marine biologists are currently performing autopsies on carcasses and hope to determine cause of death within a few weeks.
Clever whale shark video goes viral

(07/17/2012) Researchers have a caught a juvenile—though still massive—whale shark on camera sucking fish out of a hole in an Indonesian fishing net. Posted on YouTube.com, the video has gone viral and has been viewed by 1.2 million people to date. The footage was captured during a program to tag 30 whale sharks (Rhincodon typus) in Indonesia's Cendrawasih Bay National Marine Park in order to learn more about the world's largest fish.
Strangest island in the Caribbean may be a sanctuary for critically endangered coral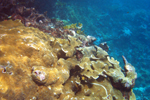 (07/16/2012) Don't feel bad if you've never heard of Navassa Island, even though it's actually part of the U.S. according to the Guano Islands Act of 1856. This uninhabited speck between Haiti and Jamaica, barely bigger than New York City's Central Park, has a bizarre and bloody history—and may be a crucial refuge for endangered coral in the Caribbean.
Cute animal picture of the day: stranded sea lion finds new home

(07/11/2012) A young female California sea lion (Zalophus californianus) , who had stranded herself three times, has found a new home at the Bronx Zoo. After her most recent escapade of showing up at a beachside bar in California, experts decided she was too habituated to humans to re-release back into the ocean for a third time. She was transferred to the Wildlife Conservation Society's Bronx Zoo.
2,600 scientists: climate change killing the world's coral reefs
(07/10/2012) In an unprecedented show of concern, 2,600 (and rising) of the world's top marine scientists have released a Consensus Statement on Climate Change and Coral Reefs that raises alarm bells about the state of the world's reefs as they are pummeled by rising temperatures and ocean acidification, both caused by greenhouse gas emissions. The statement was released at the 12th International Coral Reef Symposium.
Bad science journalism: articles spread misinformation about whale sharks
(07/09/2012) The death of one of the world's largest recorded whale sharks (Rhincodon typus) in the Arabian Sea provoked a sudden global interest in these massive shark. Weighing 14.5 tons, the fish in question made 'whale shark 'whale shark' the number 3 top search in Google Trends on the day the news hit. But, according to a new study in mongabay.com's open access journal Tropical Conservation Science, more than half the reports filed by journalists were "factually wrong."
Genetic analysis reveals 79 new species of sharks and rays, many likely endangered

(06/27/2012) Analyzing the DNA sequences of 4,383 specimens of sharks and rays, researchers have discovered 79 potentially new species, raising both the known diversity of this predacious family and concerns that many species are likely more imperiled than thought. Already 32 percent of open ocean sharks and rays are considered threatened with extinction by the IUCN Red List, due largely to overfishing, finning, bycatch, and prey depletion.
'Time pollution': loss of predators pushes nocturnal fish to take advantage of the day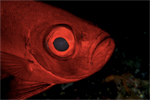 (06/25/2012) Nocturnal fish—which sport big eyes for improved night vision—are taking back the day in the coral reefs of the Tabuaeran Atoll, according to a new study in the open-access journal PLoS ONE. Overfishing has plundered the Pacific atoll of many of its notable predators, including sharks and barracudas, causing ripple effects through the ecosystem. One of these emerging changes appears to be that with less fear of being eaten, nocturnal fish are increasingly venturing out during the day.
New tiny crustacean discovered in deep sea off Europe (photo)

(06/20/2012) Scientists have pulled up a tiny new species of 'squat lobster' from a deep sea mountain at 1,410 meters below sea level off the coast of Spain. Dubbed Uroptychus cartesi, this is only the fourth species in this genus from the eastern Atlantic Ocean, although there are over hundred unique species in the Pacific and Indian ocean. The new species measures just 5-7 centimeters.
World failing to meet promises on the oceans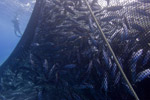 (06/14/2012) Despite a slew of past pledges and agreements, the world's governments have made little to no progress on improving management and conservation in the oceans, according to a new paper in Science. The paper is released just as the world leaders are descending on Rio de Janeiro for Rio+20, or the UN Summit on Sustainable Development, where one of the most watched issues is expected to be ocean policy, in part because the summit is expected to make little headway on other global environmental issues such as climate change and deforestation. But the new Science paper warns that past pledges on marine conservation have moved too slowly or stagnated entirely.
B95, the great survivor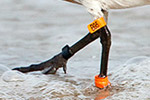 (06/11/2012) He is so long-lived that he has surpassed all expectations, touching hearts throughout the American continent, bringing together scientists and schools, inspiring a play and now even his own biography. B95 is the name of a rufus red knot (Calidris canutus rufus), a migratory bird that in his annual journeys of 16,000 kilometers (9,940 miles) each way from the Canadian Arctic to Tierra del Fuego, in Argentina, has flown a distance bigger than the one between the Earth and Moon.
Forgotten Species: the wonder-inducing giant clam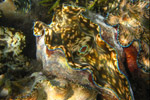 (06/11/2012) The first time I ever saw a giant clam was at a ride in Walt Disney World's Magic Kingdom. My family and I piled into the Nautilus submersible at the 20,000 Leagues Under the Sea: Submarine Voyage and descended into the playtime depths. While we saw sea turtles, sharks, lobsters, mermaids, and even a sea monster, the creature that lingered in my mind most was the giant clam, raising and closing its pearly shell in the weedy abyss. Of course, none of these aquatic wonders were real—they were animatronics—but to a child with a vivid imagination they stirred within me the deep mystery of the boundless ocean, and none more so than that monstrous clam with its gaping maw.
Regulations help fish, and fishermen, recover in the U.S.

(05/30/2012) Marine fish populations in the U.S. are generally recovering, according to a new report by the National Oceanic and Atmospheric Administration (NOAA). Last year six fish populations reached healthy levels in the U.S., boosting the total number of fish populations that have recovered to 27 since 2000. The success is due to the implementation of science-based annual catch limits which regulate how many fish are caught every year.
Nearly 2,000 fish species traded in U.S. tropical aquarium market

(05/24/2012) The U.S. tropical aquarium market poses problems and opportunities for conservation, according to a landmark study published in the open-access journal PLoS ONE. The study reviewed import records in the U.S. for one year (2004-2005) and found that over 11 million wild tropical fish from 1,802 species were imported from 40 different countries. While the number of fish species targeted surprised researchers, the total amount of fish imported was actually less than expected.
Blue tarantula, walking cactus, and a worm from Hell: the top 10 new species of 2011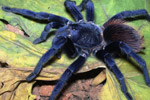 (05/23/2012) A sneezing monkey, a blue tarantula, and an extinct walking cactus are just three of the remarkable new species listed in the annual Top Ten New Species put together by the International Institute for Species Exploration at Arizona State University. This year's list includes a wide-variety of life forms from fungi to flower and invertebrate to primate.
Jaguar v. sea turtle: when land and marine conservation icons collide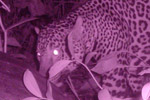 (05/16/2012) At first, an encounter between a jaguar (Panthera onca) and a green sea turtle (Chelonia mydas) seems improbable, even ridiculous, but the two species do come into fatal contact when a female turtle, every two to four years, crawls up a jungle beach to lay her eggs. A hungry jaguar will attack the nesting turtle, killing it with a bite to the neck, and dragging the massive animal—sometime all the way into the jungle—to eat the muscles around the neck and flippers. Despite the surprising nature of such encounters, this behavior, and its impact on populations, has been little studied. Now, a new study in Costa Rica's Tortuguero National Park has documented five years of jaguar attacks on marine turtles—and finds these encounters are not only more common than expected, but on the rise.
Wildlife in the tropics plummets by over 60 percent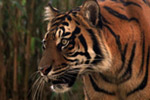 (05/15/2012) In 48 years wildlife populations in the tropics, the region that holds the bulk of the world's biodiversity, have fallen by an alarming 61 percent, according to the most recent update to the Living Planet Index. Produced by the World Wide Fund for Nature (WWF) and the Zoological Society of London (ZSL), the index currently tracks almost 10,000 populations of 2,688 vertebrate species (including mammals, birds, reptiles, amphibians, and fish) in both the tropics and temperate regions.
Educating the next generation of conservation leaders in Colombia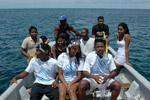 (05/14/2012) Colombia's northern departments of Cordoba and Bolivar are home to an abundance of coral reefs, estuaries, mangroves forests, and forests. Rich in both marine and terrestrial wildlife, local communities depend on the sea and land for survival, yet these ecosystems are imperiled by booming populations, overexploitation, and unsustainable management. Since 2007, an innovative education program in the region, the Guardians of Nature, has worked to teach local children about the ecology of the region, hoping to instill a conservation ethic that will aid both the present and the future.





Just how far can a polar bear swim?

(05/03/2012) Polar bears (Ursus maritimus) are capable of swimming incredible distances, according to a new study published in Zoology, which recorded polar bears regularly swimming over 30 miles (48 kilometers) and, in one case, as far as 220 miles (354 kilometers). The researchers believe the ability of polar bears to tackle such long-distance swims may help them survive as seasonal sea ice vanishes due to climate change.





BP Deepwater Horizon deformities: eyeless shrimp, clawless crabs

(04/24/2012) Two years after the BP-leased Deepwater Horizon drilling rig exploded in the Gulf of Mexico, killing eleven and causing an oil spill that lasted three months, scientists say the impacts on the Gulf ecosystem are only beginning to come to light and the discoveries aren't pretty.




Page 1 | Page 2 | Page 3 | Page 4 | Page 5 | Page 6