News articles on malaysia

---
Mongabay.com news articles on malaysia in blog format. Updated regularly.








Logged rainforests are a cheap conservation option
(09/14/2011) With old-growth forests fast diminishing and land prices surging across Southeast Asia due to rising returns from timber and agricultural commodities, opportunities to save some of the region's rarest species seem to be dwindling. But a new paper, published in the journal Conservation Letters, highlights an often overlooked opportunity for conservation: selectively logged forests.
Malaysian court blocks rainforest tribes' fight against mega-dam in Borneo

(09/09/2011) Indigenous tribes in Borneo suffered a stinging defeat Thursday after Sarawak's highest court ruled against them in 12-year-long legal battle. Tribal groups had challenged the Malaysian state government for seizing indigenous lands in order to build a massive hydroelectric power plant, dubbed the Bakun dam, but the three-person top court found unanimously against the tribes.
Another major elephant ivory bust in Malaysia

(09/09/2011) Customs authorities in Malaysia seized two containers full of 695 elephant tusks in the country's largest port, reports TRAFFIC, the wildlife trade monitoring network.
Busted: 1,835 elephant tusks confiscated in two seizures connected by Malaysia

(08/31/2011) Two massive seizures in the last week—one in Zanzibar and the other in Hong Kong—have confiscated nearly two thousand ivory tusks as elephant poaching continues to rise. Both seizures have connections to Malaysia, highlighting the growing role of a new intermediate player in the illegal ivory trade.
How fruit defines Borneo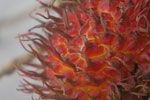 (08/01/2011) Among conservationists and biologists, the mega-island of Borneo is a sort of Mecca. Its rich plant and animal biodiversity, as well as high degree of endemism (unique species found nowhere else) make it a naturalist's dream. There is one aspect of this biological richness which applies to the wellbeing and happiness of all of Borneo's residents, human and animal, in a very direct way: fruit. From wild forest berries to juicy cultivated rambutans, fruit permeates the ecology, landscape and culture of Borneo. On the island there are over 70 wild fruit trees species and around 45 cultivated species that are consumed by people (1). Science has certainly not yet documented all the fruit consumed by wildlife, but we know that the total must be over 500 species.
Australian 'green' buildings used illegally logged wood from rainforests allege activists

(07/27/2011) A 'green' building development being built by Frasers Property Australia in Sydney has been accused of using illegally-sourced plywood from Malaysian state of Sarawak in Borneo, according to a new Greenpeace report. The wood in question comes from a subsidiary of Samling, a company that has been connected to illegal logging and abusing the rights of indigenous groups in the past. After the revelations came to light, Frasers Property Australia said they would conduct an audit of the wood which was provided to them by Australian Wood Panels (AWP).
WWF partnering with companies that destroy rainforests, threaten endangered species
(07/25/2011) Arguably the globe's most well-known conservation organization, the World Wide Fund for Nature (WWF), has been facilitating illegal logging, vast deforestation, and human rights abuses by pairing up with notorious logging companies in a flagging effort to convert them to greener practices, alleges a new report by Global Witness. Through its program, the Global Forest and Trade Network (GFTN), WWF—known as World Wildlife Fund in the US and Canada—has become entangled with some dubious companies, including one that is imperiling orangutans in Borneo and another which has been accused of human rights abuses in the Congo rainforest. Even with such infractions, these companies are still able to tout connections to WWF and use its popular panda logo. The Global Witness report, entitled Pandering to the Loggers, calls for WWF to make large-scale changes in order to save the credibility of its corporate program.
Animal picture of the day: radio collaring a slow loris

(07/17/2011) Researchers in the Malaysian state of Sabah recently radio-collared a Bornean slow loris (Nycticebus menagensis) in order to study the little known species. A small, but big-eyed, primates slow loris spend the days sleeping and the night tracking prey, such as insects and lizards, with its large flashlight-like eyes.
First ever picture of long lost rainbow toad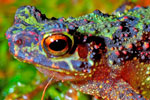 (07/13/2011) Scientists are elated after the surprise rediscovery of a wildly-colored frog not seen for 87 years and never before photographed—until now. The Bornean rainbow toad, also known as the Sambas Stream toad (Ansonia latidisca) was rediscovered on Borneo in the Malaysian state of Sarawak by local scientists inspired by a 2010 search for the world's missing amphibians by Conservation International (CI). Leading up to its search CI released the World's Top 10 Most Wanted Lost Frogs (out of a hundred being searched for): the Bornean rainbow toad was listed as number 10.
Green tigers: new research shows protecting forests will deliver new economic boom for Southeast Asia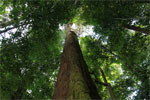 (06/27/2011) A raft of new studies show that protecting Southeast Asia's forests could provide an enormous economic lift for Southeast Asia. Indeed, the studies suggest, forest conservation, sustainable forestry, and agricultural improvements, along with investments in clean energy, could spur the rise of regional "Green Tiger" economies whose development levels surpass even those achieved during the boom years of the 1990's. The studies provide a striking rebuttal to palm oil and timber industries' claims that deforestation is necessary for the region's growth.
FSC mulls controversial motion to certify plantations responsible for recent deforestation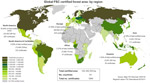 (06/24/2011) Members of the Forest Stewardship Council (FSC), meeting in Malaysia this week for its General Assembly, will consider various changes to the organization, including a vote on a controversial motion that would open the door—slightly at first—to sustainable-certification of companies that have been involved in recent forest destruction for pulp and paper plantations. Known as Motion 18, the change is especially focusing on forestry in places where recent deforestation has been rampant, such as Indonesia and Malaysia.
Alleged moratorium breach becomes test for RSPO

(06/24/2011) An alleged breach of Indonesia's new moratorium on primary forest and peatlands conversion may prove a test for the Roundtable on Sustainable Palm Oil (RSPO), an eco-certification initiative.
Rainforest tribe forcibly removed from dam area to palm oil plantation

(06/23/2011) A thousand Penan indigenous people have been forcibly moved from their rainforest home to monoculture plantations, reports Survival International. To make way for the Murum dam, the Malaysian state government of Sarawak is moving a thousand Penan from their traditional homes, but as apart of the deal the government promised to move the Penan to another part of their ancestral land. The government has since sold that land to a palm oil company, which is currently clearcutting the forests for plantations.
Could palm oil help save the Amazon?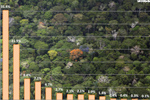 (06/14/2011) For years now, environmentalists have become accustomed to associating palm oil with large-scale destruction of rainforests across Malaysia and Indonesia. Campaigners have linked palm oil-containing products like Girl Scout cookies and soap products to smoldering peatlands and dead orangutans. Now with Brazil announcing plans to dramatically scale-up palm oil production in the Amazon, could the same fate befall Earth's largest rainforest? With this potential there is a frenzy of activity in the Brazilian palm oil sector. Yet there is a conspicuous lack of hand wringing by environmentalists in the Amazon. The reason: done right, oil palm could emerge as a key component in the effort to save the Amazon rainforest. Responsible production there could even force changes in other parts of the world.
How do we save the Sumatran rhino?

(06/06/2011) Some conservation challenges are more daunting than others. For example, how do you save a species that has been whittled down to just a couple hundred individuals; still faces threats such as deforestation, poaching and trapping; is notoriously difficult to breed in captivity; and is losing precious time because surviving animals are so few and far-apart that simply finding one another—let alone mating and successfully bringing a baby into the world—is unlikely? This is the uphill task that faces conservationists scrambling to save the Sumatran rhino (Dicerorhinus sumatrensis). A new paper in Oryx, aptly named Now or never: what will it take to save the Sumatran rhinoceros Dicerorhinus sumatrensis from extinction? analyzes the conservation challenge, while putting forth a number of recommendations.
Bear bile trade, both legal and illegal, ubiquitous in Asia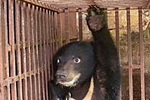 (05/16/2011) Surveying 13 nations and territories in Asia, the wildlife trade organization TRAFFIC found that the bear bile trade remains practically ubiquitous in the region. In many cases the trade, which extracts bile from captive bears' gall bladders for sale as a pharmaceutical, flouts both local and international law, including Appendix I of Convention on International Trade in Endangered Species of Wild Fauna and Flora (CITES ).
Girls Scouts censors Facebook page after coming under criticism for product linked to rainforest loss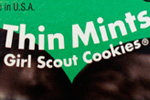 (05/04/2011) Girls Scouts USA has censored its Facebook page after receiving comments criticizing the organization, according to Rainforest Action Network (RAN). RAN along with Change.org and two Girl Scout activists, Rhiannon Tomtishen and Madison Vorva, declared today a social media day of activism against the Girl Scouts for using palm oil in their popular cookies. The oil has been linked to rainforest destruction in Indonesia and Malaysia.
Japan disaster to put logging pressure on rainforests in Indonesia, Malaysia

(04/05/2011) The tragic earthquake and tsunami that hit Japan last month is likely to boost wood imports into the recovering nation, adding increased pressure on the already imperiled rainforests of Southeast Asia. Even before the disaster, Japan was the world's number one importer of wood chips and plywood and the second largest importer of logs. Japan usually imports plywood from China, Malaysia, and Indonesia, however the forests of Southeast Asia are facing tremendous loss due to logging and clearing for industrial-scale agriculture, such as palm oil.
Fiji eyes investment from Malaysian palm oil industry

(03/30/2011) Officials in Fiji met with investors from the Malaysian palm oil industry this week to discuss the potential development of oil palm plantations in the Pacific island nation, reports FijiVillage.com.
Pet trade, palm oil, and poaching: the challenges of saving the 'forgotten bear'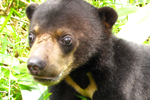 (03/20/2011) Siew Te Wong is one of the few scientists who study sun bears (Ursus malayanus). He spoke with Laurel Neme on her "The WildLife" radio show and podcast about the interesting biological characteristics of this rare Southeast Asian bear, threats to the species and what is being done to help them. Sun bears are the smallest of the eight bear species. They're about half the size of a North American black bear and typically sport a tan crescent on their chests. Similar to the "moon bear," or Asian black bear, the sun bear's name comes from this marking, which looks like a rising or setting sun.
Goodbye national parks: when 'eternal' protected areas come under attack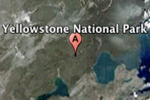 (03/17/2011) One of the major tenets behind the creation of a national park, or other protected area, is that it will not fade, but remain in essence beyond the pressures of human society, enjoyed by current generations while being preserved for future ones. The protected area is a gift, in a way, handed from one wise generation to the next. However, in the real world, dominated by short-term thinking, government protected areas are not 'inalienable', as Abraham Lincoln dubbed one of the first; but face being shrunk, losing legal protection, or in some cases abolished altogether. A first of its kind study, published in Conservation Letters, recorded 89 instances in 27 countries of protected areas being downsized (shrunk), downgraded (decrease in legal protections), and degazetted (abolished) since 1900. Referred to by the authors as PADDD (protected areas downgraded, downsized, or degazetted), the trend has been little studied despite its large impact on conservation efforts.
Coalition calls on Europe to label palm oil on food products

(03/15/2011) Do you have the right to know whether the chocolate bar you're munching on includes palm oil, which is blamed for vast deforestation in Malaysia and Indonesia? How about that frozen pizza? According to a coalition of environmental and conservation groups it's time for food manufacturers to add palm oil to the label in Europe, instead of currently being listed as simply, and erroneously (palm kernels are fruits), 'vegetable oil'.
Report: corruption in Sarawak led to widespread deforestation, violations of indigenous rights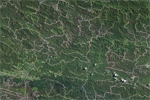 (03/10/2011) At the end of this month it will be 30 years since Abdul Taib Mahmud came to power in the Malaysian state of Sarawak. Environmentalists are using the occasion, along with new revelations, to highlight corruption and nepotism they say have characterized his regime. Chief Minister Taib and his decades-long administration are no strangers to such allegations, but a new report from the indigenous-rights group Bruno Manser Fund (BMF)—amid criticism from independent media sources, such as Sarawak Report and Radio Free Sarawak—are adding fuel to the fire. Most recently, the report describes in great detail how the tropical timber trade in Sarawak has undercut indigenous groups while toppling some of the world's greatest rainforests, all at the expense of the Sarawak people.
First large-scale map of oil palm plantations reveals big environmental toll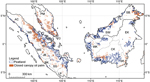 (03/07/2011) Expansion of industrial oil palm plantations across Malaysia and Indonesia have laid waste to vast areas of forest and peatlands, exacerbating greenhouse gas emissions and putting biodiversity at risk, reports a new satellite-based analysis that maps mature oil palm estates across Peninsular Malaysia, Borneo, and Sumatra.
Photo gallery: Borneo paradise saved from beachside coal plant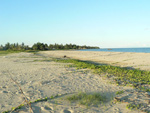 (02/22/2011) Last week the Malaysian government announced it had canceled a plan to build a coal-fired plant in the state of Sabah. The coal plant would have rested on a beach overlooking the Coral Triangle, one of the ocean's most biodiverse ecosystems, and 20 kilometers from Tabin Wildlife Reserve, a rainforest park home to endangered orangutans, Sumatran rhinos, Bornean elephants, and thousands of other species. The cancellation followed a long campaign by a group of environmental and human right organizations dubbed Green SURF (Sabah Unite to Re-power the Future), which argued that the coal plant would have imperiled ecosystems, ended artisanal fishing in the area, hurt tourism, and tarnished Sabah's reputation as a clean-green state.
Environmentalists and locals win fight against coal plant in Borneo

(02/16/2011) Environmentalists, scientists, and locals have won the battle against a controversial coal plant in the Malaysian state of Sabah in northern Borneo. The State and Federal government announced today that they would "pursue other alternative sources of energy, namely gas, to meet Sabah's power supply needs." Proposed for an undeveloped beach on the north-eastern coast of Borneo, critics said the coal plant would have threatened the Coral Triangle, one of the world's most biodiverse marine ecosystems, and Tabin Wildlife Reserve, home to Critically Endangered Sumatran rhinos and Bornean orangutans. Local fishermen feared that discharges from the plant would have imperiled their livelihood.
Sarawak's last nomad: indigenous leader and activist, Along Sega, dies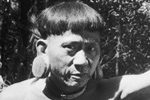 (02/03/2011) Along Sega never knew exactly how old he was, but when he passed away yesterday in a hospital far from the forest where he born, he was likely in his 70s. Leader among the once-nomadic hunter and gatherer Penan people of Borneo and mentor to Swiss activist, Bruno Manser, Along Sega will be remembered for his work to save the Penan's forest—and their lifestyle and culture—from logging companies, supported by the Sarawak government and provided muscle by the state police.
From Cambodia to California: the world's top 10 most threatened forests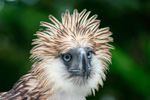 (02/02/2011) Growing populations, expanding agriculture, commodities such as palm oil and paper, logging, urban sprawl, mining, and other human impacts have pushed many of the world's great forests to the brink. Yet scientists, environmentalists, and even some policymakers increasingly warn that forests are worth more standing than felled. They argue that by safeguarding vulnerable biodiversity, sequestering carbon, controlling erosion, and providing fresh water, forests provide services to humanity, not to mention the unquantifiable importance of having wild places in an increasingly human-modified world. Still, the decline of the world's forests continues: the FAO estimating that around 10 million hectares of tropical forest are lost every year. Of course, some of these forests are more imperiled than others, and a new analysis by Conservation International (CI) has catalogued the world's 10 most threatened forests.




Page 1 | Page 2 | Page 3 | Page 4 | Page 5 | Page 6 | Page 7 | Page 8 | Page 9 | Page 10 | Page 11 | Page 12