News articles on malaysia

---
Mongabay.com news articles on malaysia in blog format. Updated regularly.





Oil palm workers still below poverty line, despite Minister's statements

(11/19/2009) On October 19th, Plantation Industries and Commodities Minister Tan Sri Bernard Dompok told parliament that oil palm harvesters and rubber tappers are living above Malaysia's national poverty line, according to a story in the Malaysian Insider. But now representatives of the workers are saying Dompok lied.


World's first video of the elusive and endangered bay cat



(11/05/2009) Rare, elusive, and endangered by habitat loss, the bay cat is one of the world's least studied wild cats. Several specimens of the cat were collected in the 19th and 20th Century, but a living cat wasn't even photographed until 1998. Now, researchers in Sabah, Malaysian Borneo, have managed to capture the first film of the bay cat (Catopuma badia). Lasting seven seconds, the video shows the distinctly reddish-brown cat in its habitat.


Photos: Palm oil threatens Borneo's rarest cats


(11/04/2009) Oil palm expansion is threatening Borneo's rarest wild cats, reports a new study based on three years of fieldwork and more than 17,000 camera trap nights. Studying cats in five locations—each with different environments—in Sabah, Malaysian Borneo, researchers found that four of five cat species are threatened by habitat loss due to palm oil plantations. "No other place has a higher percentage of threatened wild cats!" Jim Sanderson, an expert on the world's small cats, told Mongabay.com. Pointing out that 80 percent of Borneo's cats face extinction, Sanderson said that "not one of these wild cats poses a direct threat to humans."


EU is 2nd largest source of peat emissions after Indonesia, finds global peat survey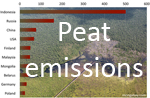 (11/04/2009) The EU is the world's second largest source of carbon dioxide emissions from peatlands drainage, after Indonesia, reports the first country-by-country assessment of peat stocks. The study, conducted by Wetlands International and Greifswald University, found that drainage of wetlands for agriculture, forestry and peat extraction causes 1.3 billion tons of carbon dioxide emissions per year. Emissions from fires and peat mining (for horticulture and fuel) amount to another 700,000 million tons per year.


Non-Malaysian and Indonesian palm oil producers pledge not to develop peatlands for plantations

(11/04/2009) Palm oil producers outside of Malaysia and Indonesia pledged to stop developing new plantations on peatlands, circumventing an impasse that developed between palm oil producers and environmental groups meeting this week at the Roundtable on Sustainable Palm Oil in Kuala Lumpur. The factions deadlocked over plans to account for emissions from plantation development, delaying the criteria for a year.


Palm oil lobby group launches public relations push to counter environmental complaints

(11/02/2009) A report released by World Growth International in late September claimed that environmentalists are waging a "morally indefensible" campaign against palm oil. The report accurately highlighted the high productivity of oil palm — the world's highest-yielding commercial oilseed — and noted that the crop has created jobs and driven rural development in Malaysia and Indonesia. Critically, World Growth also downplayed chief concerns about the rapid expansion of oil palm cultivation across southeast Asia, notably worries that palm oil production is contributing to deforestation, putting endangered wildlife like the orangutan at risk, and adversely affecting climate. To make its case, the report made some questionable claims, asserting that oil palm plantations sequester more carbon than natural forests and that deforestation is driven by poverty rather than industrial activities.


Tiger rescued from poachers in Malaysia perishes from injuries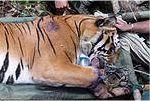 (10/29/2009) Rescued in early October from a poacher's snare, a Malayan tiger has died from stress and infection due to its injuries. The 120 kilogram (264 pound) male tiger died on October 19th in the Malacca Zoo after undergoing surgery to amputate its right foreleg, which two weeks before had been caught in a poacher's snare and severely injured. "It broke my heart as I was there during the rescue. Everyone had such high hopes of the tiger being released back into the wild after its treatment at the zoo, and no one spoke of the in-betweens," says Reuben Clements.


"Money is not a problem," palm oil CEO tells conservationists during speech defending the industry


(10/26/2009) Earlier this month at a colloquium to implement wildlife corridors for orangutans in the Malaysian state of Sabah, Dr. Yusof Basiron, the CEO of Malaysian Palm Oil Council (MPOC), told conservationists and primate experts that the palm oil industry was ready to fund reforestation efforts in the corridors. "We can raise the money to replant [the corridors] and keep contributing as a subsidy in the replanting process of this corridor for connecting forests," Basiron said in response to a question on how the palm oil industry will contribute. "Money is not a problem. The commitment is already there, the pressure is already very strong for this to be done, so it's just trying to get the thing into motion."


Perfect shot of the rare Iberian wolf wins nature photo contest

(10/22/2009) It's hard to believe the shot is real: it's that good. But a photo of a rare Iberian wolf—a subspecies of the gray wolf—jumping a fence has won the 45th Veolia Environment Wildlife Photo of the Year award. The photographer, Jose Luis Rodriguez, has said that he hopes the haunting image will inspire the people of Spain to be proud to have this endangered animal still roaming their countryside.


Emotional call for palm oil industry to address environmental problems


(10/21/2009) During what was at times an emotional speech, Sabah's Minister of Tourism, Culture, and Environment, Datuk Masidi Manjun, called on the palm oil industry to stop polluting rivers and work with NGOs to save orangutans and other wildlife. He delivered the speech on the first day of an Orangutan Conservation Colloquium held in early October in the Malaysian state of Sabah on the island of Borneo.


New species of glowing mushrooms named after Mozart's Requiem

(10/14/2009) Classical musical genius, Wolfgang Amadeus Mozart, probably never expected his music to inspire mycologists, but fungi researchers have announced in the journal Mycologia that two new species of glowing mushroom are named after movements in the composer's Requiem: Mycena luxaeterna (eternal light) and Mycena luxperpetua (perpetual light).


Malayan tiger rescued from poacher's snare proves need for increased enforcement


(10/13/2009) Last week a Malayan tiger (Panthera tigris jacksoni) was found with its front right paw caught in a snare set by poachers. World Wildlife Fund's (WWF) Wildlife Protection Unit discovered the snared tiger in the Belum-Temengor forest, a wildlife-rich reserve that has become a hotspot for poaching. After finding the wounded tiger the anti-poaching team called in officials from the Department of Wildlife and National Parks (PERHILITAN) who freed the great cat. The animal was then transported to Malacca Zoo for treatment.


Palm oil industry pledges wildlife corridors to save orangutans



(10/03/2009) In an unlikely—and perhaps tenuous—alliance, conservationists and the palm oil industry met this week to draw up plans to save Asia's last great ape, the orangutan. As if to underscore the colloquium's importance, delegates on arriving in the Malaysian State of Sabah found the capital covered in a thick and strange fog caused by the burning of rainforests and peat lands in neighboring Kalimantan. After two days of intensive meetings the colloquium adopted a resolution which included the acquisition of land for creating wildlife buffer zones of at least 100 meters along all major rivers, in addition to corridors for connecting forests. Researchers said such corridors were essential if orangutans were to have a future in Sabah.


'Greening' logging concessions could help save great apes

(09/17/2009) Promoting reduced impact logging in forest areas already under concession could help protect populations of endangered great apes, argues a new report published by WWF.


Fifteen indigenous leaders arrested in Borneo for protesting dams that would flood their lands

(09/16/2009) After attempting to send a memorandum of protest against two dam proposals to the Sarawak Chief Minister Taib Mahmud, fifteen indigenous leaders were arrested in Kuching, Sarawak, reports the non-governmental organization the Burno Manser Fund.


Independent review finds logging company has abused rights of indigenous Penan in Borneo


(09/15/2009) An independent review of Interhill Logging found that the Sarawak logging company has regularly violated forest laws and abused the rights of the indigenous Penan peoples. The review, conducted by French tourism giant ACCOR, found that Interhill Logging had not received free, prior, and informed consent from the local Penan people for its logging operations; the logging being done by Interhill "is very definitely not sustainable"; the company is not fully compiling with Sarawak's Natural Resources and Environment Board; and Interhill is providing no long-term benefits to the Penan peoples.


Saving the last megafauna of Malaysia, an interview with Reuben Clements


(09/15/2009) Reuben Clements has achieved one success after another since graduating from the National University of Singapore. Currently working in peninsular Malaysia, he manages conservation programs for the Endangered Malayan tiger and the Critically Endangered Sumatran Rhino with World Wildlife Fund. At the same time he has discovered three new species of microsnails, one of which was named in the top ten new species of 2008 (a BIG achievement for a snail) due to its peculiar shell which has four different coiling axes. ie7uhig


World's only Sumatran rhino to give birth in captivity dies at Cincinnati Zoo

(09/10/2009) Emi, the world's only Sumatran rhino to give birth in captivity, died on Saturday at the Cincinnati zoo. She successfully gave birth to three offspring, one of which has been released back into the wild in Indonesia.


Britain bans palm oil ad campaign


(09/09/2009) Britain's Advertising Standards Authority (ASA), a group that regulates advertisements, has again banned "misleading" ads by the palm oil industry, reports the Guardian. ASA ruled that a campaign run by the Malaysian Palm Oil Council (MPOC) makes dubious claims, including that palm oil is the "only product able to sustainably and efficiently meet a larger portion of the world's increasing demand for oil crop-based consumer goods, foodstuffs and biofuels." The ad said criticism over "rampant deforestation and unsound environmental practices" were part of "protectionist agendas" not based on scientific fact. ASA held the ad breached several of its advertising standards codes, including "substantiation," "truthfulness," and "environmental claims." In rebuking the MPOC, the ASA said that the merits of new eco-certification scheme promoted by the palm oil industry is "still the subject of debate" and that the ad's attacks on detractors implied that all criticisms of the palm oil industry "were without a valid or scientific basis." wzthpdc5kq


Power, profit, and pollution: dams and the uncertain future of Sarawak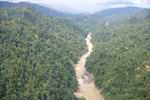 (09/03/2009) Sarawak, land of mystery, legend, and remote upriver tribes. Paradise of lush rainforest and colossal bat-filled caves. Home to unique and bizarre wildlife including flying lemurs, bearcats, orang-utans and rat-eating plants. Center of heavy industry and powerhouse of Southeast Asia. Come again? This jarring image could be the future of Sarawak, a Malaysian state on the island of Borneo, should government plans for a complex of massive hydroelectric dams comes to fruition. The plan, which calls for a network of 12 hydroelectric dams to be built across Sarawak's rainforests by 2020, is proceeding despite strong opposition from Sarawak's citizens, environmental groups, and indigenous human rights organizations. By 2037, as many as 51 dams could be constructed.


Penan tribe to continue blockade against loggers with blowpipes and spears

(09/01/2009) A meeting between the Penan indigenous tribe, Malaysian government officials, and representatives of a logging company ended without an agreement on Friday. After the meeting, a Penan spokesman declared that the group's blockade would continue. Blockaders, dressed in traditional garb, have armed themselves with blowguns and spears.


World's largest bat threatened with extinction due to legal hunting


(08/25/2009) Under the current legal hunting rate scientists predict that the world's largest bat, the aptly-named large flying fox or Pteropus vampyrus, faces extinction in six to 81 years. Increasing the urgency to save the large flying fox is the vital role it plays as an ecosystem engineer (a species whose behavior can shape an ecosystem); the species maintains Southeast Asian forests by dispersing a wide variety of seeds over distances farther than most birds and other mammals.


New Zealand dairy industry contributing to rainforest destruction, says Greenpeace

(08/22/2009) Fonterra, the world's largest dairy exporter is contributing to destruction of rainforests in Southeast Asia through its consumption of palm kernal as animal feed, alleges Greenpeace.


Rehabilitation not enough to solve orangutan crisis in Indonesia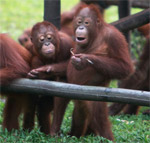 (08/20/2009) A baby orangutan ambles across the grass at the Borneo Orangutan Survival Foundation's Nyaru Menteng rehabilitation center in Central Kalimantan, in the heart of Indonesian Borneo. The ape pauses, picks up a stick and makes his way over to a plastic log, lined with small holes. Breaking the stick in two, he pokes one end into a hole in an effort to extract honey that has been deposited by a conservation worker. His expression shows the tool's use has been fruitful. But he is not alone. To his right another orangutan has turned half a coconut shell into a helmet, two others wrestle on the lawn, and another youngster scales a papaya tree. There are dozens of orangutans, all of which are about the same age. Just outside the compound, dozens of younger orangutans are getting climbing lessons from the Borneo Orangutan Survival Foundation (BOS) staff, while still younger orangutans are being fed milk from bottles in a nearby nursery. Still more orangutans—teenagers and adults—can be found on "Orangutan Island" beyond the center's main grounds. Meanwhile several recently wild orangutans sit in cages. This is a waiting game. BOS hopes to eventually release all of these orangutans back into their natural habitat—the majestic rainforests and swampy peatlands of Central Kalimantan, on the island of Borneo. But for many, this is a fate that may never be realized.


Oil companies in the UK are big users of palm oil biodiesel

(08/17/2009) British motorists are unwittingly big consumers of palm oil produced on rainforest lands in southeast Asia, reports The Times.


Forest fires set by Borneo dam developer contributes to haze in Malaysia, Singapore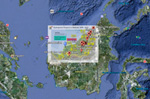 (08/17/2009) The developer of a massive hydroelectric project in Borneo plans to set fire to thousands hectares of logged over rainforest in the dam area, contributing to polluting haze already blanketing the region and raising the risk of forest fires in adjacent areas, reports a local environmental group. The Sarawak Conservation Action Network has learned that Sarawak Hidro Sdn Bhd, the operator of the Bakun Hydroelectric Power Dam project, is in the process of clear-cuting 80,000 hectares (200,000 acres) of rainforest set to be flooded by the dam. The remnants are being torched, in direct violation of Malaysia's laws against open burning.


Cadbury dumps palm oil after consumer protests


(08/17/2009) Cadbury New Zealand, responding to widespread consumer protests, will stop adding palm oil to its milk chocolate products, reports the New Zealand Herald. The candy-maker substituted palm oil and other vegetable fat for cocoa butter earlier this year. The company cited cost savings for the decision, but the move triggered outcry from environmental groups who blame palm oil production for destruction of rainforests across Indonesia and Malaysia, key habitat for orangutans and other endangered species. Concerns that Cadbury chocolate could be imperiling orangutans led the Auckland Zoo and others to ban Cadbury products. Meanwhile consumers swamped the company with letters and petitions protesting its use of palm oil.


Issues around palm oil development prove complex, controversial


(08/12/2009) A new report from published by the Center for International Forestry Research (CIFOR) highlights the benefits — and controversies — of large-scale expansion of oil palm agriculture in Southeast Asia. The review, titled "The impacts and opportunities of oil palm in Southeast Asia: What do we know and what do we need to know?", notes that while oil palm is a highly productive and profitable crop, there are serious concerns about its environmental and social impact when established on disputed land or in place of tropical forests and peatlands.


LUSH cosmetics launches campaign against palm oil


(08/10/2009) LUSH Cosmetics, a leading cosmetics-maker, will no longer use palm oil due to environmental concerns over its production. LUSH, which is now selling a palm oil-free soap, has launched a two-pronged campaign to make consumers aware of the impacts of palm cultivation on tropical forests and encourage other consumer-products companies, including Procter & Gamble, Unilever and Nestle, to reformulate their products using alternatives to palm oil.


Air quality worsens in Malaysia due to forest fires

(08/10/2009) Air quality in Malaysian Borneo is worsening as large numbers of fires rage near the Sarawak-Brunei border, reports the Star newspaper.


Forest people set up logging blockades in Borneo

(07/31/2009) Indigenous Penan have set up roadblocks in Malaysian Borneo to stop loggers from encroaching on their rainforest land, reports Survival International, an indigenous rights' group.


Burning by Asia Pulp & Paper contributes to haze in Indonesia, Malaysia

(07/28/2009) One quarter of fire hotspots recorded in the Indonesia province of Riau on the island of Sumatra in 2009 have occurred in concessions affiliated with Sinar Mas Group's Asia Pulp & Paper (APP), according to new analysis by Eyes on the Forest, a coalition of environmental groups. The fires are contributing to the "haze" that is affecting air quality and causing health problems in Malaysia.


Malaysia's rainforests being insidiously replaced with plantations of clones


(07/20/2009) Rainforests once managed for selective logging in Malaysia are now being are clear-felled and replaced with latex-timber clones, rubber trees that yield latex and can be harvested for timber, reports the Malaysian Star. Up to 80 percent of Malaysia's remaining forest cover could be at risk. Journalist Tan Cheng Li reports that permanent forest reserves in Selandor and Johor have already been cleared for rubber plantations, while other reserves are now being targeted. Permanent forest reserves are forest areas that have been set aside for selective logging under sustainable forest management. They account for 82 percent of Malaysia's remaining forest cover.


Auckland Zoo bans Cadbury chocolate due to palm oil content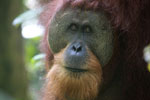 (07/12/2009) Auckland Zoo has pulled Cadbury chocolates from its shops and restaurants following the candy maker's decision to start adding palm oil to its chocolates, reports the Sunday Star Times. The zoo is also removing other products that contain palm oil, due to concerns that its production is driving rainforest destruction across Southeast Asia, putting orangutans and other species at risk. Cadbury said it made the change to palm oil for economic reasons. Palm oil, described as "vegetable fat" on its packaging, is cheaper than cocoa butter.


Failure to support greener palm oil may lead industry to abandon environmental measures

(07/08/2009) Consumer apathy towards eco-certified palm oil have undermined efforts to improve the environmental performance of the industry, a top industry official told Reuters.


Anti-HIV and anti-cancer drugs derived from Borneo rainforest progressing to final development stages

(06/29/2009) Two drugs derived from rainforest plants in Sarawk (Malaysian Borneo) are now in their final stages of development, reports Bernama.


Mixed signals from the crown? Queen knights logging tycoon while Prince fights deforestation


(06/22/2009) Tiong Hiew King, founder and chairman of the Rimbunan Hijau Group, a Malaysian logging firm notorious for large-scale destruction of rainforests, has been knighted by Queen Elizabeth, a move which environmentalists say directly conflicts with her son's campaign — the Prince's Rainforests Project — to save global rainforests. Prince Charles established the project in 2007 and has become increasingly vocal in his calls to conserve forests.


Malaysian palm oil chief claims oil palm plantations help orangutans


(06/18/2009) Dr. Yusof Basiron, CEO of the Malaysian Palm Oil Council, the government-backed marketing arm of the Malaysian palm oil industry, claims on his blog that endangered orangutans benefit from living in proximity to oil palm plantations. Environmentalists scoff at the notion, maintaining that oil palm expansion is one of the greatest threats to orangutans.


Forest fires burn in Sumatra

(06/15/2009) Fires set by developers in Sumatra are causing a choking haze to spread across the island and over to Malaysia, reducing visibility and raising health concerns, reports Reuters.


Malaysian palm oil firms seek 100,000 ha in the Philippines

(06/08/2009) Malaysian oil palm developers are looking to establish a a 100,000-hectare palm oil plantation and extraction facility on the island of Mindanao in the Philippines, reports Business Mirror, a Philippine business publication.


Did Malaysia cancel plans for palm oil development in the Amazon?

(05/21/2009) The Malaysian government's federal land agency (FELDA) is now denying its well-documented plan to develop oil palm plantations in the Amazon rainforest, reports Ecological Internet, a forest advocacy group that carried out a campaign against the project.


Six nations pledge to protect the Coral Triangle

(05/19/2009) Last Friday, six nations signed a pledge launching the Coral Triangle Initiative on Coral Reefs, Fisheries and Food Security (CTI-CFF). Indonesia, the Philippines, Timor Leste, Papua New Guinea, Solomon Islands, and Malaysia each agreed to protect the Coral Triangle, a region spanning 1.6 billion acres, half the size of the US.


Can carbon credits from REDD compete with palm oil?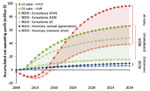 (03/30/2009) Reducing emissions from deforestation and degradation (REDD) is increasingly seen as a compelling way to conserve tropical forests while simultaneously helping mitigate climate change, preserving biodiversity, and providing sustainable livelihoods for rural people. But to become a reality REDD still faces a number of challenges, not least of which is economic competition from other forms of land use. In Indonesia and Malaysia, the biggest competitor is likely oil palm, which is presently one of the most profitable forms of land use. Oil palm is also spreading to other tropical forest areas including the Brazilian Amazon.


Malaysian palm oil targets the Amazon

(03/25/2009) Malaysia's Land Development Authority FELDA will soon break ground on a joint venture with a Brazilian firm to establish 30,000-100,000 hectares (75,000 - 250,000 acres) of oil palm plantations in the heart of the Amazon rainforest, reports the Malaysian Star.


Whole Foods bans unsustainable palm oil from its products


(02/24/2009) America's largest organic grocer has announced its products will no longer use palm oil sourced from unsustainable producers, reports the Rainforest Action Network (RAN), an activist group that has led a campaign against destructive palm oil production. The move adds pressure on the palm oil industry to develop an effective and credible certification system for palm oil.


ACCOR hotel chain linked to destructive logging in Borneo?

(02/23/2009) ACCOR, one of Europe's leading hotel groups, is cooperating with a Malaysian logging company blamed for destructive logging and attacks on Penan indigenous communities in Sarawak, claims an environmental group that has long campaigned on behalf of Borneo's forest people. The Switzerland-based Bruno Manser Fund reports that NOVOTEL is jointly building a 4.5-star hotel in the Sarawak capital of Kuching with the Malaysian tropical timber company, Interhill.


New model uses carbon credits, sustainable palm oil to save Indonesia's rainforests


(02/05/2009) The World Resources Institute (WRI) has launched an innovative avoided deforestation model that aims to deter conversion of Indonesian rainforest for oil palm plantations. The project, dubbed "POTICO" (Palm Oil, TImber, Carbon Offsets), integrates sustainable palm oil, FSC-certified timber, and carbon offsets in order to "divert new oil palm plantations onto degraded lands and bring the forests that were slated for conversion into certified sustainable forestry".


Heart of Borneo conservation initiative at risk from Indonesian development plan



(02/04/2009) Indonesia's Defense Minister Juwono Sudarsono is pushing a proposal to develop economic zones along the border between Malaysia and Kalimantan "as soon as possible" for national security reasons, reports the Jakarta Globe. The plan — which Juwono claims is to protect Indonesia's sovereignty — would undermine the historic Heart of Borneo conservation initiative signed in 2007 by spurring massive expansion of logging, plantation development, and road construction in the biologically-rich region.


Malaysian government says forest reserve 'plundered' for oil palm development

(02/03/2009) Responding to allegations by the Human Rights Commission of Malaysia (Suhakam) that indigenous people have been forced from their lands (a charge it denied), the Sabah Forestry Department said that more than 30 percent of Mt. Pock And Tanjong Nagos Forest Reserves were "plundered" by "people with means to plant illegal oil palm including companies" up until 2001. The statement is noteworthy in that leaders of the Malaysian Palm Oil Council, the marketing and lobbying arm of the Malaysian palm oil industry, have maintained that oil expansion has not taken place at the expense of natural forest in Malaysia.


Logging may be linked to landslide deaths in Malaysia says environmental group

(01/27/2009) Three people were killed and seven injured when a landslide swept through a logging camp in the Upper Limbang region of the Malaysian state of Sarawak. The Bruno Manser Fund, an NGO that campaigns on behalf of Sarawak's indigenous people, links the landslide to logging.



Page 1 | Page 2 | Page 3 | Page 4 | Page 5 | Page 6 | Page 7 | Page 8 | Page 9