News articles on malaysia

---
Mongabay.com news articles on malaysia in blog format. Updated regularly.






Forgotten species: the exotic squirrel with a super tail
(08/13/2014) With among the world's largest tails compared to body-size, the tufted ground squirrel just might be the most exotic squirrel species on the planet. Found only on the island of Borneo, this threatened species is also surrounded by wild tales, including the tenacity to take down a deer for dinner. New research explores the squirrel's monster tail and whether other tales about it may be true.
What is peat swamp, and why should I care?
(07/20/2014) Long considered an unproductive hindrance to growth and development, peat swamp forests in Southeast Asia have been systematically cleared, drained and burned away to make room plantations and construction. Now, as alternating cycles of fires and flood create larger development problems, while greenhouse gas emissions skyrocket, it is time to take a closer look at peat, and understand why clearing it is a very bad idea.
30% of Borneo's rainforests destroyed since 1973
(07/16/2014) More than 30 percent of Borneo's rainforests have been destroyed over the past forty years due to fires, industrial logging, and the spread of plantations, finds a new study that provides the most comprehensive analysis of the island's forest cover to date. The research, published in the open-access journal PLOS ONE, shows that just over a quarter of Borneo's lowland forests remain intact.
New palm oil sustainability manifesto met with criticism from environmentalists
(07/11/2014) This week several palm oil giants announced new environmental criteria for palm oil production. The companies say the initiative goes beyond the industry-leading standard set by the Roundtable on Sustainable Palm Oil (RSPO), but two prominent environmental groups quickly disagreed, arguing the measure has substantial loopholes that will allow growers to continue destroying forests.
A fine line: new program predicts when human impact becomes too much
(07/03/2014) Scientists at Stanford University recently unveiled a new modeling program that can predict the response of the environment to the land-use changes of human communities. Using their model, they found that natural resources can support humanity – up to a certain point.
Malaysian citizens want govt to spend more to save native rainforests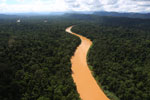 (06/30/2014) As developing countries reach upper middle income (UMI) status, their populations are willing to pay increasing amounts toward tropical forest conservation, yet government spending on these programs lags far behind, concludes a study available today in the PNAS Online Early Edition.
Monkeys reset camera trap, capture first-ever images of flat-headed cats in park
(06/23/2014) Photo trapping is a popular technique for gathering images and information about elusive wildlife. Recently, camera traps captured the first-ever images of wild flat-headed cats in the Pasoh Forest Reserve, an unexpected find in the forestland southeast of Kuala Lumpur, according to a new report in mongabay.com's open access journal Tropical Conservation Science.
Broken promises no more? Signs Sabah may finally uphold commitment on wildlife corridors
(06/23/2014) Five years ago an unlikely meeting was held in the Malaysian state of Sabah to discuss how to save wildlife amid worsening forest fragmentation. Although the meeting brought together longtime adversaries—conservationists and the palm oil industry—it appeared at the time to build new relationships and even point toward a way forward for Sabah's embattled forests.
The palm oil diet: study finds displaced orangutans have little else to eat
(06/20/2014) In a recent study, researchers assessed how orangutans have adapted to living among oil palm plantations on Borneo. They found that while orangutans have adapted to the island's human-transformed landscapes better than expected, oil palm plantations are unable to sustain orangutan populations in the long-term.
Newly discovered snails at risk of extinction
(06/03/2014) A team of Dutch and Malaysian scientists has recently completed one part of a taxonomic revision of Plectostoma, a genus of tiny land snails in Southeast Asia. Unfortunately, according to their article published recently in ZooKeys, it seems that these animals may be going extinct as fast as they are being discovered.
Facebook, Twitter to carry 24 hours of live rainforest animal sightings on Monday
(05/29/2014) Next week, the rainforests of Southeast Asia are going live. On June 2nd, 11 organizations in the region will be posting lives video, photos, and wildlife sightings over 24 hours on Facebook and Twitter (see #rainforestlive). Dubbed Rainforest: Live, the initiative hopes to raise awareness of quickly vanishing ecosystems and species.
Malaysian palm oil company stock drops after environmental complaint

(05/06/2014) Genting Plantations Bhd's stock price fell by more than two percent after the palm oil company's membership in the Roundtable of Sustainable Palm Oil (RSPO) was suspended due to a complaint by the Borneo Rhino Alliance for failing to abide by the body's principles on establishing new plantations, reports The Edge Financial Daily.
Will they hold on? Three new gecko species found in threatened habitat
(05/02/2014) Malaysia is set to lose ancient limestone formations to quarrying despite the discovery of new species of geckos in the area. The species are described in three studies recently published in the journal Zootaxa. One of the discoveries, Cyrtodactylus metropolis, is the first endemic vertebrate species discovered in the Batu Caves area.
Malaysia at risk of falling behind in push for more sustainable palm oil
(04/17/2014) The Malaysian state should play a more active role in supporting the transition toward less environmentally destructive palm oil production, says a coalition of Malaysian NGO's. In a statement issued Sunday, the Malaysian Palm Oil NGO Coalition (MPONGOC) urged Malaysian banks, palm oil associations, and other government-backed institutions to commit to 'improving social and environmental standards in the palm oil industry'.
Malaysia imperils forest reserves and sea turtle nesting ground for industrial site (photos)
(04/15/2014) Plans for an industrial site threaten one of Malaysia's only marine turtle nesting beaches and a forest home to rare trees and mammals, according to local activists. Recently, the state government of Perak approved two industrial project inside Tanjung Hantu Permanent Forest Reserve. But activists say these will not only cut into the reserve, but also scare away nesting turtles from Pasir Panjang.
Riddled with tumors: another blow to the Sumatran rhino species
(04/14/2014) Conservation for Sumatran rhinos suffered another blow last week, only days after Suci—one of only ten rhinos in captive breeding efforts—died at Cincinnati Zoo. Scientists in the Malaysian state of Sabah revealed that a newly captured female, Iman, suffers from an assortment of tumors in her uterus, hugely complicating reproduction efforts.
Cargill commits to zero deforestation, but environmentalists have questions
(04/09/2014) After years of criticism from environmental groups, Cargill says it will establish policies to eliminate deforestation, peatlands conversion, and social conflict from its palm oil supply chain. But activists aren't yet sure what to make of the agribusiness giant's pledge. On Tuesday Cargill released a letter it sent to the Roundtable on Sustainable Palm Oil (RSPO), a body that sets eco-certification standards, in response to a Greenpeace Report linking it to deforestation.
Emissions from rainforest logging average 16% of those from deforestation
(04/08/2014) Carbon emissions from selective logging operations in tropical rainforests are roughly a sixth of those from outright forest clearing, finds a new study that evaluated 13 forestry concessions in six countries. The study analyzed carbon losses from elements of logging operations, including timber extraction, collateral damage to surrounding vegetation, and logging infrastructure like roads and skid trails.
Malaysian palm oil giant tied to social conflict, deforestation, says report
(04/03/2014) Unlike other palm oil giants that have recently made strong commitments to eliminating deforestation and social conflict from their supply chains, Malaysia-based Kuala Lumpur Kepong (KLK) continues to source palm oil associated with forest destruction and community conflict, argues a new report published by the Rainforest Action Network (RAN).
General Mills, Colgate-Palmolive announce deforestation-free policies for palm oil sourcing
(03/24/2014) Two consumer products giants have joined the wave of companies committing to deforestation-free palm oil. On Monday General Mills and Colgate-Palmolive both announced palm oil policies that go beyond standards set by the Roundtable on Sustainable Palm Oil (RSPO), the industry's main certification body. The policies include provisions to protect wildlife-rich rainforests and carbon-dense peatlands, while respecting the rights of local communities.
Meet Iman: the Sumatran rhino's newest hope for survival
(03/24/2014) Hopes for one of the world's most imperiled megafauna rose this month when wildlife conservationists succeeded in catching a female Sumatran rhino named Iman in the Malaysian state of Sabah. The female, which experts believe to be fertile, has since been successfully transferred via helicopter to the Borneo Rhino Sanctuary where experts plan to mate her with the local male, Tam. Located in Tabin Wildlife Reserve, the Borneo Rhino Sanctuary is an uncompleted semi-wild enclosure and home to one of several last-ditch efforts to save the vanishing species from extinction.
Conservationists catch wild Sumatran rhino, raising hope for world's most endangered rhinoceros
(03/12/2014) Conservationists have succeeded in catching a wild Sumatran rhino in the Malaysia state of Sabah in Borneo, according to local media reports. Officials are currently transferring the rhino, an unnamed female, to a rhino sanctuary in Tabin National Park where experts will attempt to mate it with the resident male, Tam. The Sumatran rhino (Dicerorhinus sumatrensis) is one of the world's most imperiled species with less than 100 individuals left.
Fast food companies are laggards on palm oil sourcing safeguards
(03/05/2014) Fast food companies are lagging behind other consumer products companies in efforts to establish policies that favor deforestation-free and conflict-free palm oil, finds a new assessment published by the Union of Concerned Scientists, an advocacy group. The report, titled 'Donuts, Deodorant, Deforestation: Scoring America's Top Brands on Their Palm Oil Commitments', looked at palm oil sourcing policies of 30 of the largest fast food, personal care, and packaged food corporations in the United States. It found leadership by a handful of firms.
Can palm oil move past its bad reputation?
(03/02/2014) Indonesia's palm oil industry has gained a notorious reputation in recent years. Palm oil companies are routinely accused of clearing primary forests, destroying the habitats of endangered species, releasing massive amounts of carbon by draining peat swamps and fueling land conflicts with local communities. In the face of this widespread criticism, some palm oil companies are exploring ways to clean up their operations by implementing innovative programs to minimize harm to the environment and ensure local communities benefit from palm oil investments, according to a new study.
Sarawak's top official accused of violating constitution

(02/27/2014) Sarawak Chief Minister Taib Mahmud has been accused of violating Sarawak's constitution by engaging in commercial activities while serving as the state's top official over the past thirty plus years, reports the Bruno Manser Fund, an NGO that campaigns on behalf of Sarawak's forest people.
Palm oil's climate impact worse than thought due to methane emissions

(02/27/2014) Methane leaks from palm oil wastewater significantly increases the climate impact of palm oil production beyond emissions from land clearance, fire, and peatlands drainage, reports a new study published in Nature Climate Change. The research, led by Philip. G. Taylor of the University of Colorado, finds that annual methane emissions from palm oil wastewater effluent amount to the equivalent of 115 million tons carbon dioxide in Malaysia and Indonesia alone, or roughly 15 percent of total emissions from peat oxidation and land use change in the two countries.
New forest map for Sarawak reveals large-scale deforestation, encroachment on indigenous territories
(02/24/2014) A new online platform released by the Bruno Manser Fund reveals large-scale destruction of Sarawak's rainforests, peatlands, and traditional lands. Drawing from a variety of sources, the Sarawak Geoportal includes data on logging concessions, oil palm plantations, existing and proposed dams, historical forest cover, the extent of indigenous cultivated areas, election results, and area where there are current native customary rights (NCR) disputes.
Through careful management, indigenous people have shaped Asian rainforests for 11,000 years
(01/28/2014) Humans have been actively managing vast areas of Southeast Asia's forests for longer than previously believed, according to research by paleoecologists from the United Kingdom presented in the current Journal of Archaeological Science. Strong evidence suggests that humans in Borneo, Sumatra, Java, Thailand and Vietnam have engaged in agricultural practices for the last 11,000 years. These findings may help bolster the claims of local indigenous peoples under threat of eviction from their traditional lands.
How "insect soup" might change the face of conservation
(01/23/2014) Much of what we know about patterns of biodiversity has come from extensive fieldwork, with expert researchers sampling and identifying species in a process that takes thousands of man-hours. But new technologies may revolutionize this process, allowing us to monitor changes in biodiversity at speeds and scales unimaginable just a decade ago.
Environmental groups: top secret Pacific trade agreement to sacrifice wildlife, environment

(01/16/2014) Environmental groups have blasted draft text of the Trans-Pacific Partnership (TPP) released yesterday by WikiLeaks as potentially devastating to the environment and wildlife. The massive 12-nation free trade agreement has been negotiated in secret now for almost four years, and the information release by WikiLeaks shows that key environmental safeguards in the agreement are being stripped away, including a ban on shark finning and illegal logging, as well as legally-enforced pollution regulations.
Requiem or recovery?: the Sumatran rhino 200 years after its description
(01/08/2014) In 1893, William Bell, a surgeon in the service of the Dutch East India Company stationed in Bencoolen, Sumatra, examined the body of a dead rhinoceros. The animal, a male, was relatively small as rhinoceroses go, measuring only four feet four inches at the shoulder and eight feet five inches from its nose to the tip of its tail. Dr. Bell noted that the animal resembled a large hog and judged it to be a young individual based upon the condition of the bones and teeth.
Rainforest news review for 2013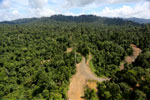 (12/26/2013) 2013 was full of major developments in efforts to understand and protect the world's tropical rainforests. The following is a review of some of the major tropical forest-related news stories for the year. As a review, this post will not cover everything that transpired during 2013 in the world of tropical forests. Please feel free to highlight anything this post missed via the comments section at the bottom. Also please note that this review focuses only on tropical forests.
Unraveling the secrets of one of the world's most mysterious big cats
(12/22/2013) The Sunda clouded leopard has always been shrouded in mystery. Only declared a separate species from its mainland cousin, the Borneo clouded leopard, in 2006, the IUCN lists the cat as Endangered. The distinction between the Borneo clouded leopard (Neofelis nebulas) and the Sunda clouded leopard (Neofelis diardi) was made by ground-breaking molecular coding technologies and anatomy studies of the two species. Although it is Borneo's largest predator, very little is known about the Sunda leopard. As a medium-sized, well-camouflaged and mostly nocturnal animal, the leopard has evaded researchers since its discovery eight years ago.
UN raps Malaysia on palm oil abuses, risks

(12/19/2013) Malaysia's push to join the ranks of rich countries shouldn't come at the expense of the environment or the vulnerable groups, warned a U.N. expert after a visit to the Southeast Asian nation.
Top 10 HAPPY environmental stories of 2013
(12/19/2013) China begins to tackle pollution, carbon emissions: As China's environmental crisis worsens, the government has begun to unveil a series of new initiatives to curb record pollution and cut greenhouse emissions. The world's largest consumer of coal, China's growth in emissions is finally slowing and some experts believe the nation's emissions could peak within the decade. If China's emissions begin to fall, so too could the world's.
Big data shows tropical mammals on the decline
(12/12/2013) The world's largest remote camera trap initiative—monitoring 275 species in 17 protected areas—is getting some big data assistance from Hewlett-Packard (HP). To date, the monitoring program known as the Tropical Ecology Assessment and Monitoring (TEAM) Network has taken over 1.5 million photos of animals in 14 tropical countries, but conservationists have struggled with how to quickly evaluate the flood of data.
Top 10 Environmental Stories of 2013
(12/10/2013) 1. Carbon concentrations hit 400ppm while the IPCC sets global carbon budget: For the first time since our appearance on Earth, carbon concentrations in the atmosphere hit 400 parts per million. The last time concentrations were this high for a sustained period was 4-5 million years ago when temperatures were 10 degrees Celsius higher. Meanwhile, in the slow-moving effort to curb carbon emissions, the Intergovernmental Panel on Climate Change (IPCC) crafted a global carbon budget showing that most of the world's fossil fuel reserves must be left untouched if we are to avoid catastrophic climate change.
Satellites reveal browning mountain forests
(11/22/2013) In a dramatic response to global warming, tropical forests in the high elevation areas of five continents have been "browning" since the 1990s. They have been steadily losing foliage, and showing less photosynthetic activity. Scientists analyzed the forest cover by using satellites to measure sunlight bouncing off the surface of the earth, then determining the different surface types via reflection patterns.
Malaysia has the world's highest deforestation rate, reveals Google forest map
(11/15/2013) Malaysia had the world's highest rate of forest loss between 2000 and 2012, according to a new global forest map developed in partnership with Google. Malaysia's total forest loss during the period amounted to 14.4 percent of its year 2000 forest cover. The loss translates to 47,278 square kilometers (18,244 square miles), an area larger than the country of Denmark.
Powered by Google, high resolution forest map reveals massive deforestation worldwide
(11/14/2013) Researchers today released a long-awaited tool that reveals the extent of forest cover loss and gain on a global scale. Powered by Google's massive computing cloud, the interactive forest map establishes a new baseline for measuring deforestation and forest recovery across all of the world's countries, biomes, and forest types. The map has far-reaching implications for efforts to slow deforestation, which accounts for roughly ten percent of greenhouse gas emissions produced by human activities, according to the authors of the paper that describes the tool and details its first findings.
3.5 million ha of Indonesian and Malaysian forest converted for palm oil in 20 years
(11/12/2013) Some 3.5 million hectares (8.7 million acres) of forest in Indonesia, Malaysia, and Papua New Guinea was converted for oil palm plantations between 1990 and 2010, finds a comprehensive set of assessments released by the Roundtable on Sustainable Palm Oil (RSPO). The research, conducted by an international team of scientists from a range of institutions, is presented in a series of seven academic papers that estimate change in land use and greenhouse gas emissions from oil palm expansion in the three countries, review the social and environmental impacts of palm oil production, forecast potential growth in the sector across the region, and detail methods for measuring emissions and carbon stocks of plantations establishing on peatlands.




Page 1 | Page 2 | Page 3 | Page 4 | Page 5 | Page 6 | Page 7 | Page 8 | Page 9 | Page 10 | Page 11 | Page 12