News articles on madagascar

---
Mongabay.com news articles on madagascar in blog format. Updated regularly.








Top 10 Environmental Stories of 2010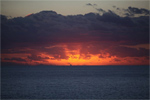 (12/20/2010) Below is a quick review of some of the biggest environmental stories of 2010: Climate change rears it ugly head; Oil spill in the Gulf; Agreement to save global biodiversity; Illegal logging crisis in Madagascar; REDD kicks off in Indonesia; Brazil deforestation falls to its lowest level; Hungary's red sludge; Nestle caves to social media activists; New mammals galore' and Global climate framework back on the table?
Extensive logging, lemur hunting in Madagascar national park despite moratorium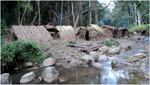 (11/16/2010) A biological survey in Northeastern Madagascar has turned up evidence of extensive logging in Masoala National Park, a UNESCO World Heritage Site renowned for its biologically-rich rainforest. The findings suggest that harvesting of valuable hardwoods—including rosewood, ebony, and palissander—continues despite an official ban on the logging and export of timber.
Thousands of marine turtles slaughtered in Madagascar for food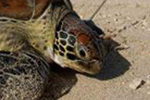 (11/14/2010) Over 10,000 marine turtles are being killed in one region of Madagascar for food every year, according to a new study in Animal Conservation. Although fishing for marine turtles is illegal, it has not stopped local artisanal fishermen from pursuing four different endangered marine turtle species. "We conducted this study because we know this small-scale, artisanal fishing is going on despite it being illegal to catch turtles under Malagasy law," Annette Broderick, from the Center for Ecology and Conservation (Cornwall) at the University of Exeter, said in a press release. "Because turtles are an endangered species, it's important for us to know what's going on in the region so we can work with the local community to find a sustainable way forward."
Local efforts block attempt to ship illegal rosewood from Madagascar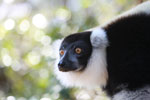 (11/10/2010) Authorities in Madagascar successfully blocked an attempt to ship illegally logged rosewood from the port of Vohemar over the weekend, according to local reports. The incident, while isolated, suggests citizens, the Waters and Forests Administration, local media, and shipping companies are having an impact on slowing the rosewood trade that has devastated Madagascar's rainforest parks, wildlife, and rural communities.
The $1M bed: why Madagascar's rainforests are being destroyed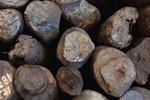 (10/26/2010) Consumer demand for rosewood furniture and musical instruments is driving illegal logging in Madagascar's national parks, endangering wildlife and undermining local community livelihoods, according to a new report from the Environmental Investigation Agency (EIA) and Global Witness. The report, based on more than a year of investigations, shows that Madagascar's valuable hardwoods—including ebony, pallisander, and rosewood—are being illegally harvested from rainforest parks and trafficked to Asia, Europe, and the United States. The vast majority of timber however ends up in China, where it is converted into luxury furniture.
Flickr reveals longest whale migration

(10/14/2010) Communal photo sharing site, Flickr, has allowed researchers to discover the longest migration by a whale yet recorded. Ten years ago a female humpback whale swam from Brazil to Madagascar, covering around 6,090 miles (9,800 kilometers). The migration tops the previous record by 2,485 miles (4,000 kilometers). Not only is this a record for a whale, it's a record for non-human mammals.
Picture: unknown carnivore discovered in Madagascar lake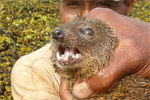 (10/10/2010) Researchers have identified a previously unknown species of carnivore lurking in one of the world's most endangered lakes. Durrell's vontsira (Salanoia durrelli), named in honor of the late conservationist and writer Gerald Durrell, was first photographed swimming in Madagascar's Lake Alaotra in 2004. Subsequent surveys by scientists at the the Durrell Wildlife Conservation Trust, the Natural History Museum, London, Nature Heritage, Jersey, and Conservation International confirmed the mongoose-like creature was indeed a new species.
Police in eastern Madagascar arrest foreign journalist investigating illegal timber trafficking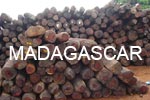 (09/17/2010) Authorities in eastern Madagascar arrested a foreign journalist investigating illegal rosewood trafficking. The arrest, which took place twelve days ago, comes as the central government claims to be cracking down on the illicit rosewood trade. The journalist, whose name and nationality is being withheld to protect his identity, had his camera equipment confiscated by the police in Maroantsetra, a town that is the gateway to Masoala National Park, where much of the rosewood logging is occurring. The police, accompanied by rosewood traffickers, forced the journalist to delete images of timber stockpiles from his camera. The journalist and his guide were then released.
Logging crisis pushes Madagascar's forests on to UNESCO's Danger List
(08/01/2010) UNESCO's World Heritage committee has added Madagascar's unique tropical forests to its Danger List of threatened ecosystems. The move comes following a drawn-out illegal logging crisis that has seen loggers and traders infiltrating the island-nation's national parks for rosewood. Bushmeat hunting of lemurs and other rare species also accompanied the crisis.
If Madagascar's biodiversity is to be saved, international community must step up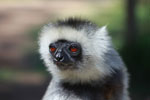 (07/27/2010) The international community's boycott of environmental aid to Madagascar is imperiling the island's unique and endangered wildlife, according to a new report commissioned by the US Agency for International Development's (USAID) Bureau of Africa. International aid to the desperately poor nation slowed to a trickle after a government coup last year, including a halt on environmental funding from the US government. Since then the island has experienced an environmental crisis: illegal loggers and traders began decimating protected areas, and the wildlife trade, including hunting endangered lemurs for bushmeat, took off.
The illegal logging cycle in Madagascar

(06/23/2010) The latest issue of the journal Madagascar Conservation & Development provides a comprehensive look into Madagascar's illegal logging trade, which has generated more than $200 million for a small group of individuals over the past year. The trade, which spikes just prior to national elections and may be a source of funds for ruling politicians, has taken a heavy toll on the lowland rainforests of Madagascar, with targeted species now at risk of extinction.
Rainforest slaughter continues in Madagascar despite "ban" on timber exports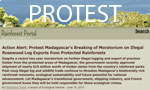 (06/21/2010) New eyewitness reports indicate continued logging of Madagascar's Masoala National Park for rosewood despite a government "moratorium" on logging and timber exports. A source near Marofinaritra, a town between Masoala and Antalaha, reports heavy night-time movement of trucks carrying illegally logged timber from the park. The wood is believed to be destined for Antalaha, a regional hub for the rosewood trade.
Madagascar resumes shipments of illegally logged timber despite moratorium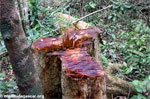 (06/10/2010) Albert Camille Vital, Madagascar's Prime Minister under the regime that seized power during a coup on the Indian Ocean island nation last year, approved this week's shipment of nearly $16 million worth of timber illegally logged from the country's rainforest parks, according to documents provided to mongabay.com.
Already on the edge, lemurs could become victims of climate change

(06/08/2010) Expanding beyond well-known victims such as polar bears and coral reefs, the list is growing of species likely to be hard hit by climate change: from lizards to birds to amphibians. Now a new study has uncovered another group of species vulnerable to a warmer world: lemurs.
French company to break moratorium on shipments of illegally logged rosewood from Madagascar

(06/03/2010) SEAL, a French transport company, is scheduled to ship 79 containers of rosewood tomorrow from the port of Toamasina on its vessel Terra Bona, reports Midi Madagascar. The shipment comes less than three months after Madagascar's ruling authority banned timber exports after international uproar over the organized logging of the country's national parks in the aftermath of last year's military coup. SEAL's shipment of timber will be in direct violation of the moratorium.
'No hope now remains' for the Alaotra grebe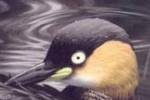 (05/31/2010) World governments have missed their goal of stemming biodiversity loss by this year, instead biodiversity loss has worsened according to scientists and policy-makers, and a little rusty-colored bird, the Alaotra grebe (Tachybaptus rufolavatus) is perhaps a victim of this failure to prioritize biodiversity conservation. Native to a small region in Madagascar, the grebe has been declared extinct by BirdLife International and the IUCN Red List due to several factors including the introduction of invasive carnivorous fish and the use of nylon gill-nets by local fishermen, which now cover much of the bird's habitat, and are thought to have drowned diving grebes. The bird was also poached for food.
Researchers: Madagascar rosewoods deserve CITES protection

(05/27/2010) A new policy paper in Science warns that several species of Madagascar's rosewood could be pushed to extinction due to a current illegal logging crisis on the island. These hardwood species should be considered for protection under Convention of International Trade in Endangered Species of Wild Fauna and Flora (CITES), the researchers conclude.
Photos: the penis-like mushroom and other top 10 new species of 2009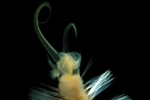 (05/23/2010) The International Institute for Species Exploration at Arizona State University has released its annual top 10 list of new species discovered last year. This time the list includes a two inch penis-like mushroom, a minnow named after Bram Stoker's world-famous horror-character, a bomb-throwing deep sea worm, a giant carnivorous plant named after TV personality and conservationist David Attenborough, and a beautifully patterned frogfish.
Climate change devastating lizards worldwide: 20 percent estimated to face extinction

(05/13/2010) Lizards have evolved a variety of methods to escape predators: some will drop their tail if caught, many have coloring and patterning that blends in with their environment, a few have the ability to change their colors as their background changes, while a lot of them depend on bursts of speed to skitter away, but how does a lizard escape climate change? According to a new study in Science they don't. The study finds that lizards are suffering local extinctions worldwide due exclusively to warmer temperatures. The researchers conclude that climate change could push 20 percent of the world's lizards to extinction within 70 years.
Video: Madagascar could become "Haiti-like"

(04/28/2010) Niall O'Connor from the World Wildlife Fund warns in a Carte Blanche production that if the ecological destruction of Madagascar continues, the poor island country could become "Haiti-like", where he says, "most of the biodiversity, most of the forests are gone".
World failing on every environmental issue: an op-ed for Earth Day
(04/22/2010) The biodiversity crisis, the climate crisis, the deforestation crisis: we are living in an age when environmental issues have moved from regional problems to global ones. A generation or two before ours and one might speak of saving the beauty of Northern California; conserving a single species—say the white rhino—from extinction; or preserving an ecological region like the Amazon. That was a different age. Today we speak of preserving world biodiversity, of saving the 'lungs of the planet', of mitigating global climate change. No longer are humans over-reaching in just one region, but we are overreaching the whole planet, stretching ecological systems to a breaking point. While we are aware of the issues that threaten the well-being of life on this planet, including our own, how are we progressing on solutions?
Photo: Lemur species rediscovered after 100 years

(04/09/2010) A species of lemur has been rediscovered more than a century after it was last spotted, report researchers from McGill University, the German Primate Centre in Göttingen Germany, the University of Antananarivo in Madagascar, and the University of Massachusetts.
New blind snake discovery

(04/06/2010) Call them survivors: blindsnakes have been identified as one of the few groups of organisms that inhabited Madagascar when it broke from the Indian subcontinent around 100 million years ago. According to a new study in Biology Letters, blindsnakes not only survived the split of Madagascar and India, but likely traveled from Asia to Australia and Africa to South America on floating vegetation, the latter a journey that may have taken six months of drifting on ocean currents. "Blindsnakes are not very pretty, are rarely noticed, and are often mistaken for earthworms," says Blair Hedges of her subjects. "Nonetheless, they tell a very interesting evolutionary story."
Once common tortoise from Madagascar will be 'extinct in 20 years'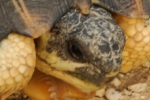 (04/05/2010) The radiated tortoise, once common throughout Madagascar, faces extinction within the next 20 years due to poaching for its meat and the illegal pet trade, according to biologists with the Turtle Survival Alliance (TSA) and the Wildlife Conservation Society (WCS). Returning from field surveys in southern Madagascar's spiny forest, they found regions without a single turtle. Locals said that armed bands of poachers were taking truckloads of tortoises to be sold in meat markets. The tortoise is also popular in the underground pet trade, although it is protected by CITES (Convention on International Trade in Endangered Species).
Madagascar bans rainforest timber exports following global outcry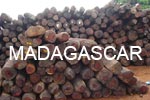 (03/25/2010) Under mounting pressure over illegal logging of its national parks, Madagascar's transitional government on Wednesday reinstated a ban on rosewood logging and exports. The decree (no. 2010-141), which prohibits all exports of rosewood and precious timber for two to five years, was announced during a council meeting held yesterday at Ambohitsorohitra Palace in Antananarivo, Madagascar's capital city.
Environmental groups call on Delmas to cancel shipment of illegally logged wood from Madagascar

(03/15/2010) Pressure is building on the French shipping company Delmas to cancel large shipments of rosewood, which was illegally logged in Madagascar during the nation's recent coup. Today two environmental groups, Global Witness and the Environmental Investigation Agency (EIA) called on Delmas to cancel the shipment, which is currently being loaded onto the Delmas operated ship named 'Kiara' in the Madagascar port of Vohemar.
Thousands of tons of illegal timber in Madagascar readied for export

(03/13/2010) As the President of France, Nicholas Sarkozy, argues in Paris that more funding is needed to stop deforestation and mitigate climate change, a shipment of illegal rosewood is being readied for export in Madagascar by a French company with the tacit approval of the French government.
Photos: Madagascar's wonderful and wild frogs, an interview with Sahonagasy

(03/03/2010) To save Madagascar's embattled and beautiful amphibians, scientists are turning to the web. A new site built by herpetologists, Sahonagasy, is dedicated to gathering and providing information about Madagascar's unique amphibians in a bid to save them from the growing threat of extinction. "The past 20 years have seen resources wasted because of a poor coordination of efforts," explains Miguel Vences, herpetologist and professor at the Technical University of Braunschweig. "Many surveys and reports have been produced that were never published, many tourists found and photographed amphibians but these photos were not made available to mapping projects, many studies carried out by Malagasy students did not make use of literature because it was not available."
French company prepares to ship illegally logged rainforest wood from Madagascar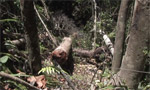 (02/25/2010) Delmas, a French shipping company that has been under pressure for facilitating the destruction of Madagascar's rainforest parks, has been cleared to begin picking up contraband rosewood as soon as Monday, report local sources in the Indian Ocean island nation. Leaders behind last year's military coup — which displaced the autocratic, but democratically elected President Marc Ravalomanana — have signed off on the shipment.
Humans push half of the world's primates toward extinction, lemurs in particular trouble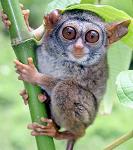 (02/18/2010) Of the known 634 primate species in the world 48 percent are currently threatened with extinction, making mankind's closes relatives one of the most endangered animal groups in the world. In order to bring awareness to the desperate state of primates, a new report by the International Union for the Conservation of Nature highlights twenty-five primates in the most need of rapid conservation action. Compiled by 85 experts the report, entitled Primates in Peril: The World's 25 Most Endangered Primates, 2008–2010, includes six primates from Africa, eleven from Asia, three from Central and South America, and five from the island of Madagascar.
How to end Madagascar's logging crisis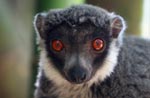 (02/10/2010) In the aftermath of a military coup last March, Madagascar's rainforests have been pillaged for precious hardwoods, including rosewood and ebonies. Tens of thousands of hectares have been affected, including some of the island's most biologically-diverse national parks: Marojejy, Masoala, and Makira. Illegal logging has also spurred the rise of a commercial bushmeat trade. Hunters are now slaughtering rare and gentle lemurs for restaurants.
Satellites being used to track illegal logging, rosewood trafficking in Madagascar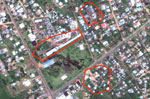 (01/28/2010) Analysts in Europe and the United States are using high resolution satellite imagery to identify and track shipments of timber illegally logged from rainforest parks in Madagascar. The images could be used to help prosecute traders involved in trafficking and put pressure on companies using rosewood from Madagascar.
Coup leaders sell out Madagascar's forests, people
(01/27/2010) Madagascar is renowned for its biological richness. Located off the eastern coast of southern Africa and slightly larger than California, the island has an eclectic collection of plants and animals, more than 80 percent of which are found nowhere else in the world. But Madagascar's biological bounty has been under siege for nearly a year in the aftermath of a political crisis which saw its president chased into exile at gunpoint; a collapse in its civil service, including its park management system; and evaporation of donor funds which provide half the government's annual budget. In the absence of governance, organized gangs ransacked the island's biological treasures, including precious hardwoods and endangered lemurs from protected rainforests, and frightened away tourists, who provide a critical economic incentive for conservation. Now, as the coup leaders take an increasingly active role in the plunder as a means to finance an upcoming election they hope will legitimize their power grab, the question becomes whether Madagascar's once highly regarded conservation system can be restored and maintained.
Natural rafts carried Madagascar's unique wildlife to its shores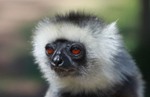 (01/20/2010) Imagine, forty million years ago a great tropical storm rises up on the eastern coast of Africa. Hundreds of trees are blown over and swept out to sea, but one harbors something special: inside a dry hollow rests a small lemur-like primate. Currents carry this tree and its passenger hundreds of miles until one gray morning it slides onto a faraway, unknown beach. The small mammal crawls out of its hollow and waddles, hungry and thirsty, onto the beach. Within hours, amid nearby tropical forests, it has found the sustenance it needs to survive: in a place that would one day be named Madagascar.
World Bank, European governments finance illegal timber exports from Madagascar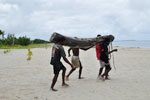 (01/11/2010) While Madagascar's current government has drawn sharp criticism from the international community for its failure to prevent the environmental destruction of recent months, France, Holland, Morocco, and the World Bank have all been implicated in financing illegal logging operations in Madagascar's national parks over the past year. Even as foreign governments condemned the surge in illegal logging last year, many--either directly or through institutions they support--are shareholders in the very banks that have financed the export of illegal lumber from Madagascar's SAVA region. The Bank of Africa Madagascar, for instance, is part owned by Proparco, a subsidiary of the Agence Française du Développement, as well as the World Bank's International Finance Corporation, Dutch development bank FMO, and the Banque Marocaine du Commerce Extérieur. Société Générale and Crédit Lyonnais, both part-owned by the French government, have also provided loans to illegal timber traders.
Madagascar sanctions logging of national parks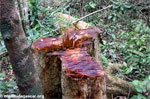 (01/11/2010) Madagascar has legalized the export of rosewood logs, possibly ushering in renewed logging of the country's embattled rainforest parks. The transitional authority led by president Andry Rajoelina, who seized power during a military coup last March, today released a decree that allows the export of rosewood logs harvested from the Indian Ocean island's national parks. The move comes despite international outcry over the destruction of Madagascar's rainforests for the rosewood trade. The acceleration of logging since the March coup has been accompanied by a rise in commercial bushmeat trafficking of endangered lemurs.




Page 1 | Page 2 | Page 3 | Page 4 | Page 5 | Page 6 | Page 7