News articles on madagascar

---
Mongabay.com news articles on madagascar in blog format. Updated regularly.





Scientists recommend marine protected areas for Madagascar

(02/27/2012) With the government of Madagascar planning to increase marine protected areas by one million hectares, a group of researchers have laid out flexible recommendations in a new study in the open access journal PLoS ONE. The researchers employed four different analyses in order to highlight a number of different conservation options, however the different analyses pointed to the need to protect certain areas with high biodiversity, including the Barren Islands' reefs, the reefs of Juan de Nova, the Banc de Leven, and the shallow banks of the Cap Sainte Marie.


Madagascar - The Last Inheritor of Gondwana: Documentary Review

(02/20/2012) Madagascar split from the supercontinent of Gondwana about 150 million years ago. As a result, most of the living creatures in Madagascar are unique to the ecosystems in the island. Madagascar: The Last Inheritor of Gondwana is a documentary that does an excellent job of showing Madagascar's magnificent biodiversity, but falls short in delivering Madagascar's "clear" and "urgent" message.


Innovative conservation: wild silk, endangered species, and poverty in Madagascar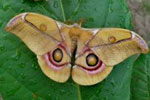 (02/20/2012) For anyone who works in conservation in Madagascar, confronting the complex difficulties of widespread poverty is a part of the job. But with the wealth of Madagascar's wildlife rapidly diminishing— such as lemurs, miniature chameleons, and hedgehog-looking tenrecs found no-where else in the world—the island-nation has become a testing ground for innovative conservation programs that focus on tackling entrenched poverty to save dwindling species and degraded places. The local NGO, the Madagascar Organization of Silk Workers or SEPALI, along with its U.S. partner Conservation through Poverty Alleviation (CPALI), is one such innovative program. In order to alleviate local pressure on the newly-established Makira Protected Area, SEPALI is aiding local farmers in artisanal silk production from endemic moths. The program uses Madagascar's famed wildlife to help create more economically stable communities.


Photo: World's smallest chameleon discovered in Madagascar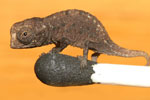 (02/15/2012) Scientists have discovered four new species of super-tiny chameleons in Madagascar, according to a new paper in PLoS ONE. The smallest of the new species, Brookesia micra, is found only on the small island of Nosy Hara and has been dubbed the smallest chameleon in the world, measuring from nose to tail 29 millimeters (1.14 inches) at its largest. Scientists believe it represents a notable example of island dwarfism.


Scientists create high resolution, 3D maps of forests in Madagascar

(02/15/2012) A team of scientists has created the first high resolution maps of remote forests in Madagascar. The effort, which is written up in the journal Carbon Balance and Management, will help more accurately register the amount of carbon stored in Madagascar's forests, potentially giving the impoverished country access to carbon-based finance under the proposed REDD (Reducing Emissions from Deforestation and forest Degradation) program.


Caution urged in sale of Madagascar's illegal timber stockpiles

(02/03/2012) Confiscated timber stocks in Madagascar must be managed in a "transparent manner" to deter future illegal logging and boosting demand for endangered rainforest timber, says a letter published by a coalition of NGOs.


Photos of the day: a celebration of wetlands (for World Wetlands Day)


(02/02/2012) Forget the groundhogs, February 2nd is also World Wetland Day, commemorating the historic convention of wetlands in Ramsar, Iran in 1971. The Ramsar Treaty was an international agreement meant to address the loss and degradation of wetlands worldwide.


Frog perfume? Madagascar frogs communicate via airborne pheromones

(01/25/2012) Researchers have found that some frogs in Madagascar communicate by more than just sound and sight: they create distinct airborne pheromones, which are secreted chemicals used for communicating with others. A paper published in Angewandte Chemie International Edition relates that some male members of the Mantellinae family in Madagascar use large glands on their inner thighs to produce airborne pheromones. Interestingly, the pheromones are structurally similar to those produced by insects. Scientists have identified frogs producing water-borne pheromones before, but this is the first instance of airborne.


Featured video: music in Madagascar to protest illegal logging

(01/22/2012) A new video highlights the plight of Madagascar's protected tropical forests, which are falling prey to illegal logging and foreign contractors. Featuring Razia Said, Malagasy singer and songwriter, the video shows concerts to raise awareness about illegal logging, especially near Maosala National Park.


National Association of Music Merchants does 'disservice' to members by misleading them on illegal logging law, says letter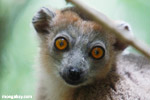 (01/19/2012) The National Association of Music Merchants is doing a 'disservice' to its members by misrepresenting the provisions and spirit of the Lacey Act, a law that aims to curb illegal logging abroad, states a letter published by a coalition of environmental groups. The letter, issued Thursday, urges the National Association of Music Merchants to reconsider its support for the RELIEF Act (HR 3210), introduced by Representatives Marsha Blackburn (R-TN), Mary Bono Mack (R-CA), and Jim Cooper (D-TN) last October. The RELIEF Act would weaken key provisions of the Lacey Act aimed to ensure that illegally sourced wood products aren't imported into the United States.


How lemurs fight climate change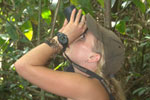 (01/09/2012) Kara Moses may have never become a biologist if not for a coin toss. The coin, which came up heads and decided Moses' direction in college, has led her on a sinuous path from studying lemurs in captivity to environmental writing, and back to lemurs, only this time tracking them in their natural habitat. Her recent research on ruffed lemurs is attracting attention for documenting the seed dispersal capabilities of Critically Endangered ruffed lemurs as well as theorizing connections between Madagascar's lemurs and the carbon storage capacity of its forests. Focusing on the black-and-white ruffed lemur's (Varecia variegata) ecological role as a seed disperser—animals that play a major role in spreading a plant's seeds far-and-wide—Moses suggests that not only do the lemurs disperse key tree species, but they could be instrumental in dispersing big species that store large amounts of carbon.


Photo: Tiny lemur discovered in Madagascar forest

(01/08/2012) A new species of mouse lemur has been discovered in eastern Madagascar, report researchers from Germany. The species is described in a recent issue of the journal Primates.


Cultural shifts in Madagascar drive lemur-killing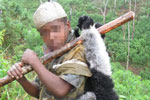 (12/15/2011) Conservationists have often found that some cultural norms, religious beliefs, and taboos play a role in holding back traditional peoples from overusing their environment. Examples of such beliefs include days wherein one cannot hunt or fish, or certain species or regions that are off limits to exploitation. But the influence of the modern world can rapidly extinguish such beliefs, sometimes for the better, in other cases not. In many parts of Madagascar, lemurs are off the menu. These primates, found only in Madagascar, play a big role in Malagasy 'fady' or taboo-related folk stories: lemurs are protectors and, in some cases, even relatives. However, according to a new paper in PLoS ONE an influx of migrants, widespread poverty, lack domestic meat, and poor law enforcement has caused a sudden rise in eating lemurs, many of which are already near-extinction due to habitat loss.


Madagascar tree diversity among the highest worldwide



(12/12/2011) In terms of biodiversity, the hugely imperiled forests of Madagascar may be among the world's richest. Researchers estimate that the island off the coast of Africa is home to at least 10,000 tree and shrub species with over 90 percent of them found no-where else in the world. With little baseline data collected on Madagascar's ecosystems, a new study, the first ever of tree diversity in Madagascar lowland rainforests, hopes to begin the process. Published in mongabay.com's open access journal Tropical Conservation Science, the new study surveyed tree species in eastern Madagascar's Betampona Special Reserve.


Forgoing bushmeat hunting has health toll in Madagascar, says study

(11/22/2011) Conservationists shouldn't overlook the detrimental health impacts of shifting local populations away from subsistence bushmeat hunting, says a new study.


Critically Endangered lemurs disperse seeds, store carbon


(11/13/2011) Many tropical plants depend on other species to carry their progeny far-and-wide. Scientists are just beginning to unravel this phenomenon, known as seed dispersal, which is instrumental in supporting the diversity and richness of tropical forests. Researchers have identified a number of animal seed dispersers including birds, rodents, monkeys, elephants, and even fish. Now a new study in the Journal of Tropical Ecology adds another seed disperser to that list: the Critically Endangered black-and-white ruffed lemur (Varecia variegata). Capable of dispersing big tree species, the black-and-white ruffed lemur may even play a big role in carbon sequestration.


Photos: 40% of Madagascar's reptiles at risk of extinction

(11/10/2011) 40 percent of Madagascar's terrestrial reptiles are threatened with extinction due to habitat loss and over-collection for the pet trade, reports the International Union for Conservation of Nature (IUCN) in its latest update of the Red List of Threatened Species.


Madagascar interim president: sell rosewood stocks

(11/09/2011) Madagascar should sell its stocks of illegally logged rainforest timber, Madagascar's interim leader Andry Rajoelina told the BBC in an interview.


Animal picture of the day: crowned lemur and baby

(11/06/2011) Like all of the world's hundred-plus lemur species, the crowned lemur (Eulemur coronatus) is only found on the island of Madagascar. They inhabit the northern tip of the island.


Poor in Madagascar see fish plundered for foreign consumption

(10/11/2011) A new study warns that overfishing could exacerbate poverty and political stability in one of the world's poorest nations: Madagascar. According to the recent study by the University of British Columbia's Sea Around Us Project and Malagasy NGO Blue Ventures, fish catches in the African island-nation from 1950 to 2008 are actually double the official numbers, with foreign wealthy nations currently taking half the haul.


Tea Party rallies in favor of Gibson Guitar, ignores reasons instrument-maker is under investigation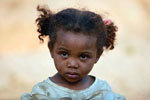 (10/10/2011) This weekend around 500 people showed up for a rally and concert in Nashville, Tennessee. The rally was in support of Gibson Guitars, a US-company currently under investigation for allegedly importing illegally logged wood into the country, an action that breaks a recent bipartisan amendment to the Lacey Act. While the Tea Party-affiliated groups that held the rally were expressing frustration with perceived over-regulation by the federal government, the issue at stake—a global effort to help stem illegal logging—was actually overlooked by the organizers.


Tea party versus Madagascar's forests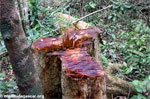 (10/02/2011) The Tea Party and the African island-nation of Madagascar are having dueling concerts over the issue of illegal logging, reports the Associated Press. A concert in Madagascar over the weekend was meant to highlight the problem of illegal deforestation in one of the world's poorest countries. Meanwhile the Tea Party is holding a rally and concert on October 8th to support Gibson Guitar, a musical instruments company currently under investigation for breaking US law by allegedly purchasing illegally logged wood products from Madagascar.


Madagascar asks CITES to regulate rosewood and ebony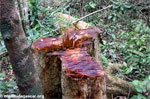 (09/29/2011) Following a logging crisis in 2009 where a number of Madagascar's remaining forests were illegally cut, the African nation has turned to the Convention on International Trade in Endangered Species of Wild Fauna and Flora (CITES) to help regulate 91 species of rosewood and ebony. "Regulating trade in these high-value timber species under CITES will help ensure that the benefits of trade flow to local people and it will also serve the global community by helping conserve these species, which will be to the benefit of entire ecosystems."


Background: the Lacey Act and the Fish & Wildlife Service raid on Gibson Guitars

(09/02/2011) On 24 August 2011, agents of the Fish & Wildlife Service (FWS) raided Gibson Guitar facilities in Nashville and Memphis, Tennessee, seizing ebony and rosewood material, guitars and guitar parts as evidence of suspected violation(s) of the U.S. Lacey Act. The Lacey Act is a long-standing anti-trafficking statute which prohibits commerce of illegally-sourced wildlife, plants and wood products from either the U.S. or other countries.


Could "wood bank" ease Madagascar's illegal logging problem?

(08/25/2011) ith illegal timber stocks continuing to build due ongoing logging in its rainforest parks and under pressure from powerful timber traders, Madagascar's political leaders are debating a plan to lift a ban on precious wood exports. Environmentalists fear the move — without proper safeguards — could effectively reward illegal loggers and drive further exploitation the country's remaining forests.


Madagascar may authorize exports of illegally-logged rosewood

(08/22/2011) A meeting scheduled for August 25th between rosewood traders, the Ministry of Forest and Environment, and other government officials may determine the fate of tens of millions of dollars' worth of rosewood illegally logged from Madagascar's rainforests parks.


Animal picture of the day: ninja lemurs

(08/14/2011) On the ground Verreaux's Sifaka (Propithecus verreauxi) move in sideways jumps giving them the appearance of elegant dancers or dangerous ninjas.


Featured video: Trouble in Lemur Land

(08/08/2011) A new film, Trouble in Lemur Land, showcases the Critically Endangered silky sifaka (Propithecus candidus). With only some 300 silky sifaka's surviving in the wild, this large and distinct lemur is considered one of the top 25 most endangered primates in the world.


Little-known animal picture of the day: the velvet asity

(08/04/2011) The velvet asity is a small bird endemic to Madagascar. The species is a part of a family of birds that only includes four species, all native to Madagascar.


Picture of the day: beach on a tropical island paradise

(07/30/2011) Beach on Nosy Mangabe, a tropical island paradise for wildlife enthusiasts.


Animal picture of the day: baby Nile crocodile

(07/26/2011) One day this baby Nile crocodile could reach 20 feet (6 meters) long. Nile crocodiles (Crocodylus niloticus) range throughout sub-Saharan Africa and even make their home on the island of Madagascar.


Another rosewood bust in Madagascar

(07/12/2011) Authorities in Madagascar confiscated six containers of rosewood logs worth $360,000 - $600,000 at a port in the northwestern part of the country, reports AFP.


Endangered species trafficking: What did Gibson Guitar know?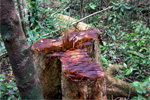 (07/07/2011) A motion filed last month by the U.S. Department of Justice alleges Gibson Guitar knew it was trafficking in endangered timber when it was busted by the U.S. Fish and Wildlife Service in November 2009, reports the Environmental Investigation Agency (EIA).


New rosewood scandal in Madagascar

(07/01/2011) Customs officials in Madagascar threatened to go on strike Monday if the country's Transition Authority does not reveal the owner of a shipment of six containers of rosewood seized in Mauritius.


World Bank loans Madagascar $52m to address environmental crisis

(06/22/2011) The World Bank has approved a $52 million loan to bolster conservation efforts in Madagascar, which have suffered from a collapse in funding and governance in the aftermath of a 2009 military coup, reports Reuters.


Endangered Madagascar wildlife on sale in Thailand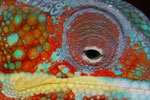 (06/19/2011) Conservation group TRAFFIC uncovered nearly 600 Madagascar reptiles and amphibians on sale in Thai markets, including endangered species and those banned for sale by the Convention on International Trade in Endangered Species of Wild Fauna and Flora (CITES). The animals, representing 24 reptiles species and 9 amphibians, are being sold for the international pet trade. "We know there is a significant ongoing illegal trade in protected species from Madagascar, mainly destined for Asia, which has been exacerbated by the current political situation in the country leading to weaker enforcement of existing laws and safeguarding of protected areas," says Richard Hughes, WWF's Representative in Madagascar.


Photos: 600 new species discovered in Madagascar since 1999

(06/06/2011) More than 600 species of plants and animals have been described in Madagascar over the past decade, reiterating the position of Indian Ocean island as one of the world's top biodiversity hotspots, says a new report issued today by WWF.


Government cracks down on illegal logging in Madagascar

(06/02/2011) Authorities in Madagascar seized roughly a thousand logs during an ongoing operation in the northeastern part of the country, which has been besieged by illegal logging, reports l'Express de Madagascar. Seven people were arrested.


Photos: the top ten new species discovered in 2010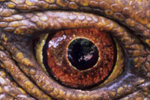 (05/23/2011) If we had to characterize our understanding of life on Earth as either ignorant or knowledgeable, the former would be most correct. In 250 years of rigorous taxonomic work researchers have cataloged nearly two million species, however scientists estimate the total number of species on Earth is at least five million and perhaps up to a hundred million. This means every year thousands of new species are discovered by researchers, and from these thousands, the International Institute for Species Exploration at Arizona State University selects ten especially notable new species.


Illegal rosewood bust in Madagascar

(04/28/2011) Authorities in Madagascar seized several trucks carrying illegally logged rosewood timber, reports Asity Madagascar, a conservation group that aided in the seizure.


Richard Branson's pet lemur project is a terrible idea

(04/19/2011) Richard Branson's plan to introduce lemurs on one of his private islands in the Caribbean is a terrible idea if he really aims to protect the primates from extinction. Beyond the much-discussed ecological impact of bringing in non-native primates, Branson's scheme risks undermining conservation efforts where lemurs actually exist in the wild: Madagascar.


Forest Governance Measuring Tools within Collaborative Governance of Tropical Landscapes: Book Review

(04/19/2011) Conservation projects at the landscape level in the tropics often require collaborative governance because there are many factors that may be involved with conserving and enhancing the ecosystem services with a landscape-based project. Yet as eloquently described in Collaborative Governance of Tropical Landscapes, significant issues remain in designing and implementing effective collaborative governance models for tropical landscapes.


New population of nearly extinct Madagascar chameleon discovered

(03/01/2011) Scientists have discovered a new population of the Belalanda chameleon (Furcifer belalandaensis), boosting hope for one of Madagascar's rarest chameleons.


Image: new bird discovered in Madagascar

(02/24/2011) The rich and unique biodiversity of Madagascar has a new member: a forest dwelling bird in the rail family, dubbed Mentocrex beankaensis. In 2009 US and Malaygasy scientists conducted a survey in Madagascar's dry Beanka Forest. They discovered several new species, of which the new rail is the first to be described.


Saving Madagascar's largest carnivorous mammal: the fossa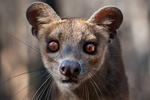 (02/17/2011) Madagascar is a land of wonders: dancing lemurs, thumbnail-sized chameleons, the long-fingered aye-aye, great baobab trees, and the mighty fossa. Wait—what? What's a fossa? It's true that when people think of Madagascar rarely do they think of its top predator, the fossa—even if they are one of the few who actually recognizes the animal. While the fossa gained a little notice in the first Madagascar film by DreamWorks, its role in the film was overshadowed by the lemurs. In this case, art imitates life: in conservation and research this feline-like predator has long lived in the shadow of its prey, the lemur. Even scientists are not certain what to do with the fossa: studies have shown that it's not quite a cat and not quite a mongoose and so the species—and its few Malagasy relatives—have been placed in their own family, the Eupleridae, of which the fossa (Cryptoprocta ferox) is the biggest. But if this is the first you've heard of such matter, don't feel bad: one of the world's only fossa-researchers, Mia-Lana Lührs also stumbled on the species.


Environmental groups deny 'conspiracy' claims by Madagascar's acting leader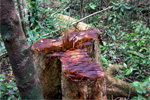 (02/03/2011) Two environmental groups investigating the illegal rosewood trade flatly rejected claims by Madagascar's acting president that they are involved in a campaign to undermine his rule. Andry Rajoelina, the former mayor of the capital city of Antananarivo who assumed power following civil strife in March 2009, claimed last month in an interview with Revue de l'océan Indien that the London-based Global Witness and the Washington D.C.-based Environmental Investigation Agency were attempting to sully his image through their undercover investigation into the rosewood trade. The groups found evidence suggesting that Rajoelina was involved in rosewood trafficking. The evidence included video footage of Chinese rosewood traders claiming to deal directly with Rajoelina.


From Cambodia to California: the world's top 10 most threatened forests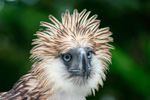 (02/02/2011) Growing populations, expanding agriculture, commodities such as palm oil and paper, logging, urban sprawl, mining, and other human impacts have pushed many of the world's great forests to the brink. Yet scientists, environmentalists, and even some policymakers increasingly warn that forests are worth more standing than felled. They argue that by safeguarding vulnerable biodiversity, sequestering carbon, controlling erosion, and providing fresh water, forests provide services to humanity, not to mention the unquantifiable importance of having wild places in an increasingly human-modified world. Still, the decline of the world's forests continues: the FAO estimating that around 10 million hectares of tropical forest are lost every year. Of course, some of these forests are more imperiled than others, and a new analysis by Conservation International (CI) has catalogued the world's 10 most threatened forests.


'Land grab' fears in Africa legitimate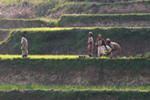 (01/31/2011) A new report by the International Institute for Environment and Development (IIED) has found that recent large-scale land deals in Africa are likely to provide scant benefit to some of the world's poorest and most famine-prone nations and will probably create new social and environmental problems. Analyzing 12 recent land leasing contracts investigators found a number of concerns, including contracts that are only a few pages long, exclusion of local people, and in one case actually giving land away for free. Many of the contracts last for 100 years, threatening to separate local communities from the land they live on indefinitely. "Most contracts for large-scale land deals in Africa are negotiated in secret," explains report author Lorenzo Cotula in a press release. "Only rarely do local landholders have a say in those negotiations and few contracts are publicly available after they have been signed."


New hope for rare lemurs in Madagascar

(01/20/2011) A survey of a remote forest area in Madagascar turned up seven new groups of silky sifaka, a critically endangered lemur threatened by habitat destruction. The finding raises hope that the species—which is listed as one of the world's 25 most endangered primates—is surviving in Marojejy National Park despite an outbreak of illegal rosewood logging in 2009 and 2010.


Burning up biodiversity: forest fires increase in Madagascar

(01/10/2011) The number of fires burning in and around forests in the northeastern part of Madagascar increased during the 2010 burning season relative the the year before, according to analysis of NASA data by WildMadagascar.org / Mongabay.com. The rise in burning corresponds to an especially dry year and continued illegal logging of the region's biologically-rich rainforests.



Page 1 | Page 2 | Page 3 | Page 4 | Page 5 | Page 6