News articles on logging

---
Mongabay.com news articles on logging in blog format. Updated regularly.





Pictures: Turquoise 'dragon' among 1,000 new species discovered in New Guinea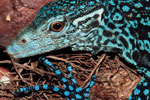 (06/27/2011) Scientists discovered more than 1,000 previously unknown species during a decade of research in New Guinea, says a new report from WWF. While the majority of 1,060 species listed are plants and insects, the inventory includes 134 amphibians, 71 fish, 43 reptiles, 12 mammals, and 2 birds. Among the most notable finds: a woolly giant rat, an endemic subspecies of the silky cuscus, a snub-fin dolphin, a turquoise and black 'dragon' or monitor lizard, and an 8-foot (2.5-m) river shark.


FSC mulls controversial motion to certify plantations responsible for recent deforestation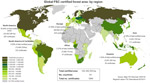 (06/24/2011) Members of the Forest Stewardship Council (FSC), meeting in Malaysia this week for its General Assembly, will consider various changes to the organization, including a vote on a controversial motion that would open the door—slightly at first—to sustainable-certification of companies that have been involved in recent forest destruction for pulp and paper plantations. Known as Motion 18, the change is especially focusing on forestry in places where recent deforestation has been rampant, such as Indonesia and Malaysia.


FSC to continue allowing baboon killing on sustainably-certified plantations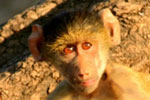 (06/23/2011) Shooting baboons will continue in Forest Stewardship Council (FSC)-certified plantations. After examining a complaint by the NGO GeaSphere against South African plantations for trapping and shooting hundreds of baboons, the FSC has announced it will not place a moratorium on baboon-killing in its sustainably-certified plantations.


Embattled Malaysian minister denies secret Swiss accounts, but not other holdings

(06/22/2011) Abdul Taib Mahmud, chief minister of Sarawak, on Wednesday denied charges that he holds secret Swiss bank accounts containing wealth attained through close ties with logging companies and palm oil firms operating in the Malaysian Borneo state, reports the Associated Press.


Indonesia's moratorium undermines community forestry in favor of industrial interests


(06/21/2011) Indonesia's moratorium on new concessions in primary forest areas and peatlands "completely ignores" the existence of community forestry management licenses, jeopardizing efforts to improve the sustainability of Indonesia's forest sector and ensure benefits from forest use reach local people, say environmentalists. According to Greenomics-Indonesia, a Jakarta-based NGO, community and village forestry licenses are not among the many exemptions spelled under the presidential instruction that defines the moratorium. The instruction, issued last month, grants exemptions for industrial developers and allows business-as-usual in secondary forest areas by the pulp and paper, mining and palm oil industries.


Ahead of meeting, Forest Stewardship Council (FSC) loses another supporter

(06/19/2011) The forest organization, FERN, has pulled its support from the Forest Stewardship Council (FSC), reports FSC-Watch. FERN has quit the increasingly troubled organization due to FSC pursuing carbon credits through forestry. The FSC loses FERN just weeks before its 6th General Assembly, in which FSC partners—including private corporations and some environmental groups—will meet to debate current practices.


Indonesia's forest moratorium

(06/17/2011) World Resource Institute's summary of key elements, and unanswered questions, in Indonesia's recent moratorium on new forest permits.


Poverty doesn't drive deforestation, argues new survey

(06/16/2011) Income from forests and other ecosystem generates a significant proportion of household income in developing countries, finds a six-year survey of 8,000 families from 60 sites in 24 countries.


Sarawak's leader under investigation for corruption linked to logging

(06/10/2011) After months of heavy campaigning by human rights organizations and environmental group, the Malaysian Anti-Corruption Commission's (MACC) announced it is investigating Sarawak Chief Minister Abdul Taib Mahmud for corruption.


Indonesia's anti-mafia unit seeks to reopen $115 billion illegal logging case

(06/08/2011) Indonesia's Anti-Mafia Law Task Force asked authorities Tuesday to reopen an investigation into illegal logging that may have cost the Indonesian state $115 billion.


Indonesian president urges other countries not to buy illegally logged wood from Indonesia

(06/08/2011) Indonesian President Susilo Bambang Yudhoyono asked consuming countries to join the fight against illegal logging in Indonesia, reports the Jakarta Globe.


Barbie, Legos, other toys linked to destruction of Indonesia's rainforests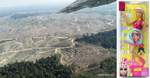 (06/07/2011) Some of the world's largest and most prominent toy-makers are sourcing their packaging materials from companies linked to large-scale destruction of Indonesia's rainforests, alleges a new report from Greenpeace. The report, How APP is Toying with Extinction, is based on forensic analysis of toy packaging from Mattel, which manufacturers Barbie and Hot Wheels toys; Disney, which makes a variety of toys linked to its movies; Hasbro, which produces GI Joe, Star Wars, and Sesame Street toys and various games like Monopoly and Scrabble; and Lego, which makes the iconic plastic building blocks. The analysis found traces of mixed-tropical hardwood (MTH) and acacia fiber which are principally sourced from Asia Pulp & Paper (APP), an umbrella paper products brand that sources from several companies that have been linked to rainforest destruction in Sumatra.


90% of tropical forests managed poorly or not at all

(06/07/2011) More than 90 percent of tropical forests are managed poorly or not at all, says a new assessment by the International Tropical Timber Organization (ITTO).


Government cracks down on illegal logging in Madagascar

(06/02/2011) Authorities in Madagascar seized roughly a thousand logs during an ongoing operation in the northeastern part of the country, which has been besieged by illegal logging, reports l'Express de Madagascar. Seven people were arrested.


Lack of clarity complicates Indonesia's logging moratorium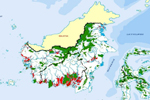 (05/27/2011) Lack of clarity makes it difficult to assess whether Indonesia's moratorium on new logging concessions in primary forest areas and peatlands will actually reduce greenhouse gas emissions from deforestation, according to a new comprehensive assessment of the instruction issued last week by Indonesian President Susilo Bambang Yudhoyono. The analysis, conducted by Philip Wells and Gary Paoli of Indonesia-based Daemeter Consulting, concludes that while the moratorium is "potentially a powerful instrument" for achieving the Indonesian president's goals of 7 percent annual growth and a 26 percent reduction in greenhouse gas emissions from a projected 2020 baseline, the language of the moratorium leaves significant areas open for interpretation, potentially offering loopholes for developers.


Green groups to Japan: don't buy illegally logged wood from Indonesia to aid reconstruction

(05/26/2011) Following Japan's devastating earthquake and tsunami, it needs to rebuild and do so the battered nation has already turned to a neighbor, Indonesia, for timber. However, the Environmental Investigation Agency (EIA) and Indonesian NGO, Telapak, warn that much of the timber that reaches Japan's shores from Indonesia could be illegally logged from rainforests, unless Japan pledges to only purchase legally-certified wood under Indonesia's new assurance system.


Shipping firm pledges to disconnect itself from rainforest destruction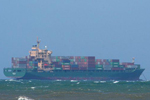 (05/25/2011) The Danish shipping giant Maersk pledged this week to stop purchasing containers with floors made from uncertified tropical hardwood, reports Deutsche Welle press. In an effort to reduce illegal logging and combat climate change, the company will be turning to recycled plastic, bamboo, and tropical wood certified by the Forest Stewardship Council (FSC) for its flooring. The Copenhagen-based firm is the first cargo company to transition to 'green containers' as part of a sustainable business strategy.


Killing in the name of deforestation: Amazon activist and wife assassinated

(05/24/2011) José Cláudio Ribeiro da Silva and his wife, Maria do Espírito Santo da Silva, were gunned down last night in an ambush near their home in the Brazilian state of Pará. Da Silva was known as a community leader and an outspoken critic of deforestation in the region. Police believe the da Silvas were killed by hired assassins because both victims had an ear cut off, which is a common token for hired gunmen to prove their victims had been slain, according to local police investigator, Marcos Augusto Cruz, who spoke to Al Jazeera. Suspicion immediately fell on illegal loggers linked to the charcoal trade that supplies pig iron smelters in the region.


Authorities launch stealth operation in Amazon after satellite images reveal deforestation

(05/24/2011) Brazil's environmental enforcement agency busted an illegal logging ring following analysis of satellite imagery, reports Globo.


Locals clash with 'sustainable' FSC logging company in the Congo

(05/22/2011) Two separate protests against logging companies by local communities have turned violent in the Democratic Republic of Congo (DRC), leaving at least one dead. According to Greenpeace, one of the companies involved in the violence, Sodefor, is sustainably certified by the Forest Stewardship Council (FSC). Given that the industry in DRC is rife with social conflict and corruption, Greenpeace is advocating that FSC place a moratorium on certifying new industrial-style logging concessions in the central African nation.


Indonesia's moratorium disappoints environmentalists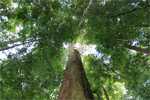 (05/20/2011) The moratorium on permits for new concessions in primary rainforests and peatlands will have a limited impact in reducing deforestation in Indonesia, say environmentalists who have reviewed the instruction released today by Indonesian President Susilo Bambang Yudhoyono. The moratorium, which took effect January 1, 2011, but had yet to be defined until today's presidential decree, aims to slow Indonesia's deforestation rate, which is among the highest in the world. Indonesia agreed to establish the moratorium as part of its reducing emissions from deforestation and degradation (REDD) agreement with Norway. Under the pact, Norway will provide up to a billion dollars in funds contingent on Indonesia's success in curtailing destruction of carbon-dense forests and peatlands.


US southern forests face bleak future, but is sprawl or the paper industry to blame?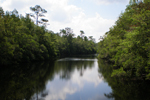 (05/19/2011) More people, less forests: that's the conclusion of a US Forest Service report for forests in the US South. The report predicts that over the next 50 years, the region will lose 23 million acres (9.3 million hectares) largely due to urban sprawl and growing populations amid other factors. Such a loss, representing a decline of over 10 percent, would strain ecosystem services, such as water resources, while potentially imperiling over 1,000 species. However, Dogwood Alliance, which campaigns for conservation of southern forests criticizes the new report for underplaying the role of clearcutting natural forests for the paper industry in the south.


Indonesia signs moratorium on new permits for logging, palm oil concessions

(05/19/2011) After five-and-a-half months of delay due to political infighting, Indonesian President Susilo Bambang Yudhoyono finally signed a two-year moratorium on the granting of new permits to clear rainforests and peatlands, reports Reuters.


Is Indonesia losing its most valuable assets?


(05/16/2011) Deep in the rainforests of Malaysian Borneo in the late 1980s, researchers made an incredible discovery: the bark of a species of peat swamp tree yielded an extract with potent anti-HIV activity. An anti-HIV drug made from the compound is now nearing clinical trials. It could be worth hundreds of millions of dollars a year and help improve the lives of millions of people. This story is significant for Indonesia because its forests house a similar species. In fact, Indonesia's forests probably contain many other potentially valuable species, although our understanding of these is poor. Given Indonesia's biological richness — Indonesia has the highest number of plant and animal species of any country on the planet — shouldn't policymakers and businesses be giving priority to protecting and understanding rainforests, peatlands, mountains, coral reefs, and mangrove ecosystems, rather than destroying them for commodities?


Australia forest destruction connected to local products

(05/15/2011) Some of Australia's most popular stores are driving the destruction of native forests, according to a report by a new environmental group Markets for Change (MFC). Furniture, building materials, and paper products were found to be coming at the expense of native forests in Australia and being sold by over 30 businesses in the country, such as Freedom Furniture, Bunnings, Officeworks, Staples, Target, Coles, and Woolsworths.


Ten-year-old takes on KFC for destroying US forests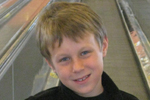 (05/15/2011) Cole Rasenberger's quest to save forests in the US South started as a school assignment to 'be an activist' about something important to him. However, after learning from Dogwood Alliance that coastal forests in North Carolina are being destroyed to make throw-away paper packaging for big fast food companies—such as McDonalds and KFC—Cole Rasenberger, at the age of 8, became more than an activist; he became an environmental leader! He started by targeting McDonalds directly. With the help of 25 friends, and his elementary school administration, he got every student in his school to sign postcards to McDonalds. In all, Cole sent 2,250 postcards to McDonalds.


Program that cuts illegal logging by providing high quality health care in Borneo wins major conservation award

(05/14/2011) The co-founder of an initiative that discourages illegal logging by bringing affordable, high quality health care to impoverished communities in Indonesian Borneo has been recognized with a prestigious conservation award.


Chainsaw Milling: Domestic Unregulated Deforestation Agents or Local Entrepreneurs?

(05/10/2011) Chainsaw milling: supplier to local markets, provides a much needed insight into the generally unregulated on-site conversion of logs into lumber using chainsaws for tropical in-country domestic markets. Tropical forest chainsaw milling juxtaposes local economic benefit with lack, unregulated oversight.


Camera traps capture tiger bonanza in Sumatra forest slated for logging

(05/09/2011) Camera traps set in an area of forest slated for logging for paper production captured photos of a dozen critically endangered Sumatran tigers, reports the World Wildlife Fund for Nature (WWF).


Papua New Guinea suspends controversial grants of community forest lands to foreign corps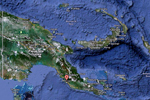 (05/06/2011) The government of Papua New Guinea yesterday suspended its controversial Special Agricultural and Business Leases program which has granted logging and plantation development concessions to mostly foreign corporations across 5.2 million hectares of community forest land, reports the Courier-Post

China's log, sawnwood imports jump

(05/05/2011) China imported $6.1 billion worth of logs in 2010, a 22.4 percent increase over 2009, according to the country's customs bureau.


7 conglomerates control 9M ha of land in Indonesia

(05/05/2011) Efforts to slow deforestation in Indonesia should include curtailing further expansion of forestry holdings by giant conglomerates, says an Indonesian activist group. Analyzing data from the Ministry of Forest's Production Forest Utilization Quarterly Report, Jakarta-based Greenomics-Indonesia found that seven conglomerates in Indonesia control more than 9 million hectares of land, including large forest concessions that will likely be exempt from any moratorium on forest clearing established under the country's Reducing Emissions from Deforestation and Degradation (REDD) program. The extent of holdings could complicate Indonesia's efforts to reduce emissions from logging and plantation development.


Indonesia signs agreement with EU to end the sale of illegally logged wood

(05/04/2011) The EU and Indonesia today signed an agreement in Jakarta that aims to keep illegally logged wood from reaching the European market. This is the first Voluntary Partnership Agreement (VPA) signed by an Asian nation with the EU and is seen as a considerable step forward on the fight against the illegal logging trade worldwide.


Illegal rosewood bust in Madagascar

(04/28/2011) Authorities in Madagascar seized several trucks carrying illegally logged rosewood timber, reports Asity Madagascar, a conservation group that aided in the seizure.


Scientists urge Papua New Guinea to declare moratorium on massive forest clearing

(04/19/2011) Forests spanning an area larger than Costa Rica—5.6 million hectares (13.8 million acres)—have been handed out by the Papua New Guinea government to foreign corporations, largely for logging. Granted under government agreements known as Special Agricultural and Business Leases (SABLs), the land leases circumvent the nation's strong laws pertaining to communal land ownership. Now, the Association for Tropical Biology and Conservation (ATBC), the world's largest professional society devoted to studying and conserving tropical forests, is urging the Papua New Guinea government to declare a moratorium on SABLs.


Indonesia can meet low carbon goals without sacrificing economic growth, says UK report

(04/14/2011) Indonesia can meet its low carbon development goals without sacrificing economic growth, reports an assessment commissioned by the British government.


Greenpeace says McKinsey's REDD+ work could encourage deforestation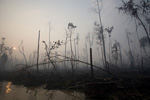 (04/07/2011) One of the world's top consultancies, McKinsey & Co., is providing advice to governments developing 'Reducing Emissions from Deforestation and Degradation' (REDD+) programs that could increase risks to tropical forests, claims a new report published by Greenpeace. The report, Bad Influence – how McKinsey-inspired plans lead to rainforest destruction, says that McKinsey's REDD+ cost curve and baseline scenarios are being used to justify expansion of industrial capacity in Indonesia, Papua New Guinea, Democratic Republic of Congo, and Guyana.


Japan disaster to put logging pressure on rainforests in Indonesia, Malaysia

(04/05/2011) The tragic earthquake and tsunami that hit Japan last month is likely to boost wood imports into the recovering nation, adding increased pressure on the already imperiled rainforests of Southeast Asia. Even before the disaster, Japan was the world's number one importer of wood chips and plywood and the second largest importer of logs. Japan usually imports plywood from China, Malaysia, and Indonesia, however the forests of Southeast Asia are facing tremendous loss due to logging and clearing for industrial-scale agriculture, such as palm oil.


New World Growth report contains 'false and misleading' information


(03/31/2011) A new report from World Growth International, a lobby group for industrial forestry interests, contains 'false and misleading' information on the economic impact of reducing Indonesia's deforestation rate, says an Indonesian environmental group. The report, released today, claims that reducing deforestation in Indonesia will cost the country 3.5 million jobs annually by slowing expansion in the forestry sector.


Photos: Visiting Gunung Palung in Indonesian Borneo


(03/30/2011) A description of mongabay.com's Rhett Butler's recent visit to Gunung Palung National Park in West Kalimantan, Indonesian Borneo. In my travels in Kalimantan, the forest of Gunung Palung around Cabang Panti ranks among the best. Within 24 hours of arriving I had already seen wild orangutans, red leaf monkeys, gibbons, bearded pigs, a variety of lizards and frogs, a cobra (a little too close for comfort), and an innumerable diversity of insects.


Google Earth reveals stark contrast between Sarawak's damaged forests and those in neighboring Borneo states

(03/28/2011) Images from Google Earth show a sharp contract between forest cover in Sarawak, a state in Malaysian Borneo, and the neighboring countries of Brunei and Indonesia at a time when Sarawak's Chief Minister Pehin Sri Abdul Taib Mahmud is claiming that 70 percent of Sarawak's forest cover is intact.


Logged forests in Vietnam retain significant biodiversity, including dipterocarp trees

(03/28/2011) Little remains of Vietnam's primary forest: as of 2005 only 12% of Vietnam forest was classified as primary. While deforestation rates have lessened since the end of the 1990s, survival of species in Vietnam depends in part on secondary, logged, and degraded forests. A new study in mongabay.com's open access journal Tropical Conservation Science finds that logged forests in southern Vietnam still retain significant biodiversity of trees, including important conservation species, such as Dipterocarp trees.


Sawarak chief minister claims 70% of forest intact, invites independent observers to verify

(03/28/2011) Embattled Chief Minister of Sarawak Pehin Sri Abdul Taib Mahmud challenged independent observers to demonstrate that anything less than 70 percent of the Malaysian state's forest cover is "intact" rain forest, according to an interview with Sarawak Reports, a pro-Taib web site created earlier this month.


5 million hectares of Papua New Guinea forests handed to foreign corporations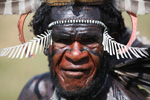 (03/23/2011) During a meeting in March 2011 twenty-six experts—from biologists to social scientists to NGO staff—crafted a statement calling on the Papua New Guinea government to stop granting Special Agricultural and Business Leases. According to the group, these leases, or SABLs as they are know, circumvent Papua New Guinea's strong community land rights laws and imperil some of the world's most intact rainforests. To date 5.6 million hectares (13.8 million acres) of forest have been leased under SABLs, an area larger than all of Costa Rica. "Papua New Guinea is among the most biologically and culturally diverse nations on Earth. [The country's] remarkable diversity of cultural groups rely intimately on their traditional lands and forests in order to meet their needs for farming plots, forest goods, wild game, traditional and religious sites, and many other goods and services," reads the statement, dubbed the Cairns Declaration. However, according to the declaration all of this is threatened by the Papua New Guinea government using SABLs to grant large sections of land without going through the proper channels.


Controversial logging company seeks to raise $450 million in China

(03/21/2011) Asia Pulp & Paper (China) Investment aims to raise up to 3 billion renminbi ($457 million) through a bond issue, reports IFR Asia.


Pulp and paper firms urged to save 1.2M ha of forest slated for clearing in Indonesia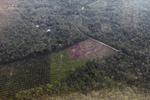 (03/17/2011) Indonesian environmental groups launched a urgent plea urging the country's two largest pulp and paper companies not to clear 800,000 hectares of forest and peatland in their concessions in Sumatra. Eyes on the Forest, a coalition of Indonesian NGOs, released maps showing that Asia Pulp and Paper (APP) and Asia Pacific Resources International Limited (APRIL) control blocks of land representing 31 percent of the remaining forest in the province of Riau, one of Sumatra's most forested provinces. Much of the forest lies on deep peat, which releases large of amount of carbon when drained and cleared for timber plantations.


Goodbye national parks: when 'eternal' protected areas come under attack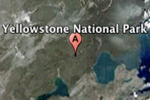 (03/17/2011) One of the major tenets behind the creation of a national park, or other protected area, is that it will not fade, but remain in essence beyond the pressures of human society, enjoyed by current generations while being preserved for future ones. The protected area is a gift, in a way, handed from one wise generation to the next. However, in the real world, dominated by short-term thinking, government protected areas are not 'inalienable', as Abraham Lincoln dubbed one of the first; but face being shrunk, losing legal protection, or in some cases abolished altogether. A first of its kind study, published in Conservation Letters, recorded 89 instances in 27 countries of protected areas being downsized (shrunk), downgraded (decrease in legal protections), and degazetted (abolished) since 1900. Referred to by the authors as PADDD (protected areas downgraded, downsized, or degazetted), the trend has been little studied despite its large impact on conservation efforts.


Congo legalizes 15 logging concessions, prompting concern that moratorium will be lifted next

(03/13/2011) The Democratic Republic of Congo (DRC) has legalized 15 logging concessions that were previously listed as illegal under an effort to clean up the industry of widespread corruption. The environmental group, Greenpeace, fears that the move precedes an announcement to lift the DRC's moratorium on granting any new logging concessions, which would open the Congo Basin to widespread logging.


Japan's earthquake disaster may boost rainforest logging in Borneo

(03/13/2011) Malaysian loggers say Japan's recovery from last week's devastating earthquake and tsunami will boost demand for rainforest timber, reports the Borneo Post.


Fighting illegal logging in Indonesia by giving communities a stake in forest management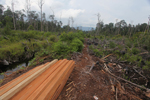 (03/10/2011) Over the past twenty years Indonesia lost more than 24 million hectares of forest, an area larger than the U.K. Much of the deforestation was driven by logging for overseas markets. According to the World Bank, a substantial proportion of this logging was illegal. Curtailing illegal logging may seem relatively simple, but at the root of the problem of illegal logging is something bigger: Indonesia's land policy. Can the tide be turned? There are signs it can. Indonesia is beginning to see a shift back toward traditional models of forest management in some areas. Where it is happening, forests are recovering. Telapak understands the issue well. It is pushing community logging as the 'new' forest management regime in Indonesia. Telapak sees community forest management as a way to combat illegal logging while creating sustainable livelihoods.



Page 1 | Page 2 | Page 3 | Page 4 | Page 5 | Page 6 | Page 7 | Page 8 | Page 9 | Page 10 | Page 11 | Page 12 | Page 13 | Page 14 | Page 15 | Page 16 | Page 17 | Page 18 | Page 19