News articles on logging

---
Mongabay.com news articles on logging in blog format. Updated regularly.





After Indonesian paper giant commits to no deforestation, pressure mounts on its biggest competitor


(02/12/2013) After Indonesian paper giant Asia Pulp & Paper's announcement last week that it will no longer source fiber produced from destruction of tropical rainforests, environmental groups are now urging Indonesia's other major paper company to make a similar commitment. On Tuesday, WWF echoed Greenpeace's call for Asia Pacific Resources International Limited (APRIL) to eliminate deforestation from its supply chain. Like APP, APRIL has been linked to large-scale conversion of Sumatra's endangered rainforests for industrial tree plantations to produce pulp and paper.


Rosewood in Belize: the truth behind the smoke

(02/11/2013) In Belize, the uncontrolled and often illegal harvesting of rosewood has been, and still is, one of the major environmental issues in the country. In March of last year, the government established a moratorium on the export and extraction of rosewood, however illegal harvesting continued. On Friday 11 January, the Minister of Forestry, Fisheries and Sustainable Development made the bold move of burning confiscated illegally cut rosewood flitches.


Activists blast World Bank on continued support of industrial rainforest logging

(02/11/2013) Two environmental activist groups blasted the World Bank over its reported decision to block a probe into its support of industrial-scale rainforest logging.


China's forest privatization move threatens pandas

(02/08/2013) China's decision to open up collective forest for sale by individuals to outside interests will put 345,700 hectares or 15 percent of the giant panda's remaining habitat at risk, warns a letter published in the journal Science.


Report: nearly half the timber from Mozambique to China is illegal


(02/07/2013) Forty-eight percent of the timber making its way from Mozambique's forests to Chinese companies was harvested illegally, according to a new report by the Environmental Investigation Agency (EIA), which blames the problem on widespread corruption and poor governance. The illegal logging cost Mozambique, the world's fourth least-developed country in the world according to the UN, $29 million in tax revenue, says the report.


Investors beware: global land grabbing ends in 'financial damage' and human rights violations


(02/07/2013) Investing in companies that flout local community rights in developing countries often leads to severe economic losses, according to a new report from the Rights and Resources Initiative (RRI). A rising trend in "land grabbing" from Africa to South America by corporations and even foreign governments results in social instability, which can lead to large-scale protests, violence, and even murder, delaying and sometimes derailing projects. Such instability poses massive risk to any investor, not to mention supporting corporate entities that are accused of ignoring human rights.


The beginning of the end of deforestation in Indonesia?


(02/05/2013) Asia Pulp & Paper, a forestry giant that has been widely criticized for its role in driving deforestation and contributing to social conflict in Indonesia, today announced a zero deforestation policy that could have a dramatic impact on efforts to slow the Southeast Asian nation's high rate of deforestation. The policy, which went into effect February 1, is ambitious enough that one of APP's most vocal critics and agitators, Greenpeace, will suspend its highly-damaging campaign against the paper giant. The campaign against APP has cost the paper giant tens of millions of dollars in lost business since 2009. The new policy targets several of the major criticisms against APP, including deforestation, degradation of high carbon peatlands, conservation of critical wildlife habitat, and social conflict with local communities.


World Bank's forestry investments failing to meet conservation, rights, and anti-poverty goals, finds internal audit

(01/30/2013) The World Bank's investments in forestry over the past decade have failed to meet key objectives of reducing poverty, preserving forests, slowing climate change, or benefitting local communities, according to a report developed by its internal auditing body.


HarperCollins establishes policy barring paper sourced from rainforest destruction


(01/29/2013) HarperCollins has established a policy that excludes paper sourced from destruction of tropical rainforests and old growth forests. The revised policy, posted on its web site earlier this month, is a response to a campaign by the Rainforest Action Network (RAN), an activist group that is targeting companies linked to clearing of Indonesian rainforests and peatlands for pulp and paper production:


Large blocks of Sumatra's endangered rainforest may be put up for mining, logging


(01/28/2013) The Indonesian province of Aceh on the western tip of the island of Sumatra may be preparing to lift the protected status of key areas of lowland rainforest potentially ending its bid to earn carbon credits from forest conservation and putting several endangered species at increased risk, according to reports.


Illegally logged trees to start calling for help

(01/24/2013) Illegal loggers beware: trees will soon be calling—literally—for backup. The Brazilian government has begun fixing trees with a wireless device, known as Invisible Tracck, which will allow trees to contact authorities after being felled and moved.


Scientists point to research flaw that has likely exaggerated the impact of logging in tropical forests


(01/23/2013) The impact of logging on tropical forest species has likely been exaggerated by statistical problems, according to a new study in Conservation Biology. Reviewing 77 studies on how logging affects tropical biodiversity, scientists found that 67 percent were flawed by a technical problem known as 'pseudoreplication.' The debate over logging in tropical forests has garnered significant attention recently as some scientists argue that well-managed logging areas can actually retain impressive numbers of species, while others say logging does irreparable harm to the ecosystem's ecology.


New website tracks protected areas under attack


(01/16/2013) The struggle to safeguard wild lands and species doesn't end when a park or protected area is created. In fact, social scientists and conservationists are increasingly uncovering a global trend whereby even long-established protected areas come under pressure by industrial, governmental, or community interests. This phenomenon, recently dubbed PADDD (which stands for Protected Area Downgrading, Downsizing, and Degazettement), includes protected areas that see their legal status lowered (downgraded), lose a section of their land (downsized), or are abolished entirely (degazetted). Now, a new website from WWF seeks to track PADDD events worldwide.


Diverse forestry stands better than monocultures, finds study

(01/11/2013) Growing a diverse array of tree species for timber production contributes a broader array of valuable ecosystem services compared to industrial monocultures, reports a new study based on field work in Sweden.


Dead tigers, dead people: logging by paper industry worsens human-tiger conflict in Sumatra, alleges report


(01/10/2013) Destruction of rainforests and peatlands on the Indonesian island of Sumatra by the pulp and paper industry is worsening conflict between tigers and humans, including fatal encounters, alleges a new report published by a coalition of environmental groups in Riau, Sumatra. The report looks specifically at five concessions operated by companies that supply wood to Asia Pulp & Paper (APP) and its corporate parent, the Sinar Mas Group (SMG). The report says that the majority of human-tiger conflict incidents in Riau between 1997 and 2009 occurred within these concessions.


The year in rainforests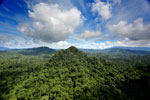 (12/31/2012) 2012 was another year of mixed news for the world's tropical forests. This is a look at some of the most significant tropical rainforest-related news stories for 2012. There were many other important stories in 2012 and some were undoubtedly overlooked in this review. If you feel there's something we missed, please feel free to highlight it in the comments section. Also please note that this post focuses only on tropical forests.


Paper giant breaks pledge to end rainforest logging in Sumatra, says group


(12/26/2012) Pulp and paper giant Asia Pacific Resources International Limited (APRIL) continues to destroy large areas of rainforests and peatlands despite a commitment to end natural forest logging by 2009, says a new report issued by a coalition of Indonesian environmental groups. The Eyes on the Forest report finds that APRIL and its suppliers cleared at least 140,000 hectares (346,000 acres) of natural forest between 2008 and 2011 in Riau, accounting for 27 percent of all forest loss in the province during the period. Some of the area cleared by APRIL and its subsidiaries consisted of deep peat swamp forest, which stores massive amount of carbon.


Children's Christmas books published by HarperCollins linked to deforestation in Indonesia, says group

(12/14/2012) Fancy Nancy's Splendiferous Christmas and other children's books sold by publisher HarperCollins show traces of rainforest fiber and are therefore linked to deforestation in Indonesia, says the Rainforest Action Network (RAN), an environmental activist group.


Recovery of Atlantic Forest depends on land-use histories

(12/10/2012) The intensity of land-use influences the speed of regeneration in tropical rainforests, says new research. Tropical rainforests are a priority for biodiversity conservation; they are hotspots of endemism but also some of the most threatened global habitats. The Atlantic Forest stands out among tropical rainforests, hosting an estimated 8,000 species of endemic plants and more than 650 endemic vertebrates. However, only around 11 percent of these forests now remain.


Amazon has nearly 100,000 km of roads

(12/08/2012) The Amazon Basin has 96,500 kilometers of roads, nearly two-thirds of which are unpaved, reports a comprehensive new atlas of the region, which contains the world's largest rainforest.


Greenpeace says U.S. logging company has broken landmark boreal forest agreement

(12/06/2012) When a long-fought peace was reached between nine environmental groups and 20 logging companies in 2010 for the vast Canadian boreal forest, it was dubbed the "world's largest conservation agreement." However, now that agreement is being shaken. A dispute between Greenpeace and U.S. logging company, Resolute Forest Products, over alleged logging in critical caribou habitat has resulted in the activist group abandoning the agreement.


Global decline of big trees in old-growth forests worrying, argue scientists

(12/06/2012) The decline of large trees is putting biodiversity and forest health at risk globally, warn researchers writing in the journal Science.


Illegal logging, mining worsened impact of Philippines' killer typhoon

(12/06/2012) According to Filipino officials, rampant illegal logging and mining were likely a part of the cause for the high casualty count from Category 5 Typhoon Bopha (Pablo), especially in the Compostela Valley where government officials had warned people to stop the illegal activities. So far, 370 people have been found dead on the island of Mindanao with another 400 missing. Waters rose so high even emergency shelters were inundated.


Asia Pulp & Paper hires top U.S. lobbyist to help 'green' its image


(12/05/2012) Indonesian forestry giant Asia Pulp & Paper (APP) has hired a top U.S. official to help it work through trade and environmental issues. In November, APP announced it had retained Stuart Eizenstat of Covington & Burling, a U.S.-based law firm, to help 'ensure APP's trade and sustainability compliance in North America'. Eizentstat's hiring is notable because he led the U.S. delegation that negotiated the Kyoto Protocol and has served in a number of high-level government positions, including U.S. Ambassador to the European Union; Under Secretary of Commerce for International Trade; Under Secretary of State for Economic, Business and Agricultural Affairs; and Deputy Secretary of the Treasury in the Clinton Administration.


Indonesia lost 8.8m ha of forest in the 2000s, generating 7 billion tons of CO2

(12/02/2012) Indonesia's greenhouse gas emissions from deforestation could have been reduced by hundreds of millions of tons had a moratorium on new concessions in high carbon forest areas and peatlands been implemented earlier, reported a researcher presenting at a forests conference on the sideline of climate talks in Doha.


'Exporting deforestation': China is the kingpin of illegal logging


(11/29/2012) Runaway economic growth comes with costs: in the case of China's economic engine, one of them has been the world's forests. According to a new report by the Environmental Investigation Agency (EIA), China has become the number one importer of illegal wood products from around the world. Illegal logging—which threatens biodiversity, emits carbon, impoverishes local communities, and is often coupled with other crimes—has come under heavy pressure in recent years from the U.S., the EU, and Australia. Each of these has implemented, or will soon implement, new laws that make importing and selling illegal wood products domestic crimes. However, China's unwillingness to tackle its vast appetite for illegal timber means the trade continues to decimate forests worldwide.


5 years in, debates over REDD+ continue


(11/28/2012) An initiative that aims to slow global warming by paying developing countries to protect and better manage their forests is expected to be an important storyline during climate talks in Doha this week and next. REDD+ (Reducing Emissions from Deforestation and Degradation), as the mechanism is known, has grown in complexity since it gained momentum during the 2005 climate talks in Montreal, but is arguably moving forward faster than other areas of climate negotiations. Still, many elements of REDD+ continue to be as hotly debated today as they were five years ago when it got the conceptual OK from the U.N. These include the process for establishing baselines to measure reductions in emissions, safeguards to protect against adverse outcomes for biodiversity and forest-dependent communities, and financing and markets.


Featured video: how locals depend on Kalimantan's vanishing forests

(11/27/2012) A new video explores local indigenous views of the forests of Kalimantan or Indonesian Borneo. Having depended on the rainforest ecosystems for centuries, indigenous groups now find themselves under pressure to exploit forest for logging, coal mining, or industrial plantations. While biodiversity, carbon sequestration, and other ecosystem services are at stake, the forests are also deeply intertwined with the culture and way-of-life for indigenous group.


Legislation leaves future of world's largest temperate rainforest up in the air


(11/27/2012) Although unlikely to pass anytime in the near term, recurring legislation that would hand over 80,000 acres of the Tongass Rainforest to a Native-owned logging corporation has put local communities on guard in Southeast Alaska. "The legislation privatizes a public resource. It takes land that belongs to all of us, and that all of us have a say in the use and management of, and it gives that land to a private for-profit corporation," Andrew Thoms, Executive Director of the Sitka Conservation Society, told mongabay.com in a recent interview.


Australia outlaws illegally-logged wood from abroad

(11/21/2012) In another blow to illegal loggers, Australia has passed the Illegal Logging Prohibition Bill, joining the U.S. in outlawing the importation of illegal logged timber from abroad. The new legislation makes it a criminal offense for Australian businesses to import timber from illegal operations. The Australian government estimates that $400 million worth of illegal timber products are sold in the country each year often as outdoor furniture and wood for decks


Rights groups, environmentalists aim to block funding for new Sumatran pulp mill

(11/16/2012) A coalition of more than 60 civil society groups has warned bankers and insurers not to invest in a massive new mill slated for construction on the island of Sumatra. The NGOs say the mill will drive deforestation and increase conflict in a region already wracked with social and environmental problems.


Borneo may lose half its orangutans to deforestation, hunting, and plantations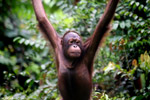 (11/13/2012) Borneo will likely lose half of its orangutans if current deforestation and forest conversion trends continue, warns a comprehensive new assessment by an international team of researchers. The study, published in the journal PLoS ONE, overlays orangutan distribution with land use regulations in Malaysian and Indonesian Borneo. Borneo has suffered high rates of deforestation, logging, and forest conversion for industrial plantations in recent decades, endangering the world's largest surviving populations of orangutans.


Foreign loggers and corrupt officials flouting logging moratorium in the Democratic Republic of Congo


(11/08/2012) In 2002 the Democratic Republic of Congo (DRC) announced a moratorium on commercial logging in a bid to save rapidly falling forests, however a new report by Global Witness alleges that industrial loggers are finding a way around the logging freeze. Through unscrupulous officials, foreign companies are abusing artisanal permits—meant for local community logging—to clear-cut wide swathes of tropical forest in the country. These logging companies are often targeting an endangered tree—wenge (Millettia laurentii)—largely for buyers in China and Europe.


HSBC bank funding large-scale rainforest destruction and invasion of indigenous lands in Borneo, alleges report


(11/02/2012) HSBC has earned tens of millions financing the destruction of rainforests and invasion of indigenous land in the Malaysian state of Sarawak on the island of Borneo, alleges an explosive new report from Global Witness.


After protracted Greenpeace campaign, KFC UK says it will no longer source from Asia Pulp & Paper


(10/31/2012) After months of pressure from Greenpeace on its alleged links to deforestation in Indonesia, KFC UK/Ireland has adopted a forest policy that excludes fiber sourced via conversion of tropical rainforests. The policy excludes suppliers like Asia Pulp & Paper (APP), the Chinese/Indonesian forestry giant that has been the primary target of the Greenpeace campaign, but appears to apply only to Kentucky Fried Chicken operations in Britain and Ireland.


Future of the Tongass forest lies in salmon, not clear-cut logging


(10/25/2012) The Parnell administration's Timber Task Force recently unveiled a proposal to carve out two million acres of the Tongass National Forest for clear-cut logging under a state-managed "logging trust." The stated goal is to revive Southeast Alaska's timber industry that collapsed two decades ago amid changing market conditions, logging cutbacks and evolving public opinion about timber harvesting on national forests.


Smuggling of illegally logged rosewood in Madagascar continues, alleges report

(10/25/2012) Timber traders in Madagascar are smuggling illegally logged rosewood despite an official export ban, alleges a new report published by a Malagasy researcher.


APP overstates significance of its logging moratorium in Indonesia, says report

(10/25/2012) Beleaguered forestry giant Asia Pulp & Paper (APP) is overstating the conservation significance of its recently announced moratorium on forest conversion on the islands of Sumatra and Borneo, argues a new report issued by an Indonesian activist group.


Will designation of new administrative districts lead to more deforestation in Indonesia?


(10/24/2012) On Monday Indonesia's House of Representatives moved to establish 'North Kalimantan', a new province in Indonesian Borneo. It also voted for four new districts: Pangandaran in West Java, South Coast in Lampung, and South Manokwari and Arfak Mountains in West Papua. While the moves aim to improve governance by boosting local autonomy, they could make it more difficult for Indonesia to meet its deforestation reduction goals if recent trends — detailed in a 2011 academic paper — hold true.


China's timber imports plunge

(10/18/2012) Imports of logs and timber to China plunged 19 percent during the first eight months of 2012 relative to the same period a year earlier reports the Wood Resource Quarterly. The slowdown is attributed to a drop in demand due to reduced construction.


Cambodia drops case of murdered forest activist, Chut Wutty

(10/08/2012) An investigation into the mysterious death of Cambodian forest activist, Chut Wutty, has been dismissed by the courts, which critics allege is apart of an ongoing cover up. The court decided that since the suspect in Wutty's death, In Rattana, was also dead there was no need to proceed. Chut Witty was shot to death while escorting two journalists to a logging site run by Timbergreen. Wutty, whose death made international news, was a prominent activist against illegal logging in Cambodia.


Illegal logging worth $30-100B annually

(10/01/2012) Illegal logging accounts for 15-30 percent of forestry in the tropics and is worth $30-100 billion worldwide, alleges a new report published by the United Nations Environment Programme (UNEP) and INTERPOL. Consuming countries play a major role in the trade, which is increasingly sophisticated and in some places is facilitated by the expansion of industrial plantations.


Sustainability pact aside, Greenpeace says paper giant APP must stop facilitating deforestation

(09/27/2012) Asia Pulp & Paper (APP) must stop accepting timber sourced from clearance of rainforests and peatlands for its sustainability pact to have any credibility, says Greenpeace.


Another journalist attacked in Cambodia for covering illegal logging

(09/27/2012) Two weeks after an environmental journalist was found murdered in the trunk of his car, another journalist has been brutally attacked in Cambodia. Ek Sokunthy with the local paper Ta Prum says he was beaten in his home by three assailants by a pistol and a stick. The attack follows swiftly after the high-profile murder of 44-year-old forest journalist Hang Serei Oudom.


Agriculture causes 80% of tropical deforestation


(09/27/2012) Agriculture is the direct driver of roughly 80 percent of tropical deforestation, while logging is the biggest single driver of forest degradation, says a new report funded by the British and Norwegian governments. The report presents an overview of drivers of deforestation to inform policymakers involved in developing the REDD+ mechanism, an international program that aims to reduce emissions from deforestation and forest degradation.


In eco-pact, will controversial paper giant APP turn over a new leaf?


(09/26/2012) Over the past decade-and-a-half there has arguably been no paper supplier as controversial as Asia Pulp & Paper (APP), an umbrella brand for several Indonesian forestry companies. The paper giant has been dogged by allegations that is destroying key wildlife habitat, driving substantial greenhouse gas emissions through the conversion of peat forests, dispossessing local communities of land, and engaging in a heavy-handed campaign to undermine its critics within Indonesia and abroad. Its reputation hasn't be helped by its financial record — in 2001 it defaulted on $13.9 billion in debt, making it difficult for APP to raise money for expansion.


Corruption still plundering forests in Laos for furniture

(09/26/2012) The forests of Lao are still suffering from widespread destruction with the government turning a blind eye to a thriving black market logging trade on the border of Laos and Vietnam, according to an update report by the Environmental Investigation Agency (EIA). Last year, the EIA found that powerful players, including the Vietnamese military, were plundering Laos of its forests for raw logs. Smuggled from Laos into Vietnam, the raw logs are crafted into furniture, which are eventually exported to Europe and the U.S. Now, over a year later a new report finds little has changed.


NGO: Malaysian leader worth $15 billion despite civil-servant salary; timber corruption suspected

(09/19/2012) Abdul Taib Mahmud, who has headed the Malaysian state of Sarawak for over 30 years, is worth $15 billion according to a new report by the Bruno Manser Fund. The report, The Taib Timber Mafia, alleges that Taib has used his position as head-of-state to build up incredible amounts of wealth by employing his family or political nominees to run the state's logging, agriculture, and construction businesses. Some environmental groups claim that Sarawak has lost 90 percent of its primary forests to logging, while indigenous tribes in the state have faced the destruction of their forests, harassment, and eviction.


Environmental journalist investigating illegal logging murdered in Cambodia

(09/13/2012) Less than five months after high-profile forest activist, Chut Wutty, was killed in Cambodia, an environmental journalist, Hang Serei Oudom, has been found slain in the trunk of his car, possibly murdered with an ax, reports the AFP. Oudum, who worked at the local paper Vorakchun Khmer Daily, was known for writing stories on epidemic of illegal logging in Cambodia, often linking the crime to business people and politicians. The car and body were found in a cashew nut plantation in Ratanakiri province, an area rife with logging.


APP establishes deforestation moratorium in Jambi; greens remain skeptical

(09/06/2012) Asia Pulp & Paper (APP) has established a moratorium on natural forest conversion in Jambi province on the island of Sumatra, according to a report issued by the Indonesian forestry giant.



Page 1 | Page 2 | Page 3 | Page 4 | Page 5 | Page 6 | Page 7 | Page 8 | Page 9 | Page 10 | Page 11 | Page 12 | Page 13 | Page 14 | Page 15 | Page 16 | Page 17 | Page 18 | Page 19