News articles on lizards

---
Mongabay.com news articles on lizards in blog format. Updated regularly.






Up to 11 stunningly colorful chameleon species discovered in Madagascar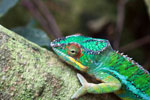 (05/26/2015) The panther chameleon, a lizard prized in the pet trade for its remarkable color changing abilities, may actually represent 11 different species, report researchers writing in the journal Molecular Ecology. Analyzing the genetics of more than 300 individual panther chameleons, Swiss and Malagasy researchers make a case that different color morphs of Furcifer pardalis may be distinct species.
New species of monitor lizards found on the black market
(03/27/2015) Searching the globe for undiscovered species takes biologists to far and remote locations, trekking through exotic locales that may yield a new discovery. However, exploring the black market can also produce results. And this is just the case for Rafe Brown, curator of the University Of Kansas (KU) Biodiversity Institute, during a recent visit to the Philippines. In a black market in Manila, Brown and his colleagues discovered two new species of water monitor lizard for sale.
Lizard see, lizard do: scientists discover surprising behavior in reptiles
(12/10/2014) Imitation can be obnoxious. For those with siblings, imitating your brother's or sister's every word was a surefire way to steadily drive them toward insanity. Annoying it may be, imitation is also special; it's a behavior long regarded to be uniquely human. The skill of imitation is a little less exclusive now, as reptiles join the ranks of creatures capable of the social feat. Researchers from the United Kingdom and Austria recently demonstrated that one lizard, the bearded dragon (Pogona vitticeps), can learn through imitation.
Striking new gecko discovered in Thailand
(12/09/2014) A research team based in western Thailand has discovered a new gecko species in the Kanchanaburi Province, a region renowned for its number of species found nowhere else in the world. A recent publication describes the Sai Yok bent-toed gecko (Cyrtodactylus saiyok), the sixth reptile species endemic to the region known to science.
Meet the world's rarest chameleon: Chapman's pygmy
(11/25/2014) In just two forest patches may dwell a tiny, little-known chameleon that researchers have dubbed the world's most endangered. Chapman's pygmy chameleon from Malawi hasn't been seen in 16 years. In that time, its habitat has been whittled down to an area about the size of just 100 American football fields.
Chameleon crisis: extinction threatens 36% of world's chameleons
(11/24/2014) Chameleons are an unmistakable family of wonderfully bizarre reptiles. They sport long, shooting tongues; oddly-shaped horns or crests; and a prehensile tail like a monkey's. But, chameleons are most known for their astonishing ability to change the color of their skin. Now, a update of the IUCN Red List finds that this unique group is facing a crisis that could send dozens of chameleons, if not more, to extinction.
Of bluefin and pufferfish: 310 species added to IUCN Red List
(11/17/2014) Today, 22,413 species are threatened with extinction, according to the most recent update of the IUCN Red List. This is a rise of 310 species from the last update in the summer. The update includes the Pacific bluefin tuna, the Chinese pufferfish, and Chapman's pygmy chameleon, among others.
Hitchhiking Caribbean lizard upends island biogeography theory
(09/26/2014) The biggest factor determining species diversity and distribution on islands is not size and isolation, as traditional island biogeography theory states, but economics. Simply put, the more trade an island is engaged in, the more boats visit it, and with more boats comes more hitchhikers.
Scientists uncover six potentially new species in Peru, including bizarre aquatic mammal (photos)
(09/25/2014) A group of Peruvian and Mexican scientists say they have uncovered at least six new species near South America's most famous archaeological site: Machu Picchu. The discoveries include a new mammal, a new lizard, and four new frogs. While the scientists are working on formally describing the species, they have released photos and a few tantalizing details about the new discoveries.
Bizarre lizard newest victim of reptile pet trade
(09/15/2014) If you've never heard of the earless monitor lizard, you're not alone: this cryptic lizard has long-escaped the attention of the larger public. But over the past couple years its bizarre appearance has been splashed across social media sites for reptile collectors. While this decidedly-quirky attention may seem benign, it could actually threaten the species' existence.
Google Earth spurs discovery of a 'new' chameleon species
(08/17/2014) Google Earth has spurred the discovery of another new species. In this case, the creature is a pygmy chameleon, one of four previously unknown Rhampholeon chameleon species described from the remote 'sky islands' in Mozambique. The Mount Mabu pygmy chameleon was discovered after Google Earth images of a tract of forest led Julian Bayliss to launch a scientific expedition to the region.
Olinguito, tinkerbell, and a dragon: meet the top 10 new species of 2013
(05/22/2014) Out of around 18,000 new species described and named last year, scientists have highlighted ten in an effort to raise awareness about the imperiled biodiversity around us. Each species—from a teddy-bear-like carnivore in the Andes to a microbe that survives clean rooms where spaceships are built—stands out from the crowd for one reason or another.
Will they hold on? Three new gecko species found in threatened habitat
(05/02/2014) Malaysia is set to lose ancient limestone formations to quarrying despite the discovery of new species of geckos in the area. The species are described in three studies recently published in the journal Zootaxa. One of the discoveries, Cyrtodactylus metropolis, is the first endemic vertebrate species discovered in the Batu Caves area.
Scientists discover new gecko hanging-on in single forest fragment
(02/17/2014) Scientists have identified a new species of day gecko that is the largest in its genus (Cnemaspis) to be found in Sri Lanka. To date, it has been observed only within the Rammalakanda Reserve in southern Sri Lanka, an area spanning just 1,700 hectares, raising questions about the viability of this population and hence the species' long-term prospects.
Next big idea in forest conservation? Incentivizing keeping primary forests intact
(02/07/2014) Much of Dr. Corey Bradshaw's work has a singular aim: to keep primary habitats and functioning ecosystems intact. According to Bradshaw, the existing system of carbon trading rules needs to be changed so that primary forests are given a higher value than other forms of land use. 'Nothing, can replace primary vegetation, both in terms of biodiversity value and other ecosystem services.'
One lizard, four species: the collared treerunner
(01/21/2014) Now, that's a horse of a different color. Or, in this case, a lizard of another species--four species. Recent research suggests that the collared treerunner (Plica plica), previously thought of as one widespread species, is actually four distinct species inhabiting diverse geographical areas east of the Andes in northern South America.
Microhabitats could buffer some rainforest animals against climate change

(11/25/2013) As temperatures increase worldwide due to anthropogenic climate change, scientists are scrambling to figure out if species will be able to survive rapidly warming ecosystems. A new study in Global Change Biology offers a little hope. Studying reptiles and amphibians in the Philippines, scientists say some of these species may be able to seek refuge in cooler microhabitats, such as tree holes or under the soil, in order to stay alive during intensifying heatwaves. But, the scientists' stress, the shelter from microhabitats can only protect so far.
Critically Endangered Jamaican iguana imperiled by port development
(11/08/2013) The story of the Jamaican iguana (Cyclura collie) is one of adversity and resurgence. Once believed extinct, the species has made a remarkable comeback over the last two decades. However, according to concerned scientists, a new plan to build a massive port in the iguana's habitat could push the species back to the edge of extinction.
Scientists identify individual lizards by their irises
(10/29/2013) Institutions and governments have been scanning human irises for years to verify one's identity—Google has been using this method since 2011—but could iris-scanning be employed on other species as well? According to a new study in Amphibia-Reptila, the answer is 'yes.' Scientists have recently employed iris scanning to visually distinguish individuals of an imperiled gecko subspecies (Tarentola boettgeri bischoffi) found on Portugal's Savage Islands off the coast of Western Sahara.
The iguana man: saving the reptilian kings of the Bahamas
(08/01/2013) Before the arrival of humans—with their dogs, cats, and wild pigs—the northern Bahamian rock iguana ruled its home range, being pound-for-pound among the biggest land animals on the islands. In these ecosystems, the iguana's were the mega-grazers, the bison and elk of the Caribbean one might say. But hunting by humans, invasive species, and habitat loss knocked the king from its throne: pushing it into smaller habitats and decimating its population. Today the three subspecies of the northern Bahamian rock iguana (Cyclura cychlura) hang by a thread. And now a new threat is rising: poorly-regulated tourism, including iguana feeding.
Dominican Republic sends bulldozers to destroy wildlife reserve, home to endangered species
(07/23/2013) Last Wednesday, bulldozers entered the Loma Charco Azul Biological Reserve (LCABR) in the Dominican Republic and began clearing vegetation for agricultural development. The move stunned local conservationists who had not been notified ahead of time of the project. Although Charco Azul Biological Reserve is home to a wealth of threatened species—including the world's largest population of the Critically Endangered Ricordi's iguana (Cyclura ricordi)—the destruction of the reserve was signed off by the Dominican Republic's Minister of the Environment, Bautista Rojas Gómez.
Monitor lizards vanishing to international trade in pets and skins
(06/04/2013) The world's monitor lizards remind us that the world was once ruled by reptiles: this genus (Varanus) includes the world's biggest lizards, such as the stunning Komodo dragon and many other island kings. A large number beautifully-colored and patterned, these lizards are known for their intelligence and their apex role in many island food chains. However, a new study finds that the world's monitors, especially those in Southeast Asia, are vanishing due to the international pet trade and for their skins, which are turned into handbags and straps for watches. Meanwhile the rapid destruction of their rainforest homes is exacerbating the situation.
Madagascar's chameleons came from African mainland

(03/29/2013) Madagascar's color-changing chameleons originated in Africa and crossed over to the island some 65 million years ago, concludes a study published this week in the Proceedings of the Royal Society B.
Scientists discover two new remarkably-colored lizards in the Peruvian Amazon (photos)
(03/21/2013) Scientists have discovered two new species of woodlizards from the Peruvian Amazon. Woodlizards, in the genus Enyalioides, are little-known reptiles with only 10 described species found in South and Central America. Described in a new paper in ZooKeys, both new woodlizards were found in Cordillera Azul National Park, the nations third-largest.
Photos: Neon blue dragon discovered in Vietnamese rainforest
(01/15/2013) German and Russian biologists have discovered a stunning new species of lizard in Vietnam. The species, dubbed Calotes bachae, is described in a recent issue of the journal Zootaxa. Calotes bachae is a type of agama, a group of lizards commonly known as 'forest dragons.'
Animals of the Masai Mara - book review

(01/06/2013) Animals of the Masai Mara is the first illustrated guidebook to the Masai Mara region along the Kenya and Tanzania border. This is the world famous region of wildebeest migrations, large felines, towering African elephants, fascinating cultures, and great flora and fauna diversity. This is the guidebook for every child, and child inside of us, between the ages of 5 and 105 that has ever dreamt of learning about the fascinating animals seen on a safari in Africa.
Indonesia remains epicenter for illegal wildlife trade in reptiles and amphibians
(10/24/2012) Demand for exotic pets is driving the illegal harvest and trade of herpetofauna (reptiles and amphibians) in Indonesian New Guinea, according to a recent study published in the journal Biodiversity and Conservation. Between September 2010 and April 2011, Daniel Natusch and Jessica Lyons of the University of New South Wales surveyed traders of amphibians and reptiles in the Indonesian provinces of Maluku, West Papua and Papua.
Remarkable comeback: blue iguana downgraded to Endangered after determined conservation efforts

(10/23/2012) The wild blue iguana population has increased by at least 15 times in the last ten years, prompting the IUCN Red List to move the species from Critically Endangered to just Endangered. A targeted, ambitious conservation program, headed by the Blue Iguana Recovery Team, is behind this rare success for a species that in 2002 only numbered between 10 and 25 individuals.
Animal pictures of the day: booming captive breeding for Mauritius skinks

(08/14/2012) Three female orange-tailed skinks skinks have produced 16 skink babies in just four months, according to the Durrell Wildlife Conservation Trust (DWCT), which is captive breeding the Critically Endangered species. The breeding efforts are all the more remarkable since the females only produce two eggs at a time.
Cute animal picture of the day: baby Yemen chameleons

(07/23/2012) Ten Yemen chameleons (Chamaeleo calyptratus) were recently born at the Zoological Society of London's (ZSL) Whipsnade Zoo. A popular pet species, the chameleons, also known as veiled chameleons, still thrive in the mountainous wilds of Yemen and Saudi Arabia. It is listed as Least Concern by the IUCN Red List.
New armored lizard discovered in landmine-riddled region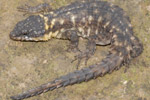 (05/21/2012) A new lizard has been discovered in a war-torn area of the Democratic Republic of the Congo (DRC). According to a paper in the African Journal of Herpetology<, the new species was found hiding under a rock in the high grasslands of the Marungu Plateau, an area known for landmines.
Skink biodiversity jumps 650 percent in the Caribbean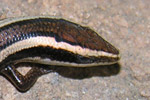 (04/30/2012) In a single paper in Zootaxa scientists have rewritten the current understanding of lizard biodiversity in the Caribbean. By going over museum specimens of skinks, scientists have discovered 24 new species and re-established nine species previously described species, long-thought invalid. The single paper has increased the number of skinks in the Caribbean by 650 percent, from six recognized species to 39. Unfortunately, half of these new species may already be extinct and all of them are likely imperiled.
New reptile discovered in world's strangest archipelago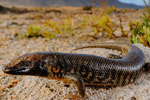 (04/25/2012) Few people have ever heard of the Socotra Archipelago even though, biologically-speaking, it is among the world's most wondrous set of islands. Over one third of Socotra's plants are found no-where else on Earth, i.e. endemic, while 90 percent of its reptiles are also endemic. Adding to its list of unique life-forms, researchers have recently uncovered a new skink species that is found only on the island of Abd al Kuri, which is slightly smaller than New York City's Staten Island. Dubbed the "the other Galapagos," the four Socotra islands are under the jurisdiction of Yemen, although geographically speaking the islands are actually closer to Somalia.
Photo: World's smallest chameleon discovered in Madagascar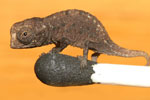 (02/15/2012) Scientists have discovered four new species of super-tiny chameleons in Madagascar, according to a new paper in PLoS ONE. The smallest of the new species, Brookesia micra, is found only on the small island of Nosy Hara and has been dubbed the smallest chameleon in the world, measuring from nose to tail 29 millimeters (1.14 inches) at its largest. Scientists believe it represents a notable example of island dwarfism.
Photo: new blue, red, yellow lizard discovered in the Andes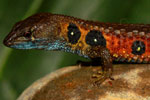 (02/13/2012) Researchers have discovered a new species of lizard in the Peruvian Andes, whose males sport beautiful colors, according to a paper in ZooKeys. The highest-dwelling known species of the genus Potamites, the new lizard, dubbed Potamites montanicola, was found in forest streams at 1,500 to 2,000 meters (4,900 to 6,500 feet). The species was discovered as a part of a biodiversity monitoring program by COGA, a Peruvian fossil fuel company.
The dark side of new species discovery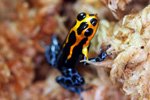 (12/21/2011) Scientists and the public usually rejoice when a new species is discovered. But biologist Bryan Stuart has learned the hard way that the discovery of new species, especially when that species is commercially valuable, has a dark side-one that could potentially wipe out the new species before protections can be put in place. Stuart has discovered 27 species unknown previously to scientists - so far. That includes 22 species of frogs, three types of snakes, and two salamanders. His experience with one of these, a warty salamander from Laos with striking markings (Laotriton laoensis), opened his eyes to a dark side of scientific discovery: commercial overexploitation before protections are in place. Shortly after Stuart described the previously unknown species Paramesotriton laoensis in a scientific paper published in 2002, commercial dealers began collecting this Lao newt for sale into the pet trade. In essence, the dealers used Stuart's geographic description in the paper as a "roadmap" to find the rare newt.
Photos: 40% of Madagascar's reptiles at risk of extinction

(11/10/2011) 40 percent of Madagascar's terrestrial reptiles are threatened with extinction due to habitat loss and over-collection for the pet trade, reports the International Union for Conservation of Nature (IUCN) in its latest update of the Red List of Threatened Species.
Animal picture of the day: the world's most blue lizard?

(07/20/2011) The blue anole is one of the world's most spectacular reptiles. Found only on the island of Gorgona, the blue anole is so elusive and rare that scientists have been unable to give an estimate of its population. However it is considered threatened due to its dependence on its small island habitat.
Brainy lizards rival birds in intelligence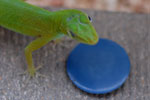 (07/13/2011) Reptiles have long been thought to be dim-witted, but a new study in Biology Letters finds that the Puerto Rican anole, a type of lizard, can match birds in smarts. Using cognitive tests that have been previously used on birds, researchers with Duke University found that the lizards were capable of solving a problem they've never encountered before, remembering the solution in future trials, and even changing techniques when presented with new challenges. In fact, the tiny anoles solved the test with fewer tries than birds. Given reptiles' reputation of being slow-on-the uptake the head author, Manuel Leal, said the findings are 'completely unexpected'.
Endangered Madagascar wildlife on sale in Thailand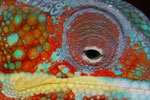 (06/19/2011) Conservation group TRAFFIC uncovered nearly 600 Madagascar reptiles and amphibians on sale in Thai markets, including endangered species and those banned for sale by the Convention on International Trade in Endangered Species of Wild Fauna and Flora (CITES). The animals, representing 24 reptiles species and 9 amphibians, are being sold for the international pet trade. "We know there is a significant ongoing illegal trade in protected species from Madagascar, mainly destined for Asia, which has been exacerbated by the current political situation in the country leading to weaker enforcement of existing laws and safeguarding of protected areas," says Richard Hughes, WWF's Representative in Madagascar.
Traditional Chinese medicine trade takes toll on Indonesia's geckos

(06/01/2011) The call of the tokek, or gecko, is one of the most familiar sounds in Indonesia. Next to the smell of clove cigarettes, the calls to prayer, the friendly smiles and the ferocious afternoon rainstorms, it stands as one of the most easily identifiable characteristics of the country.
World's 'most social' lizard builds multigenerational homes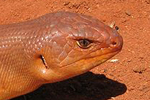 (05/31/2011) Researchers from Macquarie University in Australia have discovered that the threatened great desert burrowing skink lizard forms stable families that construct and maintain elaborate underground homes, reports ABC News. This is the first lizard in the world known to practice such familial behavior. Native to central Australia, researchers are conducting studies on the great desert skink (Liopholis kintorei) at Uluru Kata-Tjuta National Park, where rangers monitor the threatened species. Over 5,000 species of lizard have been documented globally, but only the Uluru skinks live together in immediate and social families that invest in the construction of long-lasting homes.
Photos: the top ten new species discovered in 2010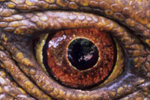 (05/23/2011) If we had to characterize our understanding of life on Earth as either ignorant or knowledgeable, the former would be most correct. In 250 years of rigorous taxonomic work researchers have cataloged nearly two million species, however scientists estimate the total number of species on Earth is at least five million and perhaps up to a hundred million. This means every year thousands of new species are discovered by researchers, and from these thousands, the International Institute for Species Exploration at Arizona State University selects ten especially notable new species.
No limbs or sight needed: bizarre new lizard uncovered in Cambodia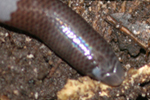 (05/09/2011) A new species of legless lizard has been discovered in Cambodia. Herpetologist Neang Thy uncovered, literally, the new species when he turned over a log in the species-rich Cardamom Mountains. While the new lizard looks like a snake or a big earthworm, it is in fact a lizard belong to the Dibamidae family. These bizarre reptiles spend much of their lives burrowing underground for insects, which has allowed them to lose the need for limbs.
Over a thousand geckos freed from criminal taxi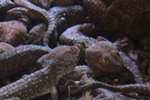 (05/08/2011) Over a thousand tokay geckos (Gekko gecko) were found in a single trunk of a taxi by the Wildlife Rapid Response Team (WRRT), forestry officials, and military police in Cambodia. WRRT is wildlife-crimes program run by Wildlife Alliance. Boxes filled the taxi's trunk. In the boxes were bags stuffed with 1,027 tokay geckos, of which nineteen had perished.
Malaysian customs seizes 1,800 trafficked reptiles

(01/04/2011) Malaysia ended 2010 with the confiscation of 4.3 metric tons of reptiles near the Thai border on December 20th, reports the Wildlife Trade Monitoring Network, TRAFFIC. The confiscation was the largest of the year and consisted of over 1,800 monitor lizards, snakes, freshwater turtles, and tortoises.
Photos: rats drive island lizard to extinction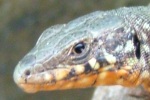 (06/29/2010) The Selmunett lizard (Podarcis filfolensis ssp. Kieselbachi) is very likely extinct, according to Maltese naturalist Arnold Sciberras. One of four subspecies of the Maltese wall lizard, the Selmunett lizard was last seen in 2005. Although the lizard's home—Selmunett Island—has long been uninhabited by people, that fact did not help save the lizard. Over-predation by introduced rats is thought to be the primary cause of lizard's extinction.
Climate change devastating lizards worldwide: 20 percent estimated to face extinction

(05/13/2010) Lizards have evolved a variety of methods to escape predators: some will drop their tail if caught, many have coloring and patterning that blends in with their environment, a few have the ability to change their colors as their background changes, while a lot of them depend on bursts of speed to skitter away, but how does a lizard escape climate change? According to a new study in Science they don't. The study finds that lizards are suffering local extinctions worldwide due exclusively to warmer temperatures. The researchers conclude that climate change could push 20 percent of the world's lizards to extinction within 70 years.
Photo: Camouflage expert discovered in Cambodia

(03/25/2010) Researchers have discovered a cryptic species of gecko in the Cardamom Mountains of Cambodia, reports Fauna & Flora International (FFI), a conservation group that operates in the region.
Gold mining threatens world's most infamous reptile, the Komodo dragon
(08/24/2009) A row has taken off in Indonesia over whether or not to allow gold mining near Komodo National Park, home to the infamous, venomous, and largest of all lizards, the Komodo dragon. Eight mines have currently been proposed, several have already begun exploratory work. Critics of the gold mines contend that the mining threatens the ecology of the park and the Komodo dragon, listed as Vulnerable by the IUCN.
Photos: treasure trove of new species discovered in Ecuador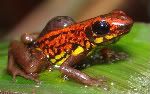 (06/16/2009) Near the once-contentious border of Ecuador and Peru in the mountainous forests of the Cordillera del Condor, scientists from Conservation International (CI) conducted a Rapid Assessment Program (RAP), uncovering what they believe are several new species, including four amphibians, one lizard, and seven insects. The team focused on the Upper Nanharitza River Basin, which has been geologically isolated from the rest of the Andes, giving it broad potential for new species.
Komodo dragons are venomous

(05/18/2009) The world's largest lizard relies on venom to weaken and immobilize its prey report researchers writing in Proceedings of the National Academy of Sciences. Until now it was believed that bacteria resident in the Komodo Dragon's mouth were the source of the reptile's toxicity.
Climate change could devastate lizards in the tropics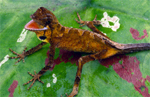 (03/04/2009) With help from data collected thirty years ago, scientists have discovered that tropical lizards may be particularly sensitive to a warming world. Researchers found that lizards in the tropics are more sensitive to higher temperatures than their relatives in cooler, yet more variable climates. "The least heat-tolerant lizards in the world are found at the lowest latitudes, in the tropical forests. I find that amazing," said Raymond Huey, lead author of a paper appearing in the March 4 Proceedings of the Royal Society B.
How falling a gecko lands on its feet

(03/17/2008) According to new research the gecko may have the most dynamic tail in the natural world. Two researchers from UC Berkley have discovered that the gecko uses its tail to keep itself from falling off slippery vertical surfaces and when falling to rapidly right itself. So, like a cat, it always lands on four feet.
Iguanas listen to birds to avoid predators

(10/29/2007) As the world's only sea-feeding lizard, Galapagos Marine Iguanas have long held a unique place in the animal kingdom. While most of their life is spent on land, these lizards forage the seas for their staple food: algae. Now, new research has provided this species with another distinction: although the Galapagos Marine Iguana is mute, it recognizes and utilizes the alarm call of the Galapagos Mockingbird. This is the first instance of a non-vocal species eavesdropping on another species' calls. Both the iguana and mockingbird fall prey to the Galapagos hawk, so by recognizing the mockingbird's warning the iguanas gain important information on avoiding predation.
Forest disturbance reduces biodiversity in the Amazon rainforest
(07/02/2007) Two new studies in the Amazon rainforest show that plantation forests and second-growth forests have lower species counts for butterflies, reptiles, and amphibians than adjacent primary forest areas. The research has important implications for conservation of tropical biodiversity in a world where old-growth forest is increasingly replaced by secondary forests, industrial plantations, and agricultural landscapes.