News articles on law

---
Mongabay.com news articles on law in blog format. Updated regularly.





Asia Pulp & Paper loses another customer: Danone


(04/02/2012) French food company, Danone, has suspended all purchases from Asia Pulp & Paper (APP) following a Greenpeace investigation that linked APP to illegal logging of ramin, a protected tree species, on the Indonesian island of Sumatra. Danone is only the most recent company to publicly sever ties with APP following the Greenpeace report, including National Geographic and Xerox among others.


Judge suspends Brazilian dam that would flood sacred waterfalls

(04/02/2012) A federal judge has suspended the construction of a 1,820 megawatt dam on the Teles Pires River in the Amazon. The judge found that indigenous communities were not properly consulted about the dam, which would flood a sacred site, known as the Seven Waterfalls, as well as imperil the livelihoods of indigenous fishermen.


Indigenous groups fight for recognition and illumination in Peru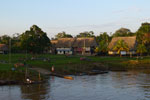 (03/26/2012) "Shh, wait here," Wilson told me. I ducked down behind the buttress of a large tree to wait. We had been walking through the jungle for a few hours. At first we followed a path through the undergrowth, a wet world of ferns, trunks and lianas speckled with the sunlight that made it down through the canopy and understory, but soon we simply walked along a route Wilson picked out. I had been trying to concentrate on the myriad sounds: cicadas were the background and various small birds tweeted from different points. We were listening and looking for signs that would lead us to prey—perhaps the calm whistle of a perdiz or the scent—marking of a boar—but just before Wilson became excited I had heard nothing. He stopped and said, "Red monkeys," pointing ahead.


Banning ivory sales to China could save elephants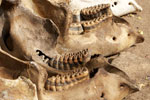 (03/24/2012) Although the international ivory trade has been banned since 1989, last year was the worst ever for elephant poaching, and this year has begun little better as reports come out of Cameroon of hundreds of elephants slaughtered in a single park. What went wrong? According to a new briefing by the Environmental Investigation Agency (IEA), approved legal auctions of ivory by the Convention on International Trade in Endangered Species (CITES) to Japan and, especially, China has fueled, rather than abated as promised, the illegal trade along with mass deaths of elephants across Africa.


Fight illegal logging by going after criminal masterminds


(03/22/2012) Illegal logging has never been a high priority for criminal investigators, but a new report by the World Bank says it should be. Worldwide, the illegal logging epidemic is decimating natural resources, imperiling biodiversity, emitting carbon, and undercutting the livelihoods of local and indigenous people. But the lucrative funds from these ill-gotten gains is just as problematic: top organized criminals rake in $10-15 billion annually from illegal logging and largely use the funds to drive corruption.


Legal case against Serengeti road moves forward

(03/21/2012) A regional case against the construction of a proposed road through Serengeti National Park has moved to trial after a judge with the East African Court of Justice (EACJ) threw out concerns by Tanzania reports the Daily Nation. The government of Tanzania has proposed a controversial highway that would bifurcate the northern part of the Serengeti National, only to see their plans stalled by a lawsuit filed by the Kenyan-based NGO, Africa Network for Animal Welfare (ANAW), which argues that the road could have massive consequences for the entire Serengeti ecosystem, a view shared by many scientists.


'Where's my mama?': campaign targets cruel slow loris pet trade [warning: graphic photo]

(03/20/2012) A new campaign by The Body Shop West Malaysia and TRAFFIC Southeast Asia attempts to raise awareness of the illegal slow loris pet trade. YouTube videos of "cute" pet slow lorises have raised demand for these endangered primates, but as the campaign highlights the pet trade is fueling slow loris deaths in the wild and cruel treatment, such as pulling out their teeth, to make them more desirable pets.


Belize enacts moratorium on rosewood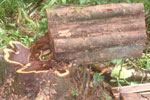 (03/20/2012) The Belizean Government has banned the harvesting and export of rosewood with immediate effect, in response to the widespread clearing of the hardwood species for the Asian market. A government statement released on Friday, March 16th claimed the moratorium was necessary "to carry out an orderly assessment of the situation on the ground and as a first response to regulate the timber trade occurring in southern Belize." The government would subsequently institute "a rigorous regulatory framework throughout the country."


Gold mining in the Peruvian Amazon: a view from the ground


(03/15/2012) On the back of a partially functioning motorcycle I fly down miles of winding footpath at high-speed through the dense Amazon rainforest, the driver never able to see more than several feet ahead. Myriads of bizarre creatures lie camouflaged amongst the dense vines and lush foliage; flocks of parrots fly overhead in rainbows of color; a moss-covered three-toed sloth dangles from an overhanging branch; a troop of red howler monkeys rumble continuously in the background; leafcutter ants form miles of crawling highways across the forest floor. Even the hot, wet air feels alive.


Scientists say massive palm oil plantation will "cut the heart out" of Cameroon's rainforest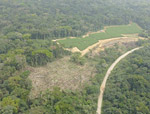 (03/15/2012) Eleven top scientists have slammed a proposed palm oil plantation in a Cameroonian rainforest surrounded by five protected areas. In an open letter, the researchers allege that Herakles Farm, which proposes the 70,000 hectare plantation in southwest Cameroon, has misled the government about the state of the forest to be cleared and has violated rules set by the Roundtable on Sustainable Palm Oil (RSPO), of which it's a member. The scientists, many of whom are considered leaders in their field, argue that the plantation will destroy rich forests, imperil endangered species, and sow conflict with local people.


Rally calls on Brazil President to veto new forest code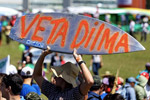 (03/07/2012) A coalition of 200 organizations, known as the Comitê Brasil in Defense of Forests and Sustainable Development, rallied today in Brasilia against proposed changes to Brazil's Forestry Code. The code, which was supposed to be voted on this week but has been delayed to shore up more support, would make changes in over 40-year-old code that some conservationists fear could lead to further deforestation in the Amazon. Protestors called on the President of Brazil, Dilma Rousseff, to veto the bill as it stands now, holding signs exclaiming, "Veta Dilma!" ("Veto it Dilma!").


After illegal logging allegations, certifier lodges complaint against paper giant APP

(03/07/2012) Less than a week after Greenpeace released evidence that protected tree species were being illegally logged and pulped at an Asia Pulp and Paper (APP) mill in Sumatra, a major certifier, the Program for the Endorsement of Forest Certification (PEFC), has lodged a complaint and asked for an investigation. In addition to PEFC's move, the National Geographic Society (NGS), which was found to be sourcing from APP recently, has publicly broken ties with the company, and Greenpeace has handed over its evidence to Indonesian police who told the group there would be an investigation.


Investigation links APP to illegal logging of protected trees


(03/01/2012) A year-long undercover investigation has found evidence of Asia Pulp and Paper (APP) companies cutting and pulping legally protected ramin trees, a practice that violates both Indonesian and international law. Found largely in Sumatra's peatswamp forests, the logging of ramin trees (in the genus Gonystylus) has been banned in Indonesia since 2001; the trees are also listed under Appendix II of the Convention on International Trade in Endangered Species (CITES) and thus require special permits to export. The new allegations come after APP, an umbrella paper brand, has lost several customers due to its continued reliance on pulp from rainforest and peatland forests in Sumatra.


Tourism for biodiversity in Tambopata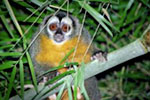 (02/27/2012) Research and exploration in the Neotropics are extraordinary, life-changing experiences. In the past two decades, a new generation of collaborative projects has emerged throughout Central and South America to provide access to tropical biodiversity. Scientists, local naturalists, guides, students and travelers now have the chance to mingle and share knowledge. Fusion programs offering immersion in tropical biology, travel, ecological field work, and adventure often support local wilderness preservation, inspire and educate visitors.


Innovative conservation: wild silk, endangered species, and poverty in Madagascar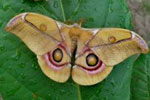 (02/20/2012) For anyone who works in conservation in Madagascar, confronting the complex difficulties of widespread poverty is a part of the job. But with the wealth of Madagascar's wildlife rapidly diminishing— such as lemurs, miniature chameleons, and hedgehog-looking tenrecs found no-where else in the world—the island-nation has become a testing ground for innovative conservation programs that focus on tackling entrenched poverty to save dwindling species and degraded places. The local NGO, the Madagascar Organization of Silk Workers or SEPALI, along with its U.S. partner Conservation through Poverty Alleviation (CPALI), is one such innovative program. In order to alleviate local pressure on the newly-established Makira Protected Area, SEPALI is aiding local farmers in artisanal silk production from endemic moths. The program uses Madagascar's famed wildlife to help create more economically stable communities.


Tropical ecologist: Australia must follow U.S. and EU in banning illegally logged wood


(02/09/2012) Australia should join the widening effort to stamp out illegal logging, according to testimony given this week by tropical ecologist William Laurance with James Cook University. Presenting before the Australian Senate's rural affairs committee, Laurance argued that the massive environmental and economic costs of illegal logging worldwide should press Australia to tighten regulations against importing illegally logged timber at home.


Majority of protected tropical forests "empty" due to hunting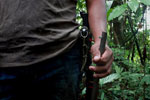 (02/08/2012) Protected areas in the world's tropical rainforests are absolutely essential, but one cannot simply set up a new refuge and believe the work is done, according to a new paper in Bioscience. Unsustainable hunting and poaching is decimating tropical forest species in the Amazon, the Congo, Southeast Asia, and Oceana, leaving behind "empty forests," places largely devoid of any mammal, bird, or reptile over a few pounds. The loss of such species impacts the whole ecosystems, as plants lose seed dispersers and the food chain is unraveled.


Guyanese tribe maps Connecticut-sized rainforest for land rights


(02/07/2012) In a bid to gain legal recognition of their land, the indigenous Wapichan people have digitally mapped their customary rainforest land in Guyana over the past ten years. Covering 1.4 million hectares, about the size of Connecticut, the rainforest would be split between sustainable-use regions, sacred areas, and wildlife conservation according to a plan by the Wapichan tribe that will be released today. The plan says the tribe would preserve the forest from extractive industries.


Atlantic sturgeon gains protection under the Endangered Species Act

(02/01/2012) The U.S. federal government has listed the massive and bizarre Atlantic sturgeon (Acipenser oxyrinchus) under the protection of the Endangered Species Act (ESA). Historically overfishing decimated the Atlantic sturgeon, while on-going threats include pollution and infrastructure, like dams and bridges that destroy habitat. Fishing for the Atlantic sturgeon has been banned since 1998, they are still caught as bycatch.


California city bans bullfrogs to safeguard native species


(01/26/2012) Santa Cruz, California has become the first city in the U.S. to ban the importation, sale, release, and possession of the American bullfrog (Rana catesbeiana). Found throughout Eastern and Central U.S., the frogs have become an invasive threat to wildlife in the western U.S. states and Canada.


U.S. implements snake ban to save native ecosystems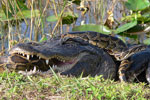 (01/25/2012) Last week the U.S. Fish and Wildlife Service (USFWS) announced it was banning the importation and sale across state lines of four large, non-native snakes: the Burmese python (Python molurus bivittatus), the yellow anaconda (Eunectes notaeus), and two subspecies of the African python (Python sebae). Although popular pets, snakes released and escaped into the wild have caused considerable environmental damage especially in the Florida Everglades.


Economic slowdown leads to the pulping of Latvia's forests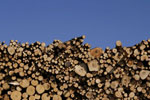 (01/23/2012) The economic crisis has pushed many nations to scramble for revenue and jobs in tight times, and the small Eastern European nation of Latvia is no different. Facing tough circumstances, the country turned to its most important and abundant natural resource: forests. The Latvian government accepted a new plan for the nation's forests, which has resulted in logging at rates many scientists say are clearly unsustainable. In addition, researchers contend that the on-the-ground practices of state-owned timber giant, Latvijas Valsts meži (LVM), are hurting wildlife and destroying rare ecosystems.


Featured video: music in Madagascar to protest illegal logging

(01/22/2012) A new video highlights the plight of Madagascar's protected tropical forests, which are falling prey to illegal logging and foreign contractors. Featuring Razia Said, Malagasy singer and songwriter, the video shows concerts to raise awareness about illegal logging, especially near Maosala National Park.


Brazil begins preliminary damming of Xingu River as protests continue

(01/19/2012) Damming of the Xingu River has begun in Brazil to make way for the eventual construction of the hugely controversial, Belo Monte dam. The Norte Energia (NESA) consortium has begun building coffer dams across the Xingu, which will dry out parts of the river before permanent damming, reports the NGO International Rivers. Indigenous tribes, who have long opposed the dam plans on their ancestral river, conducted a peaceful protest that interrupted construction for a couple hours.


Peruvian smugglers traffic illegal rainforest timber from Brazil to America

(01/11/2012) An investigation by Brazil's Federal Police has detailed a significant trade of illegally logged rainforest wood by Peruvian nationals making its way from northern Brazil to the U.S. and Mexico, reports O Globo.


Featured video: documentary on logging mafia

(12/19/2011) A new documentary, The Real Chainsaw Massacre, follows the corrupt and violent black market of illegal timber trading in Vietnam. The documentary highlights the efforts of undercover investigators with the Environmental Investigation Agency (EIA) working to expose the lucrative trade of illegal logging from Laos to Vietnam. A trade that is not only decimating forests in Southeast Asia, but is imperiling biodiversity, harming locals, and often coupled with other illegal activities.


Is the Russian Forest Code a warning for Brazil?


(12/19/2011) Brazil, which last week moved to reform its Forest Code, may find lessons in Russia's revision of its forest law in 2007, say a pair of Russian scientists. The Brazilian Senate last week passed a bill that would relax some of forest provisions imposed on landowners. Environmentalists blasted the move, arguing that the new Forest Code — provided it is not vetoed by Brazilian President Dilma Rousseff next year — could undermine the country's progress in reducing deforestation.


Mixed reactions to the Durban agreement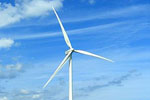 (12/12/2011) Early Sunday morning over 190 of the world's countries signed on to a new climate agreement at the 17th UN Framework Convention on Climate Change (UNFCCC) in Durban, South Africa. The summit was supposed to end on Friday, but marathon negotiations pushed government officials to burn the midnight oil for about 36 extra hours. The final agreement was better than many expected out of the two week summit, but still very far from what science says is necessary to ensure the world does not suffer catastrophic climate change.


Wolverines live up to tough reputation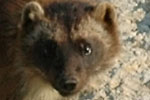 (12/05/2011) In the first X-Men film, the comic book character Wolverine is asked if it hurts when his claws retract from his knuckles. His unflinching response: "Every time." The real wolverine (Gulo gulo) is just as tenacious with new research proving it is a "winter endurance athlete." Eight years of radio-tracking 30 individual wolverines in the Rocky Mountains has provided an abundance of new data about the world's largest member of the weasel family, including that the feisty mammals survive year-round in harsh, snowy conditions 9,000 feet above see level. Although immeasurably tough, the animal is nearly extinct in the lower 48 states of the U.S.


Indigenous religious leader murdered in front of his tribe in Brazil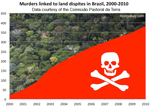 (11/28/2011) Amnesty International has called for an independent investigation of the murder of Nísio Gomes. A religious leader of the Guarani tribe, Gomes was executed by masked gunmen in front of his community earlier this month in the southwestern Brazilian state of Mato Grosso do Sul. Officials believe the gunmen were likely hired by local ranchers, who are embroiled in a land dispute with the Guarani tribe. In addition to killing Gomes, the gunmen allegedly kidnapped three young Guarani.


Dole abandons banana plantation in National Park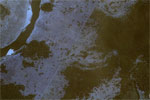 (11/21/2011) After a threat of lawsuit, Dole Inc. has abandoned a banana plantation in Somawathiya National Park in Sri Lanka. The US-based food giant had partnered with a local company, Letsgrow Ltd, to grow bananas for export markets at the bank of the Mahaweli River, but Dole ran into trouble when local conservation organizations pointed out they were illegally destroying forest and planting crops in Somawathiya National Park, home to elephants and many other imperiled species. Local group, Environmental Foundation Limited (EFL), obtained past and current satellite images to prove that the company was operation within the park.


10,000 dead songbirds headed to Italian restaurants confiscated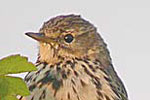 (11/15/2011) Bushmeat, referring to wild animals killed (often illegally) for consumption, is usually considered a conservation problem in developing nations in Africa, Southeast Asia, and South America. However, a recent bust on the Hungarian-Romanian border proves that Europe is not immune: Hungarian officials seized around 10,000 dead songbirds. The birds were likely heading to restaurants in northern Italy according to wildlife trade monitoring group, TRAFFIC.


Forest elephant populations cut in half in protected area


(11/14/2011) Warfare and poaching have decimated forest elephant populations across their range with even elephants in remote protected areas cut down finds a new study in PLoS ONE. Surveying forest elephant populations in the Okapi Faunal Reserve in the Democratic Republic of Congo, researchers have found that the population has fallen by half—from 6,439 to 3,288—over the past decade in the park.


Cooper-Blackburn bill seeks exemptions for illegal wood imports

(11/05/2011) A proposed bill would gut the Lacey Act, undermining an amendment that bans import of illegally logging forest products, says a coalition of environmentalists and woodworkers in a letter addressed to members of Congress. The bill, introduced last month by Jim Cooper, Marsha Blackburn, and Mary Bono Mack, would grant an exemption to pulp and paper importers from Lacey Act requirements, while reducing fines for non-compliance to a pittance for "first time" offenders no matter the size of the infraction.


South Africa hits record poaching of rhinos—again


(11/03/2011) Two months before the end of the year, the number of rhinos killed for their horns in South Africa has surpassed last year's breaking record, reports conservation organizations WWF and TRAFFIC. So far, 341 rhinos have been lost to poaching this year; while last year saw a total record of 333. The news follows last week's announcement that the Vietnamese rhino (Rhinoceros sondaicus annamiticus), a subspecies of the Javan rhino, has gone extinct—the last individual killed by a poachers' bullet. Rhinos are killed for their horns which are used in traditional Chinese medicine, even though numerous studies have shown there is no medicinal benefit to consuming rhino horn.


Unsung heroes: the life of a wildlife ranger in the Congo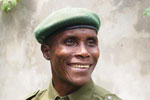 (11/01/2011) The effort to save wildlife from destruction worldwide has many heroes. Some receive accolades for their work, but others live in obscurity, doing good—sometimes even dangerous—work everyday with little recognition. These are not scientists or big-name conservationists, but wildlife rangers, NGO staff members, and low level officials. One of these conservation heroes is Bunda Bokitsi, chief guard of the Etate Patrol Post for Salonga National Park in the Democratic Republic of the Congo. In a nation known for a prolonged civil war, desperate poverty, and corruption—as well as an astounding natural heritage—Bunda Bokitsi works everyday to secure Salonga National Park from poachers, bushmeat hunters, and trappers.


Vietnamese rhino goes extinct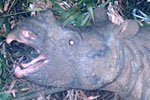 (10/25/2011) In 2009 poachers shot and killed the world's last Vietnamese rhinoceros (Rhinoceros sondaicus annamiticus), a subspecies of the Javan rhino, confirms a report from International Rhino Foundation (IRF) and the World Wide Fund for Nature (WWF). The Vietnamese rhino was the last Javan rhino to survive on the Asian mainland and the second subspecies to vanish, following the extinction of the Indian Javan rhino (rhinoceros sondaicus inermis). The Javan rhino is the world's most imperiled rhino species with now only around 50 individuals surviving in a single park on its namesake island in Indonesia.


Tea Party rallies in favor of Gibson Guitar, ignores reasons instrument-maker is under investigation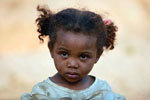 (10/10/2011) This weekend around 500 people showed up for a rally and concert in Nashville, Tennessee. The rally was in support of Gibson Guitars, a US-company currently under investigation for allegedly importing illegally logged wood into the country, an action that breaks a recent bipartisan amendment to the Lacey Act. While the Tea Party-affiliated groups that held the rally were expressing frustration with perceived over-regulation by the federal government, the issue at stake—a global effort to help stem illegal logging—was actually overlooked by the organizers.


Gorilla poachers brutally murder forest ranger

(10/09/2011) Forest ranger, Zomedel Pierre Achille, was brutally murdered by gorilla poachers near Lobéké National Park in Cameroon, according to the World Wide Fund for Nature (WWF).


Obama administration opens more of the Arctic to drilling

(10/05/2011) Nearly 500 Arctic oil and gas leases from the Bush administration have been restarted this week by the Obama administration. Known as Chukchi Lease 193, the various leases had been held up in court after environmental groups and indigenous groups challenged them, citing a significant lack of baseline information about the Chukchi Sea ecosystem. The Obama administration now says that many of the ecosystem gaps need not be filled, but Arctic indigenous and environmental groups disagree.


Satellite imagery confirms Dole destroying national park land for bananas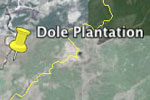 (10/04/2011) Environmental NGOs in Sri Lanka have accused US food giant Dole of illegally growing bananas in Somawathiya National Park, however Dole has denied the charge saying the land in question is 'not in the [park]'. Mongabay.com has received the coordinates of the Dole plantation from an anonymous source in Sri Lanka familiar with the issue, and using Google Earth has found that the plantation in question is clearly inside park boundaries.


Tea party versus Madagascar's forests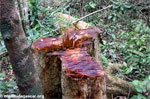 (10/02/2011) The Tea Party and the African island-nation of Madagascar are having dueling concerts over the issue of illegal logging, reports the Associated Press. A concert in Madagascar over the weekend was meant to highlight the problem of illegal deforestation in one of the world's poorest countries. Meanwhile the Tea Party is holding a rally and concert on October 8th to support Gibson Guitar, a musical instruments company currently under investigation for breaking US law by allegedly purchasing illegally logged wood products from Madagascar.


Dole responds to allegations it is illegally growing bananas in national park

(10/02/2011) Dole Food Company has responded to allegations that it is clearing land in a national park in Sri Lanka known for its population of elephants as well as a number of threatened species. According to reports, the US-based food giant has partnered with a local company, Letsgrow Ltd, to grow bananas for export markets in Somawathiya National Park.


Deepwater spill 'meets the Titanic': groups sue to stop Arctic drilling

(09/29/2011) Following the Obama administration's approval of Royal Dutch Shell to drill in the Arctic's Beaufort Sea, a wide-swathe of environmental have filed a lawsuit to stop the drilling, which could begin as early as next summer. Those filing the lawsuit today blasted Shell for what they perceived as a pathetic oil spill response plan, and the Obama administration for acquiescing to the big oil company.


Judge: work must halt on monster dam, Belo Monte

(09/29/2011) The decades-long fight over Brazilian megadam, the Belo Monte, has taken another U-turn after a judge ordered work to stop immediately since the dam would devastate vital fishing grounds for local people. In June the Brazilian government gave a go-ahead to the $11-17 billion dam, despite large-scale opposition from indigenous groups along the Xingu River and international outcry, including a petition signed by 600,000 people.


Featured video: new documentary puts human face on logging in Papua New Guinea

(09/27/2011) A new documentary, filmed single-handily by filmmaker David Fedele, covers the impact of industrial logging on a community in Papua New Guinea. Entitled Bikpela Bagarap(or 'Big Damage' in English), the film shows with startling intimacy how massive corporations, greedy government, and consumption abroad have conspired to ruin lives in places like Vanimo, Papua New Guinea.


Kenya should embrace living with nature as the model for a healthier, wealthier nation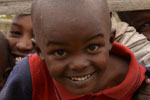 (09/27/2011) Hundreds of thousands of Kenyans are supporting government efforts to enact progressive new policies through its Vision 2030 initiative as it promises to lift us out of a depressed economy and to take us onto a path to becoming a prosperous developed nation. For this to occur, development must be sustainable —but for now what the people want and need most is for the basic necessities for life to be assured like adequate water, sanitation, energy, health, education, homes, and jobs. It is unfortunate that some of our leaders are mistaken in believing that this means Kenya should look like USA or Europe with concrete cities and mega highways, speed trains, and artificial gardens—it will all be at the cost of our spectacular natural environment and wildlife heritage. Kenya hardly has any natural resources, what we have is wilderness and wildlife. For Kenya to stand apart, she must aspire to safeguard the environment and protect forests and wildlife as a central means of to attaining this sustainable development goal.


U.S. Lacey Act, programs in Rwanda and Gambia, awarded for forest protection

(09/23/2011) Forest policies in the United States, Rwanda, and Gambia won U.N. backed awards for contributing to efforts to protect and sustainably manage forests.


Two arrested in connection with murdering Amazon activists

(09/20/2011) Two suspects have been arrested for allegedly taking part in the killing of Amazon activist, José Cláudio Ribeiro da Silva, and his wife, Maria do Espírito Santo da Silva. The men, who are brothers, were arrested after police stormed their remote jungle camp on Sunday in Brazilian state of Para. A third man remains at large.


Malaysian court blocks rainforest tribes' fight against mega-dam in Borneo

(09/09/2011) Indigenous tribes in Borneo suffered a stinging defeat Thursday after Sarawak's highest court ruled against them in 12-year-long legal battle. Tribal groups had challenged the Malaysian state government for seizing indigenous lands in order to build a massive hydroelectric power plant, dubbed the Bakun dam, but the three-person top court found unanimously against the tribes.



Page 1 | Page 2 | Page 3 | Page 4 | Page 5 | Page 6