News articles on law enforcement

---
Mongabay.com news articles on law enforcement in blog format. Updated regularly.






Brazilian police and scientists team up to crack down on illegal timber trade
(07/01/2015) Seven years ago, Brazil's São Paulo State Environmental Police set out to crack down on the illegal timber trade. In 2011, during one of their most ambitious inspection operations, officers inspected nearly 350 trucks and more than 60 lumberyards in just two days. Discovering an array of violations, they responded by delivering 50 violation notices and issuing BRL $2.2 million (USD $1.4 million) in fines.
Indonesian forestry giant calls for stronger forest moratorium
(05/11/2015) Asia Pulp & Paper (APP), an Indonesian forestry giant once targeted by environmentalists for its logging practices, has joined a growing chorus of voices calling for a stronger moratorium on deforestation and policies that enable companies to support conservation efforts. In a letter released Monday, Aida Greenbury, APP's Managing Director of Sustainability, asked Indonesian President Joko Widodo to extend the country's moratorium on new logging and plantation concessions.
Sarawak increases fines for illegal logging

(05/01/2015) After decades of intense logging that has left its rainforests degraded, fragmented, and stripped of valuable timber in many areas, the Malaysian state of Sarawak has passed a new forestry bill that could boost penalties for illegal logging.
Discovery of 'Lost City' spurs conservation pledge
(03/18/2015) Earlier this month, National Geographic made big news: the discovery of what it called a 'lost city' below the thick jungles of Honduras. While the coverage has led to scientists crying sensationalism, it also resulted this week in a commitment of protection by the Honduras President, Juan Orlando Hernández, for a long-neglected portion of the country.
Brazil arrests 'Amazon's biggest destroyer'

(02/25/2015) Authorities in Brazil have arrested a man they claim to be the single biggest deforester in the Amazon, according to a statement issued by IBAMA, Brazil's environmental protection agency.
Sting operation nets tiger poachers

(02/24/2015) A sting operation by Indonesian officials snared a group of tiger hunters operating in Karinci Seblat National Park in Jambi Province, Sumatra. After an extended investigation, undercover officers caught three local residents as they attempted to sell a tiger skin and bones in the village of Karang Mendapo, in Sarolangun Regency.
Authorities catch kingpin responsible for killing 20 rhinos
(02/19/2015) With the aid of Interpol, authorities have arrested the leader of a rhino poaching gang responsible for killing a 20 Indian rhinoceros in Nepal. Last month, authorities nabbed Raj Kumar Praja in Malaysia where he had been evading capture for two years. Kumar was already evicted of 15 poaching incidents in absentia and sentenced to 15 years in prison.
1,215 rhinos butchered in South Africa in 2014
(01/22/2015) 1,215: that's the total number of rhinos butchered last year in South Africa for their horns. The number represents another annual record—the seventh in a row—topping last year's total by 195 rhinos. South Africa houses the bulk of the world's rhinos (around 80 percent), but has also become the center of the illegal poaching trade.
Indonesia to audit licenses of palm oil companies that clear peatlands
(11/30/2014) New Indonesian president Joko Widodo has ordered the Ministry of Environment and Forestry to review licenses for companies that have converted peatlands for oil palm plantations, reports Antara. Jokowi, as the president is popularly known, announced the move after a visit last week to Sungai Tohor, a community in Riau that has been particularly affected by peatlands degradation and haze caused by fires set for land clearing.
Meet the world's most wanted environmental criminals

(11/26/2014) In keeping with recent efforts to ramp up action against environmental crime, INTERPOL has highlighted nine fugitives for breaking laws related to illegal logging, poaching and the wildlife trade, illegal fishing, and waste dumping, among other crimes.
Endangered environmentalists: investigating government crackdowns on green groups
(11/19/2014) Mongabay.org offers journalists opportunity to report on government muzzling of environmental activists. As climate change, pollution, and habitat destruction worsen across the globe, environmental groups are responding by ratcheting up the pressure on governments and corporations to act. Many governments have responded by increasing restrictions on environmental NGOs, including revoking charity status, increasing sentences for protestors, and passing legislation restricting NGO activity.
A tale of 2 Perus: Climate Summit host, 57 murdered environmentalists
(11/18/2014) On September 1st, indigenous activist, Edwin Chota, and three other indigenous leaders were gunned down and their bodies thrown into rivers. Chota, an internationally-known leader of the Asháninka in Peru, had warned several times that his life was on the line for his vocal stance against the destruction of his peoples' forests, yet the Peruvian government did nothing to protect him—or others.
Plantation companies in Sumatra failing to meet fire prevention standards

(10/14/2014) An inter-agency audit of 17 plantation and timber concessions in Riau Province, Indonesia, found that every company is failing to meet fire prevention and control standards. In addition, several companies are working in prohibited areas, including peatlands with depths over 3 meters.
Use of mammals still prevalent in Brazil's Conservation Units
(10/06/2014) For as long as humans and animals have co-existed, people have utilized them as resources. Animals, and their parts, have been used for a variety of purposes, ranging from basic food to more esoteric practices such as in magical ceremonies or religion. A new study has found that the undocumented use of animals, particularly mammals, continues to occur in Brazil's protected areas known as Conservation Units.
High Court denies appeal by palm oil company that cleared protected peat forest
(09/30/2014) Furthering Indonesia's renewed commitment to environmental justice, the High Court of Banda Aceh denied an appeal by PT. Kallista Alam, the oil palm company found guilty of destroying over 1,000 hectares of protected peat forest in Gunung Leuser ecosystem. The Court upheld the previous ruling, which fined the company 366 billion rupiah ($30 million) in penalties and restoration fees.
Indonesian authorities bust porcupine-smuggling ring

(08/28/2014) Police in Langkat, North Sumatera, Indonesia, seized 55 porcupines from smugglers preparing to ship the animals to China. Three suspects were detained during last week's operation, while their accomplices remain at large. Dozens more animals reportedly obtained from dealers in Medan are still unaccounted for.
Next big idea in forest conservation? DNA fingerprinting trees to stem illegal logging
(08/21/2014) As a professor at Texas Tech, Dr. Chuck Cannon has been, among other things, working to create a system of DNA fingerprinting for tropical trees to undercut the global illegal logging trade. 'If we just enforced existing laws and management policies, things would be pretty good, but unfortunately, that is where things fall apart in many tropical countries,' Cannon said.
China failing to take effective action against timber smugglers

(08/12/2014) Voluntary guidelines established by the Chinese government won't be enough to curb rampant timber smuggling by Chinese companies, putting 'responsible' actors at risk of having their reputations tarnished, argues a new campaign by the Environmental Investigation Agency (EIA).
World Ranger Day: honoring our wildlife protectors

(07/31/2014) Like Memorial Day, when we honor our nation's military veterans, World Ranger Day is a day to recognize and celebrate the thousands of rangers who put their lives on the line as they protect wildlife and natural resources around the world.
Over a million pangolins slaughtered in the last decade
(07/28/2014) One of the world's most bizarre animal groups is now at risk of complete eradication, according to an update of the IUCN Red List. Pangolins, which look and behave similarly to (scaly) anteaters yet are unrelated, are being illegally consumed out of existence due to a thriving trade in East Asia.
In cutting deforestation, Brazil leads world in reducing emissions
(06/05/2014) Brazil's success in reducing deforestation in the world's largest rainforest has been much heralded, but progress may stall unless farmers, ranchers and other land users in the region are provided incentives to further improve the environmental sustainability of their operations, argues a study published this week in the journal Science.
Epidemic of elephant calf kidnapping hits Sri Lanka, say conservationists
(05/21/2014) In Sri Lanka, an underground wildlife racket has been simmering for a while. And a recent incident has brought it to a boil. On the night of May 1st, a gang attempted to kidnap a wild elephant calf out of the Uduwalawe National Park in Sri Lanka. But tipped off by alert villagers, police and wildlife officers foiled the abduction.
Chinese officials seize nearly a thousand dead pangolins
(05/20/2014) In one of the biggest pangolin trafficking cases yet recorded in China, officials confiscated 956 animals stuffed into 189 coolers this month. The dead pangolins were being carried overland in a truck, with the total haul weighing four tonnes. The traffickers were caught at the border of Guangdong Province. If convicted, they face up to ten years in jail.
Almost 90 percent of Republic of the Congo's lowland forests open to logging
(05/06/2014) Although the Republic of the Congo has opened up nearly 90 percent of its lowland forests to logging, the majority of the logging occurring in the country is still illegal, according to a new report from the Chatham House. In fact the UK policy institute finds that illegal logging in the Republic of the Congo may make up as much as 70-75 percent of the industry.
Chinese who eat endangered species could face over ten years in jail

(04/29/2014) It's well known that much of the world's massive illegal wildlife trade ends up in China, including poached tigers, pangolins, and bears. But now those who order pangolin fetuses, tiger blood, or bear bile at a restaurant or market may see significant jail time.
Just how bad is the logging crisis in Myanmar? 72 percent of exports illegal
(03/26/2014) Just days before Myanmar, also known as Burma, implements a ban on exporting raw logs, the Environmental Investigative Agency (EIA) has released a new report that captures the sheer scale of the country's illegal logging crisis. According to the EIA, new data shows that 72 percent of logs exported from Myanmar between 2000-2013 were illegally harvested.
New web tool aims to help indigenous groups protect forests and navigate REDD+

(03/12/2014) A new online tool, dubbed ForestDefender, aims to help indigenous people understand and implement their rights in regard to forests. The database, developed by the Center for International Environmental Law (CIEL), brings together vast amounts of legal information—both national and international—on over 50 countries.
Obama announces new strategy to tackle wildlife trafficking, including toughening ivory ban

(02/12/2014) Yesterday, the Obama administration announced an ambitious new strategy to help tackle the global illegal wildlife trade, including a near-complete ban on commercial ivory. The new strategy will not only push over a dozen federal agencies to make fighting wildlife trafficking a new priority, but will also focus on reducing demand for wildlife parts and actively engaging the international community. The U.S. is the world's second largest destination for illegal wildlife trafficking after China.
Hong Kong to destroy 4,000 dead elephants' worth of ivory
(01/24/2014) The government of Hong Kong will destroy 28 tons of ivory confiscated from traffickers, reports CNN. The announcement, which comes just weeks after China destroyed six tons of seized ivory, suggests that the leaders of the world's largest market for ivory may be getting more serious about addressing a global poaching boom, say conservationists.
Cambodian communities best placed to prevent illegal logging
(01/22/2014) A study on deforestation in Cambodia has found that forests are better protected when local communities are given the responsibility to manage them locally. Cambodia has one of the highest rates of deforestation in the world, losing 1.2 per cent each year from 2005-2010. The loss of forests due to illegal logging, commercial agriculture, and other factors can have a devastating impact on local communities, as well as contributing to global climate change. In a country beset by corruption and ineffectual state forest management, alternative models of forest protection are clearly needed.
Court orders logging company to clean up pollution disaster in Chile wetlands
(01/17/2014) Chile is probably best known for its volcanoes, earthquakes and the formidable peaks of the Andes, but as a country that spans 4,300 km (2,670 miles) from top to bottom, it also boasts a huge variety of bird life. And, until recently, it was home to what was thought to be the largest population of black-necked swans (Cygnus melancoryphus) in South America. Not long ago, these swans, as well as 100 other species of rare or vulnerable bird species, could be seen nesting in the Carlos Anwandter Nature Sanctuary in Valdivia, a Ramsar site that covers 12,000 acres in the south of Chile. But in 2004 the swans began to die.
Indonesia police nab illegal wildlife traffickers in sting operation
(01/12/2014) Police in Indonesia's Aceh province have arrested two wildlife trafficking suspects allegedly behind five tiger poaching rings operating in the forests of northern Sumatra. The arrests followed a months-long investigation and an undercover sting operation in which police seized thousands of dollars worth of illegal animal parts.
In precedent-setting case, palm oil company fined $30M for destroying orangutan forest
(01/09/2014) In a precedent-setting case, an Indonesian court has found a palm oil company guilty of violating environmental laws and ordered it to pay $30 million in fines and reparations for clearing an area of protected peat forest that is a stronghold for endangered orangutans in Indonesia's Aceh Province. In a ruling handed down Wednesday, the Meulaboh district court concluded that PT Kallista Alam illegally cleared and burned forest within the the protected Tripa peat swamp in northwestern Sumatra.
Hedge fund downgrades stock over company's links to illegal logging in Russian Far East
(12/02/2013) A hedge fund manager has downgraded Lumber Liquidators' stock over the company's alleged links to illegal logging in the Russian Far East, reports The Wall Street Journal. Speaking at the Robin Hood Investors Conference on November 22, Whitney Tilson, the founder of Kase Capital Management, said Lumber Liquidators' stock price may be inflated due to purchases of illegally sourced timber from Russia.
Asia's most precious wood is soaked in blood
(11/21/2013) Deep in the tropical forests of Southeast Asia grows a rare and beautiful tree whose wood is so highly prized that men will kill to possess it. Wild rosewood, famous since antiquity in China and Japan for its unique, blood-hued luster and intricate grain, was once only used for the finest religious statues and princely ornaments. Now, China's nouveau riche lust for decorative baubles and furniture made of rosewood as a sign of status leading to a massive surge in demand for this precious timber that shows no signs of abating. In just a few short years the price has skyrocketed from just a hundred dollars a cubic meter to over $50,000 today.
Why is Amazon deforestation climbing?
(11/17/2013) The 28 percent increase in deforestation in the Brazilian Amazon over last year that was reported this week is bad news, but it is not surprising. It is bad news because the decline in deforestation since 2005 has given us the single largest contribution to climate change mitigation on the planet, far surpassing the reductions in emissions achieved by any Annex 1 country under the Kyoto Protocol. Brazil's achievement is particularly noteworthy because it did not come at the expense of agricultural production; beef and soybean production continued to grow.
Fishermen get crafty to circumvent shark fin ban
(11/10/2013) Authorities in Costa Rica have identified a new method used by fishermen to circumvent a ban on killing sharks for their fins. According to an INTERPOL alert, fishermen are now leaving a band of skin to keep the fin attached to the spine when they kill sharks. This approach takes advantage of an apparent loophole in regulations governing the shark fin trade.
Stuffed tigers send two soldiers to jail in Indonesia

(10/28/2013) A military court in Indonesia's Aceh province has jailed two soldiers for illegally possessing two stuffed Sumatran tigers (Pathera tigris sumatrae) and a stuffed sun bear (Helarctos malayanus), a rare verdict in the Sumatran province where crimes involving wildlife are seldom prosecuted.
Tapirs, drug-trafficking, and eco-police: practicing conservation amidst chaos in Nicaragua
(10/10/2013) Nicaragua is a nation still suffering from deep poverty, a free-flowing drug trade, and festering war-wounds after decades of internecine fighting. However, like any country that has been largely defined by its conflicts, Nicaragua possesses surprises that overturn conventional wisdom. Not the least of which is that the Central American country is still home to big, stunning species, including jaguars, giant anteaters, pumas, and the nation's heaviest animal, the Baird's tapir (Tapirus bairdii). Still, not surprisingly given the nation's instability, most conservationists have avoided Nicaragua. But tapir-expert Christopher Jordan, who has worked in the country for over four years, says he wouldn't have it any other way.
Tanzania should implement shoot-to-kill policy for poachers, says government minister

(10/09/2013) A government minister in Tanzania has called for a "shoot-to-kill" policy against poachers in a radical measure to curb the mass slaughter of elephants. Khamis Kagasheki's proposal for perpetrators of the illicit ivory trade to be executed 'on the spot' divided opinion, with some conservationists backing it as a necessary deterrent but others warning that it would lead to an escalation of violence.
Unlikely success: how Zimbabwe has become a global leader in rhino conservation
(10/02/2013) With its collapsed economy, entrenched poverty, and political tremors, one would not expect that a country like Zimbabwe would have the capacity to safeguard its rhinos against determined and well-funded poachers, especially as just across the border South Africa is currently losing over two rhinos a day on average. And indeed, without the Lowveld Rhino Trust (LRT), rhinos in Zimbabwe would probably be near local extinction. But the LRT, which is centrally involved in the protection of around 90 percent of the country's rhinos in private reserves along with conservancy members, has proven tenacious and innovative in its battle to safeguard the nation's rhinos from the poaching epidemic.
Smuggler who illegally traded 500 chimps gets one year in prison

(08/27/2013) Wildlife smuggler, Ousame Diallo, who has admitted to illegally trafficking 500 endangered chimpanzees out of the Republic of Guinea, was sentenced to a year in prison in the West African country reports WWF. The arrest and charge was supported by INTERPOL and to anti-wildlife trafficking local group, GALF.
Elephant killer gets five years in prison in the Republic of Congo

(08/01/2013) The Congolese Supreme Court has ordered Ghislain Ngondjo (known as Pepito) to five years in prison for slaughtering dozens of elephants for their ivory tusks. The five year sentence is the maximum in the Republic of Congo for poaching. Ngondjo was considered the "kingpin" of an elephant poaching group; in addition to killing pachyderms, Ngondjo recruited new poachers and made death threats to park rangers and staff in Odzala National Park.
Zoos call on governments to take urgent action against illegal wildlife trade (photos)
(07/24/2013) In a single night in March, a band of heavily-armed, horse-riding poachers slaughtered 89 elephants in southern Chad, thirty of which were pregnant females. The carnage was the worst poaching incident of the year, but even this slaughter paled in comparison to the 650 elephants killed in a Cameroon park in 2012. Elephant poaching is hitting new records as experts say some 30,000 elephants are being killed every year for their ivory tusks. But the illegal wildlife trade—estimated at $19 billion—is not just decimating elephants, but also rhinos, big cats, great apes, and thousands of lesser-known species like pangolins and slow lorises. This growing carnage recently led to representatives of over 40 zoos and dozens of wildlife programs to call on governments around the world to take immediate action on long-neglected wildlife crime.
Brazil's military takes on illegal loggers to protect nearly-extinct tribe

(07/18/2013) Brazil has launched a military campaign to evict illegal loggers working from the fringes of an indigenous reserve home to the Awá people, reports Survival International. Inhabiting the Amazon rainforest in northeastern Brazil, only around 450 Awá, also known as Guajá, survive today, and around a quarter of these have chosen voluntary isolation.
New forensic method tells the difference between poached and legal ivory

(07/01/2013) Forensic-dating could end a major loophole in the current global ban on ivory, according to a new paper in the Proceedings of the National Academy of Sciences (PNAS). Scientists have developed a method to determine the age of ivory, allowing traders to tell the difference between ivory taken before the ban in 1989, which is still legal, and recently-poached ivory.
60 big cats killed in Brazilian parks in last two years
(06/24/2013) At least 60 big cats have been killed within national protected areas in Brazil during the past two years according to a recent survey published in mongabay.com's open access journal Tropical Conservation Science. The report, which focuses on jaguar (Panthera onca) and puma (Puma concolor) populations, within Brazilian protected areas shows that reserve management and use restrictions impact the level of big cat hunting.
On guard: protecting wildlife in a heavily hunted Brazilian forest

(06/24/2013) The Brazilian government offers tax relief to landowners who set aside areas for preservation. While this has expanded the system of private ecological reserves considerably, the Brazilian government currently lacks funding to enforce the protection of these lands from threats such as hunting, leaving the responsibility to the landowners.
Conserving the long-neglected freshwater fish of Borneo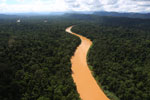 (06/11/2013) Borneo is a vast tropical island known for orangutans, rhinos, elephants, sun bears, proboscis monkeys, hornbills, and ubiquitous leeches. Conservationists have championed all of these species (aside from the leeches) in one way or another, but like many tropical regions Borneo's freshwater species have long been neglected, despite their rich biodiversity and importance to local people. But a new organization, the Kinabatangan River Spirit Initiative, is working to change that.
African militias trading elephant ivory for weapons
(06/05/2013) The Lord's Resistance Army (LRA) is using lucrative elephant poaching for ivory to fund its activities, according to a report published on Tuesday. Eyewitness accounts from park rangers, Lord's Resistance Army (LRA) escapees and recent senior defectors report that the fugitive warlord Joseph Kony, who is wanted by the international criminal court for war crimes and crimes against humanity, ordered African forest elephants to be killed in Garamba national park in the Democratic Republic of Congo (DRC) and the tusks sent to him.
Monitor lizards vanishing to international trade in pets and skins
(06/04/2013) The world's monitor lizards remind us that the world was once ruled by reptiles: this genus (Varanus) includes the world's biggest lizards, such as the stunning Komodo dragon and many other island kings. A large number beautifully-colored and patterned, these lizards are known for their intelligence and their apex role in many island food chains. However, a new study finds that the world's monitors, especially those in Southeast Asia, are vanishing due to the international pet trade and for their skins, which are turned into handbags and straps for watches. Meanwhile the rapid destruction of their rainforest homes is exacerbating the situation.
Kenya getting tough on poachers, set to increase fines and jail time

(05/29/2013) The Kenyan parliament has approved emergency measures to tackle the on-going poaching crisis: last week Kenyan MPs approved legislation that should lead to higher penalties for paochers. The emergency measure passed just as Kenya Wildlife Service's (KWS) is pursuing a gang of poachers that slaughtered four rhinos over the weekend. Both rhinos and elephants have suffered heavily as poaching has escalated in Kenya and beyond.
Prince Charles: take the war to the poachers

(05/22/2013) Prince Charles has warned that criminal gangs are turning to animal poaching, an unprecedented slaughter of species that can only be stopped by waging war on the perpetrators, in the latest of a series of increasingly outspoken speeches about the environment. Addressing a conference of conservationists at St James's Palace in London, the Prince of Wales announced a meeting of heads of state to take place this autumn in London under government auspices to combat what he described as an emerging, militarized crisis.
Bizarre, little-known carnivore sold as illegal pet in Indonesian markets (photo)
(04/24/2013) Few people have ever heard of the Javan ferret-badger, but that hasn't stopped this animal—little-known even to scientists—from being sold in open markets in Jakarta according to a new paper in Small Carnivore Conservation. The Javan ferret-badger (Melogale orientalis) is one of five species in the ferret-badger family, which are smaller than proper badgers with long bushy tails and elongated faces; all five species are found in Asia.
A new tool against illegal logging: tree DNA technology goes mainstream
(04/22/2013) Modern DNA technology offers a unique opportunity: you could pinpoint the origin of your table at home and track down if the trees it was made from were illegally obtained. Each wooden piece of furniture comes with a hidden natural barcode that can tell its story from a sapling in a forest all the way to your living room.
Civet poop coffee may be threatening wild species
(04/16/2013) Popularization of the world's strangest coffee may be imperiling a a suite of small mammals in Indonesia, according to a new study in Small Carnivore Conservation. The coffee, known as kopi luwak (kopi for coffee and luwak for the civet), is made from whole coffee beans that have passed through the guts of the animal and out the other side. The coffee is apparently noted for its distinct taste, though some have argued it is little more than novelty.
Double bad: Chinese vessel that collided with protected coral reef holding 22,000 pounds of pangolin meat

(04/15/2013) What do you do when you're smuggling 22,000 pounds of an endangered species on your boat? Answer: crash into a protected coral reef in the Philippines. Last Monday a Chinese vessel slammed into a coral reef in the Tubbataha National Marine Park; on Saturday the Filipino coastguard discovered 400 boxes of pangolin meat while inspecting the ship. Pangolins, which are scaly insect-eating mammals, have been decimated by the illegal wildlife trade as their scales are prized in Chinese Traditional Medicine and their meat is considered a delicacy.
Landowner who allegedly ordered Amazon murders acquitted

(04/10/2013) Jose Rodrigues Moreira, a Brazilian landowner who allegedly ordered the killings of Amazon activists Jose Claudio Ribeiro da Silva and his wife Maria, was acquitted this week due to lack of evidence. But, the two men who carried out the assassinations, Lindonjonson Silva Rocha and Alberto Lopes do Nascimento, were found guilty and sent to 42 and 45 years of jail respectively.
Killings over land continues in the Amazon

(04/04/2013) On Wednesday, in the Brazilian state of Pará, the trial begins of three men accused of murdering José Cláudio Ribeiro da Silva and his wife Maria do Espirito Santo, who had campaigned against loggers and ranchers for years. Their assassinations in May 2011 generated international outrage, just like that of Chico Mendes, 25 years ago, and that of the American-born nun Dorothy Stang in 2005.
An insidious threat to tropical forests: over-hunting endangers tree species in Asia and Africa
(04/04/2013) A fruit falls to the floor in a rainforest. It waits. And waits. Inside the fruit is a seed, and like most seeds in tropical forests, this one needs an animal—a good-sized animal—to move it to a new place where it can germinate and grow. But it may be waiting in vain. Hunting and poaching has decimated many mammal and bird populations across the tropics, and according to two new studies the loss of these important seed-disperser are imperiling the very nature of rainforests.
Poachers enlisting impoverished wildlife rangers as accomplices in elephant, rhino killing

(04/01/2013) Corruption among wildlife rangers is becoming a serious impediment in the fight against poaching, fuelled by soaring levels of cash offered by criminal poacher syndicates, senior conservation chiefs have admitted. Rangers in countries as diverse as Tanzania and Cambodia are being bribed by increasingly organised poaching gangs keen to supply ivory, rhino horn and tiger parts to meet huge consumer demand in Asia.
A thousand soldiers sent after marauding elephant poachers [warning: graphic photos]
(03/26/2013) Eight Central African nations have announced they will send a thousand soldiers after poachers responsible for slaughtering 89 elephants, including over 30 pregnant mothers, in Chad earlier this month. The mobilization of soldiers and law enforcement officers could be a sign that Central African countries are beginning to take elephant poaching, which has decimated populations across Africa, more seriously.
Over ten percent of a species' total population found in smuggler's bag
(03/25/2013) On Friday, March 15th Thai authorities arrested a 38-year-old man attempting to collect a bag containing 54 ploughshare tortoises (Astrochelys yniphora) and 21 radiated tortoises (Astrochelys radiata) in Suvarnabhumi International Airport. Found only in Madagascar both species are listed as Critically Endangered and protected under the Convention on International Trade in Endangered Species (CITES), but have become lucrative targets for the black-market pet trade given their scarcity and beauty.
What happened to the elephants of Bouba Ndjida? [warning: graphic photos]
(03/07/2013) A new report released by the Wildlife Conservation Society says that poachers have killed a staggering 62 percent of Africa's forest elephants in the last decade. The insatiable demand for elephant ivory hails mainly from China and Thailand, which is ironically hosting this year's CITES (CoP16) meeting. The meeting will continue until March 13 2013. The study is based on a survey of five elephant range states including Cameroon. Cameroon is the home of Bouba Ndjida National Park, where the dizzying massacre of 650 elephants occurred last year.
CITES 40th Anniversary: Reflections of CITES Secretary-General John Scanlon
(03/04/2013) The Convention on International Trade in Endangered Species (CITES) is often hailed by scholars and conservationists as the most effective international environmental agreement. On March 3, CITES celebrates its 40th anniversary. What accounts for its success? In the following interview, CITES Secretary-General John Scanlon reflects on the convention's strengths and weaknesses.
First strike: nearly 200 illegal loggers arrested in massive sting across 12 countries

(02/20/2013) One-hundred-and-ninety-seven illegal loggers across a dozen Central and South American countries have been arrested during INTERPOL's first strike against widespread forestry crime. INTERPOL, or The International Criminal Police Organization, worked with local police forces to take a first crack at illegal logging. In all the effort, known as Operation Lead, resulted in the seizure of 50,000 cubic meters of wood worth around $8 million.
Rosewood in Belize: the truth behind the smoke

(02/11/2013) In Belize, the uncontrolled and often illegal harvesting of rosewood has been, and still is, one of the major environmental issues in the country. In March of last year, the government established a moratorium on the export and extraction of rosewood, however illegal harvesting continued. On Friday 11 January, the Minister of Forestry, Fisheries and Sustainable Development made the bold move of burning confiscated illegally cut rosewood flitches.
Pity the pangolin: little-known mammal most common victim of the wildlife trade
(02/11/2013) Last year tens-of-thousands of elephants and hundreds of rhinos were butchered to feed the growing appetite of the illegal wildlife trade. This black market, largely centered in East Asia, also devoured tigers, sharks, leopards, turtles, snakes, and hundreds of other animals. Estimated at $19 billion annually, the booming trade has periodically captured global media attention, even receiving a high-profile speech by U.S. Secretary of State, Hillary Clinton, last year. But the biggest mammal victim of the wildlife trade is not elephants, rhinos, or tigers, but an animal that receives little notice and even less press: the pangolin. If that name doesn't ring a bell, you're not alone.
Over 11,000 elephants killed by poachers in a single park [warning: graphic photo]
(02/06/2013) Surveys in Gabon's Minkebe National Park have revealed rare and hard data on the scale of the illegal ivory trade over the last eight years: 11,100 forest elephants have been slaughtered for their tusks in this remote protected area since 2004. In all, poachers have cut down the park's elephant population by two-thirds, decimating what was once believed to be the largest forest elephant population in the world.
Sri Lanka to give poached ivory to Buddhist temple, flouting international agreements
(02/05/2013) The Sri Lankan government is planning to give 359 elephant tusks to a Buddhist temple, a move that critics say is flouting the Convention on International Trade in Endangered Species (CITES). The illegal tusks were seized in Sri Lanka last May en route to Dubai from Kenya; they are believed to stem from hundreds of butchered elephants, including juveniles, inside Africa, possibly Uganda. The decision comes after a high-profile National Geographic article, Ivory Worship, outlined how demand for ivory religious handicrafts, particularly by Catholics and Buddhists, is worsening the current poaching crisis. In 2011, it was estimated that 25,000 elephants were illegally slaughtered for their tusks.
Vatican condemns elephant poaching, pledges steps

(02/04/2013) Responding to an investigative report by National Geographic, the Vatican has condemned elephant poaching for ivory and pledged three steps to help in the battle to save the world's elephants. The National Geographic article Ivory Worship, by Bryan Christy, looked at how religions—specifically religious items for Christians and Buddhists—were playing in the growing demand for black-market ivory, which is currently resulting in the violent deaths of tens-of-thousands of endangered elephants every year.
Asian bear farming: breaking the cycle of exploitation (warning: graphic images)
(01/31/2013) In the forests of Asia, bears are being captured. These captives will be sent to bear farms, most unregulated and illegal, where they will be kept alive in a small cage, locked away for life. Their bodies will be used as renewable natural resources, from which profit will be made through the extraction of internal organs and fluids. By surgically inserting a permanent catheter into the bears' gall bladders, "farmers" extract several ounces of their bile. In a cycle of exploitation across east Asia, traditional medicine shops receive these daily shipments of bear bile products, while consumers support the industry through the purchase of these products, sustaining a supply-and-demand chain that puts more and more bears in cages as wild populations dwindle.
Bolivia takes step to boost agriculture and curb surging deforestation
(01/28/2013) Bolivia has passed a land use law that aims to boost food security and slow deforestation in a region that is wracked by illegal forest clearing. Approved earlier this month, Ley 337 seeks to regulate land use in the Bolivian Amazon where deforestation for industrial agricultural production is surging. The law requires landowners who illegally deforested land prior to 2011 to either reforest or establish 'productive agriculture' on the land and pay reduced fines for past transgressions.
Illegally logged trees to start calling for help

(01/24/2013) Illegal loggers beware: trees will soon be calling—literally—for backup. The Brazilian government has begun fixing trees with a wireless device, known as Invisible Tracck, which will allow trees to contact authorities after being felled and moved.
Kenya suffers it worst elephant poaching incident yet

(01/08/2013) Over the weekend Kenya suffered its single worst elephant poaching incident when poachers killed an entire family of elephants. In all, eleven elephants were gunned down and had their tusks removed. Among the dead was a two-month-old calf. The elephants were killed in Tsavo East National Park.
African governments and China must respond as ivory trade reaches preposterous proportions
(12/13/2012) Royal Malaysian Customs have just announced the seizure of 24 tons of ivory in Port Klang. This is the largest-ever seizure of ivory in transit through the country. The 1,500 pieces of ivory came from over 750 elephants and were exported from Togo, a tiny west African country that has fewer than 200 elephants. The ivory was hidden in containers containing wooden crates that were built to look like stacks of sawn timber. The two crates were shipped from the port of Lomé in Togo, and were going to China via Algeria, Spain and Malaysia. Richard Leakey, the former Director of the Kenya Wildlife Service (KWS), who set Kenya's ivory stockpile alight in 1989, responded to the announcement.







Poaching in Serengeti seems worth the risk

(12/10/2012) Illegal hunting in Tanzania's Greater Serengeti Ecosystem (GSE) remains a prevalent activity for local people, despite government regulation and grassroots movements to prevent it. A new paper from mongabay.com's open-access Tropical Conversation Science examines the factors that drive poachers to continue their activities, despite the high costs involved. By interviewing citizens involved with illegal hunting in the Western part of the Serengeti, they were able to identify key risks that are faced by the hunters as well as the perceived gains of a successful hunt.




Page 1 | Page 2 | Page 3