News articles on laurel neme

---
Mongabay.com news articles on laurel neme in blog format. Updated regularly.






CITES 40th Anniversary: Reflections of CITES Secretary-General John Scanlon
(03/04/2013) The Convention on International Trade in Endangered Species (CITES) is often hailed by scholars and conservationists as the most effective international environmental agreement. On March 3, CITES celebrates its 40th anniversary. What accounts for its success? In the following interview, CITES Secretary-General John Scanlon reflects on the convention's strengths and weaknesses.
Elephant and Rhino issues to be debated at CITES 16th Conference of Parties
(03/04/2013) When the Convention on International Trade in Endangered Species of Wild Fauna and Flora (CITES) meets from March 3-14 in Bangkok for its 16th Conference of Parties (CoP16), elephants and rhinos will be at the top of the agenda. While there are no proposals to open up trade in either elephant ivory or rhino horn, there are several other items on the agenda that will likely generate debate, including proposals for extension of the moratorium on ivory trade, a decision-making mechanism for ivory trade, and suspension of any rhino trophy hunting. Also to be discussed are enforcement mechanisms, including how to prevent illegal ivory from entering existing legal domestic markets.
Overview of the CITES 16th Conference of Parties in Bangkok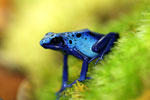 (03/01/2013) When countries meet in Bangkok, Thailand for the Convention on International Trade in Endangered Species of Wild Fauna and Flora (CITES) 16th Conference of Parties (CoP16), to be held from March 3-14, they'll consider 70 proposals submitted by 55 States regarding a range of species, from polar bears to turtles and tropical timbers. To help sort through the many agenda items, CITES Secretary-General John Scanlon provided the following overview of the most significant issues.
A lifetime with elephants: an interview with Iain Douglas-Hamilton
(02/22/2013) Iain Douglas-Hamilton has dedicated his life to elephants. 'I like elephants because of the way they treat each other,' he says. 'They're very nice to each other most of the time, but not all the time ... You see a lot of play...a lot of tender touching, caressing, tactile contact of one sort or another.' The affection goes both ways. Douglas-Hamilton recalls one curious female who would always approach his vehicle. 'Eventually I got so friendly with her that...I could walk with her and feed her the fruits of the wild gardenia tree. That was a very special elephant for me. She eventually brought her babies up to meet me.' Douglas-Hamilton's dedication extends to protecting the species from harm, and especially the ivory trade. He calls the current ivory trade "totally unsustainable" and recommends a total ban on the trade.
President of Chad sends troops after elephant poachers
(08/03/2012) Following the July 24 massacre of dozens of elephants in southwestern Chad, President Idriss Deby Itno sent helicopters to the Mayo Lemie – Chari Baguiri area to catch the poachers, according to Stephanie Vergniault, president of SOS Elephants, a wildlife NGO. President Deby also gave orders to check all the country's exit points for both the poachers and smuggled ivory. Reputedly, President Deby is personally concerned about elephant poaching and was unhappy to learn of last week's incident.
Dozens of elephants massacred in Chad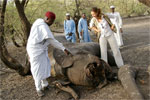 (07/26/2012) Poachers killed at least 30 elephants in southwestern Chad during the early hours of Tuesday, July 24. During the night, Stephanie Vergniault, president of the organization SOS Elephants, described on her Facebook page how a group of armed horsemen chased a herd of elephants with "war weapons near the SOS Elephants camp in the Chari Baguirmi area. After daybreak, the SOS Elephants team counted 28 carcasses, most with missing tusks. The exact number of carcasses with missing tusks is unclear because the team was afraid to stay and investigate further due to the presence of the poachers hiding on the other side of the Chari River.
The dark side of new species discovery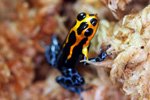 (12/21/2011) Scientists and the public usually rejoice when a new species is discovered. But biologist Bryan Stuart has learned the hard way that the discovery of new species, especially when that species is commercially valuable, has a dark side-one that could potentially wipe out the new species before protections can be put in place. Stuart has discovered 27 species unknown previously to scientists - so far. That includes 22 species of frogs, three types of snakes, and two salamanders. His experience with one of these, a warty salamander from Laos with striking markings (Laotriton laoensis), opened his eyes to a dark side of scientific discovery: commercial overexploitation before protections are in place. Shortly after Stuart described the previously unknown species Paramesotriton laoensis in a scientific paper published in 2002, commercial dealers began collecting this Lao newt for sale into the pet trade. In essence, the dealers used Stuart's geographic description in the paper as a "roadmap" to find the rare newt.
Herpetology curator: behind-the-scenes of 'new species' discoveries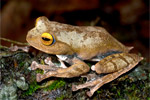 (12/18/2011) Bryan Stuart's mission as a curator of amphibians and reptiles at the North Carolina Museum of Natural Sciences is to understand the diversity of life on earth. For that, he documents what species occur where and why. He's particularly attracted to areas where there's a dearth of knowledge, like Laos, Cambodia, Vietnam and Gabon, and so far has discovered 27 species unknown previously to scientists: three species of snakes, two types of salamanders, and 22 kinds of frogs.
Seahorses under stress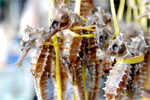 (11/21/2011) With about 25 million seahorses sold each year, global consumption of seahorses is massive. They're used in traditional Asian medicine and also sold as curios and aquarium pets. Over the last decade, overexploitation and habitat degradation have prompted declines of between 15 to 70 percent in many seahorse populations. Marine biologist and author Helen Scales notes there is much still unknown about seahorses.
Covert Creatures: The Clandestine Lives of Seahorses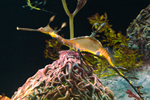 (11/15/2011) Seahorses are strange looking creatures, with a horse's head on top of a kangaroo's pouched belly, bulging, swiveling chameleon eyes, a prehensile monkey tail, color-changing armor and a royal crown, all shrunk down to the size of a chess piece. To marine biologist Helen Scales, these elusive creatures are a perfect symbol of the ocean's biodiversity.
Dung beetles: a sewage SWAT team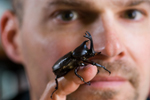 (06/21/2011) Biology Professor Doug Emlen speaks with Laurel Neme on her 'The WildLife' radio show and podcast about the biology and armaments of dung beetles. An expert on the evolution and development of bizarre shapes in insects, Emlen notes that dung beetles are one of the 'kings' of odd morphology.
Cambodia's wildlife pioneer: saving species and places in Southeast Asia's last forest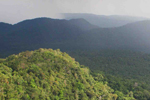 (05/11/2011) Suwanna Gauntlett has dedicated her life to protecting rainforests and wildlife in some of the world's most hostile and rugged environments and has set the trend of a new generation of direct action conservationists. She has designed, implemented, and supported bold, front-line conservation programs to save endangered wildlife populations from the brink of extinction, including saving the Amur Tiger (also known as the Siberian Tiger) from extinction in the 1990s in the Russian Far East, when only about 80 individuals remained and reversing the drastic decline of Olive Ridley sea turtles along the coast of Orissa, India in the 1990s, when annual nestings had declined from 600,000 to a mere 8,130. When she first arrived in Cambodia in the late 1990s, its forests were silent. 'You couldn't hear any birds, you couldn't hear any wildlife and you could hardly see any signs of wildlife because of the destruction,' Gauntlett said. Wildlife was being sold everywhere, in restaurants, on the street, and even her local beauty parlor had a bear.
Pet trade, palm oil, and poaching: the challenges of saving the 'forgotten bear'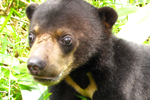 (03/20/2011) Siew Te Wong is one of the few scientists who study sun bears (Ursus malayanus). He spoke with Laurel Neme on her "The WildLife" radio show and podcast about the interesting biological characteristics of this rare Southeast Asian bear, threats to the species and what is being done to help them. Sun bears are the smallest of the eight bear species. They're about half the size of a North American black bear and typically sport a tan crescent on their chests. Similar to the "moon bear," or Asian black bear, the sun bear's name comes from this marking, which looks like a rising or setting sun.
Teaching orangutans to be wild – orangutan rehabilitation
(12/15/2010) Michelle Desilets, Executive Director of the Orangutan Land Trust, spoke with Laurel Neme on her 'The WildLife' radio show and podcast about the process of rehabilitating orphaned orangutans and teaching them to be wild. This is the second in a two-part interview. The first part covered orangutan biology, habits and the interconnected threats, from the pet trade to habitat loss and expansion of oil palm plantations, facing these creatures. This second part focuses on what happens to surviving orangutans.
The secrets of animal TV: many nature shows rely on unethical tactics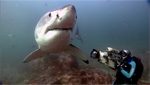 (12/14/2010) Classic animal series like Shark Week hosted by the Discovery Channel and Wild America by Marty Stouffer have captivated audiences for years, bringing them closer than ever to nature from the comfort of their living room. Unfortunately what the audience doesn't know is that many of those wildlife films incorporate unethical behavior including animal harassment, staged scenes, and the use of trained animals. These claims come from Chris Palmer, a veteran wildlife filmmaker with over 300 hours of original programming for prime time television and the giant screen, director of the Center for Environmental Filmmaking at American University and author of Shooting in the Wild: An Insider's Account of Making Movies in the Animal Kingdom (Sierra Club Books, 2010). Palmer concedes that his films have used these unethical techniques and that significant proportion of the wildlife programming we find ourselves enthralled with is as fake and scripted as any Hollywood movie.
The problem-solving ape: what makes orangutans special and why they are threatened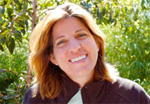 (12/13/2010) Michelle Desilets, Executive Director of the Orangutan Land Trust, spoke with Laurel Neme on her "The WildLife" radio show and podcast about orangutans. In the first part of her interview, they discussed orangutan biology, habits and the interconnected threats, from the pet trade to habitat loss and expansion of oil palm plantations, facing these creatures. The second part covers the process of rehabilitating orangutans and teaching them to be wild.
Undercover for animals: on the frontline of wildlife crime in the US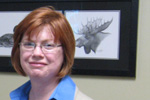 (11/03/2010) Special Agent O'Connor is a veteran wildlife law enforcement officer, with over 20 years of service under belt. She began her career in wildlife law enforcement as a Conservation Police Officer for the Illinois Department of Natural Resources, where she served for eight years. She then moved to federal wildlife law enforcement with the US Fish and Wildlife Service, where she was first posted to Ann Arbor, Michigan, and then to St. Paul, Minnesota. During that time, she investigated several major cases that led to felony convictions for violations of wildlife laws. She now serves as a training officer at the Federal Law Enforcement Training Center (FLETC), the interagency law enforcement training organization that serves 88 Federal agencies, in Georgia.
Brazil's Operation Jaguar: Busting a Poaching Ring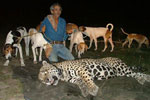 (10/03/2010) Twenty years ago Brazil's most notorious jaguar hunter, Teodoro Antonio Melo Neto, also known as 'Tonho da onça' or 'Jaguar Tony,' swore off poaching after logging 600 kills. The foe turned ally of the jaguar then convinced environmental and research institutes, such as the non-governmental organization Instituto Pró-Carnívoros, of his about face and to employ his tracking skills for conservation. Thus began years of assisting these agencies find the animals so that they could monitor their movements and research their habits. His dramatic change of heart even became the subject of a children's book titled Tonho da onça, which related a conservation message. But on July 20, 2010, 'Jaguar Tony,' now 71 years old, revealed his true spots when federal agents arrested him along with seven others preparing for another in a long series of illegal hunts.
Determining which birds cause airplanes to crash: an interview with a feather expert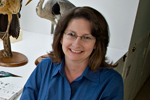 (09/19/2010) Marcy Heacker, a wildlife forensic scientist at the Smithsonian Institution's Feather Identification Lab in Washington, DC, spoke with Laurel Neme on her 'The WildLife' radio show and podcast about wildlife forensics, bird strikes and feather identification, and how her analyses help airports manage wildlife to enhance airline safety. She also discussed how she and other forensic scientists at this lab helped analyze the crash of U.S. Airways Flight 1549, otherwise known as the 'miracle on the Hudson.'
Frogs and friends at risk from booming global wildlife trade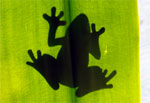 (09/08/2010) Alejandra Goyenechea, International Counsel at Defenders of Wildlife and Chair of the Species Survival Network's (SSN) Amphibian Working Group, spoke with Laurel Neme on her 'The WildLife' radio show and podcast about the global amphibian trade. In her interview, Alejandra Goyenechea discusses the benefits of frogs and the many threats – such as habitat loss, climate change, pollution, invasive species, disease, and overexploitation – to their survival. Did you know frogs indicate environmental quality, like canaries in a coal mine? Or that many have medicinal properties, like the phantasmal poison dart frog which produces a painkiller 200 times the potency of morphine?
The role of wildlife conservation in human health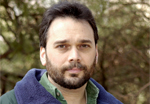 (09/07/2010) Livestock farming is an important traditional way for communities in sub-Saharan Africa to build and maintain wealth, as well as attain food security. Essentially, the transfrontier or transboundary conservation areas (TFCA) concept and current internationally accepted approaches to the management of transboundary animal diseases (TADs) are largely incompatible. The TFCA concept promotes free movement of wildlife over large geographic areas, whereas the present approach to the control of TADs (especially for directly transmitted infections) is to use vast fences to prevent movement of susceptible animals between areas where TADs occur and areas where they do not, and to similarly restrict trade in commodities derived from animals on the same basis. In short, the incompatibility between current regulatory approaches for the control of diseases of agro-economic importance and the vision of vast conservation landscapes without major fences needs to be reconciled in the interest of regional risk-diversification of land-use options and livelihood opportunities. An integrated, interdisciplinary approach offers the most promising way to address these issues—one where the well-being of wildlife and ecosystems, domestic animals, and Africa's people are assessed holistically, with a "One World – One Health" perspective.
The biology and conservation of declining coral reefs, an interview with Kristian Teleki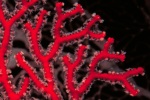 (08/15/2010) Coral reefs are often considered the "rainforests of the sea" because of their amazing biodiversity. In fact, coral reefs are one of the most diverse ecosystems on earth. It is not unusual for a reef to have several hundred species of snails, sixty species of corals, and several hundred species of fish. While they comprise under 1% of the world's ocean surface, one-quarter of all marine species call coral reefs their home. Fish, mollusks, sea stars, sea urchins, and more depend on this important ecosystem, and humans do too. Coral reefs supply important goods and services–from shoreline protection to tourism and fisheries–which by some estimates are worth $375 billion a year.
Amazing reefs: how corals 'hear', an interview with Steve Simpson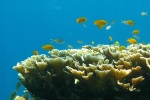 (07/21/2010) Corals aggregate to form vast reefs, which are home to numerous species and provide vital ecological services such as protecting shorelines. However, coral reefs are one of the most threatened ecosystems in the world due to many factors, such as global warming and ocean acidification. Recent research by Simpson and his team of scientists has shown that corals, rather than drifting aimlessly after being released by their parent colonies and by chance landing back on reefs, instead find their way purposefully to reefs by detecting the sound of snapping shrimps and grunting fish on the reef. However, that discovery also means that the larvae might struggle to find reefs when human noises, like drilling or boats, mask the natural ocean sounds.
Dangerous and exploitative: a look at pet wild cats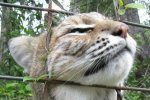 (07/13/2010) From bobcats, lynx, and pumas to the thousands of lions, tigers, leopards, cheetahs, and little wildcats living in captive environments, the WildCat Conservation Legal Aid Society is solely devoted to ending the commercial exploitation of all wildcats. Its primary objectives are to drastically reduce and subsequently eliminate the private ownership of wildcats as pets; wildcats held in roadside zoos and pseudo-sanctuaries; using wildcats for entertainment purposes; as well as hunting, trafficking, and trade of wildcats. Lisa Tekancic is an attorney in Washington, DC and founder and president of WildCat Conservation Legal Aid Society. Their mission is to protect and defend all native and non-native wildcats. Lisa is an active member of the DC Bar's Animal Law Committee and has organized and moderated two legal conferences: 'Trafficking, Trade, and Transport of Wildlife,' and 'Wildlife and the Law.' She presented a paper on the methodology of 'Animal Ethics Committee' for the International Conference on Environmental Enrichment, and for four years was volunteer staff at the National Zoological Park's, Cheetah Station.
Top officials busted in Amazon logging raids, but political patronage may set them free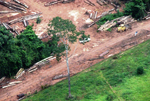 (07/08/2010) After two years of investigations, the Brazilian Federal Police arrested some of the most important politicians and authorities for illegal logging in the Amazon. Code-named Operation Jurupari, the Brazilian Federal Police uncovered a massive illegal logging scheme that resulted in the arrests of over 90 people and caused an estimated $500 million in damage to the Amazon rainforest. Over 496 square kilometers (192 square miles), an area the size of California or Spain, were affected and an estimated 1.5 million cubic meters (642 million board feet) of timber was illegally extracted. While the investigation focused on activities in the state of Mato Grosso, which is located in the southern Amazon and is one of the most deforested regions largely due to clearing land for expanding soya farms, it touched numerous others, including São Paulo, Paraná, Rio Grande do Sul, Espirito Santo, Minas Gerais and Distrito Federal.
The changing nature of illegal logging - and illegal logging investigations - in Brazil's Amazon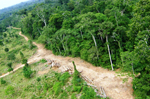 (07/08/2010) Operation Jurupari followed on several previous Brazilian Federal Police investigations into SEMA, including: Operation Curupira I (June 2005); Curupira II (August 2005); Mapinguari (2007), Arc of Fire (2008), Termes (April 2008); and Caipora (2008). It was led by Franco Perazzoni, Brazilian Federal Police "Delegado" (or chief), who, since 2006, has headed the environmental crimes unit in Mato Grosso and been responsible for about 300 investigations on environmental crimes, of which about 75% were on illegal deforestation in federal areas. The nature of the illegal deforestation has changed over the years.
Tiger farming and traditional Chinese medicine

(06/27/2010) The number of wild tigers has plummeted from 25,000-30,000 animals 50 years ago to around 3,200 today. A large part of the drop is from habitat loss and fragmentation. Tiger habitat has been reduced by 40 percent over the last decade, and tigers now occupy less than 7 percent of their historical range. Poaching has also contributed significantly to these dramatic population declines, particularly to supply parts for use in traditional medicine. In an interview with Laurel Neme, Grace Ge Gabriel, Asia Regional Director for the International Fund for Animal Welfare (IFAW), notes that, although the Chinese government has made significant efforts to reduce demand for tiger products by eliminating tiger bone from the official pharmacopeias, raising consumer awareness and identifying cheaper and more effective herbal alternatives to tiger bone for use in TCM, tiger farms threaten to reopen demand for tiger products by breeding tigers excessively, stockpiling tiger carcasses, and stoking demand by making and selling wine made from tiger bone.
An interview with Rhett Butler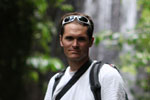 (06/16/2010) Rhett Butler, founder of Mongabay.com, spoke with Laurel Neme on her "The WildLife" radio show and podcast about what prompted him to develop this top environmental website and also about some of the more interesting and bizarre stories he's pursued in Madagascar, the Amazon and around the world. Rhett founded Mongabay.com in 1999 with the mission of raising interest in and appreciation of wild lands and wildlife, while examining the impact of emerging local and global trends in technology, economics, and finance on conservation and development. Mongabay.com is an independent information source, not affiliated with any other organization.
Mexico has big role in the illegal parrot trade
(05/30/2010) Juan Carlos Cantu, Director of Defenders of Wildlife's Mexico office, spoke with Laurel Neme on her The WildLife radio show and podcast about the illegal parrot trade in Mexico and how his innovative research into the trade was used by the Mexican Congress to reform that country's Wildlife Law to ban all trade in parrots. The illegal pet trade is probably the second-biggest threat facing parrots in the wild, with only habitat loss rating higher, and the impact is disturbing. Defenders of Wildlife documented this threat in a 2007 landmark study which found between 65,000 and 78,500 parrots are illegally trapped in the wild in Mexico every year.