News articles on latin america

---
Mongabay.com news articles on latin america in blog format. Updated regularly.





With deforestation rising, Brazil sends more police to the Amazon

(08/19/2013) With deforestation pacing more than 90 percent ahead of last year's rate according to an estimate released today, Brazil said it has increased the number of environmental inspectors in the Amazon rainforest.


Meet the BABY olinguito


(08/18/2013) Since its announcement on Thursday, the olinguito—the world's newest mammal—has taken the world by storm. Hundreds of articles have been written about the new species, while its cuddly appearance has already been made the subject of cartoons. Now, conservationists have released the first photos of a baby olinguito. The new photos come from La Mesenia Conservation Project in Colombia, an Andean cloud forest reserve that is a project area for the NGO SavingSpecies.


Colombia establishes giant rainforest park to protect 'uncontacted' tribes

(08/16/2013) Next week the Colombian government will officially double the size of its largest national park, reports El Espectador.


Ecuador shelves big idea for saving the Amazon

(08/16/2013) The fate of the most biodiverse rainforest on Earth has been decided: it will be drilled for oil.


Scientists discover teddy bear-like mammal hiding out in Andean cloud forests (photos)


(08/15/2013) While the olinguito looks like a wild, tree-climbing teddy bear with a cat's tail, it's actually the world's newest mammalian carnivore. The remarkable discovery—the first mammal carnivore uncovered in the Western Hemisphere since the 1970s—was found in the lush cloud forests of the Andes, a biodiverse region home to a wide-range of species found no-where else. Dubbed the olinguito (Bassaricyon neblina), the new mammal is a member of a little-known, elusive group of mammals—olingos—that are related to raccoons, coatis, and kinkajous. However, according to its description in the journal Zookeys, the olinguito is the most distinct member of its group, separated from other olingos by 3-4 million years (or longer than Homo sapiens have walked the Earth).


Little NGO takes on goliath task: conserving the vanishing ecosystems of Paraguay


(08/12/2013) Landlocked in the navel of South America, the forests, wetlands and savannahs of Paraguay boast rich biodiversity and endemic species, yet the unique landscapes of Paraguay also face increasing threats, primarily from agricultural expansion. Controlled burns and clear cutting have become common practice as wildlands are converted for soy and cattle production. In some areas this land conversion is rapid: the Paraguayan Chaco, for instance, is being lost at a rate of 10% per year. One organization is working to reverse this trend. Para La Tierra (PLT) is a small NGO dedicated to the conservation of threatened habitats in Paraguay. Located on the Reserva Natural Laguna Blanca, in-between two of South America's most threatened habitats: the Atlantic Forest and the vast topical savannah known as the cerrado, PLT is in a unique position to champion conservation.


Old-growth trees store half rainforest carbon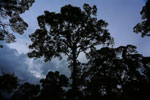 (08/07/2013) Large trees store store up to half the above-ground biomass in tropical forests, reiterating their importance in buffering against climate change, finds a study published in Global Ecology and Biogeography. The research, which involved dozens of scientists from more than 40 institutions, is based on data from nearly 200,000 individual trees across 120 lowland rainforest sites in Africa, Asia, and Latin America. It found that carbon storage by big trees varies across tropical forest regions, but is substantial in all forests.


Deforestation ban working in Costa Rica


(08/05/2013) Costa Rica's ban on clearing of "mature" forests appears to be effective in encouraging agricultural expansion on non-forest lands, finds a study published today in the journal Environmental Research Letters. The study, which was led by Matthew Fagan of Columbia University, found that since Costa Rica implemented its ban on conversion of mature forests in 1996, the annual rate of old-growth forest loss dropped 40 percent despite an agricultural boom in the region. The results suggest that Costa Rica is intensifying agricultural production while simultaneously sparing forests.


Suspects arrested in Costa Rican sea turtle conservationist's murder

(08/03/2013) Eight suspects were arrested during early-morning raids Wednesday in the murder of Costa Rican sea turtle conservationist Jairo Mora.


Researchers produce the most accurate carbon map for an entire country


(07/22/2013) Researchers working in Panama have produced the most accurate carbon map for an entire country. Using satellite imagery and extremely high-resolution Light Detection and Ranging (LiDAR) data from airplane-based sensors, a team led by Greg Asner produced a detailed carbon map across the Central American country's forests. The map reveals variations in forest carbon density resulting from elevation, slope, climate, vegetation type, and canopy coverage.


Deforestation rate doubles in the Amazon rainforest, says group

(07/19/2013) Deforestation in the Brazilian Amazon is up 103 percent over this time last year, reports the latest assessment by Imazon, a Brazil-based NGO.


Brazil's military takes on illegal loggers to protect nearly-extinct tribe

(07/18/2013) Brazil has launched a military campaign to evict illegal loggers working from the fringes of an indigenous reserve home to the Awá people, reports Survival International. Inhabiting the Amazon rainforest in northeastern Brazil, only around 450 Awá, also known as Guajá, survive today, and around a quarter of these have chosen voluntary isolation.


Tiny suckermouth catfish discovered in Brazil

(07/10/2013) Scientists have discovered a new suckermouth catfish in the Rio Paraíba do Sul basin in southeastern Brazil.


Brazil confirms Amazon deforestation increase

(07/06/2013) Data released by the Brazilian government Friday confirms an increase in Amazon forest loss.


Vocal-sac breeding frog possibly extinct


(07/02/2013) Somewhere in the wet pine forests of Chile, a male frog is gulping-up a bunch of eggs. No he's not eating them, he's just being a good dad. Darwin's frogs are known for their unique parenting-style: tadpoles are incubated in the vocal sac of the father. First recorded by Charles Darwin during his world famous voyage aboard the Beagle, the amphibians were common in the native Chilean pine forests until the last few decades. Now, scientists believe that one of the two species, the northern Darwin's frog (Rhinoderma rufum), may have vanished for good. And the other is hanging on by a thread.


Amazonian students help monitor threatened frog populations


(07/01/2013) According to the International Union for Conservation of Nature, amphibians are the most threatened group of animals on Earth: currently around 30 percent of the world's amphibians are listed as threatened with extinction. However this percentage doesn't include those species about which too little is known to evaluate (26 percent). Amphibians face many threats but two of the largest are habitat loss and the lethal chytrid fungus, which has rapidly spread worldwide and is likely responsible for numerous extinctions. But conservationists are coming up with innovative and creative ways to keep amphibians from disappearing, including a program from the Detroit Zoological Society (DZS) that is working with students in the Peruvian Amazon to monitor frog populations.


Brazilian state to pay counties that cut Amazon deforestation

(07/01/2013) The Brazilian state of Pará has launched a new compensation scheme to incentivize further cuts in deforestation.


Conservationists urge Costa Rica to maintain environmental leadership


(06/30/2013) A body representing hundreds of biologists and conservation scientists has urged the government of Costa Rica not to jeopardize its reputation as an environmental leader by allowing carve-outs from protected areas for industrial development. In a declaration issued Thursday at the conclusion its 50th annual meeting, the Association for Tropical Biology and Conservation (ATBC), applauded Costa Rica's pathbreaking efforts to integrate environmental protection into its national development strategy. But the group warned that proposed projects that would require de-gazetting of national parks for energy projects could undermine Costa Rica's green credentials.


Colombian mining dispute highlights legislative disarray

(06/27/2013) Colombian authorities have ruled that local environmental officials acted correctly in ordering South African mining giant AngloGold Ashanti to halt their work, following demands from the multinational corporation for their disciplining. Cortolima, the environmental authority of the department of Tolima in central Colombia, stopped AngloGold from conducting unsanctioned exploration activities in the Tolima municipality of Piedras in March.


Deforestation rates for Amazon countries outside Brazil


(06/26/2013) Deforestation has sharply increased in Amazon countries outside of Brazil, finds a new analysis based on satellite data. Using data from Terra-i, O-Eco's InfoAmazonia team has developed updated forest cover maps for Bolivia, Colombia, Ecuador, Guyana, French Guyana, Peru, Suriname and Venezuela. The results reveal an increasing trend in forest clearing since 2004.


Over 30 tons of explosives to be detonated in Manu National Park buffer zone

(06/24/2013) A consortium of gas companies headed by Pluspetrol and including Hunt Oil plans on detonating approximately 38 tons of explosives in the south-east Peruvian Amazon in one of the most biodiverse regions in the world. The detonations are part of 2D and 3D seismic tests planned by Pluspetrol in its search for new gas deposits in the Camisea region—plans that are currently pending approval by Peru's Ministry of Energy and Mines (MEM).


60 big cats killed in Brazilian parks in last two years


(06/24/2013) At least 60 big cats have been killed within national protected areas in Brazil during the past two years according to a recent survey published in mongabay.com's open access journal Tropical Conservation Science. The report, which focuses on jaguar (Panthera onca) and puma (Puma concolor) populations, within Brazilian protected areas shows that reserve management and use restrictions impact the level of big cat hunting.


On guard: protecting wildlife in a heavily hunted Brazilian forest

(06/24/2013) The Brazilian government offers tax relief to landowners who set aside areas for preservation. While this has expanded the system of private ecological reserves considerably, the Brazilian government currently lacks funding to enforce the protection of these lands from threats such as hunting, leaving the responsibility to the landowners.


Peru opens deforestation data to the public, shows drop in Amazon forest clearing

(06/13/2013) Peru has made its comprehensive deforestation data available to the public.


Bird extravaganza: scientists discover 15 new species of birds in the Amazon

(06/12/2013) From 2000-2009, scientists described on average seven new bird species worldwide every year. Discovering a new bird is one of the least common of any species group, given that birds are highly visible, mobile, and have been scrutinized for centuries by passionate ornithologists and birders. But descriptions this year already blows away the record year over the last decade (in 2001 when nine new birds were described): scientists working in the southern Amazon have recorded an incredible 15 new species of birds according to the Portuguese publication Capa Aves. In fact, this is the largest group of new birds uncovered in the Brazilian in the Amazon in 140 years.


11,000 barrels of oil spill into the Coca River in the Amazon

(06/12/2013) On May 31st, a landslide ruptured an oil pipeline in Ecuadorean Amazon, sending around 11,000 barrels of oil ( 420,000 gallons) into the Coca River. The oil pollution has since moved into the larger Napo River, which borders Yasuni National Park, and is currently heading downstream into Peru and Brazil. The spill has occurred in a region that is notorious for heavy oil production and decades of contamination, in addition to resistance and lawsuits by indigenous groups.


Costa Rican environmentalist pays ultimate price for his dedication to sea turtles


(06/10/2013) On the evening of May 30th, 26-year-old Jairo Mora Sandoval was murdered on Moin beach near Limón, Costa Rica, the very stretch of sand where he courageously monitored sea turtle nests for years even as risks from poachers rose, including threats at gunpoint. A dedicated conservationist, Sandoval was kidnapped along with four women volunteers (three Americans and one from Spain) while driving along the beach looking for nesting sea turtles. Sandoval was separated from the women—who eventually escaped their captors—but the young Costa Rican was stripped naked, bound, and viciously beaten. Police found him the next day, face-down and handcuffed in the sand; Sandoval died of asphyxiation.


Brazil may lift ban on Amazon ethanol expansion

(06/09/2013) In coming weeks Brazil will vote on a bill that would lift a ban on sugar cane mills across a large extent of the Amazon region, sparking fears that ethanol production could drive new deforestation and tarnish the country's image as an attractive source biofuels for environmentally-conscious markets,


NASA: 3% of Amazon rainforest burned between 1999-2010

(06/08/2013) 33,000 square miles (85,500 square kilometers) or 2.8 percent of the Amazon rainforest burned between 1999-2010 finds new NASA-led research that measured the extent of fires that smolder under the forest canopy.


Difference within common species may predict the presence of rare animals


(06/05/2013) When deciding whether or not to clear a patch of rainforest land for development, scientists are often called in to quantify how many different species exist there. But determining the number of rare and threatened species living in a section of jungle isn't easy. If they are very rare, the individual members of the species will be hard to find; if the area being surveyed is along a steep slope it may be difficult to access the area; if there are lots of species to identify, you might need to hire a dream team of biologists—each specialized within a different area of biodiversity—and that can get expensive. However a new study in the Proceedings of the Royal Society Journal by an international group of scientists suggests a more cost-effective and efficient way to rapidly assess local biodiversity.


Vanishing species makes astounding comeback under combined action of local government and conservationists

(06/03/2013) The reemergence of the endangered Huemul deer (Hippocamelus bisulcus) marks a momentous achievement by local governments and conservationists worldwide. From the brink of extinction—with populations decimated to one percent of what they previously were—the Huemul populations have not only stabilized but are steadily increasing, according to a new study in Oryx.


Loss of big fruit-eating birds impacting trees in endangered rainforests

(05/31/2013) The extinction of large, fruit-eating birds in fragments of Brazil's Atlantic rainforest has caused palm trees to produce smaller seeds over the past century, impacting forest ecology, finds a study published in the journal Science.


Two new arachnids discovered in Brazilian caves (photos)

(05/29/2013) Scientists have discovered two new species of short-tailed whipscorpions (in the order Schizomida) in limestone caves in Brazil, according to a new paper published in PLoS ONE. The new species—dubbed Rowlandius ubajara and Rowlandius potiguara—add new knowledge to a group of arachnids that is little known in South America outside of the Amazon.


Indigenous sacred sites now qualify as protected areas in Colombia


(05/28/2013) The first indigenous sacred site set aside under a new category of protected area in Colombia has been established in the northeastern part of the South American country. The development is significant because it could spur other indigenous sacred sites in Colombia to be granted protected status.


Scientists discover high mercury levels in Amazon residents, gold-mining to blame


(05/28/2013) The Madre de Dios region in Peru is recognized for its lush Amazon rainforests, meandering rivers and rich wildlife. But the region is also known for its artisanal gold mining, which employs the use of a harmful neurotoxin. Mercury is burned to extract the pure gold from metal and ore producing dangerous air-borne vapors that ultimately settle in nearby rivers. 'Mercury in all forms is a potent neurotoxin affecting the brain, central nervous system and major organs,'Luis Fernandez, an ecologist and research associate at the Carnegie Institution's Department of Global Ecology, told mongabay.com. 'At extremely high exposure levels, mercury has been documented to cause paralysis, insanity, coma and death.'


Featured video: giant anteater wallowing and scratching like a dog

(05/28/2013) Scientists have recently taken rare and incredible footage of a giant anteater with a camera trap in the Barba Azul Nature Reserve of Bolivia. This footage captures a giant anteater wallowing in a pit of mud. The animal lies down, rolling around and scratching itself, for a period of, what seems to be, over a minute.


World's largest tropical park may have protected status revoked

(05/21/2013) Tumucumaque National Park, a sprawling reserve that covers 38,874 square kilometers (15,010 sq mi) of rainforest in northeastern Brazil, may see its protected status revoked due to insufficient consultation with local municipalities prior to its creation.


Peru delays oil drilling in the Amazon to consult with indigenous peoples

(05/20/2013) Peru has delayed auctioning off 27 oil blocs in the Amazon in order to conduct legally-required consultations with indigenous groups in the region, reports the Guardian. Perupetro S.A., Peru's state oil and gas company, has announced it will auction 9 blocs off the Pacific coast, but will hold auctioning off the controversial oil blocs in the Amazon rainforest at least until later this year.


Deforestation in the Brazilian Amazon pacing 88% higher than last year's rate

(05/18/2013) Satellite analysis by a Brazil-based NGO indicates that deforestation in the Brazilian Amazon continues to pace well ahead of last year, when the government passed a weakened version of its law governing use of forest lands.


Indigenous association to sue to shut down Panama's REDD+ program

(05/17/2013) Panama's largest association of indigenous people will sue the Panamanian government to shut down the country's Reducing Emissions from Deforestation and Degradation (REDD+) program.


Crazy cat numbers: unusually high jaguar densities discovered in the Amazon rainforest


(05/16/2013) Jaguars (Panthera onca) are the biggest cat in the Americas and the only member of the Panthera genus in the New World; an animal most people recognize, the jaguar is also the third largest cat in the world with an intoxicatingly dangerous beauty. The feline ranges from the harsh deserts of southern Arizona to the lush rainforests of Central America, and from the Pantanal wetlands all the way down to northern Argentina. These mega-predators stalk prey quietly through the grasses of Venezuelan savannas, prowl the Atlantic forests of eastern Brazil, hunt along the river of the Amazon, and even venture into lower parts of the Andes.


NGO: conflict of interests behind Peruvian highway proposal in the Amazon


(05/16/2013) As Peru's legislature debates the merits of building the Purús highway through the Amazon rainforest, a new report by Global Witness alleges that the project has been aggressively pushed by those with a financial stake in opening up the remote area to logging and mining. Roads built in the Amazon lead to spikes in deforestation, mining, poaching and other extractive activities as remote areas become suddenly accessible. The road in question would cut through parts of the Peruvian Amazon rich in biodiversity and home to indigenous tribes who have chosen to live in "voluntary isolation."


Photo: Stunning new pit-viper discovered in Honduras

(05/15/2013) A stunning new species of pit-viper has been discovered in the cloud forest of Honduras. The venomous snake is described in the journal ZooKeys.


Amazon's flood/drought cycle becoming more extreme, less predictable


(05/14/2013) The Amazon River's hydrological cycle has become more extreme over the past two decades with increasing seasonal precipitation across much of the basin despite drier conditions in the southern parts of Earth's largest rainforest, finds a new study published in Geophysical Research Letters. The research analyzed monthly Amazon River discharge at Óbidos, a point that drains 77 percent of the Amazon Basin, and compared it with regional precipitation patterns.


Deforestation will undercut effectiveness of rainforest dams


(05/13/2013) Deforestation may significantly decrease the hydroelectric potential of tropical rainforest regions, warns a new study published in Proceedings of the National Academy of Science. The study, used climate, hydrological, and land use models to forecast the impact of potential forest loss on hydropower generation on the Xingu River, a major tributary of the Amazon where the world's third largest dam — Belo Monte — is currently under construction.


Continued deforestation in the Amazon may kill Brazil's agricultural growth

(05/09/2013) Continuing deforestation in the Amazon rainforest could undermine agricultural productivity in the region by reducing rainfall and boosting temperatures, warns a new study published in the journal Environmental Research Letters.


Featured video: saving sea turtles in Mexico's Magdalena Bay

(05/09/2013) A new short film, Viva la tortuga documents the struggle to save loggerhead and green sea turtles in Magdalena Bay, Mexico. Once a region for a massive sea turtle meat market, the turtles now face a new threat: bycatch. Loggerhead sea turtles are drowning in bottom-set gillnets, unable to escape from the nets once entangled. The issue has even raises threats of trade embargoes from the U.S.


Brazil's satellite monitoring reduced Amazon deforestation by 60,000 sq km in 5 years

(05/08/2013) Brazil's advanced satellite monitoring system, coupled with increased law enforcement, was responsible for nearly 60 percent of the 101,000 square kilometer-drop in deforestation observed between 2007 and 2011, argues a new study published an international think tank.


Are seagulls killing whales in Patagonia?


(05/08/2013) It sounds ludicrous, but it could just be true: scientists say seagulls may be responsible for hundreds of southern right whale moralities off the Argentine coastline. Since 2003, scientists have documented the deaths of 605 southern right whales (Eubalaena australis) near Península Valdés which the whales use as a nursery. Notably, 88 percent of these were newborn calves. The death rate is so high that researchers now fear for the whales' long-term survival.


Frankenfish or scientific marvel?: giant GM salmon await U.S. approval

(05/07/2013) It is hard to think of a more unlikely setting for genetic experimentation or for raising salmon: a rundown shed at a secretive location in the Panamanian rainforest miles inland and 1,500m above sea level. But the facility, which is owned by an American company AquaBounty Technologies, stands on the verge of delivering the first genetically modified food animal—a fast-growing salmon—to supermarkets and dinner tables.



Page 1 | Page 2 | Page 3 | Page 4 | Page 5 | Page 6 | Page 7 | Page 8 | Page 9 | Page 10 | Page 11 | Page 12 | Page 13 | Page 14 | Page 15 | Page 16 | Page 17 | Page 18 | Page 19 | Page 20 | Page 21 | Page 22 | Page 23 | Page 24 | Page 25 | Page 26