News articles on latin america

---
Mongabay.com news articles on latin america in blog format. Updated regularly.






Ecuador's Choco under siege, but hope remains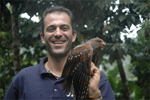 (10/09/2008) The Chocó, a region of humid tropical forest in western Colombia and northwestern Ecuador, is one of the world's biodiversity hotspots with high levels of endemic species but large-scale habitat loss. The situation is particularly dire in Ecuador where more than 90 percent of the Chocó has been cleared for agriculture. But hope is not lost. A dedicated team of researchers is working with local communities to ensure that Chocó will be around for future generations.
Slowing global economy will reduce Amazon deforestation

(10/08/2008) The global financial crisis will likely slow forest clearing in the Amazon rainforest, said Brazil's environment minister. Falling commodity prices combined with tighter credit and increased aversion to risk will undermine the economics of activities — including logging and agricultural expansion — that are key drivers of deforestation in the Brazilian Amazon. Forest clearing in the region has shown an increasingly tight correlation to beef and soy prices in recent years. Both products are produced on cleared rainforest lands.
Forest corridors key to maintaining biodiversity in fragmented landscape

(10/07/2008) Alta Floresta, a region in the Brazilian Amazon state of Mato Grosso, has experienced one of the highest deforestation rates on the planet since the mid-1980s due to the influx of colonists and ranchers who converted nearly half the region's forest land to pasture and agricultural plots. The change has had significant ecological impacts, including reducing the availability of water, increasing the incidence of forest fires, fragmenting remaining forest cover, and diminishing the quality of habitat for wildlife.
Good news for amphibians: three new species and one "extinct" frog discovered

(10/01/2008) Amphibians have received a lot of bleak news recently. Last week a report from the Zoological Society of London and EDGE stated that 50 percent of Europe's amphibians will go extinct by 2050 unless more is done for their conservation. Meanwhile a report published in August found that one in three amphibians worldwide are threatened with extinction, while 200 species have already been lost since the 1980s. Therefore the discovery of three new frog species and the rediscovery of one thought to be extinct provide a little respite from such bad tidings.
'Snow leopard' of the Andes is one of the world's most endangered cats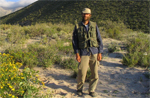 (09/28/2008) One of the world's rarest cats is also one of its least known. The Andean mountain cat, sometimes called the "snow leopard" of the Andes, is an elusive species found only at high elevations of the Andean region in Argentina, Bolivia, Chile and Peru. Little is known about its ecology and behavior. While the species is known to be rare, no one knows how many individuals survive in the wild. Mauro Lucherini and his colleagues at the Andean Cat Alliance(AGA) are working to change this.
"Punk-rock" monkey and handbags made from recycled trash inspire conservation in Colombia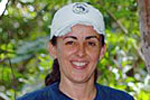 (09/25/2008) A small, but charismatic primate has become the symbol for conservation efforts in an area of threatened forest in northwestern Colombia, says a conservationist who helped pioneer a successful community development program that turns trash into attractive handbags. Rosamira Guillen, Executive Director of the Fundación Proyecto Tití, is working with local communities to protect the endangered Cotton-top tamarin and its tropical dry forest habitat in northwestern Colombia. The effort relies heavily on creating alternative livelihoods for local people who would otherwise collect the squirrel-sized primate for the pet trade or raze its habitat for agriculture. In the process, Fundación Proyecto Tití has created a thriving business that converts plastic bags — a source or mortality among cotton-top tamarins — into fashionable "eco-mochilas" that are now sent all over the world.
Group takes 'venture capital' approach to conservation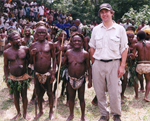 (09/16/2008) An innovative group is using a venture capital model to save some of the world's most endangered species, while at the same time working to ensure that local communities benefit from conservation efforts. The Wildlife Conservation Network (WCN), an organization based in Los Altos, California, works to protect threatened species by focusing on what it terms 'conservation entrepreneurs' -- people who are passionate about saving wildlife and have creative ideas for dong so.
Regrowing the Amazon rainforest will require help from bats and birds

(09/15/2008) As large tracts of Amazon rainforest are degraded by industrial logging and cleared for cattle pasture and agriculture, other deforested areas are abandoned and being reclaimed by forest. Understanding this recolonization of degraded forest lands by pioneer species will critical to efforts to rehabilitate restore forests around the world.
Independent of climate, forest cover in southern Amazon may fall to 20% by 2016

(09/03/2008) Forest cover in the "Arc of Deforestation" of southern Amazonia will decline to around 20 percent 2016 due to continued logging and conversion of forests for cattle pasture and soy farms, report researchers writing in the journal Environmental Conservation. Analyzing high resolution satellite data from 1984 through 2004 for the Alta Floresta region in northern Mato Grosso, Fernanda Michalski, Carlos Peres and Iain Lake of the University of East Anglia found that forest cover declined from from 91.1 percent to 41.7 percent between 1984 and 2004. They note that while the deforestation rate has slowed to around 2 percent per year since peaking at more than 8 percent annually in late 1980s to mid-1990s, renewed expansion of road networks will enable loggers to increasingly exploit remaining forests, leading to degradation and likely eventual conversion for agricultural use. Overall Michalski and colleagues forecast that forest cover in Alta Floresta will fall to 21 percent by 2016, a decline of 77 percent since 1984.
Carbon market may fund dam in Panama that threatens natural reserve

(09/01/2008) The UN's Clean Development Mechanism (CDM) — a scheme that provides funds to projects that reduce emissions in developing nations — may be used to finance a hydroelectric dam in Panama which, according to environmentalists, threatens a biologically rich World Heritage site and an indigenous tribe, the Ngobe.
Indian protesters win land rights battle against Peru's President Garcia

(08/31/2008) Peru's Congress rejected two decrees by President Alan García that made it easier for foreign developers to buy Amazon rainforest land. The repeal came just two days after lawmakers struck a deal with indigenous rights groups whose protests over the law had shut down oil and gas operations. The groups were worried that the laws weakened their land rights in favor of loggers, miners, and drillers.
Amazon deforestation jumps 69% in 2008

(08/31/2008) Deforestation in the Brazilian Amazon increased 69 percent in the past 12 months as high commodity prices have driven forest conversion for ranches and cropland, according to preliminary figures released by Brazil's National Institute for Space Research (INPE). The increase comes after three consecutive years of declining deforestation in Brazil.
Pre-Colombian Amazonians lived in sustainable 'urban' society

(08/28/2008) Researchers have uncovered new evidence to support the controversial theory that parts of the Amazon were home to dense 'urban' settlements prior to the arrival of Europeans in the 15th century. The study is published this Friday in the journal Science. Conducting archeological excavations and aerial imagery across a number of sites in the Upper Xingu region of the Brazilian Amazon, a team of researchers led by Michael Heckenberger found evidence of a grid-like pattern of 150-acre towns and smaller villages, connected by complex road networks and arranged around large plazas where public rituals would take place.
Biofuels 200 times more expensive than forest conservation for global warming mitigation

(08/27/2008) The British government should end subsidies for biofuels and instead use the funds to slow destruction of rainforests and tropical peatlands argues a new report issued by a U.K.-based think tank. The study, titled "The Root of the Matter" and published by Policy Exchange, says that "avoided deforestation" would be a more cost-effective way to address climate change, since land use change generates more emissions than the entire global transport sector and offers ancillary benefits including important ecosystem services.
The extinction of the baiji a 'wake-up call' to conserve vaquita and other cetaceans

(08/25/2008) In December of 2006 an expedition spent six weeks surveying the Yangtze River in China for one of the world's rarest cetaceans, the baiji. Also known as 'The Goddess of the Yangtze' the shy river-dolphin had roamed the river for millions of years locating fish with echolocation. The survey came back empty-handed without a spotting a single dolphin. Dr. Jay Barlow, a member of the surveying team, described his emotions on the expedition's findings in an interview with Mongabay.com: "I was stunned. I knew the species was in trouble, but I did not think they were already gone. We really had not seen the extinction of a large mammal species in 50 years, so we grew complacent."
Markets could save rainforests: an interview with Andrew Mitchell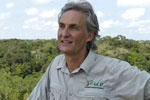 (08/17/2008) Markets may soon value rainforests as living entities rather than for just the commodities produced when they are cut down, said a tropical forest researcher speaking in June at a conservation biology conference in the South American country of Suriname. Andrew Mitchell, founder and director of the London-based Global Canopy Program (GCP), said he is encouraged by signs that investors are beginning to look at the value of services afforded by healthy forests.
Deforestation in the Brazilian Amazon won't increase significantly for 2008

(08/15/2008) Brazilian Environment Minister Carlos Minc said Thursday that Amazon deforestation for the 2007-2008 year will likely be comparable to the prior year. The announcement marks an abrupt turn-around for the Brazilian government which in April said that forest destruction was expected to increase for the first time since 2004.
Oil development could destroy the most biodiverse part of the Amazon

(08/12/2008) 688,000 square kilometers (170 million acres) of the western Amazon is under concession for oil and gas development, according to a new study published in the August 13 edition of the open-access journal PLoS ONE. The results suggest the region, which is considered by scientists to be the most biodiverse on the planet and is home to some of the world's last uncontacted indigenous groups, is at great risk of environmental degradation.
Biologists attacked in Costa Rica

(08/12/2008) Two ornithologists were attacked by a machete-weilding group while surveying birds in Costa Rica, reports National Geographic.
Account of 18th century Amazon adventurer to be published for the first time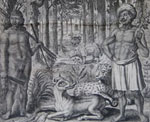 (08/11/2008) After establishing his ingenious classification system in 1735, Carl Linnaeus, the greatest naturalist of his era, sent young and eager followers to all parts of the world to help him in the goal of collecting and cataloguing the world's species. It was a project unlike any before; Swedish naturalists, often referred to as Linnaeus's apostles, roamed as far as Japan, South America, Australia, and the Arctic with the same goal in mind—describing species according to Linnaeus's system.
7 steps to solve the global biodiversity crisis

(08/11/2008) Many biologists believe Earth is entering a sixth mass extinction event, one that has is the direct of human activities, including over-exploitation, habitat destruction and introduction of alien species and pathogens. Climate change — largely driven by anthropogenic forces — is expected to soon increase pressure on Earth's biodiversity. With population and per-capita consumption expected to grow significantly by the mid 21st century, there seems little hope that species loss can be slowed. Nevertheless, writing in the journal PNAS, Stanford biologists Paul R. Ehrlich and Robert M. Pringle suggest seven steps to help improve the outlook for the multitude of species that share our planet.
Climate change to hurt Brazil's farm exports by 2020

(08/11/2008) Climate change could have a significant impact on thye value of Brazil's agricultural exports according to a study presented Monday at an agribusiness conference in Sao Paulo, reports the Financial Times.
Corporations become prime driver of deforestation, providing clear target for environmentalists
(08/05/2008) The major drivers of tropical deforestation have changed in recent decades. According to a forthcoming article, deforestation has shifted from poverty-driven subsistence farming to major corporations razing forests for large-scale projects in mining, logging, oil and gas development, and agriculture. While this change makes many scientists and conservationists uneasy, it may allow for more effective action against deforestation. Rhett A. Butler of Mongabay.com, a leading environmental science website focusing on tropical forests, and William F. Laurance of the Smithsonian Tropical Research Institute in Panama believe that the shift to deforestation by large corporations gives environmentalists and concerned governments a clear, identifiable target that may prove more responsive to environmental concerns.
Often overlooked, small wild cats are important and in trouble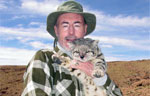 (08/05/2008) While often over-shadowed by their larger and better-known relatives like lions, tigers, leopards, and jaguars, small cats are important indicators of the health of an ecosystem, says a leading small cat expert who uses camera traps extensively to document and monitor mammals in the wild. Dr Jim Sanderson, a scientist with the Small Cat Conservation Alliance and Conservation International, is working to save some of the world's rarest cats, including the Andean cat and Guigna of South America and the bay, flat-headed, and marbled cats of Southeast Asia. In the process Sanderson has captured on film some of the planet's least seen animals, including some species that have never before been photographed. He has also found that despite widespread criticism, some corporate entities are effectively protecting remote wilderness areas.
New Costa Rica guide offers insight on responsible tourism

(08/04/2008) Costa Rica is the world's most popular destination for rainforest tourism thanks to its spectacular biodiversity, relative ease-of-access and safety, and many natural attractions. In 2007 nearly 2 million tourists visited the country, generating almost 2 billion in revenue -- more than the combined income from bananas and coffee.
Brazil asks rich countries to fund Amazon conservation

(08/02/2008) Brazilian President Luis Inacio Lula da Silva officially unveiled plans to raise a $21 billion fund for protecting the Amazon rainforest. The plan, which was originally announced several months ago, aims to be funded by foreign donations. Contributors will not be eligible for carbon credits that may be generated by reductions in deforestation.
Bush Administration moves to weaken endangered speices protection

(07/31/2008) The Bush administration's handling of the Endangered Species Act has put the cactus ferruginous pygmy owl in danger of extinction, according to the Centre for Biological Diversity. Even though less than 30 individuals exist in the United States—all in Arizona—the species was removed from the Endangered Species Act in 2006, after nine years of protection.
Researchers discover "artistic" moth in Panama

(07/29/2008) Researchers have discovered a new species of Bagworm Moth that wraps its eggs individually in "beautiful cases" fashioned from its golden abdominal hairs, according to a new paper published in the Annals of the Entomology Society of America. The behavior is unique among insects.
An interview a shaman in the Amazon rainforest

(07/28/2008) Deep in the Suriname rainforest, an innovative conservation group is working with indigenous tribes to protect their forest home and culture using traditional knowledge combined with cutting-edge technology. The Amazon Conservation Team (ACT) is partnering with the Trio, an Amerindian group that lives in the remote Suriname-Brazil border area of South America, to develop programs to protect their forest home from illegal gold miners and encroachment, improve village health, and strengthen cultural ties between indigenous youths and elders at a time when such cultures are disappearing even faster than rainforests. In June 2008 mongabay.com visited the community of Kwamalasamutu in Suriname to see ACT's programs in action. During the visit, Amasina, a Trio shaman who works with ACT, answered some questions about his role as a traditional healer in the village.











Mangroves are key to healthy fisheries, finds study

(07/21/2008) Mangroves serve as a critical nursery for young marine life and therefore play an important role in the health of fisheries and the economic well-being of fishermen, report researchers writing in the early online edition of the Proceedings of the National Academy of Sciences.




Page 1 | Page 2 | Page 3 | Page 4 | Page 5 | Page 6 | Page 7 | Page 8 | Page 9 | Page 10 | Page 11 | Page 12 | Page 13 | Page 14 | Page 15 | Page 16 | Page 17 | Page 18 | Page 19 | Page 20 | Page 21 | Page 22 | Page 23 | Page 24 | Page 25 | Page 26