News articles on latin america

---
Mongabay.com news articles on latin america in blog format. Updated regularly.






South American fox confronts prey eight times its size
(02/10/2009) In a paper in Mammalia researchers from the Wildlife Conservation Society (WCS) announce the first observation of South America's culpeo fox hunting young guanacos, a relative of llamas. In doing so the fox comes head-to-head with aggressive mothers defending their young: researchers were surprised to find the small 30 pound (14 kg) predator facing off a group of 260 pound (120 kg) adult guanacos.
Norway to pay Guyana to save its rainforests
(02/05/2009) Norway will provide financial support for Guyana's ambitious plan to conserve its rainforests, reports the Guyana Chronicle. Meeting in Oslo, Norway on Tuesday, Guyana President Bharrat Jagdeo and Norwegian Prime Minister Jens Stoltenberg signed a Memorandum of Understanding agreeing to establish a partnership to reduce greenhouse gas emissions from deforestation and forest degradation (REDD). The leaders will push for the incorporation of a REDD mechanism that includes low deforestation countries like Guyana in a post-2012 climate change agreement.
Photos of new frogs discovered in Colombia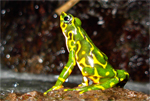 (02/03/2009) Ten undescribed species of amphibians — including nine frog and one salamander — have been discovered in the mountains of Colombia, report scientists from Conservation International (CI). The "new" amphibians included spiky-skinned, orange-legged rain frog, three poison dart frogs and three glass frogs, named for their transparent skin. The amphibians were discovered during a recent Rapid Assessment Program (RAP) expedition in the Tacarcuna area of the Darien, near the border with Panama.
Beef drives 80% of Amazon deforestation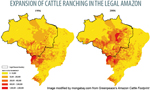 (01/29/2009) Nearly 80 percent of land deforested in the Amazon from 1996-2006 is now used for cattle pasture, according to new maps released today in a report by Greenpeace at the World Social Forum in Belem, Brazil. The report, Amazon Cattle Footprint: Mato Grosso: State of Destruction, confirms that cattle ranching is the primary driver of deforestation in Earth's largest rainforest: the Brazilian Amazon.
Photo: Indigenous leaders form giant human banner to protest Amazon destruction

(01/28/2009) Gathering at the World Social Forum in Belem, Brazil, indigenous people from across Latin America today called upon world leaders to protect the Amazon rainforest which is under continued threat from loggers, ranchers, and agroindustrial companies. Nearly 12,000 square kilometers (4,600 sq miles) of Amazon rainforest were destroyed last year while another 25,000 square kilometers were damaged or degraded. More than 1000 forum participants formed a human banner that spelled out the message "SALVE A AMAZONIA" ("Save the Amazon" in Portuguese) around a silhouette of an indigenous warrior taking aim with a bow and arrow.
Camera trap photos reveal bushmeat hunting threat to jaguars in Ecuador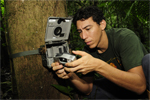 (01/27/2009) Jaguars are the largest cats of the Americas and third largest cats in the world. The primary rainforest in the Amazon region of Ecuador is among their last remaining strongholds. Jaguars are listed as "vulnerable" in Ecuador, and Santiago Espinosa, Wildlife Conservation Society (WCS) fellow, PhD candidate from University of Florida/Gainesville, and WWF fellow, wants to know just how many jaguars are left in his home country. He is developing strategies to protect them by determining their numbers and the factors that threaten them through a unique method of non-invasive photography.
Saving leatherback turtles in South America's smallest country, Suriname: An interview with Liz McHuron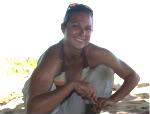 (01/27/2009) After a year studying marine biology at Moss Landing Marine Labs, Liz McHuron headed off to the little-known nation of Suriname to monitor leatherback sea turtles. Her responsibilities included implementing a conservation strategy for a particular beach, moving leatherback nests in danger of flooding, and educating volunteer workers on the biology, behavior, and conservation efforts of the world's largest, and most unique, marine turtle. I visited McHuron during her time at the beach of Galibi in Suriname; she proved to be the sort of scientist who refused to be deterred: breathtaking humidity or downpours, fer-de-lances on the beach or jaguars, Liz was always on the move, always working to aid the critically-endangered leatherbacks while studying them with the thoroughness inherit in a born scientist.
How to make forest fragments more hospitable to wildlife

(01/27/2009) While deforestation garners more attention from environmentalists, fragmentation of forest habitats is of significant concern to ecologists. As forest is fragmented into islands by logging, roads, agriculture, and other disturbances, edge effects alter the structure, microclimate and species composition of the forest patches, usually reducing the overall number of species. Forest specialists are most likely to suffer, losing out to "weedier" generalists and species that can tolerate forest "edge" conditions. A new study, conducted in the Brazilian Amazon, takes a detailed look at the types of birds that are likely to persist, and even thrive, in forest fragments.
Wildlife trade creating 'empty forest syndrome' across the globe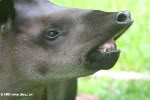 (01/19/2009) For many endangered species it is not the lack of suitable habitat that has imperiled them, but hunting. In a talk at a Smithsonian Symposium on tropical forests, Elizabeth Bennett of the Wildlife Conservation Society (WCS) outlined the perils for many species of the booming and illegal wildlife trade. She described pristine forests, which although providing perfect habitat for species, stood empty and quiet, drained by hunting for bushmeat, traditional medicine, the pet trade, and trophies.
20 years ago the Amazon lost its strongest advocate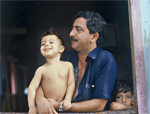 (12/22/2008) Twenty years ago ago today, Chico Mendes, an Amazon rubber tapper, was shot and killed in front of his family at his home. He was 44. His assassination in Xapuri, a remote town in the Brazilian state of Acre, would serve as a catalyst that led to the birth of the movement to protect the Amazon rainforest from loggers, ranchers, and developers. But the movement has stalled. Some would even say it has failed: since 1988 more than 348,000 square kilometers (134,000 square miles) of Amazon rainforest have been leveled.
Amazon rainforest damage surges 67% in 2008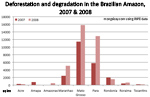 (12/20/2008) The area of rainforest in the process of being deforested — razed but not yet cleared — surged in the Brazilian Amazon during 2008, according to new figures released by Brazil's National Institute for Space Research (INPE). The announcement comes shortly after the Brazilian government reported a 4 percent increase in forest clearing for the year. Using an advanced satellite system that tracks changes in vegetation cover INPE found that 24,932 square kilometers of Amazon forest was damaged between August 2007 and July 2008, an increase of 10,017 square kilometers -- 67 percent -- over the prior year. The figure is in addition to the 11,968 square kilometers of forest that were completely cleared, indicating that at least 36,900 square kilometers of forest were damaged or destroyed during the year. The sum does not include areas that may have been selectively logged for commercial timber.
Lula pledges big cuts in Amazon deforestation -- after he leaves office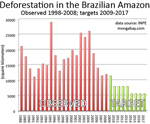 (12/12/2008) Last week Brazil unveiled plans to cut deforestation substantially from a 1996-2005 baseline of 19,533 square kilometers per year. The announcement met a mixed response from conservationists. Some applauded the decision to set hard targets for reducing deforestation, others say the targets were too low and that the country should aim for zero net deforestation by 2015. Nevertheless as more details have emerged, it becomes clear that the onus for reining in deforestation falls on Brazilian President Luiz Inacio Lula da Silva's successor.
Agricultural firms cut incentives for Amazon deforestation

(12/02/2008) As grain prices plummet and concerns over cash mount, agricultural giants are cutting loans to Brazilian farmers, reports the Wall Street Journal. Tighter farm credit may be contributing to a recent slowing in deforestation in the Brazilian Amazon, where agriculture is an increasingly important driver of forest clearing.
The number of endangered amphibians in Peru may be underestimated

(12/01/2008) The number of threatened amphibian species in Peru may be significantly underestimated, increasing the risk that conservation decisions will fail to account for their needs, report researchers writing in the December issue of Tropical Conservation Science.
Lack of information may slow conservation response to amphibian crisis

(12/01/2008) The Neotropics harbor between 30-50% of the world's reptiles and amphibians, but dramatic declines in both groups have been observed over recent decades. While a number of factors have been cited, many of the causes of reptile and amphibian declines are still poorly understood. The situation is paralleled by a lack of information of the natural history, ecology, and behavior of many species.
Tropical dry forest fragments important to conserving reptile biodiversity in Colombia

(12/01/2008) An important task in tropical conservation is to understand which species are particularly vulnerable to extinction, and identify the characteristics that put them at risk. Because habitat loss and fragmentation are at the root of the global extinction crisis, an extensive collection of literature has developed around profiling species assemblages in fragmented landscapes. It is also clear that species may respond differently to fragmentation, but many species experience direct or indirect negative effects, sometimes resulting in local extirpation in habitat patches.
Illegal drug use destroys rainforests

(11/18/2008) Colombian officials have re-iterated their claim that cocaine use in rich countries is driving deforestation in Colombia, reports The Guardian.
Brazil triples endangered species list

(11/05/2008) Brazil has nearly tripled the number of species on its endangered list due to development, overfishing, pollution, wildlife trafficking and deforestation, reports the Associated Press.
Rainforest fungus generates biodiesel, may drive energy of the future

(11/04/2008) A fungus recently discovered in the Patagonian rainforest has shocked biologists and environmentalists: the fungus produces gas almost identical to diesel. In a paper announcing the discovery in Microbiology, scientists state that they believe the fungus, called Gliocladium roseum, could become an incredibly efficient green energy source.
7 new species of frog discovered in Ecuador

(10/22/2008) Seven previously unknown species of frog discovered over the past two years by Ecuadorian researchers are already under threat from habitat loss, reports a newsletter from the IUCN Amphibian Specialist Group.
Peru's uncontacted Amazon tribes under attack

(10/22/2008) Illegal logging in the Peruvian Amazon is driving uncontacted tribes into Brazil where they are in conflict over food and resources with other uncontacted groups, according to a Reuters interview with a leading expert on indigenous tribes.
Breakthrough may enable reforestation using mahogany

(10/16/2008) Brazilian researchers are closer to developing a way to establish large-scale mahogany plantations, reports the ITTO in its bi-monthly update. Scientists at the Federal Rural University of Amazonia (UFRA) have found that planting a matrix of mahogany with cedar reduces the incidence of the Hypsipyla grandella caterpillar, a chief pest of mahogany that has doomed previous attempts to reforest with the valuable hardwood species.
Brazil to have high resolution imagery for 86% of the Amazon by year end

(10/15/2008) Brazil will have high resolution imagery for 86 percent of its Amazon territory by the end of the year, according to Reuters. The images will help the country protect the Amazon rainforest and prosecute alleged environmental crimes, including illegal logging and agricultural expansion.
UK government: rainforests are weapon against global warming

(10/15/2008) Protecting tropical forests will simultaneously reduce carbon emissions, support poverty reduction and help preserve biodiversity and other forest services, says a new report commissioned by the British government. The report — dubbed the "Eliasch Review" after the lead author, Johan Eliasch, a multimillionaire Swede who runs a sports equipment company and owns 162,000 hectares (400,000 acres) of rainforest in the Brazilian Amazon — takes a comprehensive look at the role forests can play in mitigating climate change. It concludes: "Urgent action to tackle the loss of global forests needs to be a central part of any future international deal on climate change"
Ecuador's Choco under siege, but hope remains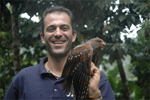 (10/09/2008) The Chocó, a region of humid tropical forest in western Colombia and northwestern Ecuador, is one of the world's biodiversity hotspots with high levels of endemic species but large-scale habitat loss. The situation is particularly dire in Ecuador where more than 90 percent of the Chocó has been cleared for agriculture. But hope is not lost. A dedicated team of researchers is working with local communities to ensure that Chocó will be around for future generations.








Page 1 | Page 2 | Page 3 | Page 4 | Page 5 | Page 6 | Page 7 | Page 8 | Page 9 | Page 10 | Page 11 | Page 12 | Page 13 | Page 14 | Page 15 | Page 16 | Page 17 | Page 18 | Page 19 | Page 20 | Page 21 | Page 22 | Page 23 | Page 24 | Page 25 | Page 26