News articles on latin america

---
Mongabay.com news articles on latin america in blog format. Updated regularly.






Heavy oil pollution remains in Amazon, despite company claiming clean-up is finished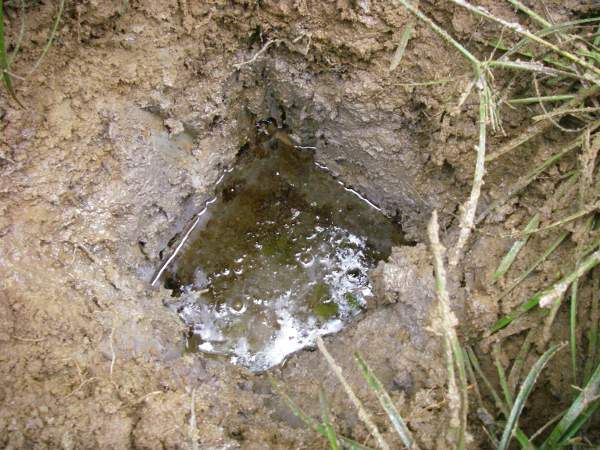 (09/17/2009) A new report shows that the Corrientes region of the Peruvian Amazon, which suffered decades of toxic contamination by Occidental Petroleum (OXY), is far from being cleaned-up. The survey, conducted by US non-profit E-Tech International, found that heavy metals, volatile organic compounds, and hydrocarbons still exist at levels above the safety limits set by Peru and continue to threaten the Achuar indigenous community, who have long fought against the oil companies.
Social causes of deforestation in the Amazon rainforest

(09/14/2009) Understanding the web of social groups involved in deforestation in the Brazilian Amazon is key to containing forest loss, argues a leading Amazon researcher writing in the journal Ecology and Society. Philip Fearnside of the National Institute for Research in the Amazon (INPA) reviews nine actors that have had significant roles in deforestation and reports differences in why they deforest, where they are active, and how they interact with each other.
Oil road transforms indigenous nomadic hunters into commercial poachers in the Ecuadorian Amazon
(09/13/2009) The documentary Crude opened this weekend in New York, while the film shows the direct impact of the oil industry on indigenous groups a new study proves that the presence of oil companies can have subtler, but still major impacts, on indigenous groups and the ecosystems in which they live. In Ecuador's Yasuni National Park—comprising 982,000 hectares of what the researchers call "one of the most species diverse forests in the world"—the presence of an oil company has disrupted the lives of the Waorani and the Kichwa peoples, and the rich abundance of wildlife living within the forest.
Brazil to step up efforts to save the cerrado grassland

(09/11/2009) Brazil will try to reduce deforestation of the cerrado, a wooded grassland ecosystem in Brazil that is being destroyed twice as fast as the Amazon rainforest, according to the country's Environment Minister Carlos Minc.
Concerns over deforestation may drive new approach to cattle ranching in the Amazon
(09/08/2009) While you're browsing the mall for running shoes, the Amazon rainforest is probably the farthest thing from your mind. Perhaps it shouldn't be. The globalization of commodity supply chains has created links between consumer products and distant ecosystems like the Amazon. Shoes sold in downtown Manhattan may have been assembled in Vietnam using leather supplied from a Brazilian processor that subcontracted to a rancher in the Amazon. But while demand for these products is currently driving environmental degradation, this connection may also hold the key to slowing the destruction of Earth's largest rainforest.
Activists target Brazil's largest driver of deforestation: cattle ranching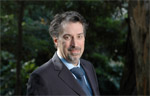 (09/08/2009) Perhaps unexpectedly for a group with roots in confrontational activism, Amigos da Terra - Amazônia Brasileira is calling for a rather pragmatic approach to address to cattle ranching, the largest driver of deforestation in the Brazilian Amazon. The solution, says Roberto Smeraldi, founder and director of Amigos da Terra, involves improving the productivity of cattle ranching, thereby allowing forest to recover without sacrificing jobs or income; establishing a moratorium on new clearing; and recognizing the economic values of maintaining the ecological functions of Earth's largest rainforest.
Amazon tribes have long fought bloody battles against big oil in Ecuador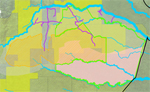 (09/03/2009) The promotional efforts ahead of the upcoming release of the film Crude have helped raise awareness of the plight of thousands of Ecuadorians who have suffered from environmental damages wrought by oil companies. But while Crude focuses on the relatively recent history of oil development in the Ecuadorean Amazon (specifically the fallout from Texaco's operations during 1968-1992), conflict between oil companies and indigenous forest dwellers dates back to the 1940s.
Amazon deforestation to fall 30% in 2009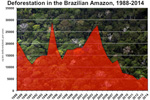 (09/02/2009) Deforestation is the Brazilian Amazon is likely to fall between 8,500 square kilometers (3,088 square miles) and 9,000 sq km (3,474 sq mi) for the 12 months ended July 31, 2009, a reduction of 29-37 percent from last year, reports Brazil's Environment Minister Carlos Minc. If the estimate is confirmed by high resolution satellite data to be published later this year, the rate of forest loss for 2008-2009 would be the lowest since annual record-keeping began in the 1980s.
New Amazonian reserve saves over a million acres in Peru
(08/30/2009) On August 27th Peru's Ministry of the Environment approved the creation of the Matses National Reserve to protect the region's biodiversity, ensure its natural resources, and preserve the home of the Matses indigenous peoples (known as the Mayorunas in Brazil). The park is 1,039,390 acres (or 420,626 hectares) of lowland Amazonian rainforest in eastern Peru. The park is the culmination of over a decade of work by the local non-profit CEDIA (the Center for the Development of the Indigenous Amazonians) funded in part by the Worldland Trust.
Trees sprout across farmland worldwide

(08/26/2009) Half the planet's farmed landscapes have significant tree cover, reports a new satellite-based study. The research, conducted by the Consultative Group on International Agricultural Research's World Agroforestry Centre found that tree cover exceeds 10 percent on more than 1 billion hectares of farmland, indicating that agroforestry is a "vital part" of worldwide agricultural production. 320 million hectares of forested agricultural land are found in Latin America, 190 million hectares in sub-Saharan Africa and 130 million hectares in Southeast Asia.
Brazil's 'Obama' weighs presidential bid

(08/20/2009) Marina Silva, the charismatic rubber tapper who went on to become senator and Environment Minister, is weighing a presidential bid in Brazil's 2010 election, according to multiple reports. Political observers say that while her chances are long, Silva's entrance and focus on the environment could spur interest among Brazilians disenchanted by the Workers' Party, the dominant part which has been tarnished lately by corruption scandals.
Photos reveal illegal logging near uncontacted natives in Peru

(08/17/2009) Ariel photos show proof of illegal logging for mahogany occurring in a Peruvian reserve set aside for uncontacted natives. The photos, taken by Chris Fagan from Round River Conservation Studies, show logging camps set-up inside the Murunahua Reserve, meant to protect the uncontacted indigenous group, known as the Murunahua Indians, in the Peruvian Amazon.
Police face murder charges in killing of indigenous protesters in Peru

(08/16/2009) A federal prosecutor in Peru filed murder charges against two police generals and 15 other officers over the deaths of indigenous protesters at a roadblock in June, reports the Associated Press. The Indians were protesting new rules that would have made it easier for foreign developers to exploit oil and gas, timber, and minerals in Peru's Amazon rainforest. The skirmish left 23 police and at least ten protesters dead.
Brazilian beef giant announces moratorium on rainforest beef
(08/13/2009) Brazil's second-largest beef exporter, Bertin, announced it would establish a moratorium on buying cattle from farms involved in Amazon deforestation, reports Greenpeace. The move comes after the World Bank's International Finance Corporation (IFC) withdrew a $90 million loan to Bertin following revelations in a Greenpeace report that the company was buying beef produced on illegally deforested lands. The report, which linked some of the world's most prominent brands to rainforest destruction in the Amazon, had an immediate impact, triggering a cascade of events.
Amazon stores 10 billion tons of carbon in 'dead wood'

(08/12/2009) Old growth forests in the Amazon store nearly 10 billion tons of carbon in dead trees and branches, a total greater than global annual emissions from fossil fuel combustion, according to scientists who have conducted the first pan-Amazon analysis of "necromass."
Brazil's environment minister Minc to step down

(08/11/2009) Brazil's environment minister Carlos Minc will step down in March to run for deputy in the Rio de Janeiro state legislature in general elections next October, reports Reuters.
Amazon deforestation falls in June

(08/05/2009) Deforestation in the Brazilian Amazon during June dropped at least 4.4 percent to the year earlier period, keeping Brazil on pace for the lowest forest loss since annual record-keeping began in 1988.
Peru to raise payment to indigenous communities for Amazon forest conservation
(08/03/2009) Peru's environment minister now says the government will pay indigenous communities 10 sols ($3.30) for every hectare of rainforest they help to preserve, reports the Latin American Herald. Previously Antonio Brack said that communities would see about half that amount. The $3.30-per-hectare figure is low by international standards. Under a proposed mechanism that compensates countries for reducing deforestation (REDD), forest land could be worth $800 or more per hectare for its carbon (225 tons of carbon/ha), depending on its level of threat. Forests in areas of high deforestation would be compensated at a higher rate than inaccessible forests at low-risk of development. But Brack left open the possibility that communities could receive higher payment if parties agree to include REDD compensation in a future climate framework.
Weeks after bloodshed, American oil moves into Peruvian Amazon, putting rainforest, possible archeological site at risk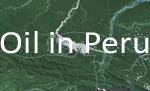 (08/03/2009) Barely six weeks after a dozen Amazon natives were gunned down by the Peruvian Army in the oil town of Bagua for protesting the cozy relationship between Big Oil and the government of President Alan Garcia, I find myself on the banks of the Mother of God River in Salvacion, Peru, wondering if all those folks died in vain. Any day now, the bulldozers will be moving in as Texas-based Hunt Oil Company – with the full go-ahead of the Peruvian government -- fires its first salvo in its assault against the million-acre pristine rainforest wilderness of the little-known and largely unexplored Amarakaeri Communal Reserve.
Timberland announces policy to avoid using leather produced by Amazon destruction
(07/29/2009) Timberland, a maker of hiking boots and other footwear, today announced it would demand a moratorium on leather produced from newly deforested areas in the Amazon. The move is a direct response to pressure from Greenpeace, which last month released Slaughtering the Amazon, a report that linked some of the world's most prominent brands to illegal clearing of the Amazon rainforest. Timberland says it will require its leather suppliers to commit to the moratorium on newly deforested areas in the Amazon. Greenpeace says the policy "makes Timberland the industry leader in environmentally and socially responsible Brazilian leather procurement."
Can non-timber forest products help conserve the Amazon?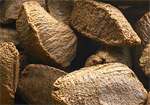 (07/20/2009) Industrial-scale logging and resource exploitation continue to plague the South American rainforests, contributing to their systematic destruction. Today, indigenous inhabitants and other local residents of the rainforests and their surrounding areas, faced with the enormous pressures of the global economy, often find themselves in a crucible. Many of their opportunities for supporting themselves and their families financially involve logging or other large-scale operations that deplete and ultimately decimate the forests. In order to make even a marginal living, local people often find themselves forced to participate in the destruction of the very ecosystems that they live in and depend on.
Tiny monkey species discovered in the Amazon rainforest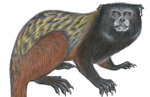 (07/07/2009) A new species of monkey has been discovered in the Brazilian Amazon, reports the Wildlife Conservation Society. The monkey, a type of saddleback tamarin, has been named Mura's saddleback tamarin (Saguinus fuscicollis mura) after the Mura Indians, the Amerindian ethnic group that lives in the Purus and Madeira river basins where the monkey occurs.
Brazil's development bank to require beef-tracking system to avoid illegal Amazon deforestation

(07/01/2009) Responding to allegations that major Brazilian cattle producers are responsible for illegal forest clearing in the Amazon, Brazil's development bank BNDES will soon require processors to trace the origin of beef back to the ranch where it was produced in order to qualify for loans, reports Brazil's Agencia Estado. The traceability program aims to ensure that cattle products do not come from illegally deforested land.
NASA images show huge drop in Amazon fires in 2008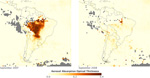 (06/30/2009) New NASA research shows a sharp decline in the amount of smoke over the Amazon during the 2008 burning season, coinciding with a drop in deforestation reported last week by Carlos Minc, Brazil's Environment Minister. Analyzing the aerosol concentrations over the Amazon each September from the past four burning seasons using the Ozone Monitoring Instrument on NASA's Aura satellite, atmospheric scientist Omar Torres of Hampton University and several colleagues found a dramatic decline in airborne particular matter in 2008, indicating reduced incidence of fire in the region. Fire in the Amazon is primarily used by humans for land-clearing to establish cattle pasture, which now accounts for the vast majority of land-use change in the world's largest rainforest.
Tesco responds to allegations of causing Amazon deforestation

(06/29/2009) Tesco, one of Europe's largest retailers, has sent a response to the British newspaper The Guardian in light of the paper's coverage of recent allegations that the chain store sells beef and leather products that caused deforestation of the Amazon.
Brazilian cattle giant declares moratorium on Amazon deforestation
(06/25/2009) Marfrig, the world's fourth largest beef trader, will no longer buy cattle raised in newly deforested areas within the Brazilian Amazon, reports Greenpeace. The announcement is a direct response to Greenpeace's Slaughtering the Amazon report, which linked illegal Amazon forest clearing to the cattle producers that supply raw materials to some of the world's most prominent consumer products companies. Marfrig was one several cattle firms named in the investigative report.
Brazilian miner Vale signs $500M palm oil deal in the Amazon
(06/25/2009) Vale, the world's largest miner of iron ore, has signed a $500 million joint venture with Biopalma da Amazonia to produce 160,000 metric tons of palm oil-based biodiesel per year, reports Reuters. Vale says the deal will save $150 million in fuel costs starting in 2014, with palm oil biodiesel replacing up to 20 percent of diesel consumption in the company's northern operations. The biodiesel will be produced from oil palm plantations in the Amazon state of Pará. The move is likely to stir up criticism from environmentalists that fear palm oil production could soon become a major driver of deforestation in the region.
Amazon deforestation in 2009 declines to lowest on record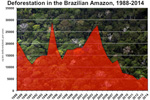 (06/22/2009) Annual deforestation in the Brazilian Amazon fell below 10,000 square kilometers for the first time since record-keeping began, reported Brazil's Environment Minister Carlos Minc. Yesterday Minc said preliminary data from the country's satellite-based deforestation detection system (DETER) showed that Amazon forest loss between August 2008 and July 2009 would be below 10,000 square kilometers, the lowest level in more than 20 years. Falling commodity prices and government action to crack down on illegal clearing are credited for the decline in deforestation rates.
Peru revokes decrees that sparked Amazon Indian uprising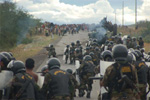 (06/19/2009) Peru's Congress revoked two controversial land laws that sparked violent conflicts between indigenous protesters and police in the country's Amazon region. The move temporarily defuses a two-week crisis, with protesters agreeing to stand down by removing blockades from roads and rivers. Congress voted 82-14 Thursday to overturn legislative decrees 1090 and 1064, which would have facilitated foreign development of Amazon land. Indigenous groups said the decrees threatened millions of hectares of Amazon rainforest and undermined their traditional land use rights.
Amazon could lose 60% of forest without triggering catastrophic die-off, claims new study
(06/16/2009) Brazil's setting aside of more than 500,000 square miles (1.25 million square kilometers) of rainforest in protected areas over the past decade may effectively buffer the Amazon from the effects of climate change, preventing Earth's largest rainforest from tipping towards arid savanna in the face of ongoing deforestation and rising temperatures, argues a new paper published in Proceedings of the National Academy of Sciences.
Photos: treasure trove of new species discovered in Ecuador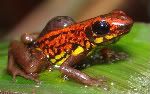 (06/16/2009) Near the once-contentious border of Ecuador and Peru in the mountainous forests of the Cordillera del Condor, scientists from Conservation International (CI) conducted a Rapid Assessment Program (RAP), uncovering what they believe are several new species, including four amphibians, one lizard, and seven insects. The team focused on the Upper Nanharitza River Basin, which has been geologically isolated from the rest of the Andes, giving it broad potential for new species.
Amazon deforestation doesn't make communities richer, better educated, or healthier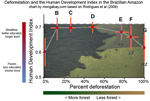 (06/11/2009) Deforestation generates short-term benefits but fails to increase affluence and quality of life in the long-run, reports a new study based an analysis of forest clearing in 286 municipalities across the Brazilian Amazon. The research, published in Friday's issue of the journal Science, casts doubt on the argument that deforestation is a critical step towards development and suggests that mechanisms to compensate communities for keeping forests standing may be a better approach to improving human welfare, while simultaneously sustaining biodiversity and ecosystem services, in rainforest areas.





Brazil to sanction illegal colonization in 230,000 sq mi of Amazon rainforest

(06/08/2009) Brazil moved a step closer to passing a controversial law that would allow landowners who illegally deforested land in the Amazon to get legal title to these holdings. Environmentalists say HB 458 — which now only needs the signature of President Lula, an avid supporter — will legitimize years of illegal colonization and may promote new deforestation.





Oil or Death in the Amazon

(06/06/2009) More than 70% of the Peruvian Amazon has been allocated for oil and gas extraction, and the current government of Alan Garcia has been pushing for more. Unfortunately, as usual, these policies are promoted by and only benefit a handful of people, but negatively impact the lives of many. However, Garcia's government did not foresee the potential consequences of their actions.




Page 1 | Page 2 | Page 3 | Page 4 | Page 5 | Page 6 | Page 7 | Page 8 | Page 9 | Page 10 | Page 11 | Page 12 | Page 13 | Page 14 | Page 15 | Page 16 | Page 17 | Page 18 | Page 19 | Page 20 | Page 21 | Page 22 | Page 23 | Page 24 | Page 25 | Page 26