News articles on latin america

---
Mongabay.com news articles on latin america in blog format. Updated regularly.






Brazilian police and scientists team up to crack down on illegal timber trade
(07/01/2015) Seven years ago, Brazil's São Paulo State Environmental Police set out to crack down on the illegal timber trade. In 2011, during one of their most ambitious inspection operations, officers inspected nearly 350 trucks and more than 60 lumberyards in just two days. Discovering an array of violations, they responded by delivering 50 violation notices and issuing BRL $2.2 million (USD $1.4 million) in fines.
Rainforest parks cut malaria transmission

(06/16/2015) Strictly protected areas in the Brazilian Amazon are associated with lower rates of malaria transmission than extractive reserves, mining zones, and areas with roads, reports a paper published this week in Proceedings of the National Academy of Sciences. The findings add to a growing body of data suggesting that conservation efforts contribute to human welfare.
62M ha of Latin American forests cleared for agriculture since 2001
(05/19/2015) Over 62 million hectares (240,000 square miles) of forest across Latin America — an area roughly the size of Texas or the United Kingdom — were cleared for new croplands and pastureland between 2001 and 2013, find a study published in Environmental Research Letters.
China's investment in Latin America taking toll on the environment, setting the stage for conflict
(05/18/2015) China has been investing heavily in Latin America's natural resources and crude oil. Recently, the country even pledged to invest $250 billion over the next decade to strengthen its presence in the region, and compete with the U.S. But this increasing Chinese trade and investment in Latin America is also increasing environmental and social conflict, finds a new report published by Boston University.
What's the current deforestation rate in the Amazon rainforest?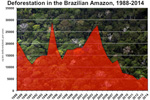 (05/15/2015) Nearly two-thirds of the Amazon rainforest is located in Brazil, making it the biggest component in the region's deforestation rate. Helpfully, Brazil also has the best systems for tracking deforestation, with the government and Imazon, a national civil society organization, releasing updates on a quarterly and monthly basis using MODIS satellite data, respectively. Both the Brazilian government and Imazon release more accurate data on an annual basis using higher resolution Landsat satellite imagery.
Zero deforestation commitments bearing fruit in the Amazon
(05/13/2015) A high profile pledge by the world's largest meat company to limit deforestation for cattle production in the Amazon appears to be working, resulting in a dramatic increase in compliance with environmental registries and reduced forest clearing among supplier ranches, finds a comprehensive study published in the journal Conservation Letters.
Peru considers fate of Amazon wildlife paradise
(05/08/2015) The fate of La Sierra del Divisor, a 1.5 million hectare reserve lauded for its megadiversity of wildlife, will soon to be decided. According to El Comercio, next week the Peruvian government is expected to rule whether Divisor will be declared a national park. The designation, which was requested by local groups nearly a decade ago, would strengthen legal protection of the area, which faces logging, mining, coca cultivation, and agricultural encroachment. It would also establish rules for the buffer zone around the potential protected area.
Facing Future Storms: Poor Honduran Communities Unite to Protect Watersheds and Nature
(05/05/2015) There hasn't been much good news out of Honduras recently. One of the poorest Latin American nations, it has been afflicted by a series of natural and political calamities. There is, however, another Honduras, a place where -- despite adversity -- small, rural communities are getting on with the business of living sustainably and dealing effectively with the vagaries of extreme weather, all on a shoestring budget.
Featured video: the Uncharted Amazon trailer
(04/29/2015) The up-coming documentary, Uncharted Amazon, promises to highlight both the little-seen wildlife and the people of the Las Piedras River system in the Peruvian Amazon, one of the most remote wildernesses on the planet.
'Deforestation fronts' revealed
(04/27/2015) Environmental group WWF has released a new report projecting where the organization believes the bulk of global deforestation is likely to occur over the next 15 years. The analysis, published today, highlights eleven regions where 'the bulk of global deforestation is projected to take place' by 2030.
Can shade-grown cocoa help conserve sloths?
(04/22/2015) Tropical forests support the greatest diversity of species in the world, yet we are rapidly destroying them. Most deforestation in the tropics is due to agricultural development and livestock production, the two greatest causes of declines in terrestrial biodiversity. However, one strategy that has been gaining attention for its potential to preserve biodiversity is shade-grown agriculture.
Killings of environmental activists jumped by 20 percent last year
(04/20/2015) The assassination, murder, and extrajudicial killing of environmental activists rose by 20 percent last year, according to a new grim report by Global Witness. The organization documented 116 killings in 2014 across 17 countries with the highest number in Brazil, which saw 29 environmental and land defenders killed.
9 months after Amazonian oil pipeline spill, effects and fears linger
(03/30/2015) When Peru's state-run oil company pulled out of this small Kukama Indian village in mid-December after cleaning up an oil pipeline spill, residents thought life could slowly return to normal. But more than three months later, wisps of oil floating down the Cuninico River—along with a larger spill in the neighboring community of San Pedro—are a reminder that the problems are not over.
Photos: expedition to Amazon's white sands may have found new primate
(03/24/2015) Most people think of the Amazon rainforest as one massive, homogenous ecosystem—a giant castle of green. However, within the Amazon rainforest lie a myriad of distinct ecosystems, sporting unique characteristics and harboring endemic species. One of the rarer ecosystems in the Amazon is the white sands forest.
Photo essay: filming in the remote Amazon
(03/09/2015) You wake up at 4:30 AM, a little before the first rays of tropical sun begin to dance behind the treetops. You put on your wet clothes from the previous day, pack your bag, and pick up your tripod. The jungle is shrouded in a thick mist from the previous nights rain. As you walk, you recognize many of the strange calls that echo between the trees.
How the Sahara keeps the Amazon rainforest going
(03/02/2015) Scientists have just uncovered an incredible link between the world's largest desert (the Sahara) and its largest rainforest (the Amazon). New research published in Geophysical Research Letters theorizes that the Sahara Desert replenishes phosphorus in the Amazon rainforest via vast plumes of desert dust blowing over the Atlantic Ocean.
Brazil arrests 'Amazon's biggest destroyer'

(02/25/2015) Authorities in Brazil have arrested a man they claim to be the single biggest deforester in the Amazon, according to a statement issued by IBAMA, Brazil's environmental protection agency.
Brazilian indigenous populations grow quickly after first contact devastation

(02/18/2015) Indigenous communities in South America have long experienced devastating impacts from contact with Western society. In the Sixteenth Century, European colonists brought slavery, war, and violence, but disease proved the most devastating. In all, European contact destroyed over 95 percent of the native population.
Mining activist released after being charged with terrorism, rebellion in Ecuador

(02/11/2015) Yesterday, mining and environmental activist, Javier Ramírez, walked out of an Ecuadorian courtroom with his freedom. Ramírez, who has long fought against a massive state-owned massive copper mine in the cloud forest village of Junin, was arrested in April last year and subsequently charged with rebellion, sabotage, and terrorism among other thing.
The Amazon's oil boom: concessions cover a Chile-sized bloc of rainforest
(02/04/2015) Hungry for oil revenue, governments and fossil fuel companies are moving even further into one of the world's last great wildernesses, according to a new study in the journal Environmental Research Letters. The total area set aside for oil and gas in the Western Amazon has grown by 150,000 square kilometers since 2008, now totaling more than 730,000 square kilometers—an area the size of Chile.
Mercury fish: gold mining puts downstream communities at risk in Peru
(02/02/2015) Artisanal, often illegal gold-mining, has swept across portions of the Peruvian Amazon over last decade, driven in part by a rising price in gold. The unregulated industry has resulted in widespread deforestation leading to an environmental disaster. Now a new study finds that mercury pollution has moved rapidly downstream and could be impacting communities at least 560 kilometers away.
Brazil's soy moratorium dramatically reduced Amazon deforestation
(01/23/2015) The moratorium on forest conversion established by Brazilian soy giants in 2006 dramatically reduce deforestation for soy expansion in the Amazon, and have been more effective in cutting forest destruction than the government's land use policy in the region, finds a study published today in the journal Science.
Road building spree hurts Amazon birds
(01/14/2015) A city-dwelling crow in Japan strategically drops a nut near a crosswalk into moving traffic. The bird then waits patiently for the light to turn before dropping down to the road and collecting the cracked nut in safety. While this type of animal behavior is fascinating, such adaptation to the human world is not possible for most bird species.
Deforestation climbing - along with fears - in the Amazon
(01/13/2015) Deforestation in the Brazil Amazon continues to pace well ahead of last year's rate, shows data released today by Imazon. According to the Brazilian NGO's analysis of satellite data, 1,373 square kilometers of rainforest was chopped down between August 2014 and December 2014, a 224 percent increase relative to the prior corresponding period a year before.
Peru's first environment minister dies at 74
(01/07/2015) Born to a poor family of coffee farmers on the western slopes of the Andes in 1940, Antonio Brack Egg became one of Peru's most respected ecologists and led the country in protecting its profound biodiversity. Completing his doctorate at the university of Wurzburg, Germany in 1973, Brack Egg started his life of Peruvian public service with the Ministry of Agriculture, working to reestablish threatened populations of vicuña (Vicugna vicugna), a relative of the llama, honored as Peru's national animal.
Top 10 HAPPY environmental stories of 2014
(12/29/2014) In what was widely seen as a possible breakthrough in the battle to coordinate some kind of response to global warming, China and the U.S. announced joint actions this year. On November 12th, the world's two most powerful countries surprised pretty much everyone by announcing that they would work together to tackle the crisis.
Ecuador sends aid money back to Germany over planned rainforest visit

(12/23/2014) A visit to a rainforest slated for oil drilling has blown up into a diplomatic row between Ecuador and Germany. Ecuador has said it will no longer partner with Germany on environmental issues and will return aid money, after the South American government discovered that German legislators were attempting to visit the much-embattled Yasuni National Park.
Amazonian peatlands store mega carbon

(12/17/2014) Peatlands in the Peruvian Amazon store ten times the amount of carbon as undisturbed rainforest in adjacent areas, making them critical in the battle to fight climate change, finds a new study published in Environmental Research Letters.
False victories for sustainability – Amazonian Hydropower
(12/09/2014) Dams are hugely controversial, especially in the Amazon Rainforest. Their proponents, flashing green credentials, have dammed the tributaries of the Amazon for decades. However, there is a rising backlash against the huge economical, environmental, and sociological costs dams bring. A paper led by Dr. James Randall Kahn from Washington and Lee University is the latest in this volley.
Indigenous leader murdered before he could attend Climate Summit
(12/08/2014) Days before José Isidro Tendetza Antún was supposed to travel to the UN Climate Summit in Lima to publicly file a complaint against a massive mining operation, he went missing. Now, the Guardian reports that the body of the Shuar indigenous leader has been found, bound and buried in an unmarked grave on the banks of the Zamora River.
Initiative to restore 50M acres of degraded Latin American ecosystems by 2020
(12/07/2014) A coalition of governments and organizations today pledged to restore 20 million hectares (50 million acres) of degraded forests and ecosystems across Latin America by 2020 under an initiative that aims to curb boost rural incomes, fight climate change, and increase agricultural production. The effort is backed by $365 million from five impact investors.
Giant stone face unveiled in the Amazon rainforest (video)
(12/04/2014) A new short film documents the journey of an indigenous tribe hiking deep into their territory in the Peruvian Amazon to encounter a mysterious stone countenance that was allegedly carved by ancient peoples. According to Handcrafted Films, which produced the documentary entitled The Reunion, this was the first time the Rostro Harakbut has been filmed.
Island terror attack shuts Colombia's renowned 'blue lizard' park

(11/29/2014) A terror attack by Revolutionary Armed Forces of Colombia (FARC) on facilities on the island of Gorgona has prompted Colombian officials to close the World Heritage site "indefinitely" to tourists. Aviatur, Colombia's largest tourism operator which operates the only lodge on Gorgona, shortly thereafter announced it was suspending all operations on the island.
Amazon deforestation in Brazil drops 18% in 2013/2014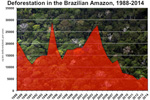 (11/26/2014) Figures published Wednesday by Brazil's National Space Research Institute (INPE) show that 4,848 square kilometers (1,871 square miles) of forest — an area about the size of the state of Rhode Island or the country of Brunei — were cleared between August 2013 and July 2014.
Amazon deforestation moratorium extended 18 months
(11/25/2014) The Brazilian soy industry has extended its deforestation moratorium for another 18 months. The moratorium, which was established in 2006 after a high-profile Greenpeace campaign, bars conversion of forests in Brazilian Amazon for soy production. Independent analysis has shown it to be highly effective — just prior to the moratorium, soy accounted for roughly a fifth of recent deforestation, while today its share is less than one percent.
A tale of 2 Perus: Climate Summit host, 57 murdered environmentalists
(11/18/2014) On September 1st, indigenous activist, Edwin Chota, and three other indigenous leaders were gunned down and their bodies thrown into rivers. Chota, an internationally-known leader of the Asháninka in Peru, had warned several times that his life was on the line for his vocal stance against the destruction of his peoples' forests, yet the Peruvian government did nothing to protect him—or others.
Field plots offer biased view of the Amazon
(11/17/2014) Field plots in the Amazon are often not representative of the habitats surrounding them, potentially biasing extrapolations made across the region, argues a new paper published in the Proceedings of the National Academy of Sciences (PNAS). The research is based on advanced three-dimensional mapping of forest structure within field plots and in surrounding areas using sensors aboard the Carnegie Airborne Observatory, an airplane-based system.
Brazilian government silent as deforestation rises in the Amazon
(11/17/2014) Deforestation in the Brazilian Amazon continues to outpace last year's rate by a significant margin, reveals data released today by Imazon, a Brazilian non-profit. Imazon's analysis of satellite data shows that for the 3-month period ended October 31, 2014, deforestation is running 226 percent of last year's rate. Forest degradation, which often precedes outright clearing, is pacing 691 percent ahead of last year.
Indigenous uprising earned tribe territories, but greatest challenges lie ahead
(11/06/2014) In 1925, Nele Kantule led a revolution that would make Guna Yala an independent and sovereign indigenous territory within Panama. Since then, the Guna have maintained a way of life that has allowed them to preserve their natural resources and mainland forest to an exceptional degree. But today, like many indigenous groups around the world, the Guna face some of their greatest challenges yet: the impacts of climate change, encroaching outside influences, and a younger generation that many elders feel is drifting from its roots.
Brazilian tribes demarcate territory in bid to block dams
(11/06/2014) Indigenous communities in Brazil have taken the unusual step of demarcating their own land — without the approval of the Brazilian government — in a bid to block two dams they say threaten their territory and traditional livelihoods, report International Rivers and Amazon Watch, advocacy groups that are fighting the projects. Last week the Munduruku people annexed the 178,000-hectare Sawré Muybu territory after authorities failed to recognize their claims.
Facing severe drought, 'war effort' needed to save the Amazon, says scientist
(11/03/2014) Severe droughts in southern Brazil may be linked to deforestation and degradation of Earth's largest rainforest, argues a new report published by a Brazilian scientist. Reviewing data from roughly 200 studies, Antonio Donato Nobre of Brazil's National Institute for Space Research (INPE) warns that reducing deforestation will not be enough to restore the ecological function of the Amazon rainforest, which acts as a giant water pump that delivers precipitation across much of South America.
Between the Forest and the Sea: The Yarsuisuit Collective - Part II
(10/31/2014) In this multimedia piece by SRI fellow Bear Guerra, we follow Andrés de León and the Yarsuisuit collective, a group of men who grow and harvest food sustainably in the Guna mainland forest. They also run a store on the island of Ustupu that helps support their families, serving as a model for the wider community.
Pet trade likely responsible for killer salamander fungus
(10/30/2014) As if amphibians weren't facing enough—a killer fungal disease, habitat destruction, pollution, and global warming—now scientists say that a second fungal disease could spell disaster for dozens, perhaps hundreds, of species. A new paper finds that this disease has the potential to wipe out salamanders and newts across Europe, the Middle East, North Africa, and the Americas.
Between the forest and the sea: life and climate change in Guna Yala - Part I
(10/27/2014) The island-dwelling Guna people of Panama are one of the most sovereign indigenous communities in the world, but now severe weather and sea level rise are causing regular flooding on many of the islands, and will likely force the Guna to have to abandon their island homes for the mainland. This multimedia piece offers an introduction to everyday life and customs in Guna Yala and touches upon the uncertain future the Guna are now facing thanks to the impacts of climate change.
Beef, palm oil, soy, and wood products from 8 countries responsible for 1/3 of forest destruction

(10/23/2014) Four commodities produced in just eight countries are responsible for a third of the world's forest loss, according to a new report. Those familiar with the long-standing effort to stop deforestation won't be surprised by the commodities named: beef, palm oil, soy, and wood products (including timber and paper). Nor will they be very surprised by most of the countries: Brazil, Indonesia, and Malaysia.
As Amazon deforestation falls, small farmers play bigger role in forest clearing
(10/14/2014) Smallholder properties account for a rising proportion of overall deforestation in Brazilian Amazon, suggesting that Brazil's progress in cutting forest loss through stricter law enforcement may be nearing the limits of its effectiveness, finds a new study published in the Proceedings of the National Academy of Sciences.
'River wolves' recover in Peruvian park, but still remain threatened inside and out (photos)
(10/14/2014) Lobo de río, or river wolf, is the very evocative Spanish name for one of the Amazon's most spectacular mammals: the giant river otter. This highly intelligent, deeply social, and simply charming freshwater predator almost vanished entirely due to a relentless fur trade in the 20th Century. But decades after the trade in giant river otter pelts was outlawed, the species is making a comeback.
Saving Peru's sea turtles and marine birds: conservationists and fishermen partner to tackle bycatch
(10/07/2014) Marine conservationists often view fisheries as an enemy of sorts, vacuuming up fish with little thought to the long-term consequences and using equipment that also ends up killing other species, i.e. bycatch like sea turtles and marine birds. However, Joanna Alfaro Shigueto, the President of the Peruvian NGOProDelphinus and winner of a 2012 Whitley Award, has chosen a different tact.
Use of mammals still prevalent in Brazil's Conservation Units
(10/06/2014) For as long as humans and animals have co-existed, people have utilized them as resources. Animals, and their parts, have been used for a variety of purposes, ranging from basic food to more esoteric practices such as in magical ceremonies or religion. A new study has found that the undocumented use of animals, particularly mammals, continues to occur in Brazil's protected areas known as Conservation Units.
Four countries pledge to restore 30 million hectares of degraded lands at UN Summit

(09/25/2014) In 2011, Germany and the International Union for the Conservation of Nature launched the Bonn Challenge, which pledged to restore 150 million hectares of degraded and deforested lands by 2020. Several countries have already made commitments—including the U.S.—but this week at the UN Climate Summit four more jumped on board.
Conservationist, indigenous leader killed in plane crash in Colombia
(09/07/2014) A conservationist who worked to protect voluntarily isolated tribes in the Amazon rainforest and an indigenous leader were among ten killed in a plane crash in southern Colombia Saturday afternoon. Roberto Franco, a political scientist, and Daniel Matapi, a Yukuna-Matapis indigenous leader, died when the Piper PA-31 Navajo crashed after takeoff from Araracuara in the department of Caqueta.
Conservationists use social media to take on Peru's booming illegal wildlife trade
(09/04/2014) Illegal wildlife trafficking is thriving in Peru. But a Peruvian organization is now using a public campaign, via social media and press releases, to track and rescue illegally kept wildlife in the country. 'I have filed 47 complaints from 14 different states in Peru including hundreds of animals commercialized illegally in markets, kept as pets, and used as tourist attractions,' said Noga Shanee, Co-founder and project director of Neotropical Primate Conservation.
REDD+ versus indigenous people? Why a tribe in Panama rejected pay for their carbon-rich forests
(09/04/2014) There isn't a word or phrase in the Kuna language for "carbon trading," and much less for something as complex as REDD+. Standing for Reducing Emissions from Deforestation and Degradation, REDD+ is the worldwide UN-backed climate change mitigation scheme that relies on carbon trading within forest landscapes to fund forest conservation programs. And yet, since 2008, the Kuna people have been hearing lots about it and referring to it often in their private conversations.
Scientists uncover five new species of 'toupee' monkeys in the Amazon
(09/02/2014) While saki monkeys may be characterized by floppy mops of hair that resemble the worst of human toupees, these acrobatic, tree-dwelling primates are essential for dispersing seeds. After long being neglected by both scientists and conservationists, a massive research effort by one intrepid researcher has revealed the full-scale of saki monkey diversity, uncovering five new species.
How do we save the world's vanishing old-growth forests?
(08/26/2014) There's nothing in the world like a primary forest, which has never been industrially logged or cleared by humans. They are often described as cathedral-like, due to pillar-like trees and carpet-like undergrowth. Yet, the world's primary forests—also known as old-growth forests—are falling every year, and policy-makers are not doing enough to stop it.
Short-eared dog? Uncovering the secrets of one of the Amazon's most mysterious mammals
(07/28/2014) Fifteen years ago, scientists knew next to nothing about one of the Amazon's most mysterious residents: the short-eared dog. Although the species was first described in 1883 and is considered the sole representative of the Atelocynus genus, biologists spent over a century largely in the dark about an animal that seemed almost a myth.
Peru slashes environmental protections to attract more mining and fossil fuel investment
(07/23/2014) In an effort to kickstart investment in mining and fossil fuels, Peru has passed a controversial law that overturns many of its environmental protections and essentially defangs its Ministry of Environment. The new law has environmentalists not only concerned about its impact on the country but also that the measures will undermine progress at the up-coming UN Climate Summit in December.
Rare bird paradise protected in war-torn Colombian mountain range (photos)
(07/22/2014) A coalition of conservation groups have established a new protected area in one of Latin America's most neglected ecosystems: the Colombian-side of the Serranía de Perijá mountain range. Following decades of bloody conflict and rampant deforestation, experts say only five percent of rainforest is left on the Colombian side of this embattled mountain range.
Coastal wildlife paradise declared biosphere reserve in Argentina (PHOTOS)
(07/15/2014) Conservationists are celebrating the announcement that UNESCO has dubbed Argentina's Península Valdés a biosphere reserve under the Man and Biosphere Program (MBA). A hatchet-shaped peninsula that juts out into the Southern Atlantic Ocean, the world's newest biosphere reserve is home to a hugely-diverse collection of both terrestrial and marine wildlife.
Only 15 percent of world's biodiversity hotspots left intact
(07/14/2014) The world's 35 biodiversity hotspots—which harbor 75 percent of the planet's endangered land vertebrates—are in more trouble than expected, according to a sobering new analysis of remaining primary vegetation. In all less than 15 percent of natural intact vegetation is left in the these hotspots, which include well-known jewels such as Madagascar, the tropical Andes, and Sundaland.
Booming populations, rising economies, threatened biodiversity: the tropics will never be the same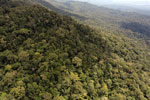 (07/07/2014) For those living either north or south of the tropics, images of this green ring around the Earth's equator often include verdant rainforests, exotic animals, and unchanging weather; but they may also be of entrenched poverty, unstable governments, and appalling environmental destruction. A massive new report, The State of the Tropics, however, finds that the truth is far more complicated.
On babies and motherhood: how giant armadillos are surprising scientists (photos)
(07/01/2014) Until ten years ago scientist's knowledge of the reproductive habits of the giant armadillo— the world's biggest— were basically regulated to speculation. But a long-term research project in the Brazilian Pantanal is changing that: last year researchers announced the first ever photos of a baby giant armadillo and have since recorded a second birth from another female.
Chile drops hugely controversial mega-dam project in wild Patagonia
(06/12/2014) One of the world's most controversial mega-dam projects met its likely end this week when Chile's Committee of Ministers voted to cancel the permits for the HidroAysén project. Costing around $8 billion and expected to produce about 2.75 gigawatts, the project involved building five large dams on two wild rivers in Chile's famously-unspoiled Patagonia region.
In cutting deforestation, Brazil leads world in reducing emissions
(06/05/2014) Brazil's success in reducing deforestation in the world's largest rainforest has been much heralded, but progress may stall unless farmers, ranchers and other land users in the region are provided incentives to further improve the environmental sustainability of their operations, argues a study published this week in the journal Science.
Oil company breaks agreement, builds big roads in Yasuni rainforest
(06/05/2014) When the Ecuadorian government approved permits for an oil company to drill deep in Yasuni National Park, it was on the condition that the company undertake a roadless design with helicopters doing most of the leg-work. However, a new report based on high-resolution satellite imagery has uncovered that the company, Petroamazonas, has flouted the agreement's conditions, building a massive access road.
Intact Amazon forests show possible signs of global warming impact
(06/04/2014) Climate change may be taking a hidden toll on intact rainforests in the heart of the Amazon, finds a new study based on 35 years of observations. The research, published in the journal Ecology, focused on the ecological impacts of fragmentation but unexpectedly found changes in the control forests.
Guatemala establishes new reserve for endangered animals
(06/04/2014) Guatemala has formally established a 19,000-hectare (47,000-acre) reserve that protects several endangered bird and amphibian species, reports the American Bird Conservancy (ABC). The Sierra Caral Water and Forest Reserve received overwhelming support during a vote by Guatemala's Congress. It is the first new protected area designated by Congress since 2005
After throwing out referendum, Ecuador approves oil drilling in Yasuni's embattled heart

(06/02/2014) By 2016, oil drilling will begin in what scientists believe is the most biodiverse place on the planet: remote Yasuni National Park. Late last month, Ecuador announced it had approved permits for oil drilling in Yasuni's Ishpingo-Tambococha-Tiputinin (ITT) block, an untouched swathe of primary rainforest covering around 100,000 hectares or about 10 percent of the park.
Happy Amazon: $215 million raised for world's largest protected area network
(05/21/2014) By all standards the Amazon Region Protected Areas (ARPA) program is gargantuan: the network includes over 90 parks, covers 51 million hectares, and comprises 15 percent of Brazil's Amazon. But protecting an area bigger than Spain isn't cheap or easy. Today, a broad coalition of government donors and private funders have announced $215 million to secure ARPA over the next 25 years.
53 indigenous activists on trial for police-protester massacre in Peru
(05/15/2014) In the summer of 2009, on a highway in Peru known as Devil's Curve: everything went wrong. For months, indigenous groups had protested new laws by then President Alan Garcia opening up the Amazon to deregulated logging, fossil fuels, and other extractive industries as a part of free trade agreements with the U.S.
NASA photographs the amazing 'guitar forest'

(04/30/2014) After his wife died of an aneurysm at the age of 25, Pedro Martin Ureta set about to plant her a legacy: a forest in the shape of a guitar. His wife, Graciela Yraizoz—who gave him four children—suggested the idea shortly before her sudden death in 1977.
Next big idea in forest conservation? Crowdsourced forest monitoring
(04/25/2014) In the Brazilian Amazon, deforestation alerts are being submitted via smartphones. On the ground technicians send alerts to a database stored in 'the cloud.' This information is added to maps, which, along with satellite imagery, are used to inform law enforcement. And the speed of this process is getting real results.
Nearly a thousand environmental activists murdered since 2002
(04/15/2014) At least 908 people were murdered for taking a stand to defend the environment between 2002 and 2013, according to a new report today from Global Witness, which shows a dramatic uptick in the murder rate during the past four years. Notably, the report appears on the same day that another NGO, Survival International, released a video of a gunman terrorizing a Guarani indigenous community in Brazil.




Page 1 | Page 2 | Page 3 | Page 4 | Page 5 | Page 6 | Page 7 | Page 8 | Page 9 | Page 10 | Page 11 | Page 12 | Page 13