News articles on Language

---
Mongabay.com news articles on Language in blog format. Updated regularly.





Indigenous groups fight for recognition and illumination in Peru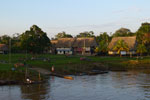 (03/26/2012) "Shh, wait here," Wilson told me. I ducked down behind the buttress of a large tree to wait. We had been walking through the jungle for a few hours. At first we followed a path through the undergrowth, a wet world of ferns, trunks and lianas speckled with the sunlight that made it down through the canopy and understory, but soon we simply walked along a route Wilson picked out. I had been trying to concentrate on the myriad sounds: cicadas were the background and various small birds tweeted from different points. We were listening and looking for signs that would lead us to prey—perhaps the calm whistle of a perdiz or the scent—marking of a boar—but just before Wilson became excited I had heard nothing. He stopped and said, "Red monkeys," pointing ahead.


Does language extinction matter?

(02/16/2007) Most of humanity's 6,000 languages could be extinct within the next two centuries. Does it matter? At the American Association for the Advancement of Science annual meeting, University of Alaska Fairbanks professor emeritus Michael Krauss argued it does.


Captive chimpanzees 'talk' to humans

(01/29/2007) Captive chimpanzees use specific vocalizations to communicate with humans according to new research published in the current issue of the journal Animal Behaviour. The researchers, lead by Dr. William Hopkins of Yerkes National Primate Research Center at Emory University, say these sounds are not used in other contexts -- only to elicit attention from humans. The researchers say the findings may help explain the evolution of language in primates.


Indigenous Amazonians Display Core Understanding Of Geometry

(01/23/2006) Researchers in France and at Harvard University have found that isolated indigenous peoples deep in the Amazon readily grasp basic concepts of geometry such as points, lines, parallelism and right angles, and can use distance, angle and other relationships in maps to locate hidden objects. The results suggest that geometry is a core set of intuitions present in all humans, regardless of their language or schooling.


Q&A: What are the most spoken languages on earth?

(07/25/2005) According to figures from UNESCO, the United Nations Educational, Scientific and Cultural Organization, the most widely spoken language on earth is Mandarin which is spoken as a first language by nearly a billion people. Second on the list is English with around 358 million, followed by Spanish. French is spoken as a first language by a mere 81 million, good for number on the list.